When strolling through the dazzling streets of Las Vegas, one might be under the impression that triple zero roulette has completely conquered the city. Nowadays, the market boasts nearly a hundred tables dedicated to this variant, while over two hundred tables are devoted to the double zero version. Nevertheless, amidst the sea of options, a handful of Las Vegas casinos still offer the classic single zero roulette experience. In our most recent survey of table games, we meticulously counted twenty-seven tables that cater to this timeless game. Surprisingly, this mere fraction represents a mere 8% of the overall roulette tables available in the bustling Las Vegas market. Astonishingly, there are three times as many triple zero wheels as their single zero counterparts.
In the glamorous city of Las Vegas, roulette enthusiasts can delight in two distinct variations of the single zero roulette game. The first one, known as European Roulette, presents an intriguing twist by incorporating additional betting options that are not typically found on other roulette tables. The most notable deviation in European Roulette lies in its rule that grants players the advantage of only losing half of their wager on even money bets such as red, black, odd, even, high, and low, in the unfortunate event that the ball lands on zero. This rule is referred to as "la partage," cementing the allure of this particular version of the game.
In Las Vegas, there is another version of single zero roulette, known as the traditional type. This variation follows the classic rules, where every bet placed on the table offers the same payout as it would on a wheel with double or triple zeros. Thus, players can enjoy the game with the assurance that their wagers will yield the expected rewards, without any alteration to the standard payout structure. It's a preferred choice for those who appreciate the conventional style of roulette and want to stick to the tried and tested norms. This traditional variant adds a touch of familiarity to the casino floor, attracting players who seek the comfort of the familiar in their gambling experiences.
The single zero variant of roulette has a house edge of 2.7%, which decreases to 1.35% in European Roulette when bets meet the la partage rule criteria.
It is within the acceptable boundaries for publishers of other websites to utilize our data, but they must adhere to our terms of use and include a backlink to Bet-NV.com.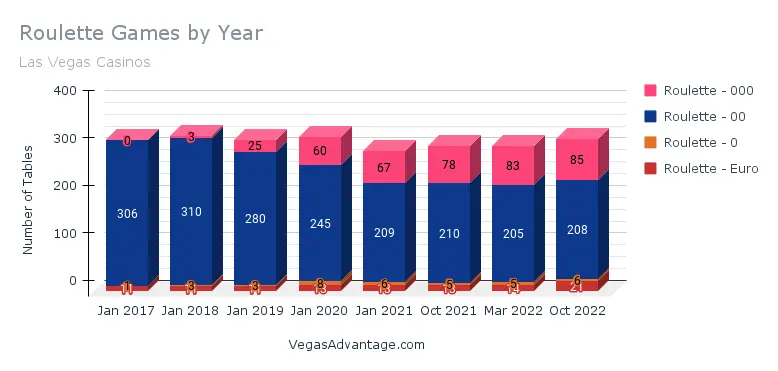 The most budget-friendly option for playing roulette with only one zero in Las Vegas.
When I stroll into the Plaza in Las Vegas, one thing always catches my eye: their incredibly affordable single zero roulette game. With a starting price of just $15, it's a steal compared to other casinos in town. Of course, during peak hours, the minimum bet may climb to $25, but that's still a bargain for such an exciting game. As I enter the Plaza from Main Street, I'm immediately drawn to the first table game I see, and it's none other than their single zero roulette. This enticing game is available every night, and if I'm lucky, I might even find it open during the day as well.
Las Vegas casinos that cater to residents and feature roulette tables with only a single zero.
In the realm of Las Vegas's local casinos, there exists a solitary establishment that boasts the presence of single zero roulette - none other than the esteemed Red Rock Resort. Here, amidst the opulence, one can partake in the thrilling game, with a minimum bet requirement of $100, a veritable testament to its exclusivity. Located discreetly in the depths of the high-limit salon, this particular table adheres to the esteemed European rules, setting it apart from its counterparts. Alas, in all other Las Vegas local casinos, the roulette offerings are predominantly of the double zero variety, lacking the allure of its singular counterpart. However, a glimmer of hope emerges on the horizon, as it is anticipated that Green Valley Ranch will soon embrace the allure of European Roulette, scheduled to make its grand entrance in 2023, beckoning players with the promise of thrilling gameplay, all at the price of $100 per bet.
Casinos along the Las Vegas Strip that offer roulette with a single zero.
On the Las Vegas Strip, you'll find the last of the single zero roulette tables. These coveted wheels, which reduce the house edge, are predominantly located in the high limit salons. However, there are also a handful of casinos that generously offer this favorable game directly on the bustling casino floor. So, whether you're a seasoned gambler or just feeling lucky, head to the Strip for a chance to try your hand at single zero roulette.
During our recent survey of table games in Las Vegas, we discovered the following limits, which reflect the slowest hours. However, it is worth noting that these limits are likely to increase during the evening and on weekends. Additionally, it is important to mention that certain tables may only be open during busier shifts.
$50 European Roulette
Explore the hidden gem of Treasure Island (frequently unavailable, advance bookings may be required).
$100 European Roulette
Aria
Bellagio 
Cosmopolitan
Encore
Mandalay Bay operates with restricted hours.
MGM Grand
Mirage
Resorts World
Wynn
$100 single zero roulette
These tables feature wheels with a sole zero, although they do not provide the la partage option.
Caesars Palace
Palazzo
Venetian
Payouts for roulette with a single zero.
On single zero roulette tables, the payouts remain consistent, regardless of whether there are two or three zeros. The key difference lies in the number of available bets. When playing single zero or European Roulette, it is impossible to wager on more than one zero. Additionally, the option of placing a basket bet is also absent in this format.
Wins are achieved when correctly predicting odd or even, but losses occur if the opposite or zero is chosen.
Numbers from 1 to 18 are considered low, while numbers from 19 to 36 are considered high. The bet is considered lost if the opposite is announced or if the ball lands on zero.
Columns: A roulette felt has a trio of columns, encompassing a total of twelve numbers. Should the correct column be the winning one, the payout is 2:1.
Dozens: Similar to pillars, this bet pays out at 2:1 and covers the numbers 1-12, 13-24, or 25-36.
Here's the deal: This wager is placed on a single number and has a 35:1 payout ratio.
Split: This bet encompasses a pair of adjacent numbers on the roulette table, and the payout ratio is 17:1.
Street is a type of bet that covers three consecutive numbers in a row and offers a payout ratio of 11 to 1.
Corner bets are made at the intersection of four numbers and offer a payout ratio of 8:1.
Line: Consists of a sequence of six numbers located on two intersecting streets on the gaming table. The payout ratio for this bet is 5 to 1.
The information in this article has now been revised to incorporate MGM Grand.
The most recent update was made by William Stevens on April 15, 2023.