In the bustling Las Vegas market, where poker table games reign supreme, Three Card Poker carves out its place as the third most sought-after game. Ranking just below the fan-favorites of pai gow poker and Ultimate Texas Hold'em, this thrilling game has managed to captivate the hearts of players. With an impressive presence in 59 casinos across town, boasting over 110 installations, Three Card Poker secures a respectable sixth place among all non-blackjack table games. Surpassed only by the likes of baccarat, roulette, craps, pai gow poker, and Ultimate Texas Hold'em, this game continues to hold its own in the competitive casino landscape.
Bet-NV.com thrives thanks to its members, sponsors, and ads. If you or someone you're acquainted with battles with gambling, reach out to 1-800-GAMBLER.
Supporting Bet-NV.com is easy and affordable with our Las Vegas Blackjack and Table Game Survey. With a monthly or quarterly membership, starting as low as $3 per month, you gain access to updated data several times per month. This subscription service provides valuable information gathered from casino visits, ensuring that you stay informed and ahead of the game. Sign up today to take advantage of this exclusive offer and enhance your Las Vegas gaming experience.
Bet-NV.com is now offering subscriptions on Gumroad and Patreon, providing access to their exceptional content on both platforms.

In case either you or someone you're acquainted with is facing issues related to gambling, feel free to reach out for support at 1-800-GAMBLER.
Our terms of use mandate that other website publishers can utilize our data within reasonable bounds, but they must include a backlink to Bet-NV.com.
Three Card Poker games offered at Las Vegas casinos.
In Las Vegas, one can still come across $5 Three Card Poker tables, despite their decreasing prevalence. These tables can be found at various establishments throughout the city, including those located on the iconic Las Vegas Strip, downtown area, and even in the local market. While the majority of the games have a minimum bet of $10, there are also a few tables with higher minimum bets of $15 or $25.
These are the boundaries we discovered for our summer 2023 Las Vegas Table Games Study. The wagering requirement might increase during busy periods.
Minimum bets for Three Card Poker in Las Vegas
$5 minimum
Cromwell
Downtown Grand
Gold Coast
Golden Nugget
Linq
M Resort
O'Sheas
Orleans
Palace Station
Red Rock
Rio
Santa Fe Station
Silverton
South Point
Sunset Station
$10 minimum
Binion's
Boulder Station
California
Circus Circus
El Cortez
Excalibur
Flamingo
Four Queens
Fremont
Golden Gate
Green Valley Ranch
Harrah's
Horseshoe
Luxor
Main Street Station
Mirage
Mohegan Sun
New York-New York
Palms
Paris
Park MGM
Planet Hollywood
Plaza
Sahara
Sam's Town
Silver Sevens
Strat
Suncoast
The D
Tropicana
Westgate
$15 minimum
Bellagio
Caesars Palace
Circa
Cosmopolitan
Palazzo
Resorts World
Treasure Island
Venetian
$25 minimum
Aria
Encore
Mandalay Bay
MGM Grand
Wynn
Experience the thrill of Stadium Three Card Poker at Treasure Island.
In the thrilling game of Three Card Poker at the stadium, a total of nine cards are distributed, discreetly facing downwards, forming three rows with three cards each, presenting a plethora of fascinating line arrangements. As the game progresses, every enthusiastic participant selects three fortunate numbers that align perfectly with the aforementioned rows. With bated breath, the cards are dramatically overturned, and each player places their wagers based on the hand they serendipitously opted for. Meanwhile, the dealer's hand is handled separately, adding an extra layer of suspense to the captivating encounter.
Treasure Island's stadium offers a thrilling Three Card Poker experience with live dealers, featuring a minimum bet of $2. This exciting game is accessible every day between 8pm and 4am.
Mastering the art of Three Card Poker: A comprehensive guide for beginners and enthusiasts alike.
At a Three Card Poker table, there are a couple of options for placing bets. You have the choice of making a pair plus side bet or an ante bet. In order to receive a hand, players are required to bet on at least one of these options. Additionally, there might be additional side bets available for players to consider. The ante bet specifically requires active participation from the player, whereas the other bets do not. If a player decides to solely bet on the pair plus option, their cards are simply tucked away since there are no further actions for them to take.
Learning the strategy of Three Card Poker is a breeze. It's a straightforward approach, really. All you have to do is play any hand that consists of a queen and a 7 or higher. Additionally, play the hand with a queen and a six, unless a 2 or 3 happens to be dealt alongside it. Now, if you decide to play the hand, you must raise it by matching the amount of the ante. On the other hand, if you choose to fold, you will lose the ante and any side bets you may have placed. Finally, the cards then go straight into the possession of the dealer.
In the exciting game of poker, when a player decides to raise, it sets off a series of events. The first step is to compare the player's hand to the dealer's hand. However, before we proceed, it is crucial that the dealer meets a certain qualification. Specifically, the dealer must have a hand that consists of at least a queen-high. If the dealer fails to meet this requirement, the result is a push for the ante, meaning there is no gain or loss. However, the raise bet is still paid out. On the other hand, if the dealer does qualify, the player's hand is then evaluated against the dealer's hand. If the player manages to beat the dealer, both the raise and ante are paid out, resulting in a satisfying win for the player. Conversely, if the dealer's hand comes out on top, both the ante and the raise are lost. In the case of a tie, where both the player and the dealer have hands of equal value, the player emerges as the victor.
There are certain bonuses offered for hands that consist of a straight or higher. In the event of a straight, the payout is a 1:1 ratio, while three of a kind grants a 4:1 ratio. Furthermore, if a player has a straight flush, they will receive a generous payout of 6:1. These bonuses remain applicable even if the player ends up losing the hand against the dealer.
The Three Card Poker side bet that allows players to wager on a pair of cards.
When you place the pair plus side bet and manage to achieve at least a pair, you will be rewarded with a 1:1 payout. Furthermore, if you are fortunate enough to obtain a flush, you will receive a generous 3:1 payout. In the event that you secure a straight, your payout will increase to a substantial 6:1. However, if you are truly lucky and manage to acquire three of a kind, you will be astounded by the impressive 30:1 payout that awaits you. Lastly, for those who are truly fortunate and obtain a straight flush, the payout is an extraordinary 40:1. It is important to note that the hand does not necessarily need to win in order for you to receive payment on this particular side bet, or any other side bets for that matter.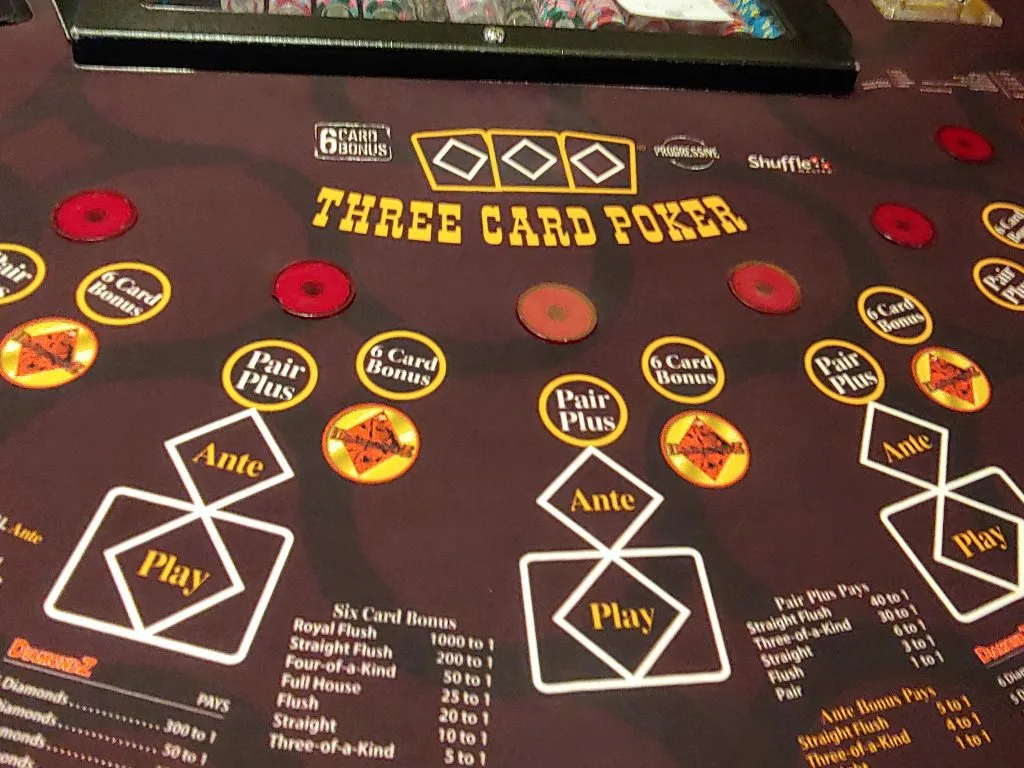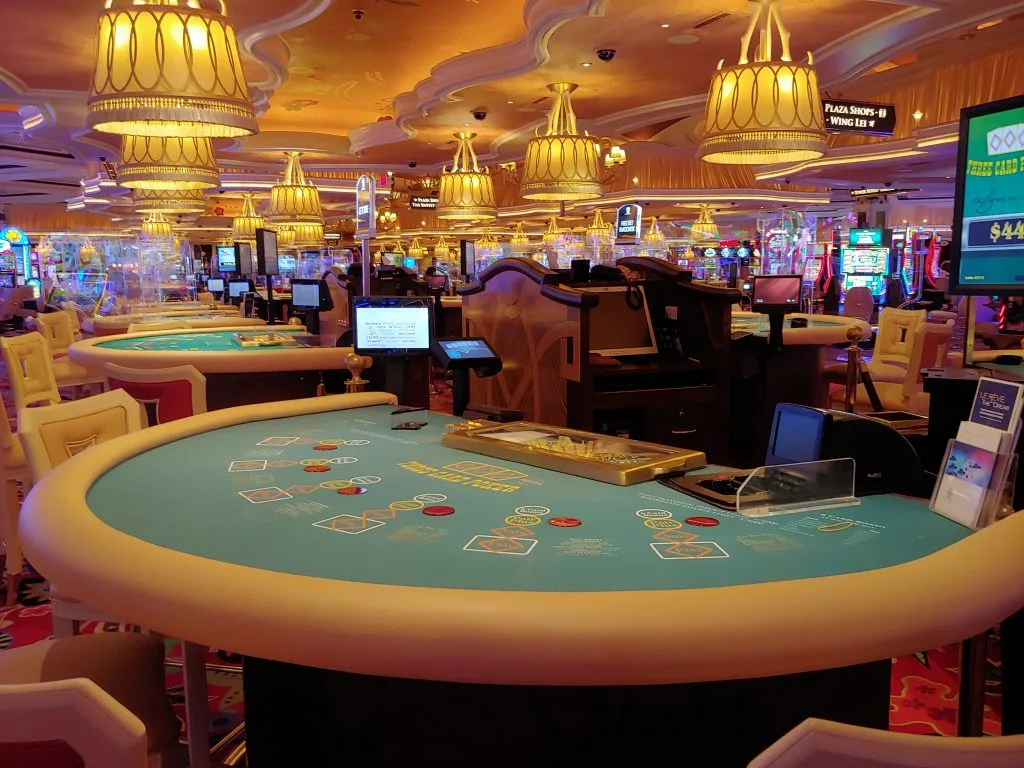 Frequently Asked Questions (FAQ) about Three Card Poker in Las Vegas
What is the typical minimum bet for Three Card Poker in Las Vegas?
In Las Vegas, you can find a wide selection of casinos where Three Card Poker is a popular game. With a minimum bet requirement of $10, there are a total of 30 casinos that cater to players who are willing to meet this threshold. This minimum bet amount is quite common among the casinos in the city. However, if you prefer a lower minimum bet, there are also 15 casinos in Las Vegas that offer a more affordable $5 minimum bet. This gives players more flexibility in choosing their preferred wagering level. Whether you're a seasoned player or a beginner, there are plenty of options available to suit your gambling preferences in the vibrant city of Las Vegas.
How many Las Vegas casinos deal Three Card Poker?
The game can be found in a total of 59 casinos in Las Vegas.
Does The Strat deal Three Card Poker?
Indeed. At present, Three Card Poker is offered instead of Three Card Prime at The Strat, although both games bear similarities.
Are there any video Three Card Poker machines in Las Vegas?
Indeed. The game of Three Card Poker can be found and enjoyed on the premises of Treasure Island's stadium, with a minimum wager requirement of $2.
The most recent update was made on August 28, 2023 by William Stevens.