In Las Vegas, it's a common sight to find casinos offering table games with either six or eight decks for blackjack. Interestingly, the difference in house edge between these two options is a mere 0.02%. To streamline the information, we have conveniently compiled them on a single page. Notably, certain casinos provide both six and eight-deck games to their patrons. Typically, you'll find the six-deck game in the high-limit section, whereas the eight-deck game is situated on the bustling main casino floor.
I did some research on the different types of blackjack games offered in Las Vegas and found that most casinos on the Las Vegas Strip, as well as a few downtown and locals casinos, have 6:5 shoe games. These particular games usually have lower betting limits. It's worth noting that we don't include these specific games in our report. However, I also discovered that in many instances, you don't have to bet significantly more to receive the 3:2 payout. Sometimes, the minimum bet required at both 6:5 and 3:2 tables can be the same. So, if you're looking for the better payout, it might not necessarily cost you much more to play at a 3:2 table.
The financial backing for Bet-NV.com comes from its members, sponsors, and advertisements. In case you or someone you are acquainted with experiences issues with gambling, please contact 1-800-GAMBLER.
As an assistant, I'd like to share with you the details of our exclusive Las Vegas Blackjack and Table Game Survey. This comprehensive survey, which covers various casinos, is a part of our subscription service. By becoming a valued member of Bet-NV.com, you have the opportunity to show your support by signing up for a monthly or quarterly membership. With your membership, you gain access to up-to-date data from frequent casino visits, ensuring that you have the most current information at your fingertips. The best part is that our memberships start as low as $3 per month, making it affordable for everyone to stay informed and make the most of their time in Las Vegas.
Now you can access Bet-NV.com subscriptions on both Gumroad and Patreon, offering you the same excellent content on both platforms.

In case you or someone you're acquainted with is experiencing a gambling addiction, please contact 1-800-GAMBLER for assistance.
Before taking a seat, it's crucial to carefully examine the felt or sign at each table to ascertain the payout. It is important to note that the 6:5 games are not featured in the list provided. However, you will be able to locate them in the casino listings found in the specific geographical sections of the survey.
During the summer of 2023, I gathered the following data. The provided minimum wager amounts are our projected estimates for the lowest feasible bets, typically during the earlier hours of the day and in the afternoons. It is important to note that during peak hours or when there is high demand, the minimum wager amounts are likely to be higher than the projected estimates.
Other websites' publishers can utilize our data within reasonable boundaries, but they must adhere to our terms of use which mandate a backlink to Bet-NV.com.
Associated: Study on Blackjack in Las Vegas in 2023
The top spot for playing blackjack with six decks in Las Vegas.
In Las Vegas, the high limit salons are the go-to destination for those seeking the finest six-deck blackjack games. These games hold a special allure as they adhere to a crucial rule: all 17's are a stand. This intriguing concept signifies that if the dealer is dealt a soft 17, the house stands firmly without hitting. It is worth noting that the majority of blackjack tables in Las Vegas tend to hit on soft 17, making these exceptional games a rare find for savvy players.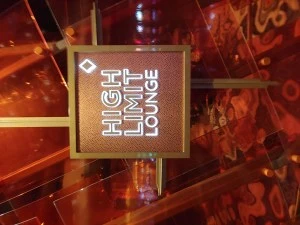 In Las Vegas, there are some exceptional blackjack tables where you can stand on any hand totaling 17. What sets these tables apart is that they offer not just one, but two player-friendly rules that go beyond the standard double-down option before and after splitting. The first rule is surrender, which allows players to forfeit half of their bet and fold before taking a hit, especially if the dealer doesn't have blackjack. This provides an opportunity to minimize losses and make strategic decisions. The second rule is the ability to re-split aces, allowing players to divide their initial pair of aces into up to four separate hands. This rule increases the chances of creating stronger hands and potentially doubling the winnings. These additional rules make these stand-on-all-17 blackjack tables in Las Vegas a favorable choice for players seeking a more strategic and rewarding gaming experience.
I've got some exciting news for you! There's a game with an incredibly low house edge, hovering around a mere 0.28%. Now, let me share with you a comprehensive list of all the amazing casinos where you can find this game. Not only that, but I'll also provide you with the limits at which this game is available, so you can choose the perfect casino experience tailored to your preferences. Get ready to embark on an unforgettable gambling adventure with this game!
$50 minimum
M Resort

Sahara

Treasure Island
$100 minimum
Aria
Bellagio

Cosmopolitan

Encore

Green Valley Ranch

Mandalay Bay

Mirage

Mohegan Sun/Virgin

Palace Station

Palms
Paris

Park MGM

Planet Hollywood

Red Rock

Resorts World

Strat

(upon request)

Tropicana

(upon request)
$200 minimum
Caesars Palace
Palazzo

Venetian

Wynn
$300 minimum
Caesars Entertainment's blackjack game with six decks
I've come across some interesting information about the blackjack games at Caesars properties. It turns out that all of their six-deck games are located in the high-limit section. If you're a fan of surrender, you're in luck because all of their high-limit salons offer this option. However, re-splitting aces is not available in these salons, except at Caesars Palace, Planet Hollywood, and Paris, which are found in a different section. If you're looking to play the game at a lower price point, you can find it for $50 at Flamingo and Harrah's, or if you're feeling a bit more ambitious, you can try your luck with a $100 minimum bet at Cromwell. These particular tables have a house edge of approximately 0.35%, so it's definitely worth considering if you're a blackjack enthusiast.
Circa high-limit blackjack
I recently discovered an intriguing opportunity for blackjack enthusiasts at Circa. They offer a unique stand-on-all-17, six-deck blackjack game that caught my attention. What makes it even more enticing is the fact that they allow you to double down before and after splitting. However, it's important to note that re-splitting aces or surrendering is not an option in this game. With a house edge of approximately 0.42%, this game promises a thrilling and potentially profitable experience for players. It's refreshing to see a casino offering such variations, adding an extra layer of excitement to the classic game of blackjack.
Las Vegas blackjack games that involve a shoe and allow the dealer to hit on soft 17 (with six or eight decks).
I'm here to provide you with some valuable information about the blackjack games in Las Vegas. Let's start with the fact that all the six- and eight-deck blackjack games in Las Vegas hit on soft 17, which sets them apart from the rest. It's worth mentioning that the games listed below have a payout of 3:2, so you won't find any 6:5 games on this particular list. Additionally, we can safely assume that these tables offer the option to double down both before and after splitting. Now that you have these details, you can make an informed decision when choosing a blackjack game in Las Vegas.
The minimum wager represents the lowest amount we have observed being displayed. It is conceivable that during nighttime and weekends, you may come across higher betting thresholds.
Re-split aces
Surrender available
$5 minimum
$10 minimum
$15 minimum
Mohegan Sun
Palms
Discover the hidden gems of Treasure Island, now available at a discounted price of $10 during morning hours.
$25 minimum
Encore
Excalibur
Mirage
New York-New York
Park MGM
$50 minimum
Aria ($25 when slow)
Bellagio ($25 when slow)
Cosmopolitan ($25 when slow)
Horseshoe*
Mandalay Bay
MGM Grand
Palazzo
Venetian
Wynn
$300 or $500 minimum
exclusive to specific hours in high demand
Surrender not available
$5 minimum
$10 minimum
Arizona Charlie's Decatur
Silver Sevens
Silverton
$15 minimum
M Resort
The Strat (priced at $10 during periods of low activity)
$25 minimum
Cannot re-split aces
Surrender available
$10 minimum
Boulder Station
Santa Fe Station
Sunset Station
$15 minimum
Green Valley Ranch
Red Rock
$25 minimum
$50 minimum
Caesars Palace
Golden Nugget (twenty-five dollars when operating at a slower pace)
Surrender not available
$10 minimum
El Cortez
Golden Gate
Plaza (possibly $5 during the least busy periods)
$15 minimum
Circa might offer a table with a $10 minimum bet during quiet periods.
During less busy times, the D might offer a table at a cost of $10.
$25 minimum
Exclusively accessible during high-demand periods.
At Poker Palace, players can double down on 2 or 3 cards both before and after splitting in the six-deck game. The minimum bet for this game is $3.
Skyline's blackjack tables are only open from Thursday to Monday evenings, while Jerry's Nugget exclusively uses continuous shuffle machines. In the remaining games, players have the option to double down both before and after splitting, but surrender is not allowed. Additionally, aces can only be split once.
$5 minimum
Cannery
Jerry's Nugget 
Skyline 
South Point
$10 minimum
Aliante
Oyo
Pass
Railroad Pass
Sam's Town
Suncoast
Electronic 3:2 blackjack games
Playing electronic table games can be a great option if you're looking for lower betting limits. At Sam's Town, for example, you can find a video blackjack machine where the minimum bet is just $0.50. The best part is that this machine pays out 3:2 on a blackjack, giving you better odds to win. If you prefer a more interactive experience, you can head over to Downtown Grand, where they offer heads up versions of blackjack. Here, the minimum bet is slightly higher at $1, but the dealer hits on a soft 17, which can work in your favor. So whether you're a beginner or a seasoned player, these electronic table games provide a variety of options for different betting preferences.
Palazzo offers a blackjack machine that provides a 3:2 payout for a minimum wager of $5.
Downtown Grand is offering a special deal on their Casino Wizard machines, where players can enjoy a stand on soft 17 version for just $2. If you're looking for a different experience, both Orleans and South Point casinos have Casino Wizard machines as well, but with a slightly higher minimum bet of $3. So whether you prefer the affordability of Downtown Grand or the larger bets at Orleans and South Point, there's a Casino Wizard machine suited to your playing style.
Experience the thrill of 3:2 blackjack games in our cutting-edge Electronic Stadium
At Treasure Island, I discovered a live dealer stadium that offers an enticing 3:2 blackjack game. The dealer's strategy is to stand on a soft 17, which adds an interesting twist to the gameplay. What caught my attention is the flexibility in betting options. On weekdays, you can place a minimum bet of just $1, while on weekends, it bumps up to a still reasonable $3. This allows both casual and more serious gamblers to enjoy the thrill of blackjack without breaking the bank.
El Cortez, a renowned establishment, boasts an exceptional gaming experience. Within its stadium, one can indulge in the exhilarating 3:2 video blackjack games. This captivating game, with its generous payout ratio of 3:2, offers a thrilling opportunity to multiply your winnings. For a mere minimum bet of $3, players can immerse themselves in the electrifying atmosphere and strategic gameplay. The stadium setting allows for the convenience of playing up to three hands simultaneously, providing an extra layer of excitement and challenge. With limited hours, the live dealer version of this enthralling game also guarantees a 3:2 payout ratio, further enhancing the thrill of the experience. If you seek a more modest minimum bet of $1, Boulder Station proudly presents its video multi-hand blackjack game. This captivating variant enables players to engage in one to three hands at a time, ensuring a dynamic gaming session. Venture into either El Cortez or Boulder Station for an unforgettable blackjack experience that combines the allure of video gaming with the thrill of traditional blackjack.
Blackjack games with a shoe ratio of 3:2 are not available.
These particular casinos exclusively offer shoe games with a ratio of 6:5, 3:2 with a compulsory side bet, or an alternative variation.
Alamo

Binion's

Circus Circus

Four Queens

Linq

O'Sheas

Rio
Frequently asked questions about the blackjack shoe in Las Vegas
What is the lowest minimum wager for blackjack with a 3 to 2 payout in Las Vegas?
Poker Palace offers games starting at just $3, while various other local casinos have options starting at $5.
Is it possible to give up during a game of blackjack in Las Vegas?
Indeed, the majority of gambling establishments permit players to surrender when playing at tables with either six or eight decks.
Is it possible to split aces again during a game of blackjack in Las Vegas?
Indeed, surrender is available at numerous shoe games held at those identical tables.
Is it common for the blackjack dealer in Las Vegas to stand on all 17's?
Indeed, this game can solely be located at high-stakes tables where the minimum wager starts at $50.
The most recent update occurred on August 27, 2023 as confirmed by William Stevens.