Located at 3801 S Las Vegas Blvd in the vibrant city of Las Vegas, Nevada, you can reach the Tropicana Las Vegas by dialing 702-739-2222.
Tropicana, ideally located at the southern end of the renowned Las Vegas Strip, finds itself in close proximity to none other than the bustling Harry Reid International Airport. For those individuals who choose to embark on their Las Vegas adventure by air, Tropicana's strategic position ensures a hassle-free journey, devoid of any concerns regarding traffic congestion en route to the airport upon departure. This particular intersection, where Tropicana proudly stands, is also home to some of the most prominent casinos in the city, namely Excalibur, MGM Grand, and New York-New York.
In the realm of possibility, a notion is being considered to demolish Tropicana and construct in its place a magnificent baseball stadium accompanied by a fresh resort. However, it is imperative to note that this idea is still in the early stages of planning and its ultimate realization is far from certain.
On the Las Vegas Strip, there's a casino called Tropicana. Unlike most casinos in that area, Tropicana isn't run by MGM Resorts. Instead, it's operated by Bally's. What sets Tropicana apart from its neighboring competitors is that it tends to provide a better bang for your buck. While it may be smaller compared to the other casinos on Las Vegas Blvd, it offers a unique charm and a more intimate gaming experience.
I am excited to share some information about Tropicana, a fantastic hotel that offers a variety of entertainment options. First and foremost, this hotel boasts not just one, but two incredible showrooms. One of these showrooms is a lively comedy club, where guests can enjoy laughter-filled evenings and hilarious performances. The other showroom, on the other hand, is a more traditional theater, providing a diverse range of captivating shows and productions. As for accommodations, Tropicana offers approximately 1400 well-appointed rooms, ensuring a comfortable stay for all guests. Additionally, the hotel features several exquisite restaurants, where visitors can indulge in a wide array of culinary delights. And of course, let's not forget the casino bar, where one can try their luck and savor delicious drinks in a vibrant setting.
Additional casinos along the renowned Las Vegas Strip.
Bet-NV.com relies on the backing of its members, sponsors, and advertisements. In case you or someone you're acquainted with experiences issues with gambling, please reach out to 1-800-GAMBLER.
---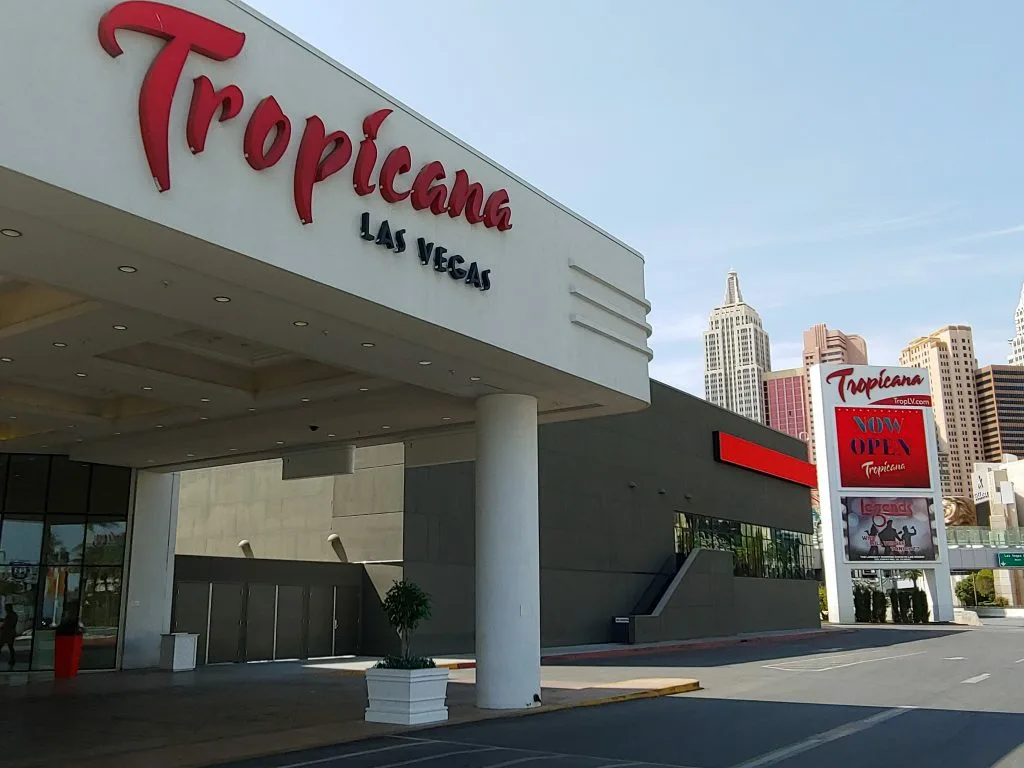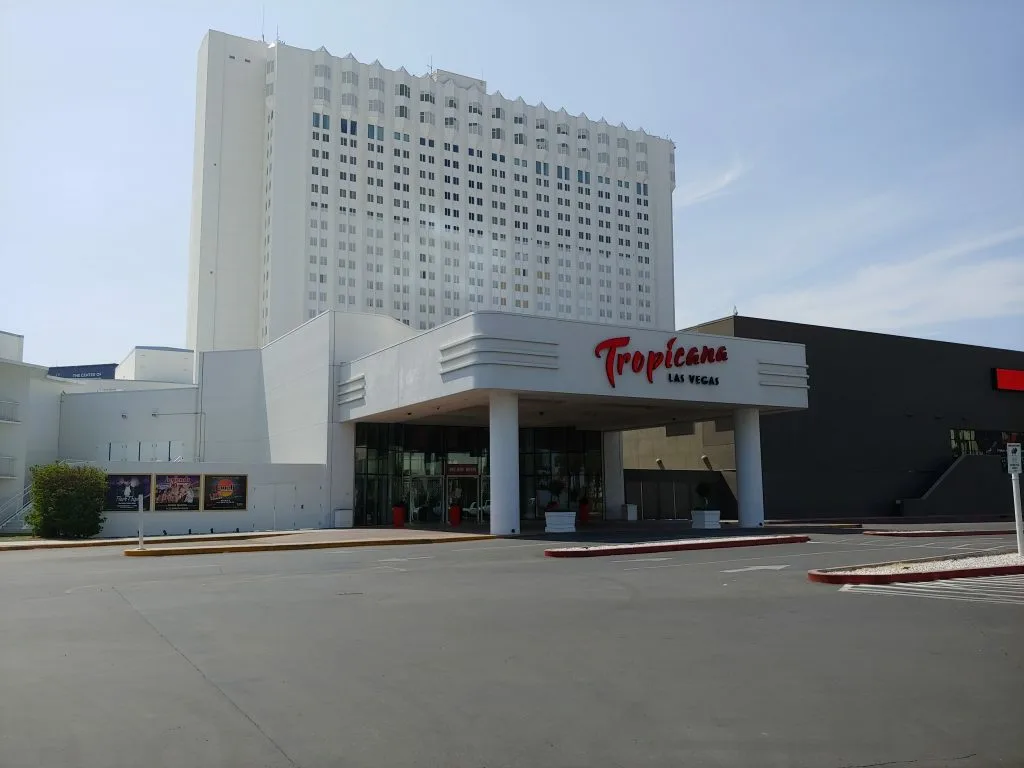 Tropicana casino
The size of the casino is approximately 50,000 square feet, housing around 600 slot machines and 30 table games, along with a few electronic table games situated next to the pit.
On most days, the bar doesn't open until 5pm, but when it finally does, it offers one of the finest selections of $1 video poker on the Strip. The majority of the casino floor is dedicated to slot machines, with a sprinkling of video poker machines and electronic table games.
Located at Tropicana, you can find a ticket counter operated by William Hill. A while back, the previous viewing space was transformed into a dining establishment.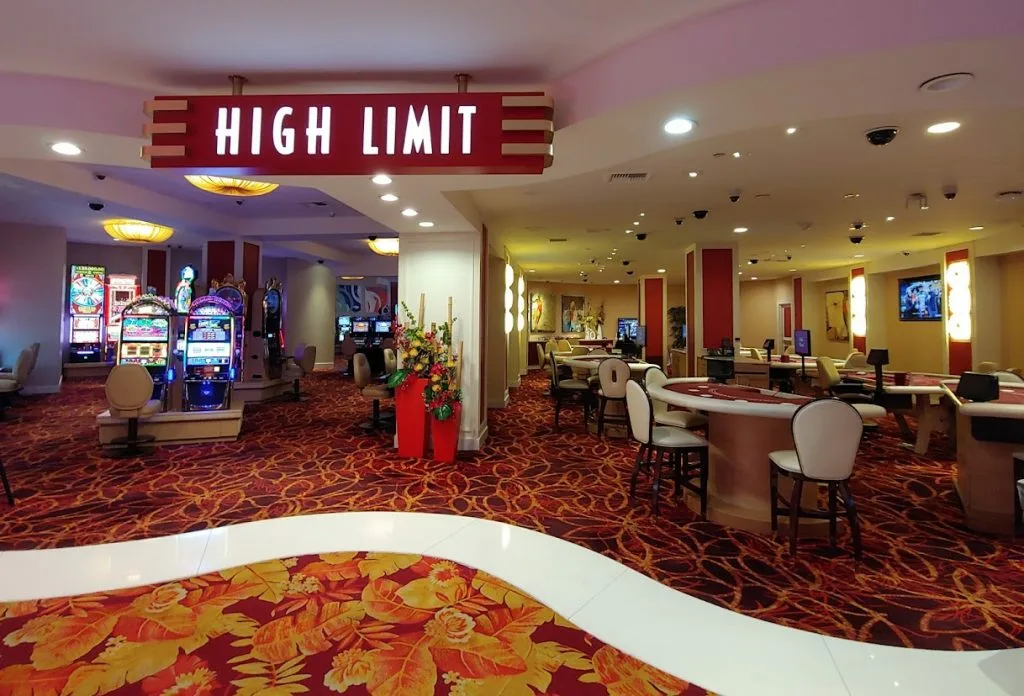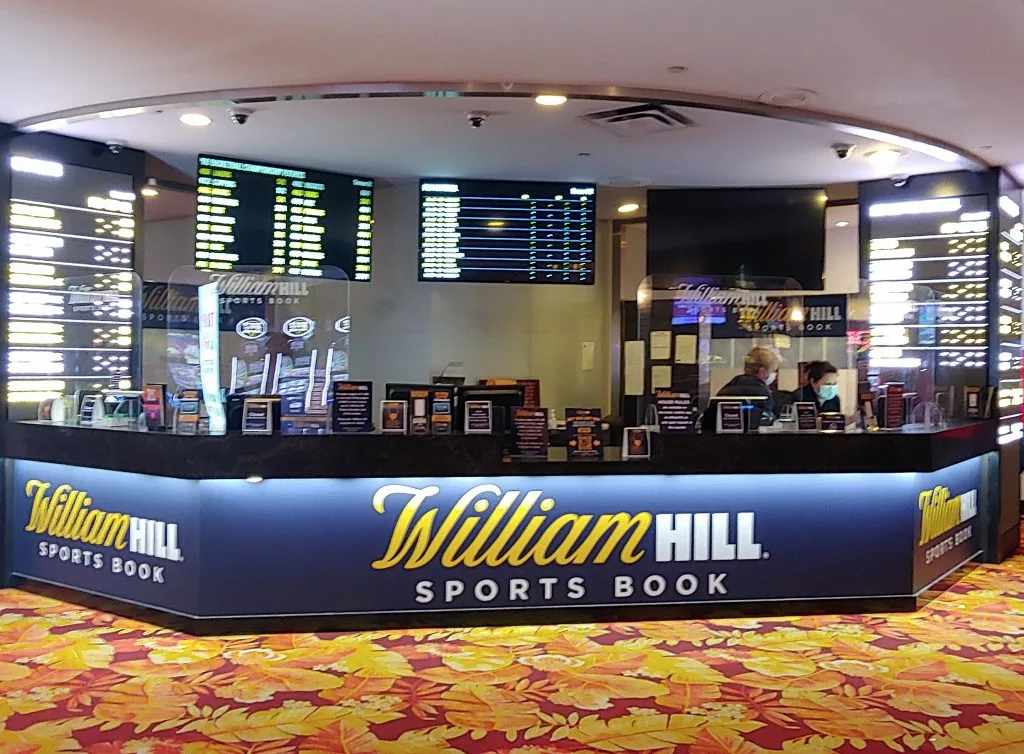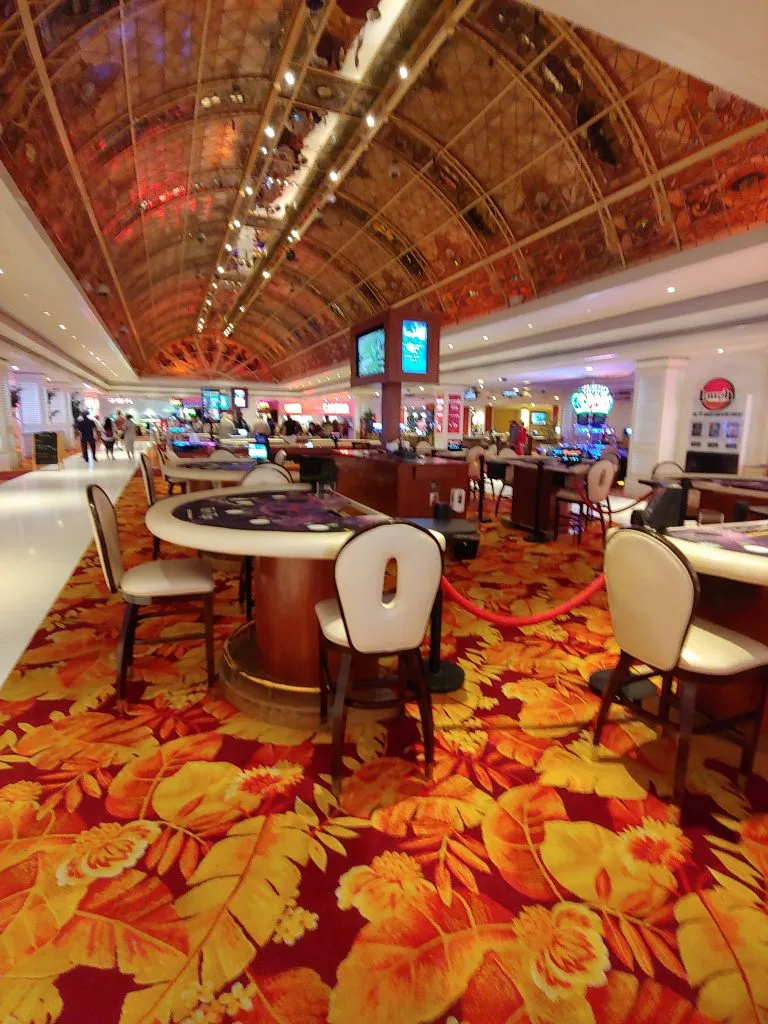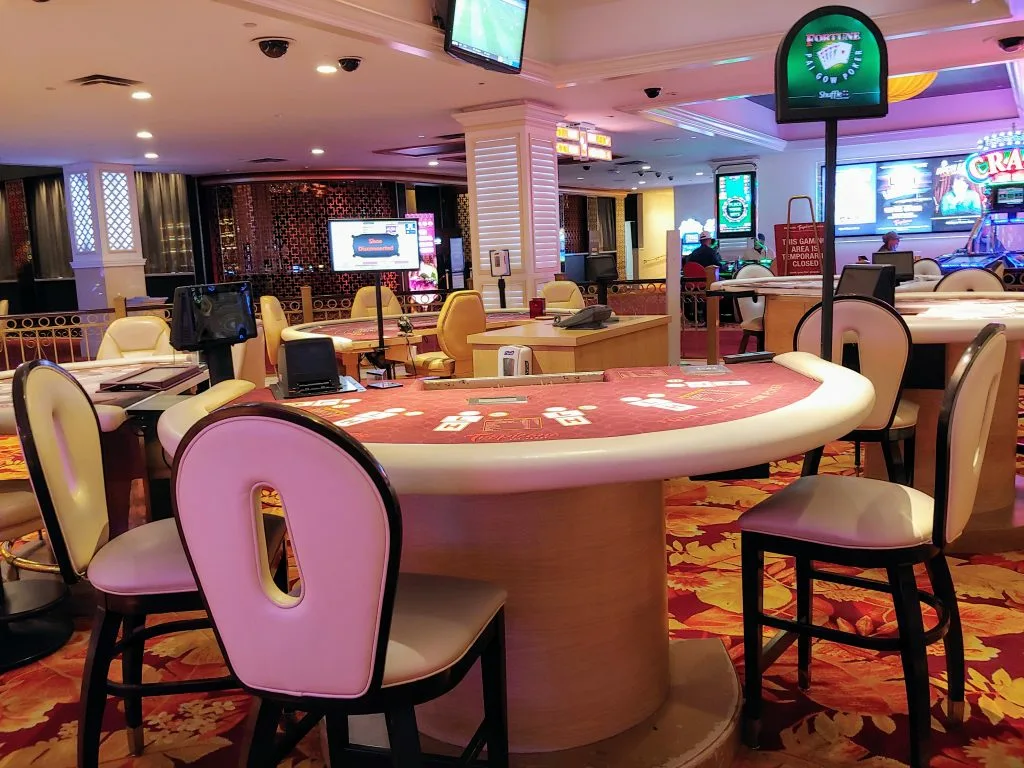 Table games
In my observations, I've noticed that Tropicana offers an impressive selection of casino games such as baccarat, craps, blackjack, roulette, Fortune Pai Gow Poker, Heads Up Hold'em, and Three Card Poker. What sets Tropicana apart is its inclusion of unique games like Heads Up Hold'em and Fortune Pai Gow Poker, making it a standout among Las Vegas casinos. Moreover, they have a fantastic 3/2 blackjack game available on the casino floor, offering players a favorable payout ratio. Interestingly, there is also a high limit room where you can find another blackjack game, although it appears that its operating hours may be limited.
In the game, double and triple zero roulette are played, while in craps, players can enjoy up to 3-4-5 times odds. Additionally, an interesting feature is that the field offers a double payout for a roll of 12.
For as low as $3 per month, even you can enjoy exclusive access to the detailed table game surveys at Casino Club, Total Access Club, and Bet-NV.com Super Fan membership levels. These surveys cover a wide range of casino properties, providing in-depth insights and information to help you make informed decisions. Join the Bet-NV.com community today and unlock a world of knowledge and benefits that will enhance your casino gaming experience. Don't miss out on this incredible opportunity to gain a competitive edge and stay ahead of the game. Sign up now and start exploring the exciting world of table games like never before.
You can now access Bet-NV.com subscriptions on both Gumroad and Patreon, offering the same valuable content on both platforms.

If you suspect that you or someone within your circle is struggling with a gambling addiction, please reach out to 1-800-GAMBLER for assistance.
Poker room
In a surprising move, Maverick Gaming recently declared its intention to reopen the Tropicana poker room in 2024, despite uncertainties surrounding the status of the A's stadium. It seems like an unusual decision considering the circumstances. Interestingly, the Tropicana had its last poker room back in 2012. Unfortunately, its ill-fated opening on April 15, 2011, coincided with the infamous "Black Friday" of online poker, which marked the downfall of the once-flourishing US online poker industry. Consequently, poker faced a decline in popularity. As of now, the closest available poker room can be found at the MGM Grand.
Entertainment at Tropicana
Tropicana offers a variety of shows, including tribute performances in the Tropicana Theater and entertaining comedy and magic shows at The Laugh Factory.
Tropicana Theater
MJ Live is an exhilarating tribute concert that pays homage to one of the most legendary performers in history, Michael Jackson. This captivating show features a dynamic ensemble of impersonators who flawlessly capture the electrifying energy, dazzling spectacle, and sheer happiness that characterized Jackson's iconic performances. Accompanied by a talented live band and a captivating group of dancers, MJ Live guarantees a delightful experience suitable for the whole family. With the exception of Tuesdays, the show commences at 7:30pm from Wednesday to Monday, ensuring ample opportunities for fans to immerse themselves in this extraordinary tribute to the King of Pop.
Experience the ultimate blast from the past and transport yourself back to the glory days of the legendary Prince with Purple Reign, THE Prince Tribute Show. Witness the incredible talents of either Jason Tenner or Donelvan Thigpen as they flawlessly channel the iconic artist. It's important to note that the Prince estate has no affiliation, association, or connection with "Purple Reign The Prince Tribute Show!" or the esteemed Tropicana Hotel. Rest assured, this electrifying showcase has not only received critical acclaim but has also gained immense popularity. In order to attend this unforgettable spectacle, guests must be at least 16 years old. Brace yourself for a mind-blowing experience as the curtains rise promptly at 9:30 pm from Wednesday to Saturday. However, do keep in mind that the show takes a break on Sundays, Mondays, and Tuesdays, allowing the performers and crew to recharge and deliver their absolute best on the remaining nights.
The Laugh Factory
At the Laugh Factory, you can experience a daily rotation of both seasoned comedians and fresh new talents in the world of comedy. The stage comes alive with laughter, as these hilarious individuals showcase their comedic prowess for your entertainment. The shows, held at 8:30pm and 10:30pm, promise to be an evening filled with amusement and laughter. It's important to note that all attendees must be at least 18 years old, ensuring that the content remains suitable for the audience. When purchasing tickets, you'll have the opportunity to see the lineup of headliners for each show, guaranteeing a night of laughter tailored to your preferences. Additionally, there are select shows that start at 7pm, providing an option for those who prefer an earlier comedic extravaganza. So come on down to the Laugh Factory and prepare to have your funny bone tickled by some of the best comedians in the business!
I had the pleasure of witnessing the incredible talent of Murray The Magician, a semifinalist on the immensely popular TV show "America's Got Talent." What sets Murray apart is his unique approach to magic, as he seamlessly incorporates two of his signature illusions into his act, right in the heart of the audience. This interactive performance allows everyone to have a full 360-degree view of Murray and his mind-boggling tricks, leaving no room for any secret hiding spaces. I was particularly impressed by the fact that Murray's show is suitable for the whole family, ensuring an enjoyable experience for all ages. It's worth noting that the show runs at 4 pm from Sunday to Wednesday, creating a perfect opportunity for an afternoon of awe and wonder. However, on Thursdays through Saturdays, the performance takes on a darker tone, adding an element of mystery and intrigue to the mix.
Throughout my career, I have had the pleasure of working alongside some of the most talented individuals in the entertainment industry. From my regular appearances on shows like "Hollywood Squares" and "The Judy Garland Show" to my occasional guest-hosting gigs on "The Tonight Show," I have been fortunate to rub shoulders with actors, singers, and even politicians. Now, in my one-man show, I bring to life the captivating stories and memorable moments shared with these remarkable individuals. It is a journey that spans decades and showcases the rich tapestry of talent that I have been privileged to witness. If you wish to join me on this extraordinary experience, please note that guests must be at least 12 years of age. The show itself commences at 6:30pm from Sunday through Wednesday, offering you the perfect opportunity to immerse yourself in the world of entertainment. However, do keep in mind that Thursdays, Fridays, and Saturdays are reserved for rest and rejuvenation, with the show taking a brief hiatus on those days. So mark your calendars and prepare for an evening of laughter, nostalgia, and a celebration of the arts.
Experience delightful culinary options and indulge in refreshing beverages at Tropicana's exquisite dining and beverage establishments.
Tropicana Las Vegas offers a limited variety of dining establishments, ranging from laid-back eateries to fast food options, as well as a high-end steakhouse.
Oakville Tuscan Grille - Dress code: Business casual attire. Enjoy a delectable selection of steak, seafood, and pasta dishes.
Robert Irvine's Public House, a popular dining destination owned by renowned chef Robert Irvine. – American pub.
Discover the culinary delights of Red Lotus Asian Kitchen – Asian-inspired cuisine.
Starbucks - Grab yourself a cup of joe and some tasty snacks.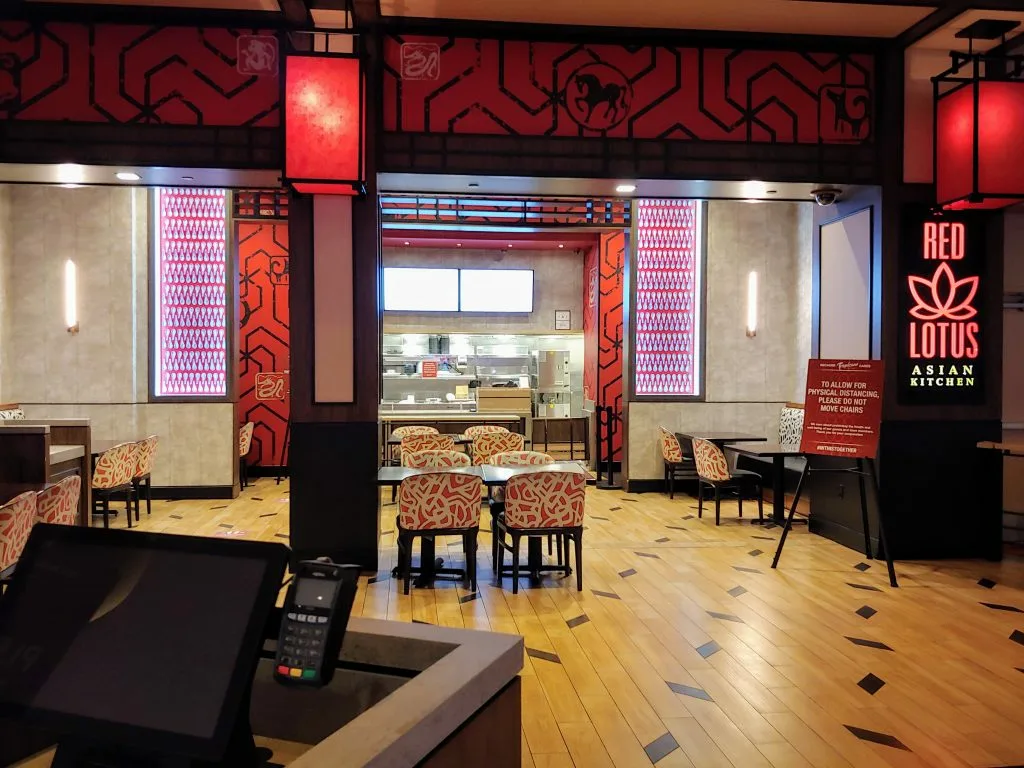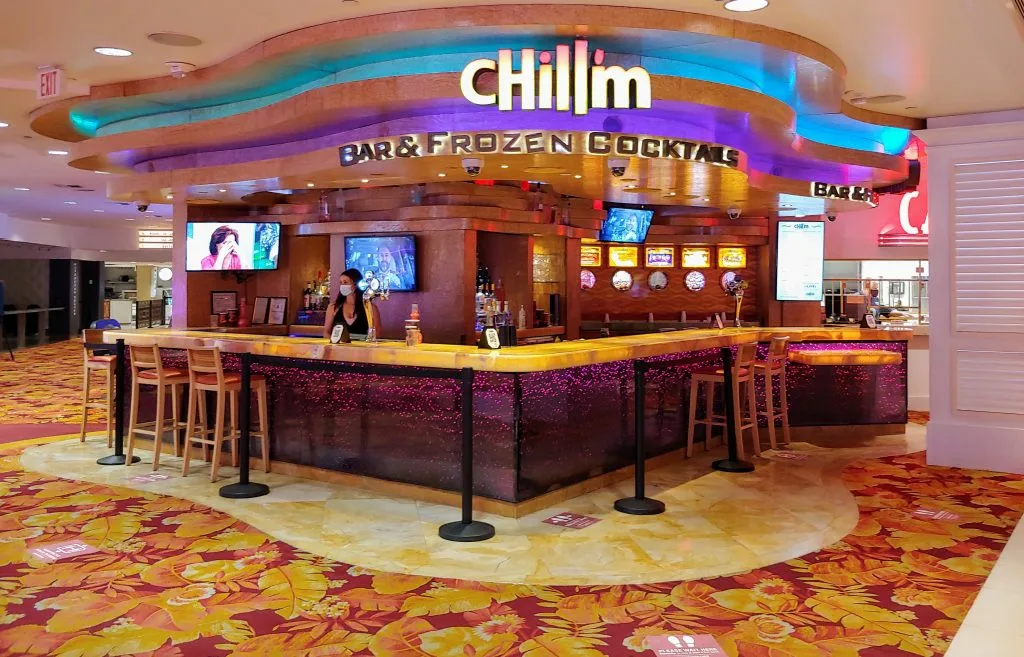 Hotel accommodations
Arrival time: 3pm | Departure time: 11am | Additional nightly charge: $37 for resort amenities
At this luxurious resort, guests can enjoy a wide range of property amenities. We have the Tropicana Pool, a perfect spot to relax and soak up the sun. For those seeking pampering and rejuvenation, our Glow Spa and Salon offers a variety of treatments. And for fitness enthusiasts, we have a state-of-the-art fitness center equipped with all the necessary equipment. When it comes to the resort fee, we ensure that our guests receive excellent value for their money. The fee includes room high-speed wireless Internet, allowing you to stay connected throughout your stay. You also have unlimited access to our fitness center, so you can maintain your workout routine even while on vacation. To keep you refreshed and hydrated, we provide two complimentary bottles of water in your room per stay. We understand the importance of staying hydrated, especially in a warm climate like ours. During the warmer months, you can take advantage of our seasonal pools and whirlpool spas. Dive into the crystal-clear waters of our pools or unwind in the soothing jets of the whirlpool spas. It's the perfect way to beat the heat and relax during your stay. Additionally, we offer free printing of boarding passes, ensuring a hassle-free travel experience. No need to worry about finding a printer or rushing to the airport. Simply print your boarding pass at our convenient printing station and start your journey with ease. With our range of property amenities and the inclusion of these fantastic benefits in the resort fee, we strive to provide our guests with a memorable and enjoyable stay.
I recently visited the Tropicana Las Vegas and was amazed by the variety of room options available. The rooms ranged in size from 375 to 475 square feet, offering a comfortable and spacious stay. What impressed me the most were the modern amenities provided in each room. LED HDTVs adorned the walls, ensuring that guests could enjoy their favorite shows and movies in high definition. Additionally, in-room safes were available for the security of personal belongings, giving me peace of mind during my stay. One of the highlights of Tropicana Las Vegas was the Club and Paradise Suites, which boasted a generous 906 square feet of luxurious space. These suites featured a king-sized bed and offered breathtaking views of either the Strip or the city. Another suite that caught my attention was the Club Spa Suite, spanning an impressive 1,006 square feet. This suite not only provided ample space but also had a whirlpool tub for ultimate relaxation. The king bed and the stunning views of the Strip or the city added to the overall appeal of this suite. For those seeking a more elevated experience, the premium suites at Tropicana Las Vegas offered additional space and an array of exclusive amenities. These suites ensured that guests could enjoy the utmost comfort and luxury during their stay. Overall, Tropicana Las Vegas exceeded my expectations with its range of room options and top-notch amenities. Whether one is looking for a cozy room or a lavish suite, this hotel has it all, making it the perfect choice for a memorable stay in Las Vegas.
Book a room at Tropicana Las Vegas – A Doubletree by Hilton and secure your stay.
Tropicana Casino FAQ
Is the payout for blackjack 3/2 at Tropicana casino?
The blackjack games available at the Tropicana table game pit include a combination of 6/5 and 3/2 variations.
What is the probability of winning at craps at Tropicana Las Vegas?
Tropicana offers a 3-4-5 times maximum craps odds, while the payout for a field bet is doubled when the dice roll a 12.
Can I find a poker room at Tropicana Las Vegas?
Despite the absence of a poker room, an upcoming establishment dedicated to this card game has been officially revealed.
What varieties of roulette are available at Tropicana?
The Tropicana casino floor is home to both double zero and triple zero tables.
What is the potential Las Vegas Strip casino that could transform into the A's stadium?
It seems that Tropicana is leading the way as the preferred location for a future baseball stadium in Las Vegas. The plans are still in the initial phase.
Does Tropicana Las Vegas have a sportsbook available?
The MGM Grand bridge has a nearby sportsbook counter for William Hill.
Last updated: June 3, 2023