In the vibrant city of Las Vegas, there is an array of captivating pai gow poker games awaiting enthusiasts. Among the thrilling options available, Face Up Pai Gow Poker has emerged as the undisputed favorite among players. This captivating variant made its grand entrance into the market in 2018 and has since taken the gambling scene by storm. In fact, according to our Las Vegas Table Game Survey, an astounding majority of over three-quarters of pai gow poker games offered in the city belong to this exhilarating genre. However, for those seeking a diverse gaming experience, there are also other enticing alternatives to explore, such as Dealer Open, Emperor's Challenge, and Fortune Pai Gow Poker. With such a wide range of options, every poker enthusiast is sure to find a game that perfectly suits their preferences and offers a thrilling adventure on the casino floor.
In Emperor's Challenge and Fortune Pai Gow Poker, players are charged a 5% commission on their wins. However, it is worth noting that certain establishments still allow players to act as the banker in these games. On the other hand, it is important to remember that games without a commission cannot be banked by players.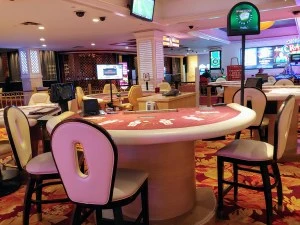 The other two common variants of Pai Gow Poker are Fortune and Emperor's Challenge, both of which differ in terms of speed and house edge from Face Up Pai Gow Poker. Emperor's Challenge is occasionally dealt as Emperor's Exposed, resulting in an identical house edge to Face Up Pai Gow Poker. When it comes to the game's pace, Face Up Pai Gow Poker takes the lead, offering a faster gameplay experience compared to the other versions. Furthermore, Face Up Pai Gow Poker boasts a lower house edge, making it a more favorable choice for players seeking better odds.
In Dealer Open Pai Gow Poker, there is another option without commission. If the dealer is dealt two or more jacks, all players will have a tie.
The funding for Bet-NV.com comes from memberships, sponsors, and advertisements. In case you or anyone you're acquainted with struggles with gambling, reach out to 1-800-GAMBLER for assistance.
I am delighted to offer you our exclusive subscription service called the Las Vegas Blackjack and Table Game Survey. By becoming a member of Bet-NV.com, you can show your support by signing up for either a monthly or quarterly membership. This extraordinary service is meticulously updated multiple times each month with the latest data from our frequent casino visits. The best part is that our memberships start at an incredibly affordable rate of just $3 per month.
You can now access Bet-NV.com subscriptions on both Gumroad and Patreon, offering the same high-quality content on both platforms.

In case you or a person you are acquainted with experiences difficulties with gambling, feel free to reach out to 1-800-GAMBLER for assistance.
It is within acceptable boundaries for publishers of other online platforms to utilize our data, but they must adhere to our terms of use which mandate the inclusion of a backlink to Bet-NV.com.
Las Vegas gambling establishments featuring the game of pai gow poker.
In Las Vegas, the minimum bet usually starts at $10, but can go up to $15 or even $25 in the casinos located on the famous Las Vegas Strip. Unfortunately, gone are the days of finding a $5 pai gow poker game in this vibrant city. The last place where you could have enjoyed a $5 pai gow poker game was at Cannery, but now the minimum bet has been increased to $10.
During the summer of 2023, we embarked on a mission to gather valuable data on the vibrant Las Vegas casino scene. Our findings revealed an impressive tally of 55 distinct casinos in this bustling city, each showcasing at least one variant of the thrilling game, pai gow poker. To provide a comprehensive overview, we have meticulously sorted the list below based on the anticipated minimum wager, ensuring that enthusiasts can easily identify their preferred betting range. It's important to note that the minimum bet might experience fluctuations during peak hours, when the atmosphere is teeming with excitement. Moreover, we discovered that certain casinos offer multiple renditions of the captivating pai gow poker game, providing avid players with a diverse range of options to explore.
Las Vegas Pai Gow Poker's minimum wager requirement.
$10 – Emperor's Challenge
Arizona Charlie's Decatur
M Resort
$10 – Face Up
Cannery
Green Valley Ranch
Palace Station
Rampart
Red Rock
Santa Fe Station
Silverton
South Point
Suncoast
Sunset Station
---
$15 – Dealer Open
$15 – Face Up
Aliante
Binion's
Boulder Station
California
Cromwell
Flamingo
Four Queens
Fremont
Main Street Station
Palms
Plaza
Sam's Town
Treasure Island
Westgate
$15 – Fortune
Golden Nugget
Resorts World
Tropicana
---
$20 – Fortune
---
$25 – Face Up
Bellagio
Circa
Cosmopolitan
Excalibur
Gold Coast
Harrah's
Horseshoe
Linq
Mirage
Mohegan Sun
New York-New York
Palazzo
Paris
Park MGM
Planet Hollywood
Resorts World
Rio
Venetian
$25 – Fortune
---
$50 – Face Up
Aria
Caesars Palace
Encore
Mandalay Bay
MGM Grand
Wynn
$50 – Fortune
Strategies for mastering the game of pai gow poker
In a game of pai gow poker, we utilize a deck of 53 cards, which includes a special joker. This joker has a remarkable flexibility as it can step in to form a straight, flush, or even a straight flush. However, in the event that the joker cannot serve this purpose, it transforms into an ace, assuming a valuable role in the game.
After placing their bets, players are dealt a total of seven cards, which may also include various additional side bets. These cards are then divided into a hand consisting of five cards, which are deemed the low hand, and another hand consisting of two cards, known as the high hand. The objective is for the five-card hand to surpass the two-card hand in value. Once all players have finalized their hands, the hand of the house, or the dealer, is revealed. The house follows a specific set of rules for its own hand. Subsequently, the house's hand is compared to the hand of each individual player to determine the outcome.
In Emperor's Challenge and Fortune Pai Gow Poker, if the player manages to defeat the banker with both their five-card and two-card hands, they will receive a payout equal to their initial bet. However, it's important to note that these games come with a 5% commission. On the other hand, if the banker's two hands outperform both of the player's hands, then the house emerges victorious. In the event that the banker wins one hand while the player wins the other, the result is considered a push, and no one emerges as the clear winner.
In Emperor's Challenge and Fortune Pai Gow Poker, players have the opportunity to serve as the banker, which is typically the role of the house. It's an interesting twist, as the casino's dealer becomes a player hand, going head-to-head with each player at the table. This means that the player banker has the advantage of winning all ties, just like the house does in traditional pai gow poker. However, there is a small catch: the house takes a 5% cut of the player's net winnings when they choose to bank. Despite this, being the player banker can be a lucrative position, offering a unique opportunity to control the game and potentially come out on top.
What sets Face Up Pai Gow apart from the conventional game?
In Face Up Pai Gow Poker, luck takes precedence over skill, transforming the game into a thrilling pursuit of jackpots and side bets. This variant of poker is perfect for players seeking a break from strategic thinking. Rather than worrying about complex tactics, they can focus solely on the excitement of the game. Unlike traditional poker, Face Up Pai Gow Poker eliminates the element of skill. Instead, the house takes the lead by setting its hand first. Should the house possess an ace-high pai gow, sans any pairs or stronger combinations, all player hands result in a push. Conversely, if the dealer's hand does not result in a push, it is promptly set. The player's hand, on the other hand, is determined by the dealer, who assists in identifying the most advantageous combination.
In Face Up Pai Gow Poker, it is not permitted for players to act as the banker.
Play Pai Gow Poker without any fees or charges.
I have come across an interesting variant of Pai Gow Poker during my exploration of Las Vegas casinos. Specifically, there is a single installation of No Commission Pai Gow Poker located at Boulder Station. Fascinatingly, according to our comprehensive 2020 Las Vegas Table Game Survey, this particular game was only found at Fiesta Henderson, boasting just one installation. It is worth noting that when the dealer achieves a queen-high pai gow, all players participating in this game are pushed. Intriguingly, I have yet to witness this table being open at either casino, suggesting that it may only be available during peak hours. Moreover, it is important to mention that No Commission Pai Gow Poker does not offer player banking as an option.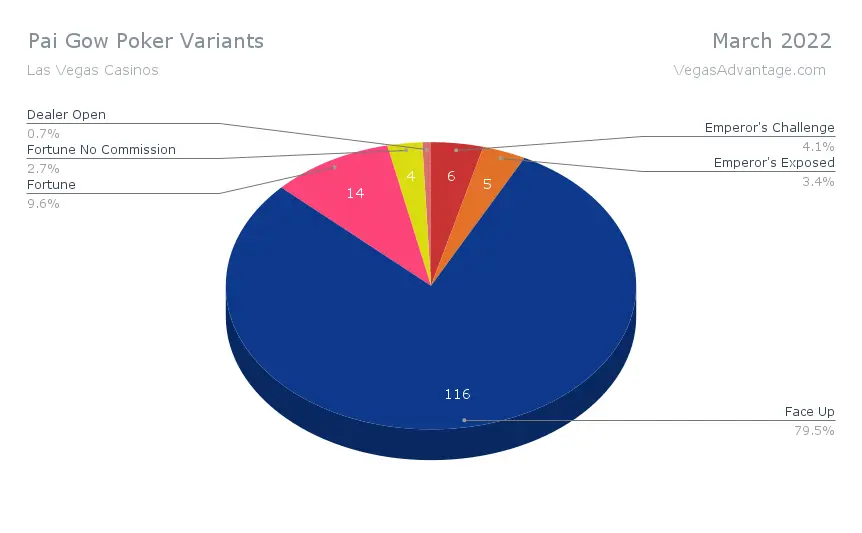 Frequently Asked Questions about Pai Gow Poker in Las Vegas
What is the minimum bet for pai gow poker in Las Vegas?
I know of a casino nearby that offers pai gow poker for just $5, which is quite a steal considering that the usual minimum bet is $10. However, if you prefer to play in downtown Las Vegas, you can find it there for $15. On the Strip, the prices range from $15 all the way up to $50.
What types of

pai gow poker

are dealt in Las Vegas?
In Las Vegas, you can find a variety of pai gow poker versions to test your luck. There's the Emperor's Challenge, a thrilling option that promises excitement and big wins. If you prefer a more revealing experience, Emperor's Exposed might be the one for you, where the cards are laid bare for all to see. For those who like to face the odds head-on, Face Up is the perfect choice, as it gives you a glimpse into the dealer's hand. If fortune is on your side, then Fortune pai gow poker could be your ticket to riches, with its special bonuses and payouts. And if you're feeling lucky and want to avoid the commission, No Commission is the way to go. But the excitement doesn't end there! Binion's and Sahara offer a unique twist with their Dealer Open version, adding an extra layer of challenge and anticipation to the game. So, whether you're a seasoned player or a newbie looking for some poker fun, Las Vegas has something for everyone when it comes to pai gow poker.
What is the most popular version of

pai gow poker

in Las Vegas?
More than 75% of the gaming tables in Las Vegas are dedicated to Face Up Pai Gow Poker.
Can I bank at

pai gow poker

in Las Vegas?
In Emperor's Challenge and Fortune Pai Gow Poker, players have the opportunity to act as the banker.
Is there a commission at Las Vegas

pai gow poker

tables?
Emperor's Challenge and Fortune Pai Gow Poker incur a 5% commission, whereas there is no commission for Face Up and Emperor's Exposed Pai Gow.
Why is there not a commission at Emperor's Exposed or Face Up Pai Gow Poker?
The dealer ensures that all players with a pai gow containing an ace are not at a disadvantage, as this helps to balance out the commission and prevents any unnecessary change on the table.
Are there any video

pai gow poker

machines in Las Vegas?
Certainly! In August 2023, at the Golden Nugget, we discovered a video blackjack game on the Casino Wizard machines, equipped with a minimum bet requirement of $5.
Updated most recently on August 28, 2023 by William Stevens