Visit the Four Queens Casino at 202 E Fremont St, Las Vegas, NV. For inquiries, dial 702-385-4011.
I walked into Binion's, a casino nestled in the heart of downtown Las Vegas on the iconic Fremont Street Experience. This historic gambling establishment first welcomed visitors in 1966, and its allure has only grown stronger with time. To my surprise, I discovered that Binion's is not alone in its splendor. Just across the bustling intersection, diagonally positioned, stands Four Queens, its sister casino. Together, these two magnificent venues form a vibrant duo that captivates the attention of all who pass by, creating a gambling oasis that beckons to both locals and tourists alike.
Four Queens boasts a vast range of accommodations, offering a total of 690 well-appointed hotel rooms. As for entertainment, the casino floor is home to an impressive collection of over 1000 slot machines, ensuring there's always something for every gambling enthusiast. Moreover, guests can indulge in the thrill of 27 table games, where they can try their luck and test their skills. Additionally, on the premises, visitors can find a convenient William Hill sportsbook, which handles all the necessary transactions for deposits and withdrawals pertaining to their sports betting app. It's worth noting that Four Queens does not feature a dedicated bingo room, keno lounge, or poker room. However, the property does boast an array of dining options with its seven restaurants, where guests can savor a variety of delectable cuisines.
The casinos located in the heart of Las Vegas' downtown area.
Bet-NV.com relies on funding from memberships, sponsors, and advertisements, ensuring a superior experience. If you are concerned about gambling addiction, reach out to 1-800-GAMBLER for assistance.
---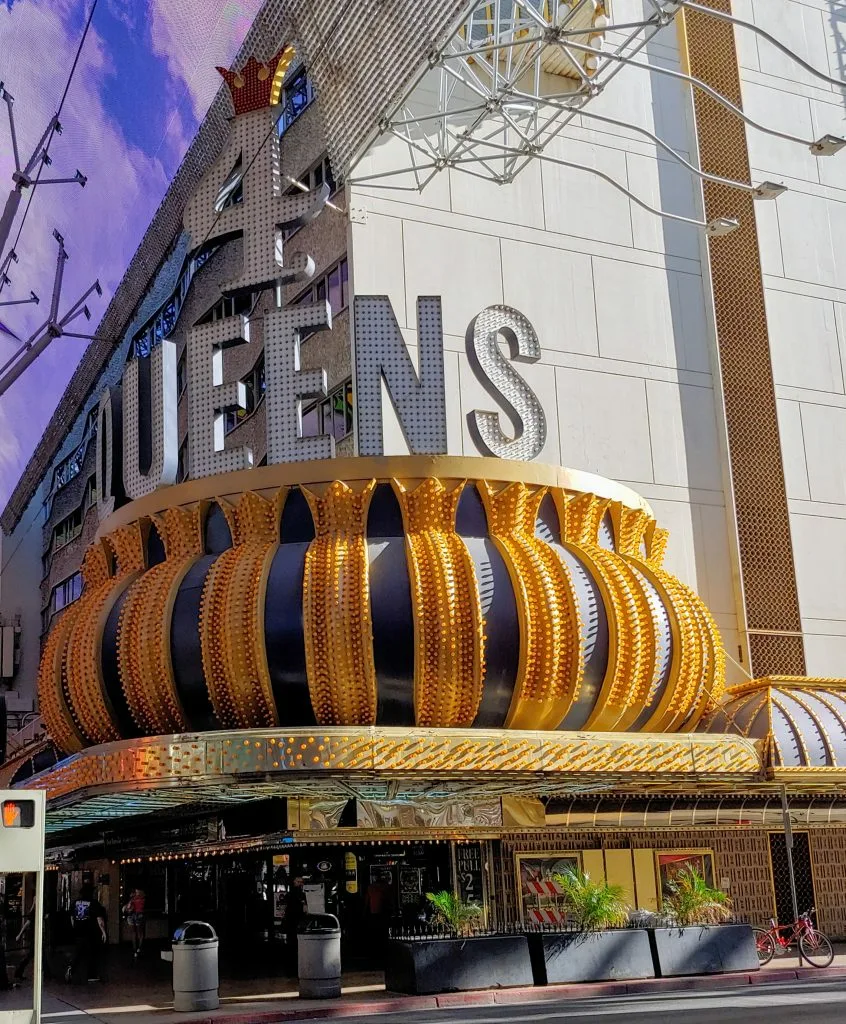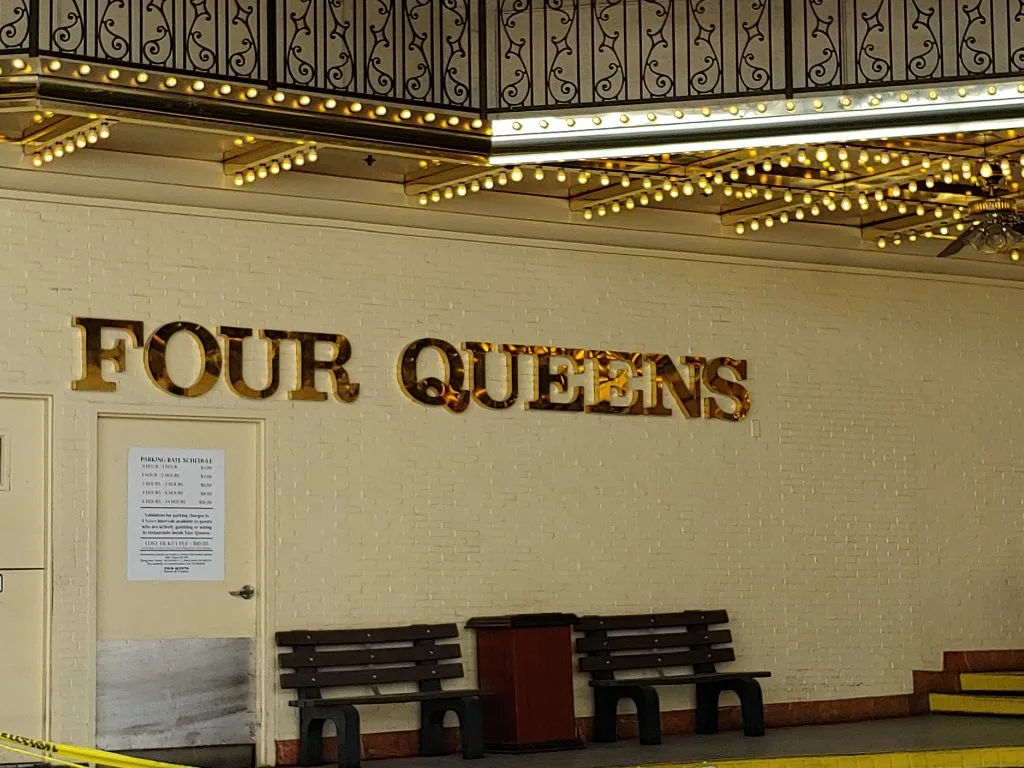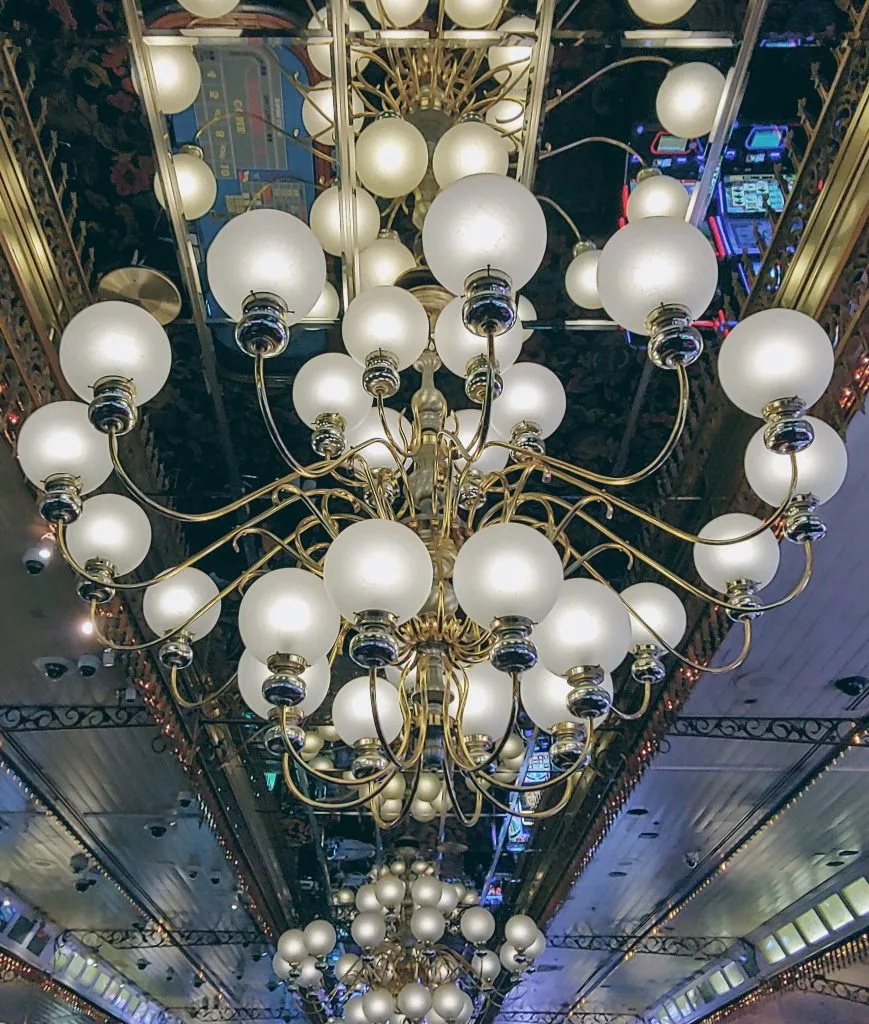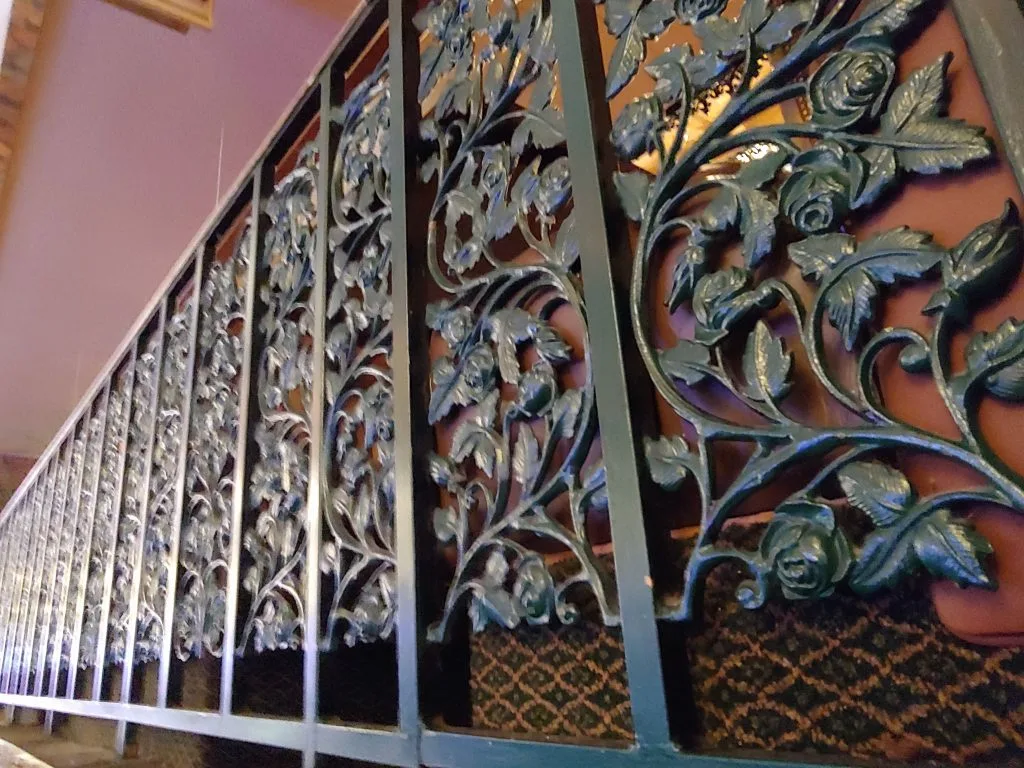 Four Queens casino
At Four Queens, we offer the fantastic All Access players club for our esteemed guests. As a member, slot players can enjoy a generous cashback of 0.5% on their wagers, while also earning 1% in delightful comps. The perks don't stop there! For most video poker games, the ratio is even more impressive, with 0.3125% cashback and 0.625% in desirable comps. However, it's important to note that full-pay video poker games tend to yield only half of that extraordinary amount.
Four Queens, located in Las Vegas, is renowned for its top-notch video poker offerings. One of their standout options is Double Bonus Poker, boasting an impressive 10/7 pay table. With five coins wagered and flawless gameplay, players can expect a remarkable 100.17% return. Available in both quarter and dollar denominations, this game caters to a wide range of players. Additionally, Four Queens is proud to offer one of the finest 50 Play video poker games on the market. Known as 20/13 Bonus Deuces Wild, this captivating game commences at the penny denomination, making it accessible to all.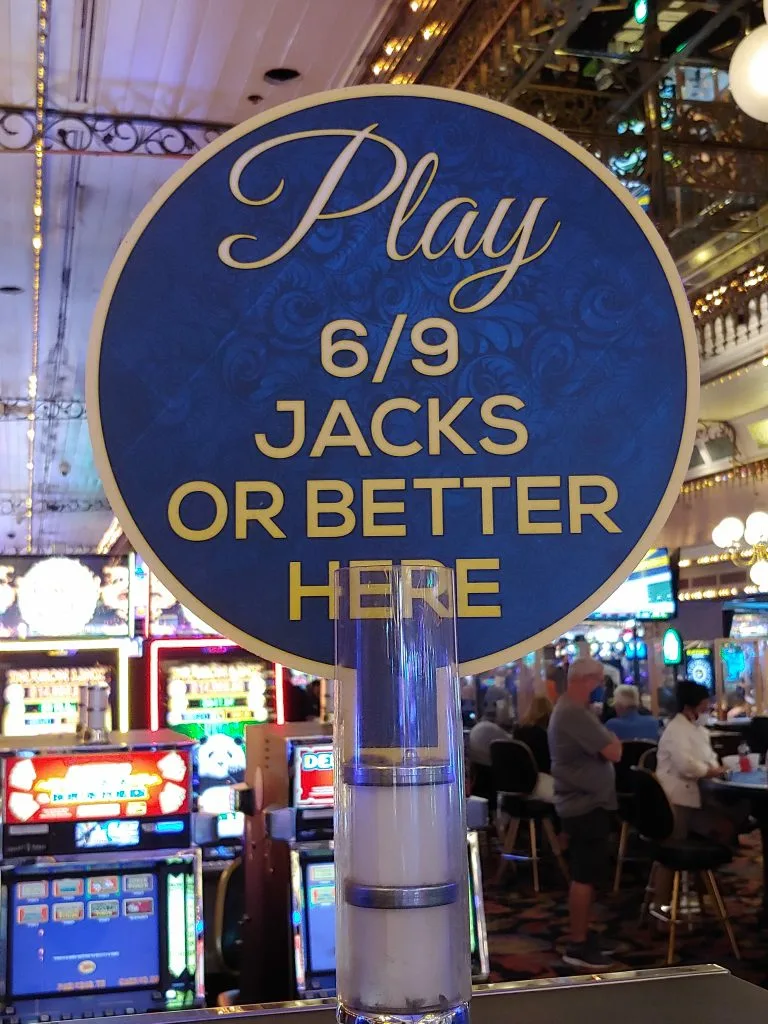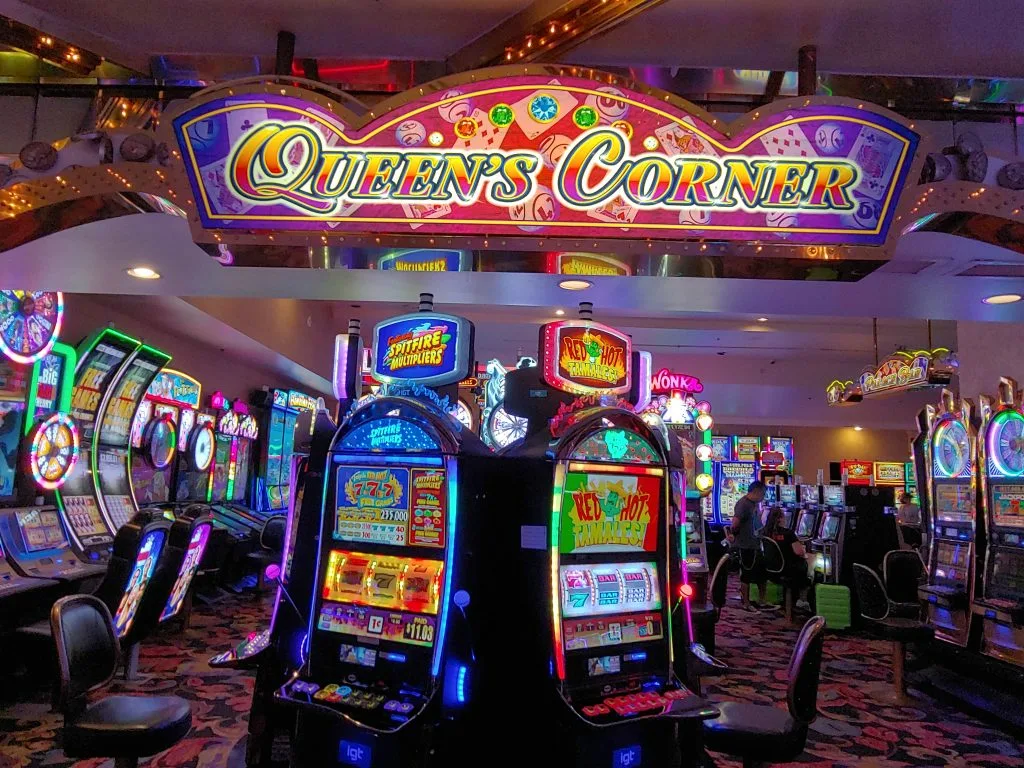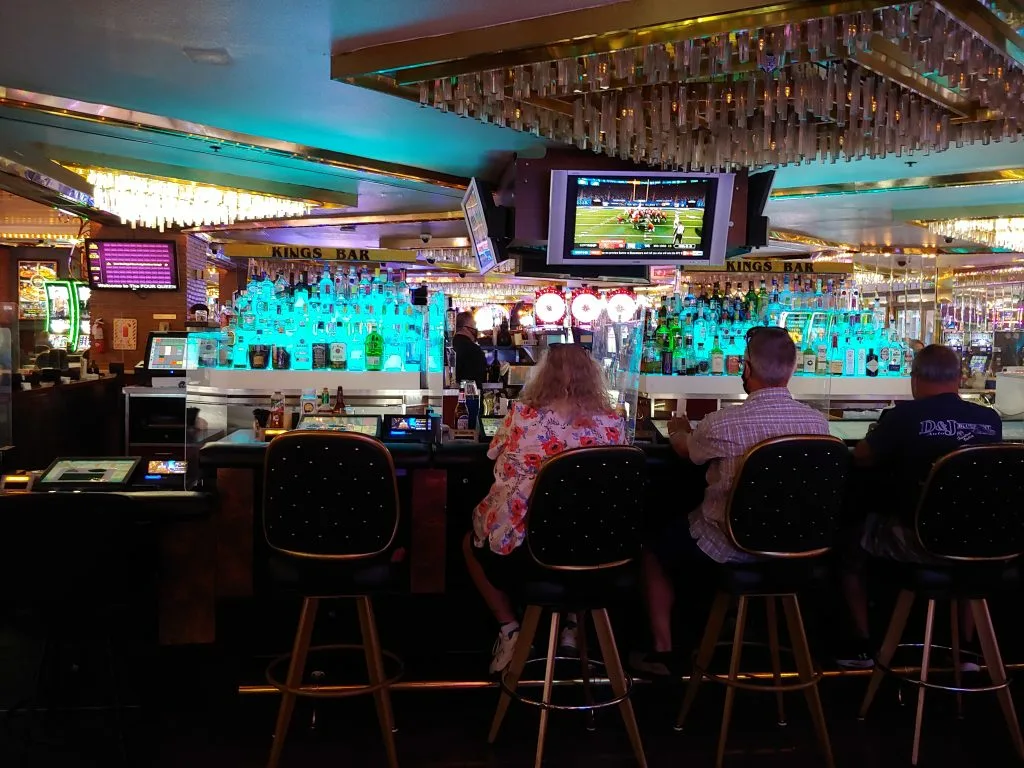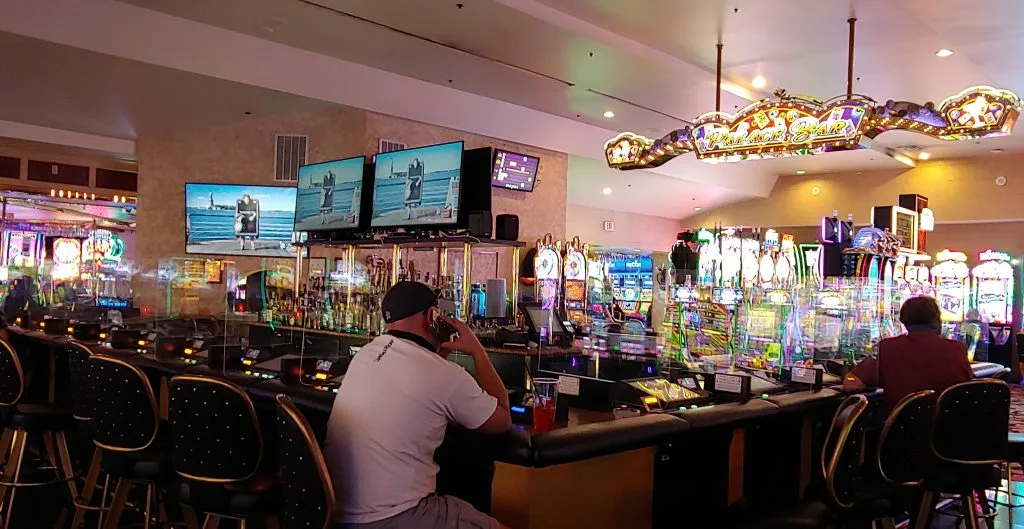 Table games
At 4 Queens, you'll discover a wide array of table games, totaling 27 in number. The majority of these games are variations of blackjack, providing ample opportunities for players to test their card skills. Additionally, the casino offers an assortment of other exciting games, including craps, double zero roulette, and even triple zero roulette for those seeking an extra thrill. For individuals looking to try their luck at different card games, the establishment caters to their preferences with Face Up Pai Gow Poker, Let it Ride, and Three Card Poker. With such a diverse selection, there's something to suit every player's taste and level of expertise.
For just $3 per month, you can also gain access to Bet-NV.com table game surveys and much more! Casino Club, Bet-NV.com Super Fan, and Total Access Club members are granted more comprehensive access to table game surveys based on the casino property.
You can now access Bet-NV.com subscriptions on Gumroad and Patreon, offering you the same valuable information on each platform.

In the event that you or an acquaintance is struggling with a gambling addiction, reach out to 1-800-GAMBLER for assistance.
Rules for playing blackjack at the Four Queens casino
Four Queens offers a variety of five blackjack games, none of which follow the traditional 3/2 blackjack rules.
There are several blackjack games at Four Queens, each with its own unique rules and payouts. The main game, unfortunately, has a 6/5 payout ratio, which is not the most favorable for players. However, there are other variants available that offer better odds. One option is Blackjack Switch, a game where you can switch cards between two hands, giving you a better chance of winning. Another option is Double Up Blackjack, which allows you to double your bet after receiving your first two cards. Lucky Cat Blackjack is yet another variant, offering a 3/2 payout on blackjack, making it more advantageous for players. Lastly, there is Bonus Spin, which also pays 3/2 on blackjack, but it requires a $1 side bet. Although the Bonus Spin game may seem tempting, it's important to note that the additional side bet makes it less favorable than a 6/5 blackjack game for most bettors.
The Double Up blackjack game at Four Queens is regarded as the finest. It demands the acquisition of a sophisticated gameplay tactic.
The craps odds at the Four Queens are exceptional.
At Binion's, the sister casino of 4 Queens, we discovered a unique rule that sets it apart from other Las Vegas casinos. Specifically, if you choose to buy the 4 and 10 in craps, you'll be required to pay a 5% commission upfront. This commission is not a common practice elsewhere in the city. Additionally, when playing craps at 4 Queens, you'll find that the maximum odds allowed are five times. This limit ensures that the game remains fair and balanced for all participants. Moreover, it's worth noting that the field bet pays double when the dice total 12. These rules and offerings make the craps experience at 4 Queens and Binion's distinct and potentially appealing to players seeking a different approach to the game.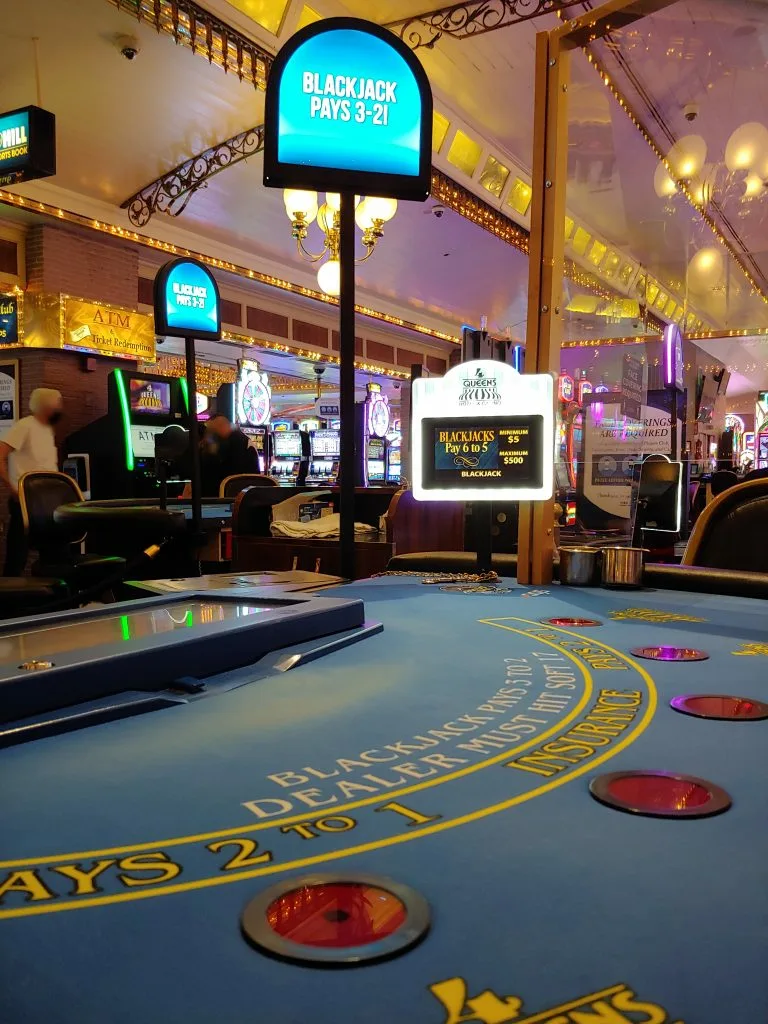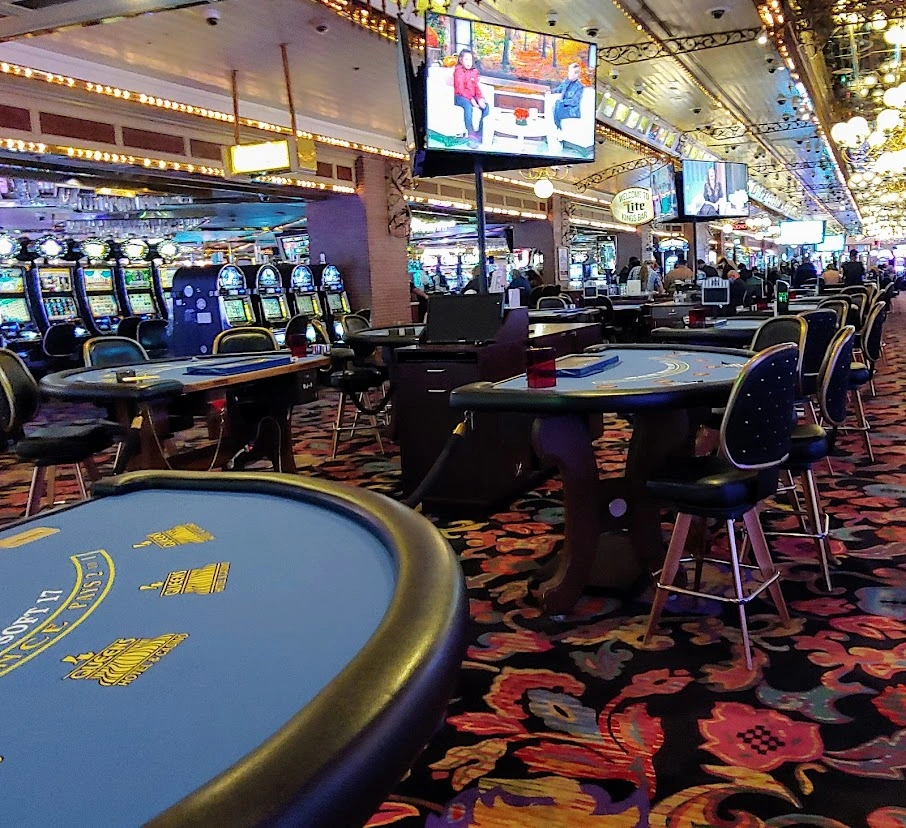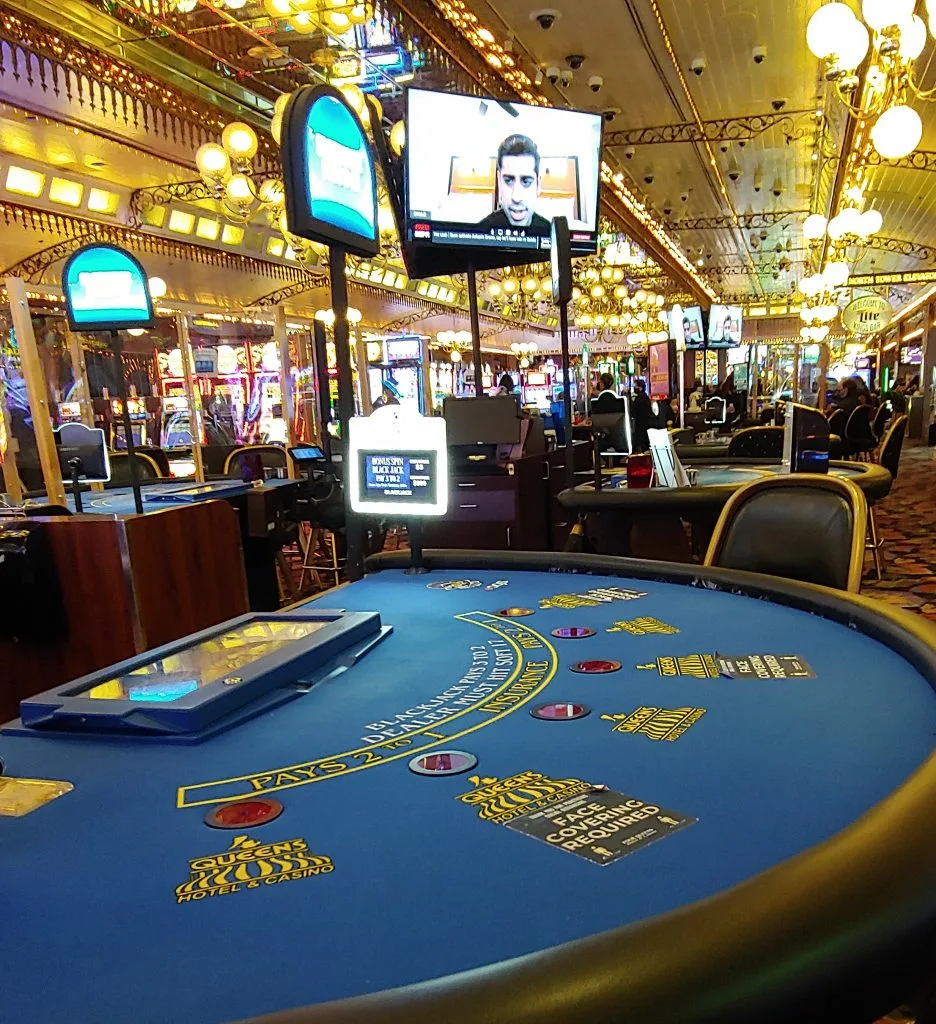 Exciting amusements await at Four Queens
At the rear of the casino, near the front desk, you can catch two entertaining shows regularly hosted at the Four Queens. One of the shows showcases a hilarious blend of comedy and magic, while the other mesmerizes the audience with the power of hypnosis. From Tuesday to Saturday, these captivating performances take place in the showroom. However, on Sundays and Mondays, the shows take a break, offering the performers a well-deserved rest.
Experience the delectable cuisine and refreshing beverages at Four Queens
At the Four Queens, you'll find a selection of seven different restaurants to choose from. Among them, the one that stands out for its sophistication and timeless charm is none other than Hugo's Cellar. This dining establishment prides itself on offering an extensive menu that caters to all tastes and preferences. Indulge in the finest cuts of steaks, succulent chicken dishes, fresh seafood delicacies, delectable duck preparations, flavorful lamb options, tender veal selections, and mouthwatering prime rib. And that's not all! Every single entree includes a delightful trip to the salad cart, where the food is expertly prepared right before your eyes. As an added touch of elegance, the host presents each lady with a beautiful rose upon being seated. For an unforgettable dining experience, Hugo's Cellar is open every day exclusively for dinner service.
Magnolia's Veranda operates from 7am to 3am every day, offering a diverse selection of dishes including a generous breakfast menu and popular casino café options such as burgers, chicken, and prime rib.
I'm here to help you with your request! Below is a new unique passage of exactly the same length as the example excerpt: In terms of dining options, the Four Queens offers a variety of choices that cater to different tastes. Chicago Brewing Company, known for its delectable pizza, burgers, appetizers, and sandwiches, is a popular choice among visitors. If you're craving Mexican cuisine, Wana Taco is an excellent option that promises to satisfy your taste buds. For those looking for a taste of Italy, Noble Roman's serves up delicious Italian dishes that are sure to please. And if you find yourself in need of a quick bite at any hour of the day, Subway, located within the Four Queens, is open 24/7, ensuring that you can grab a delicious sandwich whenever hunger strikes.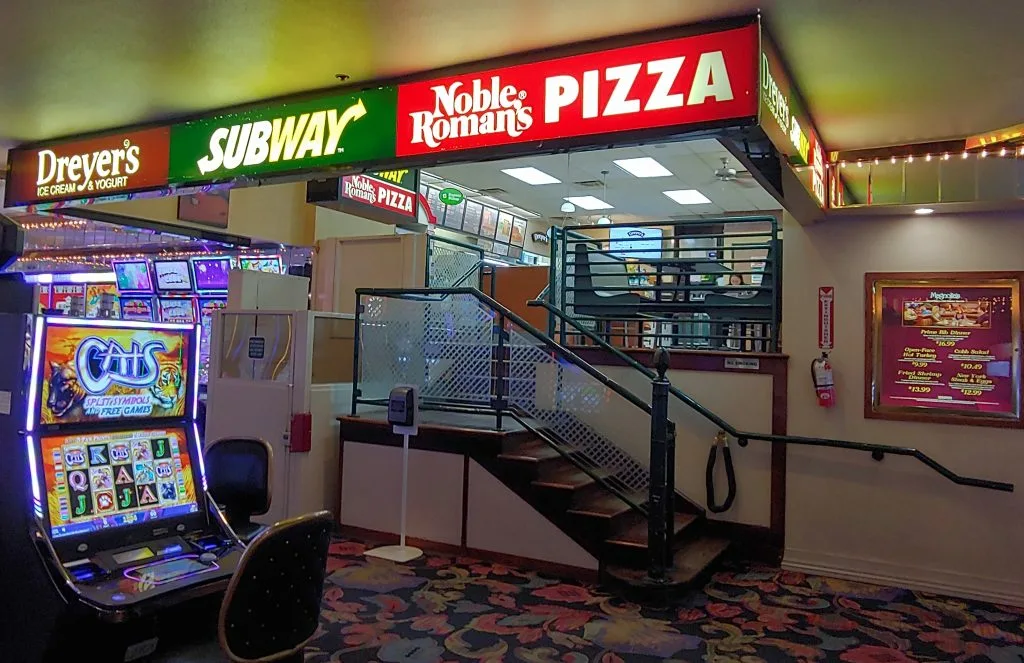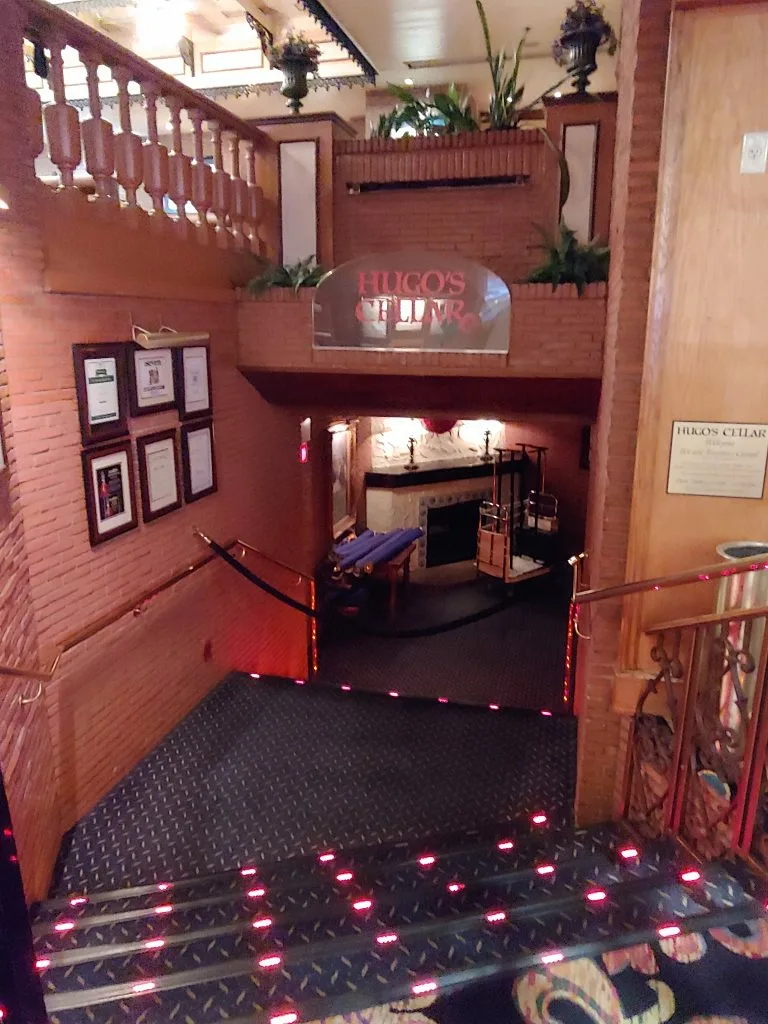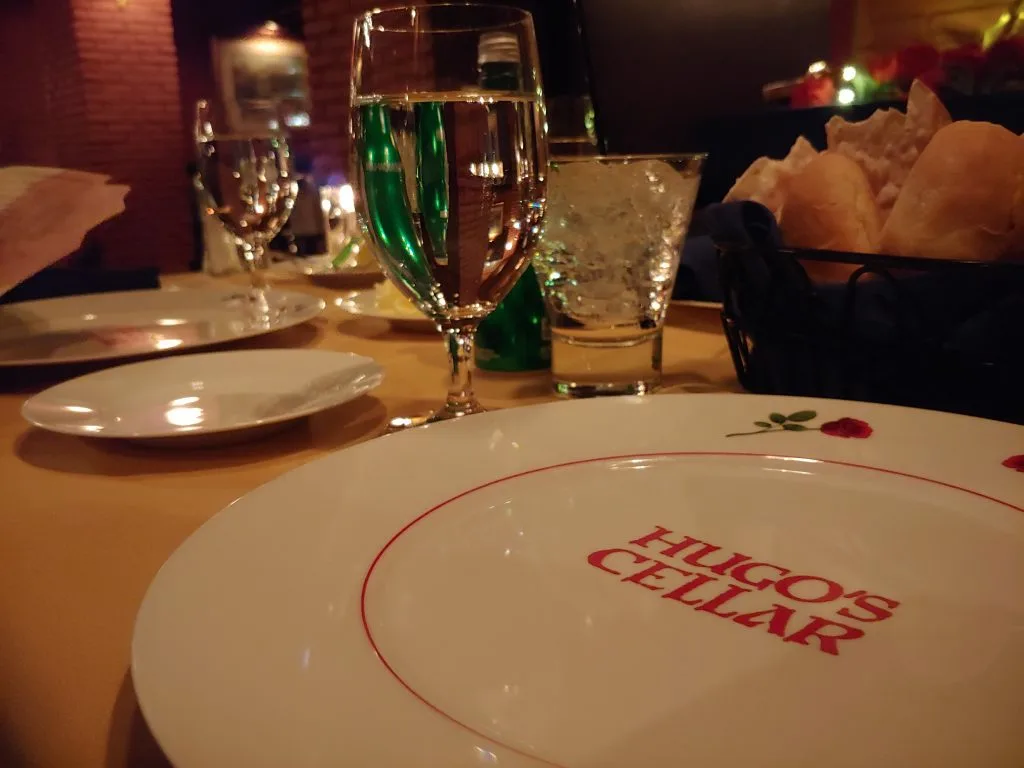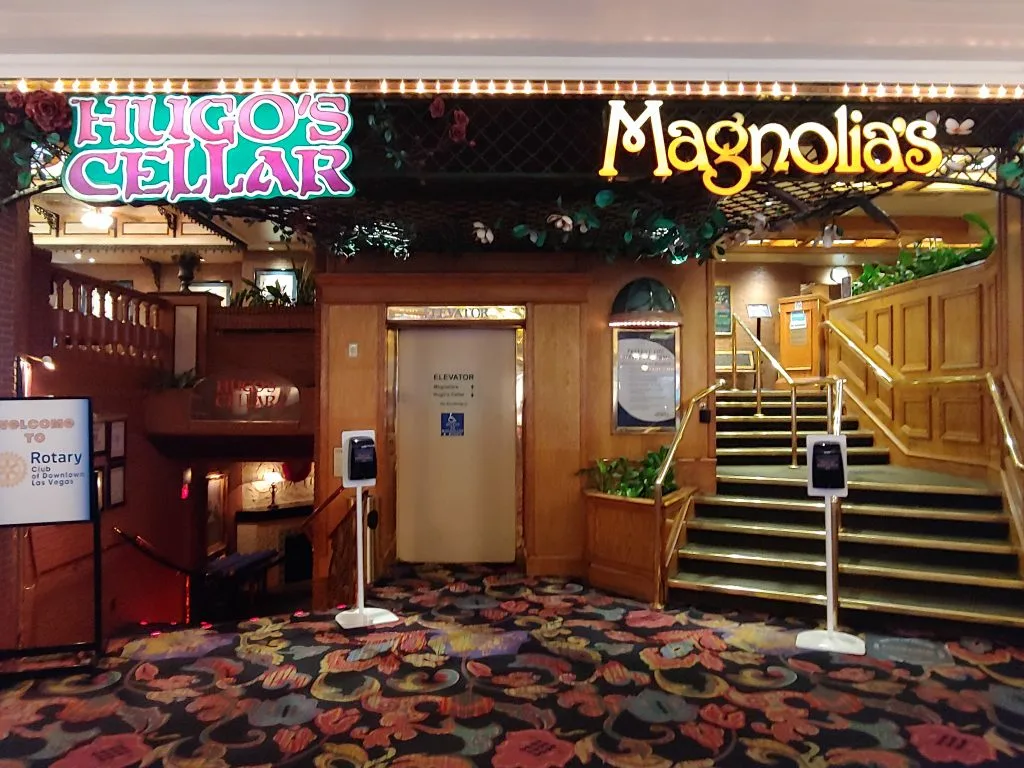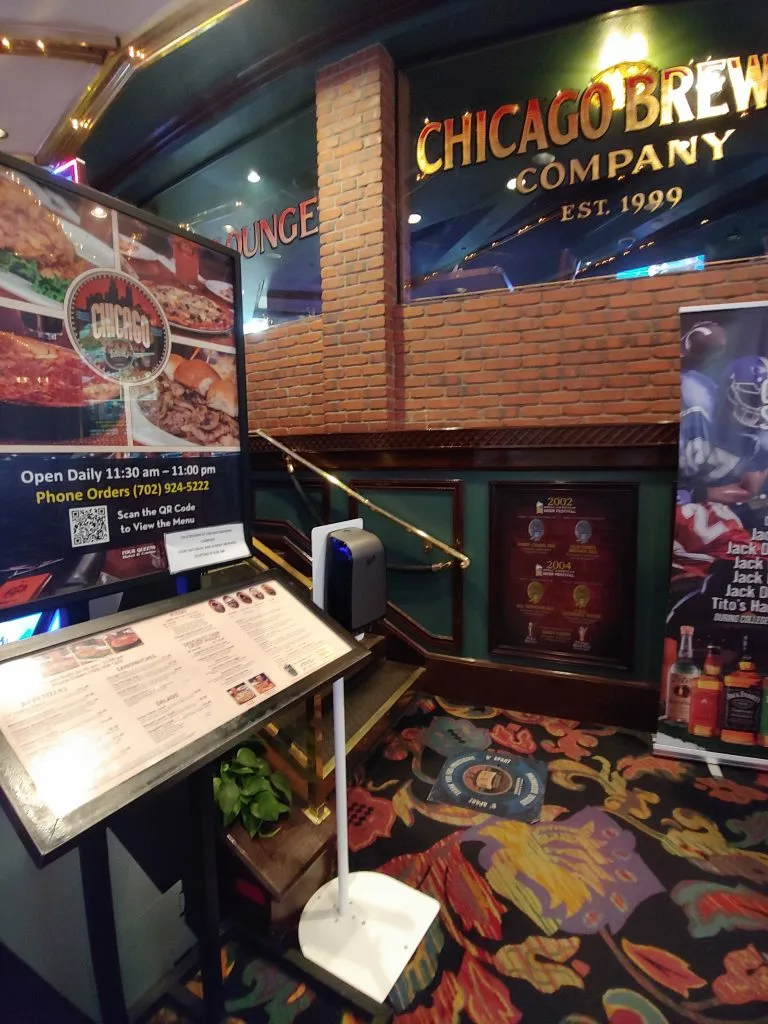 Hotel accommodations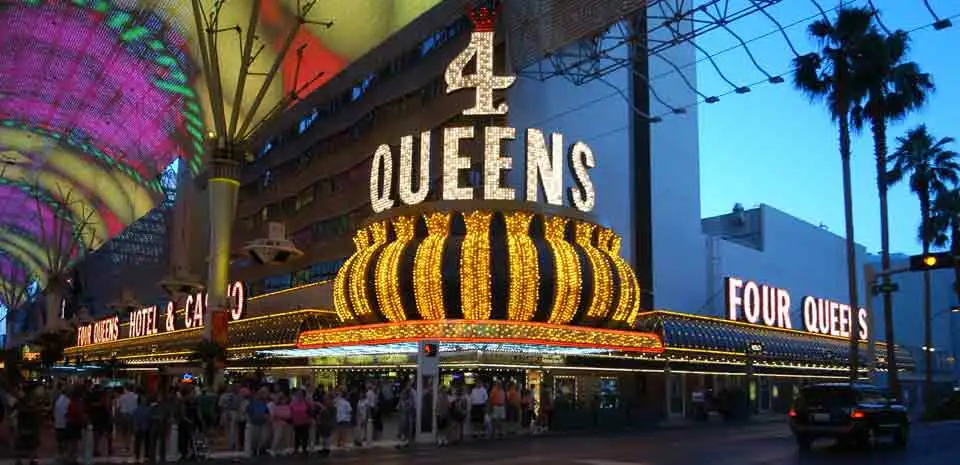 At Four Queens, we offer a total of 690 hotel rooms, providing a range of accommodations to suit every guest's needs. With five different room trims to choose from, you can select the perfect setting for your stay. If you prefer a spacious room, our South Tower Premium is an excellent choice. These rooms, spanning 325 square feet, offer ample space and comfort. Available in either a king bed or two queen beds, they provide flexibility for individuals or groups. Moreover, we also offer an accessible version of the South Tower Premium, ensuring that all guests can enjoy their stay comfortably. On the other hand, our North Tower Standard room, spanning 290 square feet, is another option to consider. This cozy yet functional room is available in either a king bed or two doubles, catering to different preferences and needs.
The area of the Royal Suite measures 620 square feet, while the Regal Suite occupies 650 square feet.
Book a reservation for a room at Four Queens
Frequently Asked Questions about the Four Queens Casino.
Are there any 24-hour restaurants at Four Queens?
Subway operates around the clock, while Magnolia's Veranda welcomes guests from 7am to 3am every day.
What is the best video poker game at Four Queens?
At Four Queens, the most exceptional video poker game is 10/7 Double Bonus Poker, offering a remarkable return of 100.17% when played with five coins and flawless strategy.
What is the best bar game at Four Queens?
At Four Queens, the most exceptional video poker game on the bar top is 9/7 Double Bonus Poker, offering a remarkable 99.11% return when playing with five coins and employing flawless strategy.
Do any blackjack games pay 3/2 at Four Queens?
Four Queens has either variant 3/2 blackjack games or 3/2 blackjack games that require a $1 side bet.
What are the craps odds at Four Queens?
At Four Queens, players can enjoy craps odds that are five times the normal rate, while also benefiting from a double payout on a roll of 12 in the field.
Are there any shows at Four Queens?
Mike Hammer and his mesmerizing show, Hypnosis Unleashed, captivate audiences at Four Queens from Tuesday to Saturday, with performances scheduled at 7pm and 9pm.
The most recent update was made on August 3, 2023 by William Stevens.