Located at 2000 S Las Vegas Blvd in the vibrant city of Las Vegas, Nevada, you can easily reach The Strat by dialing their contact number, 800-998-6937.
The STRAT Tower, towering at a height of 1,149 feet, made its grand debut in 1996, captivating visitors. Before undergoing its transformation, the esteemed property was famously recognized as Bob Stupak's Vegas World.
Located at the northern tip of the iconic Las Vegas Strip, just beyond Sahara, stands The Strat. Formerly known as Stratosphere until 2019, this renowned establishment has garnered a reputation that precedes itself. While some may debate its classification, deeming it a part of downtown Las Vegas due to its position within the city limits, the remainder of the Las Vegas Strip is nestled within unincorporated Clark County.
The Strat offers an impressive array of entertainment choices, far exceeding what one might expect from a casino of its caliber. Spanning multiple floors, the tower boasts an exhilarating trio of rides, including the renowned SkyJump, a thrilling zipline experience that whisks you from the pinnacle to the lower levels in a heartbeat. Moreover, the tower is home to a diverse selection of dining establishments and lounges, ensuring that guests can savor delectable meals and unwind with a refreshing drink while taking in the breathtaking views. Not to be outdone, the first and second floors of the building also house a myriad of dining and lounge options, catering to a wide range of tastes. To round off the experience, The Strat offers a variety of captivating shows, guaranteeing that there's always something to captivate and entertain visitors.
The casino offers a variety of entertainment options, including a sportsbook, table game pits, electronic table games, slot machines, and video poker. Visitors can enjoy table games both on the lively casino floor and in the more intimate salon area.
I really appreciate how Strat embraces social media by encouraging guests to capture and share their experiences through pictures. It's a fun way to engage and connect with others. However, it's important to remember that the casino kindly requests that we refrain from taking pictures of fellow players, employees, or any security features without obtaining permission first. Respecting everyone's privacy and maintaining a safe environment is paramount. So let's snap away and share the excitement, but always be mindful of others and their consent.
Additional Casinos on the Las Vegas Strip
Bet-NV.com's financial backing stems from memberships, sponsors, and advertisements. In the event of a gambling addiction, kindly reach out to 1-800-GAMBLER for assistance.
---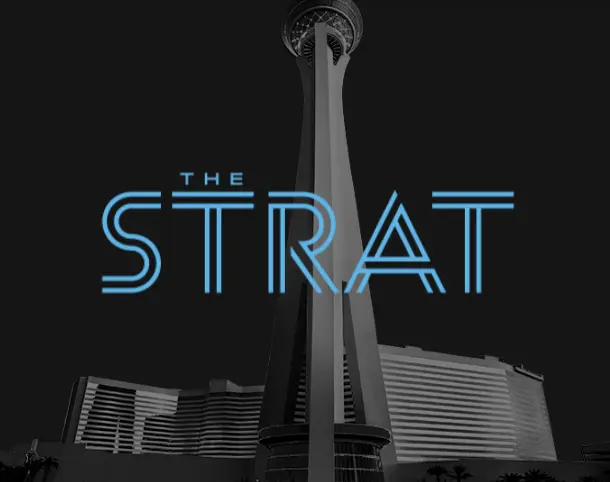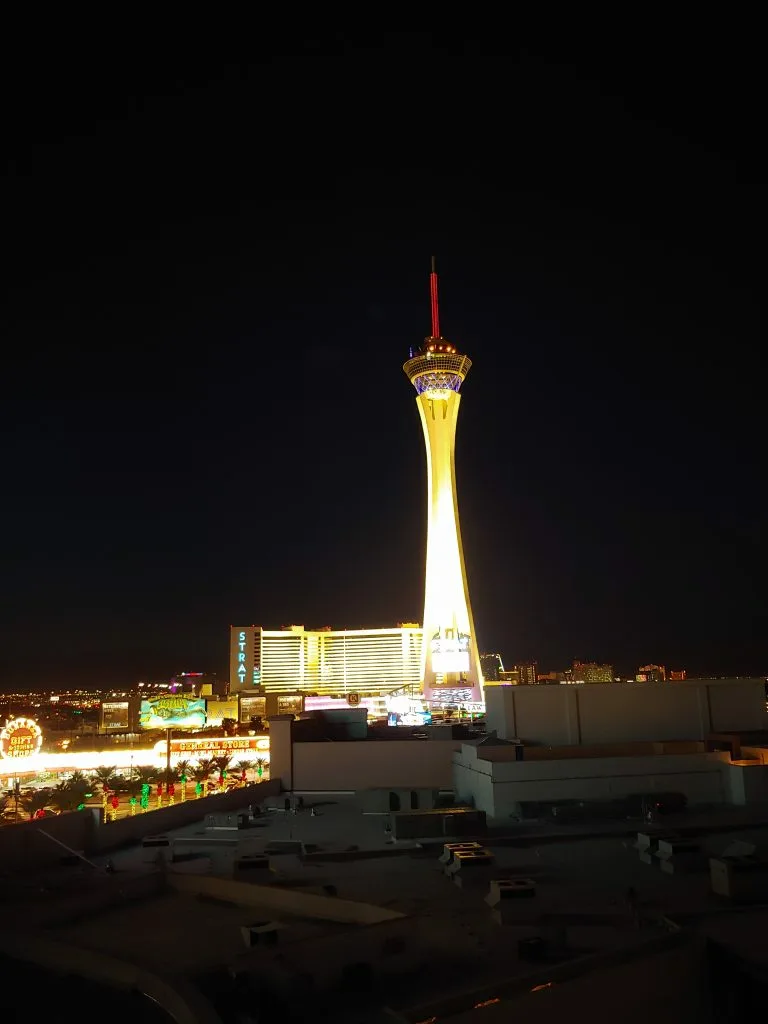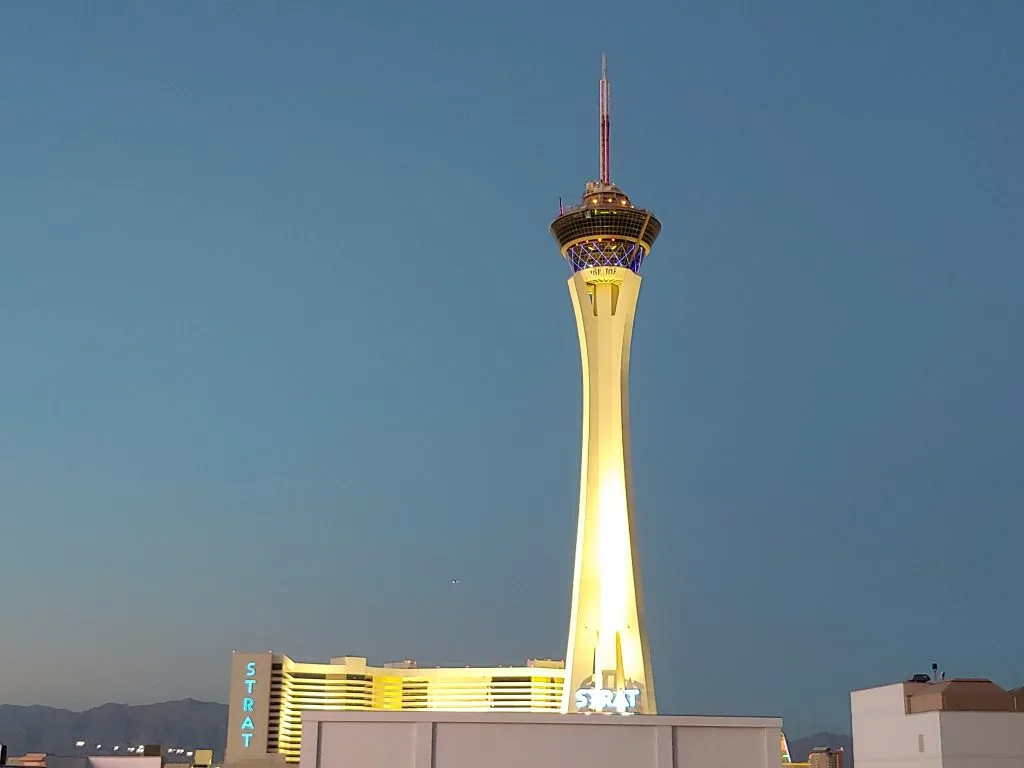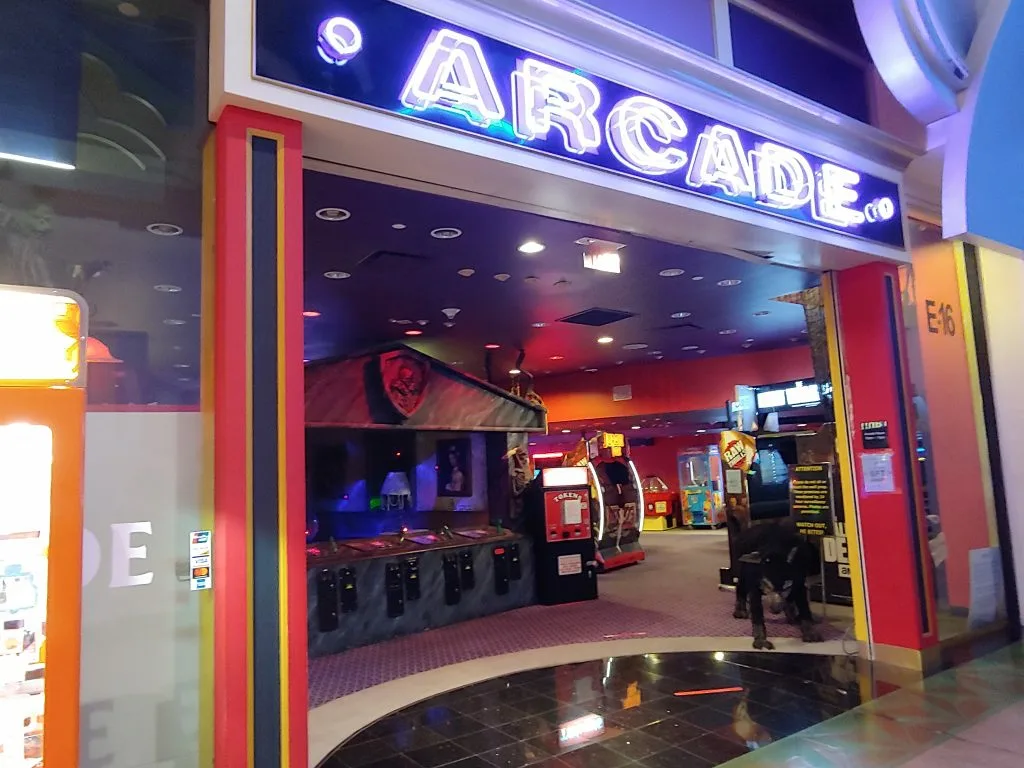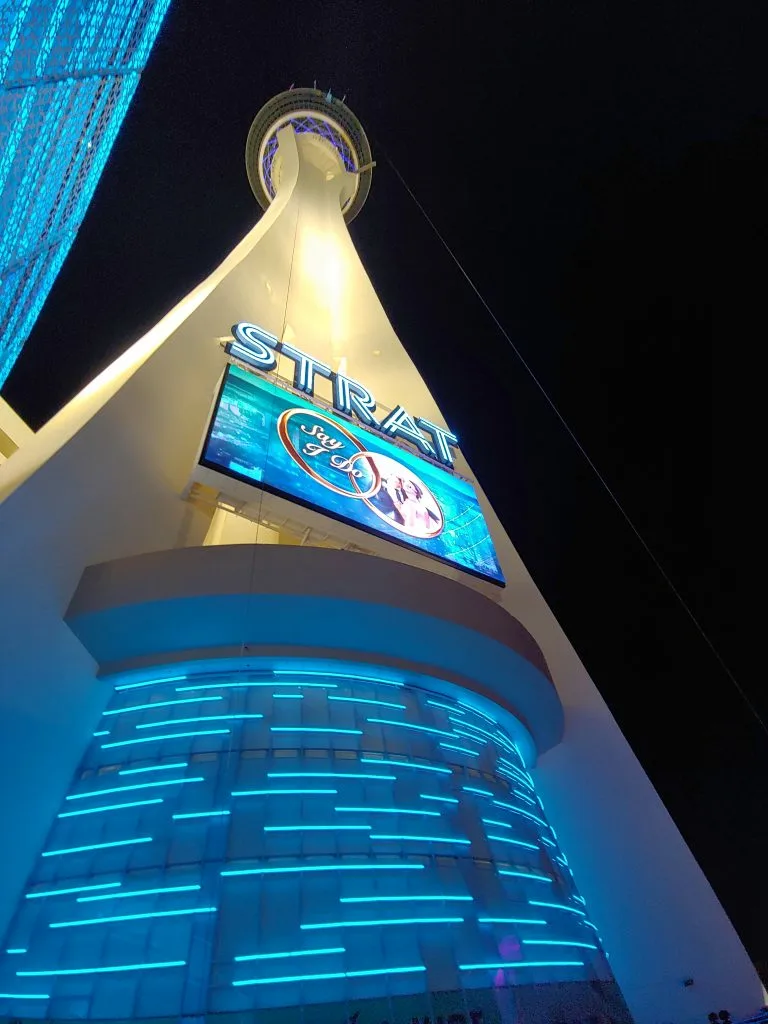 The Strat casino
The casino floor at The Strat spans across an impressive 85,000 square feet, offering plenty of space for excitement and entertainment. With a vast collection of approximately 700 slot machines and a diverse selection of 35 table games, there is something for every gambler's taste. For those seeking a unique experience, the casino also features stadium gaming, where players can enjoy thrilling electronic table games such as big wheel and craps. The Strat truly caters to a wide range of gaming preferences, ensuring that every visitor can find their preferred way to indulge in the thrill of the casino floor.
The property houses the William Hill sportsbook, which is owned by Caesars Sportsbook. All transactions for the Nevada app are processed at this location.
Throughout its history, Strat had a poker room which operated until its closure in October 2019. As of now, the nearest poker room can be found at Sahara.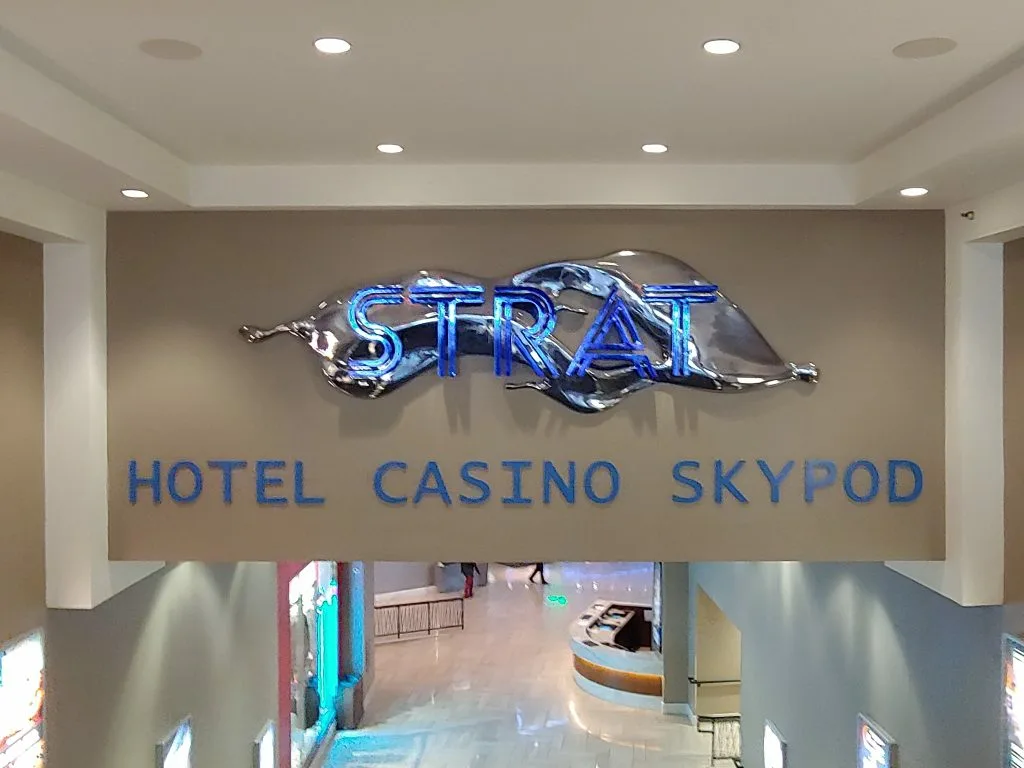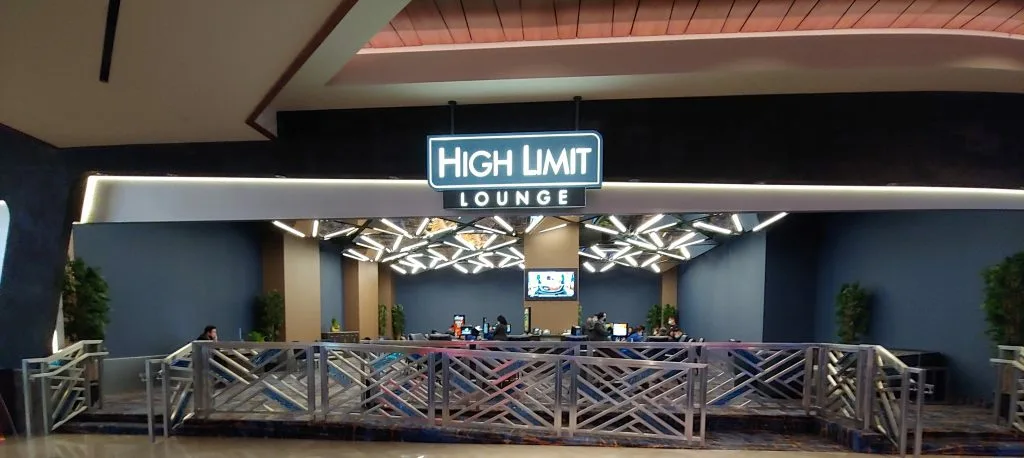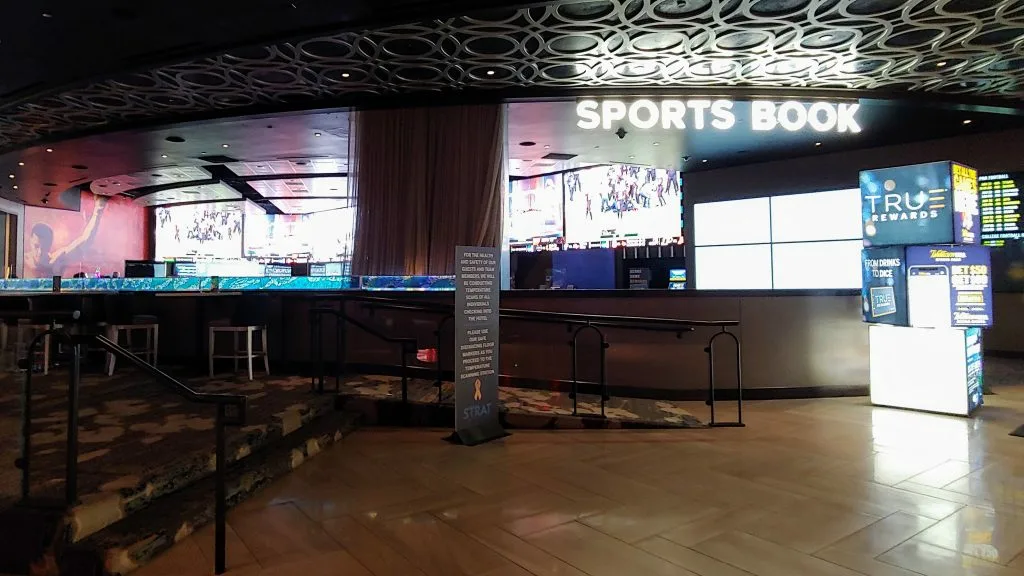 Table games
On the casino floor and in the high limit room, you can discover both baccarat and blackjack. The gaming options available on the casino floor encompass a variety of exciting games. These include crapless craps, craps, double zero roulette, triple zero roulette, and Heads Up Hold'em. Whether you're a fan of card games like blackjack or prefer the thrill of the roulette wheel, there's something for everyone on the casino floor. Additionally, the high limit room offers a more exclusive and luxurious gaming experience for those seeking higher stakes and a more intimate setting. So, whether you're a seasoned gambler or just looking to try your luck, the casino floor and high limit room provide an array of options to cater to your preferences.
At The Strat, you'll find a variety of blackjack games to suit your preferences. We offer not one, but two options: double-deck blackjack and six-deck blackjack. What sets these games apart is the flexibility they give you. In both versions, you have the option to double down before or after splitting your hand. However, if you opt for the six-deck game on the main floor, there's an exciting addition. You can re-split aces up to four hands, adding a layer of strategy to your gameplay. Now, if you're looking for a more high stakes experience, we've got you covered. Our high limit table also offers the option to surrender, giving you even more control over your bets. It's worth mentioning that while the Strat blackjack games typically hit soft 17, the high limit six-deck game is an exception to this rule. So, whether you're a seasoned player or just getting started, The Strat has the perfect blackjack game for you.
When the pace is leisurely, you can come across six-deck blackjack at Strat for $10 3/2. Typically, it won't exceed $15.
I have discovered an extraordinary revelation about The Strat, a renowned casino found on the vibrant Strip. This establishment boasts the most favorable craps odds available, inviting players to place wagers up to an impressive ten times the original amount. In addition to this remarkable feature, The Strat proudly offers the finest odds for the intriguing game of crapless craps in the entire city of Las Vegas. Miraculously, this game also grants players the opportunity to bet ten times their initial stake. It is truly fascinating to learn that The Strat is the very casino responsible for introducing the innovative concept of crapless craps to the gambling world. Interestingly enough, during this groundbreaking period, the property was aptly named Vegas World. Furthermore, all craps games at The Strat generously pay double when the outcome is a field 12, further enhancing the allure and excitement within the casino walls.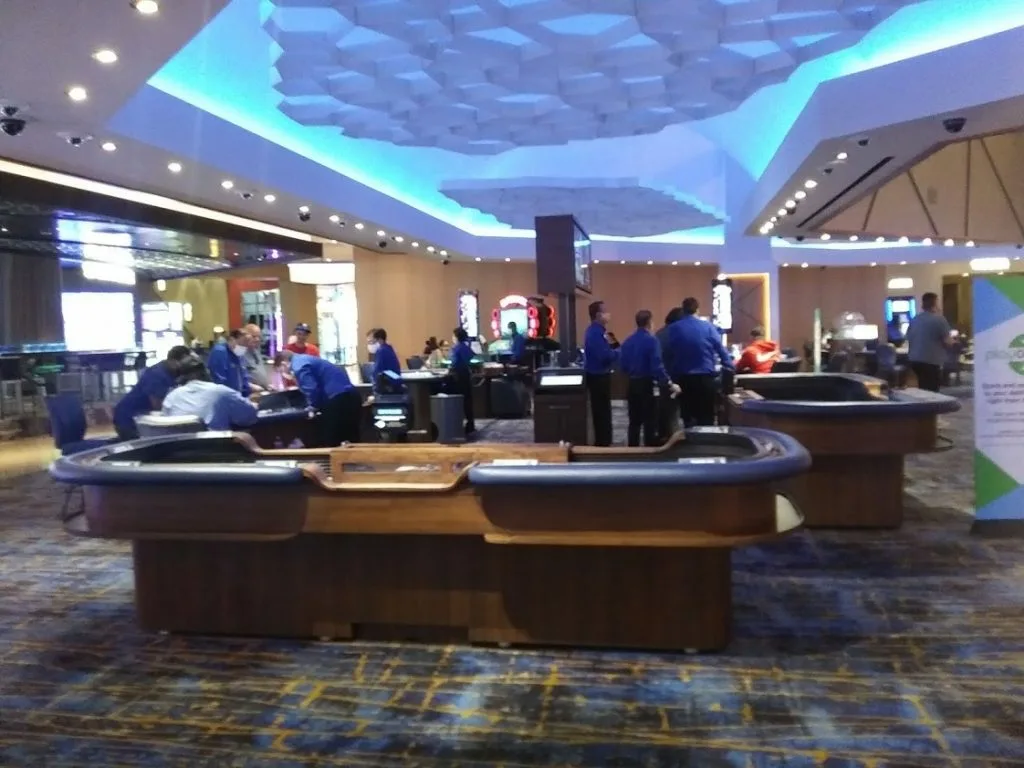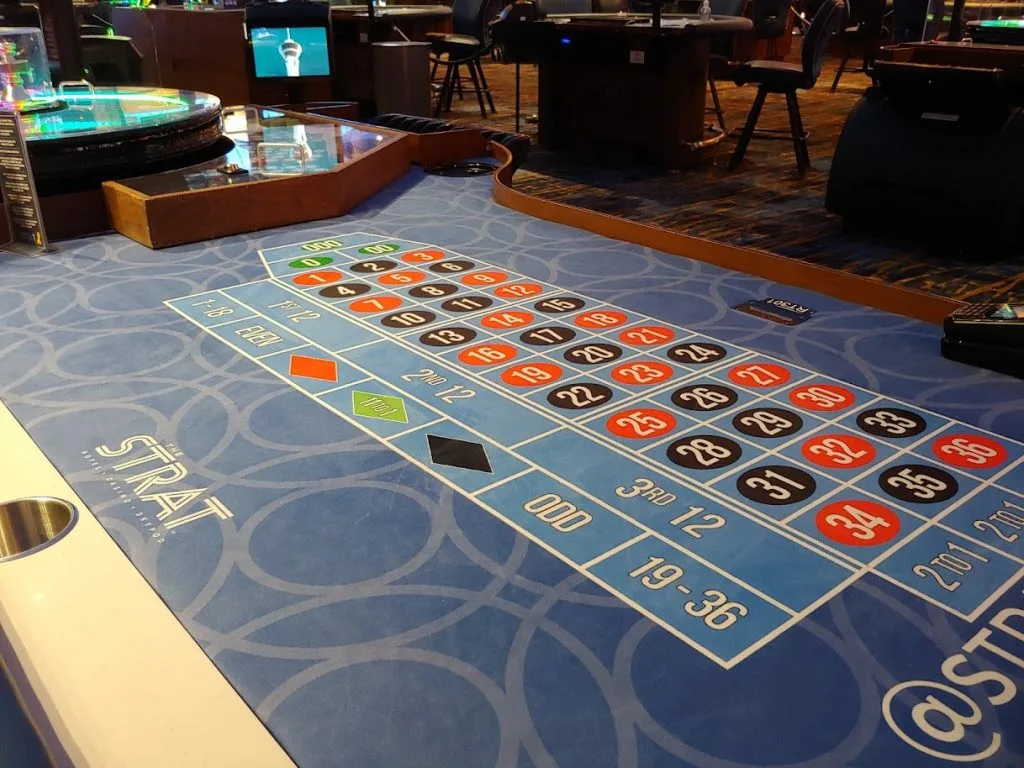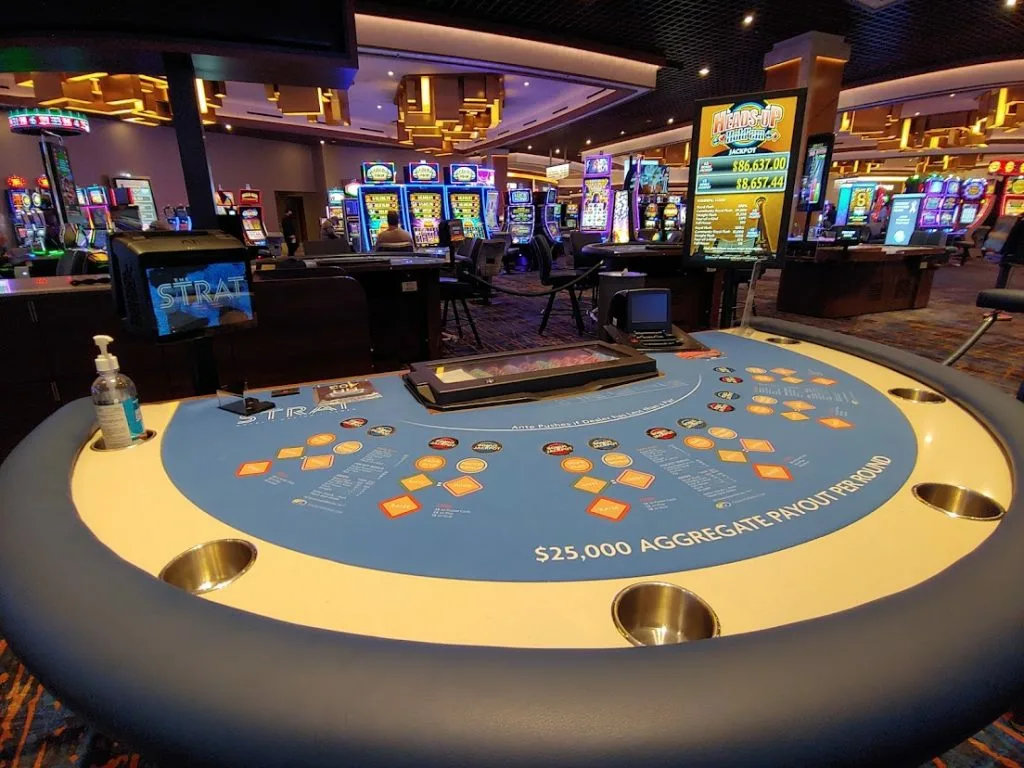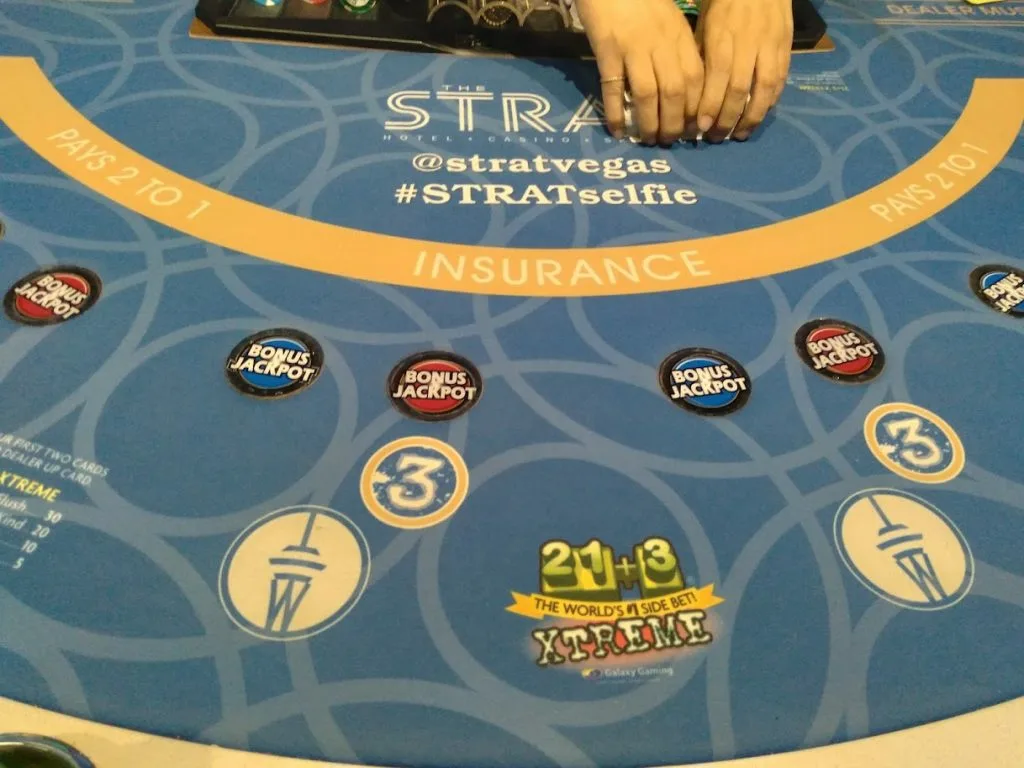 For just $3 per month, you can also obtain detailed table game surveys and other exclusive perks available to Casino Club, Total Access Club, and Bet-NV.com Super Fan members. By joining our membership program, you will gain access to valuable information about table games at various casino properties. Don't miss out on the opportunity to enhance your Bet-NV.com experience and make informed decisions while enjoying your favorite casino games.
You can now access Bet-NV.com subscriptions through Gumroad and Patreon, providing you with exceptional information on both platforms.

In case you or someone you are aware of is grappling with a gambling addiction, reach out to 1-800-GAMBLER for assistance.
Enjoyment and amusement at The Strat
At The Strat, you'll find an extensive array of entertainment choices, ranging from thrilling rides atop the tower to captivating live shows down below.
Panoramic viewing platform and exhilarating attractions
At 108 Eats, guests have the opportunity to indulge in delicious handcrafted treats, while 108 Drinks offers a wide array of expertly crafted cocktails. The STRAT SkyPod and Thrill Rides provide an exhilarating experience for visitors, with attractions such as the Big Shot and X-Scream. As the tallest outdoor observation deck of its kind in the country, the SkyPod offers a breathtaking 360-degree view of the vibrant city of Las Vegas. Unfortunately, at the moment, Insanity is temporarily closed for maintenance. To fully enjoy all that the SkyPod has to offer, be sure to secure your tickets in advance.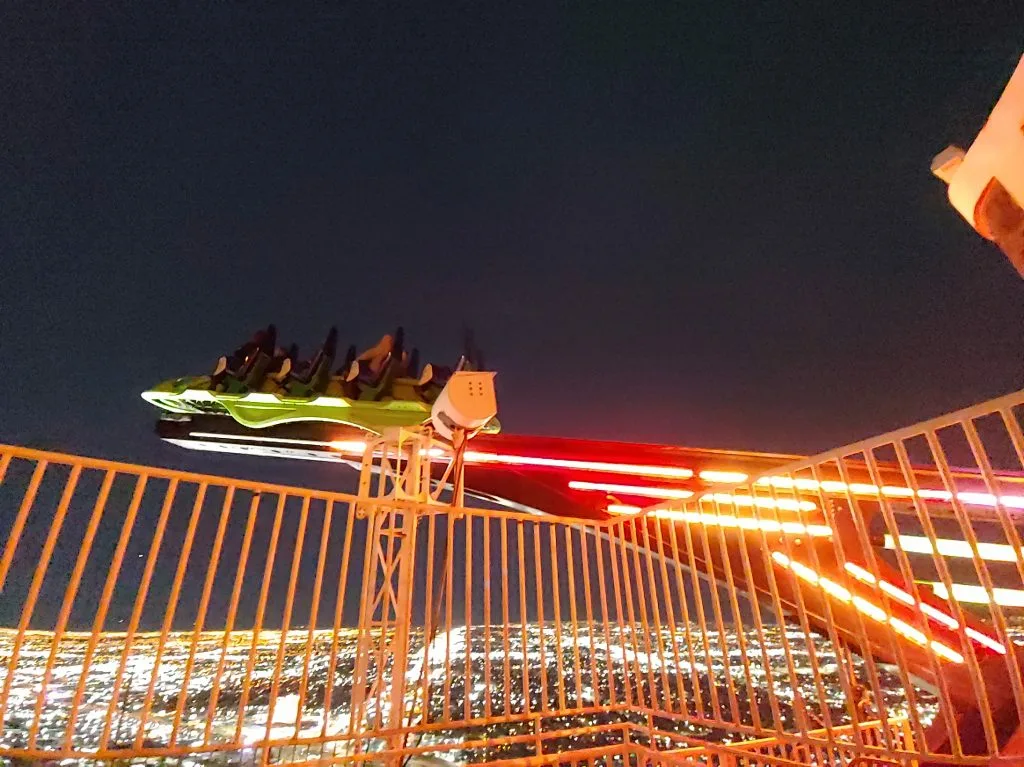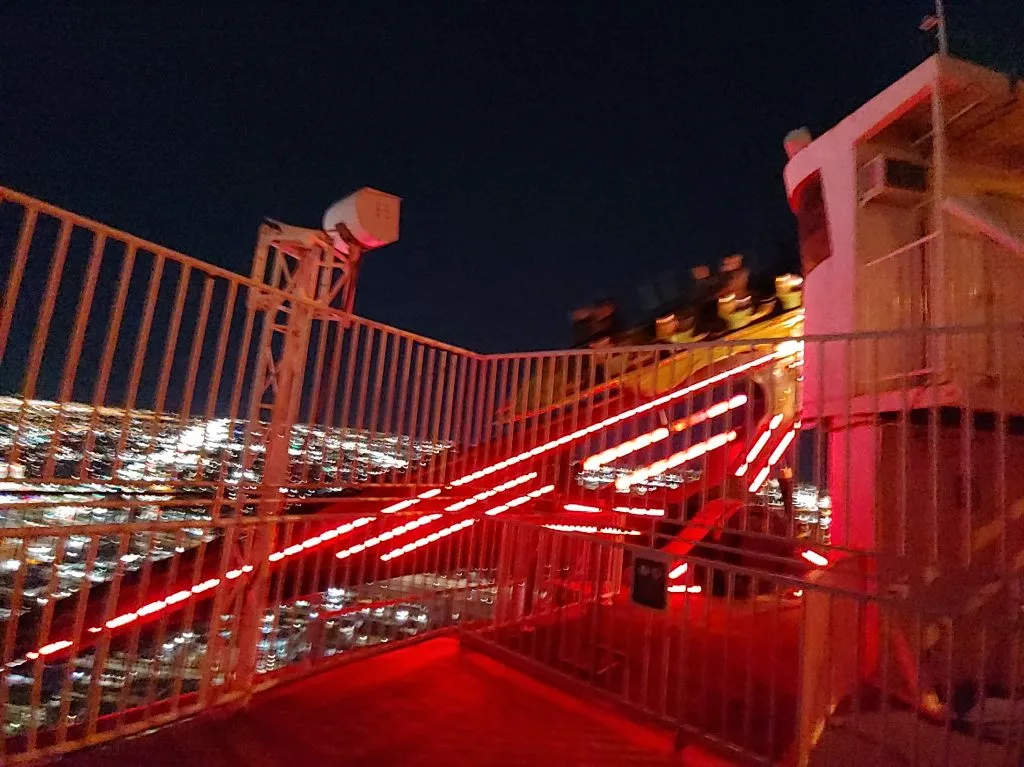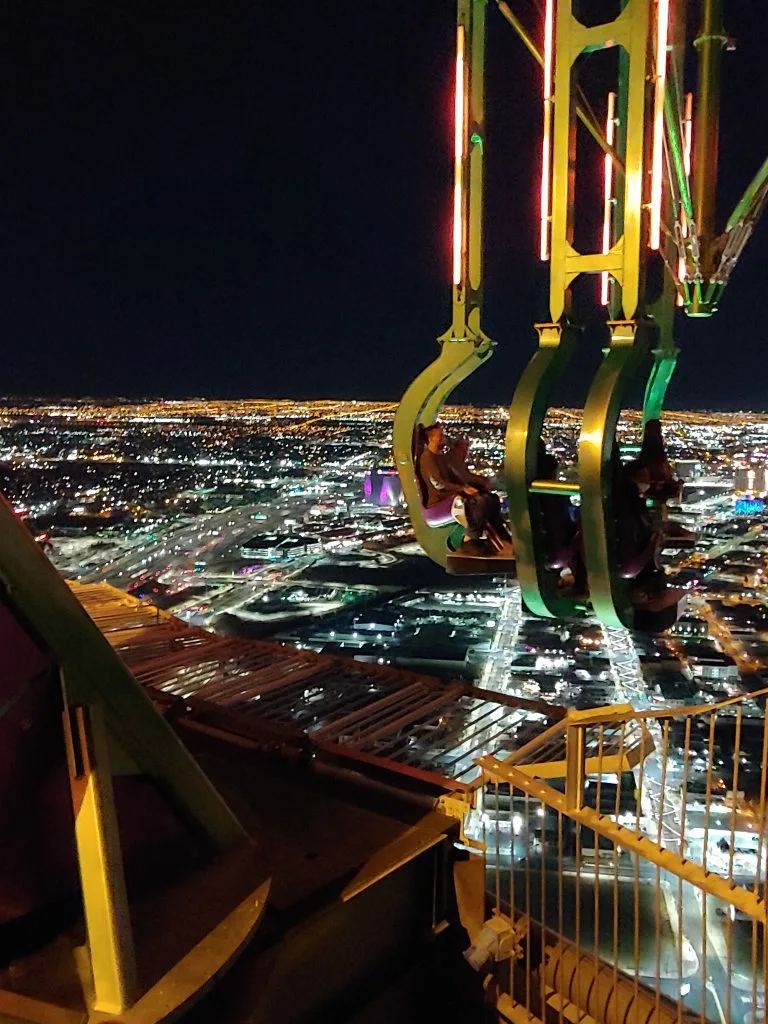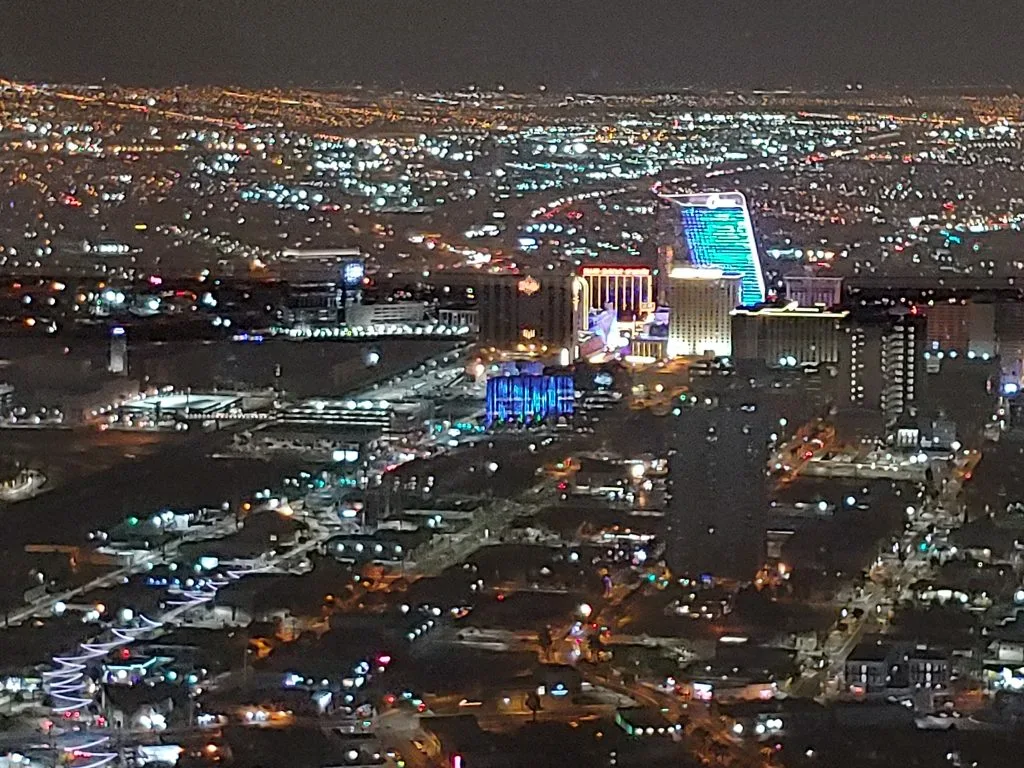 I had the opportunity to experience the incredible thrill of Sky Jump Las Vegas, an exhilarating activity that can best be described as a controlled free fall. The ride involves being securely attached to a vertical zip line, ensuring both safety and an adrenaline-pumping adventure. It was on the 108th floor of the Stratosphere Tower that I, along with my friend Kristina, embarked on this heart-pounding journey back in 2012. The rush was so exhilarating that John, my adventurous companion, couldn't resist taking the plunge once again in 2020. As we descended from a staggering height of 855 feet, our eyes wide open, we were rewarded with an awe-inspiring view of the iconic Las Vegas Strip. The city's bright lights and vibrant atmosphere unfolded before us, creating a truly unforgettable sight. It was as if we were floating in the sky, surrounded by the bustling energy of one of the world's most famous destinations. For those who preferred to keep their feet on solid ground, the landing pad provided a perfect vantage point to witness the excitement of their jumping friends. Seeing their bravery and the sheer joy on their faces added another layer of excitement to the experience, making it a memorable outing for all involved. Sky Jump Las Vegas truly offers an unforgettable adventure for thrill-seekers and spectators alike, ensuring an adrenaline rush like no other.
Engaging live performances and captivating entertainment experiences.
At The Strat, you'll find two primary venues for entertainment. The first is The Strat Theater, conveniently situated on the second floor. Adjacent to the theater entrance, you'll come across a delightful bar where you can grab a drink before the show. It's worth noting that you're allowed to bring your beverages from the Theater Bar into the actual theater itself. Just remember, once you're inside, there won't be any drink service available, so make sure to grab your refreshments beforehand.
On the first floor, right by McCall's Heartland Grill, you'll find the Dragon Room. This remarkable spot is famous for its amazing $25 all-you-can-drink offer. With a bar that curves around, it's the perfect place to grab a drink before or after enjoying a performance, whether it's a stand-up comedy show or any other event. You'll be pleased to know that inside the comedy club, there are seats available with beverage service, ensuring that you never have to go without a refreshing drink while being entertained.
The Strat Theater
I, Banachek, am a devoted nonbeliever, but also a master mentalist and magician. That is why I perform my incredible show at 5pm from Wednesday to Monday. However, I do take Tuesdays off, so the show is dark on that day. If you're considering attending, keep in mind that children who are at least 5 years old are welcome, but they must be accompanied by a parent or guardian who is at least 18 years old. Don't miss out on the opportunity to witness the awe-inspiring Mind Games of Banachek. Get your tickets now!
Get your tickets for iLuminate, an extraordinary production that immerses you in darkness. Witness the captivating fusion of expertly crafted dance moves and cutting-edge LED light technology, resulting in a mesmerizing visual spectacle. Prepare to be amazed as the dancers effortlessly appear and disappear, while musical instruments seem to defy gravity, floating in mid-air. The performers' precise body isolations come together to form intriguing and captivating formations that will leave you in awe. This one-of-a-kind experience is available at 7pm from Mondays to Saturdays, ensuring you have ample opportunities to witness the magic. Additionally, there are shows at 3pm on weekends, providing a convenient option for those with busy schedules. Please note that on Tuesdays, darkness envelops the stage, allowing the performers to recharge and prepare for the rest of the week. It's important to mention that children aged 5 and above are welcome to attend, as long as they are accompanied by a parent or guardian who is at least 18 years old. Make sure to secure your tickets for iLuminate and prepare to be transported into a world of wonder and enchantment.
Rouge: The Sexiest Show in Vegas is an uproariously entertaining spectacle, featuring an ensemble of 18 talented performers, both male and female, who daringly bare it all. This titillating production is tailor-made for those adventurous adults who revel in risqué humor and a bevvy of stunning individuals adorned in seductive attire. Catch the show twice a night on Sundays, Tuesdays, Thursdays, Fridays, and Saturdays, ensuring there's ample opportunity to witness the scintillating performances. However, on Mondays and Wednesdays, a single show awaits you at the bewitching hour of 9pm. Keep in mind that all attendees must be at least 18 years old, as the show delves into explicit themes and features nudity. Don't miss your chance to secure tickets for Rouge, an evening of Vegas entertainment that is sure to leave a lasting impression.
Limited-time shows include: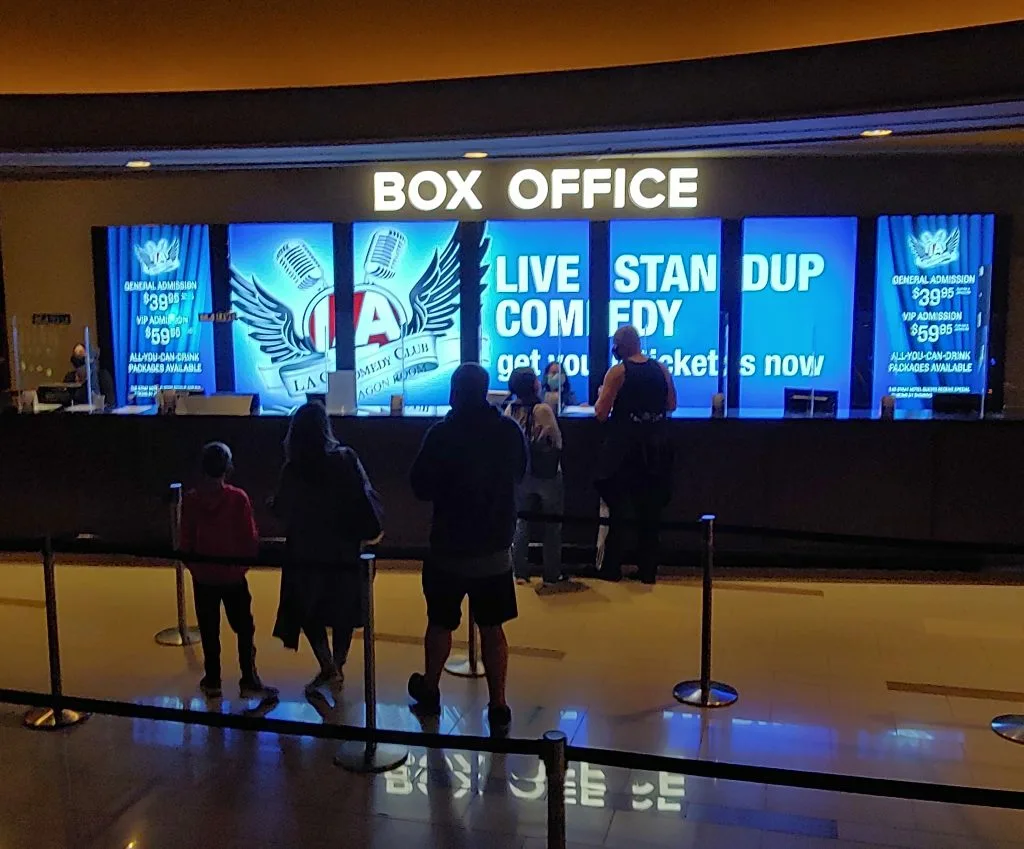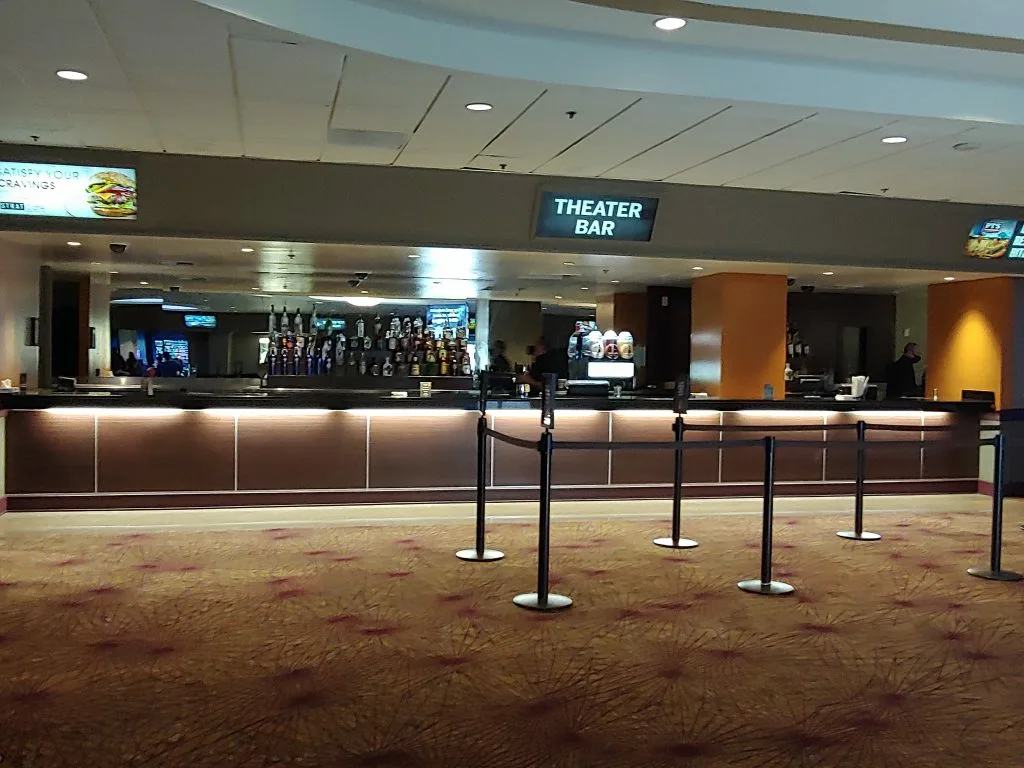 The Dragon Room at LA Comedy Club
LA Comedy Club offers a wide variety of shows every night. Starting at 6pm, you can enjoy The Happy Hour Variety Show with Julio Gonzalez. It's a great way to kick off your evening with some laughs. At 8pm, you'll be treated to performances by touring comics, and the headliners change on a weekly basis, ensuring a fresh and exciting experience each time. If you're looking for some late-night entertainment, Butch Bradley takes the stage at 10pm from Thursday to Monday, delivering hilarious sets that will leave you in stitches. On Tuesdays and Wednesdays, Bret Ernst headlines the 10pm show, bringing his unique comedic style and wit to the audience. It's important to note that for most performances, minors under the age of 18 must be accompanied by their guardian, ensuring a safe and enjoyable environment for everyone. However, please be aware that no minor under the age of 15 is allowed in the showroom, as some content may not be suitable for younger audiences. So, gather your friends or family, and get ready for an unforgettable night filled with laughter at LA Comedy Club!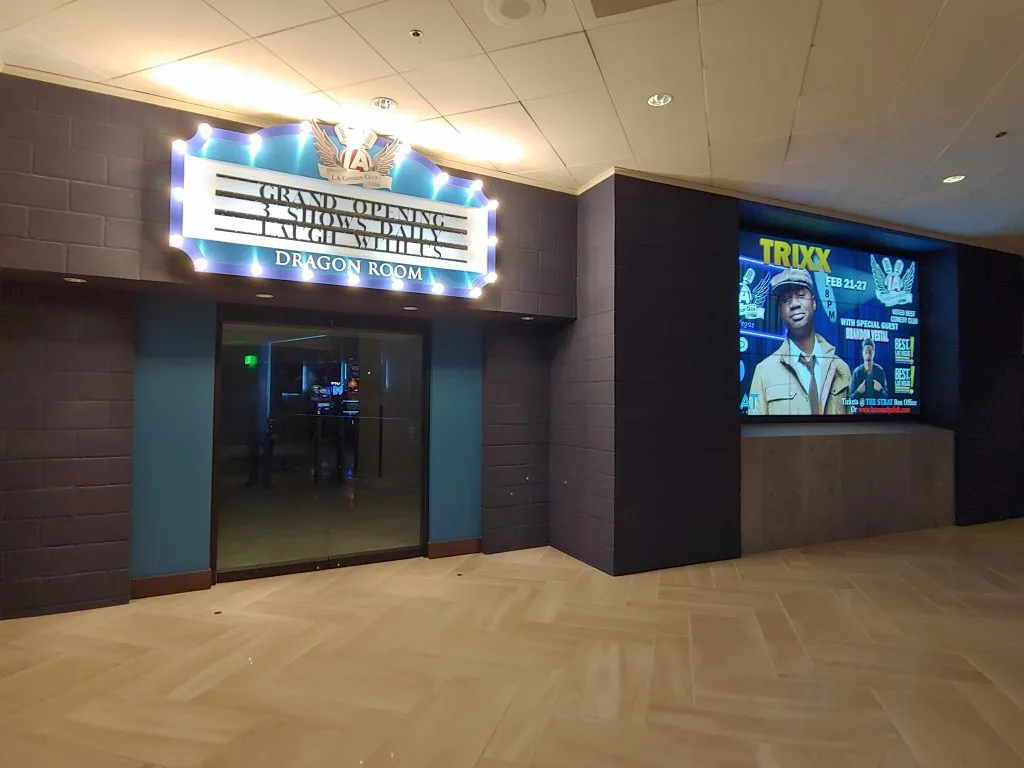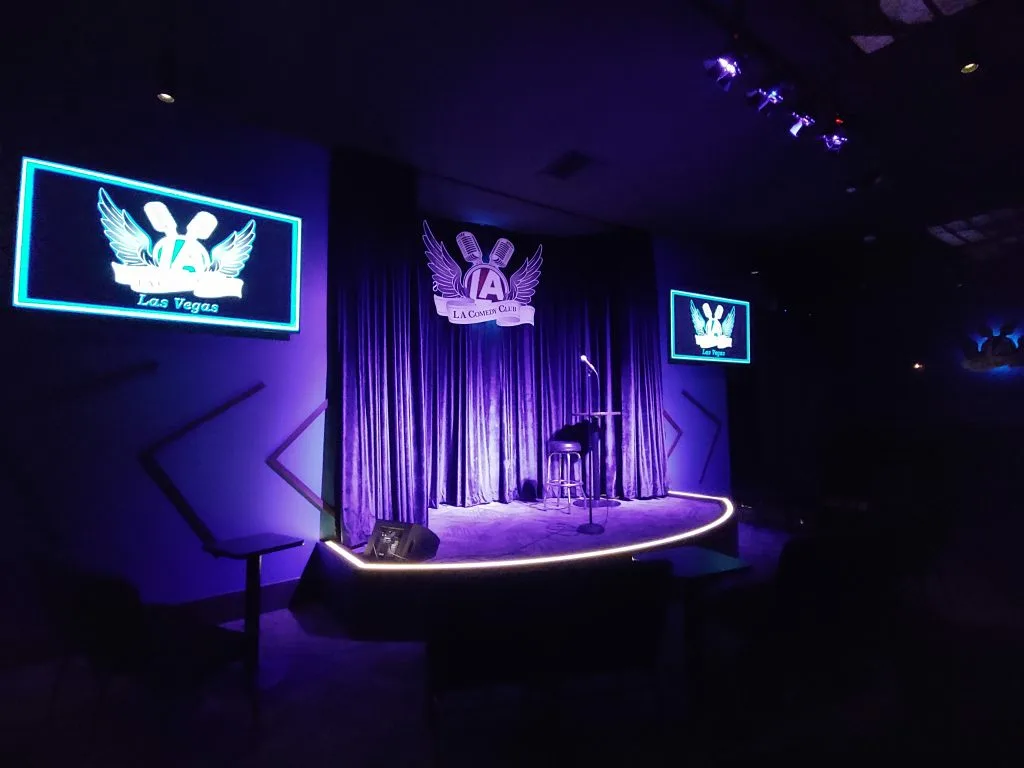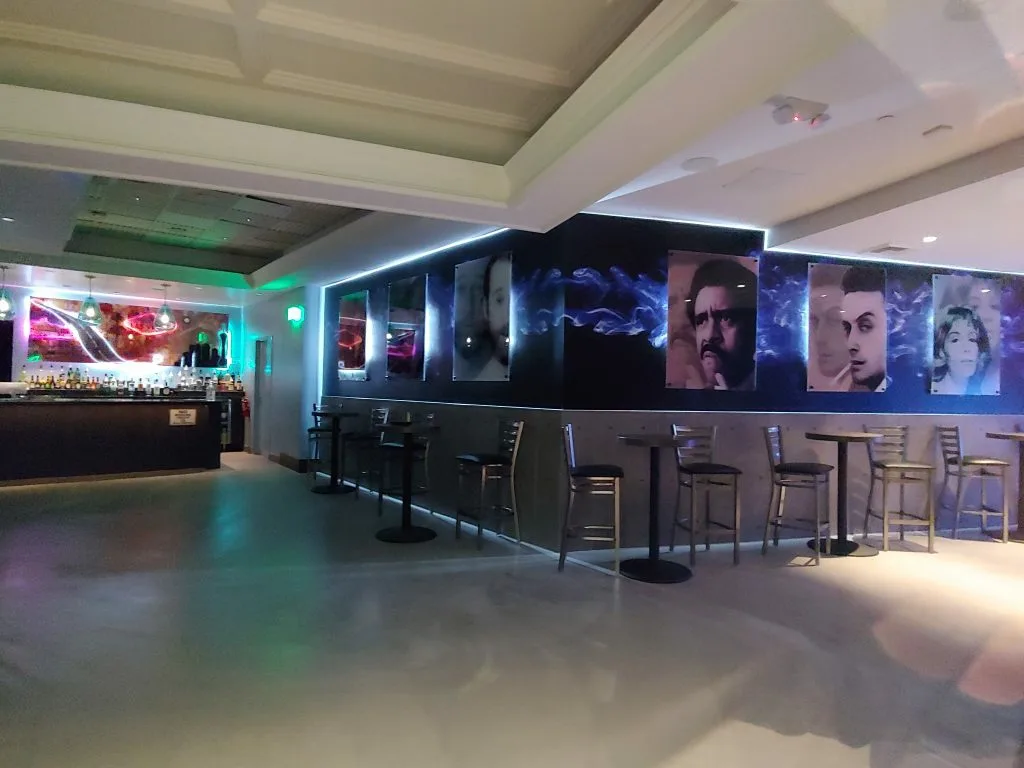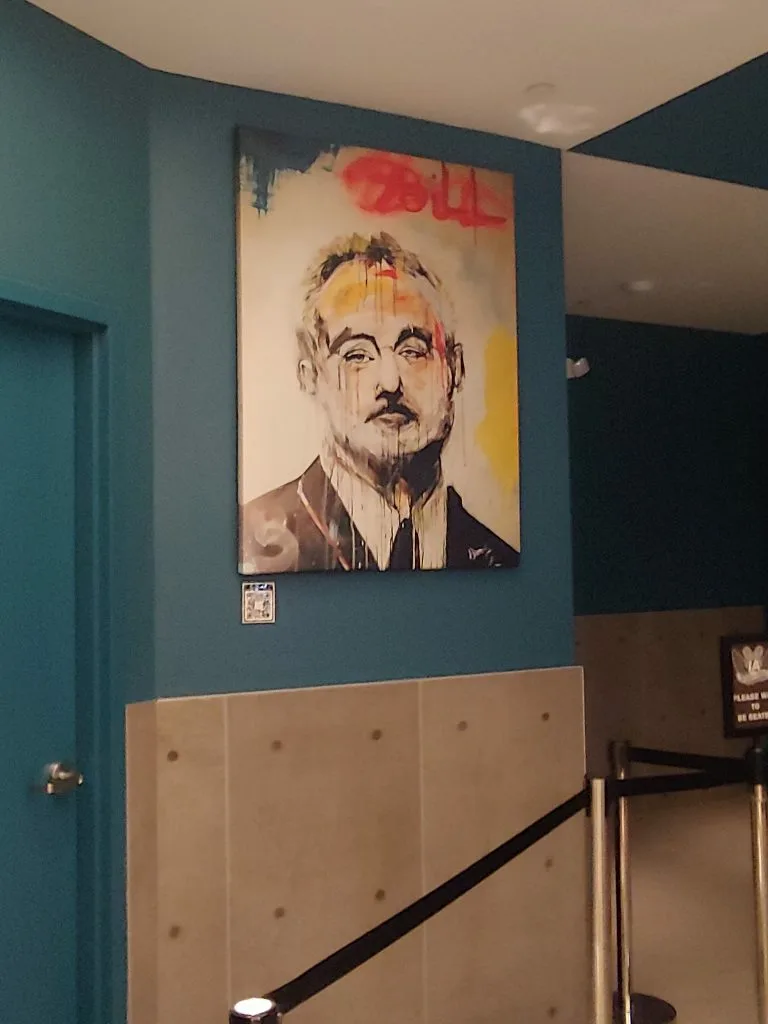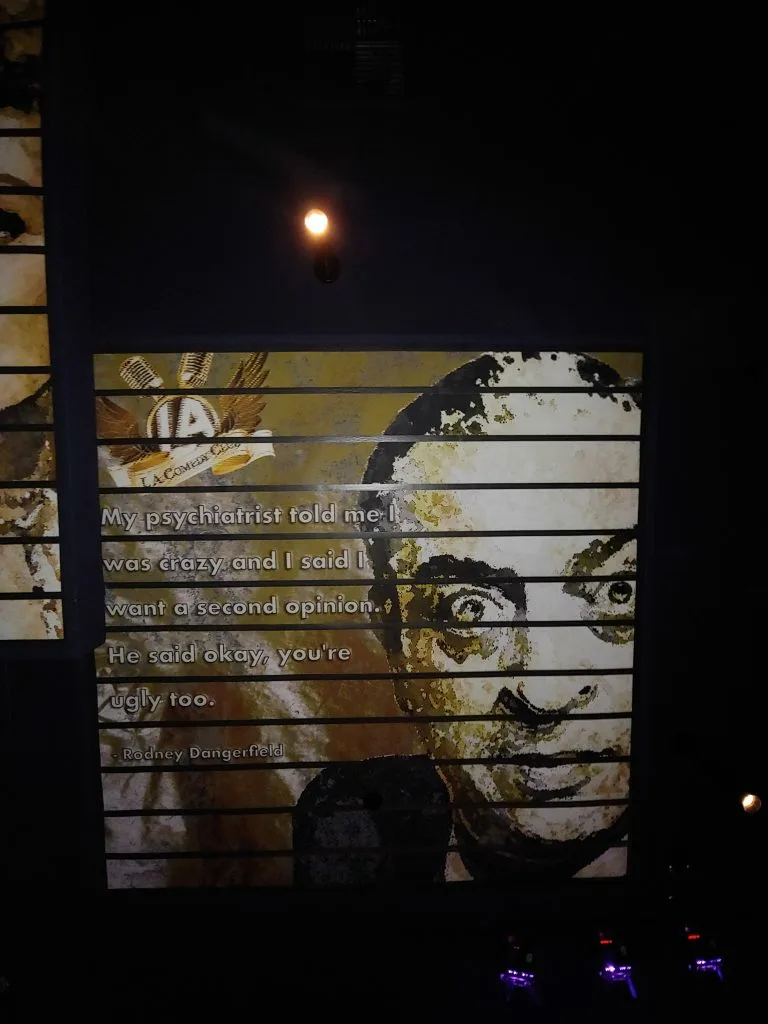 Experience exquisite dining and enjoy refreshing beverages at the iconic establishment known as The Strat.
At The Strat, guests are spoiled for choice when it comes to dining options. Whether you're in the mood for a quick snack, a lively sports bar atmosphere, a relaxed casual meal, or a cozy cafe located just steps away from the bustling casino floor - this place has it all. What's more, if you're looking for a truly unique dining experience, you can take an exhilarating elevator ride up to the Top of the World restaurant. Situated high above the glittering lights of the Las Vegas Valley, this dining spot offers breathtaking panoramic views as the floor slowly rotates a full 360 degrees every 80 minutes. It's an unforgettable culinary adventure coupled with stunning visuals that immerse you in the vibrant atmosphere of the iconic city.
108 Eats – Snacks and desserts.
CHĪ Asian Kitchen – Asian cuisine.
McCall's Heartland Grill - Relaxed office attire. Delicious options of steak, seafood, and pasta.
McDonald's – Fast food burgers.
Nunzio's Pizzeria - Single slices of pizza and stuffed turnovers known as calzones.
PT's Wings & Sports - Authentic American pub food and locally brewed craft beer.
Starbucks - Grab a cup of joe and some delicious snacks.
Strat Cafe – Start your day with a delightful morning meal, enjoy a satisfying midday feast, and indulge in delectable late-night bites. Experience the delectable flavors of American culinary delights throughout the day.
The peak of the Earth's summit – High-end. Premium cuts of meat and ocean delicacies. A $55 minimum food purchase per guest is required. There is a charge for many seats in the dining room.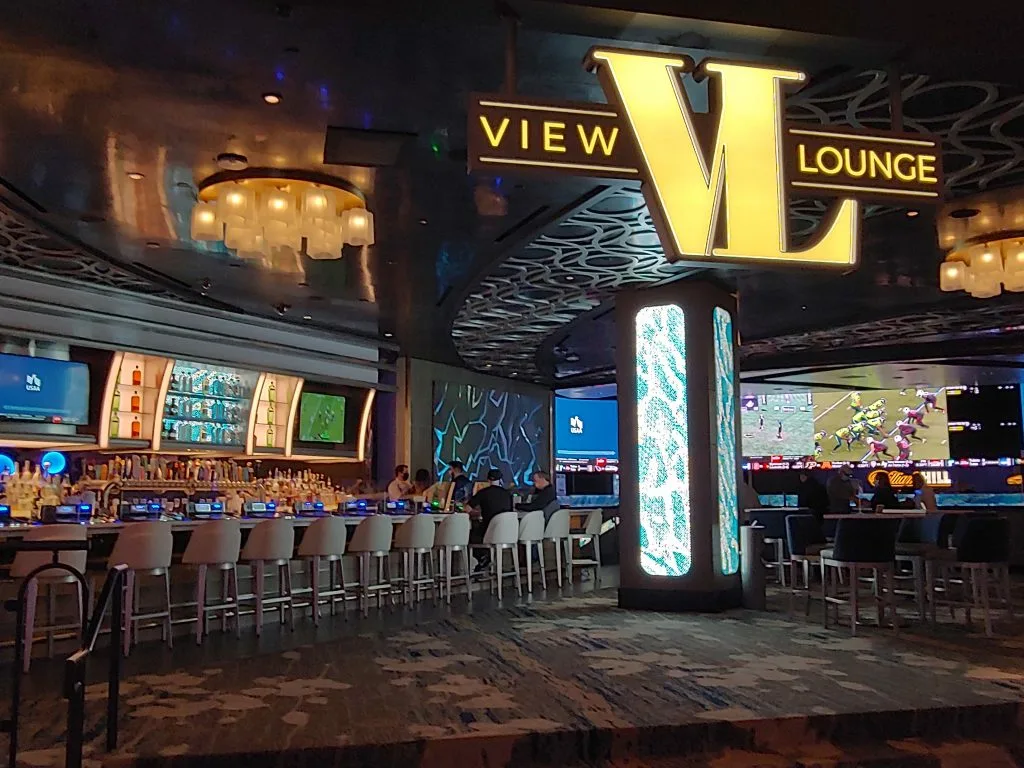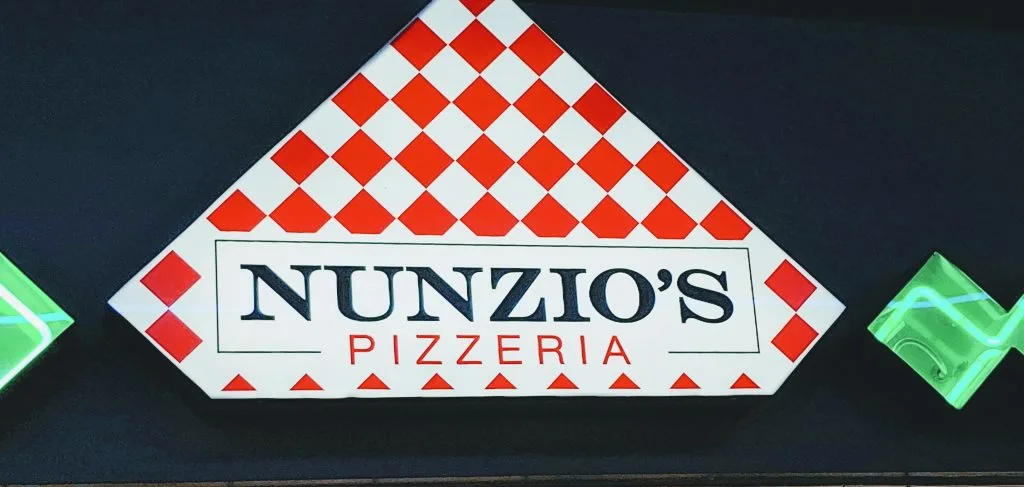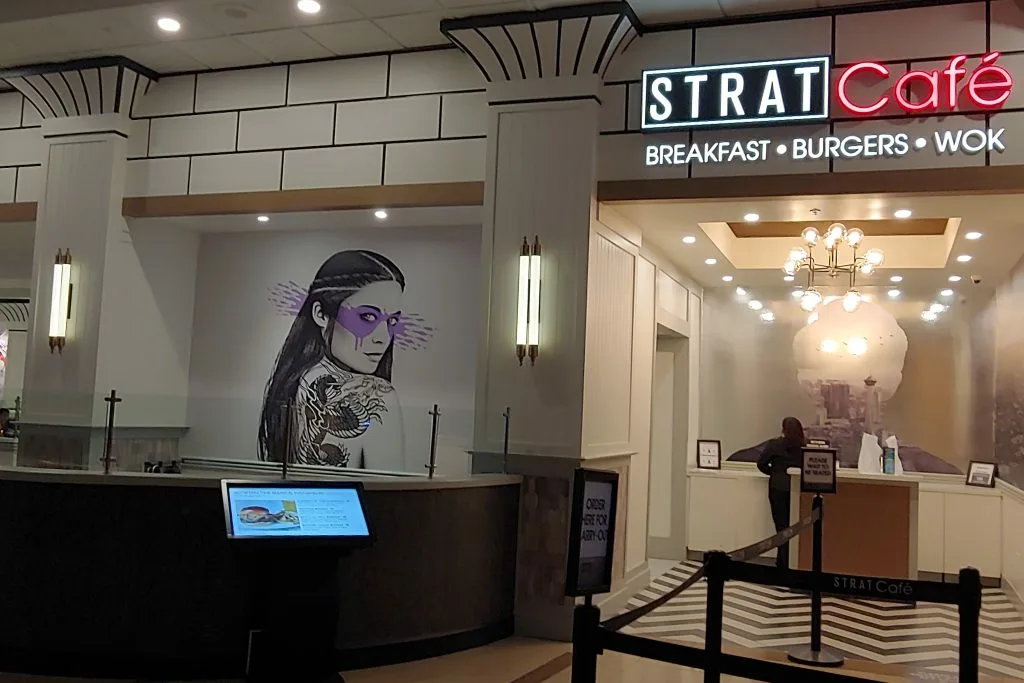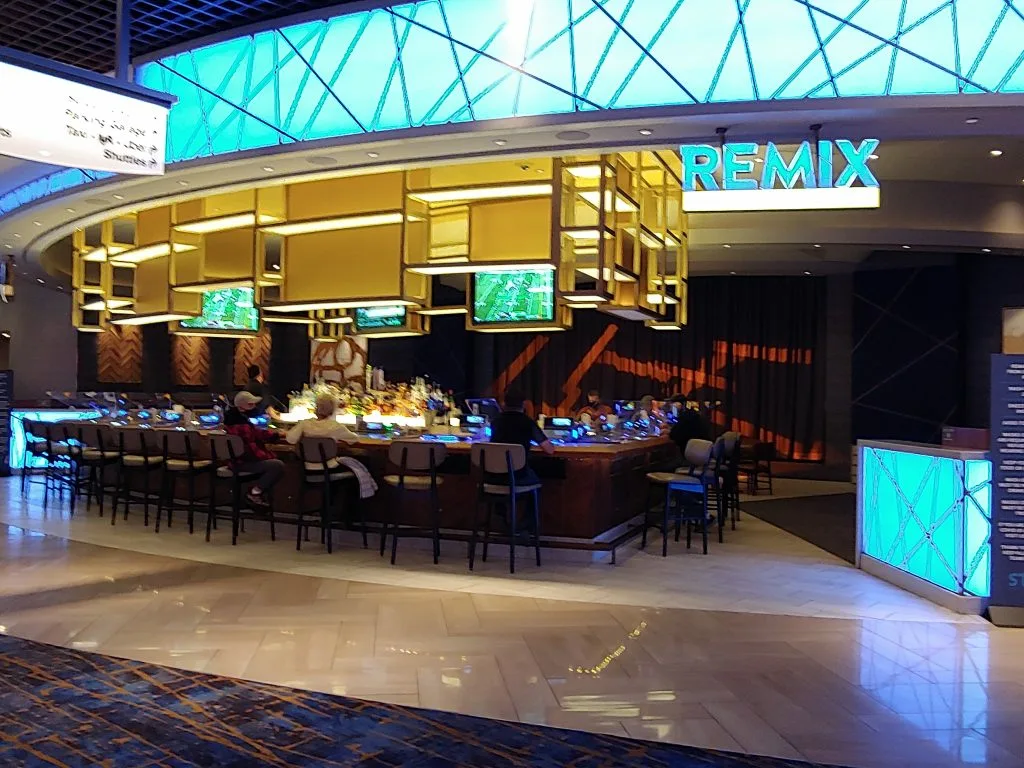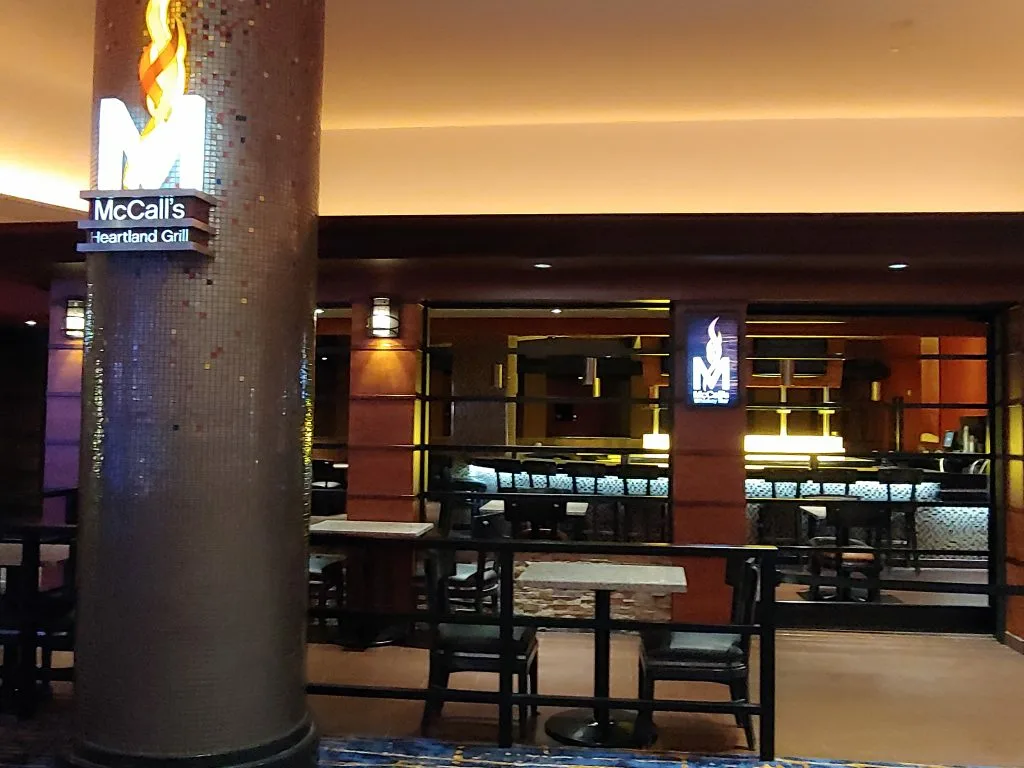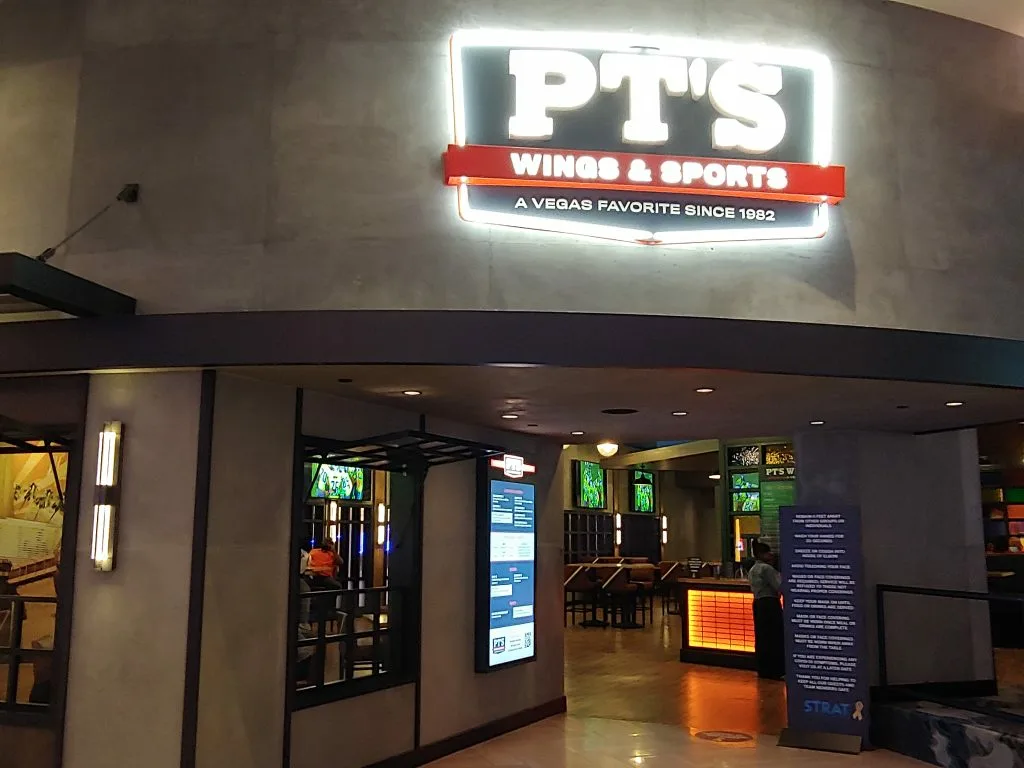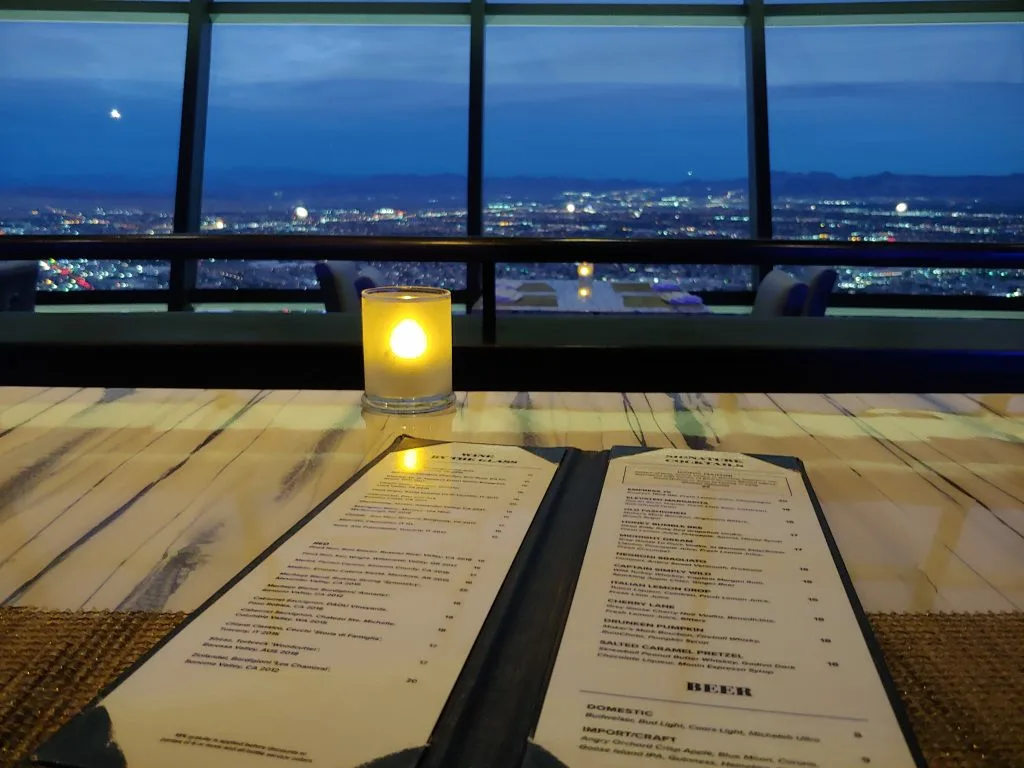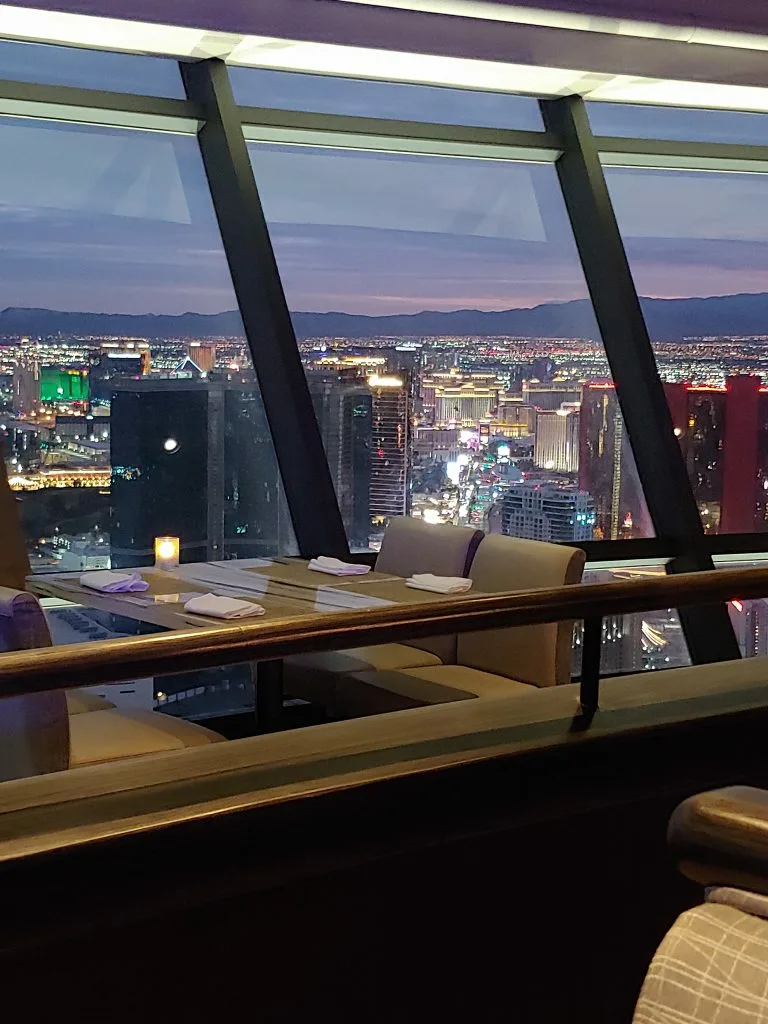 Hotel accommodations
Arrival time: 3pm | Departure time: 11am | Resort surcharge: $39.95 per evening
Rooms and suites
The spacious Select Rooms, measuring 320 square feet, offer a choice between a luxurious king bed or two comfortable queens. Meanwhile, the Elite and Elevate Rooms, slightly larger at 340 square feet, provide even more indulgence. Each room is equipped with essential amenities such as a television, an MP3 player, a dedicated workspace, and an in-room safe. Additionally, the Elite Rooms go above and beyond by including a convenient refrigerator for storing refreshments. On the other hand, the Elevate Rooms boast an array of enticing features, including coffee makers to kickstart your day, USB charging stations for all your electronic devices, invigorating walk-in showers, and stylish face-lit vanity mirrors to ensure you always look your best.
With extra square footage and added amenities such as refrigerators and a distinct seating area, suites offer guests a generous amount of space and comfort. Both the Tower Suite, spanning 574 square feet, and the Boulevard Suite, measuring 750 square feet, boast a luxurious king-sized bed and a cozy sofa. In addition, the Tower Suite showcases a splendid Roman tub, a separate invigorating shower, and a dual vanity. Meanwhile, the Boulevard Suite enchants guests with a rejuvenating spa tub, a separate refreshing shower, and a convenient wet bar.
In this spacious abode, the Classic Grand Suite, spanning across 1,097 square feet, boasts luxurious amenities to cater to your every need. A private king bedroom ensures utmost privacy and tranquility, while a well-appointed wet bar allows you to indulge in your favorite libations. The suite also features a dining area, providing the perfect setting for intimate meals or gatherings with loved ones. On the other hand, the Classic Family Suite, with its generous 610 square feet, offers a cozy haven for the entire family. With two queen beds, everyone can enjoy a restful night's sleep, and the spa tub with a separate shower adds a touch of luxury and relaxation to your stay. Choose the suite that best suits your preferences and revel in the comfort and elegance it has to offer.
Book a room at The Strat
Strat Casino FAQ
What rides are available on The Strat tower?
The Strat offers thrilling attractions like Big Shot, Insanity, and X-Scream alongside the exhilarating SkyJump experience.
Does Strat pay 3/2 on blackjack?
The majority of blackjack tables offered at The Strat casino payout 3 to 2 on a winning blackjack hand.
What types of roulette are dealt at The Strat?
The Strat offers both double and triple zero roulette options.
Is there a poker room at The Strat?
In October 2019, the poker room at Strat ceased operations, leaving Sahara as the nearest alternative for poker enthusiasts.
What are the craps odds at The Strat?
Craps and crapless craps provide players with the opportunity to win up to 10 times their original bet.
Is there a sportsbook at The Strat?
The Strat offers a sportsbook from William Hill.
What casino did Stratosphere become?
The Stratosphere underwent a name change in 2019 and is now known as The Strat.
Last updated: June 3, 2023