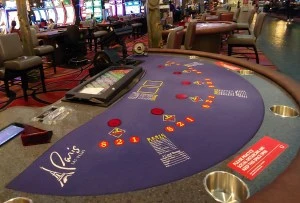 Let it Ride, a poker table game, has gained moderate popularity in Las Vegas with 21 installations. The game is dealt in most major casinos along the famous Strip and in downtown Las Vegas. Playing Let it Ride is a breeze, as it is a simple and straightforward game to grasp.
Bet-NV.com relies on the backing of its members, sponsors, and advertisers. Remember, if you or someone you are acquainted with is facing issues with gambling, reach out to 1-800-GAMBLER.
Supporting Bet-NV.com by signing up for a monthly or quarterly membership will grant you access to our Las Vegas Blackjack and Table Game Survey. This subscription service is constantly updated with fresh data collected from casino visits, ensuring you have the most up-to-date information. Our memberships are incredibly affordable, starting as low as $3 per month. By becoming a member, you contribute to the continued maintenance and expansion of our valuable resource.
You can now access Bet-NV.com subscriptions through Gumroad as well as Patreon, providing you with the same valuable information on both platforms.
In case you or someone you are acquainted with is struggling with gambling, reach out to 1-800-GAMBLER for assistance.
Our terms of use require other website publishers to include a backlink to Bet-NV.com when using our data, within reasonable limits.
Explore: Las Vegas Table Game Analysis
Las Vegas establishments offering Let it Ride casino games
During the summer of 2023, I discovered that Las Vegas boasts a total of 21 casinos where Let it Ride is offered. The majority of these establishments enforce a minimum bet of $10, which is quite standard. Nonetheless, there are still a few casinos in town that offer Let it Ride games with a more affordable minimum bet of $5. It is important to note that these minimum bet limits were observed during the summer season and may potentially increase during busier times.
Las Vegas casinos offering minimum bets for Let It Ride.
$5 minimum
Flamingo
Linq
Golden Nugget
Rio
$10 minimum
Binion's
California
Four Queens
Fremont
Harrah's
Horseshoe
Main Street Station
New York-New York
Paris
Planet Hollywood
Plaza
$15 minimum
Caesars Palace
Mirage
Treasure Island
Venetian
$25 minimum
Las Vegas Let it Ride video
In 2021, New York-New York made the decision to remove the old Gamemaker video poker machines that dealt the game from their floor. These machines were a rarity in Las Vegas, as there are no Let it Ride machines available in the city. The last multiplayer Let it Ride machine left the market in 2011, leaving enthusiasts with limited options. Previously, New York-New York had four of these unique machines, providing a unique experience for players. However, due to various factors, the decision was made to discontinue their use. As a result, those seeking a game of Let it Ride will need to explore alternative options in Las Vegas.
I came across a couple of places where you can find this particular variation of the video game Let it Ride - Hollywood Greektown in Detroit and Golden Nugget in Atlantic City.
Instructions on how to engage in a game of Let it Ride
In the exhilarating game of Let it Ride, the excitement commences as the player places three identical wagers. It is imperative that each bet satisfies the predetermined minimum, which is prominently displayed for all to see. To illustrate, if the Let it Ride table boasts a minimum of $5, then the player must invest a total of $15 as each stack must consist of $5. Furthermore, the table might offer enticing side bets, such as a three-card poker hand or a captivating jackpot that progressively grows with the elusive royal flush.
When the bets have been placed on the table, three cards are dealt to the player. In the center of the table, two cards are then placed. It's important to note that the dealer does not receive any cards. The player's payouts are determined by the strength of their hand.
As I glance at the three cards that have been dealt, I find myself faced with a pivotal decision. Should I cautiously withdraw one stack or take a chance and let it ride? The outcome of this choice could potentially be a game-changer. If luck is on my side and I receive a winning hand, I promptly tuck the cards beneath the stacks to signal to the dealer that my turn is complete. Conversely, if I choose to pull a stack back, I subtly motion to the dealer, indicating my desire to retract my bet.
Once the initial round is completed, the moment arrives when one of the two cards positioned in the center is unveiled, revealing its face to all players. At this crucial juncture, the player is faced with yet another crucial decision to make - whether to take a chance and let the game ride, or cautiously withdraw one stack back. With bated breath, the cards are now carefully arranged in the center, setting the stage for the climactic finale. As the final card is dramatically displayed, the player's heart races with anticipation, fully aware that this card holds the key to creating the best possible five-card hand. It is at this moment that the player's fate is sealed, as the winnings are calculated in accordance with the payout table, clearly indicating the amount won for every dollar wagered. Each stack that remains in play is honored with its deserving payout, adding to the excitement and suspense of the game.
Royal flush: 1000

Straight flush: 200

The quintessential quartet: half a century

Full house: 11

Flush: 8

Straight: 5

A trio of similar: 3

Two pair: 2

A combination of two 10's or higher: 1
Frequently Asked Questions about Let it Ride in Las Vegas
What is the minimum bet for Let it Ride in Las Vegas?
Four gambling establishments provide the opportunity to play the game at a cost of $5, while the majority of casinos offer it for $10.
How many Las Vegas casinos deal Let it Ride?
You can find it in 21 different Las Vegas casinos.
Do any locals casinos deal Let it Ride?
Rio is the solitary casino in the Las Vegas region that offers the Let it Ride game to local players.
Are there any video Let it Ride machines in Las Vegas?
Negative. In the year 2021, the final machines were taken out from the premises at New York-New York.
The most recent update was made by William Stevens on August 27, 2023.