Las Vegas has seen the introduction of a fresh and exciting table game called Heads Up Hold'em. This game has gained popularity over the past few years, even replacing certain Ultimate Texas Hold'em tables in the market. These changes have been documented in our comprehensive Las Vegas Table Game Survey, providing players with valuable insights into the evolving gambling scene.
Ultimate Texas Hold'em is the game that this one resembles in terms of gameplay. However, a unique twist is added with a bonus for a bad beat, which means that if a straight or better hand loses to the dealer, the player actually wins. To balance this out, there is a limit on the preflop bet, which cannot exceed three times the ante. This cap ensures that the game remains fair and provides an equal opportunity for all players. Rest assured, the remaining betting rounds follow the same rules and structure as Ultimate Texas Hold'em.
Bet-NV.com receives support from memberships, sponsors, and advertisements. In case of any gambling issues, please contact 1-800-GAMBLER for assistance.
Start your subscription and gain access to our exclusive Las Vegas Blackjack and Table Game Survey. By becoming a member of Bet-NV.com, you'll be supporting us while enjoying the benefits of our monthly or quarterly membership plans. Updated regularly with fresh data obtained from our frequent casino visits, our survey offers invaluable insights into the ever-changing world of Las Vegas table games. Choose from our affordable membership options, with prices starting as low as $3 per month. Gain an advantage and stay ahead of the game with Bet-NV.com.
Bet-NV.com is now offering subscriptions on Gumroad and Patreon, providing access to the same valuable content on both platforms.
In case you or a person you're acquainted with is struggling with gambling addiction, reach out to 1-800-GAMBLER for assistance.
It is acceptable for publishers of other websites to utilize our data within reasonable boundaries, as long as they comply with our terms of use which necessitates a backlink to Bet-NV.com.
We anticipate that the minimum bets displayed represent the lowest available options, but be prepared for higher minimums during peak periods. This information was gathered in the summer of 2023.
Heads Up Hold'em offered at Las Vegas casinos
I have some exciting news for all you card game enthusiasts out there! Heads Up Hold'em, a thrilling poker variant, is currently being dealt at not one, not two, but five luxurious Las Vegas casinos. It's truly a game that's gaining popularity. One particular casino that caught my attention is Jerry's Nugget, nestled in the heart of North Las Vegas. What makes this place truly exceptional is that they offer Heads Up Hold'em with a minimum bet of just $3! Yes, you heard that right - a mere $3 is all it takes to join in on the excitement. It's an unbeatable deal for players who are looking to have a fantastic time without breaking the bank. You won't find such a fantastic offer anywhere else. Here's the best part - even with such a low minimum bet, players can still play their hand until the very end by making the maximum raise with only $12 invested. That's right, you can go all in and experience the thrill of the game without putting a huge dent in your wallet. However, if you're feeling a bit more adventurous and want to take things up a notch, there's also the option to play the bonus bet for just a $5 minimum. It's all about options here, and Jerry's Nugget surely knows how to cater to every player's preferences. So, whether you're a seasoned pro or a beginner itching to try your luck, don't miss out on the chance to immerse yourself in the exhilarating world of Heads Up Hold'em at Jerry's Nugget. It's an experience you won't soon forget!
Jerry's Nugget is situated north of the downtown area in North Las Vegas. The minimum bet for Heads Up Hold'em tables in Las Vegas usually ranges from $5 to $10.
Las Vegas Head Up Hold'em betting requirements
$5 minimum
Arizona Charlie's Decatur
M Resort
Tropicana
Tips for mastering the game of Heads Up Hold'em
Heads Up Hold'em is essentially an adaptation of Ultimate Texas Hold'em, akin to a sibling with slight variations. While the rules remain largely similar for both games, there are two key distinctions. In Heads Up Hold'em, players are limited to raising just three times before the flop, unlike the four times allowed in Ultimate Texas Hold'em. Additionally, Heads Up Hold'em presents an intriguing alternative: a bad beat bonus. This bonus commiserates with players who suffer defeat despite holding a strong hand such as a straight. Remarkably, the losing hand can even encompass the entire five-card board, with the dealer utilizing their hidden cards to bolster the outcome.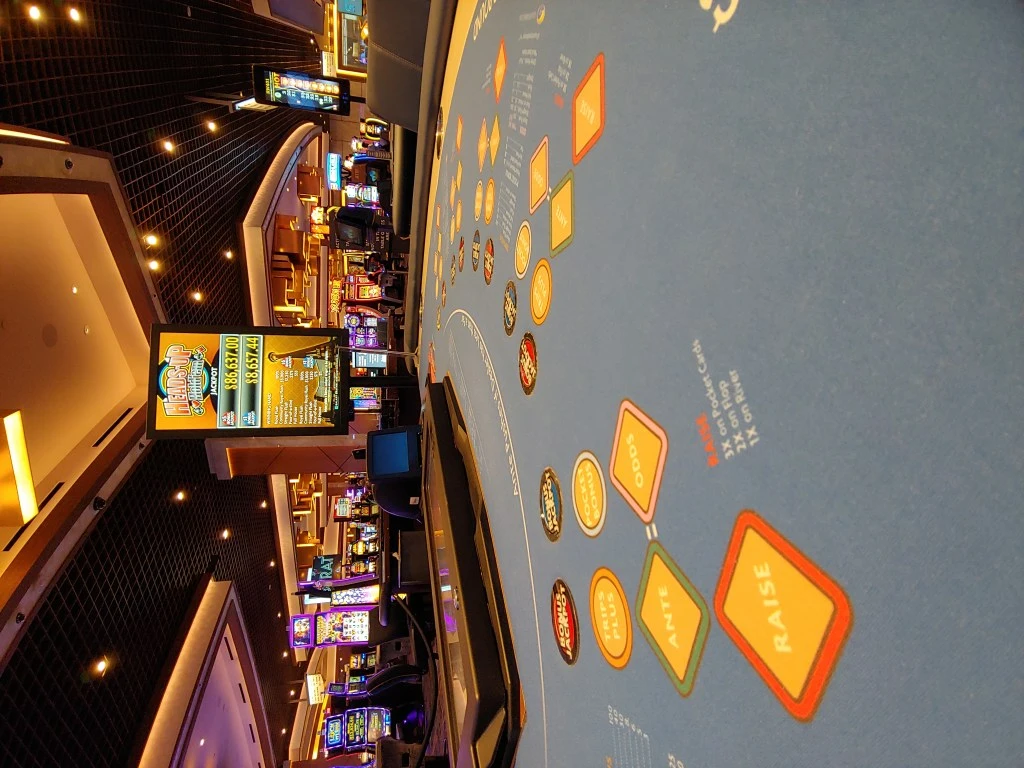 In this game, to begin, each player places an ante and a blind bet, ensuring that the amounts are the same. Then, both the dealer and every player receive two cards. At this point, players are faced with two possible choices. They can either opt to check or decide to raise their bet, which must be three times the initial ante. If a player chooses to raise at this juncture, it signifies the end of the action, and the respective cards are placed in front of their bets.
In the middle of the table, three cards are displayed, which is commonly referred to as the flop. At this point, the players have the option to either check or place a bet that is twice the amount of the ante. Should a bet be placed, the cards are then placed in the center. Subsequently, the turn and river cards are revealed. Those players who opted to check during the previous two rounds must now make a decision - either fold their hand or place a bet equivalent to the initial ante. It is important to note that if a hand is folded, both the blind and ante are lost. However, any side bets that were placed will still remain in play and will be evaluated based on the community cards.
When all the players have taken their turns, it's time for the house to reveal its two cards. In the event that the dealer doesn't have a pair, the antes are returned to the players because the dealer fails to meet the requirements. It's worth noting that a pair can consist of the community cards as well. However, if the house qualifies, then each player's hand is compared to that of the dealer's. Should a player outperform the dealer, they will receive their ante and raises. Conversely, if the dealer emerges victorious, the house will claim these wagers. In the case of a tie, the result will be a push.
The ante results in a loss for the blind, but they continue to wager on ties and earn the majority of wins. The payouts for each dollar wagered are as follows:
Royal flush: 500

Straight flush: 50

A set of four: 10

Full house: 1.5

Straight: 1
In the unfortunate event of losing to the dealer, the bad beat bonus comes into play. It operates in the following manner: if the player's hand is on the board and the dealer manages to enhance it with a single card, the bonus is activated. To provide an illustration, envision a scenario where the board displays a flush, but the dealer cunningly acquires a card that forms an even more impressive flush compared to the board. In this case, the player becomes the fortunate recipient of the bad beat bonus. The awarded amount is then multiplied by the initial bet, resulting in a potentially bountiful outcome.
Straight flush: 500
A quartet of identical cards: 25
Full house: 6
Flush: 5
Straight: 4
Frequently Asked Questions about Las Vegas Heads Up Hold'em
Can I play Heads Up Hold'em in Las Vegas?
Indeed. These five Las Vegas casinos are involved in dealing the game.
What is the minimum bet for Heads Up Hold'em?
Jerry's Nugget sells it at a price of $3, whereas other gambling establishments offer it at $5 or $10.
What is the difference between Heads Up Hold'em and Ultimate Texas Hold'em?
In Ultimate Texas Hold'em, you have the freedom to bet four times the ante before the flop. But in Heads Up Hold'em, things are a bit different. Here, the preflop bet limit is set at just three times the ante. It may seem like a small adjustment, but it can have a big impact on your strategy and overall gameplay. However, don't worry too much about missing out on that extra bet. Heads Up Hold'em has a special feature called the bad beat bonus, which helps make up for not being able to go all in with a four-times bet. So, even though the betting rules may be slightly different, this game still offers plenty of excitement and opportunities to win big.
The most recent update was made by William Stevens on August 27, 2023.