Visit the Paris Casino at 3655 S Las Vegas Blvd, Las Vegas, NV. Give them a call at 877-796-2096 for more information.
On August 1, 1999, the grand opening of Paris Las Vegas marked a significant milestone in the entertainment landscape of the iconic Las Vegas Strip. As the sun sets on the horizon, its unmistakable presence graces the city's skyline. Standing tall and proud, the replica of the Eiffel Tower emerges from the heart of the casino floor, creating a captivating spectacle that beckons guests to embark on an unforgettable adventure. For those seeking an extraordinary experience, a trip to the top of this architectural marvel promises breathtaking views and a chance to embrace the enchanting allure of the Las Vegas lights.
Connected to a parking deck, Paris Las Vegas and Horseshoe are two renowned establishments operated by the well-known Caesars Entertainment company. Within the luxurious Paris Las Vegas, visitors can indulge in a variety of entertainment options. With around 1700 state-of-the-art slot machines and numerous table games, the casino caters to all types of players. Additionally, the hotel offers a staggering 3000 rooms, ensuring that guests have a comfortable and memorable stay. Moreover, Paris Las Vegas boasts over a dozen restaurants, tantalizing the taste buds of visitors with a diverse range of culinary delights.
Additional Casinos on the Las Vegas Strip.
Bet-NV.com receives assistance from memberships, sponsors, and advertisements. In case you or someone you're acquainted with is experiencing difficulties related to gambling, please contact 1-800-GAMBLER.
---
Paris casino
The Paris casino boasts an expansive floor space of nearly 100,000 square feet, providing ample room for gambling enthusiasts to revel in their favorite games. With approximately 50 table games sprawled across the vibrant casino floor, and an additional 20 or so nestled within the exclusive high limit salon, there is no shortage of options for those seeking the thrill of card games and roulette. Moreover, the casino houses an impressive collection of around 1700 slot machines, catering to both modest bettors and high rollers alike. These slots encompass a wide range of denominations, encompassing the popular penny machines all the way up to the extravagant $100 slots.
I love playing video poker when I visit the casino, and it's always exciting to see the different options available. As I walk in, I notice that the video poker machines near the front of the casino have a minimum bet of just $0.05. It's a great way to start off and warm up before moving on to the higher limit games. Speaking of high limit games, I make my way to that section of the casino where the stakes are a bit higher. Here, the video poker games start at a $1 denomination. The higher bet brings along some impressive pay tables, like the 7/5 Bonus Poker with a progressive royal flush. It's quite tempting, but I know there's an even better option out there. My favorite high limit video poker game is the 9/5 Jacks or Better. While it may offer only a slightly better return, it's the one that really gets my heart racing. The anticipation of hitting that winning hand and the excitement of the game keep me coming back for more. So, I make sure to give it a try every time I'm in the high limit area. With so many video poker options to choose from, it's all about finding the game that suits your preferences and betting style. Whether it's starting small near the front of the casino or going all out in the high limit section, video poker offers an exhilarating experience that keeps me entertained throughout my casino visit.
Paris Las Vegas, a renowned establishment, is home to the prestigious World Series of Poker, where players from across the globe gather in its expansive convention center. However, unlike many other prominent casinos, Paris Las Vegas does not boast a dedicated poker room within its premises. Fear not, for just a stone's throw away lies Horseshoe, a neighboring casino that conveniently connects to Paris Las Vegas. Here, avid poker enthusiasts can indulge in their passion and enjoy thrilling games in a well-appointed poker room. Additionally, situated on the bustling casino floor is the highly popular Caesars Sportsbook, offering patrons the opportunity to place bets on a range of exhilarating sports events.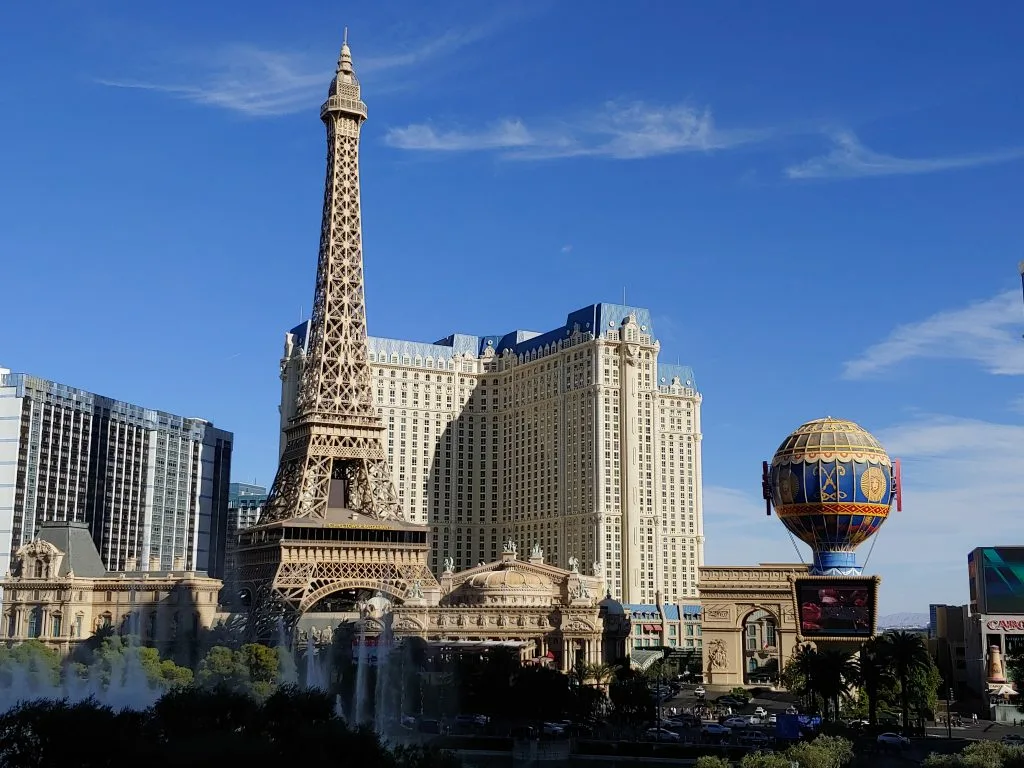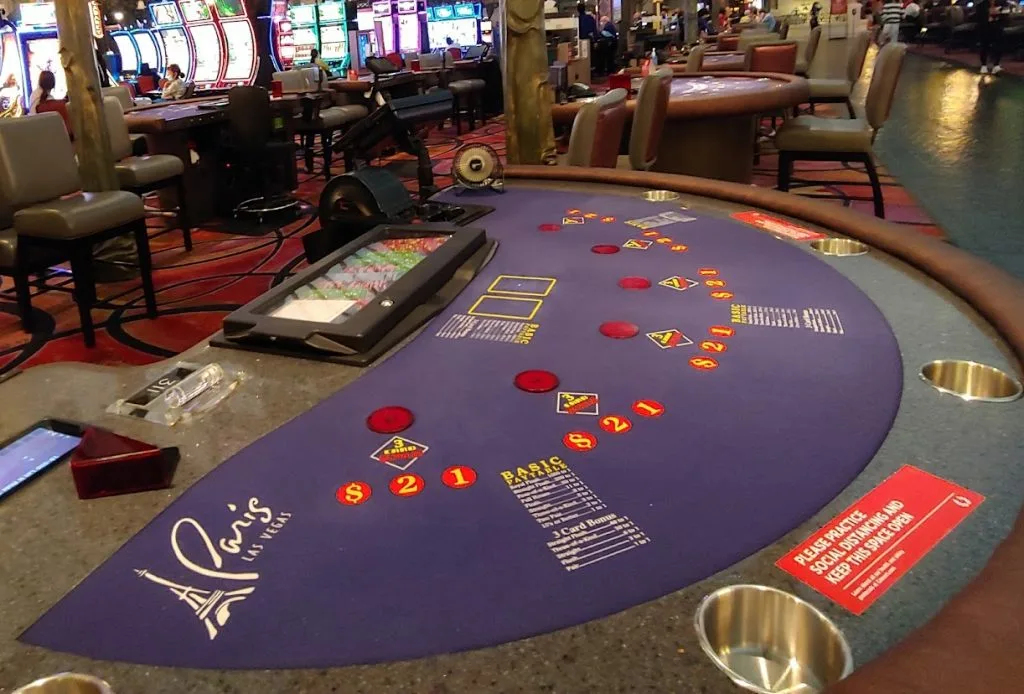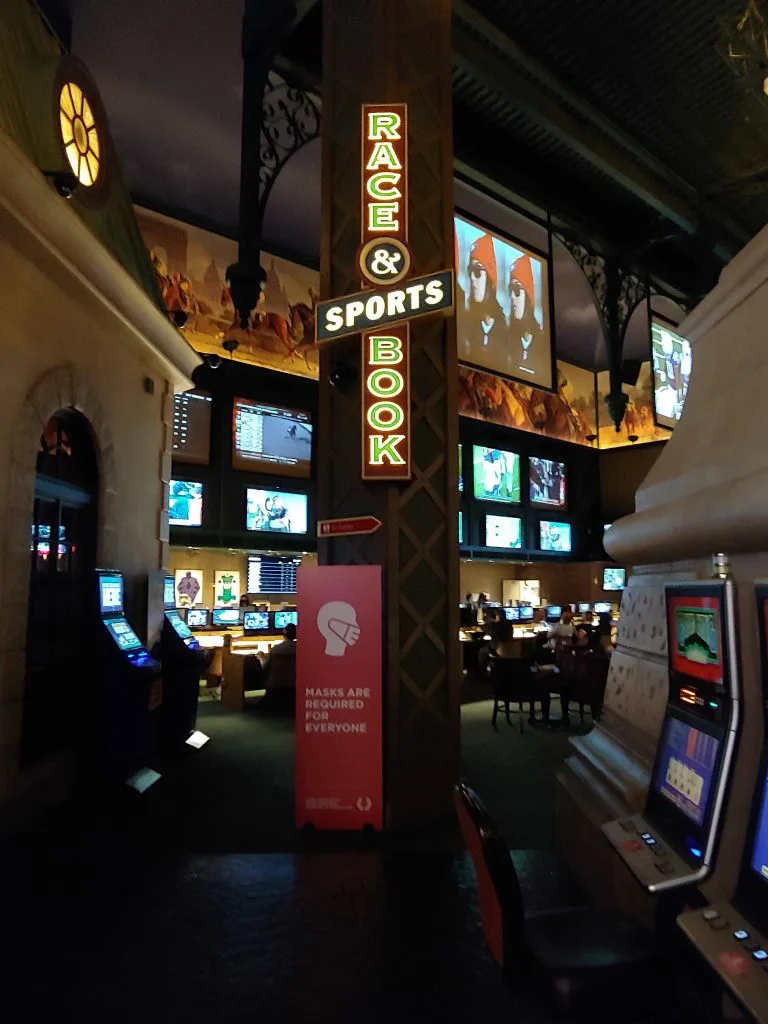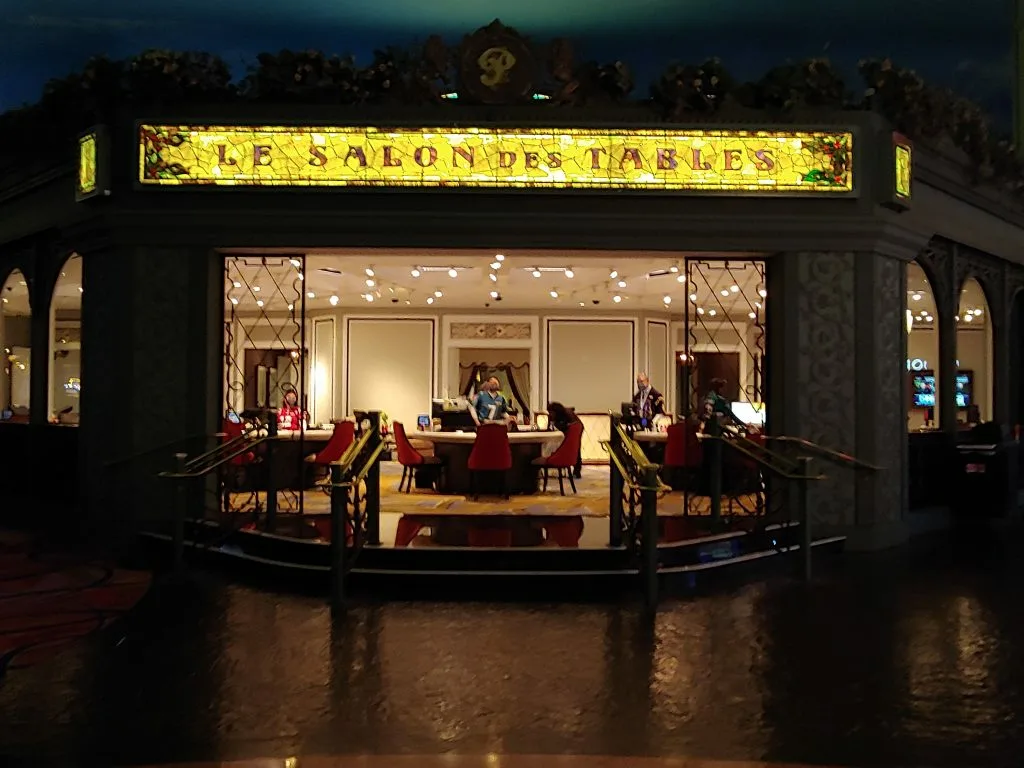 Table games
I absolutely love playing live table games at the casino! The thrill of baccarat, blackjack, craps, and pai gow poker is unmatched. And let's not forget about the unique variations like crapless craps and pai gow tiles, which add an extra level of excitement. Interestingly, Paris is the only Las Vegas casino where you can find both High Card Flush and I Luv Suits. It's fascinating to discover that these are essentially the same game, just with different names. Oh, and speaking of poker, there's even a dedicated pit solely for poker pit games. How cool is that?
In order to find blackjack games that pay 3/2 at the Paris casino, players will need to go to the salon as all blackjack games on the main casino floor pay 6/5, even Free Bet Blackjack. There are two options available in the salon: a double-deck game that does not allow doubling down after splitting and hits soft 17, and a six-deck game that follows the standard double down rules and offers surrender. At the six-deck blackjack tables, the dealer stands on soft 17. It's worth noting that the minimum bet in the high limit area is typically set at $100.
Paris offers both double and triple zero roulette games, with no single zero roulette tables available.
When playing craps, you have the option of taking either 3-4-5 times odds or 1-2-3-4-5 times odds at crapless craps. In the former, you can place single odds on the numbers 2 and 12, while double odds are allowed on the numbers 3 and 11. This setup allows for pass line or come bets to potentially win up to six times the original amount placed before the come out roll. Moreover, if the number 12 is rolled, the field bet pays out double.
For just $3 per month, you can also gain access to an array of table game surveys and other exclusive perks offered by the Casino Club, Total Access Club, and Bet-NV.com Super Fan membership programs. These memberships provide detailed insights into various table games across different casino properties. Discover the latest trends, strategies, and player experiences to enhance your own gaming adventures. Join today and unlock a whole new level of access and expertise in the world of Las Vegas casinos.
You can now get your Bet-NV.com subscriptions through Gumroad and Patreon, offering the same valuable content on both platforms.

In case you or someone you're acquainted with has a gambling addiction, reach out to 1-800-GAMBLER for assistance.
Entertainment at Paris
Nestled in the heart of the Strip, Paris dominates the skyline with its meticulously crafted replica of the iconic Eiffel Tower. Ascending to the tower's pinnacle, visitors are treated to a breathtaking panorama of the Las Vegas Strip from the vantage point of the Eiffel Tower Viewing Deck. With perfect timing, or perhaps by sheer fortune as we experienced, one can witness the mesmerizing spectacle of the Bellagio fountains cascading in synchronized harmony from an elevated perch. As the evening unfolds, the tower itself becomes a spectacle, adorned with a mesmerizing light show that captivates onlookers every half hour, starting from dusk until the stroke of midnight.
Exploring culinary delights and savoring exquisite beverages in Paris.
The dining choices at Paris Hotel Las Vegas encompass a variety of culinary experiences, from convenient snacks at the food court to a selection of laid-back eateries. Numerous dining establishments are situated in close proximity to the casino area.
There are other dining choices accessible in the connected Horseshoe Casino.
Alexxa's - Enjoy a delightful mid-morning meal and savor the flavors of traditional American fare.
Martha Stewart's exquisite creation, The Bedford, reimagined to perfection. – French-inspired American dishes made with locally-sourced ingredients.
Bobby Flay's Bobby's Burgers – Burgers and shakes.
Delicious Brioche crafted by the renowned chef, Guy Savoy. – Fast snacks. Delectable French pastries.
Beer Park - Sports bar with outdoor seating area. Classic American dishes served.
Cafe Americano Open all day and night. Serving a variety of coffee and classic American cuisine.
Cafe Belle Madeleine Round-the-clock access. Coffee and pastries inspired by French cuisine.
Eiffel Tower Restaurant - Elegant. Traditional French dishes. Spectacular Strip vistas from within the towering structure.
Gordon Ramsay Steak – Smart casual. Steakhouse.
JJs Boulangerie - Eatery specializing in breakfast and lunch.
La Creperie – Made-to-order crepes.
Mon Ami Gabi - A French restaurant that will be your friend. - Relaxed office attire. Delightful French dishes.
Nobu Paris – Japanese cuisine.
Vanderpump À Paris – Creative mixed drinks. Traditional French cuisine with a modern twist.
Hotel accommodations
The property offers a range of amenities including spa and salon services, a fitness center, a business center, and a pool. What sets it apart is that the pool is situated beneath the remarkable replica of the Eiffel Tower.
Arrival time: 4pm | Departure time: 11am | Additional charge: $45.95 per night for resort amenities
Paris Las Vegas offers a wide range of accommodation options, with over 2,900 hotel rooms available for guests. If you're traveling with your furry friend, don't worry, as pet-friendly rooms are also available upon request, though a small fee may be required. Rest assured that all rooms at Paris Las Vegas are equipped with essential amenities to enhance your stay. Each room features a refrigerator, ensuring your beverages and snacks stay cool. Additionally, you'll find an in-room safe to keep your valuables secure, an iron and ironing board for any wardrobe touch-ups, and a hairdryer for your convenience. Whether you're on a business trip or need a dedicated space to work, every room includes a desk where you can comfortably attend to your tasks. Lastly, blackout curtains are installed in each room, allowing you to have a peaceful night's sleep by blocking out any unwanted daylight or city lights.
Paris offers both smoking and nonsmoking rooms for guests, with standard room sizes measuring 390 square feet and offering a choice between a single king bed or two queen beds. Additionally, there are upgraded rooms and suites for those seeking a more luxurious stay.
Book a hotel room at Paris Las Vegas
Frequently Asked Questions about the Paris Las Vegas casino
Does Paris Las Vegas pay 3/2 on blackjack?
The blackjack games offered at the Paris casino have a payout ratio of 6/5, except for the high limit salon which provides tables with a payout ratio of 3/2.
What are the craps odds at Paris?
Craps features maximum odds of 3-4-5, while crapless craps offers odds of 1-2-3-4-5. Both games provide double payouts on rolls of 2 and 12 in the field.
What types of roulette are dealt at Paris Las Vegas?
Paris offers both double zero and triple zero roulette, without any inclusion of single zero tables.
Is there a poker room at Paris Las Vegas?
Although there is no poker room in Paris, the city hosts the World Series of Poker at its convention center, and Horseshoe also offers a poker room.
Is there a sportsbook at Paris?
Paris is home to a Caesars Sportsbook.
Kristina Mehaffey provided the latest update on May 29, 2023.