206 North 3rd Street, Las Vegas, Nevada | Dial 702-719-5100 | Experience the excitement at Downtown Grand Casino.
Downtown Grand can be found just north of the Fremont Street Experience on Ogden Avenue, occupying the land formerly referred to as Lady Luck.
In the heart of the casino, you'll find a lively video poker bar. It's surrounded by a myriad of entertainment options, including two hotel towers, two restaurants, and a dazzling array of over 300 slot machines. For those who prefer the thrill of traditional casino games, there are not only a dozen table games but also video table games that offer a unique twist. And for sports enthusiasts, the Caesars Sportsbook beckons with its state-of-the-art facilities. Last but not least, a grand showroom awaits, ready to showcase a variety of captivating performances.
The casinos located in the heart of Las Vegas' downtown area
Support for Bet-NV.com comes from memberships, sponsors, and advertisements. In case of a gambling issue, please reach out to 1-800-GAMBLER for help.
---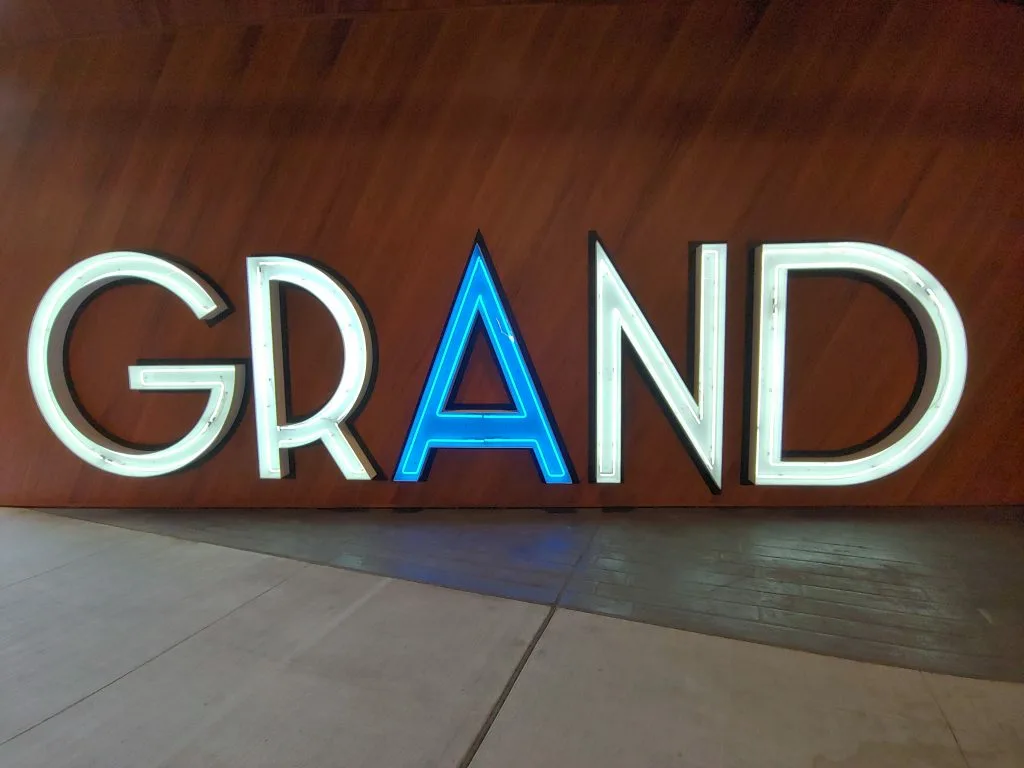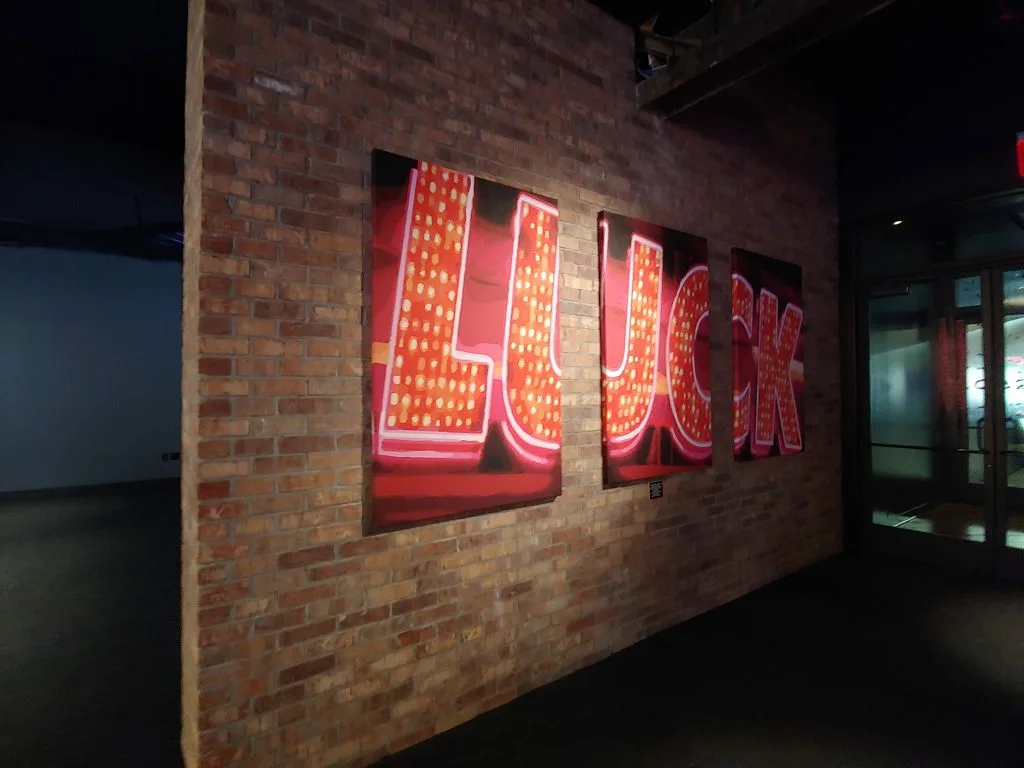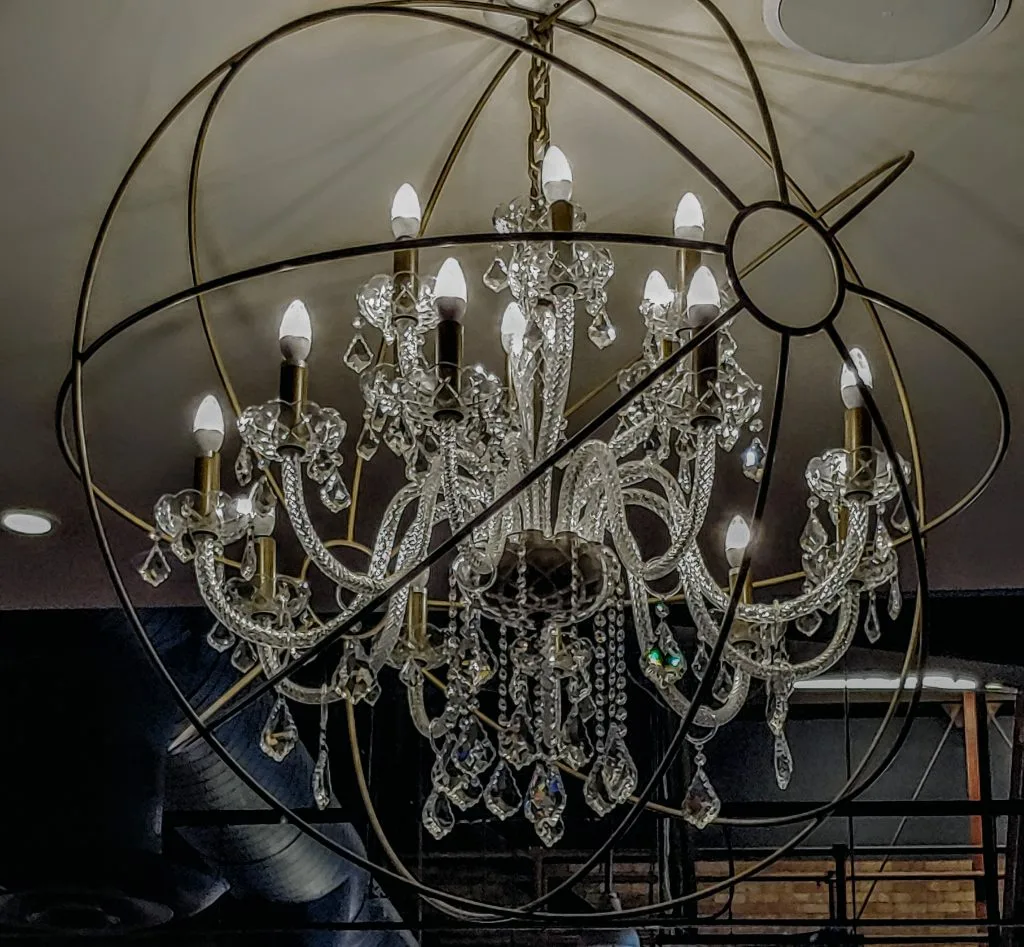 Downtown Grand casino
Just inside the main entrance of the Downtown Grand casino, you'll find a table game pit that's a bit smaller compared to other casinos in the area. With nearly 20 tables, it offers a lively and exciting atmosphere for gamblers. However, you may notice that the stadium craps and roulette, once located in the back pit, have been removed. Fear not, though, as the casino has brought back live tables, including a new addition of a second craps table. So, whether you're a seasoned player or a novice looking to try your luck, Downtown Grand has got you covered with a variety of thrilling table games.
The gaming floor boasts an impressive collection of more than 300 machines, delivering a diverse range of options including slot games, video poker, and electronic table games.
The exclusive Grand Rewards program is exclusively available at Downtown Grand, and is not affiliated with any other casinos.
Furnace Bar offers an array of video poker and keno games, featuring both classic single-line options and exciting variations like Ultimate X, Triple Play, Five Play, and Ten Play.
Caesars Sportsbook
I'm excited to share that the recently opened Caesars Sportsbook at Downtown Grand is now up and running. Situated in close proximity to the famous Furnace Bar, this newly launched sportsbook provides a comfortable lounge area where patrons can relax and enjoy their favorite sports events. In addition to that, customers can conveniently make deposits and withdrawals for the Caesars Sportsbook app right here, making it a one-stop destination for all their sports betting needs.
Table games
Downtown Grand offers a variety of table games, which amounts to six different types. When it comes to blackjack, they have two games that utilize continuous shuffling machines. In terms of betting, there are $1 blackjack tables that provide an even money payout, while the $5 tables offer a 3/2 payout ratio. Moreover, players have the advantage of being able to double down both before and after splitting, as well as the option to surrender and re-split aces. It's worth noting that in these games, the dealer hits on a soft 17.
Craps provides a 10x odds opportunity, while the field bet rewards triple on a roll of 12. Additionally, you can enjoy double zero roulette, Three Card Poker, and Ultimate Texas Hold'em at this establishment.
The table games at Downtown Grand are available for play from 11am to 3am on weekdays, while on Fridays, they remain open from 11am until 3am on Monday.
Bet-NV.com members are provided with up-to-date details on the most favorable video poker and table game minimums at more than 60 casinos in Las Vegas.
For just $3 per month, you can also obtain detailed table game surveys and more through our exclusive memberships like Casino Club, Total Access Club, and Bet-NV.com Super Fan. These memberships grant you enhanced privileges to access comprehensive information about various table games offered at different casino properties. Don't miss your chance to join and enjoy the perks of being a Bet-NV.com member, where you can delve into in-depth surveys and analysis to enhance your casino experience.
You can now access Bet-NV.com subscriptions through Gumroad and Patreon, offering you the same valuable information on both platforms.

In case you, or someone you are acquainted with, is facing a gambling issue, reach out to 1-800-GAMBLER.
Exciting attractions and activities await at the heart of Downtown Grand.
In the past, Downtown Grand housed a venue called Delirious Comedy Club. Regrettably, it ceased operations in 2023. Occasionally, visitors can enjoy live performances by bands either within the casino or by the pool.
Experience exquisite dining and indulge in delightful beverages at the heart of Downtown Grand.
Hot N Juicy Crawfish and Freedom Beat are two of the restaurants located at the Downtown Grand property. Operating hours for Hot N Juicy Crawfish are from noon until 10pm every day, while Freedom Beat opens its doors at 8am daily. As for closing times, Freedom Beat shuts down at midnight on weekdays and at 3am on weekends. Additionally, there is a stand offering an enticing $2 deal, which includes a delectable hot dog accompanied by a refreshing PBG draft.
Freedom Beat presents exclusive offers for dedicated casino players who accumulate 25 slot points within a 24-hour period. These perks encompass a mouthwatering prime rib dish priced at $14.99 and a generous 50% discount on handpicked items from the menu.
Downtown Grand has established partnerships with various restaurants in the vicinity, such as Triple George Grill and Pizza Rock.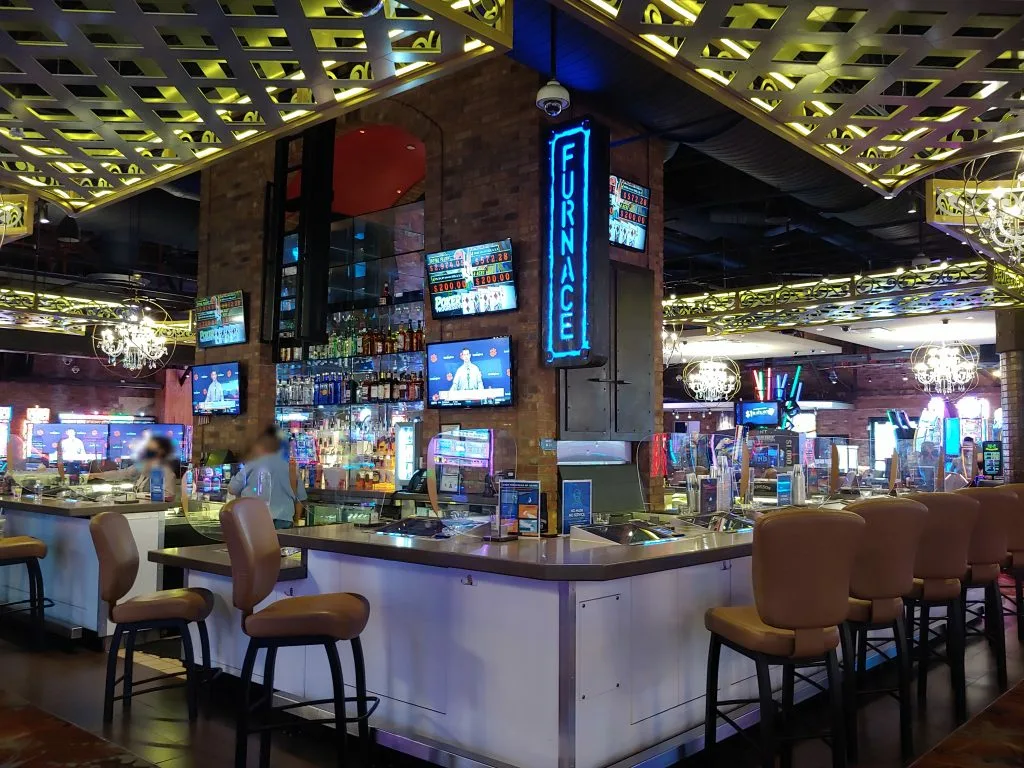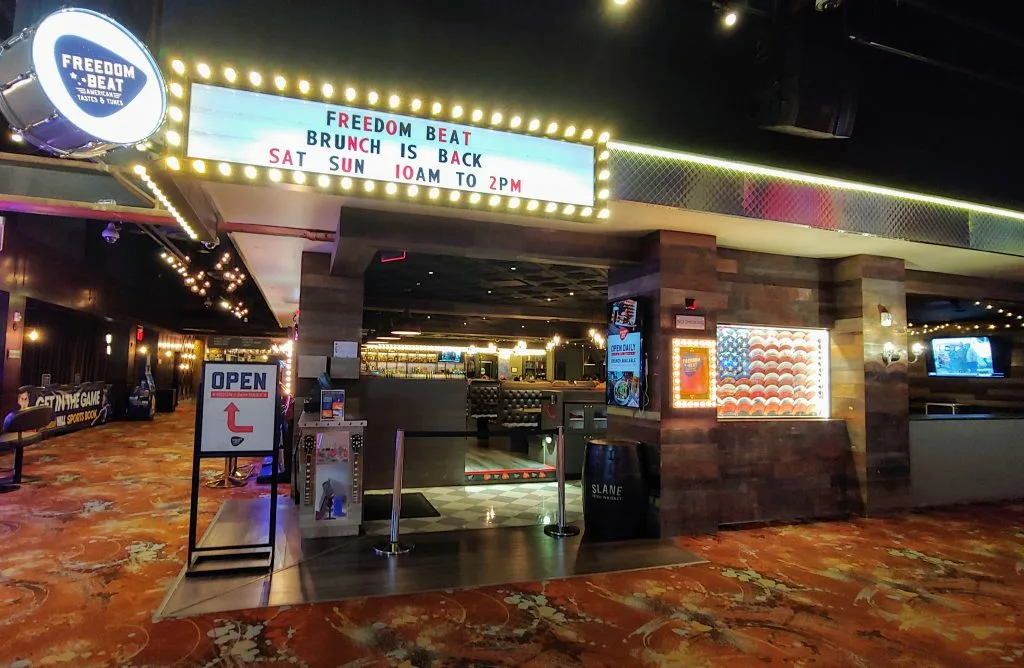 Hotel accommodations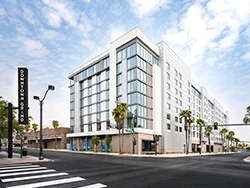 Downtown Grand boasts an impressive selection of over 1,100 hotel rooms, ensuring that guests have ample choices for their stay. The hotel is divided into three distinct towers, namely Casino, Grand, and Gallery, each offering its own unique ambiance and style. When it comes to the different trims available, Downtown Grand caters to the preferences of every guest. Starting with the Gallery Deluxe, this room provides a comfortable space spanning 300 square feet, perfect for those seeking a cozy yet stylish accommodation. For those who desire a bit more room to stretch out, the Gallery Studio offers a generous 360 square feet, ensuring that guests can truly relax and unwind in their own personal sanctuary.
There are a total of seven suite levels available, ranging from the compact one-bedroom style measuring 500 square feet to the luxurious and spacious 1460 Gallery Plush Penthouse Suite.
Book a lodging at Downtown Grand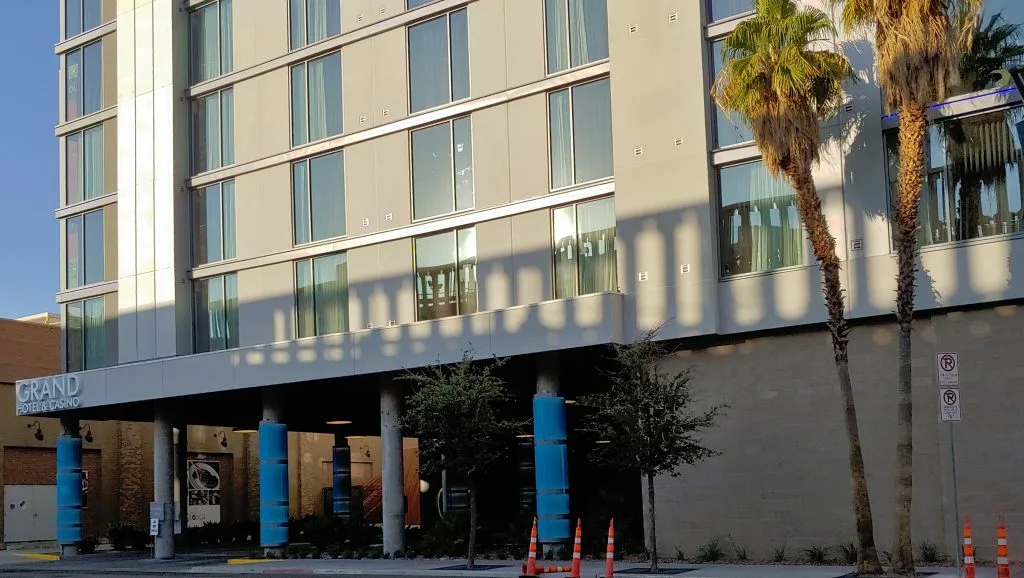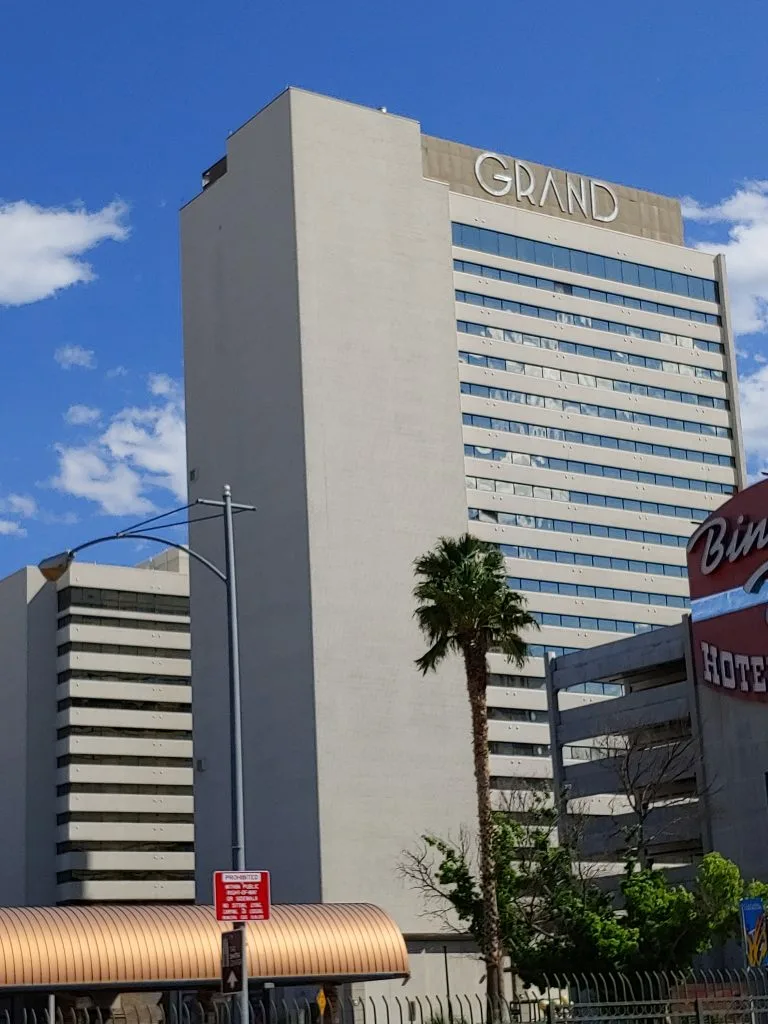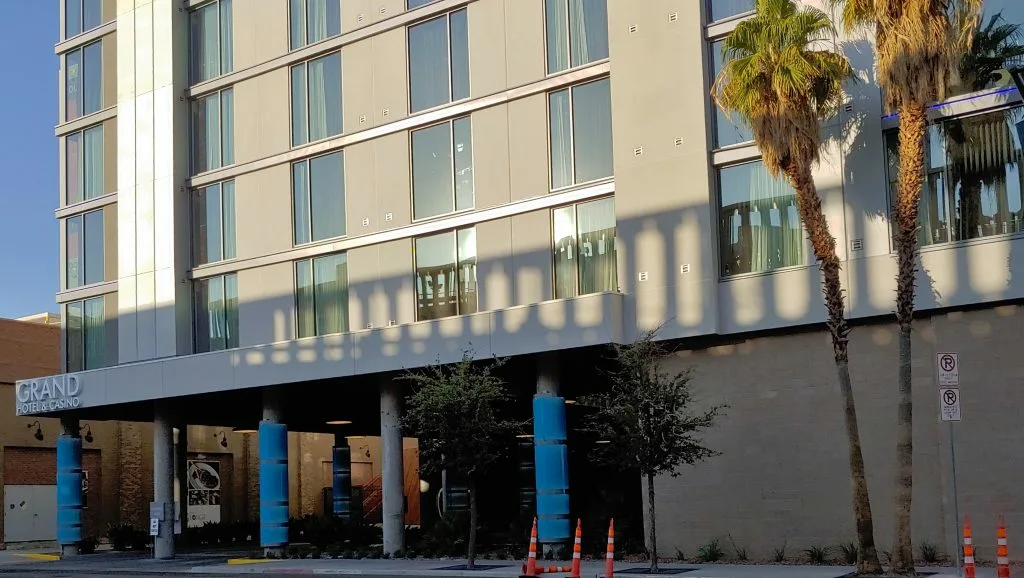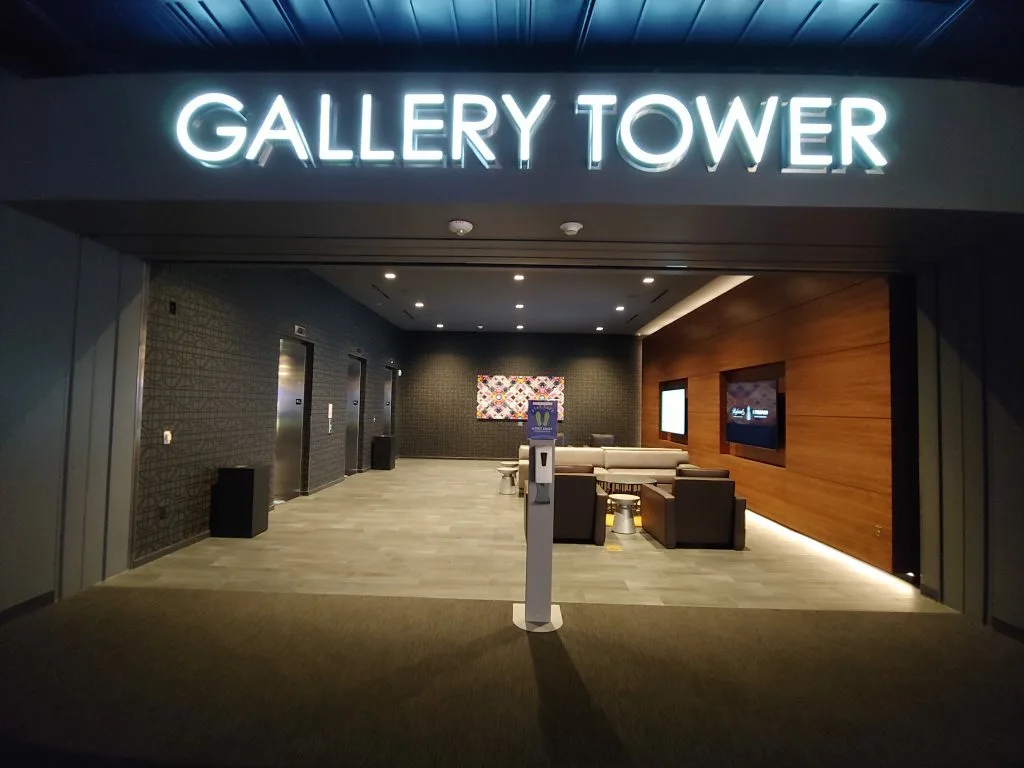 Frequently Asked Questions about the Downtown Grand Casino.
Are there any 24-hour restaurants at Downtown Grand?
Downtown Grand does not have any restaurants that operate 24/7.
Can minors stay in the hotel at Downtown Grand?
Indeed, it is acceptable for individuals under the age of 21 to stay in Downtown Grand accommodations, as long as the primary tenant is at least 21 years of age.
What is the typical minimum bet for table games at Downtown Grand?
The starting bet for most table games is $5, while the minimum bet for Blackjack is $1.
Where can I play $1 blackjack in downtown Las Vegas?
Downtown Grand offers a $1 blackjack deal with a payout of even money.
What table games are dealt at Downtown Grand?
Experience the thrill of various casino games like blackjack, craps, double zero roulette, Three Card Poker, and Ultimate Texas Hold'em at Downtown Grand.
What are the craps odds at Downtown Grand?
Experience live craps at Downtown Grand with the exciting advantage of up to ten times odds.
Are table games open 24 hours at Downtown Grand?
The table games at Downtown Grand are available for play 24/7 on weekends, while on weekdays they operate from 11am to 3am.
Last updated: June 6, 2023
William Stevens provided the most recent update on September 1, 2023.