Located on the renowned South Las Vegas Boulevard, in the vibrant city of Las Vegas, Nevada, you will find the Horseshoe Las Vegas. For any inquiries or reservations, feel free to contact us at 877-603-4390.
In the dazzling landscape of the renowned Las Vegas Strip, a casino by the name of Horseshoe Casino had once been known as Bally's, until the winds of change swept through in December 2022, leading to a remarkable rebranding. Nestled within this Caesars Entertainment property are over 2,800 exquisitely designed hotel rooms, ensuring a luxurious stay for every guest. Alongside this, a plethora of exquisite dining establishments and an array of entertainment options await, leaving no stone unturned in the pursuit of an unforgettable experience. Stepping onto the vibrant casino floor, one's senses are immediately captivated by the sight of alluring table games, an enticing selection of slot machines, the thrill of video poker, the serene ambiance of the keno lounge, and the electrifying energy of the WSOP poker room.
Horseshoe and Paris Casino are conveniently connected by an interior walkway, and they also conveniently share a parking garage. These two properties belong to the esteemed Caesars Entertainment.
Additional Casinos on the Las Vegas Strip
Bet-NV.com receives backing from its members, sponsors, and advertisements. If you or someone you're acquainted with experiences issues with gambling, dial 1-800-GAMBLER.
---
Horseshoe casino
Horseshoe Casino offers a wide array of entertainment options for its visitors. With more than 40 table games and an impressive selection of 700 slot and video poker machines, there is something for everyone to enjoy. Additionally, poker enthusiasts can indulge in thrilling games at the poker room. Although the Caesars Sportsbook is no longer located inside Horseshoe, betting kiosks are conveniently placed throughout the casino, ensuring that guests can still place their bets. For those who prefer a more traditional approach, there is a sports betting ticket window right next to the casino cage. To enhance the overall experience, visitors have the opportunity to create accounts for the Nevada Caesars Sportsbook app at the counter located in the casino. This allows them to easily manage their bets and stay updated on the latest sports events. Furthermore, Horseshoe Casino provides a seamless banking experience. Cash deposits and withdrawals can be conveniently processed at the counter, ensuring that visitors have easy access to their funds. Whether you're looking to place a bet or enjoy the excitement of casino games, Horseshoe Casino has all your entertainment needs covered.
Horseshoe boasts one of the final two keno lounges on the iconic Las Vegas Strip, conveniently located adjacent to the poker room.
At Horseshoe, we utilize the highly convenient Caesars Rewards players card, which allows our valued patrons to enjoy a plethora of exclusive benefits. By participating in our gaming activities, players have the opportunity to accumulate slot points on a wide array of machines, ensuring that their loyalty is rewarded. Our dedicated slot, video poker, and table game enthusiasts may even qualify for exceptional incentives, such as complimentary slot play, delectable meals, and luxurious hotel accommodations. Moreover, those esteemed players who achieve the esteemed Platinum status in the prestigious Caesars Rewards program are bestowed with the added advantage of complimentary parking at all of our esteemed company casinos located within the vibrant city of Las Vegas.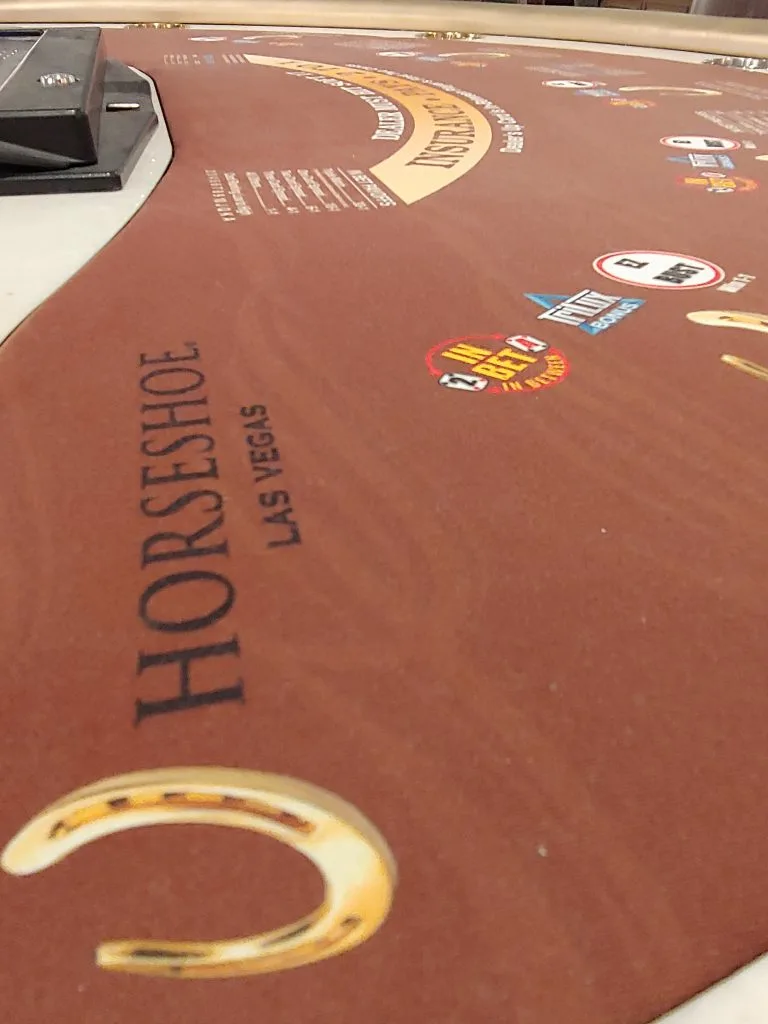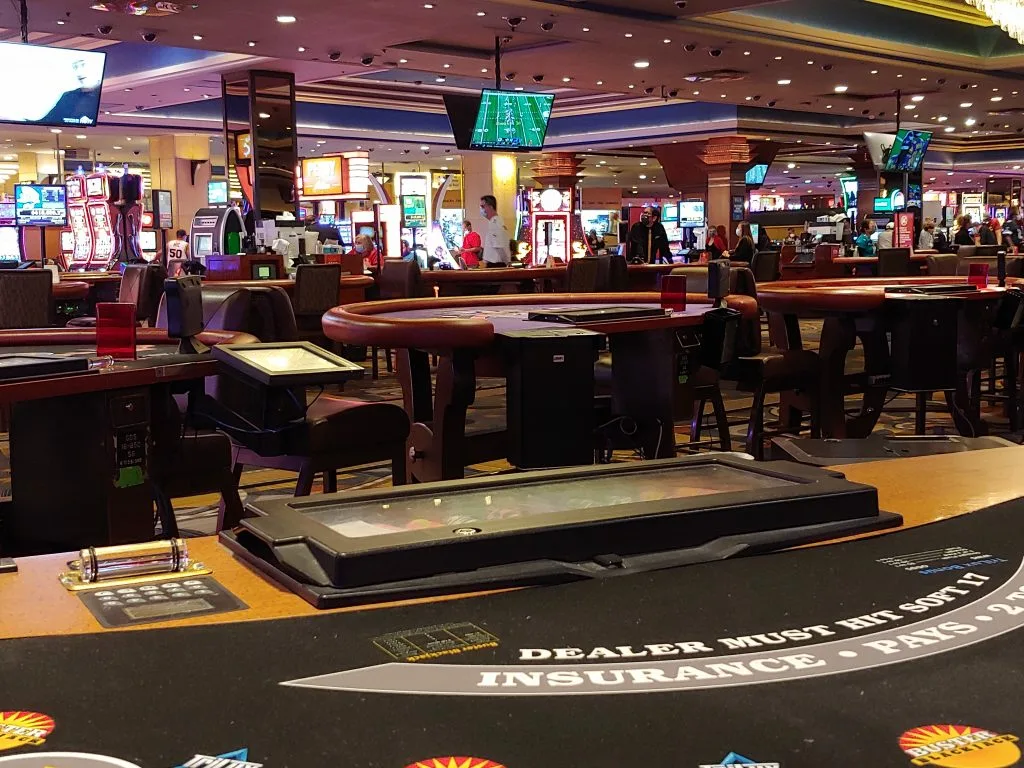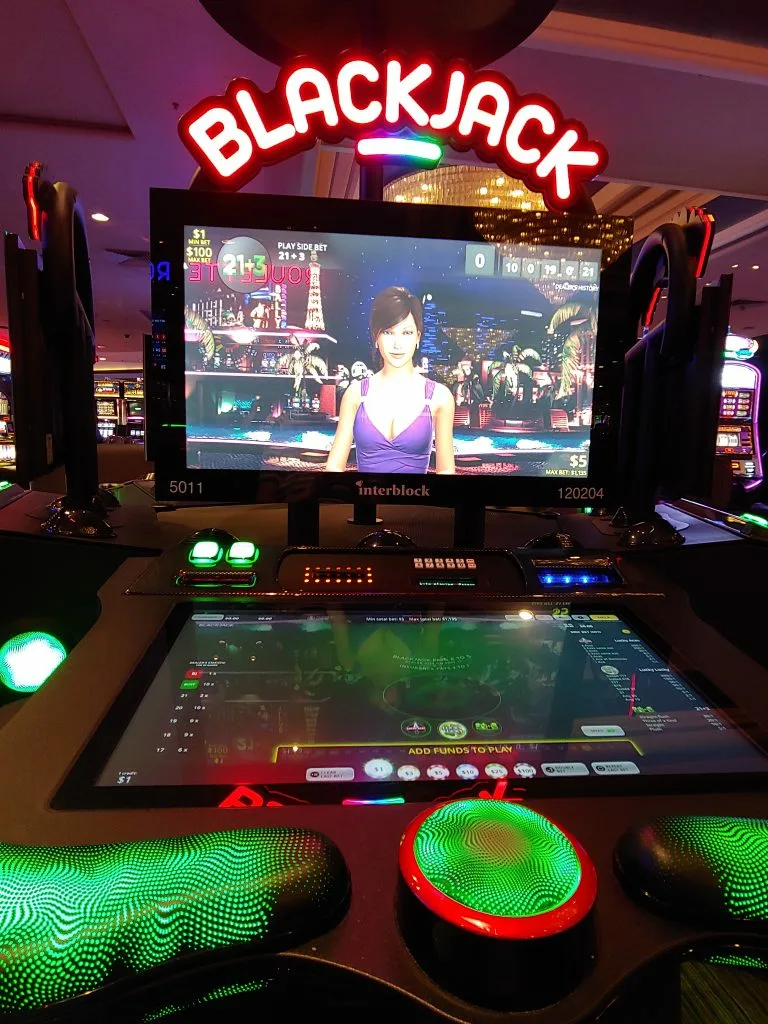 Table games
Horseshoe boasts over 40 table games, including some electronic options with more affordable minimum bets compared to the live ones.
When comparing the current appearance of the pit to its previous state as Bally's, one can discern minimal disparities. Within this gaming area, there is an array of enticing choices for players, spanning from baccarat and blackjack to less conventional options such as crapless craps, Let It Ride, pai gow poker, roulette, Ultimate Texas Hold'em, and countless other poker pit games. Depending on the particular game, the minimum wager can begin as low as $10, while the majority of offerings require a minimum bet of $15 or $25.
When it's time for some blackjack action at Horseshoe Casino, players will find that all the games on the casino floor have a payout of 6/5. This rule applies to both the exciting Free Bet Blackjack and the thrilling Double Up Blackjack. However, if you're looking for a better payout of 3/2, you'll need to head over to the high-limit blackjack tables. Unfortunately, these tables are only available during the peak hours, so players may have to wait for the perfect timing to enjoy the 3/2 payout. But fear not, when the casino is less crowded, players can easily make their way to the Paris high-limit salon, which offers the coveted 3/2 blackjack. Of course, at Horseshoe's high-limit game, there are some additional benefits. Players will have the option to surrender and re-split aces, adding another layer of strategy to the game. Plus, the dealer will hit on soft 17, creating an exciting challenge for avid blackjack enthusiasts.
In Las Vegas, the Horseshoe casino stands apart from its counterparts across the United States by offering a unique variety of craps odds. While other Horseshoe casinos boast an impressive 100 times craps odds, the Las Vegas branch follows the standard Strip 3-4-5 times odds system. However, for those seeking a different craps experience, there is the option of playing crapless craps. This version of the game maintains the same odds as the standard Horseshoe craps tables, but with a twist. In crapless craps, players can only double their bets on rolls of 3 and 11, and can only make single bets on rolls of 2 and 12. What sets this craps variant apart is the fact that all numbers have the potential to win up to six times the pass line bet. For those looking for an even more unconventional craps experience, there is a hybrid stadium craps game that offers double odds. And for those who enjoy betting on the field 12, all Horseshoe craps tables pay double on this particular outcome.
For a mere $3 per month, you can also obtain detailed access to the table game surveys of Bet-NV.com and much more! Join the Casino Club, Total Access Club, or become a Bet-NV.com Super Fan member to unlock this exclusive benefit. By doing so, you'll gain insightful information about table games at various casino properties. Don't miss out on this opportunity to enhance your casino experience with comprehensive surveys and analysis!
You can now find Bet-NV.com subscriptions on Gumroad and Patreon, offering the same valuable content on both platforms.
In case you or someone you are acquainted with is experiencing difficulties with gambling, reach out to 1-800-GAMBLER.
WSOP Poker Room, recognized as a prominent establishment in the Hall of Fame.
In our comprehensive review of the Horseshoe Poker Room, we delve into the fascinating world of poker at the esteemed WSOP Hall of Fame Poker Room, which boasts an impressive collection of 18 poker tables. As avid poker enthusiasts, we were thrilled to discover that the main games offered are the popular 1/3 and 2/3 no limit Texas hold'em variants, providing players with an exciting and competitive gameplay experience. However, during busier hours, one may also stumble upon a mixed game or fixed limit hold'em table, adding a delightful element of diversity to the overall selection. Additionally, we were pleasantly surprised to learn that multiple tournaments are skillfully dealt daily, providing poker aficionados with ample opportunities to showcase their strategic prowess. A highlight worth mentioning is the prestigious World Series of Poker, which takes place annually here at the WSOP Hall of Fame Poker Room, attracting both seasoned professionals and aspiring players from around the globe. In conclusion, our Horseshoe Poker Room review aims to provide poker enthusiasts with valuable insights into this renowned establishment, ensuring that they are well-equipped to embark on an unforgettable poker journey.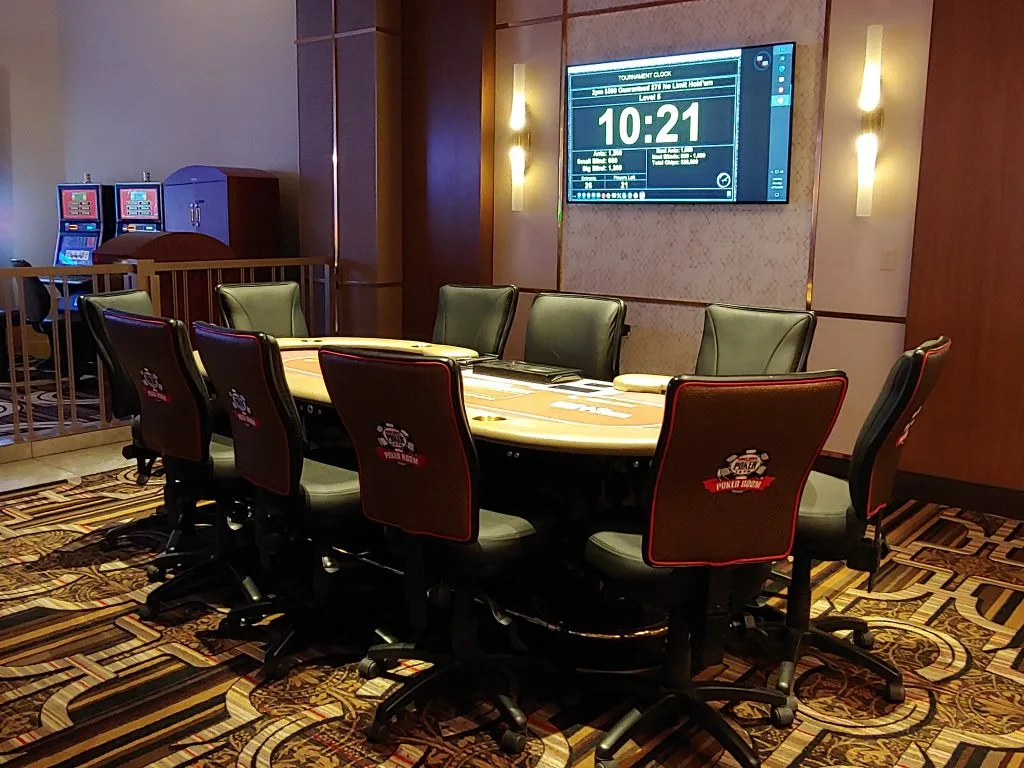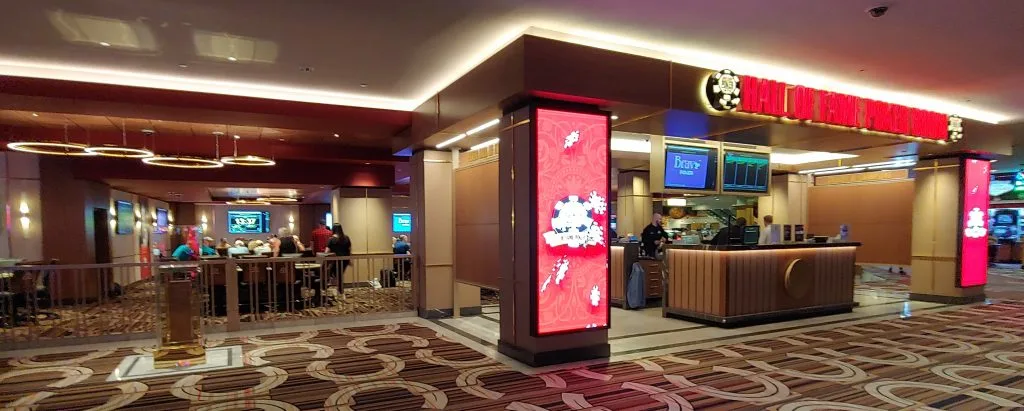 Entertainment at Horseshoe
I am thrilled to inform you that Horseshoe Las Vegas offers a delightful array of shows and attractions for your entertainment pleasure. At The Magic Attic, you can experience the mind-boggling wonder of Paranormal Mind Reading with the incredible Frederic Da Silva. Prepare to be astounded as he uncovers the secrets of the human mind with his extraordinary abilities. Additionally, you can indulge in the whimsical laughter brought forth by Potted Potter, a hilarious 70-minute performance that cleverly retells the entire enchanting journey of Harry Potter across all seven books. The Magic Attic truly is a haven for those seeking a captivating and laughter-filled experience in Las Vegas.
Additionally, visitors can enjoy the captivating Real Bodies showcase, embark on a thrilling Dino Safari adventure, test their skills at the Twilight Zone themed mini golf, and have a blast at the expansive 7,000-square-foot arcade.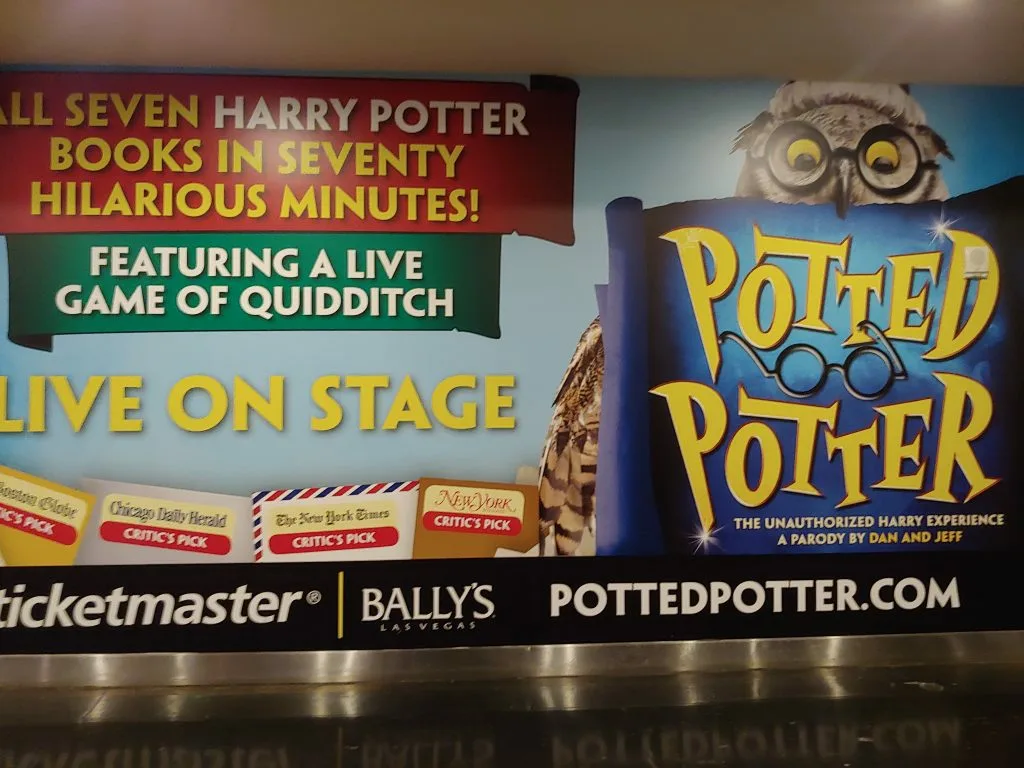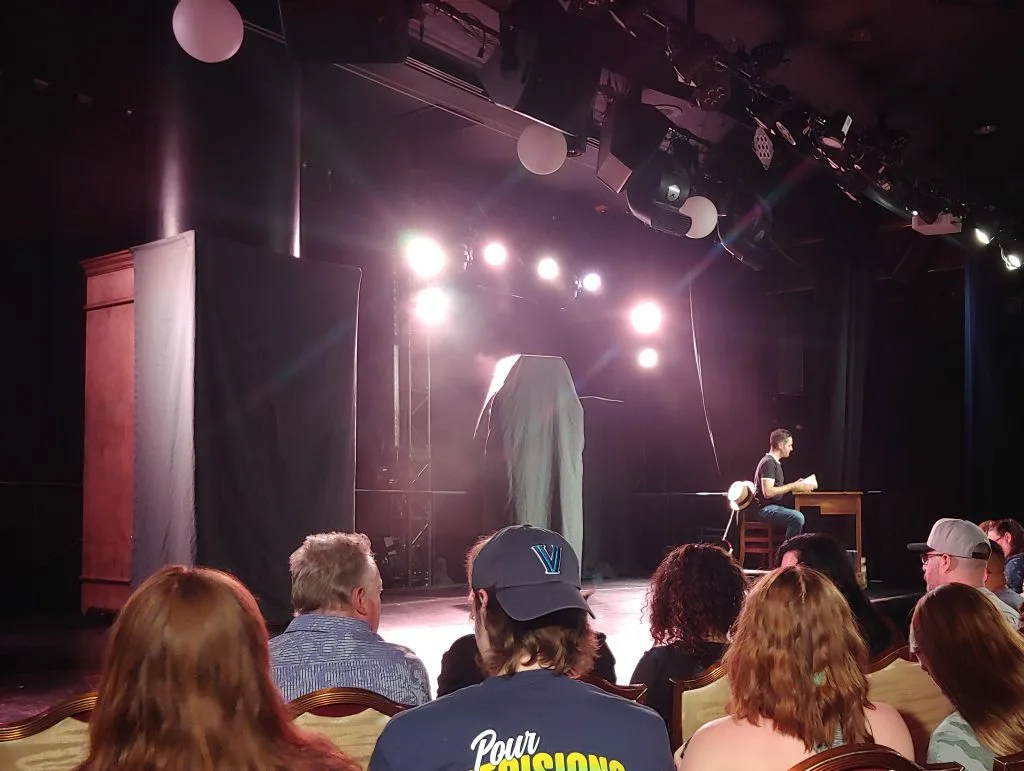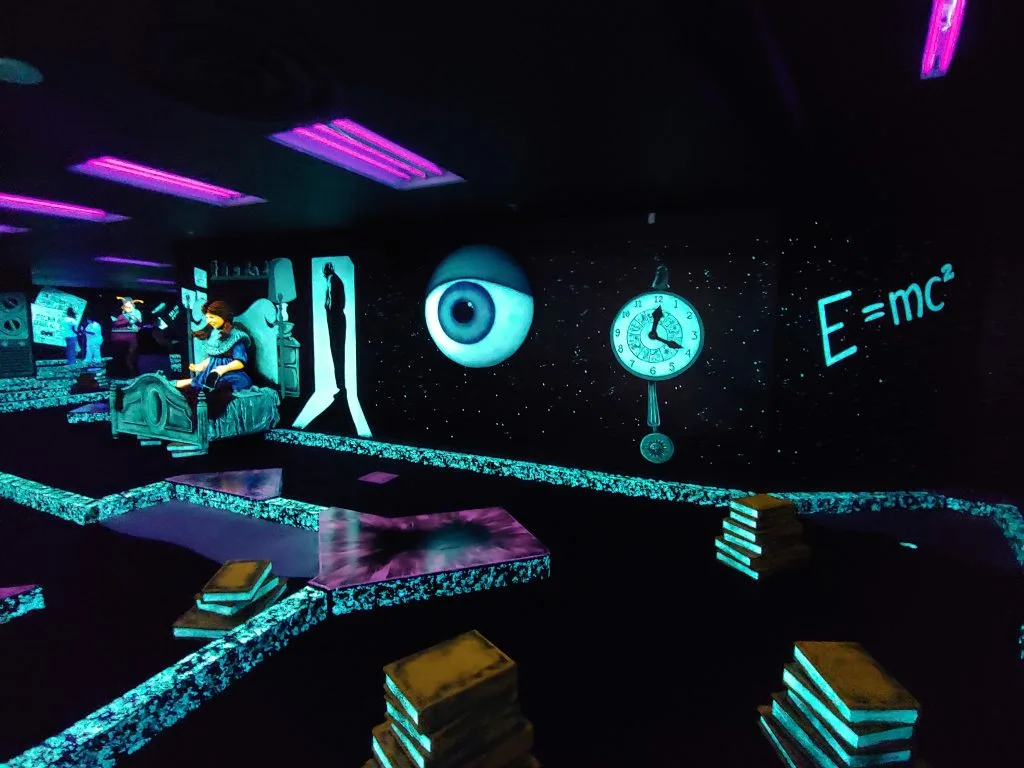 Indulging in delicious cuisine and refreshing beverages at Horseshoe
In Horseshoe, the variety of dining choices is abundant, catering to both those seeking a quick snack at the food court and those desiring a relaxed meal at one of the many casual restaurants. The proximity of these options to the bustling casino floor ensures convenience for hungry guests. Moreover, guests can explore additional dining opportunities at the nearby Grand Bazaar Shops, located on the iconic Las Vegas Boulevard, and also conveniently connected to the Paris Casino.
Experience the culinary delights of Guy Fieri's sensational Flavortown Sports Kitchen. – Sports bar. ( coming summer 2023)
Horseshoe Food Court – Quick bites.

Johnny Rockets
Nathan's Famous
Pan Asian Express
Sbarro
Subway

Jack Binion's Steak – Steakhouse.
Lavazza – Java and speedy snacks.
M.Y. Asia – Asian fusion cuisine.
Nosh Deli – Sandwiches.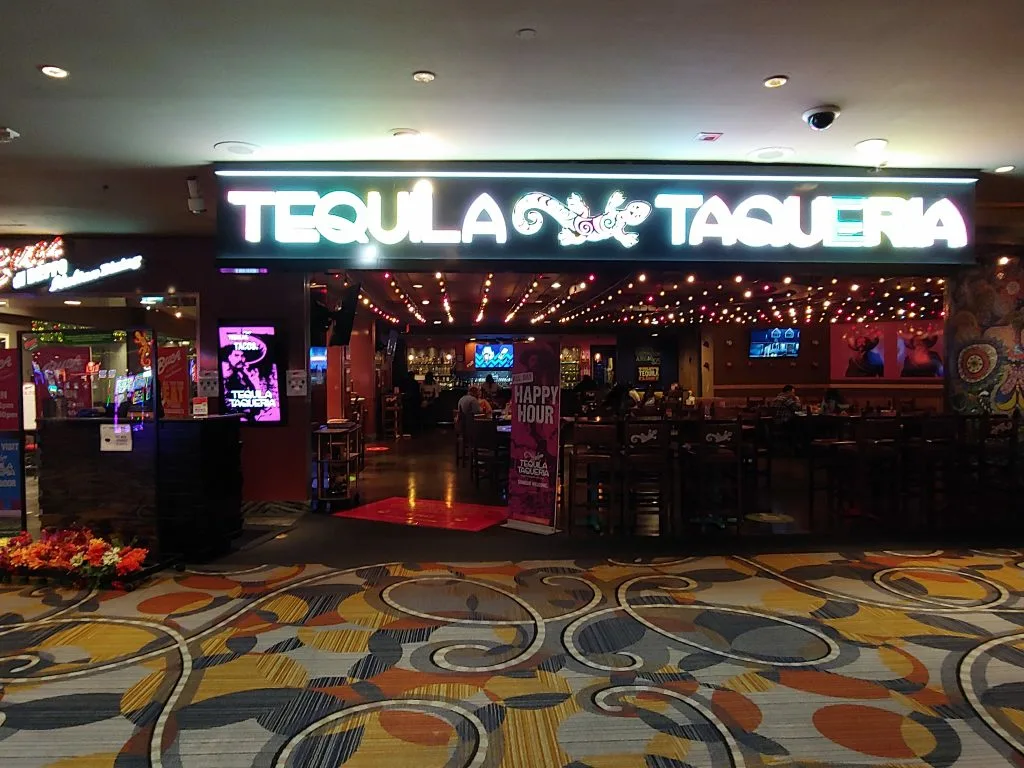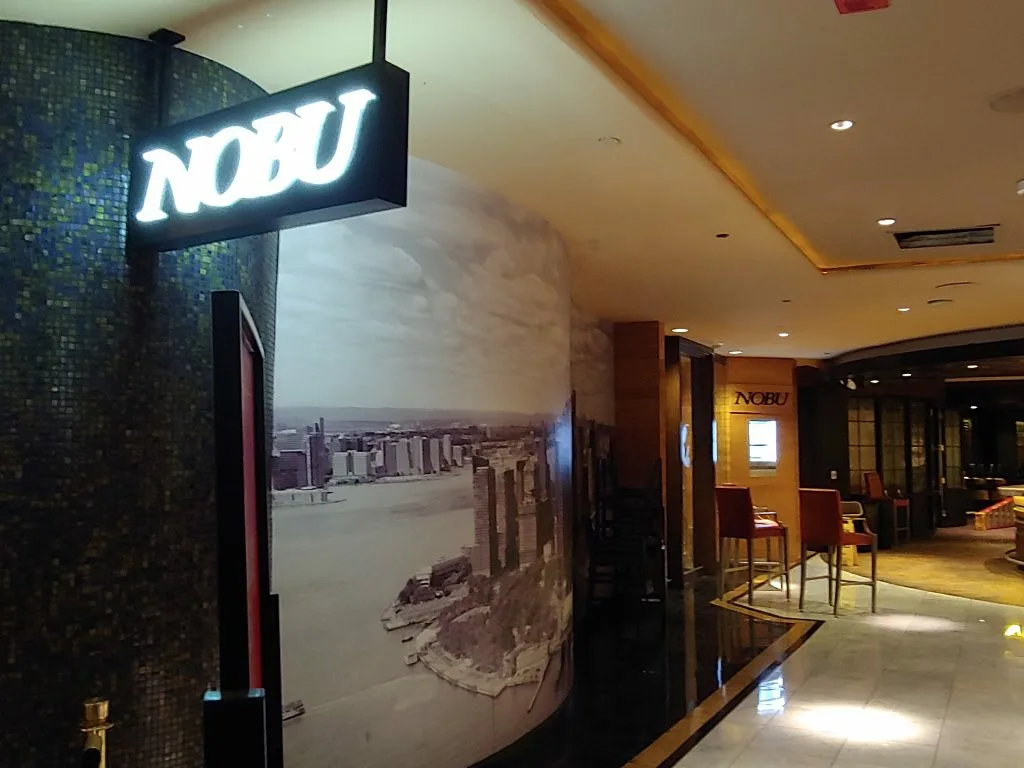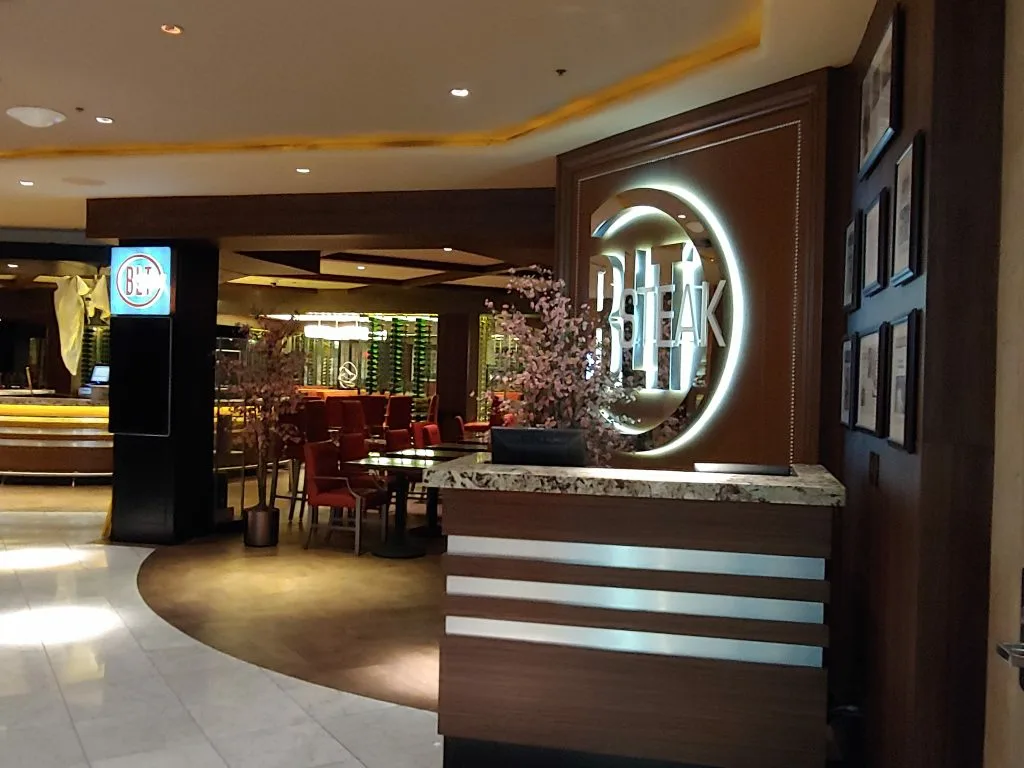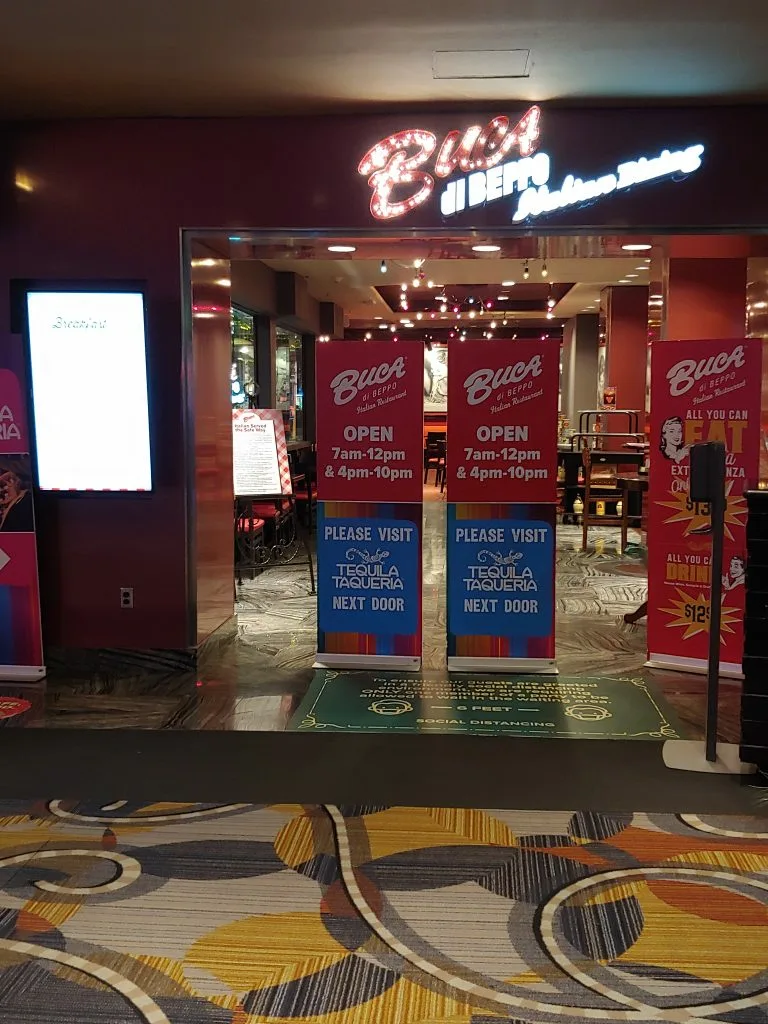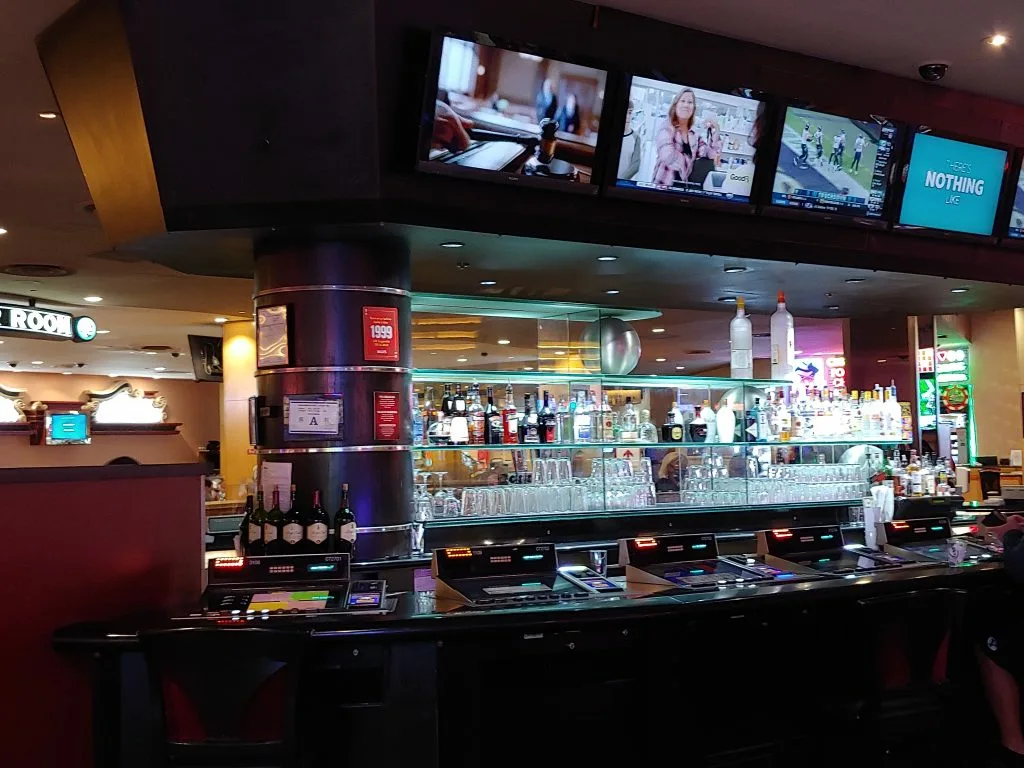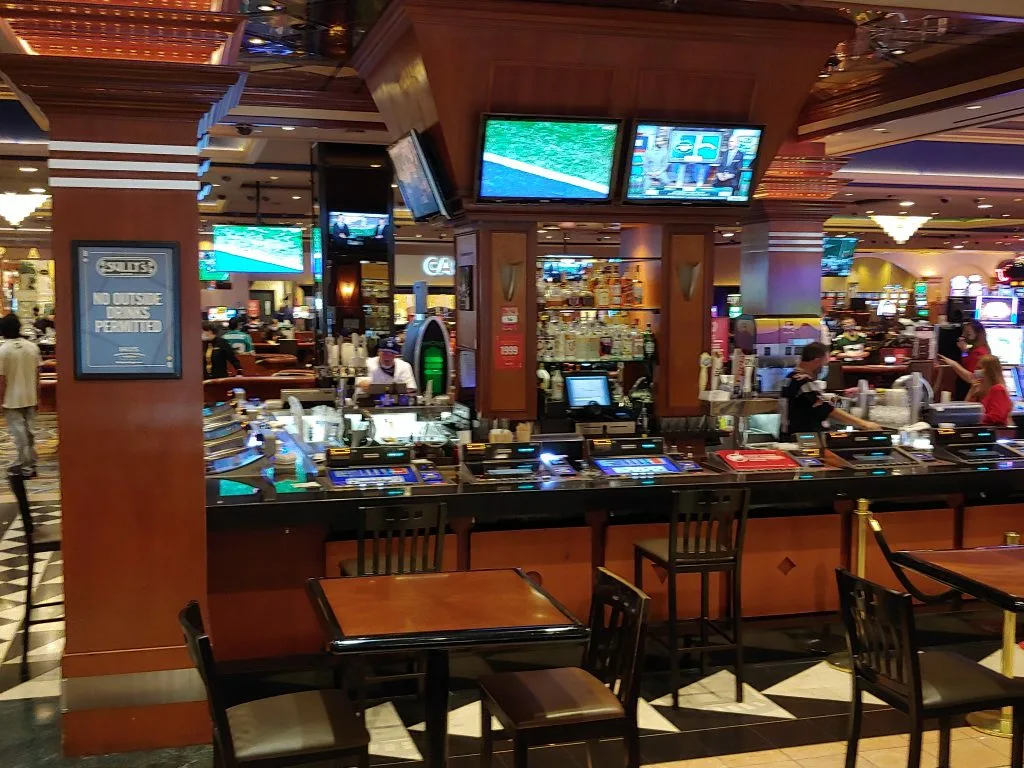 Hotel accommodations
Arrival time: 4pm | Departure time: 11am | Additional charge for resort amenities: $39.95 per night
In Horseshoe Las Vegas, you'll find an impressive variety of accommodation options, boasting a grand total of more than 2,800 rooms. And the best part? They even have rooms that are pet-friendly, so you can bring your furry friends along for the adventure. Each room is thoughtfully equipped with all the essentials you need for a comfortable stay, including a dedicated workspace where you can get your work done, an in-room safe to keep your valuables secure, blackout curtains for a peaceful night's sleep, an iron and ironing board to keep your clothes looking sharp, and a hairdryer for those styling needs. But the perks don't end there – the property also offers a range of amenities to enhance your stay. Need to burn off some energy? Head to the fitness center and break a sweat with state-of-the-art equipment. When the weather is right, you can take a refreshing dip in the seasonal pool and soak up some sun. Whether you're here for business or pleasure, Horseshoe Las Vegas has everything you need for a memorable and comfortable stay.
The average size of standard rooms is 450 square feet, offering either a single king or two queen beds. Guests can also opt for upgraded rooms or suites, while many of the rooms have undergone recent renovations.
Book a hotel room at Horseshoe, previously known as Bally's.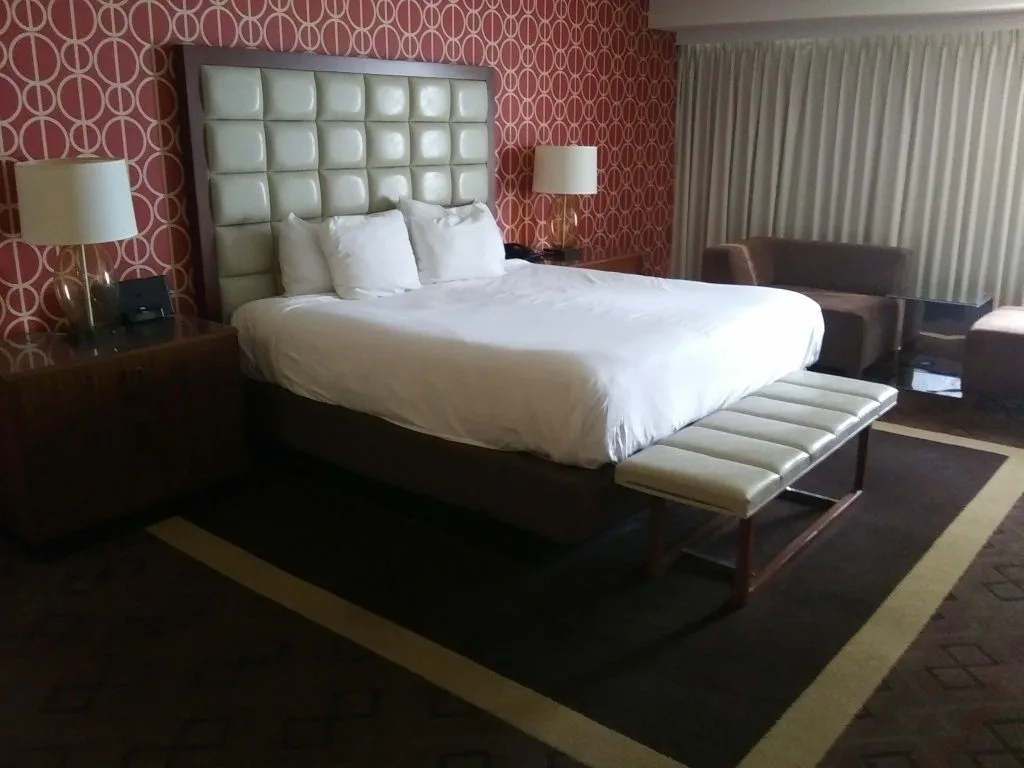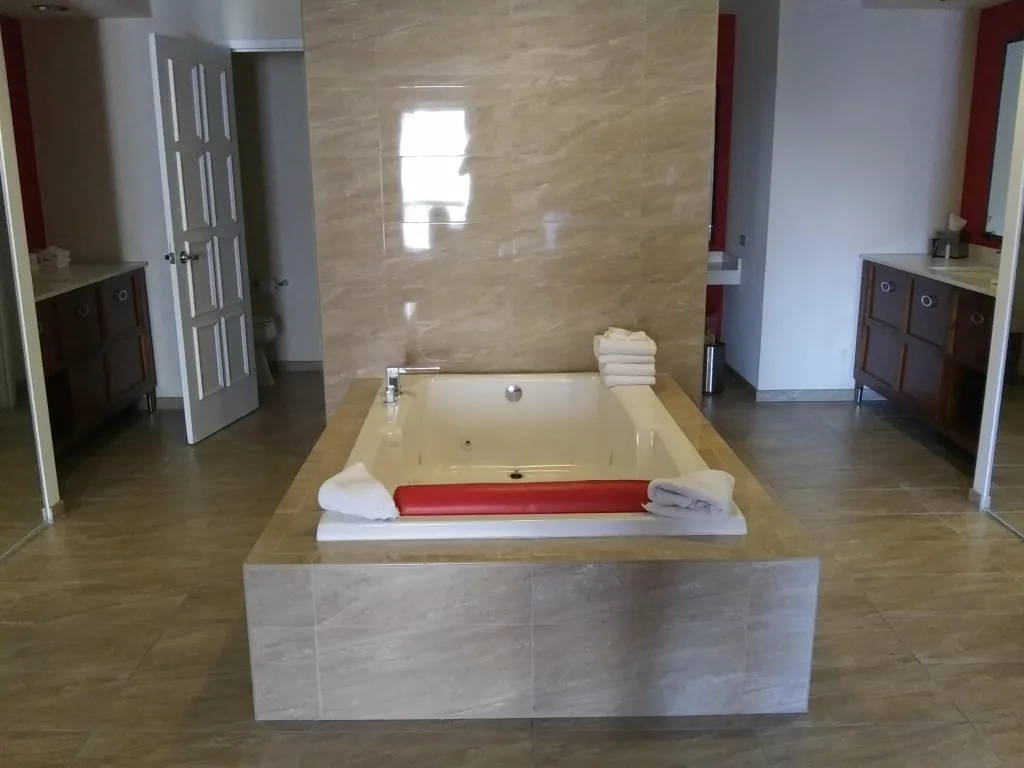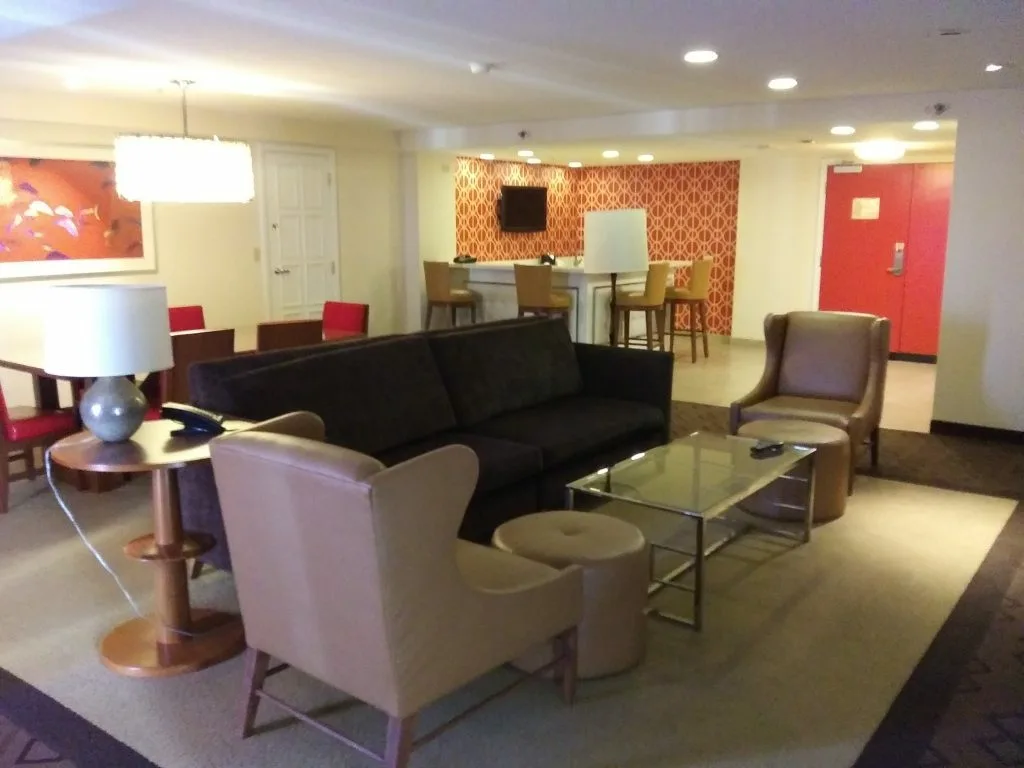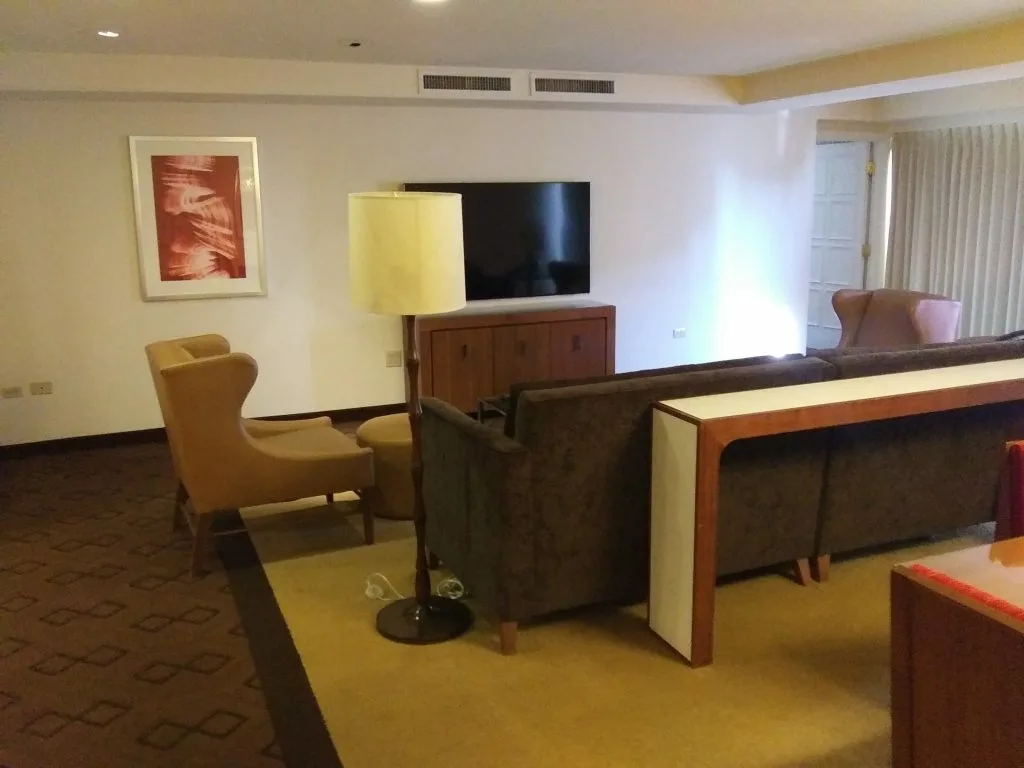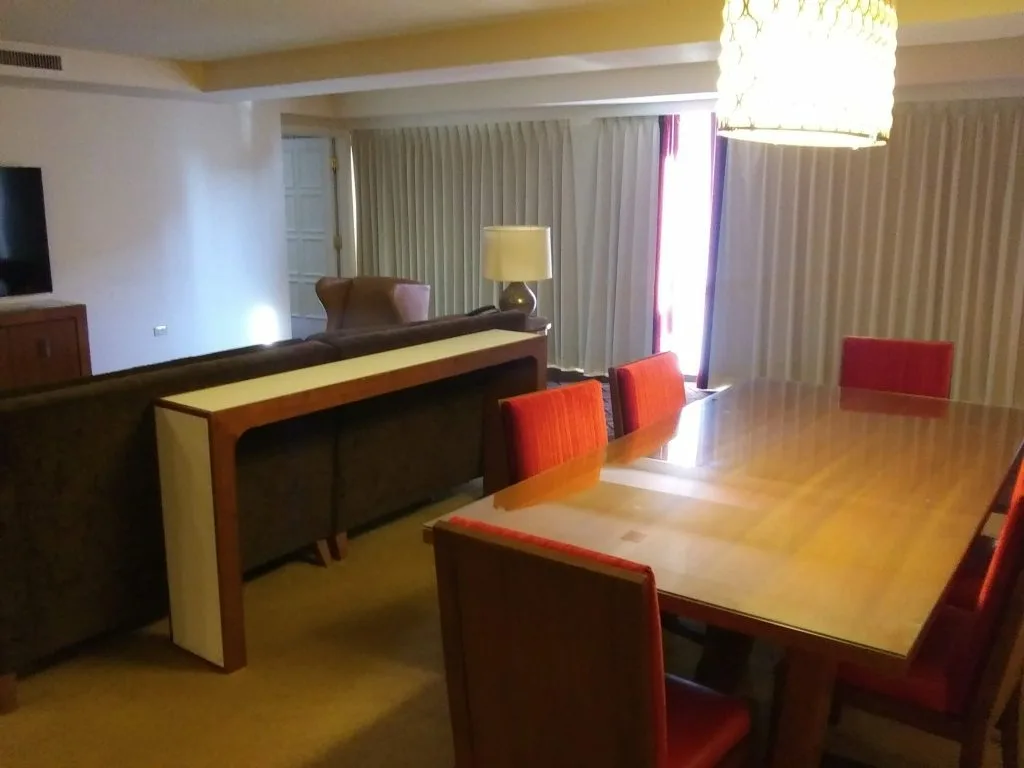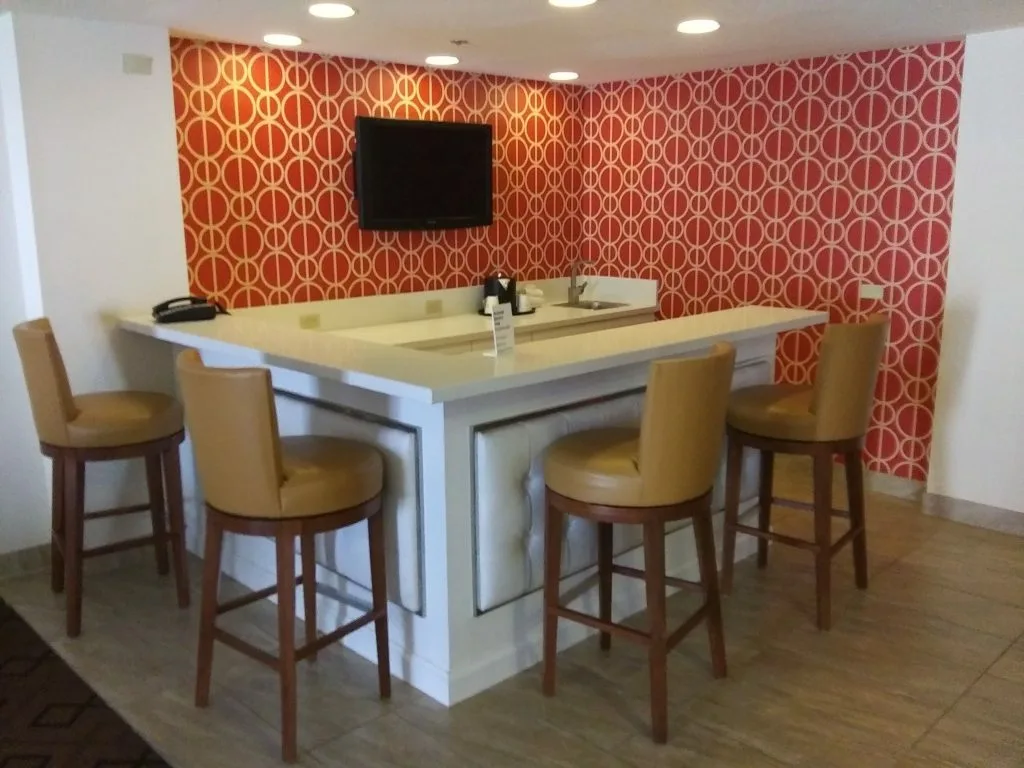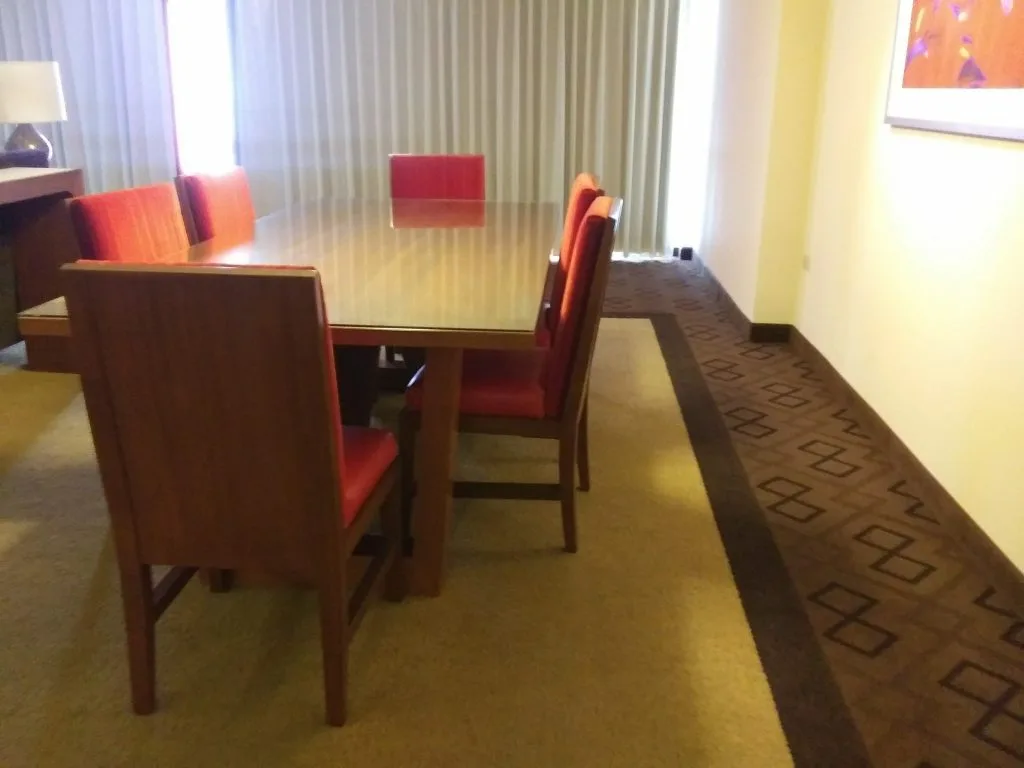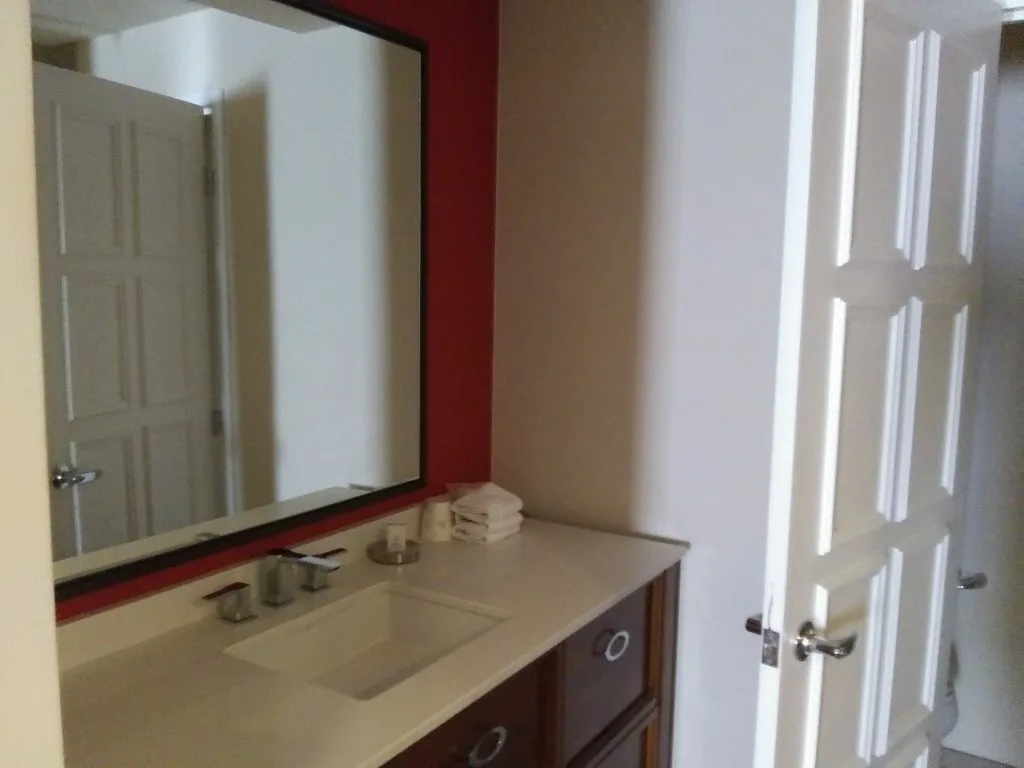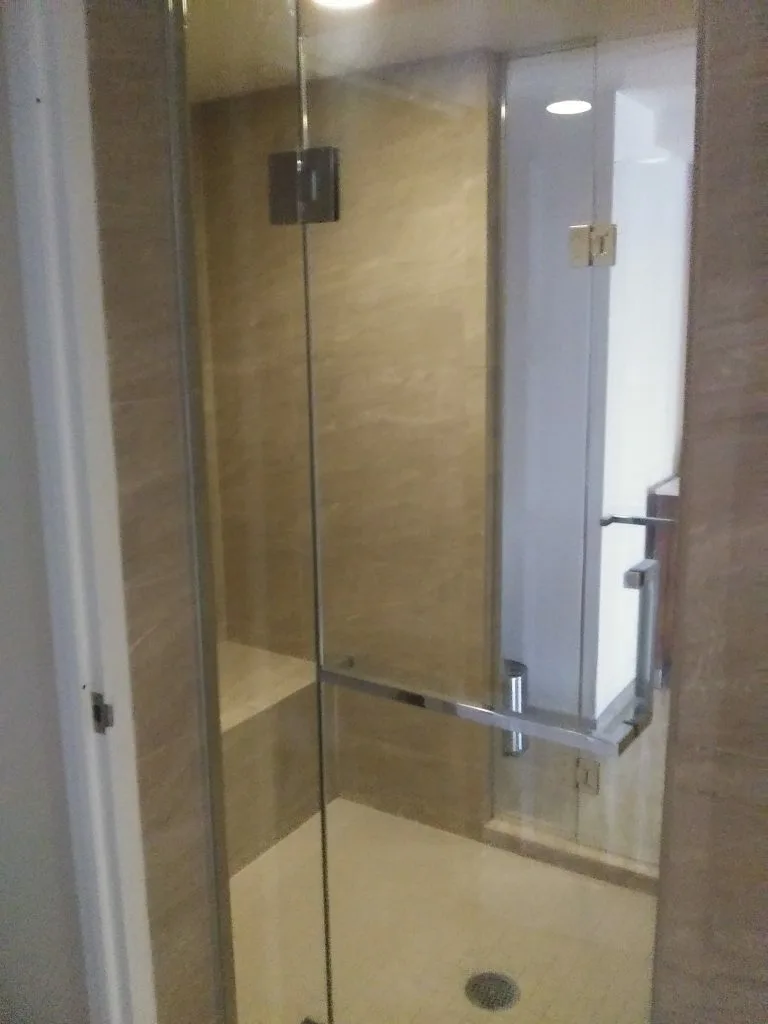 Frequently Asked Questions about Horseshoe Casino in Las Vegas
Where is the World Series of Poker played?
Following almost twenty years at Rio, the World Series of Poker has shifted its venue to the renowned Horseshoe on the vibrant Las Vegas Strip.
Where can I play live keno on the Strip?
Horseshoe and Harrah's stand out from other Las Vegas Strip casinos as they are the sole establishments offering a vibrant keno lounge experience.
Does the Horseshoe in Las Vegas have a poker room?
Horseshoe in Las Vegas boasts an around-the-clock poker room that never sleeps.
What happened to Bally's on the Las Vegas Strip?
In December 2022, Bally's transformed into Horseshoe.
Does Horseshoe in Las Vegas pay 3/2 on blackjack?
In Horseshoe, the high limit room exclusively accommodates a mere 1.5 tables, which are solely accessible during the busiest times.
What are the maximum craps odds at Horseshoe in Las Vegas?
Horseshoe casino offers players the opportunity to maximize their odds in the game of Craps, with a 3-4-5 times maximum odds rule. Additionally, they also provide the option of playing Crapless Craps, where the odds are increased to 1-2-3-4-5 times. However, if you prefer playing Hybrid Stadium Craps, be aware that they only offer double odds.
Last updated: May 27, 2023