In our comprehensive Las Vegas Table Game Survey, you'll find an extensive list of full games that are popular in the casinos. However, in this particular section, we focus on games that have limited installations or straightforward rules. These games may not be as widely available and can typically be found in only one or two casinos. If you're looking for a unique gaming experience or prefer simpler gameplay, this section is perfect for you.
In October 2022, we gathered the data that follows. The minimum wagers presented are our forecast for the most affordable options available, typically during the early hours and afternoons. Anticipate higher minimums during peak periods.
Bet-NV.com receives support from its members, sponsors, and advertisements. If you or someone you're acquainted with is facing gambling issues, reach out to 1-800-GAMBLER.
You can lend your support to Bet-NV.com by becoming a member of our subscription service, which grants you access to our Las Vegas Blackjack and Table Game Survey. We provide regular updates, incorporating fresh data gathered from our visits to various casinos. Membership options are flexible, starting from as little as $3 per month, allowing you to choose between a monthly or quarterly plan. Secure your membership today and unlock the full potential of our invaluable resource.
You can now access Bet-NV.com subscriptions on Gumroad and Patreon, offering the same valuable content on both platforms.

If you or someone you are acquainted with is struggling with gambling, dial 1-800-GAMBLER.
As per our terms of use, we allow publishers from other websites to utilize our data, but they must include a backlink to Bet-NV.com.
235 Stud
At Plaza, you can exclusively find the exhilarating game called 235 Stud. This game incorporates a thrilling combination of two-card, three-card, and five-card poker hands. To participate, players are required to place bets on all three hands. Additionally, there are two optional side bets available for those feeling particularly adventurous. The payout for each hand is determined by its strength, adding an element of strategy to the game. Unlike traditional poker games, there is no dealer hand in 235 Stud. Players have the flexibility to start with a minimum bet of $5 per stack, allowing for various betting options.
3 Card Blitz
I've got a fantastic game recommendation for you called 3 Card Blitz. It's an exciting point-based game where the goal is to accumulate as many points as possible. In this game, Aces hold a high value of 11 points, while all other cards follow the blackjack value system. Once the players and the dealer have placed their antes, they each receive a total of 7 cards. The key strategy in this game is to focus on the highest point value within a suit. Now, if a player wants to continue playing against the dealer, they must raise their bet by an amount equal to the ante. You'll find this thrilling game being played at the prestigious Sahara casino, where the minimum bet is set at $10.
Big Wheel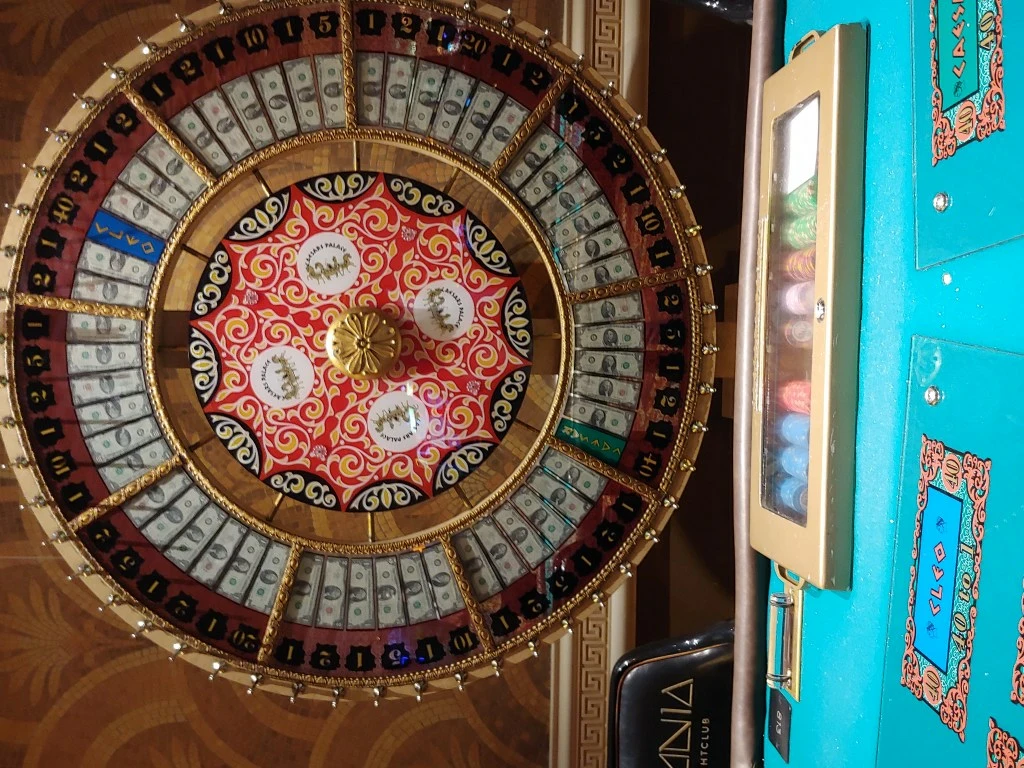 In Las Vegas, there are two live casinos offering the exhilarating game known as Big Wheel, which is sometimes called Big 6 or Wheel of Fortune. Additionally, multiple digital renditions of this popular game can be found elsewhere. When playing at live Big Wheel tables, players typically find that the minimum bet is set at $5 or even lower, making it accessible to a wide range of participants. Interestingly, this captivating game is often strategically positioned near the entrances of casinos, enticing passersby with the promise of excitement and fortune.
Minimum wager on the giant wheel
$2 minimum
$5 minimum
$10 minimum
In today's gambling scene, the presence of live big wheels may be dwindling, but fear not, for you can still find them in the electronic table game stadiums that dot the landscape. These magnificent contraptions, beloved by many, have embraced the wonders of automation. As the wheel spins effortlessly, an intricate dance of technology unfolds, capturing every moment on camera and displaying the results on grand screens for all to behold. For the lucky players, their gaming screens offer a front-row seat to the action, immersing them in the thrill of the game. However, if the video version is more to your liking, rest assured that it operates on the same principles, albeit with a smaller number of player seats and a singular game on offer.
$1 – stadium
Downtown Grand
El Cortez
Circus Circus
Orleans
Tuscany
$1 – video
Circus Circus
Palms
Resorts World
Sahara
Slots A Fun
The Strat
Treasures Island
$2 – video
Flamingo
Horseshoe
MGM Grand
O'Sheas
Rio
$3 – stadium
Aria
Bellagio
Caesars Palace
Excalibur
Harrah's
Linq
Mandalay Bay
Paris
Planet Hollywood
$3 – video
$5 – stadium
$5 – video
Casino War
In the city that never sleeps, the once prominent Casino War is dwindling away, fading into the shadows of the Las Vegas gambling scene. This game, known for its simplicity, involves the dealer and the player each being dealt a single card. Victory in this game is achieved by outwitting the house, however, defeat awaits those who fall short and allow the dealer to triumph. In the event of a tie, the player faces a decision - either suffer a loss of half their bet or enter into a tense battle, doubling their initial wager in an attempt to salvage their stake. Post-war, the same rules apply, with the exception that a subsequent tie awards the player a generous payout of 2/1.
Lowest wager required for Casino War in Las Vegas
DJ Wild
In the heart of the Las Vegas Strip, Harrah's and Flamingo deal the exciting and thrilling game of DJ Wild. This captivating game utilizes a standard 52-card deck, enriched with the presence of a joker, which holds the power of wildness. Alongside the joker, the deuces also possess the ability to transform into any desired card, adding an element of unpredictability to the game. As the game commences, both the player and the dealer are dealt a total of five cards, following an initial ante and blind bet. At this crucial point, the player is faced with a pivotal decision: to amplify the ante and proceed with the game, or to fold all bets and retreat. In the midst of all the excitement, a blind bonus awaits those fortunate enough to obtain a winning hand of a straight or better, further amplifying the potential rewards. For those seeking an extra dose of thrill, an optional side bet is also available. As the sun casts its rays upon the neon-lit Strip, both Harrah's and Flamingo offer this exhilarating game at either $5 or $10, depending on the time of day.
I Luv Suits
I Luv Suits is similar to High Card Flush, offering both games conveniently on one page.
Jackpot Hold'em
Jackpot Hold'em, available at the esteemed Sahara casino, offers a thrilling gambling experience akin to that of Ultimate Texas Hold'em. However, what sets it apart is that players are granted the opportunity to catch a glimpse of one of the flop cards before determining whether to raise preflop. With a minimum bet of $10, this exhilarating variant allows for a maximum preflop raise of three times.
Pai Gow Tiles
I recently discovered that Pai Gow Tiles, the original version of the poker game, is still being played at various casinos on the famous Las Vegas Strip as well as at a local establishment. It was quite interesting to learn that Bellagio, Palace Station, and Paris offer minimum tables with a $25 bet requirement for this game. On the other hand, if you're looking for a more high-stakes experience, Aria, Caesars Palace, Encore, and Wynn have raised the minimum bet to $100. However, it's worth noting that MGM Grand, according to a reliable player report, made the decision to remove pai gow tiles from their casino floor in June 2023.
Wild Five Poker
At Boyd Gaming locals casinos, you can find the thrilling game of Wild Five Poker. In this game, players begin by placing an ante and are then dealt five cards. What makes this game unique is that deuces and a joker are considered wild cards, adding an extra element of excitement to each hand. Once players have their initial hand, they have a choice to make. They can either raise their wager by one to three times or opt to fold their hand. It's a strategic decision that players must carefully consider based on the strength of their cards. For those looking to get in on the action, the minimum bet is $3 at Cannery and $10 at Aliante. So, whether you're a seasoned poker player or just getting started, Wild Five Poker offers a thrilling twist on the classic game that is sure to keep you on the edge of your seat.
Newly misplaced table games in Las Vegas
Unable to find a specific table game in the aforementioned list? It might be likely that the game in question is among numerous others that were previously offered in Las Vegas but are no longer available.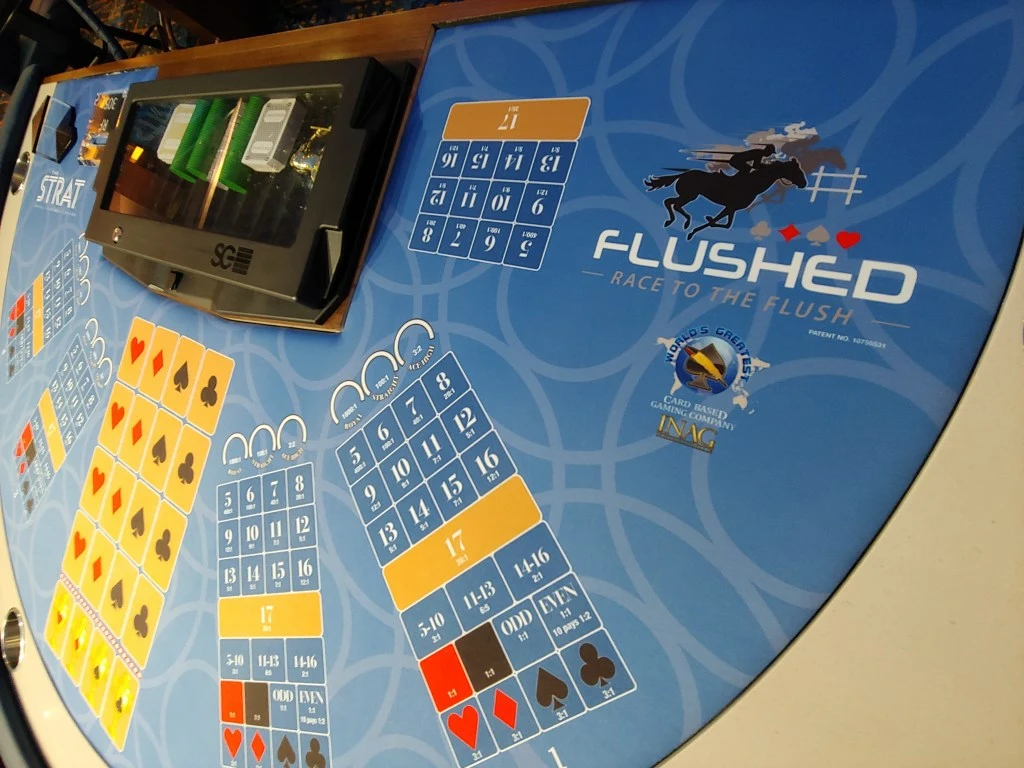 Certain games, such as Cajun Stud, Chase the Flush, Double Ball Roulette, Flushes Gone Wild, Poker or Bust, and River Hold'em, have been absent for a period of time.
Certain games, such as Casino Dominos, never reached the final stage of testing. At The Strat, we noticed the presence of Flushed, although it vanished before we had the chance to inquire about it.
Criss Cross Poker
In 2022, Criss Cross Poker returned to Las Vegas thanks to The Strat, after a brief hiatus. Previously, this poker variant could be enjoyed at Linq in 2019, and even earlier at Planet Hollywood. However, The Strat decided to discontinue offering Criss Cross Poker later in the same year.
I've come across a fascinating table game called Criss Cross Poker during my travels on the bustling East Coast. This particular game, however, seems to have encountered some challenges in the vibrant Las Vegas market. I found it intriguing that at The Strat, the minimum bet for Criss Cross Poker starts at a modest $5. As the game commences, players are dealt two cards after placing two ante bets, setting the stage for an exciting round. A unique aspect of Criss Cross Poker is the formation of a five-card board arranged in the shape of a plus sign. What caught my attention is that the center card from this board is ingeniously utilized in both directions, allowing players to form a five-card hand by combining it with their two hole cards.
Instead of making one of the additional bets, the player has the option to fold. The ante is multiplied by one to three times for these extra bets. A pair of jacks or better results in a win for the player, while a pair of sixes through tens results in a push.
Play Deuces Wild Hold'em Fold'em now and experience an exciting twist on the classic game!
This particular game could only be found at Sam's Town, where the minimum bet required was $5. It bears resemblance to Let it Ride, incorporating an ante and Deuces Wild. However, it mysteriously disappeared from existence in 2022.
Keep N Straight
At Flamingo in March 2022, an exciting new game caught our attention, only to mysteriously disappear later in the same year. Known as Keep N Straight, this game required a minimum bet of $5. Its objective shared similarities with High Card Flush but introduced a twist with the inclusion of straights. The ultimate aim for players was to achieve not only a higher straight but also a longer one compared to the dealer.
Royal 3 Pictures
I stumbled upon an exciting find during my visit to the Venetian casino. It turns out, they have introduced a captivating new game called Royal 3 Pictures. Now, what makes this game even more intriguing is the fact that you can join in the fun with a minimum bet of just $10, making it accessible to a wider range of players. The primary objective of Royal 3 Pictures is to strive for a hand with a higher value than the dealer's. To achieve this, it's advantageous to aim for as many face card hands as possible, as these count as pictures and carry additional value. On the other hand, all the remaining cards in the deck hold their face value. However, just as quickly as it appeared on the scene, the game mysteriously disappeared, leaving avid players yearning for its return.
Sic Bo
I stumbled upon a fascinating fact recently: Las Vegas, known for its wide variety of casino games, surprisingly lacks live Sic Bo tables. However, there were a few electronic versions that made a brief appearance before vanishing into thin air. One such intriguing addition was the heads-up Sic Bo game at Resorts World, which made its debut in March 2022. What caught my attention was that it featured the highly coveted Australian casino pay table, widely regarded as one of the best in the game. Moreover, to my delight, the minimum bet for this game was only $1, making it accessible to a wider range of players. On a similar note, the Venetian also offers a Sic Bo-based game, but with a unique twist. This hybrid version combines elements of Sic Bo with random slot multipliers, creating an exhilarating and unpredictable gaming experience. Just like Resorts World, the minimum bet for this game is an affordable $1, ensuring that everyone can partake in the excitement.
In 2022, the video sic bo game at Resorts World mysteriously vanished, leaving players puzzled. However, there's good news for enthusiasts, as the Venetian version of the game found its new home at Palazzo.
In the realm of disappearing casino games, there are those that have vanished in recent times. Take, for instance, Asia Poker, a game that is no longer found in any of the bustling Las Vegas casinos. This particular game had a similar gameplay to Pai Gow Poker, with a slight twist: the high hand consisted of only four cards. To accommodate this change, an extra card was designated as the front hand, while the two-card hand took on the role of the middle hand. To secure a payout, players had to emerge victorious in at least two out of the three hands, while the house claimed victory in all tied hands. As the clock struck midnight and 2021 commenced, the table offering this unique experience at Gold Coast had already disappeared. Furthermore, Paris bid farewell to Asia Poker within the past year, leaving it as a mere memory of a bygone era.
Super Baccarat
In 2020, Super Baccarat made its debut, introducing an exciting twist to the classic game of baccarat with the addition of side bets. This innovative variation of the game is brought to you by the renowned Las Vegas Sands, a name synonymous with exceptional entertainment and gaming experiences. The esteemed casinos of Venetian and Palazzo were among the first to offer this thrilling version of baccarat, allowing players to indulge in the excitement for a mere $15. Fast forward to 2022, and it appears that Super Baccarat has temporarily disappeared from the scene, leaving enthusiasts eagerly anticipating its triumphant return.
Palazzo and Venetian were the final gambling establishments to offer Caribbean Stud. In addition, Venetian provided Prosperity 3 Pictures and Raging Bullseye. However, all of these games seem to have disappeared.
During its brief stint, Ricochet Poker had a limited engagement at Binion's. The D featured a fleeting appearance of Deuces Wild Hold'em, while Santa Fe Station showcased Four Card Frenzy for a short period of time. El Cortez also introduced La Paire, albeit for a brief moment. Prior to the pandemic, the Palms dealt Heart Attack, but unfortunately, upon reopening, the game did not make a comeback. In the year 2022, The Strat bid farewell to Three Card Prime, which was subsequently replaced by Three Card Poker, a game with similar mechanics.
The latest information was provided by William Stevens and was last updated on September 17, 2023.