Throughout the years, a multitude of single-deck blackjack tables have vanished from the Las Vegas casinos. The reason behind their disappearance lies in the fact that these tables paid 6:5 instead of the more favorable 3:2 ratio on blackjack winnings. In their wisdom, casino management discovered that players were still willing to participate in games with higher deck counts, even if the odds were less advantageous. Consequently, this revelation rendered the single-deck variant less appealing due to its diminished house edge and the resulting slower pace of gameplay, particularly when compared to the more prevalent six- and eight-deck tables.
In 2023, there remains only a solitary 3:2 single-deck blackjack game nestled within the vibrant city of Las Vegas. The coveted game can be found at none other than the esteemed El Cortez establishment. As the years have passed, the blackjack landscape has undergone significant changes. Alas, Silverton, once home to a 3:2 single-deck game, succumbed to the allure of a 6:5 variant in the year 2020. Now, Las Vegas avid players must seek solace in the solitary oasis that is El Cortez, where the cherished 3:2 single-deck game lingers on.
Bet-NV.com relies on the backing of members, sponsors, and advertisements to sustain its operations. In case you or someone you are acquainted with is facing issues with gambling, please contact 1-800-GAMBLER.
Supporting Bet-NV.com by signing up for a monthly or quarterly membership will grant you access to our Las Vegas Blackjack and Table Game Survey. This valuable subscription service is constantly updated with fresh data gathered from our frequent casino visits. Our memberships are incredibly affordable, with prices starting as low as $3 per month. Take advantage of this opportunity to enhance your understanding of the Las Vegas gaming scene and make informed decisions at the tables.
Bet-NV.com subscriptions are now accessible on Gumroad and Patreon, providing identical valuable insights on both platforms.

In case of a gambling issue, if you or anyone you are familiar with is facing such a problem, reach out to the helpline at 1-800-GAMBLER.
In the summer of 2023, we gathered the subsequent data. The minimum wagers displayed are our projections for the most affordable options, typically observed during the early hours and afternoons. Be prepared for elevated minimums during peak periods.
In accordance with our terms of use, publishers of external websites are allowed to utilize our data within reasonable boundaries, provided that they include a backlink to Bet-NV.com.
Explore: Las Vegas Blackjack Survey 2023
Top-tier single-deck blackjack experience in the dazzling city of Las Vegas.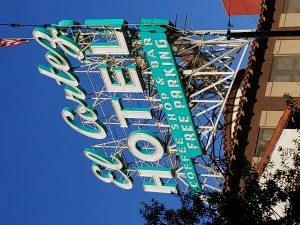 Las Vegas has bid farewell to the beloved Silverton 3:2 single-deck blackjack game, leaving El Cortez as the sole survivor in the city's bustling gambling market. Now, players flock to El Cortez for their fix of this exhilarating game, where they have the opportunity to double down prior to splitting, and where a winning blackjack hand pays out a generous 3:2. Another exciting twist is that the dealer hits soft 17, keeping bettors on their toes as they strategize their next move. For those looking to try their luck, the minimum bet for this captivating game typically ranges from $10 to $15, ensuring that players of all budgets can join in on the thrill.
In Las Vegas, there is no better single-deck blackjack game than this one, with a house edge of approximately 0.3%.
The payout for single-deck blackjack games in Las Vegas is 6:5, unlike any other options available.
In Las Vegas, there are a total of nine casinos, excluding El Cortez, where you can find single-deck blackjack games. However, it's worth noting that these particular casinos have a different payout structure, with a 6:5 ratio on blackjack. Nevertheless, the good news is that most of these establishments still allow players to double down both before and after splitting their hand. Another common rule across all of these casinos is that the dealer must hit on a soft 17. Lastly, for those interested in trying their luck at these single-deck tables, the minimum bet required for each game can be found in the list provided below:
$10 minimum
El Cortez (pays 3:2)

Green Valley Ranch
Santa Fe Station

Silverton

Sunset Station
$15 minimum
Circa

Treasure Island

Westgate
The Super Fun 21 variant of single-deck blackjack in Las Vegas.
In our Las Vegas Blackjack Variant Graveyard, there's an interesting tale about a lost game called Super Fun 21. It was dealt at the Cannery in North Las Vegas, where a single-deck blackjack variant was offered. For just $5, players could indulge in the excitement of this unique variation. Alas, this game became a relic of the past in 2021. To learn more about its demise and unravel the fascinating details, delve into our Las Vegas Blackjack Variant Graveyard.
In Super Fun 21, you'll come across some unique rules that set it apart from traditional blackjack. One of the most significant rules is that a regular blackjack hand pays out even money, unless it happens to be suited to diamonds, in which case it pays 2:1. Another interesting aspect is that in this game, blackjack always triumphs, even in the event of a tie. Additionally, the dealer is allowed to hit on a soft 17, which can influence the outcome of the game. Moreover, Super Fun 21 provides the opportunity for players to double down both before and after splitting their hand. Furthermore, players are permitted to re-split aces, giving them more chances to potentially improve their hand. Another notable rule is the option to surrender at any time, even after doubling down. Moreover, if you manage to achieve a hand of 20 or less with five cards, you'll be rewarded with a special bonus known as a "five-card Charlie." Finally, if you're lucky enough to reach a hand of exactly six cards that totals 21, the payout is an impressive 2:1, known as a "six-card Charlie."
I stumbled upon this fascinating variation called Super Fun 21. What caught my attention is that when played with a single deck, it actually offers a lower house edge compared to the typical 6:5 single deck game. If you play it perfectly, the house edge is approximately 1.16%, which is quite favorable. In contrast, a standard single-deck 6:5 game has a slightly higher house edge of around 1.5%. However, if you're looking for a double-deck version of Super Fun 21, you can find it at Sam's Town.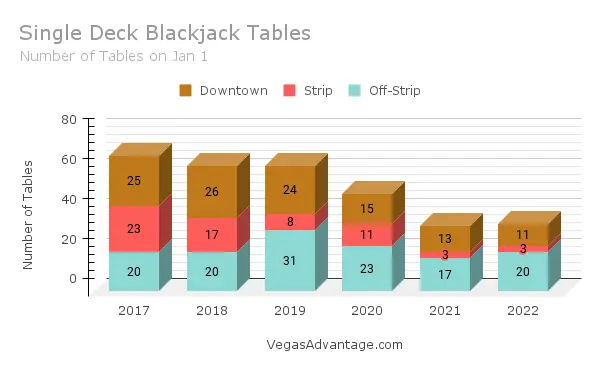 Frequently Asked Questions about single deck blackjack in Las Vegas.
Are there any establishments in Las Vegas that offer 3:2 single-deck blackjack at their casinos?
Indeed. El Cortez offers the game with a minimum bet of either $10 or $15.
Could you please provide me with the rules for single-deck blackjack at El Cortez?
The single-deck blackjack game at El Cortez casino offers a payout of 3:2. Players have the option to double down on any two cards before splitting, but not after. The dealer will hit on a soft 17.
What is the number of single-deck blackjack games offered in Las Vegas casinos?
Las Vegas boasts a total of nine casinos where single-deck blackjack can be found, although it is worth noting that only El Cortez offers a 3:2 payout.
Is there a specific type of single-deck blackjack available in Las Vegas?
Negative. Cannery dealt Single-deck Super Fun 21 for the final time in 2021.
The most recent information was provided on August 27, 2023, courtesy of William Stevens.