Contact information for Palazzo Resort in Las Vegas, Nevada is as follows: 3325 S Las Vegas Blvd, Las Vegas, NV | 702-607-7777.
Located to the north of the bustling Las Vegas Strip, Palazzo stands as a prominent destination for visitors. As an integral part of the Venetian resort, this luxurious property exudes opulence and magnificence. What sets Palazzo apart is its seamless connection to Venetian through interior shopping and dining corridors, allowing guests to explore and indulge in both establishments effortlessly. With spacious hotel rooms that provide utmost comfort and a wide array of dining options to cater to every palate, Palazzo and Venetian ensure a remarkable culinary experience. Moreover, for those seeking exhilaration and entertainment, the vibrant casinos at Palazzo and Venetian offer an extensive selection of games, including slots, video poker, tables, poker, and sports betting.
Additional Casinos on the Las Vegas Strip
Bet-NV.com receives support from its members, sponsors, and advertisements. If you or someone you are acquainted with is struggling with gambling, please contact 1-800-GAMBLER.
---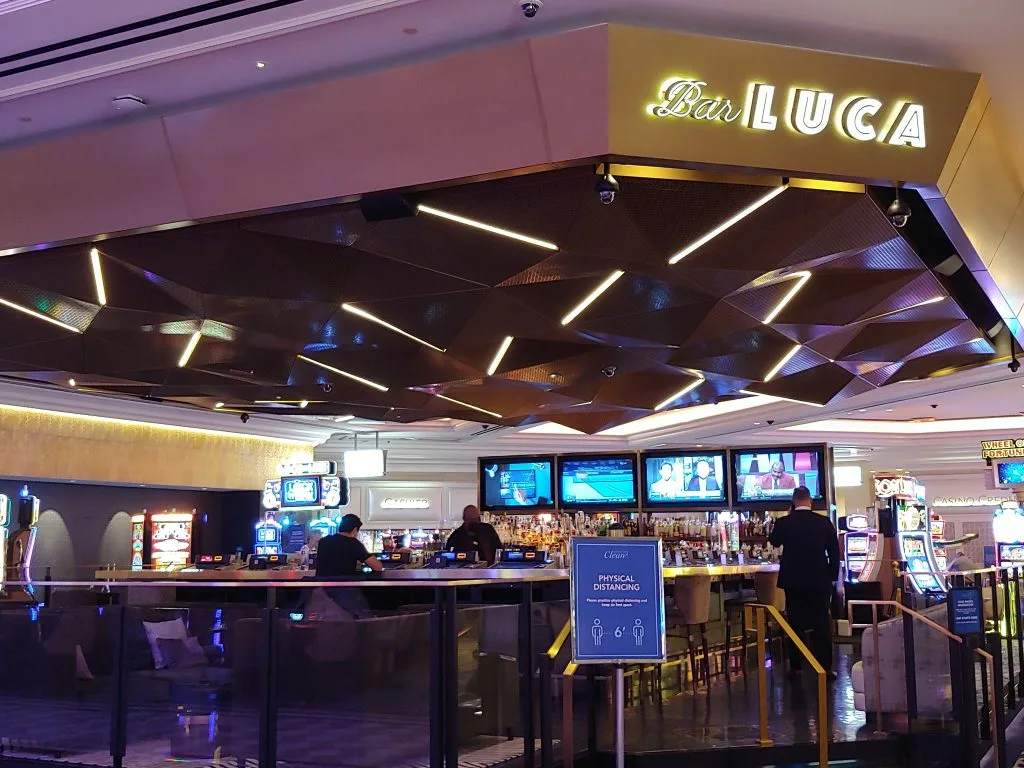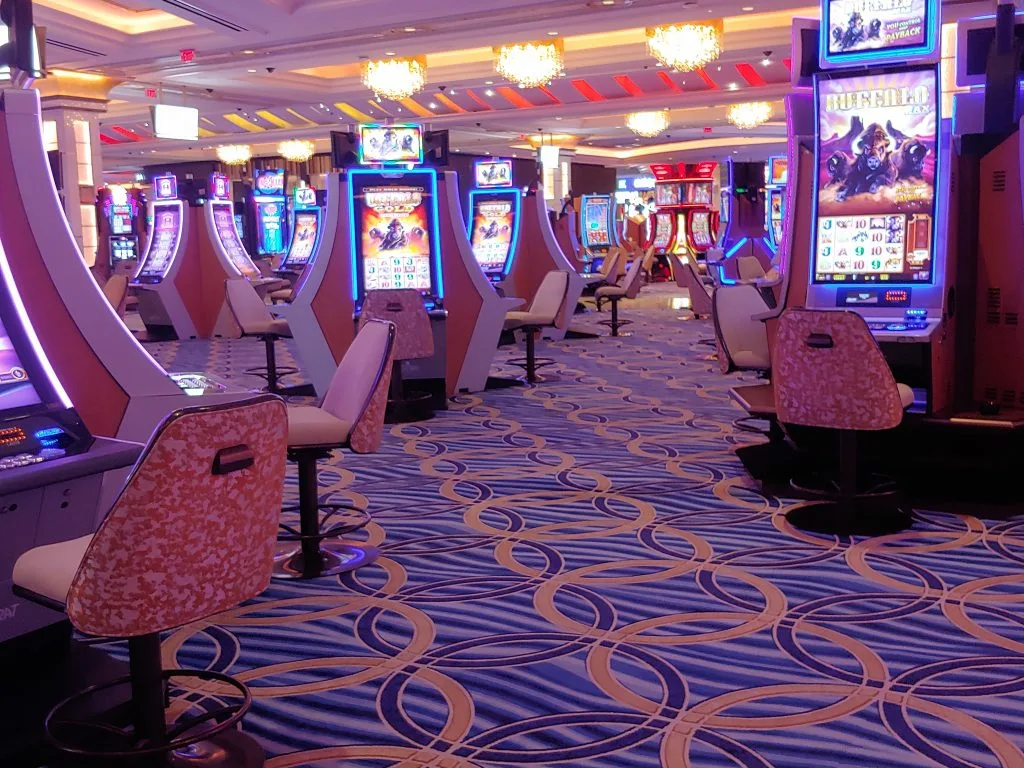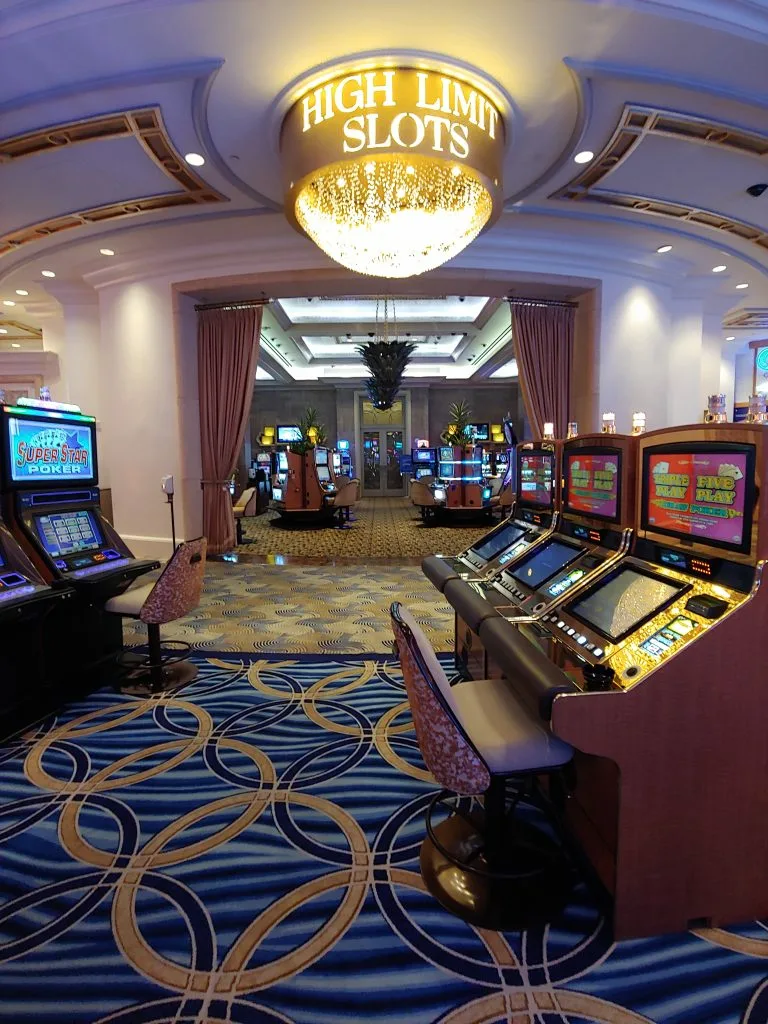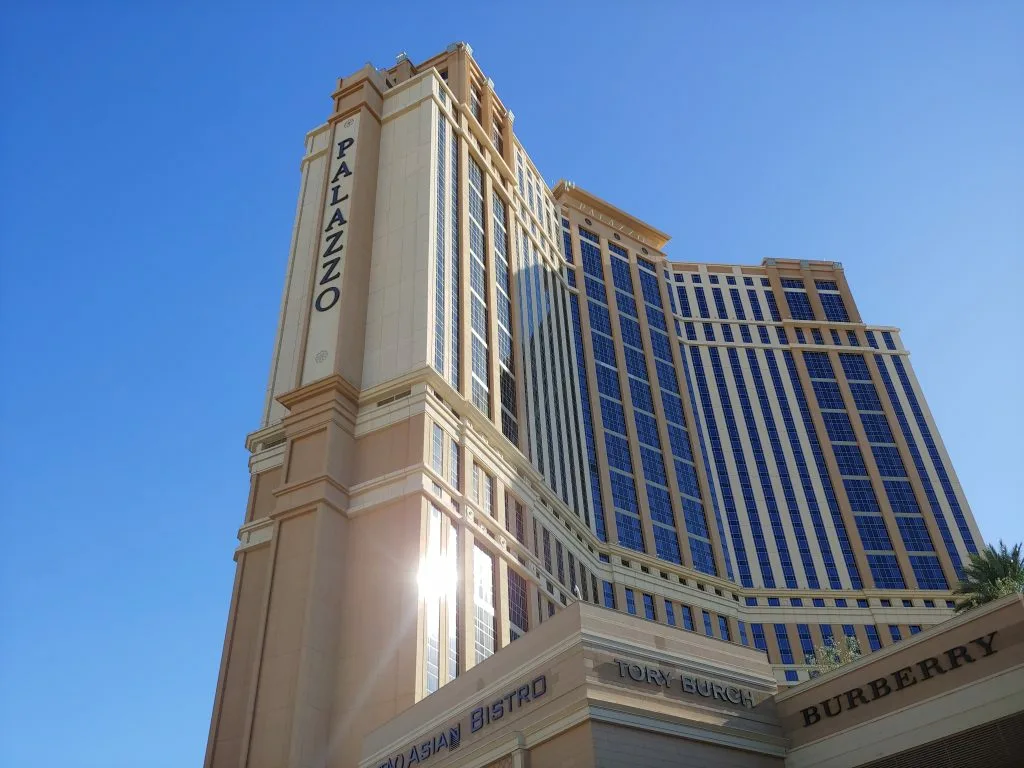 Palazzo casino
At Palazzo, you'll discover an impressive array of entertainment options. With over 100 table games and a whopping 1000 slots, there's never a dull moment. What sets Palazzo apart is its extensive collection of electronic table games, such as the exhilarating stadium baccarat. On the Venetian side, you'll come across a fantastic poker room, catering to both seasoned pros and eager novices. As if that wasn't enough, the William Hill sportsbook cleverly doubles as a cozy lounge where you can kick back and relax. Not only can you place bets on your favorite sports, but you can also conveniently create Caesars Sportsbook accounts right here. And to top it all off, cash deposits and withdrawals are seamlessly handled at this very location, ensuring a hassle-free gaming experience.
On the casino floor, you can find video poker available both on bar tops and in a few banks. If you're looking for some high-stakes action, the high-limit room has got you covered. In there, you'll discover a selection of video poker games that boast an impressive 99% return rate. One popular game you can find is the classic 9/6 Jacks or Better. However, it's important to note that the pay tables for the games with smaller denominations are comparatively lower.
Video slot machines have a starting wager of only one cent, while high-limit games offer betting options of $100 or more. These high-stakes games predominantly feature spinning reels and video poker.
Table games
At Palazzo, there is an impressive collection of more than 100 table games, surpassing the already extensive selection available at Venetian. Among the vast array of options, players can indulge in classic favorites such as baccarat, blackjack, and craps, including the intriguing variation known as crapless craps. Additionally, poker enthusiasts can revel in the diverse offerings, including pai gow and the ever-popular Ultimate Texas Hold'em. It is worth noting that the minimum bets at Palazzo may be slightly lower compared to other establishments; however, it is advisable to anticipate most games requiring a minimum wager of $25.
In all the blackjack games available at Palazzo, the majority of them have a payout ratio of 6/5. However, there are a few exceptions to this rule, such as Spanish 21 and the high-limit games. One notable feature of the blackjack tables at Palazzo is that players are allowed to double down both before and after splitting, even at the double-deck tables. Furthermore, in the six-deck blackjack games, players also have the option to surrender and re-split aces. It's worth noting that in all of these games, the dealer hits on soft 17. However, in the salon six-deck games, the dealer stands on soft 17.
At Palazzo, you will find both Craps and Crapless Craps games being offered. The maximum bonus amounts allowed are in multiples of 3-4-5. Additionally, if a player rolls a 12, the field bet pays out triple the original wager.
In the salon, you can find three variations of roulette: the single, double, and triple zero. The single zero roulette is quite different from the others, as it lacks the traditional European rules known as la partage.
For just $3 per month, you can also unlock a wealth of information through memberships like Casino Club, Total Access Club, and Bet-NV.com Super Fan. These exclusive memberships provide avid casino enthusiasts with in-depth access to detailed table game surveys across various casino properties. Don't miss out on the opportunity to gain access to Bet-NV.com's comprehensive table game surveys and much more. Sign up now and start exploring the world of casino gaming like never before!
You can now access Bet-NV.com subscriptions on both Gumroad and Patreon, offering the same valuable information on both platforms.

In case you or someone you are acquainted with is facing challenges related to gambling, please reach out to 1-800-GAMBLER for assistance.
Poker room
In our comprehensive review of the poker room at Venetian, we delve into the heart of the action. It is here, amidst the bustling atmosphere and lively energy, that the Deep Stack tournaments and cash games take place. While Palazzo may occasionally host tournament tables for grand-scale events, it is at Venetian where players gather to test their skills and compete for glory. If you're seeking an authentic poker experience, look no further than the vibrant poker room at Venetian. Discover more about its offerings and ambiance in our detailed Venetian poker room review.
Entertainment at Palazzo
I had the pleasure of attending two remarkable shows at the Venetian and Palazzo. What struck me the most was how conveniently accessible both venues were from either property. The first show I experienced was Spiegelworld's Atomic Saloon Show, which took place inside the Grand Canal Shoppes. It was an absolute delight to witness Madam Boozy Skunkton and her crew, who were not only sensationally talented but also outrageously amoral. Their performance consisted of a captivating blend of sexy acrobatics and ridiculous comedy mayhem. The shows were scheduled to run at 7:30pm and 9:30pm from Friday to Tuesday, allowing ample opportunities to catch a performance. However, it is worth noting that the shows did not take place on Wednesdays and Thursdays, providing the performers with a well-deserved break. Lastly, it is essential to mention that only guests aged 18 years or older were permitted to attend these shows, ensuring an audience appropriate for the content being presented.
The Venetian Theatre hosts a variety of captivating performances, which include concerts and grand comedy shows. These delightful shows usually commence at 8:30pm.
Aug 25-26, 30, Sep 2-3 Exclusive Las Vegas Residency by The B-52s
Sep 15-16 Emmanuel
Sep 22-23 Paulina Rubio
Sep 29-30, Nov 16-17 David Spade and Nikki Glaser
Oct 6-7, 11, 13-14 Jackson Browne
Oct 20-22, 25, 27-28, Nov 1, 3-4 Earth, Wind & Fire
Nov 8 Daryl Hall
Nov 10-11 REO Speedwagon
The Summit Showroom, known for hosting comedy performances, is a more intimate venue. Unless stated otherwise, shows commence at 8:30pm.
Sep 15 Ralph Barbosa
Oct 7 Christina P
Nov 4 Heather McDonald
Additional points of interest comprise of both indoor and outdoor gondola journeys, the immersive PanIQ Escape Room experience, the chilling minus5º Ice Experience, and the engaging Madame Tussauds Interactive Wax Museum.
At PanIQ Escape Room, we provide a variety of escape rooms suitable for guests aged 8 and above. It is essential for children under 15 to have an adult present throughout the entire duration of a privately booked room. However, in the case where all guests are between 15 and 17 years old, an adult is only required for check-in. Each game grants players a challenging 45 minutes to unravel the mysteries and make their escape. For most escape rooms, a maximum of 7 participants is allowed, except for Zombie Outbreak, which can accommodate up to 10 players. We offer a diverse range of levels and games to cater to different preferences and skill levels.
Expert Level ( Recommended for Escape Room Veterans)

Atlantis Rising
The Time Machine

Hard Level

The Haunted Manor ( Spooky Age 12+)
Wizard Trials

Medium Level

Casino Heist
Zombie Outbreak ( Scary Age 12+)

Easy Level

The Morning After ( Age 18+)
Indulge in fine dining and refreshing beverages at the exquisite Palazzo.
At the Venetian and Palazzo properties, you'll find a wide array of dining choices. From the moment you step onto the casino floor, there are restaurants conveniently placed within reach. If you prefer to explore further, you can venture to Restaurant Row, a vibrant area nestled between the casino floors, offering even more culinary options. For a unique dining experience, head up to the second level of the Grand Canal Shoppes, where you'll discover additional restaurants waiting to tantalize your taste buds.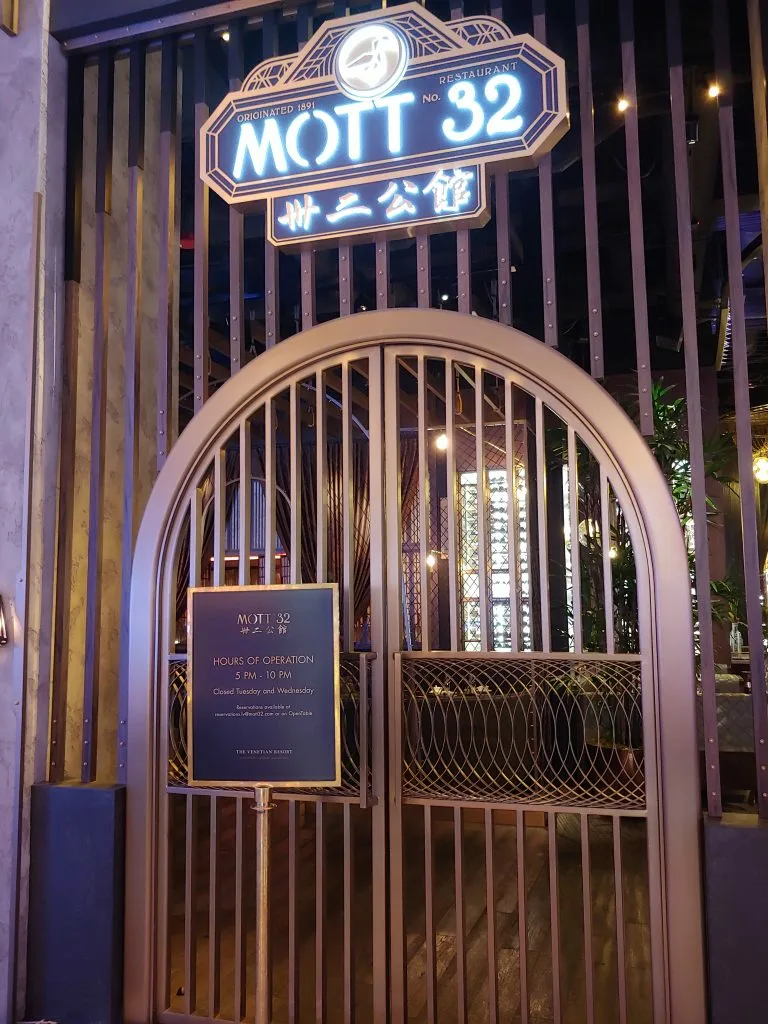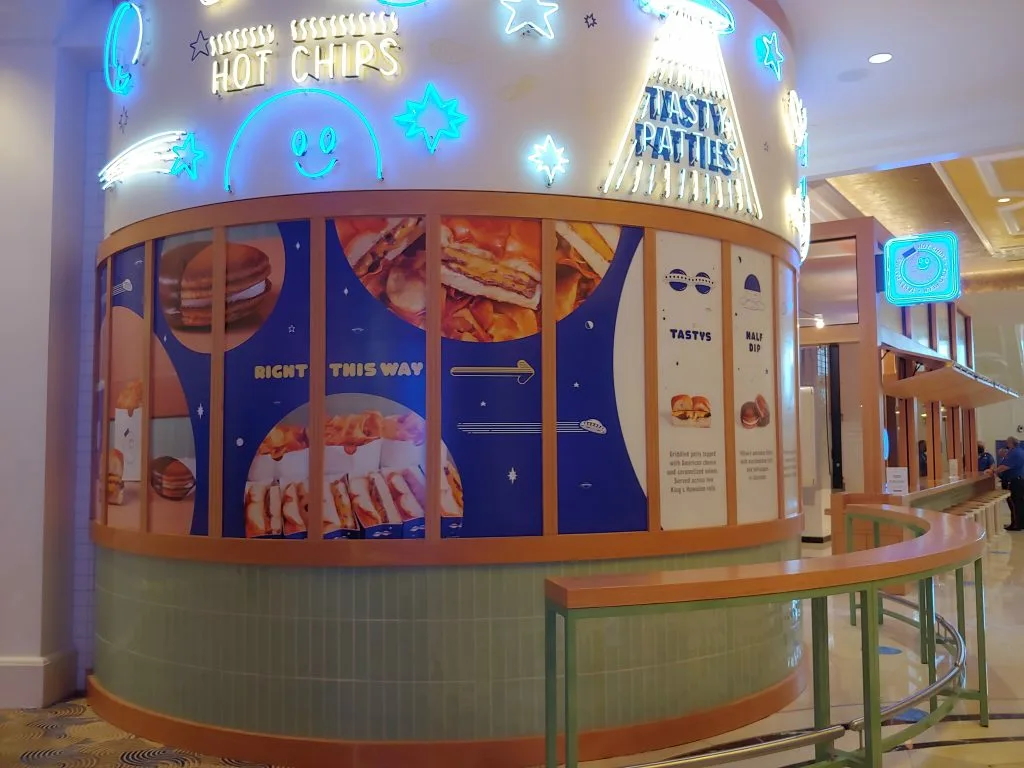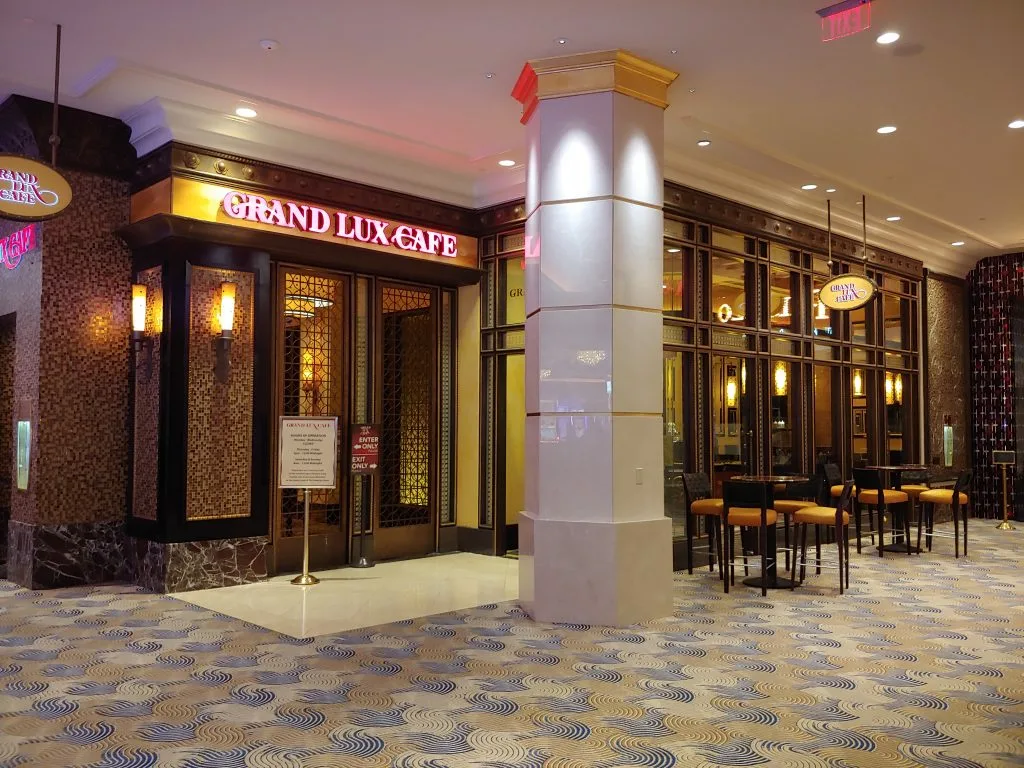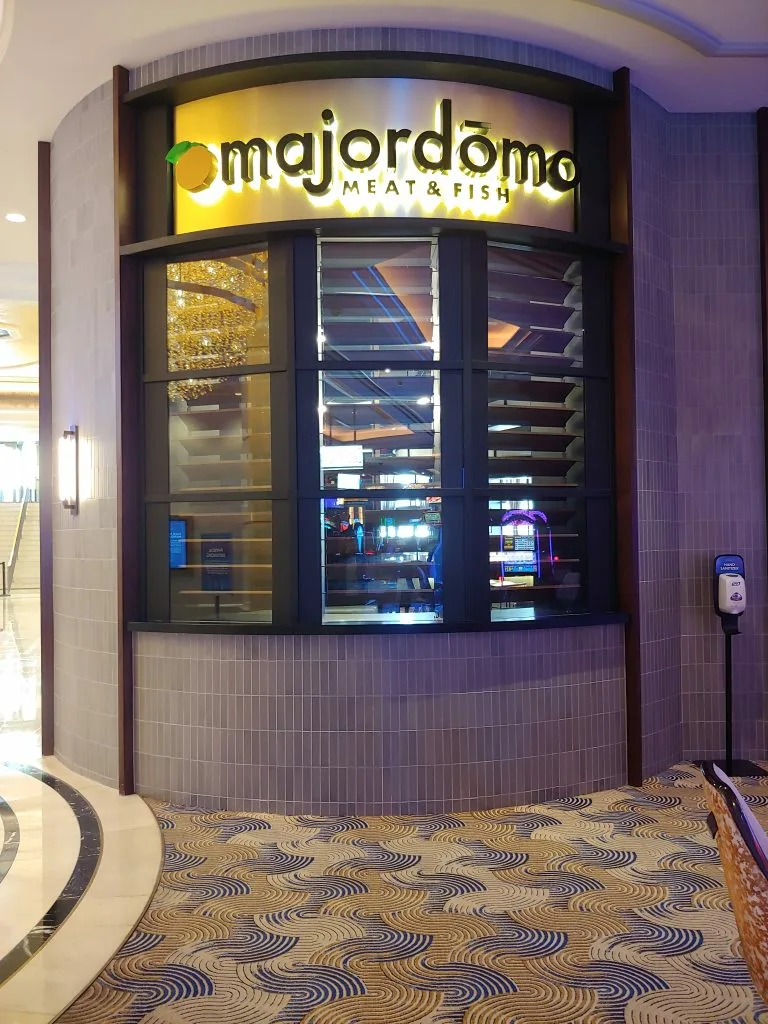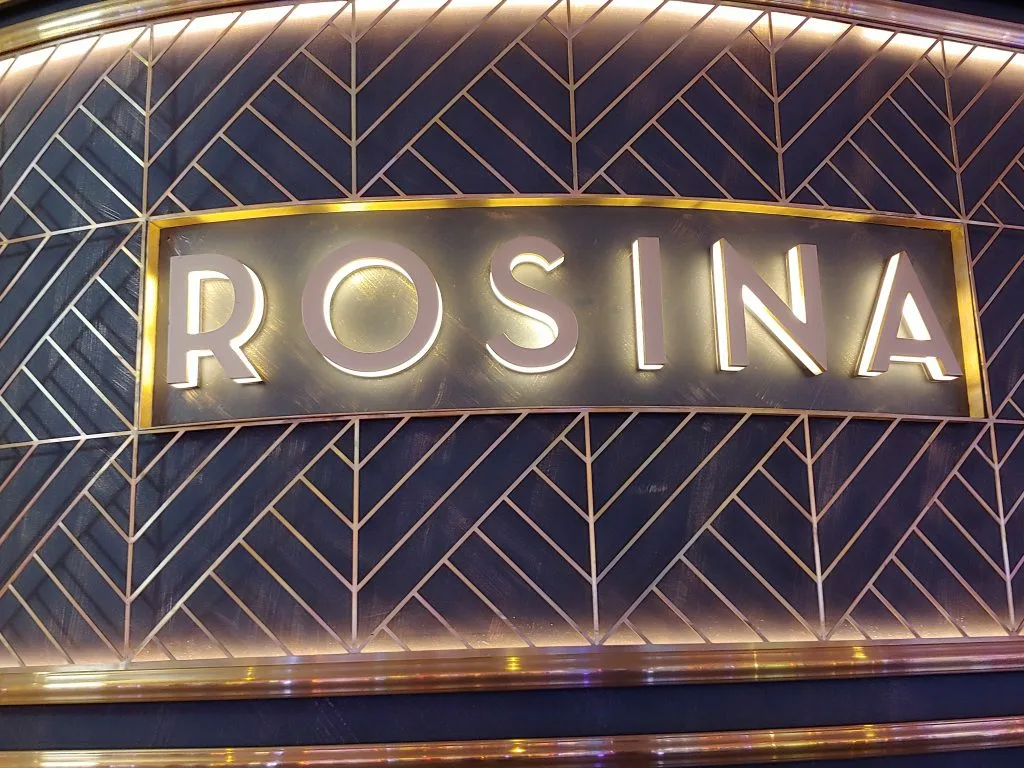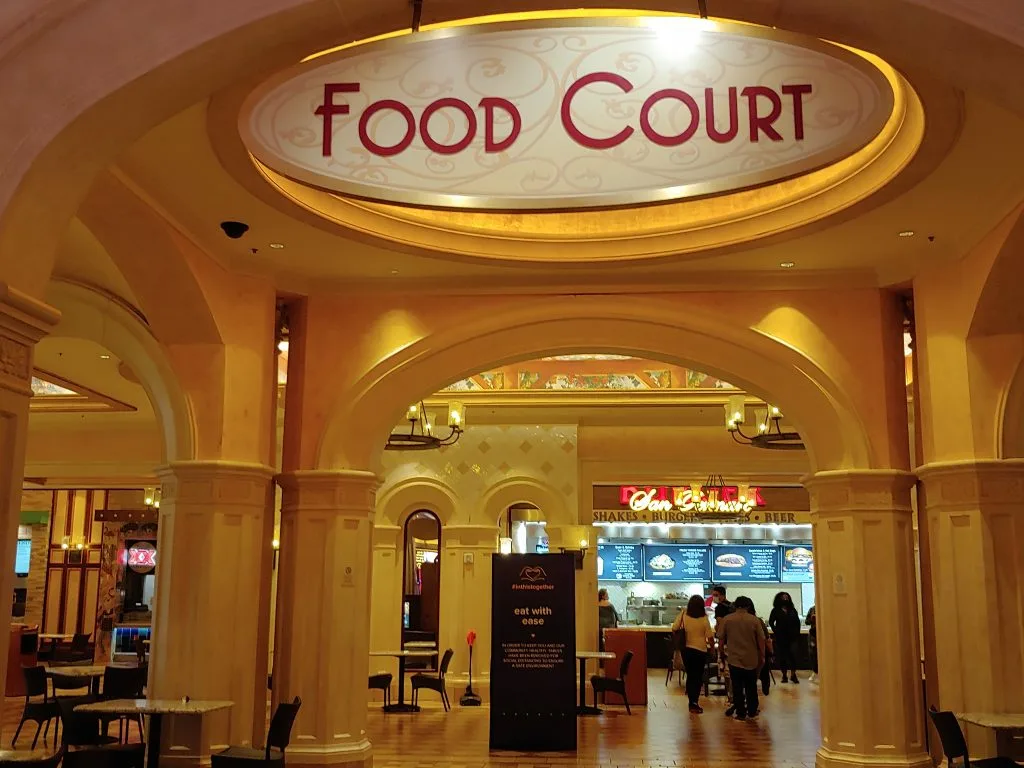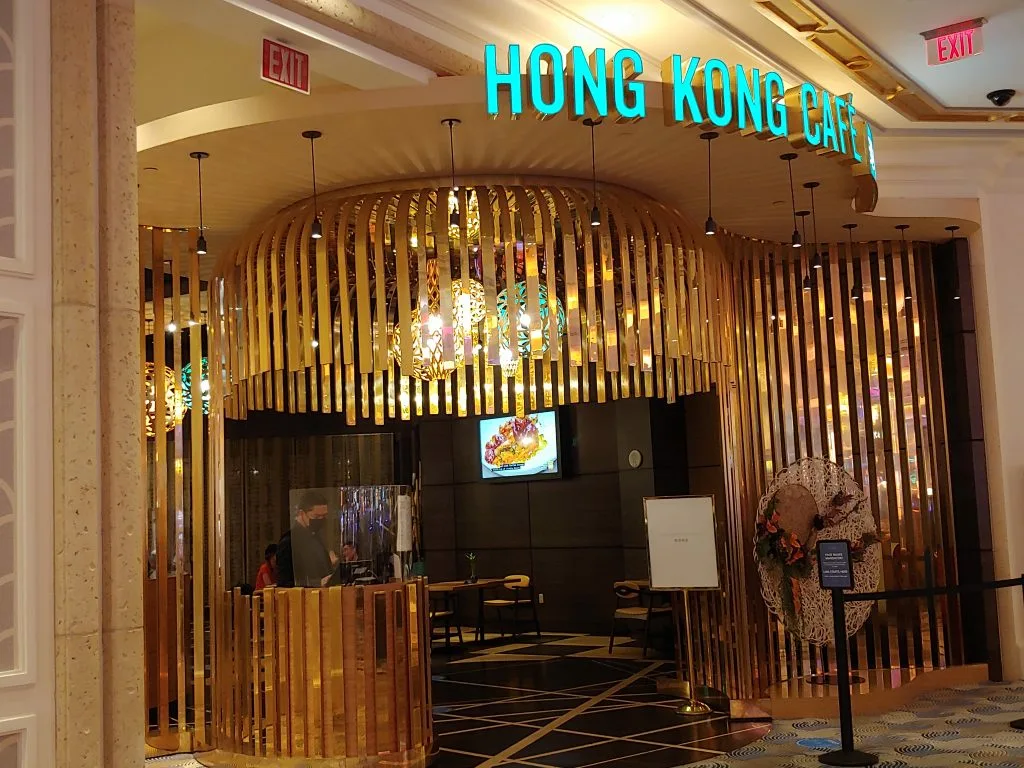 Venetian
Experience the ultimate combination of gourmet burgers and craft beer at Black Tap. – Patio seating available.
Bouchon (Level 10) – Upscale dining experience by the pool, serving delicious French dishes.
Grand Lux Café located at The Venetian – American cafe.
Noodle Asia – Asian cuisine.
Truth & Tonic (Level 4) – Fully vegan restaurant.
Palazzo
Canyon Ranch Grill (Level 3) – American cuisine.
Experience the culinary mastery of Wolfgang Puck at CUT. – Fine dining. Steakhouse.
Grand Lux Café located at The Palazzo – American cafe.
HaSalon - Exceptional culinary experience: Mediterranean-inspired Israeli cuisine. coming in 2023)
Hong Kong Café – Asian cuisine.
LAVO Italian Restaurant - Gourmet meals. Traditional Italian dishes.
Mott 32 - Exquisite gourmet experience. Authentic Asian flavors.
Restaurant Row
CHICA - Traditional food from Latin and Mexican cultures.
Delmonico Steakhouse – Fine dining.
estiatorio Milos – Seafood. Greek cuisine.
Matteo's Ristorante Italiano – Italian cuisine.
Discover the extraordinary dining experience offered by SUGARCANE raw bar grill. – Global cuisine. Seafood.
Yardbird – American dishes.
Level two - Spectacular Shopping at the Grand Canal
Buddy V's Ristorante – Italian cuisine.
Canaletto – Italian cuisine.
Cañonita – Mexican cuisine.
Carlo's Bakery – Desserts.
Casanova – Italian cuisine.
Join the ultimate social darts experience at Flight Club. – American bar fare.
Grimaldi's Pizzeria – Italian cuisine.
Mercato della Pescheria – Seafood. Italian cuisine.
PrimeBurger - Start your day with a delicious breakfast, satisfy your cravings with mouthwatering burgers, indulge in tasty sandwiches, and treat yourself to juicy steaks.
Rockhouse – American bar fare.
Royal Britannia Gastropub - Classic American and British pub cuisine.
Smith & Wollensky – Steakhouse.
SUSHISAMBA - Delicacies from Japan, Brazil, and Peru.
TAO Asian Bistro - Exquisite culinary experience specializing in Asian dishes.
Trattoria Reggiano – Italian cuisine.
Trustworthy Brewing Company – Authentic American gastronomy. Artisanal brews.
Villa Azur - Delicious dishes inspired by the flavors of France and the Mediterranean.
The X Pot – Asian cuisine.
Zeppola Cafe - Savory and sweet delights from Italy's culinary traditions.
Hotel accommodations
The Venezia Tower boasts a lobby-level pool, while the Venetian Hotel and the Palazzo Hotel sport pools on their 4th and 3rd floors respectively. Additionally, this property offers a range of top-notch amenities, such as the esteemed Canyon Ranch spa and the convenient FedEx Office Business Center. Moreover, guests who opt for the daily resort fee are granted access to an abundance of high-quality magazines and newspapers via the complimentary PressReader app.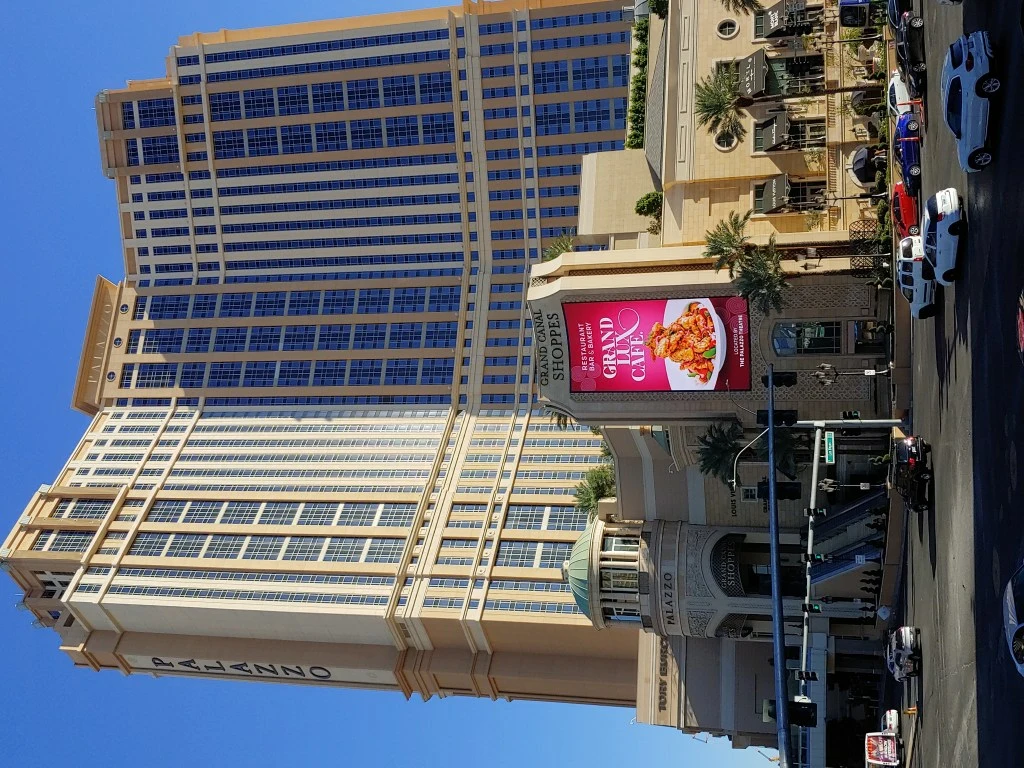 Arrival time: 3pm | Departure time: 11am | Additional charge: $45 per night for resort fee.
Situated on the renowned Las Vegas Strip, the Palazzo is an opulent resort that boasts lavish accommodations in the form of spacious suites. Each suite, measuring a minimum of 720 square feet, guarantees a smoke-free environment for guests' utmost comfort. Within these suites, visitors can choose between a luxurious king bed or two queen beds, along with the added luxury of a separate living room and a generously sized bathroom. For those seeking even more indulgence, the Premier and Signature Suites offer expansive space and enhanced amenities to cater to every discerning guest's needs.
Book a hotel room at Palazzo at The Venetian
Palazzo Casino FAQ
Where can I play live stadium baccarat on the Las Vegas Strip?
Venetian and Palazzo offer a unique live dealer experience with their stadium baccarat.
Does Palazzo deal single zero roulette?
The exclusive salon offers roulette with a single zero, but it differs from European rules as it lacks the la partage feature.
What are the craps odds at Palazzo?
In both craps and crapless craps, players have the opportunity to place odds up to 3-4-5 times their original bet. Additionally, a unique feature of these games is that the field bet pays triple when a 12 is rolled.
Is there a poker room at Palazzo?
Although the Palazzo does not have its own poker room, there is a poker room available at the neighboring Venetian.
Last updated: May 28, 2023