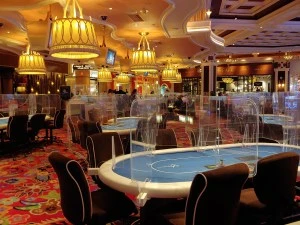 On September 30, 2020, the doors of the Wynn poker room swung open once again, brimming with excitement and anticipation. A change in location has breathed new life into this vibrant haven of card players and strategists, as it now proudly resides within the prestigious Encore. As part of this transformation, the room underwent a slight reconfiguration, delicately removing a select number of tables to create a more spacious and inviting environment. However, fret not, for there are still an ample 28 tables adorning the floor, ready to host intense battles of wit and skill. And tucked away within this bustling hub, a separate tournament area awaits, capable of accommodating up to a staggering 200 eager participants. With each table thoughtfully designed to comfortably seat up to nine players, camaraderie and competition will intertwine, creating an atmosphere that is both electrifying and unforgettable.
I'm here to give you the lowdown on the Wynn poker room. Let's start with the fact that it's open round the clock, seven days a week. When it first opened its doors, the focus was solely on cash games, but later on, tournaments were introduced into the mix. If you're curious about all the ins and outs of the Wynn poker room, this review has got you covered.
Every single poker room in Las Vegas
Google search results for Wynn's cash games in poker
At Encore's esteemed poker room, players will discover an extensive assortment of cash games awaiting their arrival. Unleashing a wave of excitement, one can immerse themselves in the captivating realms of 1/3, 2/5, and 5/10 no-limit Texas hold'em. Each game presents a unique challenge, with the buy-in ranging from $100 to $500 for the exhilarating 1/3 tables, and escalating to $200 to $1,500 for the adrenaline-fueled 2/5 tables. For those seeking even greater thrills and higher stakes, the 5/10 tables offer an unlimited buy-in starting at a staggering $1,000. But the adventure doesn't stop there. Beyond the realm of Texas hold'em, the Wynn poker room at Encore beckons players to explore the enchanting world of pot limit Omaha and mixed games. With a touch of unpredictability, these games add an extra layer of excitement and strategy to the already electrifying atmosphere. Whether you're a seasoned poker enthusiast or a curious newcomer, the Wynn poker room at Encore promises an unforgettable experience, where fortunes are won and legends are born.
Wynn poker tournaments
The Wynn poker room is once again hosting tournaments, but only on days when there are no Wynn Classic events taking place.
Every day, a thrilling no-limit hold'em tournament awaits players at our esteemed establishment. From Sunday through Thursday, the buy-in for this exhilarating event stands at a reasonable $200. The competition commences precisely at noon, ensuring a perfect midday rendezvous for poker enthusiasts. As an added bonus, this enthralling tournament boasts an impressive $10,000 guaranteed prize pool, adding an element of excitement and anticipation to the proceedings. Moreover, if you prefer an evening showdown, we have you covered with our daily 5pm tournament. With a buy-in of $200 and an equally enticing $10,000 guaranteed prize pool, this tournament promises an unforgettable evening of poker prowess and intense gameplay.
The Saturday tournament, starting at 12pm, boasts a guaranteed prize pool of $20,000. Participants must pay a buy-in fee of $300 to enter. Meanwhile, the Friday tournament, also commencing at noon, offers an even larger guaranteed prize pool of $40,000. To participate, players must pay a buy-in fee of $240, with the option to add-on for an additional $100. Furthermore, unlimited rebuys can be made for $200 each.
The Wynn Classic and various other series occur at different times throughout the year, causing a suspension of the daily tournaments.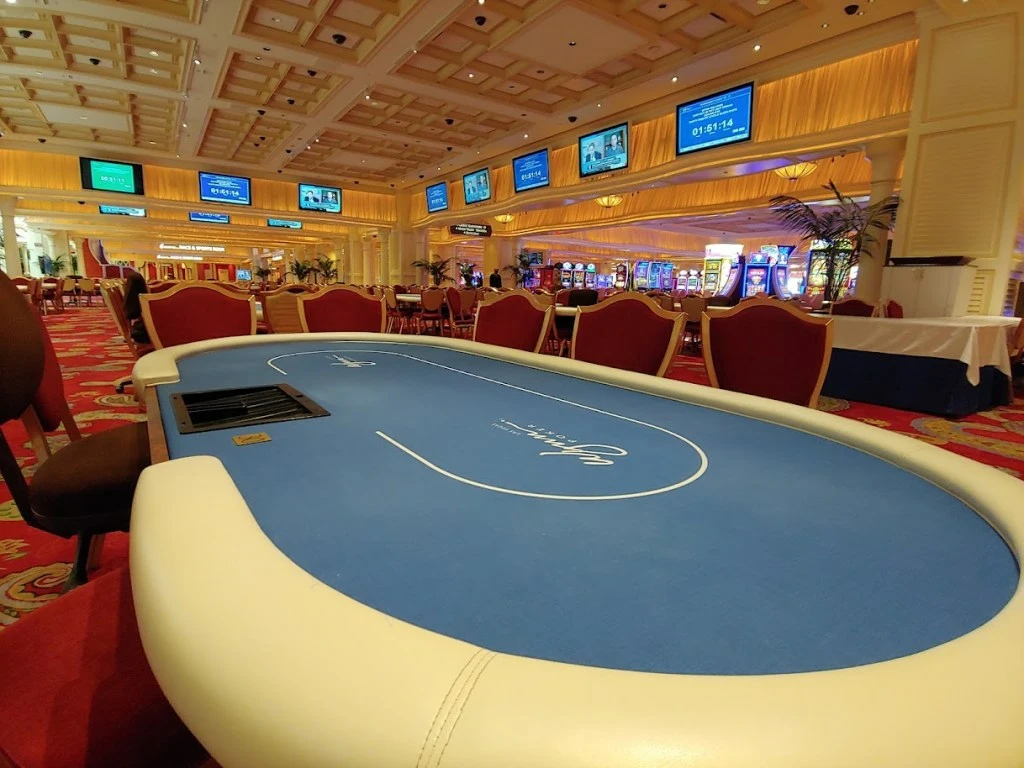 Wynn poker promotions
When you sign up for the Wynn Red Card and start playing, you'll be earning $1.50 in complimentary rewards per hour. These rewards can be redeemed for various perks, including food and other amenities. It's worth noting that the Encore poker room operates differently, as they don't have a jackpot drop system or any additional promotions. But don't worry, you can still make the most of your time and enjoy the benefits of the Wynn Red Card while playing there.
As an avid poker player, I have discovered a fantastic perk at the renowned Wynn poker room. Players who devote a minimum of six hours per day to the exhilarating game can enjoy an exclusive hotel rate. From Sunday to Thursday, the comfortable rooms are available for a reasonable price of $139, while on Fridays and Saturdays, the rate slightly increases to $199. It is important to note that this rate does not include tax or the resort fee, ensuring transparency and no hidden costs. So, not only can I indulge in my passion for poker at the prestigious Wynn poker room, but I can also take advantage of this exceptional offer to unwind and relax in their top-notch accommodations.
Environment
I love going to the poker room at Encore, it's incredibly spacious and has such a great atmosphere. The tables and chairs are extremely comfortable, making it the perfect place to settle in for a long night of playing cards. What I really appreciate about the Wynn poker room is the experienced staff. Many of the dealers and floor staff have been working here for years, so they know exactly how to run a smooth and enjoyable game. It's also worth mentioning that they have a fantastic selection of poker games. Whether you're into traditional Texas Hold'em or more unique and unusual mixed games, they've got you covered. And let's not forget about the drink service. It's quick and efficient, with a wide variety of beverages to choose from. Overall, the Wynn poker room at Encore is a top-notch spot for any poker enthusiast looking for a great time.
Wynn poker rake
Wynn collects a 10% fee, capped at $5, without deducting any amount for a jackpot.

Wynn poker FAQ
Does the Wynn poker room at Encore operate 24/7?
Absolutely! The operating hours are round the clock, every single day.
What types of cash games are available in the poker room at Wynn?
The most frequently encountered poker variations at this location include 1/3, 2/5, and 5/10 no limit hold'em, as well as pot limit Omaha and mixed games.
What is the seating capacity of poker tables at Wynn?
Each poker table accommodates nine seats.
Can I find any partitions on the poker tables at Wynn?
Negative. These were taken out on May 4, 2021. It became the inaugural poker room in Las Vegas to obtain authorization for this action.
Are there any poker contests being held at Wynn?
Two tournaments are held every day in the absence of any Wynn Classic event.
Can you please provide the current Wynn poker rate?
When using the Wynn Red Card, players can make $1.50 for every hour spent at cash games.
Could you please provide information on the rake at the Wynn poker room located in Encore?
Cash games have a rake amounting to 10% with a maximum of $5, while no jackpot drop is imposed.
What was the reason behind the relocation of the Wynn poker room from Encore?
Encore, one of the renowned resorts operated by Wynn Resorts, made a strategic decision to close its doors for three days every week. However, the company aimed to maintain its popular poker room accessible to the guests during this period. To ensure uninterrupted gaming experience, Wynn Resorts temporarily relocated the poker room to their neighboring property, Wynn, which is conveniently situated near the sportsbook. Luckily, this temporary arrangement lasted only until April 12, when the poker room eagerly welcomed back its avid players at its original location in Encore.
William Stevens is the one who updated this information on September 2, 2023.