Virtually every Las Vegas casino offering table games includes roulette in their repertoire, ranking second in popularity among non-blackjack table games according to the Las Vegas Table Game Survey, right after craps.
In Las Vegas, you can find a variety of roulette games. There are four types available: European, single zero, double zero, and triple zero. Out of these options, the European roulette game offers the best payback to players. With a house edge of 1.35% on even money bets and 2.7% on all other bets, it provides favorable odds. On the other hand, single zero roulette also carries a 2.7% house edge for all bets. If you prefer double zero roulette, be aware that it comes with a higher house edge of 5.26%. Lastly, there is triple zero roulette, which has the highest house edge at 7.69%.
In the city of Las Vegas, it is a common practice for all casinos that offer the game of roulette to have a double zero table, with the exception of O'Sheas. However, it is worth noting that there are a few establishments on the famous Las Vegas Strip that take it a step further and deal not just one or two, but three different versions of the game. This variety adds an extra layer of excitement and choice for those looking to try their luck at the spinning wheel. So, whether you prefer the traditional double zero table or are adventurous enough to explore the alternative versions, there is no shortage of options to satisfy your roulette cravings in the vibrant city of Las Vegas.
Bet-NV.com operates thanks to the backing of memberships, sponsors, and advertisements. Should you or anyone you're acquainted with experience issues with gambling, dial 1-800-GAMBLER.
Support Bet-NV.com and gain access to our Las Vegas Blackjack and Table Game Survey, a valuable resource available through our subscription service. By signing up for a monthly or quarterly membership, you'll have the opportunity to stay informed with updated data from casino visits, ensuring you have the latest information at your fingertips. With memberships starting as low as $3 per month, you can invest in your knowledge and make the most of your Las Vegas experience.
You can now access Bet-NV.com memberships on both Gumroad and Patreon, offering the best insights and resources on both platforms.
In case you or someone you are acquainted with is experiencing gambling issues, do not hesitate to reach out for assistance by dialing 1-800-GAMBLER.
It is within acceptable boundaries for publishers of other websites to utilize our data. However, our terms of use mandate the inclusion of a backlink to Bet-NV.com.
Casinos in Las Vegas offering roulette games.
In my comprehensive overview, I aim to provide you with an in-depth examination of the various roulette games played in the vibrant city of Las Vegas. To ensure a comprehensive coverage, I will delve into the gaming scenes across different areas, namely the Strip, downtown, Fremont Street, and the locals market. It should be noted that the following data was meticulously collected during the summer of 2023, guaranteeing up-to-date and reliable information. In order to assist you in planning your roulette escapades, I will highlight the minimum bets that we anticipate as being the most affordable, which are typically observed in the mornings and afternoons. It is important to bear in mind that during peak hours, when the casinos are bustling with activity, the minimum bets are likely to be higher.
In certain cases, one must exercise caution as there are roulette tables that may appear to be standard 00 tables but actually feature an additional zero. This third zero is cleverly disguised as the casino logo on the table felt, making it difficult to differentiate at first glance. Furthermore, it is worth noting that certain casinos offer 000 roulette tables with lower minimum bet limits compared to their 00 counterparts. Additionally, some establishments may have both 000 and 00 tables open simultaneously, ensuring the same minimums apply to both options. However, on certain casino floors, the 000 roulette table is only made available once all the 00 tables are already open and filled with players. Conversely, there are instances where the 000 tables remain open while the 00 tables are temporarily closed.
In the realm of roulette, it's worth noting that triple zero roulette typically imposes the same minimum wager requirement as its double zero counterpart. However, when faced with this scenario, it is always prudent to opt for the double zero roulette table. It is important to highlight that all casinos offering triple zero roulette, with the exception of O'Sheas, have at least one table featuring the traditional double zero format.
In Las Vegas, you can find three casinos offering roulette with a minimum bet of less than $5, with the lowest option being $2.
Experience Las Vegas roulette with the lowest possible wager.
The following list is initially arranged based on the anticipated minimum wager and subsequently by the quantity of zeros present on the roulette wheel.
$2 – Double 0
Jerry's Nugget
Railroad Pass
---
$3 – Double 0
---
$5 – Double 0
Arizona Charlie's Decatur
Downtown Grand
El Cortez
Orleans
Oyo
Pass
Santa Fe Station
South Point
Suncoast
$5 – Triple 0
---
$6 – Double 0
---
$10 – Double 0
Aliante
Binion's
Boulder Station
California
Ellis Island
Four Queens
Fremont
Golden Gate
Golden Nugget
Green Valley Ranch
M Resort
Palace Station
Plaza
Rampart
Red Rock
Rio
Sam's Town
Silver Sevens
Silverton
Strat
Sunset Station
The D
Tropicana
$10 – Triple 0
Binion's
Circus Circus
Cromwell
Flamingo
Four Queens
Luxor
O'Sheas
Park MGM
Paris
Planet Hollywood
Sahara
Strat
Tropicana
Westgate
---
$15 – Single 0
$15 – Double 0
Circa
Circus Circus
Cromwell
Excalibur
Flamingo
Harrah's
Horseshoe
Linq
Mirage
Mohegan Sun
New York-New York
Palms
Park MGM
Resorts World
Treasure Island
Westgate
$15 – Triple 0
Aria
Bellagio
Cosmopolitan
Encore
Excalibur
Harrah's
Horseshoe
Linq
Mirage
New York-New York
Palazzo
Resorts World
Sahara
Treasure Island
$20 – Double 0
Luxor
Mandalay Bay
New York-New York
Venetian
$20 – Triple 0
---
$25 – Double 0
Aria
Bellagio
Caesars Palace
Cosmopolitan
Encore
MGM Grand
Palazzo
Paris
Planet Hollywood
Wynn
$25 – Triple 0
Caesars Palace
MGM Grand
Venetian
Wynn
---
$50 – Single 0
$50 – European
---
$100 – European
Aria
Bellagio
Cosmopolitan
Encore
Green Valley Ranch
Mandalay Bay
Mirage
Park MGM
Red Rock
Resorts World
$100 – Single 0
---
$200 – European
The electronic roulette machines in Las Vegas
In our comprehensive guide to Electronic Table Games in Las Vegas, we provide detailed information on the various types of video roulette machines available. These machines offer lower betting limits compared to their live counterparts, making them a popular choice among players. You can find single, double, and triple zero versions of video roulette, each with its own set of rules and payouts. It's worth noting that certain machines may short-pay on straights and splits, so it's essential to be aware of these variations before placing your bets. Whether you're a seasoned player or new to the game, our guide will equip you with all the information you need to make the most of your video roulette experience in Las Vegas.
A guide on learning the rules and strategies of roulette
When it comes to roulette, mastering the art of betting is the only skill you need to acquire. Placing a wager on the roulette table can be done in multiple ways. In European Roulette, there's an interesting rule called "la partage" where even-money bets only lose half their value if the zero is called. This rule adds a unique twist to the game and can be advantageous for players.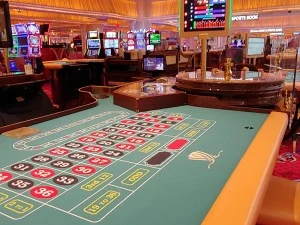 Red/black wagers result in a payout of 1:1. This type of bet emerges victorious when the chosen color surfaces and faces defeat if a zero appears or the opposing color prevails.
Odd/even: A victory is achieved when the selected option corresponds with an odd number; however, it results in defeat if the chosen option turns out to be even or zero.
High/low: Low numbers range from 1 to 18, while the high numbers range from 19 to 36. The bet is considered unsuccessful if any other number is rolled or if zero is called.
At the base of a roulette table, you'll find three columns. If the number in any of these columns matches, the payout is 2:1.
Dozens: Additionally rewards 2:1 and encompasses the wheel's initial, second, or third dozen.
This type of wager involves placing a bet on just one number, resulting in a payout of 35 times the original wager.
Divided: Includes a pair of consecutive numbers on the betting surface. The payout ratio is 17 to 1.
A sequence of three consecutive numbers on the roulette wheel, resulting in a payout of 11 times the original bet amount.
Corner: Encompasses a group of four adjacent numbers on the roulette layout, providing a payout of 8 to 1.
Incorporates a pair of rows on the fabric, showcasing six numbers in total, and offers a payout ratio of 5 to 1.
Online roulette
Playing roulette at online casinos offers a unique experience compared to the tables in Las Vegas. You'll find that the minimum bet is typically set at $1 or even lower, making it accessible for players of all budgets. Furthermore, roulette is commonly available in both video and live dealer formats, allowing you to choose the style that suits you best. Whether you prefer the convenience of playing on your computer or the thrill of interacting with a real-life dealer, online casinos have got you covered. So, why not give it a spin and see if luck is on your side?
When it comes to online roulette, the greatest advantage lies in the fact that the majority of casino websites provide both single zero and double zero games. The single zero roulette variant boasts a house edge of 2.7%, while the double zero roulette variant has a higher house edge of 5.26%. Consequently, there exists no logical justification for engaging in double zero roulette when partaking in online gambling activities. Hence, it is in one's best interest to exclusively opt for single zero roulette while playing at an online casino.
While playing at the majority of casinos, it is generally acceptable to engage in online roulette as part of fulfilling a bonus requirement. However, it is crucial to carefully examine the terms and conditions, which explicitly state that placing two contradictory bets is strictly prohibited. For instance, if one were to bet on both red and black or high and low simultaneously in order to meet the bonus criteria, they may face consequences with the website. In the majority of scenarios, the online casino bonus remains advantageous, surpassing 100% even when playing single zero roulette. Therefore, there is absolutely no justification for disregarding or violating the established rules and regulations.
Frequently Asked Questions about roulette in Las Vegas
What is the best roulette in Las Vegas?
European Roulette reigns supreme as the ultimate iteration of the game in the iconic city of Las Vegas. With a mere 1.35% house edge for even money bets and a respectable 2.7% for all other wagers, it truly stands out from the crowd.
What is the minimum bet for roulette in Las Vegas?
When it comes to playing roulette at casinos in Las Vegas, the betting limits can vary depending on the location. While you might find some local casinos where the minimum bet is as low as $2, most casinos tend to set it at $5. However, if you prefer playing in downtown or along the famous Las Vegas Strip, be prepared to find higher betting limits ranging from $10 to $25.
How many Las Vegas casinos have roulette?
Las Vegas boasts a total of 67 casinos where roulette is offered.
Are all Las Vegas Strip roulette tables triple zero?
The majority of Las Vegas casinos do not offer triple zero roulette, with the exception of O'Sheas. However, it is common for these casinos to have double zero tables as well, and the minimum bet is typically unchanged.
What is the house edge for single zero roulette?
The advantage of the casino in single zero roulette is 2.7%.
What is the house edge for double zero roulette?
The odds favor the house by 5.26% in double zero roulette.
What is the house edge for triple zero roulette?
Triple zero roulette has a house edge of 7.69%, according to the statistics.
What is European Roulette?
European Roulette is a variation of the game that features a single zero and incorporates the la partage rule, where players receive a refund of half their even money bets if the ball ends up on zero.
Where can I play European Roulette in Las Vegas?
Las Vegas offers a range of premier establishments where you can indulge in the excitement of European Roulette. Aria, Bellagio, Cosmopolitan, Encore, Green Valley Ranch, Mandalay Bay, MGM Grand, Mirage, Park MGM, Red Rock, Treasure Island, and Wynn are just a few of the renowned casinos that deal this popular game. To ensure your gaming experience is seamless, it may be wise to contact a host beforehand to verify the availability of a table.
Where can I play single zero roulette in Las Vegas?
In Las Vegas, Caesars Palace, Palazzo, Plaza, and Venetian are among the casinos that offer single zero roulette.
Are there video roulette machines in Las Vegas?
Indeed. Many expansive gambling establishments offer the option of video or stadium roulette, with the betting range typically spanning from $0.25 to $5.
The most recent update was made on August 28, 2023 and it was done by William Stevens.