Since March 2020, the Mandalay Bay poker room had been closed until it finally reopened on July 22, 2021. Interestingly, during its closure, the room underwent a transformation and became a BetMGM lounge for a period of time.
At the Mandalay Bay poker room, you'll find a total of 10 tables. The room operates from Wednesday to Monday, starting from 10am and closing at 3am. However, keep in mind that the poker room remains closed on Tuesdays. When it comes to gameplay, both cash games and tournaments are available to players at the Mandalay Bay poker room. If you're eager to learn more about this poker room, our comprehensive review has all the details you need.
Every poker room in Las Vegas
Mandalay Bay poker sessions with real money on the line
I frequent the Mandalay Bay poker room quite often, and let me tell you, the main cash game there is a real treat. It's a classic 1/2 no limit Texas Hold'em game, perfect for players looking to test their skills and win some serious cash. The buy-in range is quite reasonable, starting at $100 and going up to a maximum of $300. Now, here's the interesting part - if the room is bustling with activity, you might just catch a 1/3 game with a higher buy-in of $300 to $1,000. However, it's worth mentioning that these instances are quite rare, and the main focus at the Mandalay Bay poker room is undoubtedly the 1/2 no limit Texas Hold'em game. So, if you're looking for some intense poker action, head on over to Mandalay Bay and get ready for an exhilarating gaming experience like no other.
Mandalay Bay poker contests
Every day that the Mandalay Bay poker room is open, they host daily tournaments at 1pm and 8pm. These tournaments have a buy-in of $60 and feature 15-minute levels. On Saturdays at 8pm, they also have a special $100 no-limit hold'em tournament. This tournament offers a generous starting stack of 20k chips and has 20-minute levels. So, whether you prefer the excitement of daily tournaments or the challenge of the Saturday special, the Mandalay Bay poker room has something for every poker enthusiast.
Exciting poker promotions offered at Mandalay Bay
I'm excited to share some great news about the high hands promotion at our casino! Starting from 10am on Wednesdays through Sundays, we have an amazing offer for you. During these days, you can win $200 not just once, but four times a day! How awesome is that? But wait, the fun doesn't stop there. On Mondays, you still have the chance to win $200, but this time it's twice a day. Now, in order to qualify for these fantastic payouts, you need to have a hand of jacks full or better. That's the key to unlocking this incredible opportunity. And guess what? There's more! In addition to the high hand payouts for quads or better hands, we have something special for our dedicated players. If you give us at least 15 hours of cash game action, we'll reward you with a free entry into our Saturday night $100 tournament. It's our way of showing our appreciation for your commitment and loyalty. So, mark your calendars and get ready to join us for some thrilling poker action and the chance to win big!
Environment
On game days, the poker room at Mandalay Bay, which is conveniently located next to the sportsbook, exudes an electrifying atmosphere that adds to the overall experience. This unique feature not only enhances the overall vibe but also attracts a larger crowd, resulting in more games being played simultaneously. Apart from the bustling ambiance, the poker room itself exudes a laid-back and relaxed atmosphere that appeals to both locals and tourists alike. With a diverse blend of players, from regulars to out-of-town visitors, it offers a dynamic and engaging environment for poker enthusiasts of all levels.
Mandalay Bay poker fee for each hand played
The poker room at Mandalay Bay collects a 10% rake per hand, capped at $5. Additionally, a $2 jackpot fee is deducted.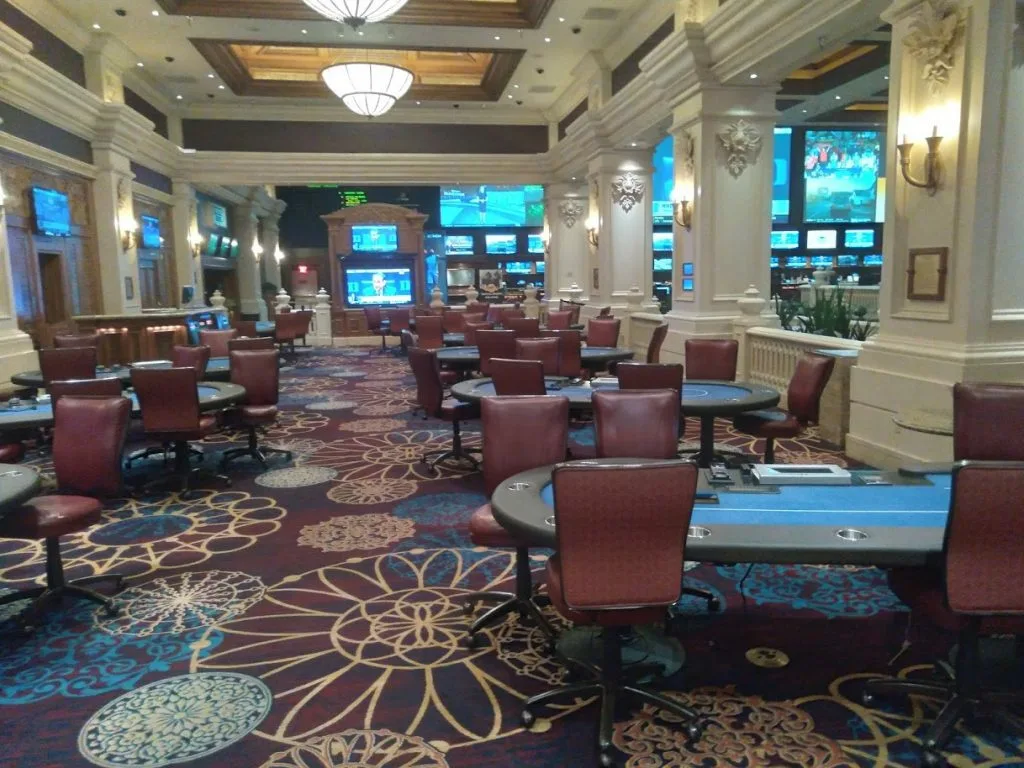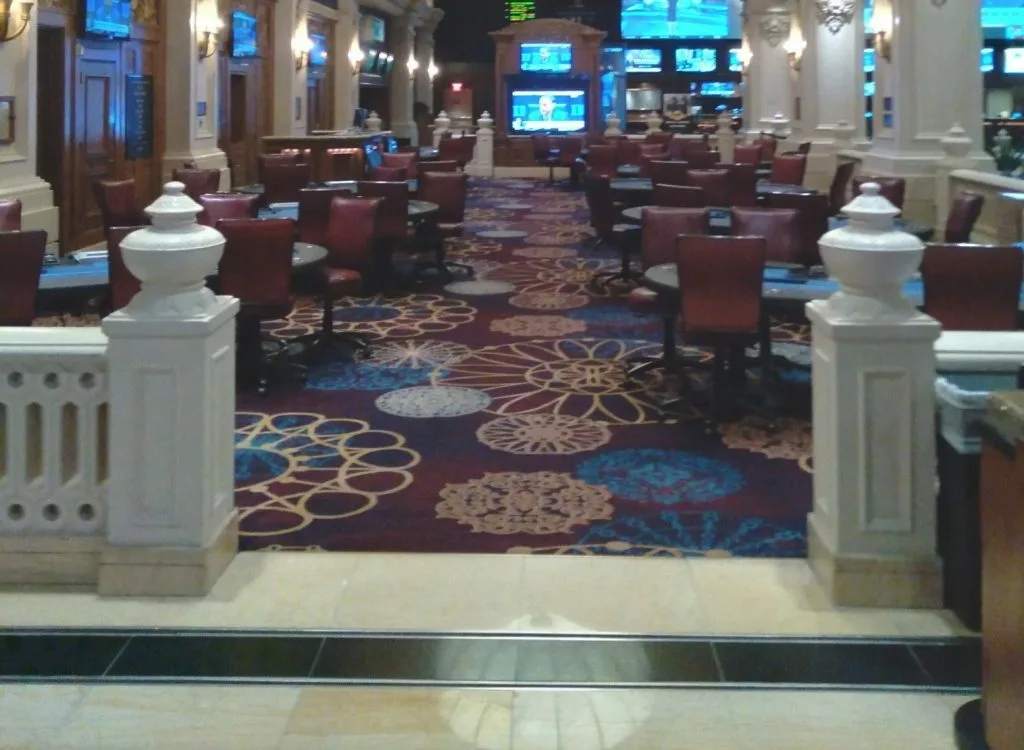 Frequently Asked Questions about the poker room at Mandalay Bay
Does Mandalay Bay offer a 24/7 poker room service?
The Mandalay Bay's poker room operates from 10am to 3am on weekdays, excluding Tuesdays when it remains closed.
Can you tell me which cash games are offered at the poker room in Mandalay Bay?
The primary form of gameplay is no-limit Texas hold'em with stakes of 1/2. It's possible that a game with higher stakes may be available during peak hours.
Does Mandalay Bay host any poker tournaments?
Wednesday through Monday, two tournaments are held each day.
What rate does Mandalay Bay offer for poker comps?
Players receive a payment of $2 per hour when they are logged in using an MGM Rewards card.
The most recent update occurred on September 1, 2023, as confirmed by William Stevens.