In 2012, a seismic shift occurred in the Nevada sportsbook scene as European bookmaker William Hill made its entrance. This game-changing move involved the acquisition and subsequent merger of three prominent sportsbook chains: Lucky's, Leroy's, and Cal Neva. With this strategic maneuver, William Hill swiftly ascended to the top, becoming the biggest player in the state in terms of sportsbook locations. Since then, they have further solidified their position by expanding their empire, currently operating over 100 sportsbooks not only in Las Vegas but also in various other regions of Nevada.
In 2020, William Hill was acquired by Caesars Entertainment, leading to an immediate rebranding of its sportsbooks as William Hill. However, the following year, the company made a significant move by transferring its mobile betting app and counter branding to the Caesars Sportsbook brand. It's important to note that the William Hill brand still maintains a presence in properties not owned by Caesars Entertainment.
In the vast expanse of Nevada, numerous sportsbooks proudly bear the name of William Hill, creating a formidable presence in the gambling realm of Las Vegas. Yet, the company's influence extends far beyond the bustling city, firmly establishing itself as a dominant force in the rural gaming market of Nevada. It is not uncommon to stumble upon William Hill kiosks nestled within cozy taverns and quaint small casinos scattered throughout the state, offering a convenient and accessible platform for avid bettors to indulge in their passion for sports and games of chance.
As a fresh-faced player stepping into the world of William Hill, I discovered an enticing offer that caught my attention. The renowned betting site is offering a risk-free bet of $50 with an additional $50 bonus awaiting those who dare to take the plunge. However, before reaping the benefits of this generous promotion, I had to familiarize myself with the wagering requirement, which happened to be equivalent to the bonus amount itself. To successfully unlock the full potential of this offer, I needed to meet the wagering requirement within a timeframe of 90 days starting from the moment of my initial deposit. It was a thrilling challenge that added an extra layer of excitement to my betting journey, and I eagerly embraced the opportunity to dive into the action, knowing that both risk and reward awaited me at William Hill.
Here in the United States, our company has embraced a European bookmaking approach, aiming to cater to the recreational customer base by providing a vast array of betting options. Our focus lies in offering an extensive betting menu that appeals to a wider audience. By adopting this European model, we strive to enhance the overall betting experience and provide our customers with a diverse range of choices. Our goal is to create a platform that caters to the needs and preferences of recreational bettors, ensuring maximum enjoyment and engagement. In doing so, we hope to establish ourselves as a leading player in the US market, distinguishing ourselves from traditional bookmakers and providing a unique and thrilling betting experience.
In recent times, William Hill has faced increased scrutiny due to numerous complaints from successful players who have experienced restrictions or bans. This issue gained attention when it was featured in a 2018 article published by ESPN.
Explore the diverse range of sports betting options available at William Hill.
With its extensive bookmaking team, William Hill stands out as the leading operator in Nevada when it comes to the variety of bets available. From professional sports like football, basketball, baseball, hockey, soccer, tennis, golf, MMA, UFC, and NASCAR, to college sports including football, basketball, baseball, hockey, and even women's basketball, the betting menu is unparalleled. Additionally, the app offers prop bets for different sports, easily accessible by selecting a specific game. Whether you're a fan of the major leagues or prefer the excitement of college athletics, William Hill ensures a wide range of markets to satisfy every sports bettor's preferences.
I have to say, when it comes to live betting, William Hill really stands out from the crowd. They have their own proprietary software, which means they can offer live betting on multiple games simultaneously. It's not like those other operators who only let you bet during commercial breaks. With William Hill, you can bet throughout the entire game, and let me tell you, the odds are always changing. It's exciting to see how they fluctuate in real time. But here's the thing you need to know: the bookmaking staff at William Hill always has access to a faster television feed than your standard cable providers. That means they could be up to a full play ahead of you when it comes to offering bets on the game live. It's just something to keep in mind while you're placing your bets.
Exciting William Hill competitions for sports betting
At present, William Hill manages three football competitions in which participants can engage. These contests include the Pro Pick'em contest, the College Pick'em contest, and the College Bowl Challenge. The Pro Pick'em contest demands that players select the winners of all 15 NFL matches without considering point spreads, on a weekly basis. To enter, individuals must pay a fee of $25, and the entry that correctly predicts the most winners per week will receive a cash prize of $10,000. Overall, a total of $300,000 in cash prizes is guaranteed for these competitions.
In this thrilling college contest, participants are challenged to select seven victorious teams against the spread on a weekly basis, choosing from a pool of 25 exhilarating games. To enter this exhilarating competition, one must pay a $500 entry fee, but the potential rewards are simply astounding, with a staggering $75,000 in guaranteed cash prizes up for grabs. On the other hand, the bowl challenge presents a unique opportunity to test one's prognostication skills throughout the exhilarating college bowl season. Here, participants are required to make a total of 20 picks against the spread, with the excitement building with each game. The entry fee for this gripping challenge is a mere $20, yet the potential for glory and fortune is immense, as $20,000 in guaranteed prize money awaits the most skilled participants.
Restrictions on wagering amounts for sports betting at William Hill
William Hill, unfortunately, falls short in the department of providing consistency with limits, an essential quality possessed by most esteemed sportsbooks. Unlike recreational players who can easily place bets of their desired amounts without any trouble, seasoned players encounter difficulties in getting their bets approved regularly, and in some cases, they may even be informed that their business is not desired at all. It is worth noting that William Hill is the sole remaining operator in Nevada that has the authority to accept or decline every bet above a certain threshold for each customer. As a result, shrewd players have become aware of this and recognize that their bets are rejected when it appears that they might hold an advantage over the house.
The betting application for sports by William Hill.
William Hill operates a separate application managed by Computerized Bookmaking Systems. Although the app offers superior functionality compared to many others in Nevada, the process of placing a bet can be time-consuming if the approval procedure is involved. To register, one must personally visit a full-service sportsbook site, present a legitimate driver's license, and complete a W9 document.
If you're looking for different methods to finance the William Hill app, there are a couple of options available. One way is to visit a local PT's Pub or Sierra Gold Tavern, where they have mobile sports deposit hotspots. These hotspots function as convenient locations where you can deposit funds into your app account. Another alternative is to go to one of their kiosks and make a deposit in person. Additionally, the app offers the PayNearMe feature, allowing you to deposit funds at a CVS or 7-Eleven store. With these various funding options, you have the flexibility to choose the method that suits you best.
The ambiance at the William Hill sportsbook is truly one-of-a-kind.
Among the numerous sportsbook operators in Nevada, William Hill stands out with its extensive network of over 100 locations. However, the ambiance in many of these establishments leaves much to be desired. Being an independent operator, their focus lies primarily on offering a platform for betting rather than creating an inviting casino environment. As a result, most of their locations either offer standing room only or have limited seating options, prompting customers to simply place their bets and seek out other venues to watch the games. Nonetheless, there are a handful of William Hill locations that boast a larger footprint and a more traditional sportsbook setting. Examples include Plaza, The STRAT, and M Resort, where enthusiasts can experience a more authentic atmosphere for their sports betting endeavors.
I am delighted to share that William Hill, a renowned gambling establishment, has entered into a partnership with three prominent downtown Las Vegas casinos. These esteemed venues include Binion's, Four Queens, and Plaza, which are all set to enhance their offerings by collaborating with William Hill. Moreover, the esteemed gambling company also operates its betting locations along the illustrious Las Vegas Strip, where patrons can indulge in their passion for gambling and entertainment. The Las Vegas Strip William Hill locations encompass a wide range of iconic venues such as Casino Royale, Circus Circus, Palazzo, Sahara, The Strat, and Venetian. By joining forces with these esteemed establishments, William Hill is poised to deliver a truly exceptional and thrilling experience to its discerning clientele.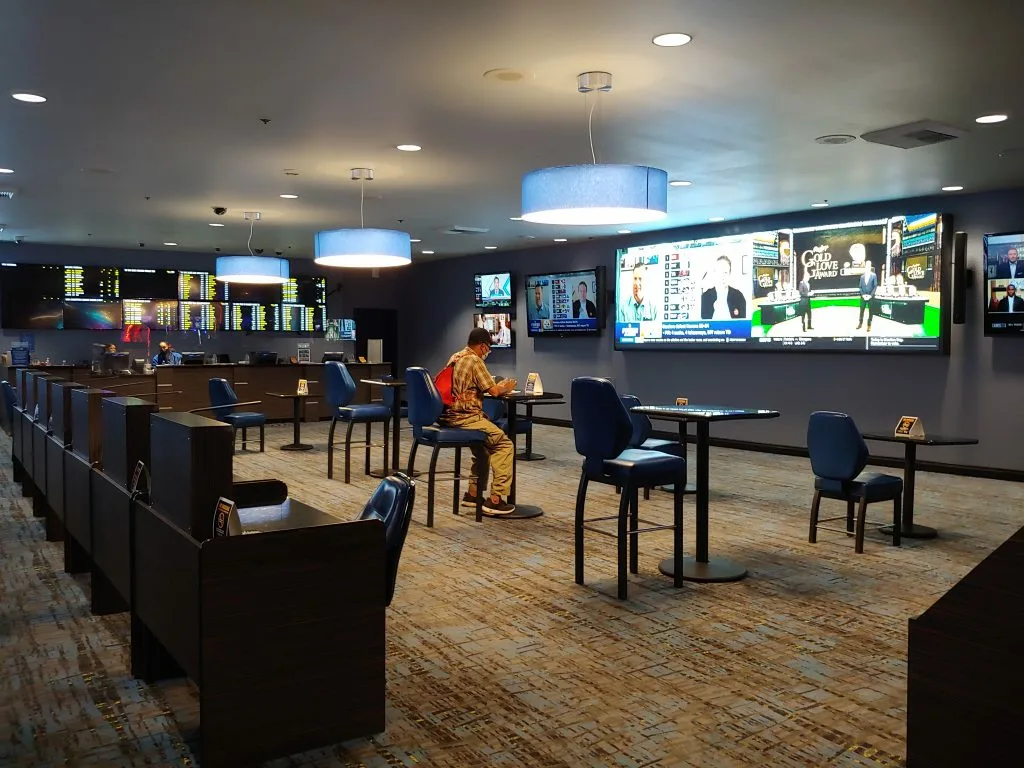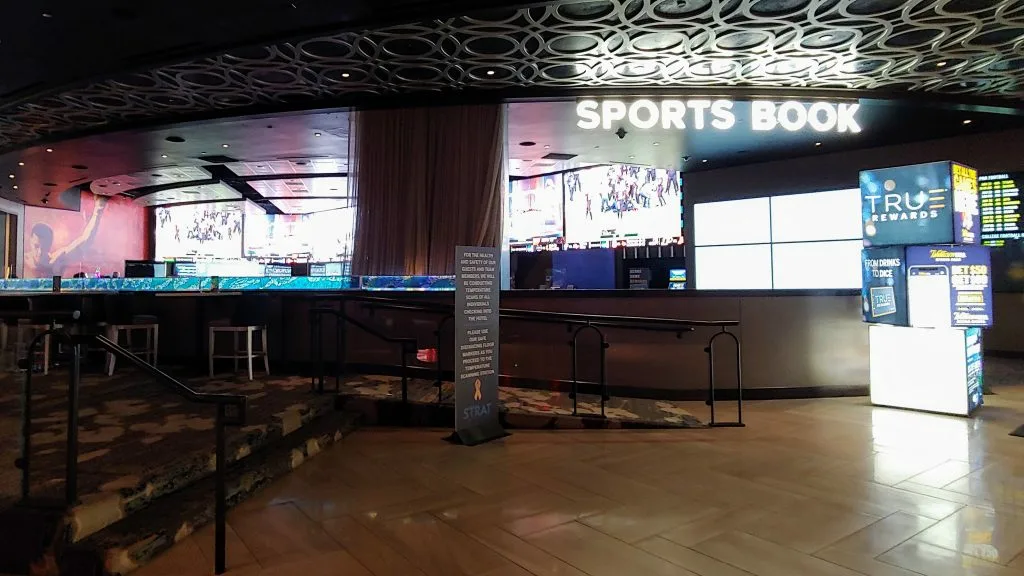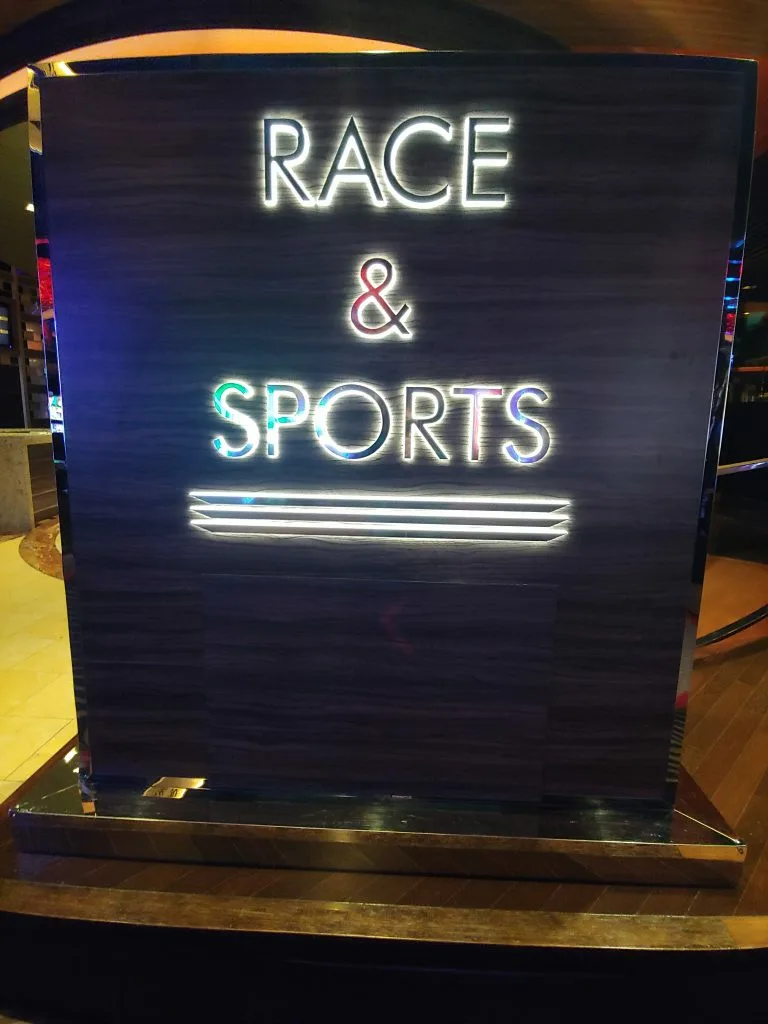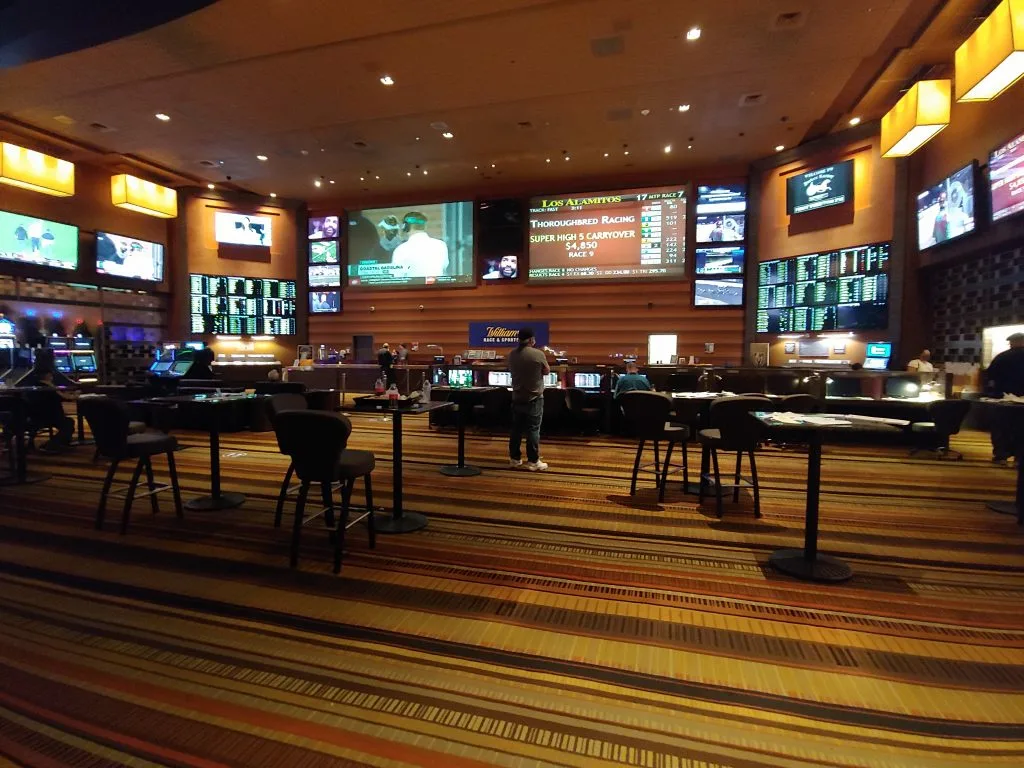 William Hill odds for combining multiple bets, such as parlays and teasers.
I'm here to help you! At William Hill, you'll find a wide range of options to spice up your betting experience. They offer parlays on the majority of straight bets and futures, but there are a few exceptions for markets that are correlated. If you're into football and basketball, you'll be pleased to know that William Hill allows teaser bets for both pro and college games. And that's not all! William Hill also provides parlay cards, teaser cards, reverse teaser cards, and progressive cards specifically tailored for pro and college football enthusiasts.
Below are the payout charts for teaser and parlay odds, as outlined in the William Hill house rules:
| Football Teaser Odds | 6 points | 6.5 points | 7 points |
| --- | --- | --- | --- |
| 2 teams | 20/23 | 20/25 | 10/14 |
| 3 teams | 8/5 | 29/20 | 26/20 |
| 4 teams | 52/20 | 44/20 | 2/1 |
| 5 teams | 4/1 | 7/2 | 3/1 |
| 6 teams | 6/1 | 5/1 | 9/2 |
| 7 teams | 8/1 | 7/1 | 6/1 |
| 8 teams | 10/1 | 9/1 | 8/1 |
| 9 teams | 15/1 | 12/1 | 10/1 |
| 10 teams | 20/1 | 15/1 | 12/1 |
| Basketball Teaser Odds | 4 points | 5 points | 6 points |
| --- | --- | --- | --- |
| 2 teams | 10/11 | 10/12 | 10/14 |
| 3 teams | 9/5 | 3/2 | 6/5 |
| 4 teams | 5/2 | 11/5 | 9/5 |
| 5 teams | 4/1 | 7/2 | 3/1 |
| 6 teams | 6/1 | 5/1 | 9/2 |
| 7 teams | 8/1 | 7/1 | 6/1 |
| 8 teams | 10/1 | 9/1 | 8/1 |
| Football Special Teaser | 10 points | 14 points |
| --- | --- | --- |
| 3 teams | 5/6 |   |
| 4 teams |   | 1/2 |
| Unconventional Parlays Beyond Traditional Betting | Payout |
| --- | --- |
| 2 teams | 13/5 |
| 3 teams | 6/1 |
| 4 teams | 11/1 |
| 5 teams | 22/1 |
| 6 teams | 45/1 |
| 7 teams | 90/1 |
| 8 teams | 180/1 |
| 9 teams | 360/1 |
| 10 teams | 720/1 |
Horse racing
At William Hill, horse racing enthusiasts can enjoy the thrill of the sport both on their app and at our retail sportsbooks. Our offerings extend beyond simply placing wagers on the races; we also provide off-track betting opportunities that are available daily. Whether you're a seasoned bettor or a casual observer, our platform caters to all levels of interest and expertise. And when it comes to major events in the horse racing calendar, such as the iconic Kentucky Derby, the prestigious Preakness Stakes, the thrilling Belmont Stakes, and the highly-anticipated Breeders' Cup, we ensure that they are all included in our comprehensive betting options. So, whether it's the excitement of live races or the allure of betting on prestigious events, William Hill has you covered.
There are 25 William Hill racebooks in Nevada that offer pari-mutuel wagering, while the rest of their 100 locations focus on booking fixed odds bets on races. If you're looking specifically for the 25 William Hill racebooks that provide pari-mutuel wagering, you can find them here.
The information provided was last updated on August 1, 2023 and it was verified by William Stevens.