Las Vegas casinos offer a plethora of poker table games, and among them, Ultimate Texas Hold'em stands out as a favorite among players. Whether you're at a large casino or a smaller one, chances are you'll find this thrilling game being dealt. The betting limits for Ultimate Texas Hold'em usually begin at $5 or $10, providing a range suitable for different types of players and budgets. However, to fully immerse yourself in this exciting game, it is recommended to have a bankroll that is at least three times, and ideally six times, the minimum bet. By having this cushion, you can make strategic moves without feeling too constrained by your chip stack. So, if you're ready to put your poker skills to the test and experience the thrill of Ultimate Texas Hold'em, head to the casino and make sure you're well-prepared to maximize your chances of success.
The funding for Bet-NV.com comes from its members, sponsors, and advertisements. Remember, if you or someone you are acquainted with is facing issues with gambling, reach out to 1-800-GAMBLER.
Supporting Bet-NV.com is as easy as signing up for a monthly or quarterly membership to gain access to our Las Vegas Blackjack and Table Game Survey, which is exclusively available through our subscription service. With frequent updates, we consistently provide you with the most recent data collected from our casino visits. Starting as low as $3 per month, our memberships offer incredible value for anyone seeking an advantage in the vibrant Las Vegas gaming scene.
You can now access Bet-NV.com subscriptions conveniently on both Gumroad and Patreon, offering you the same valuable information on both platforms.

If you or someone you are familiar with is dealing with a gambling issue, reach out to 1-800-GAMBLER for assistance.
Under our terms of use, publishers of other websites are allowed to utilize our data within reasonable boundaries, but they must include a backlink to Bet-NV.com.
Discover the best Las Vegas casinos that offer the thrilling game of Ultimate Texas Hold'em.
Ultimate Texas Hold'em, a popular casino game, can be found in a staggering 50 Las Vegas casinos. To get in on the action, all you need is a minimum bet of $5, making it accessible to players with varying bankrolls. Whether you're strolling down the famous Strip, exploring the vibrant downtown area, or enjoying the cozy atmosphere of local casinos, you'll find this exciting game available at that price point. And if you're willing to up the ante a bit, the $10 tables are even more abundant, providing ample opportunities to test your poker skills. However, if you fancy a more upscale experience, some of the luxurious resorts may require a slightly higher minimum bet of $15 or $25 during quieter hours. So, whether you're a seasoned player or a poker novice, there's a seat waiting for you at the Ultimate Texas Hold'em tables in Las Vegas.
These are the restrictions we discovered during our 2023 Las Vegas Table Games Survey, specifically for this summer. It is important to note that the minimum wager might be increased during periods of high demand.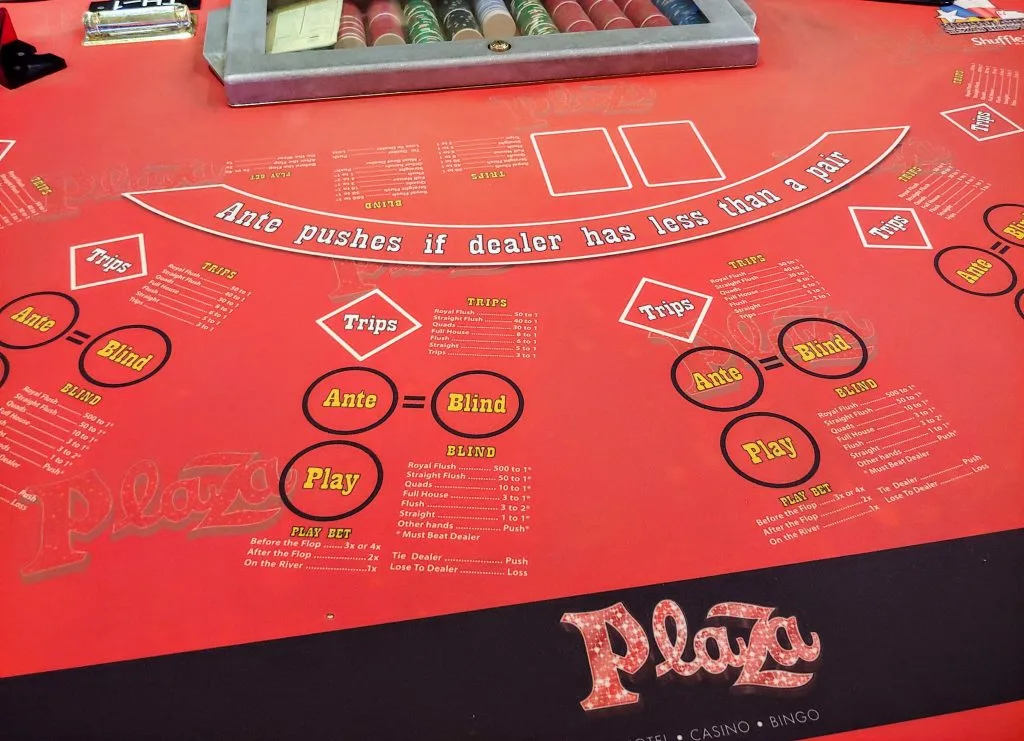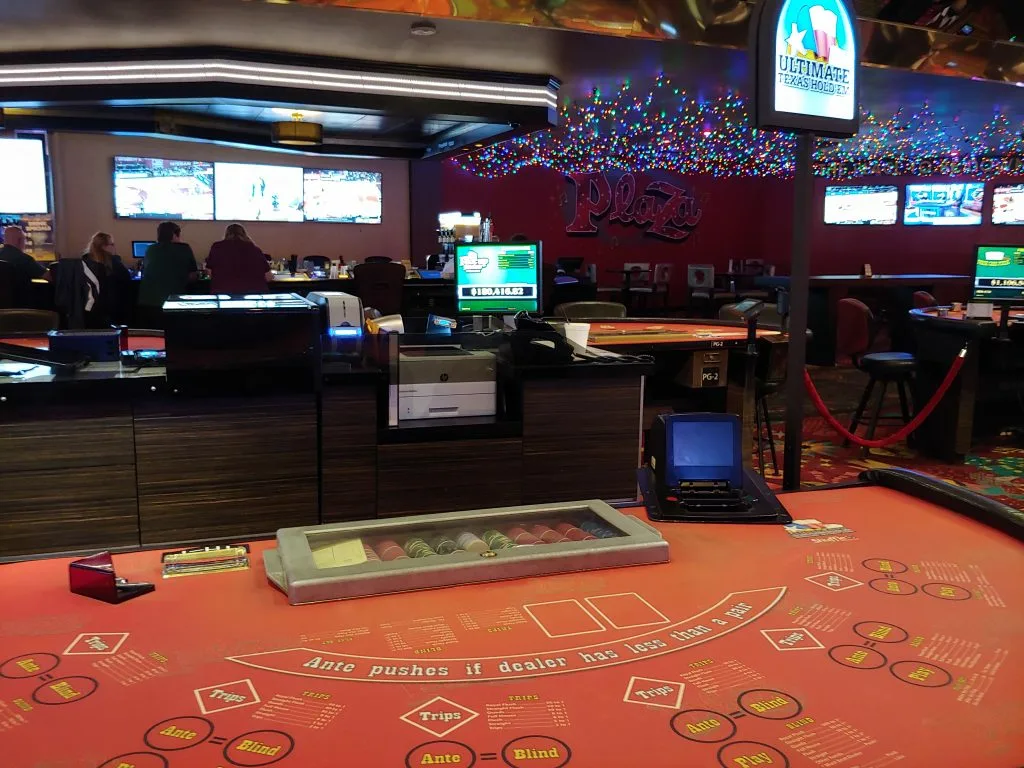 The required stake for Las Vegas Ultimate Texas Hold'em is at its lowest point.
$5 minimum
Cromwell
Downtown Grand
Gold Coast
Golden Nugget
Orleans
Rio
Santa Fe Station
Silverton
South Point
Sunset Station
$10 minimum
Aliante
Boulder Station
Circus Circus
El Cortez
Excalibur
Flamingo
Golden Gate
Green Valley Ranch
Harrah's
Horseshoe
Linq
Luxor
New York-New York
Palace Station
Palms
Paris
Planet Hollywood
Plaza
Rampart
Red Rock
Sam's Town
Silver Sevens
Suncoast
The D
Westgate
$15 minimum
Bellagio
Circa
Cosmopolitan
MGM Grand
Mirage
Park MGM
Resorts World
Treasure Island
Venetian
$25 minimum
Aria
Caesars Palace
Encore
Mandalay Bay
Palazzo
Wynn
The ultimate version of Texas Hold'em, captured on video in the mesmerizing city of Las Vegas.
Cosmopolitan features a $5 Ultimate Texas Hold'em machine video game, conveniently located amidst the craps tables and the sportsbook area.
Tips for mastering the game of Ultimate Texas Hold'em
In the exciting game of Ultimate Texas Hold'em, the action commences when players place both a blind and an ante bet. For those seeking an extra thrill, there is also the opportunity to make a Trips bonus side bet. This particular wager is entirely optional and can be made in conjunction with the blind and ante bet. However, it also stands alone as a separate bet for those who prefer to keep things simple and not concern themselves with intricate strategies.
When the bets are set, two cards are dealt to each player, including the dealer, all face-down. At this point, I have to decide between two options. One option is to check, while the other is to raise the ante by four times. It's worth noting that there's also the possibility of raising three times before the flop, but according to basic strategy, it's never the right move.
When it comes to playing poker, there's a specific order of actions that players must follow. First, those who wish to place bets before the flop will position their cards either in front of or beneath their chips. Once this action is taken, their involvement in the current hand comes to an end. Now, let's talk about the players who opted to check before the flop. They have two choices: either they can bet twice the amount of the ante or they can choose to check once again. In the case of a player who decides to bet, they will put their cards in front of them. On the other hand, the players who choose to check now have another important decision to make, and this comes after the turn and river cards are revealed. At this point, these players are faced with two options: they can either match the ante or they can fold their hand altogether.
The ante and blind bets are relinquished by a fold, while side bets persist and have the potential to win if the five cards in the center form a qualifying hand.
Now it's time for the big reveal: the dealer's cards are finally unveiled. We eagerly wait to see if the dealer has managed to secure at least a pair of twos, as this is the threshold for the house to qualify. It's worth noting that even if the pair is on the board, it still counts towards the dealer's qualification. However, if the dealer falls short and doesn't have at least a pair, then unfortunately, their hand fails to meet the qualifying criteria.
When the dealer fails to qualify, I've noticed that the antes that are still in play tend to push. If the player's hand surpasses the dealer's hand, any raises placed are evenly matched. In the event that the dealer emerges victorious, the house claims the player's raise. As for ties, they result in a push.
When the dealer forms a pair, that's when their hand becomes eligible. The raise is placed alongside the ante. If the dealer triumphs over the player, both the ante and the blind bets are lost. Conversely, if the player prevails over the dealer, they secure both the ante and the blind bets. In the event of a tie, it results in a push, neither winning nor losing.
When the house wins the hand, it's the blind who suffers the loss, missing out on potential winnings. Most wins only end up breaking even for them. However, there is a silver lining when it comes to hands that are a straight or better, as they come with a bonus. The payout for these hands is determined by multiplying it with the amount wagered, following the list provided below.
Royal flush: 500

Straight flush: 50

A rare hand in poker: 10

Full house: 1.5

Straight: 1
Frequently Asked Questions (FAQ) about Ultimate Texas Hold'em in Las Vegas
What is the lowest minimum bet for Ultimate Texas Hold'em in Las Vegas?
It is available for purchase for $5 at ten different Las Vegas casinos, a few of which are located on the famous Strip.
How many Las Vegas casinos deal Ultimate Texas Hold'em?
In Las Vegas, you can find a whopping 50 casinos that offer this particular game.
Are there royal progressive jackpots at Las Vegas Ultimate Texas Hold'em tables?
Indeed, the progressive jackpot meter is frequently shared among all properties in the organization.
Does Jerry's Nugget still deal $2 Ultimate Texas Hold'em? 
Negative. The previous game was substituted with Heads Up Hold'em, featuring a minimum wager of $3.
Are there any video Ultimate Texas Hold'em machines in Las Vegas?
Indeed, the sportsbook at Cosmopolitan offers an exclusive $5 video Ultimate Texas Hold'em machine.
The most recent update was made on August 28, 2023, by William Stevens.