Since Aria in 2009, there hasn't been a new Las Vegas casino property opening with a poker room until Resorts World, which just debuted on June 24, 2021.
The Resorts World poker room, with its 30 tables, presents an inviting atmosphere for poker enthusiasts. Offering round-the-clock action, this poker room never sleeps, catering to players seven days a week. Each table provides ample seating, with a total of eight seats for players to engage in thrilling gameplay. Whether you prefer cash games or tournaments, the poker room at Resorts World has you covered. In our comprehensive review of the Resorts World poker room, we delve into all the essential details that players need to know before taking their seats at the felt.
Every poker room in Las Vegas
Cash games offered at Resorts World
The cash game that takes center stage at Resorts World is Texas hold'em, and it's played with no limits. The blinds for this game are 1/3, and players can buy-in for anywhere between $100 and $400. If you're looking for a slightly higher stakes game, you can try the 2/5 blind, where the buy-in ranges from $200 to $1,200. And for those who really want to up the ante, there's the 5/10 blind, with a buy-in from $500 to $3,000. During busier hours, you might also find a game of pot limit Omaha being played. If you're more comfortable with smaller buy-ins, there's the 1/2 blind game, where you can buy-in for $200 to $1,000. And if you're feeling a bit more confident, you can opt for the 2/5 game, where the buy-in is between $300 and $2,000.
Resorts World poker room offers a variety of mixed games for players to enjoy their time. Additionally, they host special game days and nights to add excitement to the overall experience. If you're looking for live cash games, PokerAtlas is the place to go, as Resorts World can't be found on Bravo Poker.
Competitions for poker at Resorts World
I'd like to tell you about the daily no limit hold'em tournaments hosted by Resorts World. Every day, they offer two exciting tournaments for poker enthusiasts like me. One tournament takes place at noon, while the other one starts at 7pm, allowing players to choose the time that suits them best. What's interesting is that the buy-in for these tournaments differs depending on the time slot. For the day tournament, the buy-in is set at $200, whereas for the night tournament, it's slightly lower at $160. Regardless of the time you choose, both tournaments guarantee an impressive prize pool of $3,000. Once you're in the game, you'll receive a generous starting stack of 20,000 chips, giving you a solid foundation to strategize and make your moves. As for the blinds, they initially start at 100/100, ensuring an engaging and competitive environment right from the beginning. To keep things exciting, the levels increase every 20 minutes, adding a sense of urgency and challenge to the gameplay. If you're worried about running late, don't fret! The late registration period remains open through the first six levels, giving you ample time to join the action. It's also worth noting that these tournaments do not allow re-buys or re-entries, making each player's initial buy-in all the more significant. So, if you're a poker enthusiast looking for thrilling tournaments with great prize pools, Resorts World's daily no limit hold'em tournaments are definitely worth checking out!
Exclusive poker promotions at Resorts World
When players participate in a cash game, they have the opportunity to clock in using a card. This card allows them to receive compensation in the form of $1.50 per hour. The amount earned is added directly to the card, which can then be used for various purposes within the Resorts World property.
The hotel offers a special rate for poker players, granting a generous discount of 30% from Sunday to Thursday, and a slightly smaller discount of 20% on Fridays and Saturdays. Unfortunately, there are no other promotions available at this time, as the hotel does not have a jackpot drop.
Environment
Located on the Hilton Tower side of the building, the poker room at Resorts World is a refreshing departure from the typical casino floor setting. Unlike other poker rooms in town, which are just a stone's throw away from the smoky casino, this one exudes a more sophisticated and formal ambiance. Boasting state-of-the-art facilities and stylish yet cozy seating, this new poker room has all the modern amenities one could ask for.
Upon entering from the parking deck, guests will have the opportunity to explore the poker room before venturing further into the vibrant casino floor. For those who choose to arrive through the casino entrance, their journey will lead them past the bustling casino, where they can cast a glance to the right and take in the sights.
Resorts World rake
In mixed and fixed limit games, we collect a 5% rake on the total pot, up to a maximum of $4. However, for other games, the rake is capped at $5. Now, when it comes to 1/3 no limit games, the rake increases to 10%. As for the different limit games, we have varying rake amounts. At the $10 limit, the rake is set at $1, while at the $30, $50, $80, and $120 limits, it remains at $1 as well.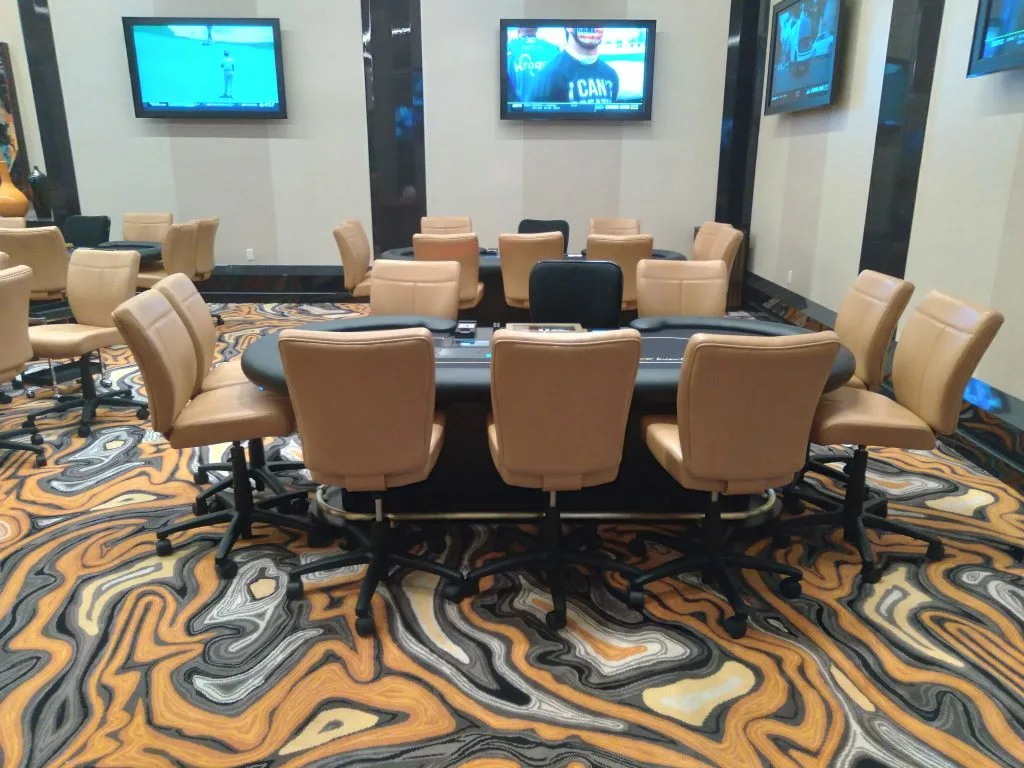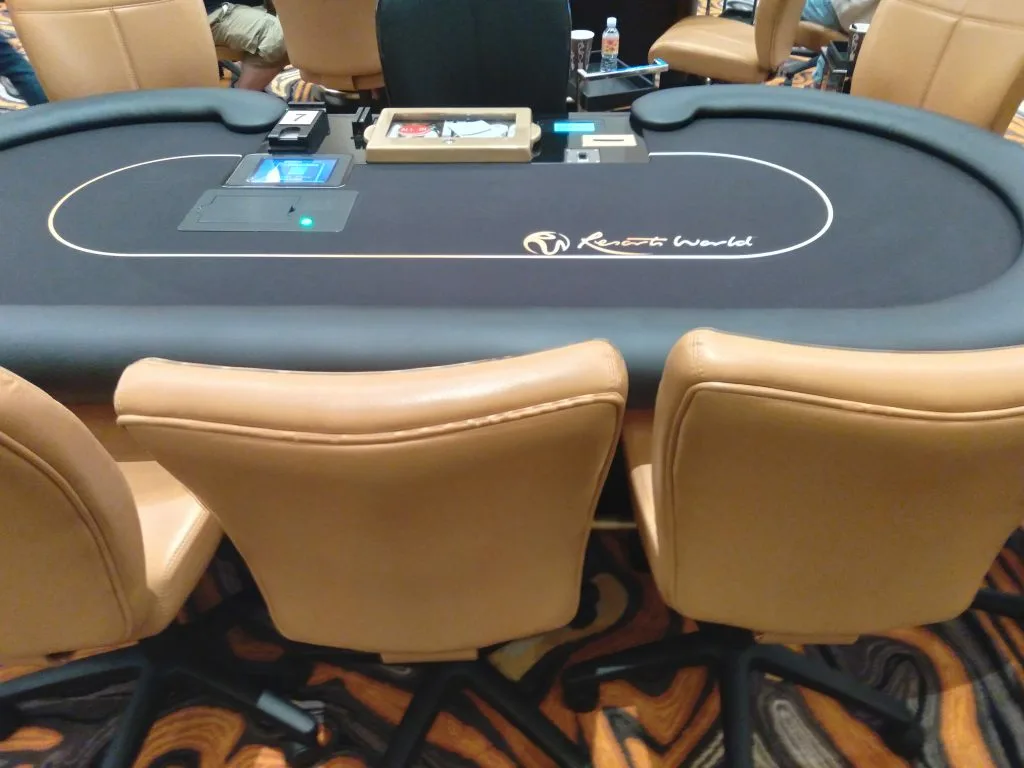 Frequently Asked Questions about the poker room at Resorts World
Does the poker room at Resorts World operate round the clock?
Certainly. The access is available around the clock.
What types of cash games are available at the poker room in Resorts World?
Resorts World features a variety of poker options including 1/3 and 2/5 no limit Texas Hold'em cash games, alongside occasional mixed games and pot limit Omaha.
What is the seating capacity of poker tables at Resorts World?
Both cash games and tournaments have a seating capacity of eight individuals per table.
Do poker tournaments take place at Resorts World?
The daily schedule includes a no-limit hold'em tournament taking place both at noon and 7pm.
What is the comp rate for poker at Resorts World?
Resorts World cardholders can earn $1.50 per hour while clocked in.
As of September 1, 2023, William Stevens provides the most recent update.