Located at 3950 S Las Vegas Blvd in Las Vegas, Nevada, you can reach the Mandalay Bay Resort by dialing 877-632-7800.
Situated at the southern tip of the renowned Las Vegas Strip, Mandalay Bay exudes an inviting ambiance inspired by the tropical paradise of the South Seas. Stepping foot into the casino, one is immediately captivated by a wide array of gaming options, including traditional table games, state-of-the-art electronic tables, an extensive selection of slots, thrilling video poker machines, and a sophisticated live poker room that caters to both seasoned players and novices. For sports enthusiasts, the BetMGM Sportsbook offers an exhilarating space to indulge in the excitement of sports betting. Beyond the casino, the property boasts an impressive range of amenities to enhance guests' experiences. Numerous restaurants cater to various culinary preferences, ensuring that every palate is delighted. Spectacular shows and entertainment events captivate audiences with their electrifying performances, while diverse shopping options provide an opportunity for indulgence and discovery. To beat the heat and bask in the sun, Mandalay Bay offers multiple pools, perfect for relaxation and enjoyment. Moreover, the property features two prestigious hotels, the Four Seasons and Delano, providing guests with unparalleled comfort and luxury during their stay.
A tram system is available at Mandalay Bay to conveniently transport visitors to Luxor and Excalibur. Additionally, interconnected interior walkways provide seamless access between these three esteemed MGM Resort properties.
Additional Casinos on the Las Vegas Strip
Bet-NV.com receives backing from memberships, sponsors, and advertisements, ensuring its continued operation. In the event that you or a person you are familiar with struggles with gambling, please reach out to 1-800-GAMBLER for assistance.
---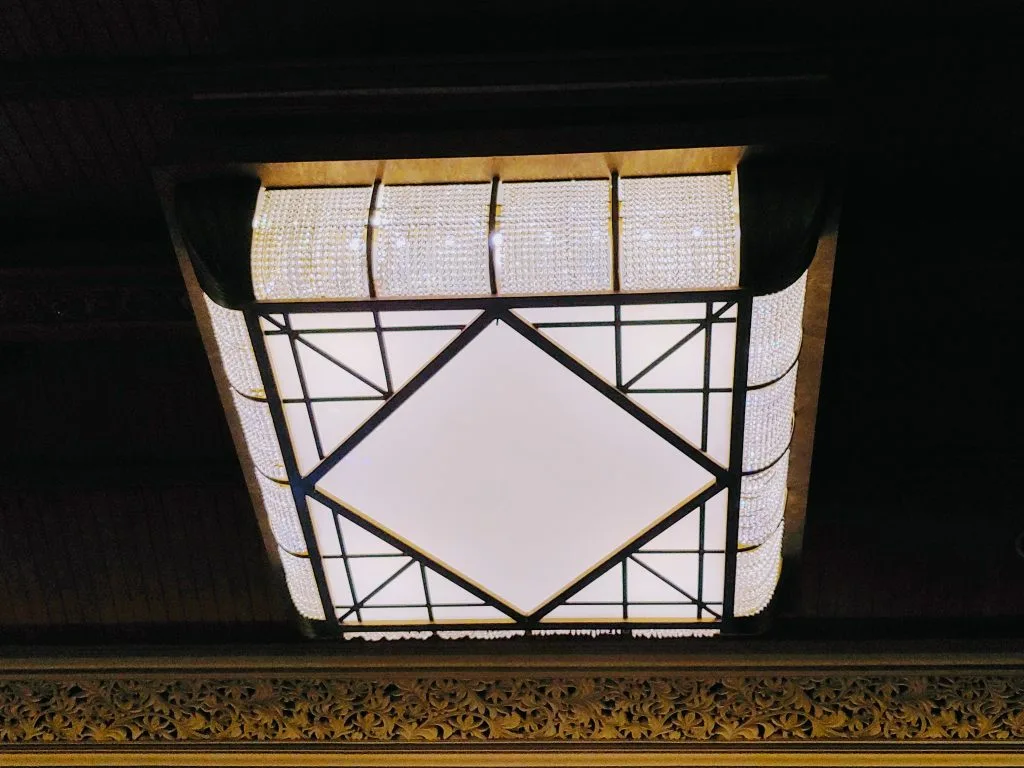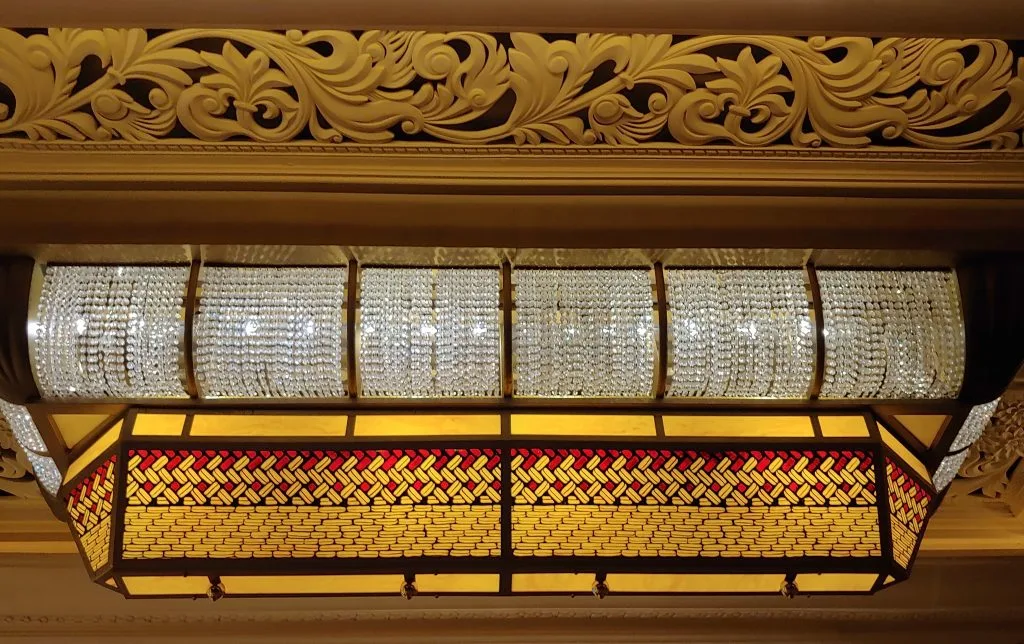 Mandalay Bay casino
At Mandalay Bay, you'll discover an array of opportunities for entertainment and excitement. With over 1,200 slot and video poker machines, as well as a variety of electronic and live table games, there's something for everyone. If you're a poker enthusiast, you can test your skills in our dedicated poker room. And for sports lovers, our BetMGM Sportsbook is the ultimate destination. Equipped with 17 large-screen TVs and a comfortable seating area, you can catch all the thrilling sports action in style. We even have separate seating areas with individual TVs for avid racing fans, ensuring that everyone has their own personalized viewing experience.
At Mandalay Bay, you can conveniently create your online BetMGM account by visiting their casino. To comply with Nevada regulations, it's necessary to complete the account creation process in person at a sportsbook. Once you've successfully set up your account, you'll have the option to make cash transactions right here at Mandalay Bay. This streamlined process ensures that your mobile betting experience is secure and compliant with local laws. So, head over to Mandalay Bay and take advantage of their convenient services for online sports betting.
Similar to other MGM Resorts establishments, Mandalay Bay makes use of the MGM Rewards players club. Devoted players are granted benefits such as complimentary parking, slot credits, meals, and accommodations.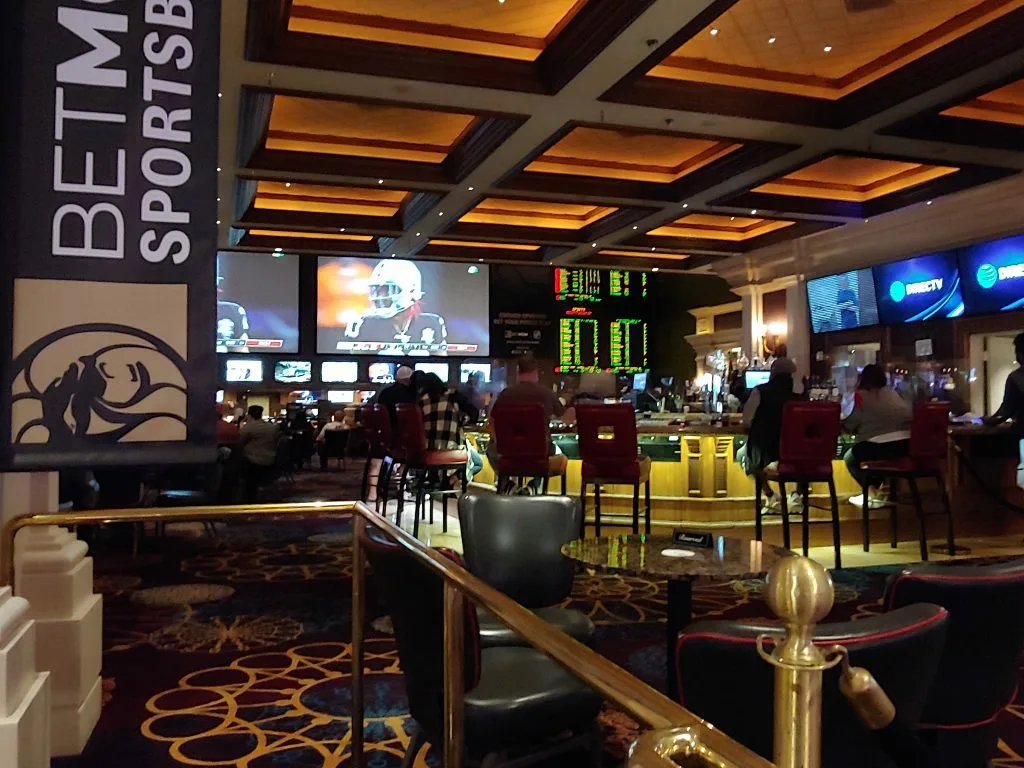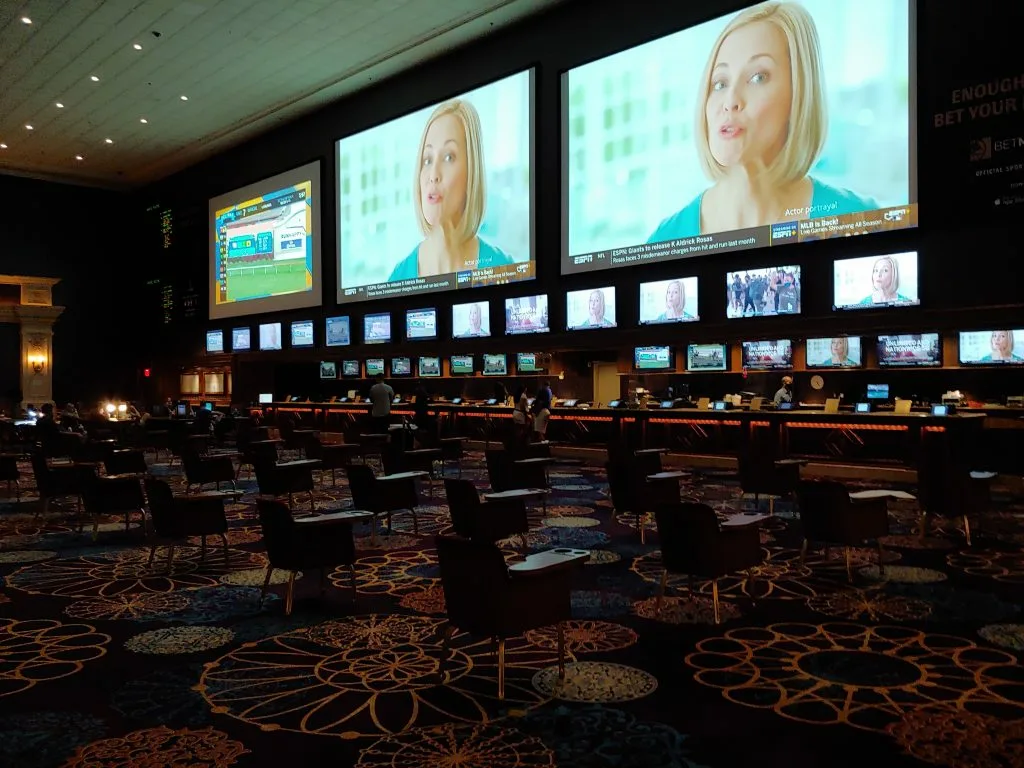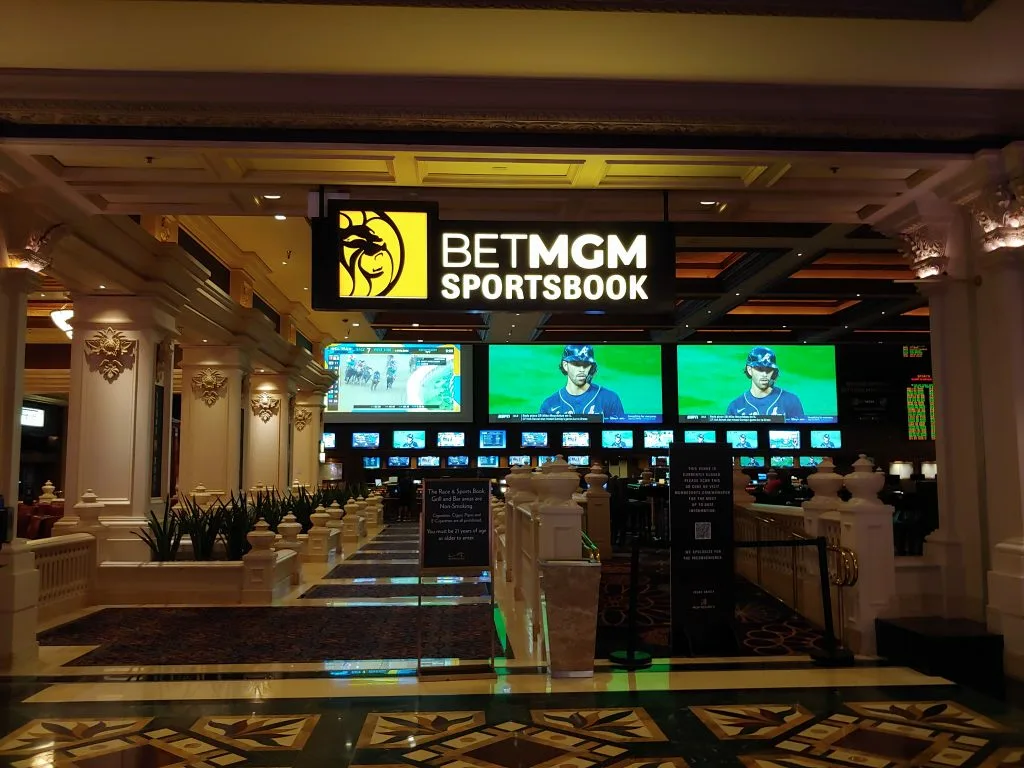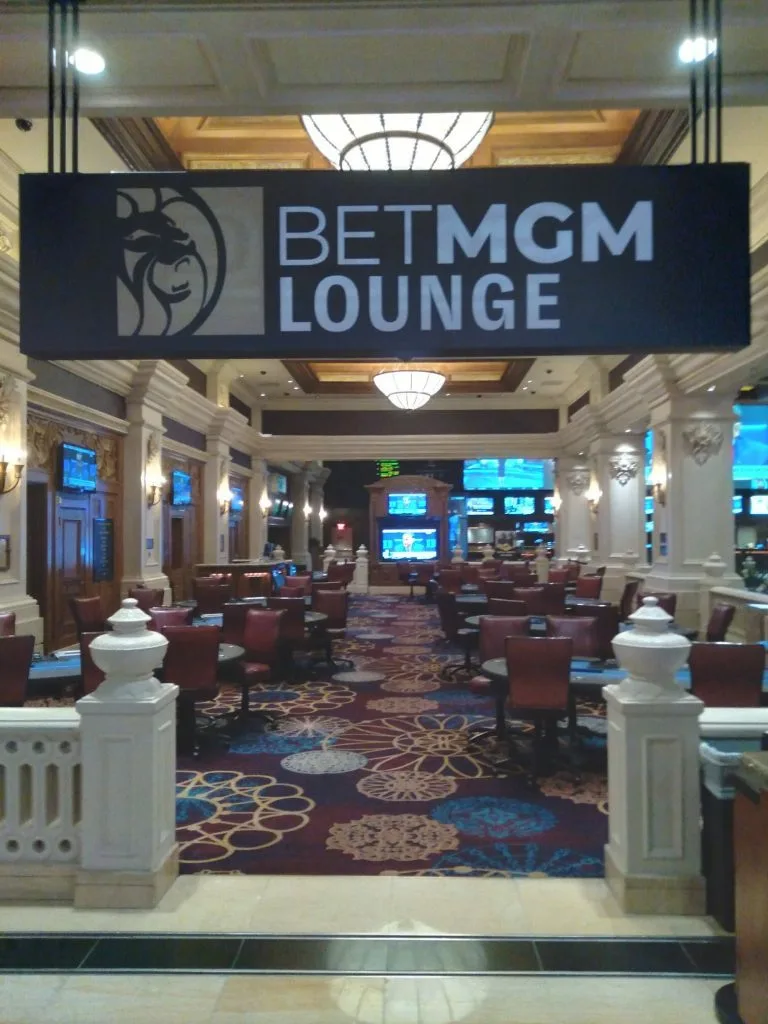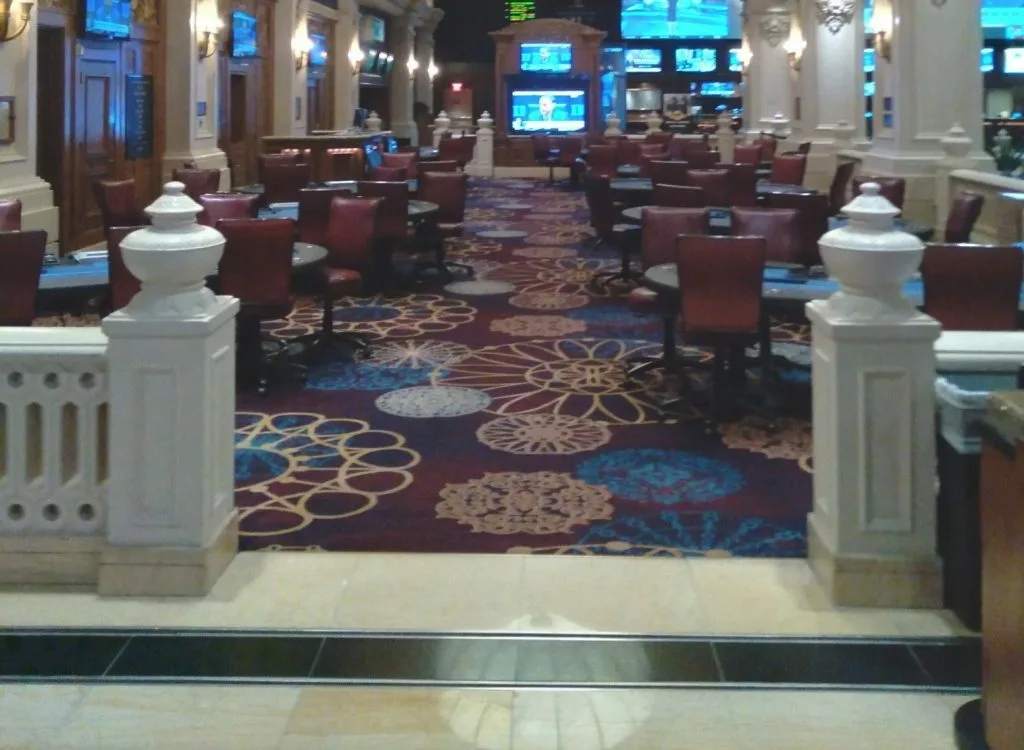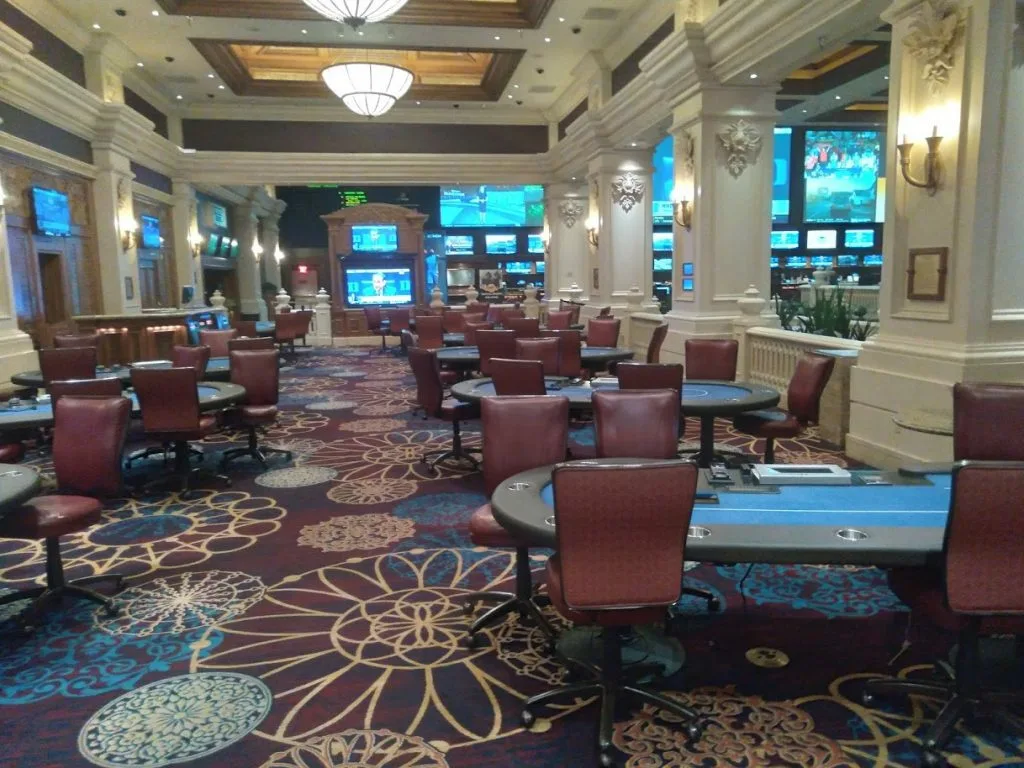 Table games
Mandalay Bay, a renowned establishment, offers an array of enticing table games that are sure to captivate any gambling enthusiast. The options available are diverse, ranging from the classic favorites of baccarat and blackjack to the exhilarating thrills of craps and roulette. As I peruse the poker pit section, it becomes apparent that there are numerous games to choose from, each one tempting me to test my luck and skill. However, it is worth noting that minimum bets at Mandalay Bay tend to be slightly higher compared to those found at neighboring casinos. Therefore, one should expect to wager at least $25 to partake in the excitement and revelry that this esteemed establishment has to offer, regardless of the time of day.
I love visiting Mandalay Bay because of the variety of casino games they offer. One of my favorites is craps, and they have both regular craps and crapless craps available. The odds for both games are fantastic at 3-4-5 times. It's always exciting to place bets and roll the dice, especially knowing that the field pays triple if you hit a 12. In addition to craps, I enjoy playing blackjack, and Mandalay Bay has some great tables for that too. They offer 3/2 blackjack on the casino floor as well as in the salon. However, it's important to note that these tables are not open 24 hours, so plan your gaming sessions accordingly.
On the casino floor, the dealer hits soft 17, making it a prime spot for six-deck blackjack enthusiasts. This version of the game offers a range of advantageous options, including the ability to double down before and after splitting, surrender, and even re-split aces. For those seeking a more elevated experience, the high limit area presents double-deck and six-deck tables where the dealer stands on soft 17.
When you step into Mandalay Bay, you'll find a range of roulette options to choose from. First off, there are three types of roulette games available here. If you're a high roller, the high limit room is where you'll want to head to. In this exclusive area, you'll find European Roulette waiting for you. Unlike the regular roulette tables on the casino floor, European Roulette follows the single zero format and offers some additional betting options. One of the unique features of European Roulette is the "la partage" rule. This means that if the ball lands on zero, all even money bets, such as red and black, only lose half of your wager. However, if you're playing at the regular roulette tables on the main floor, you'll encounter a different setup. These tables operate with the double or triple zero format and do not offer the "la partage" rule.
For just $3 per month, you can also gain access to the exclusive Bet-NV.com table game surveys and much more! As a member of the Casino Club, Total Access Club, or Bet-NV.com Super Fan, you'll enjoy even more comprehensive insights into table games at various casino properties. Don't miss out on this incredible opportunity to enhance your gaming experience and stay informed about the latest trends in the industry. Join us today and unlock a world of valuable information at your fingertips.
You can now access Bet-NV.com subscriptions on both Gumroad and Patreon, offering the same valuable information on each platform.

In case you or someone you are acquainted with is confronting a gambling addiction, reach out to 1-800-GAMBLER for assistance.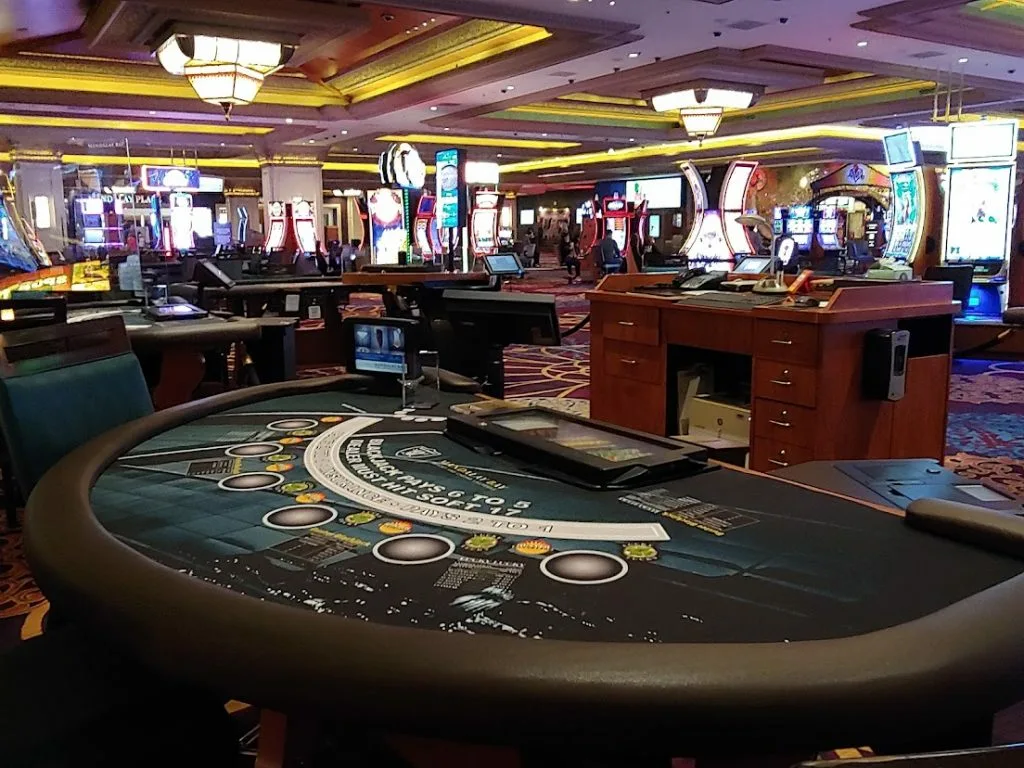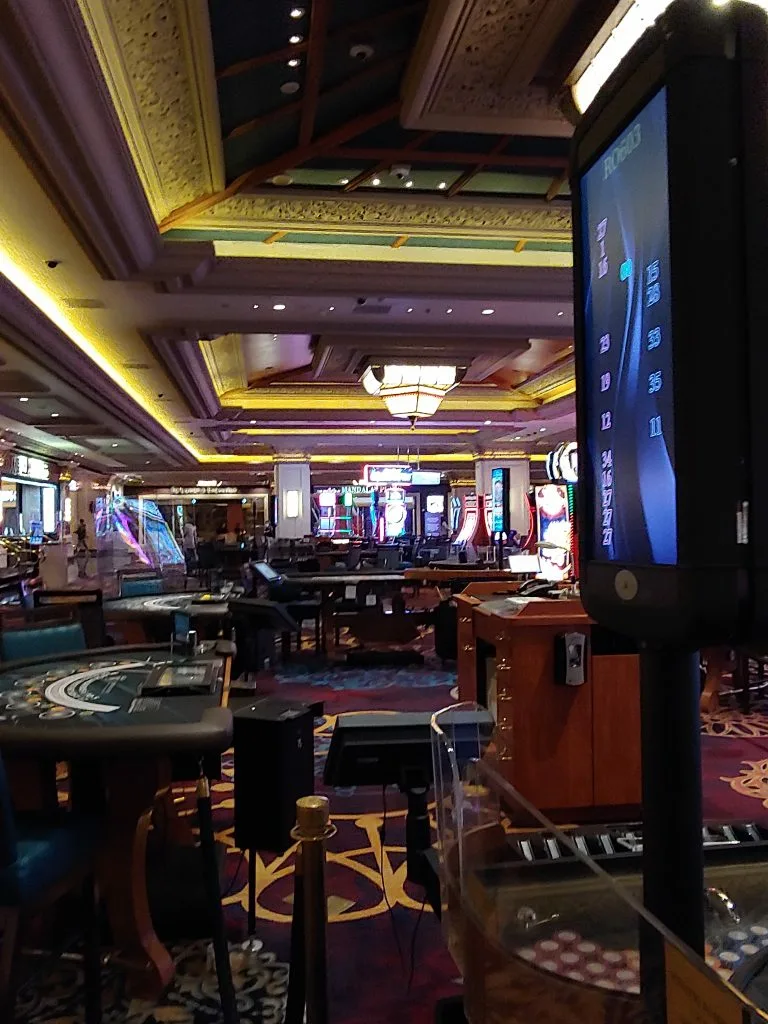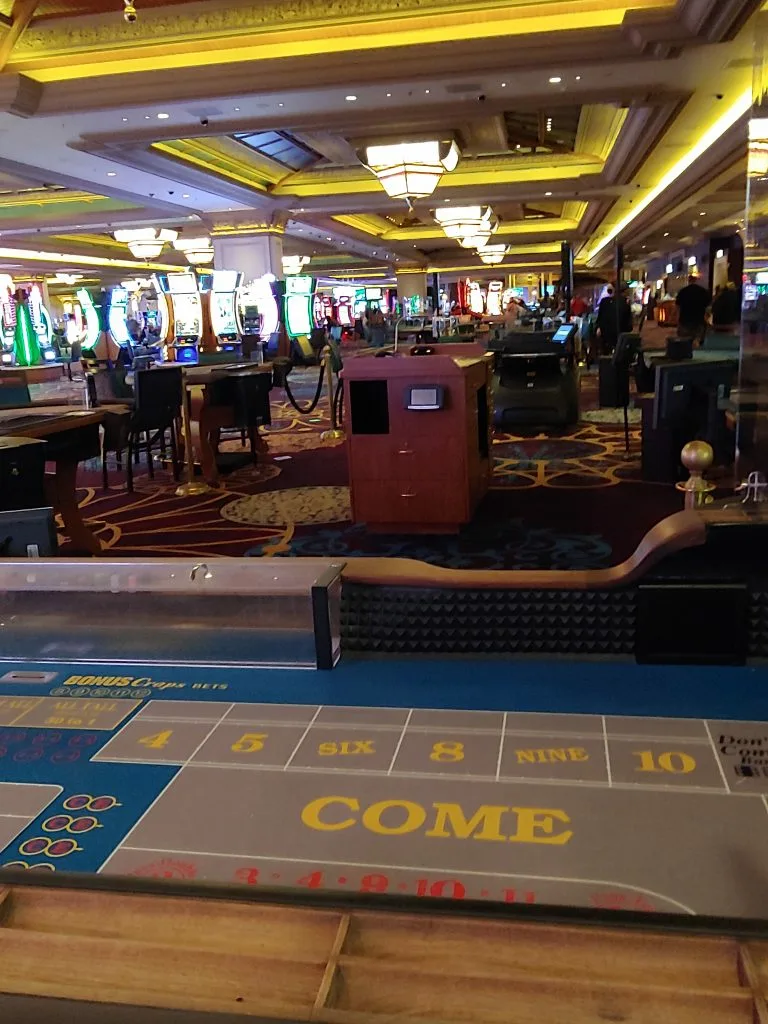 Poker room
From noon to 3am, Mandalay Bay deals live poker games Wednesday through Monday, offering both cash games and tournaments in the popular variant of no limit hold'em. However, it's worth noting that Tuesdays are an exception, as the poker room remains dark during that day. For further details and a comprehensive review of the Mandalay Bay poker room, we invite you to explore our informative resource.
Experience the best in entertainment at Mandalay Bay.
Mandalay Bay offers a plethora of entertainment choices, catering to diverse interests. You can explore their permanent exhibits like the captivating Shark Reef Aquarium, which showcases a fascinating array of marine life. For those seeking a mesmerizing live performance, Mandalay Bay presents residency shows like the awe-inspiring Michael Jackson ONE by Cirque du Soleil. Additionally, the resort hosts captivating single-day events that offer a fresh and exciting experience for visitors. Be sure to check out the renowned Michelob ULTRA Arena, boasting a seating capacity of 12,000. This impressive venue not only sets the stage for exhilarating concerts and events but also serves as the home arena for the esteemed Las Vegas Aces basketball team. Whether you're looking to immerse yourself in a world of aquatic wonders, witness extraordinary acrobatics, or cheer on your favorite athletes, Mandalay Bay has something for everyone.
The House of Blues hosts a variety of intimate performances that create a unique experience for the audience. Among these shows, there will be An Intimate Evening with SANTANA on select dates in September and November, providing an opportunity for fans to get up close and personal with the legendary musician. Fans of Erika Jayne can catch her performances in August, September, and December, where she will bring her energetic and captivating stage presence to the House of Blues. Additionally, Lucha VaVOOM, a thrilling combination of Mexican wrestling and burlesque, will be performing on October 27-28, promising an unforgettable and exhilarating night for those in attendance.
Indulge in exquisite cuisine and refreshing beverages at Mandalay Bay.
At Mandalay Bay, you'll find a wide variety of dining options to suit every taste and budget. Whether you're looking for a quick bite or a luxurious dining experience, this resort has got you covered. There are approximately 30 restaurants to choose from, and what's great is that many of them are conveniently situated just steps away from the bustling casino floor. If you're in the mood for some retail therapy while indulging in delicious food, you can also head over to the Shoppes at Mandalay Place or explore the dining options available at the Four Seasons.
3940 Coffee and Tea – Relaxed. Grab a cup of coffee and enjoy a quick snack.
BBQ Mexicana – Casual. Mexican cuisine.
Beach Bar & Grill – Casual. Poolside dining.
Border Grill – Casual. Mexican cuisine.
Citizens Kitchen & Bar – Casual. Comfort food.
Della's Kitchen - Laid-back. "A blending of rustic charm and contemporary cuisine in a historic farmhouse setting."
Flanker Kitchen + Sports – Casual. Sports Bar. ( coming June 10, 2023)
Fleur – Dress code for the resort is relaxed and informal, ideal for indulging in delectable options like steak, pasta, and seafood.
Foundation Room – Relaxed office attire. Diverse global flavors.
Hazel Coffee & Cocktails - Informal. Enjoy a relaxed atmosphere with a variety of options for coffee, breakfast, and lunch.
The Restaurant & Bar at the House of Blues – Casual. American cuisine.
Hussong's Cantina – Casual. Mexican cuisine.
KUMI – A blend of Japanese and Korean American influences in a relaxed resort-style setting.
Libertine Social – Casual. American gastropub.
Discover the culinary masterpiece Lupo, crafted by the acclaimed chef Wolfgang Puck. - Casual attire is suitable for enjoying Italian cuisine at the resort.
The Mandalay Bay Food Court offers a diverse selection of dining options. – Quick bites.

Bonanno's classic New York-style pizzeria
Johnny Rockets
Nathan's Famous Hotdogs
Pan Asian Express
Subway

Noodle Shop - Informal. Cuisine inspired by various Asian cultures.
Four Seasons at the PRESS – Casual. Quick bites.
Retro by Voltaggio – Casual. American cuisine.
Experience the charm and ambiance of Ri Ra Irish Pub as you immerse yourself in the delightful atmosphere and authentic Irish hospitality. - Relaxed and comfortable atmosphere serving traditional Irish cuisine.
Rivea - High-end relaxed. Fusion of French and Italian flavors in gourmet dishes.
S Bar – Trendy and upscale clothing. Bite-sized dishes.
Seabreeze Cafe - Informal. Breakfast and lunch available throughout the day.
Slice of Vegas - Informal. Classic pizza from New York and other delicious Italian meals.
Starbucks – Informal. Coffee and fast snacks.
StripSteak – Resort casual. Steakhouse.
Four Seasons' Veranda - Relaxed dining experience featuring a fusion of American and Mediterranean flavors.
Wahlburgers – Casual. Burgers.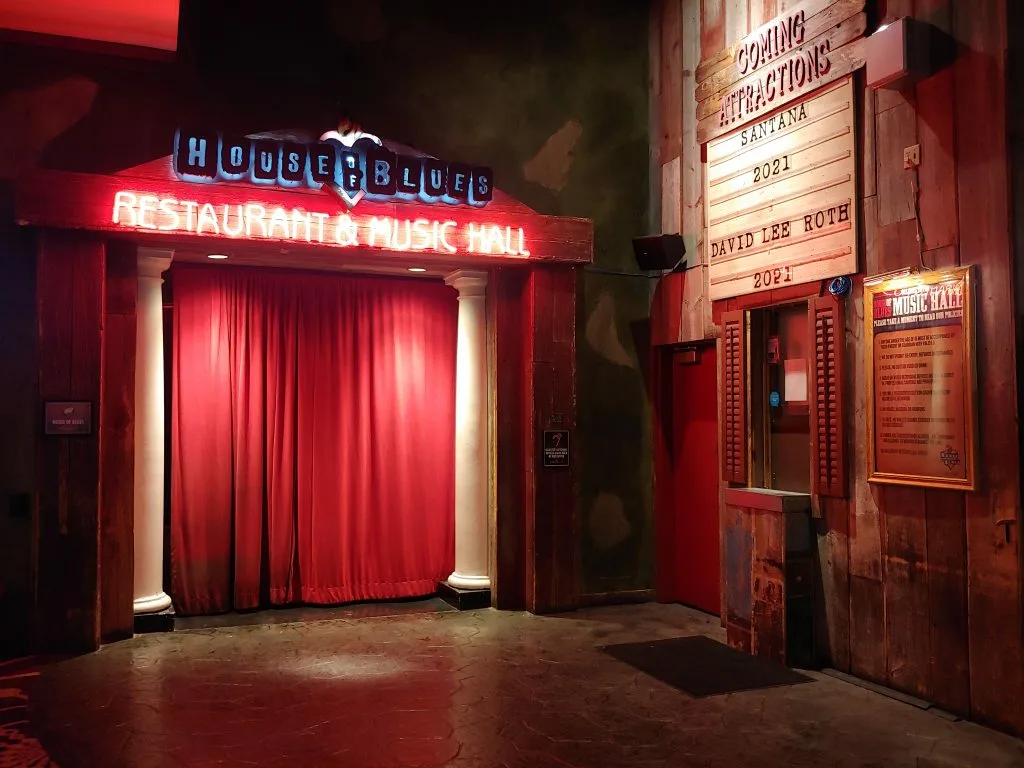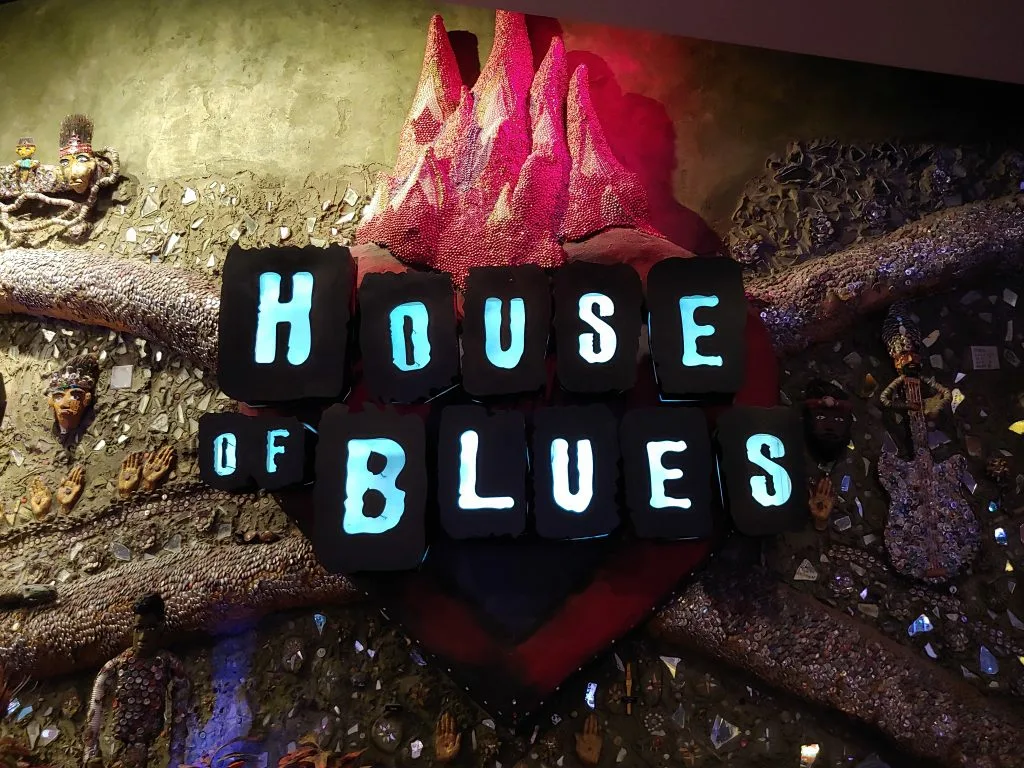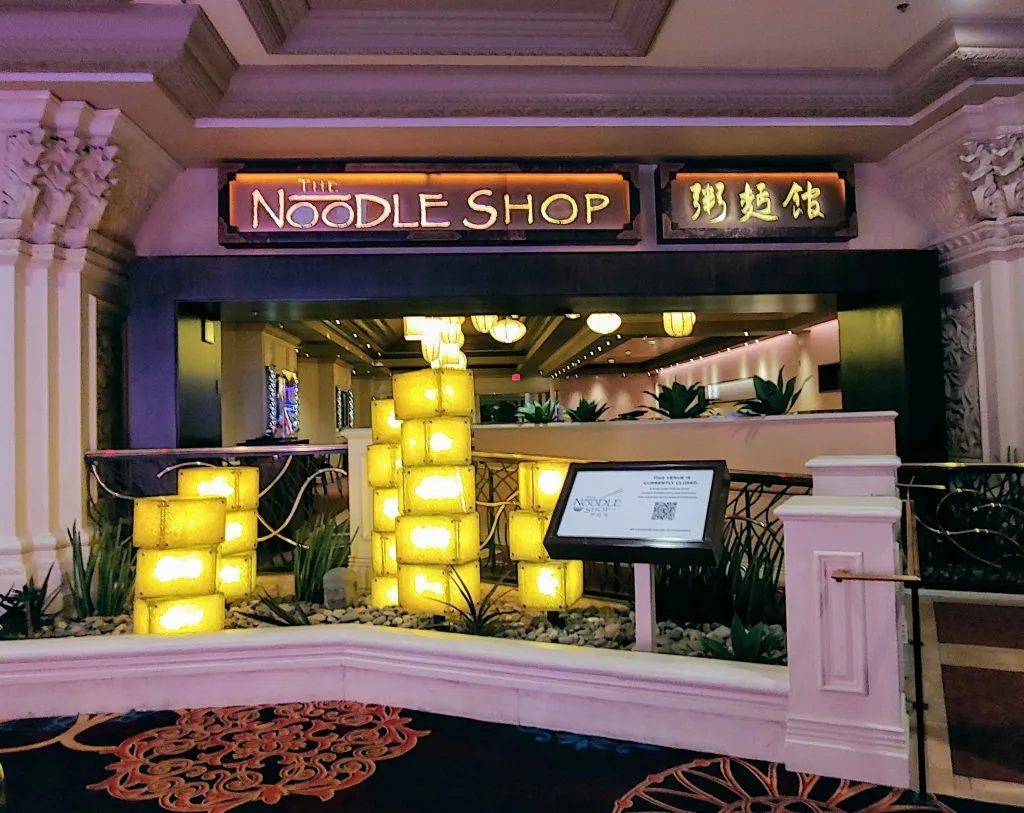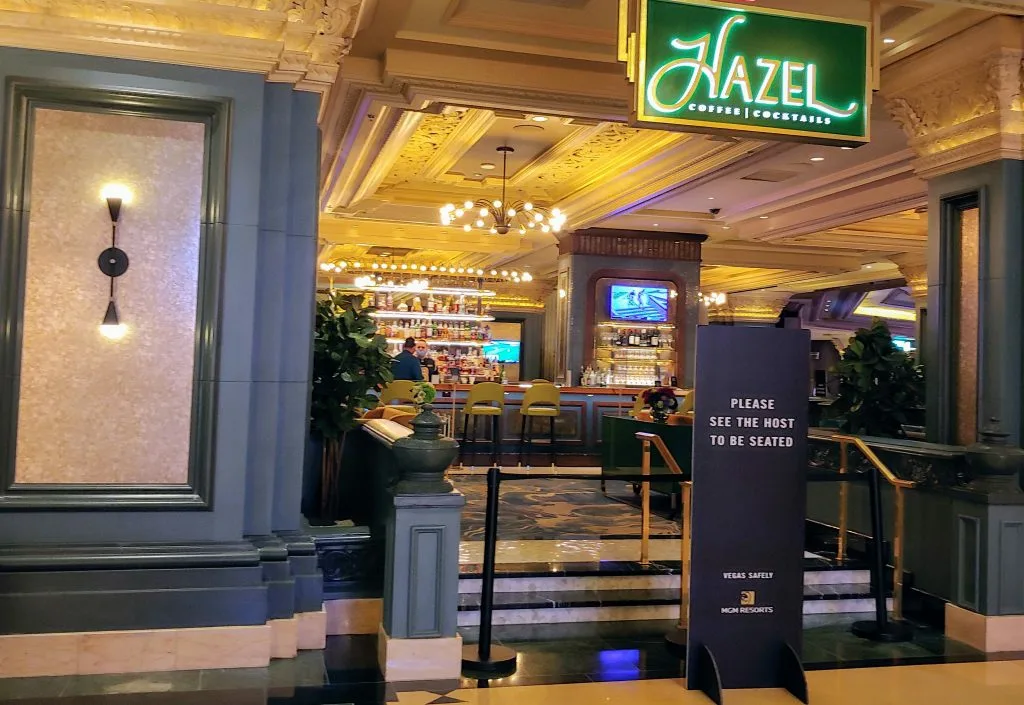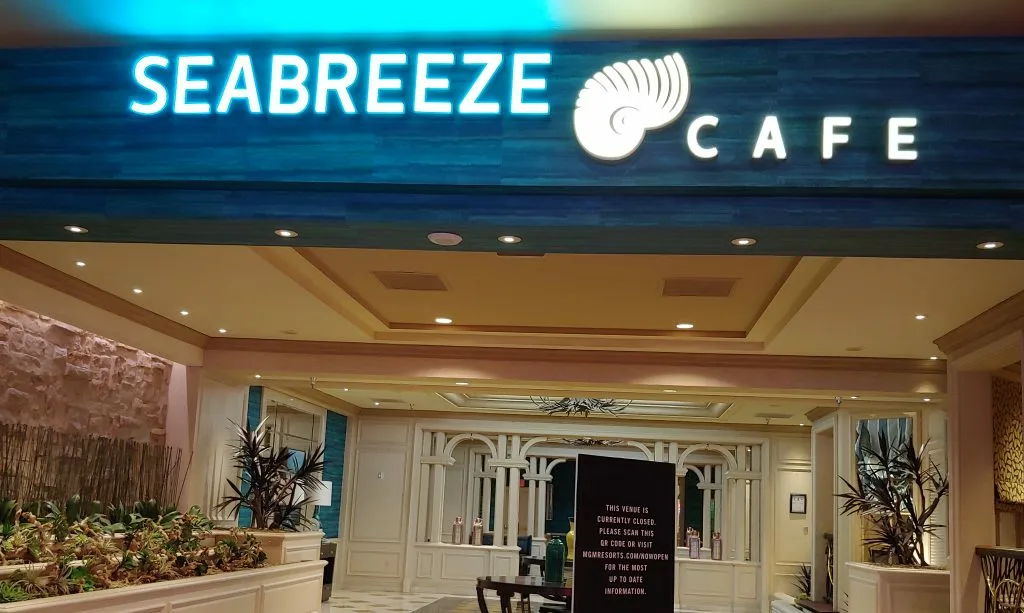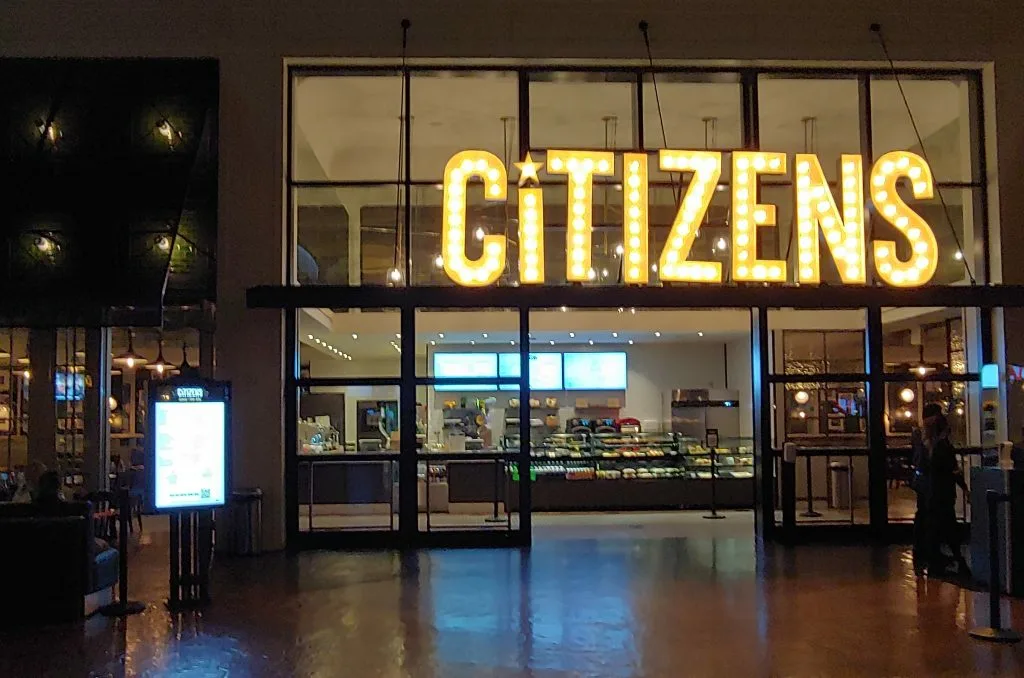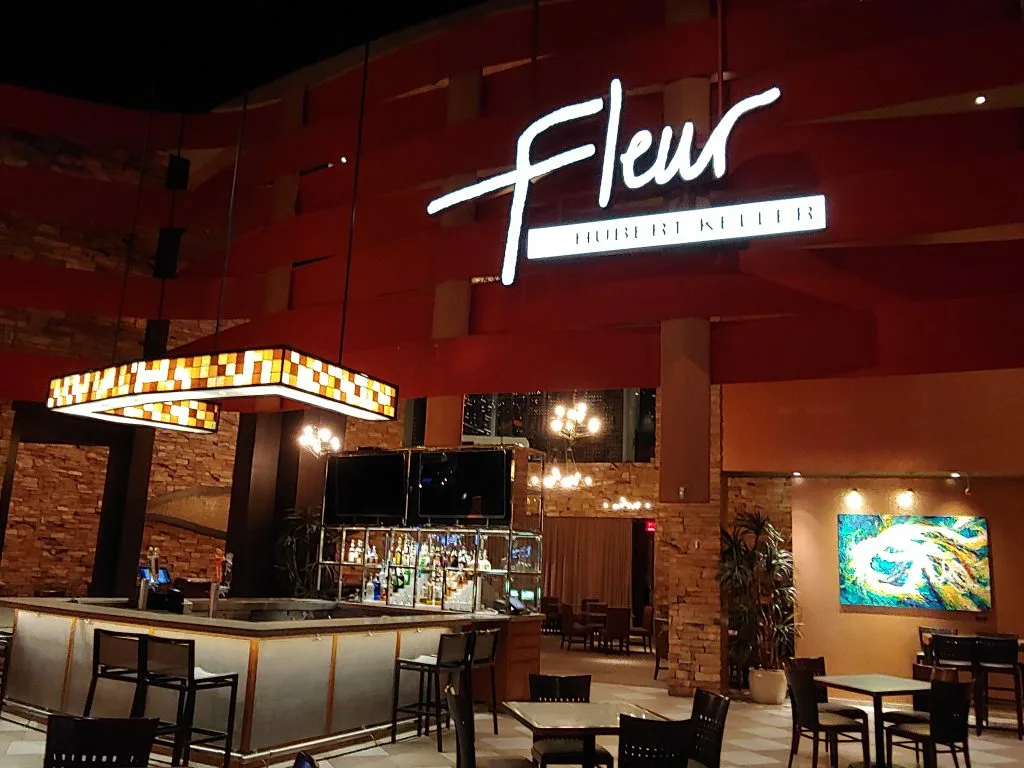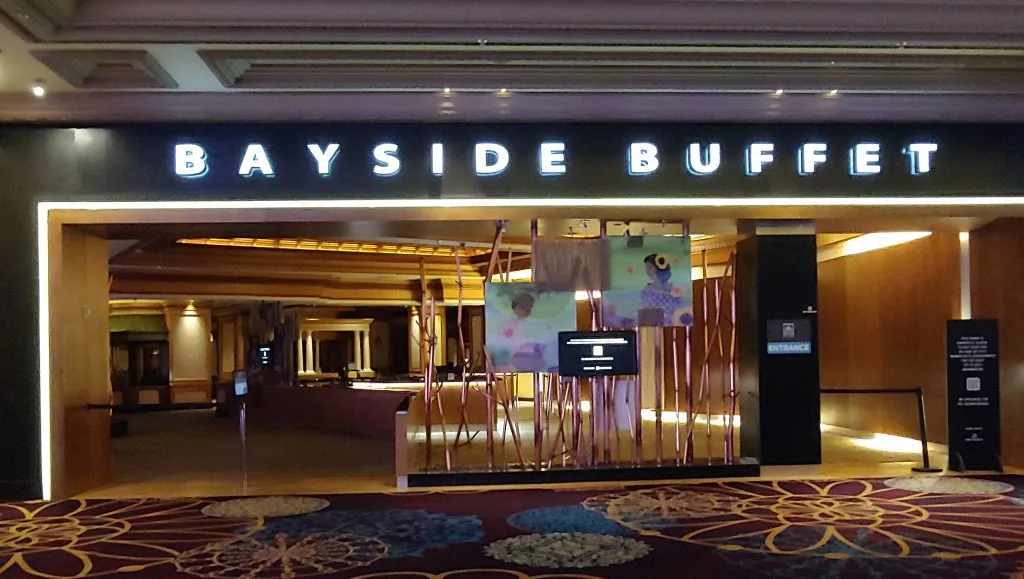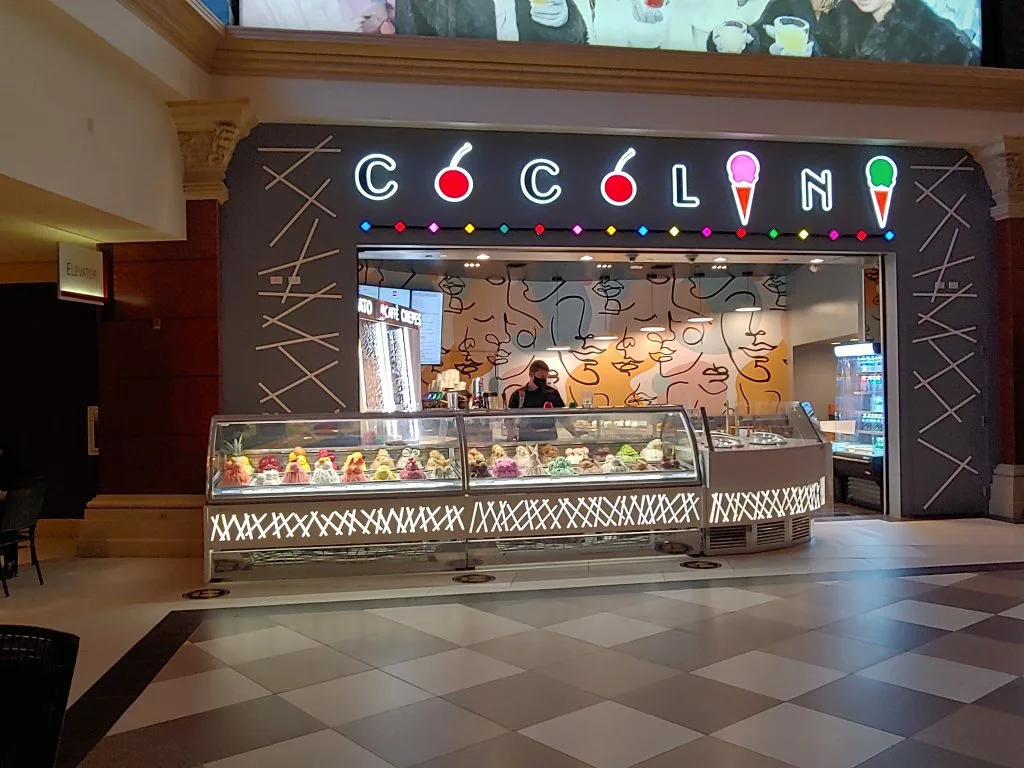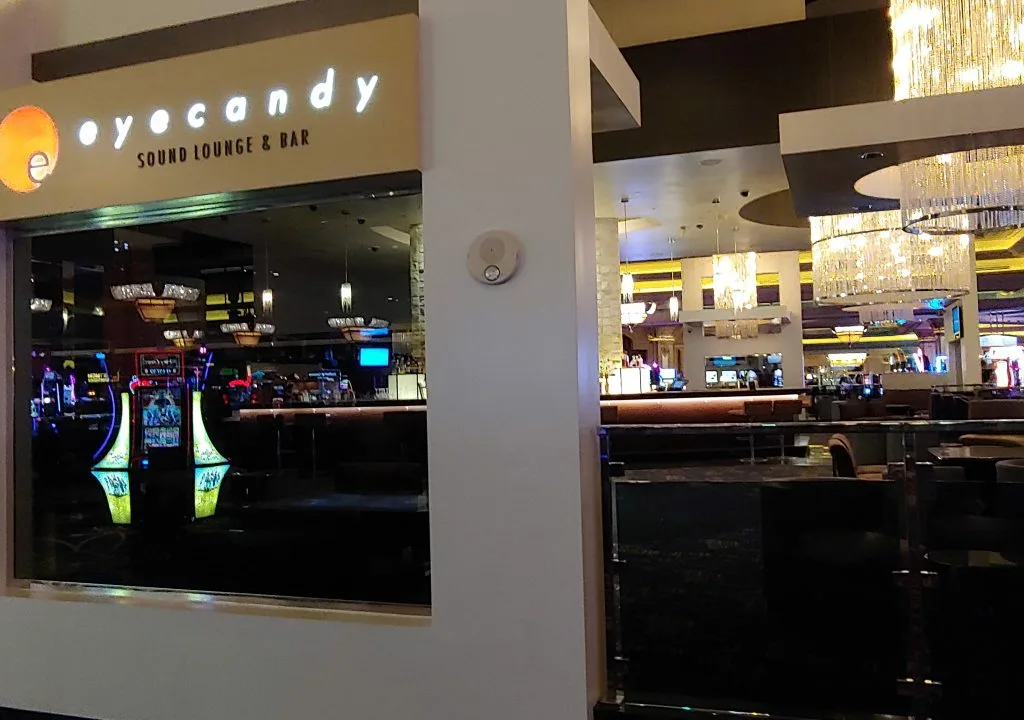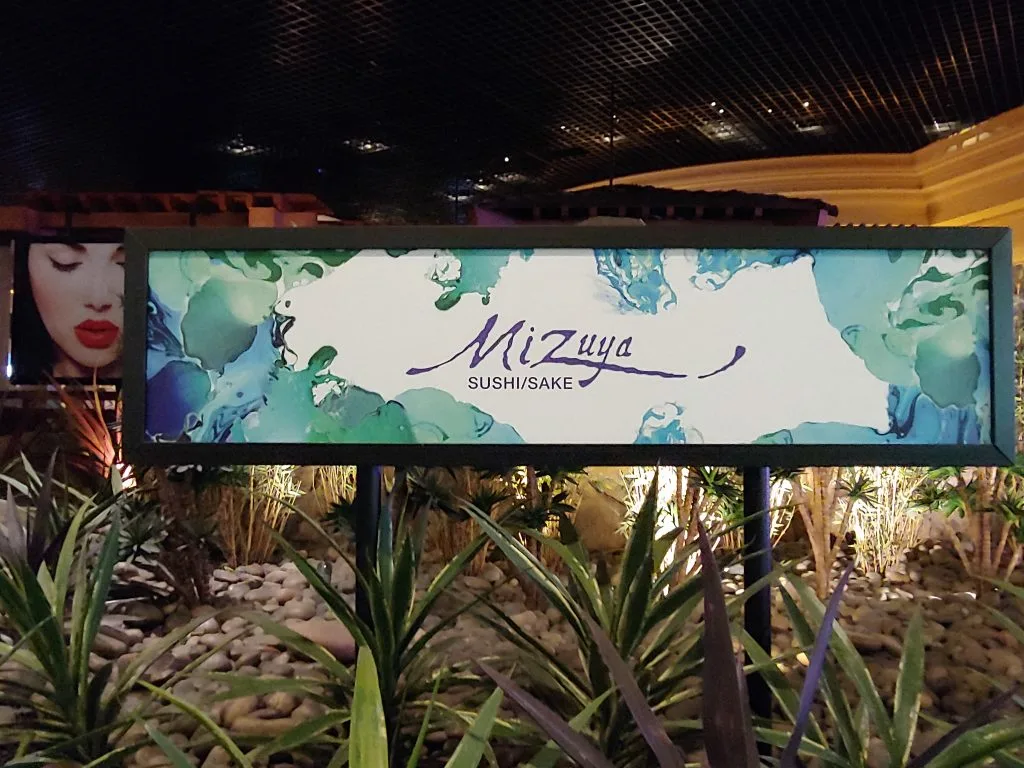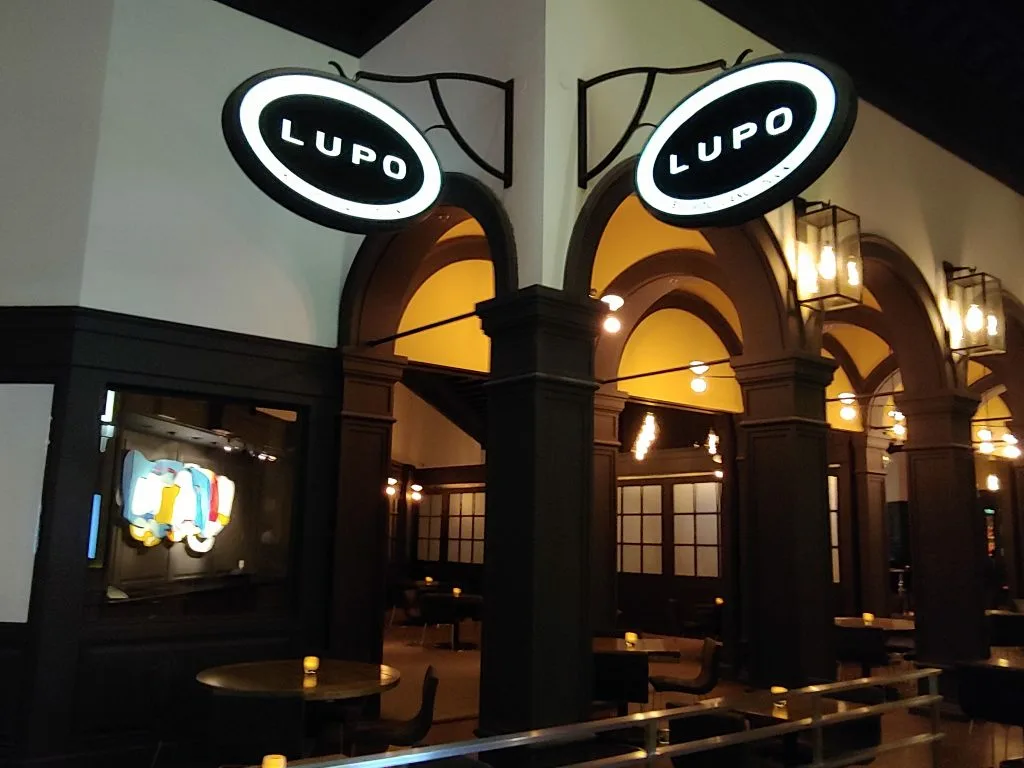 Hotel accommodations
In addition to a wide range of shopping and dining options, The Shoppes at Mandalay Place also feature three spacious pools, a lazy river, and an abundance of pristine white sand. Moreover, guests can indulge in the thrill of a 1.6-million-gallon wave pool at the resort.
Arrival time: 3pm | Departure time: 11am | Additional fee: $39 for each night of stay
In each room, you'll find an assortment of amenities including shampoo, conditioner, toothpaste, lotion, soap, Q-tips, cotton balls, an iron/ironing board, a makeup mirror, and a hairdryer. We also offer rooms that warmly welcome your furry companions.
The deluxe rooms at Mandalay Bay are quite roomy, offering approximately 550 square feet of space. One notable feature is the 42-inch flat-screen TV, perfect for unwinding after a long day. Additionally, the bathroom comes equipped with a smaller 15-inch TV, allowing for ultimate relaxation during your stay.
Book accommodations at Mandalay Bay
At the southern end of the Strip, you'll find the majestic Delano Las Vegas at Mandalay Bay, a luxurious all-suite hotel boasting the splendid Delano Beach Club. Unlike many other hotels, all of our rooms are designated as nonsmoking areas, ensuring a clean and fresh environment for our guests. As you venture away from the bustling casino floor, you'll discover the serenity and tranquility that permeates throughout the entire hotel.
My spacious suite at Delano offers a generous 725 square feet of luxurious living space. It boasts a bedroom and a separate living room, providing ample room for relaxation and entertainment. The bathroom is exceptionally large, ensuring a luxurious experience. I am delighted to discover that there are three flat-screen TVs in the suite, including one cleverly placed in the bathroom for a truly indulgent viewing experience. What I find particularly impressive about the suite's design is the thoughtful layout, which ensures privacy and tranquility. The bedroom is cleverly buffered from the hallway by both the living room and the bathroom, creating a serene and peaceful retreat.
Book a reservation for a suite at Delano Las Vegas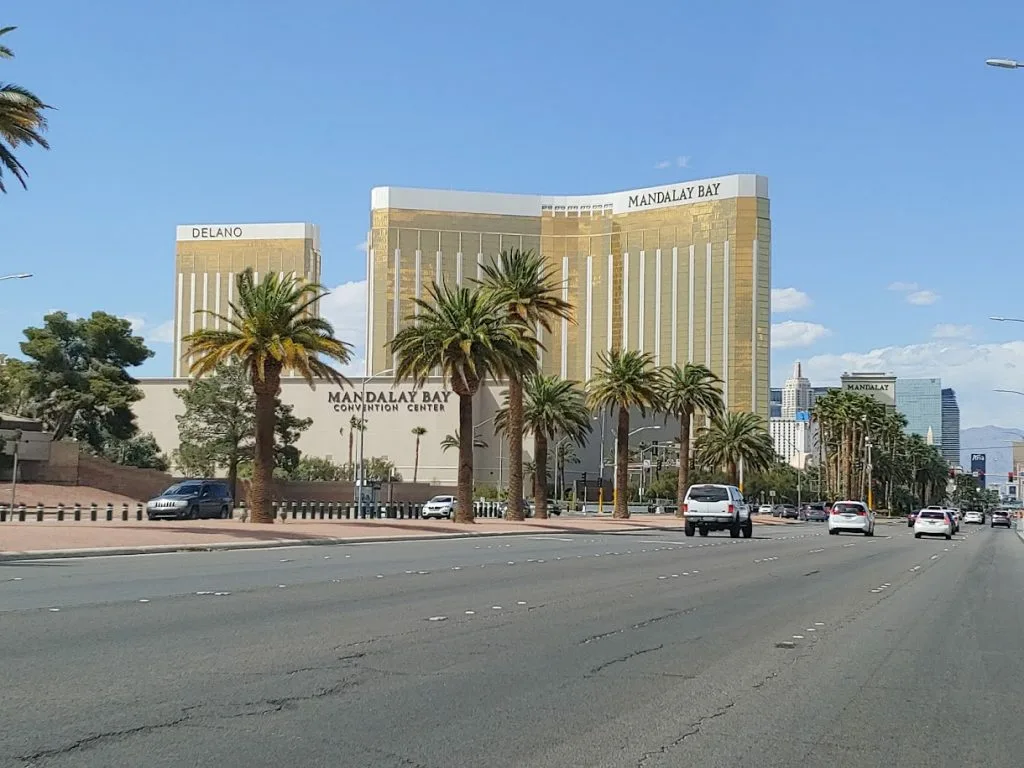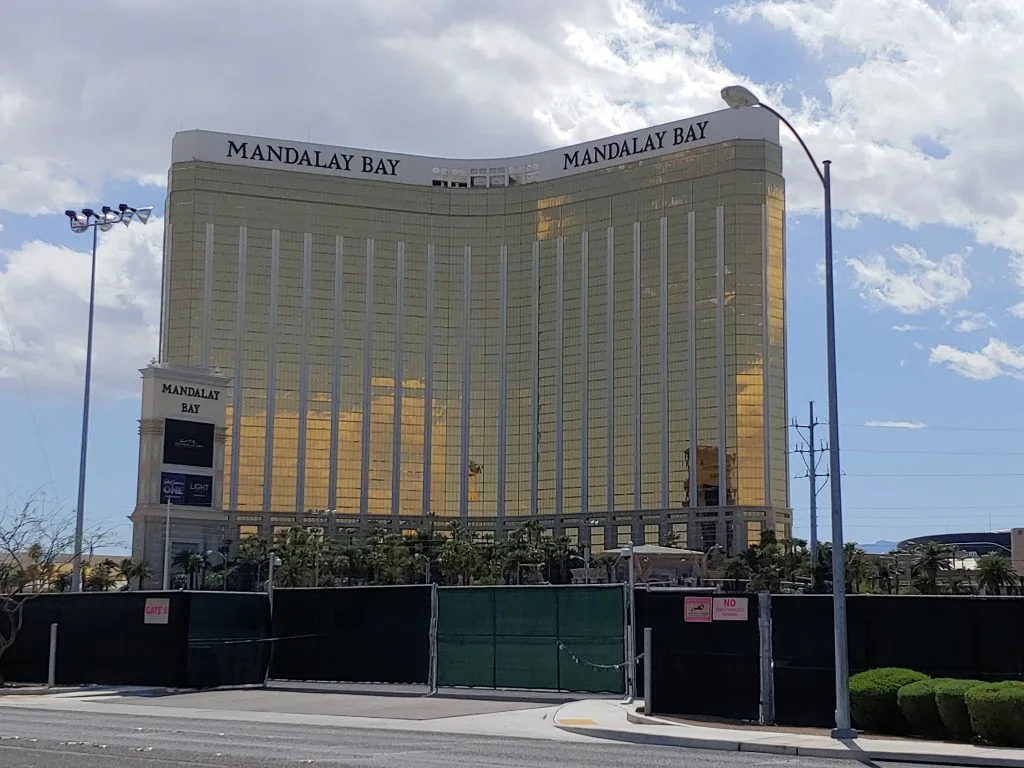 Frequently Asked Questions about Mandalay Bay Resort and Casino
Is Mandalay Bay known for offering a blackjack payout of 3/2?
The Mandalay Bay casino floor boasts a total of eight blackjack tables that offer a payout ratio of 3/2. Additionally, all high limit games at Mandalay Bay also provide a 3/2 payout.
Can you provide information on the different variations of roulette available at Mandalay Bay?
Mandalay Bay offers roulette games with single, double, and triple zero options, with the single zero ones following European rules.
Does Mandalay Bay have a poker room?
The Mandalay Bay features a poker room that operates every day, with the exception of Tuesdays.
What are the probabilities of winning at the dice game in Mandalay Bay?
Craps has a unique odds structure of 3-4-5 times, while the field bet offers a generous payout of triple the amount for a 12 roll in both regular craps and crapless craps.
Does Mandalay Bay have a sports betting facility?
Mandalay Bay houses a BetMGM sportsbook, conveniently located adjacent to its poker room.
Last updated: May 28, 2023