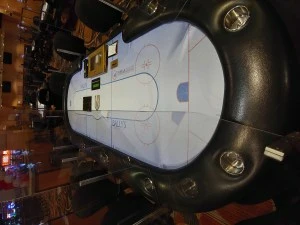 In December 2022, the property formerly known as Bally's Las Vegas underwent a transformation and became Horseshoe. After hosting the World Series of Poker, which took place on the premises, the poker room at Bally's Las Vegas reopened on September 25, 2020. However, a temporary closure occurred in May 2022.
The Horseshoe poker room features a total of 18 tables, making it the pioneering venue in Las Vegas to introduce eight seats per table for cash games and nine seats for tournaments.
Our Horseshoe poker room review covers all the information you need to know about this bustling establishment. With a round-the-clock schedule, the poker room remains open every day of the week, allowing avid players to indulge in their favorite game at any hour. Offering a range of options, the room features both Texas Hold'em and mixed cash games, catering to different preferences and skill levels. Additionally, players can participate in six exciting tournaments held each day, as well as special tournament series that occur regularly. Whether you're a seasoned pro or a newcomer to the poker scene, the Horseshoe poker room has something for everyone.
Experience the vibrant poker scene in Las Vegas
Cash games featuring horseshoe poker
At Horseshoe, you'll find a couple of cash games on a regular basis. The primary game in action is the popular 1/3 no-limit Texas hold'em, where players can buy in with anywhere between $100 to $300. Additionally, there's another commonly played game, the 4/8 fixed limit hold'em. Keep in mind that during peak hours, you might stumble upon higher limit tables for Texas hold'em.
Horseshoe poker tournaments
I absolutely love the variety of daily tournaments offered at this place! They have tournaments starting at 9am, 11am, 2pm, 5pm, 8pm, and even 11pm. It's fantastic that they cater to all different schedules. The buy-in for these tournaments is set at $100, which is pretty reasonable considering the potential winnings. What's even better is that all these tournaments are played in the exciting format of no-limit Texas hold'em. It's definitely a game that keeps you on your toes. To give you a good head start, they provide a generous starting stack of 20,000 chips. That's plenty to work with and strategize your way to victory. Just to keep things exciting, the levels increase every 20 minutes, making it a fast-paced and thrilling experience. It's worth noting that registration is open for the first six levels, so make sure to secure your spot early. And here's the cherry on top - each tournament guarantees a prize pool of $1,000. That means there's always something to play for, no matter the outcome.
Horseshoe poker promotions
Players in the cash game who utilize a Caesars Rewards card will earn $1 worth of complimentary items per hour. Moreover, they can also take advantage of various other promotions, such as happy hour.
Every Sunday and Wednesday, we have weekly hourly freerolls available for our players. To qualify for these exciting tournaments, all you need to do is participate in our cash games for a minimum of 15 hours per week. Additionally, we offer various promotions such as high hands and dining offers that you can take advantage of. Join us and experience the thrill of our freerolls and other exciting promotions!
From noon until midnight, players have the chance to win $200 every 20 minutes with the highest hand. However, during the remaining hours of the day, the prize is slightly lower at $50 every 30 minutes. To be eligible for these rewards, players must possess a full house and utilize one of their hole cards.
Environment
The Horseshoe poker room, known for its relaxed atmosphere, attracts primarily tourists seeking entertainment and excitement. Its ambiance is characterized by a pleasant and convivial atmosphere, where patrons can engage in their favorite card games undisturbed. What sets this room apart is the longevity of its staff, with many employees having dedicated years of service to the establishment. As a result, players can expect exceptional service from skilled and experienced dealers and floor managers. The Horseshoe poker room underwent an extensive renovation in 2023, resulting in the introduction of brand new tables and chairs that enhance the overall gaming experience.
Horseshoe poker rake
Horseshoe rakes increase by 10% up to a maximum of $5. Moreover, there is a $2 jackpot drop, and mixed games have a rake cap of $3.

Frequently Asked Questions about the poker room at Horseshoe Las Vegas
Does the Horseshoe poker room operate round the clock?
Affirmative. Cash games are dealt round the clock.
Can you tell me what types of cash games are available at the poker room in Horseshoe?
Horseshoe presents cash games for Texas Hold'em with 1/3 no limit and 3/6 fixed limit options.
What is the seating capacity of poker tables at Horseshoe Las Vegas?
In cash games, tables have a seating capacity of eight, while tournament tables can accommodate up to nine players.
Do poker tournaments take place at Horseshoe?
The Horseshoe hosts daily tournaments at 9am, 11am, 2pm, 5pm, 8pm, and 11pm, provided there is no ongoing tournament series.
Can you provide information on the comp rate for Horseshoe poker?
When players are logged in with a Caesars Rewards card, they can earn $1 per hour.
What does the Horseshoe poker rake refer to?
Horseshoe rakes a maximum of 10% up to $5 and features a jackpot drop of up to $2, while mixed games have a cap of $3.
Can you provide an update on the current state of the poker room at Bally's in Las Vegas?
In December 2022, Bally's Las Vegas transformed into Horseshoe.
The most recent update was on September 5, 2023, provided by William Stevens.