In the vibrant Las Vegas locals market, double-deck blackjack reigns supreme, enjoying unparalleled popularity among gaming enthusiasts. To guide you in your quest for the ultimate blackjack experience, we present a comprehensive overview of the prime destinations to indulge in this thrilling variant of the game. Our diligent efforts in the summer of 2023 have resulted in a compilation of valuable information that is sure to elevate your gaming endeavors. For those early risers and afternoon players, we have taken into account the minimum bets that are typically observed during these off-peak hours, ensuring that you can enjoy the game with relatively lower stakes. However, as the day progresses and the crowds flock to the tables, it is important to note that higher minimum bets may be imposed, in line with the increased demand for this riveting game.
Finding the game on the Strip is more challenging compared to the nearby local and downtown casinos. In those establishments, the minimum bet can be rather steep. Sometimes, you might have to wager at least $500 to have access to a double-deck game on the renowned Las Vegas Strip. On the other hand, in downtown Las Vegas, you can find double-deck games with bet limits ranging from $10 to $50. If you prefer higher stakes, there are also a few exclusive tables with a $200 minimum bet option.
In the world of double-deck blackjack games in Las Vegas, a plethora of diverse regulations exists. Surrender, unfortunately, is not an option in any of these games. The similarities between them end there. The rules diverge based on whether the dealer opts to hit or stand on a soft 17, if players are allowed to double down after splitting, the payout ratio for a blackjack hand (either 6:5 or 3:2), and even whether aces can be re-split.
Bet-NV.com's sustainability is ensured by its reliance on memberships, sponsors, and advertisements. In case you or someone you're acquainted with is dealing with a gambling addiction, remember to dial 1-800-GAMBLER.
Support Bet-NV.com by signing up for a monthly or quarterly membership to gain access to our Las Vegas Blackjack and Table Game Survey, which is a valuable resource for casino enthusiasts. The survey, available exclusively through our subscription service, is regularly updated with fresh data gathered from frequent visits to various casinos. With memberships starting at just $3 per month, this affordable opportunity allows you to stay informed about the latest trends and information in the Las Vegas gaming scene. Don't miss out on this chance to enhance your gambling experience and make the most of your time in Sin City.
You can now access Bet-NV.com subscriptions on Gumroad and Patreon, offering equally valuable content on both platforms.
If you or someone you are acquainted with struggles with gambling, reach out to 1-800-GAMBLER for assistance.
Other websites' publishers have the opportunity to utilize our data, as long as they respect the boundaries set. Nevertheless, our terms of use mandate a necessary backlink to Bet-NV.com.
Explore: Survey of Blackjack Options in Las Vegas 2023
Top-rated double-deck blackjack experience in Las Vegas
In this year's Las Vegas Blackjack Survey, a new game has emerged as the reigning champion. M Resort, which used to house the best double-deck blackjack game, has made a significant change. In December 2020, they decided to remove their stand-on-all-17 double-deck tables from their high-limit room, tables that also permitted re-splitting aces. Instead, these tables were transformed into ones where the dealer hits soft 17. With this alteration, the title for the best double-deck blackjack game in Las Vegas has found a new home.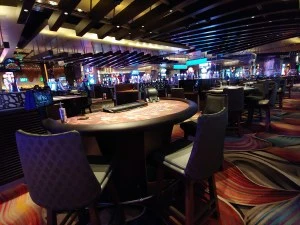 There are several casinos in Las Vegas that have recently emerged as the top contenders for the title of the best place to play double-deck blackjack. These establishments have implemented a set of rules at their tables that truly sets them apart from the competition. One notable feature is the ability for players to double-down both before and after splitting their cards, providing them with more strategic options. Additionally, players can take advantage of the fact that the dealer must stand on all 17's, giving them a slight edge in the game. As a result of these favorable rules, the house edge for these double-deck blackjack games stands at approximately 0.26%, making them incredibly appealing to avid gamblers.
In different casinos, the minimum bet you should expect can vary greatly. When the casino is less busy, you might find these games with a minimum bet of $50 at Treasure Island, $100 at Mandalay Bay, Palms, and Park MGM. As the stakes get higher, you might have to bet a minimum of $200 at Mandalay Bay, $300 at Aria and Bellagio, and a whopping $500 at MGM Grand. So, it's important to know the specific minimum bets for each casino before you start playing.
Alternative Las Vegas double deck blackjack options
In Las Vegas, there are numerous double-deck games where the dealer hits soft 17. Different casinos have different sets of rules governing these tables.
At Silverton, M Resort, and Westgate, you can find the best remaining double-deck blackjack game. In this game, players have the advantage of being able to double down before and after splitting their cards. What sets this game apart is that aces can be split multiple times, providing even more opportunities for strategic play. The minimum bet for this game is $25 at Silverton, $50 at M Resort and Westgate, and for a higher-stakes experience, you can find it for $100 at Green Valley Ranch, Palace Station, and Red Rock casinos.
At most slower hours, the listed below casinos offer double-deck blackjack games in Las Vegas. These games allow a double-down before and after splitting, but they do not permit splitting multiple times. It is important to note that the typical minimum bet for these games varies depending on the casino.
$5 minimum
$10 minimum
Aliante

Arizona Charlie's Decatur

Boulder Station

El Cortez

Rampart

Sam's Town

Santa Fe Station

South Point

Suncoast
Sunset Station
$15 minimum
Gold Coast
Green Valley Ranch
M Resort
Orleans
Palace Station
Red Rock

Treasure Island
$25 minimum
Golden Nugget (receive $50 during peak hours)
Mohegan Sun
Palms
Plaza
The Strat

Tropicana
$100 minimum
Encore
Golden Gate

New York-New York

The D

Wynn
$200 minimum
Caesars Palace
Circa
Resorts World
Generally on or near the Strip, Boyd Gaming properties in downtown Las Vegas or a Caesars Entertainment property offer a few double-deck games that allow players to double down before splitting, but not after.
$15 minimum
California
Fremont
Main Street Station
$50 minimum
Flamingo

Harrah's

Horseshoe
Planet Hollywood
Blackjack with a payout ratio of 6 to 5 offered in a double-deck format.
In Las Vegas, my search for double-deck blackjack games led me to discover that all the others I found pay out at a ratio of 6:5. However, it was interesting to note that most of these casinos also provide an alternative version of the game, where the payout is set at 3:2, for either the same minimum bet or slightly higher.
$25 minimum
Harrah's
Horseshoe
Paris
Rio
Experience the thrill of playing double-deck blackjack for just $1 at the renowned Poker Palace.
Poker Palace, located in North Las Vegas, features a double-deck blackjack game with a $2 minimum bet. However, this particular variant pays out only even money for a blackjack and does not allow doubling down after splitting.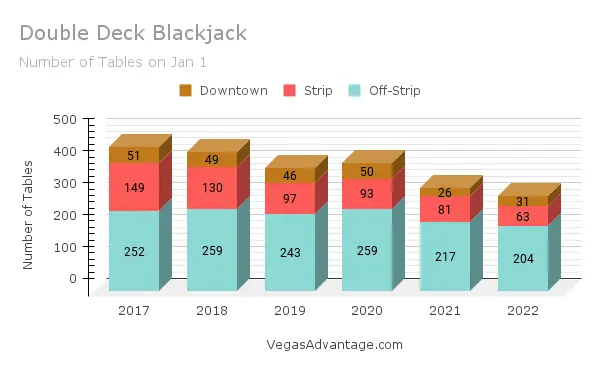 The once widespread Las Vegas double-deck Super Fun 21 is now a thing of the past.
Las Vegas used to have a blackjack variant called Super Fun 21, which was played with a double-deck. This particular game could be found at Sam's Town until 2023, but it has since been taken out of the pit area. Consequently, Super Fun 21 is currently absent from the casinos of Las Vegas.
In Super Fun 21, you'll encounter some rather unconventional rules that set it apart from traditional blackjack. One of the most crucial rules is that blackjack pays out even money, unless you're fortunate enough to have a suited blackjack in diamonds, in which case it pays 2:1. Another interesting aspect is that blackjack always wins, even in the event of a push. Additionally, the dealer is required to hit on a soft 17. But that's not all, this game also offers the opportunity to double-down both before and after splitting, as well as the chance to re-split aces. Another intriguing feature is the option to surrender at any point, including after doubling down. Furthermore, a hand consisting of five cards or less totaling 20 or below results in a "five-card Charlie." Lastly, a rare six-card Charlie, where your hand consists of exactly six cards without busting, pays out at an attractive 2:1 on a total of 21.
Frequently asked questions about double-deck blackjack in Las Vegas
Are the odds 3:2 for double-deck blackjack in Las Vegas?
The majority of double-deck blackjack tables in Las Vegas offer a payout ratio of 3:2.
Is it possible to increase my bet after dividing my hand in Las Vegas double-deck blackjack?
In the majority of situations, the answer is affirmative. However, it is important to note that this rule does not apply to the Boyd Gaming properties located in downtown Las Vegas, as well as certain Caesars Entertainment establishments.
What is the smallest wager amount for double-deck blackjack with a 3:2 payout in the city of Las Vegas?
The minimum bet for this game is $5, while the majority of tables require bets of $10 or $15.
The latest update was made on August 27, 2023 by William Stevens.