Located at 3475 S Las Vegas Blvd in the vibrant city of Las Vegas, Nevada, Harrah's Casino is just a phone call away at 800-214-9110.
Located at the heart of the vibrant Las Vegas Strip, Harrah's stands as a prominent establishment under the Caesars Entertainment umbrella. Its prime location is flanked by the renowned Linq on one side and the iconic Casino Royale and Venetian on the other. To access Harrah's, vehicles can only enter from the rear of the building, navigating through the bustling Koval Lane.
I am delighted to inform you that Harrah's offers a wide range of entertainment and gaming options to satisfy all your preferences. From classic table games to innovative electronic table games and exciting video poker, the casino has it all. If you're a fan of slots, you'll be pleased to know that there are numerous machines available for your enjoyment. For those who enjoy the thrill of live keno, Harrah's has got you covered too. And if sports betting is your cup of tea, the Caesars Sportsbook will provide you with an exhilarating experience. While the gaming experience is undoubtedly a highlight, Harrah's also boasts a variety of dining options and entertainment venues. Whether you're in the mood for a gourmet meal or a casual bite to eat, there are multiple restaurants to choose from. After a night of excitement, you can retreat to one of the over 2,500 hotel rooms available at the property, ensuring a comfortable and convenient stay.
There exists a monorail station situated behind Harrah's in Las Vegas, which can also be reached from Linq. The monorail station is positioned at the rear of this location, serving as a convenient access point for the new Caesars Convention Center.
I couldn't find a poker room at Harrah's, as it shut down back in March 2020 and hasn't reopened since. However, they've transformed the area that used to house the poker room into a space for electronic table games such as blackjack, roulette, and craps. If you're looking for more traditional poker, you can take a quick stroll to The Venetian poker room, which is conveniently located nearby. Alternatively, you can head across Las Vegas Blvd to the Caesars Palace poker room for some exciting card action.
Additional Casinos on the Las Vegas Strip
Bet-NV.com receives support from memberships, sponsors, and advertisements. In case of a gambling issue, please contact 1-800-GAMBLER for assistance.
---
Harrah's casino
With over 1,000 slot and video poker machines at our disposal, along with a dazzling array of more than 60 table games and the thrill of live keno, Harrah's offers an unparalleled gaming experience. Our video poker machines are strategically placed, many of them nestled within our vibrant bars or conveniently located near the north entrance, right by the stadium table games.
Nestled beside the renowned Caesars Race and Sportsbook, you'll also find the enticing Keno Lounge. This vibrant spot is a quintessential Las Vegas sportsbook, boasting a splendid array of televisions lining its walls and a capacious seating area to accommodate eager spectators. Within this bustling hub of excitement, patrons can revel in the thrill of live sports broadcasts while enjoying the camaraderie of fellow enthusiasts. Furthermore, the Keno Lounge offers convenient betting windows and modern kiosks, ensuring a seamless and efficient wagering experience for all.
I'd be happy to help! Here's a unique passage of the same length: If you want to place bets on your mobile device at Harrah's, you can easily create a Caesars Sportsbook mobile betting account. In addition, you can conveniently handle cash deposits and withdrawals at this location. It's worth noting that the Nevada Caesars Sportsbook operates on the legacy William Hill software, which differs from the platform used by the company in other states. Therefore, if you don't already have a Nevada Caesars Sportsbook account, you'll need to create one at any of the Las Vegas sportsbooks owned by the company.
When you're playing slots or table games, and even when you're placing sports wagers, don't forget to use your Caesars Rewards card. It's not just for collecting points, but it also comes with some great perks. By using your card, you can receive slot play and member offers, giving you even more chances to win. And if you're a Platinum or higher player, you'll even get free parking as an added bonus. Plus, for all you Caesars Rewards members, there are line passes available at Harrah's, making your experience even more convenient. So make sure to take advantage of all the benefits that come with your Caesars Rewards card.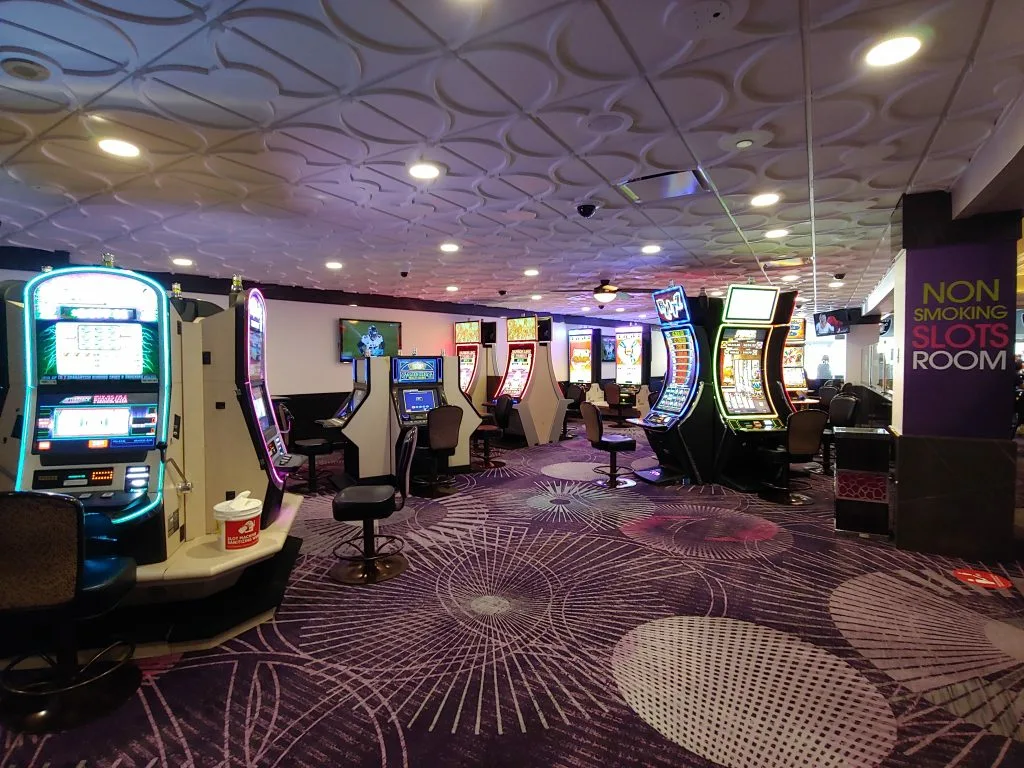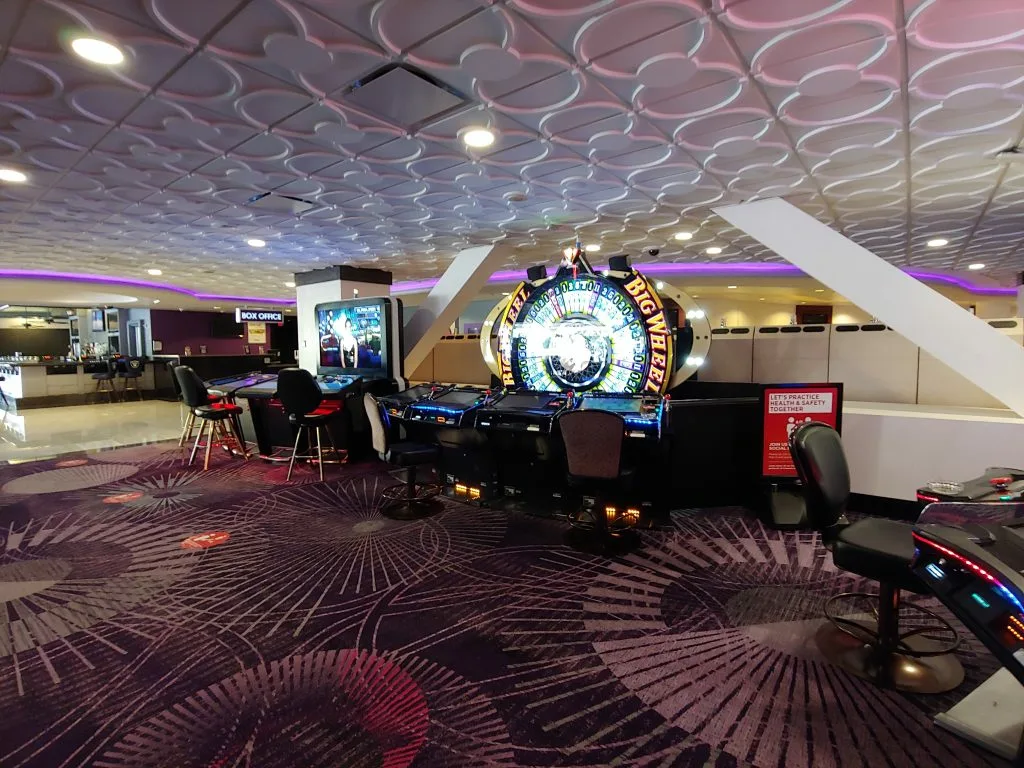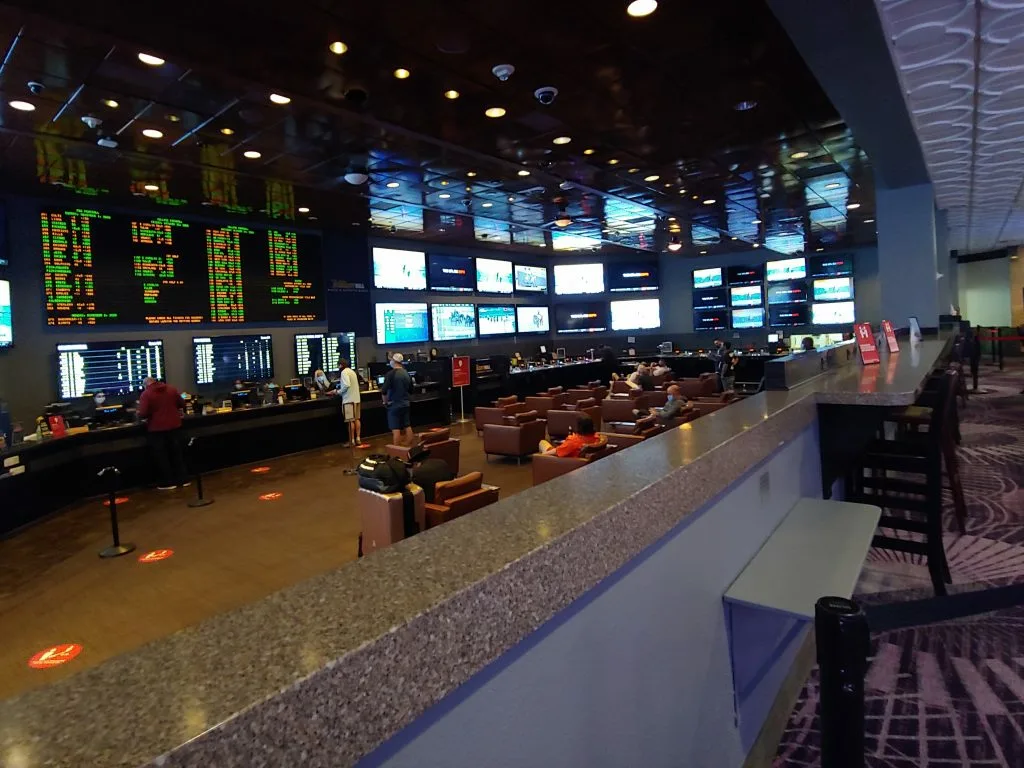 Table games
In the bustling atmosphere of Harrah's, a mecca for gambling enthusiasts, one can find a plethora of thrilling games to satiate their hunger for excitement. From the classic favorites like baccarat, blackjack, and roulette to the more unique offerings such as crapless craps, DJ Wild, pai gow tiles, and pai gow poker, there is something for everyone here. The poker pit games, with their strategic allure, add an extra layer of thrill to the overall experience. During the slower hours, the minimum bets may start as low as $5, making it accessible for all types of players. However, depending on the specific game, the typical limits can range from $10 to $50, ensuring that the stakes remain enticingly high. It's worth noting that pai gow tiles, an intriguing game that combines elements of skill and chance, is only available for limited hours. Nestled away in the back pit, it beckons those seeking a unique challenge to test their wits and luck.
At Harrah's in Las Vegas, you won't find any blackjack tables on the casino floor that offer a 3/2 payout. If you're looking for those favorable odds, you'll have to head over to the high limit salon. The salon, which is open during busier dayshifts and into the night, is where you'll find the exclusive 3/2 payouts.
At standard tables, the odds for craps are typically 3-4-5. However, there is a variation called crapless craps where the odds are different. In crapless craps, the odds start at 1-2-3-4-5 times, meaning that the payout is increased for certain numbers. For example, on the 2 and 12, the payout is single, but it gradually increases as you roll other numbers. Another variation is Roll to Win Craps, which offers double odds. This means that the payout is doubled compared to standard craps tables. Additionally, all three craps games at Harrah's offer double on a field 12. This means that if you roll a 12 on the field bet, you will receive double the amount you wagered.
For just $3 per month, you can also unlock the exclusive benefits of being a member of the Casino Club, Total Access Club, or Bet-NV.com Super Fan. By joining any of these esteemed clubs, you gain a deeper level of access to comprehensive table game surveys across various casino properties. With this invaluable resource at your fingertips, you'll have all the information you need to make informed decisions and enhance your gaming experience in the dazzling world of Las Vegas. Don't miss out on this incredible opportunity - sign up today and gain access to the ultimate insider's guide to table games in Vegas!
You can now access Bet-NV.com subscriptions on both Gumroad and Patreon, offering you the same valuable information on both platforms.
If you, or someone you are acquainted with, is struggling with gambling, reach out to 1-800-GAMBLER for assistance.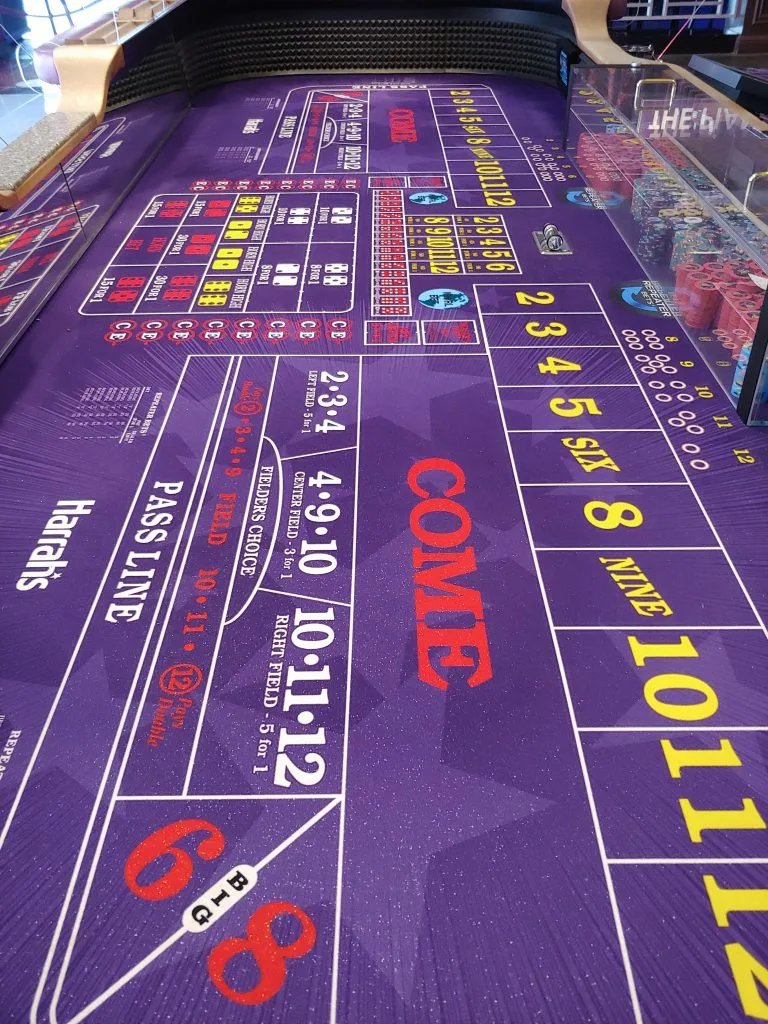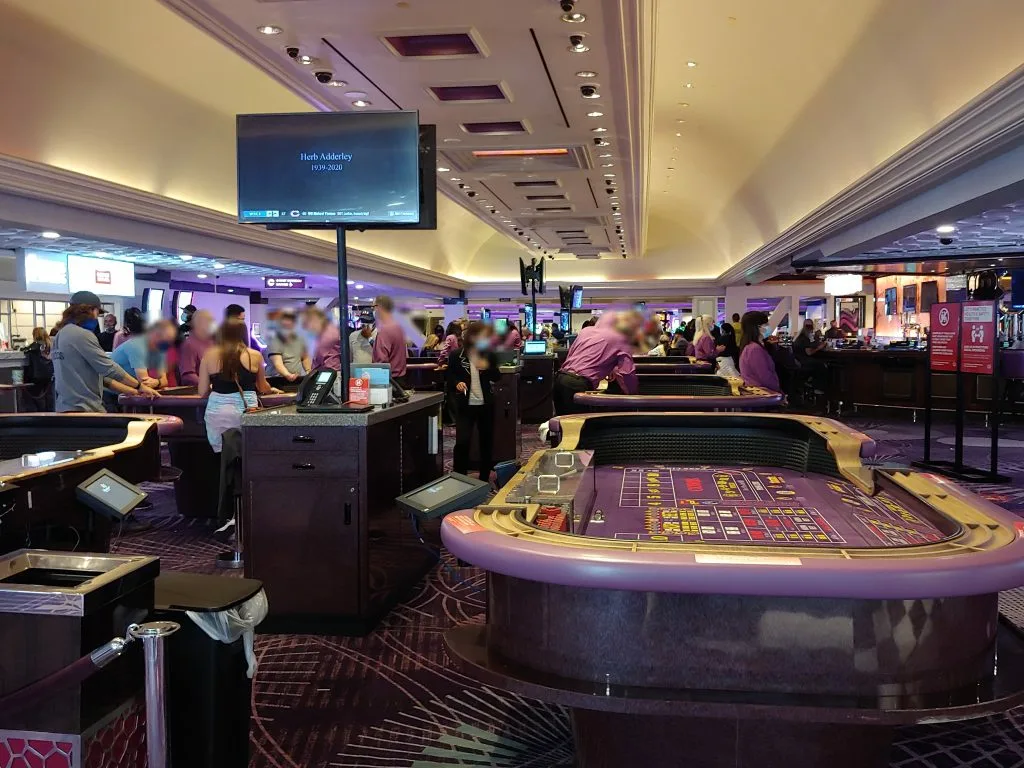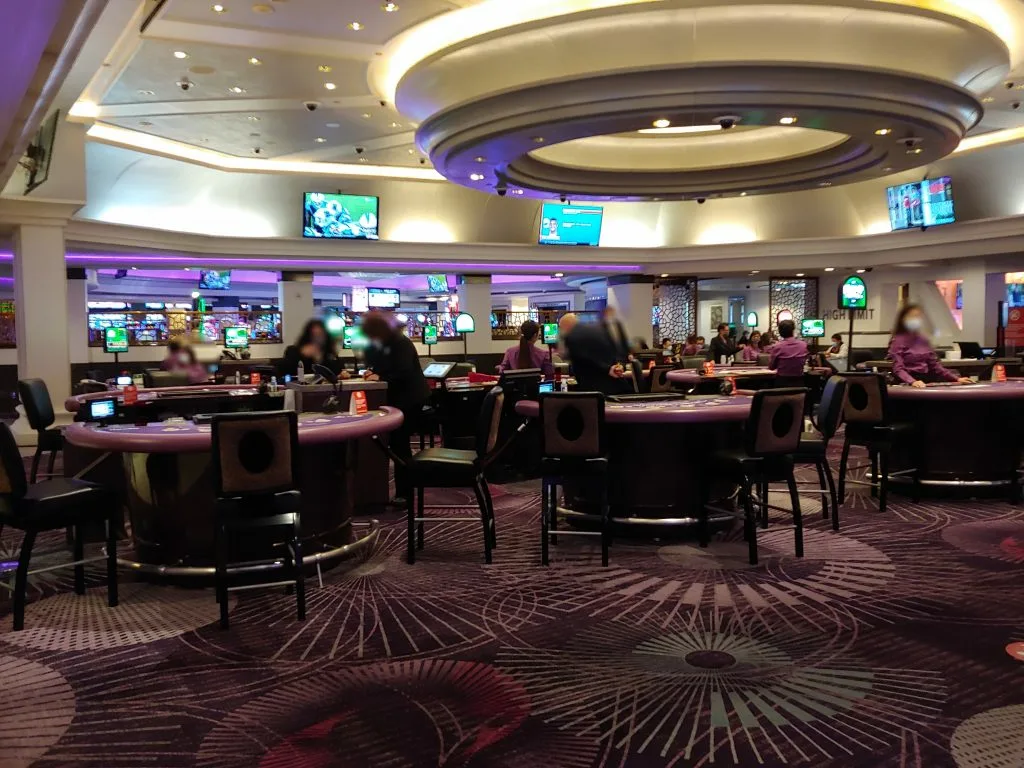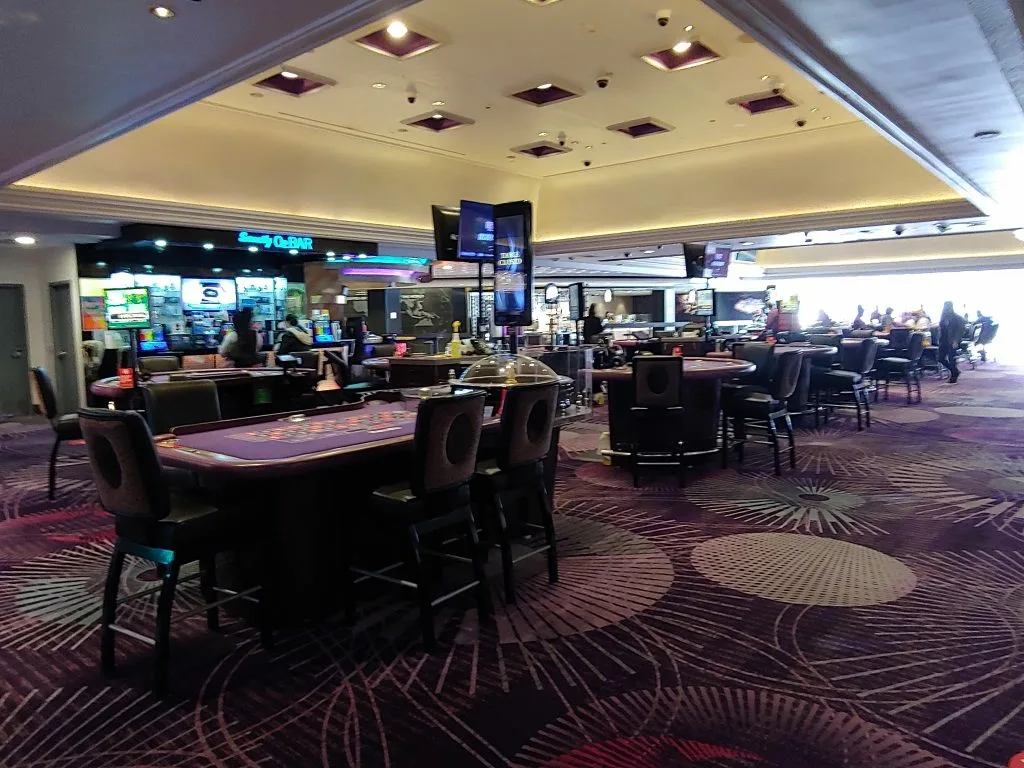 Entertainment at Harrah's
Harrah's Casino provides guests with a variety of entertainment choices, such as the Piano Bar that features complimentary live shows every day, including thrilling dueling pianos performances starting at 9pm.
Hyprov, a captivating and mind-bending show, is held on select nights at 9:30pm. It never fails to mesmerize its audience with its unique blend of hypnosis and improvisation. The talented Donny Osmond, a true icon in the entertainment industry, headlines the Harrah's Showroom from Tuesday to Saturday at 8pm. His performances are nothing short of spectacular, showcasing his incredible vocal range and stage presence. For those die-hard fans seeking an even more intimate experience, there is a pre-show VIP Experience available. This exclusive opportunity allows fans to not only listen to personal stories from Donny himself but also provides the chance to ask a burning question. It's an incredible opportunity to get up close and personal with a legendary performer. So whether you're looking for a night of laughter and hypnosis or a nostalgic trip down memory lane with Donny Osmond, Harrah's Showroom has something for everyone.
Experience the entertainment brilliance of TAPE FACE from America's Got Talent, the delightful Menopause The Musical, and the electrifying X Country, all within the captivating confines of Harrah's Cabaret.
Indulge in exquisite cuisine and refreshing beverages at Harrah's.
Harrah's offers a variety of dining establishments, including a food court and a high-end steakhouse, all conveniently located near the casino area.
Ben & Jerry's – Ice cream.
Bobby Flay's renowned eatery, Bobby's Burgers – Signature burgers.
Discover the vibrant culinary offerings at Fulton Street Food Hall. – Fast and convenient options featuring popular choices such as pizza, sandwiches, and salads, commonly found in food courts.
Introducing Buddy V's extraordinary creation: Pizza Cake. – Pizza and cake.
Ramsay's Kitchen – American dishes.
Ruth's Chris Steak House, a renowned dining establishment known for its exceptional steak offerings. – Business casual steakhouse.
Starbucks – Coffee.
Walk-On's – Louisiana-inspired cuisine. Sportsbar.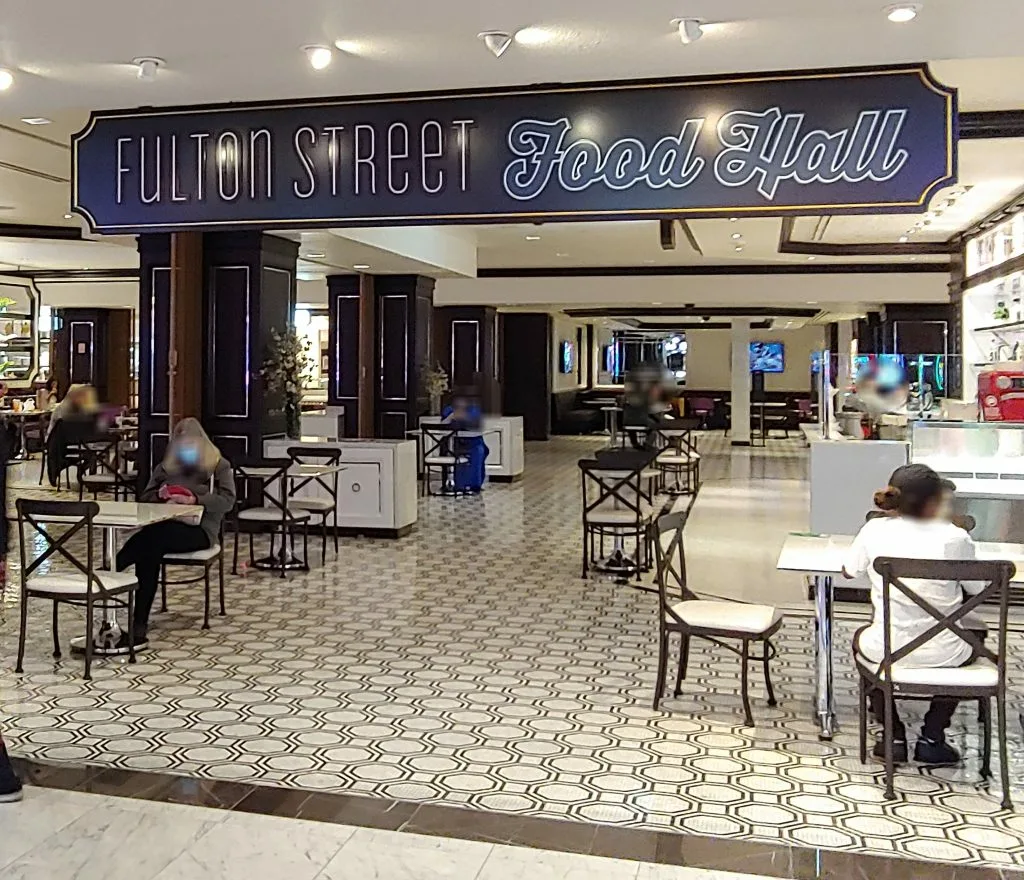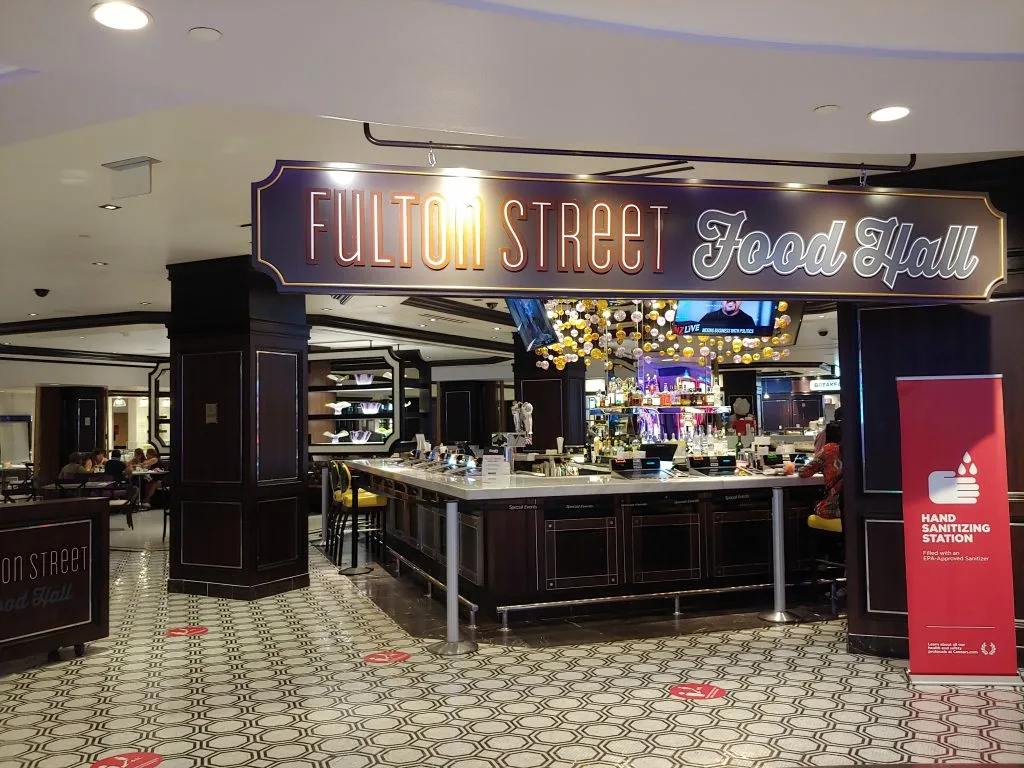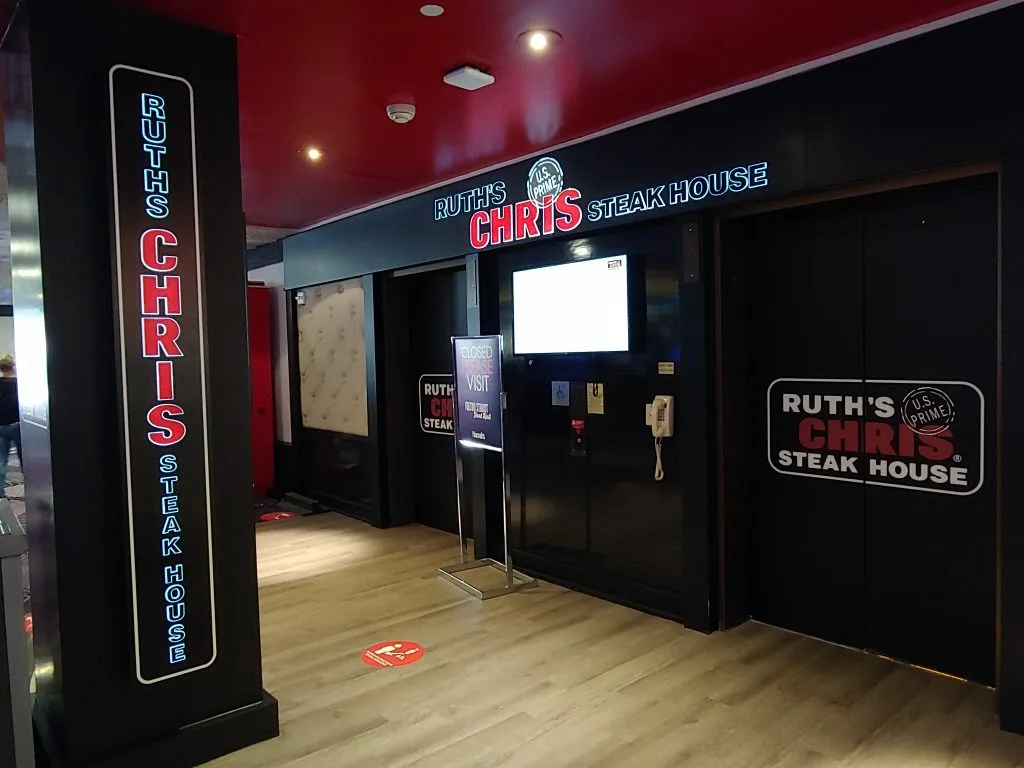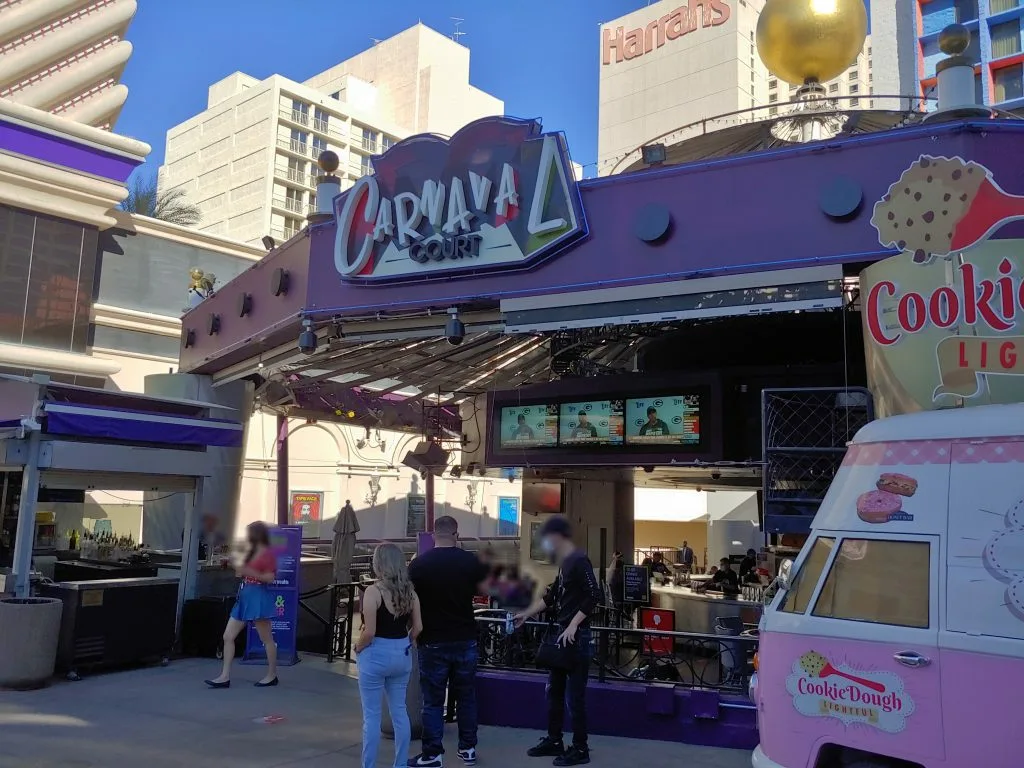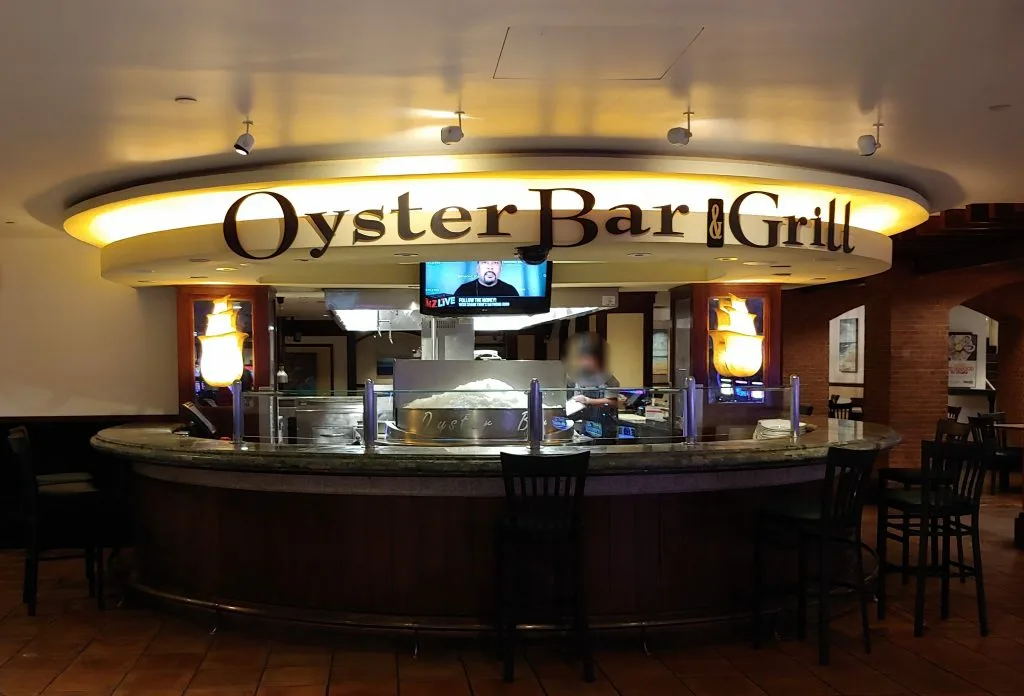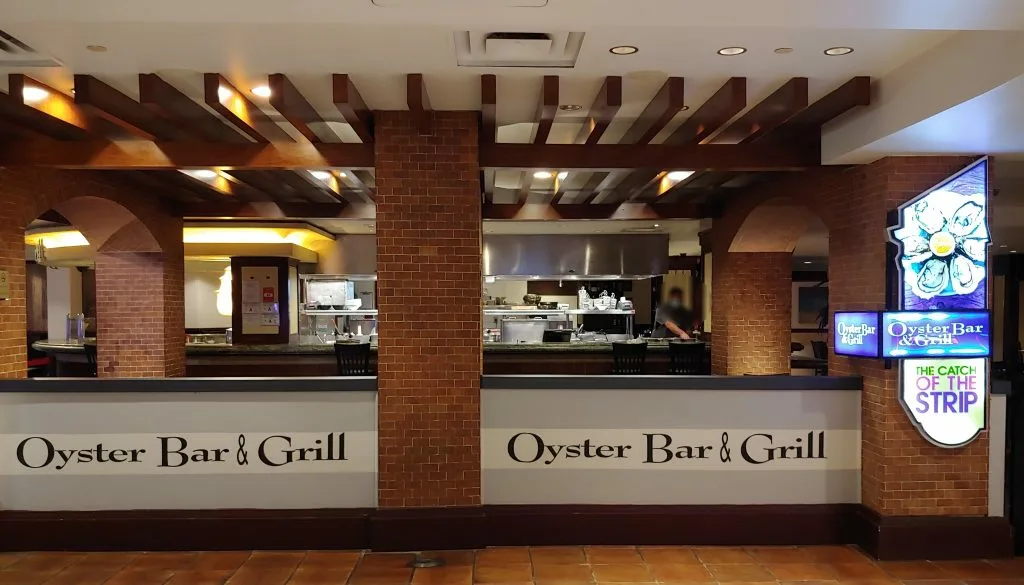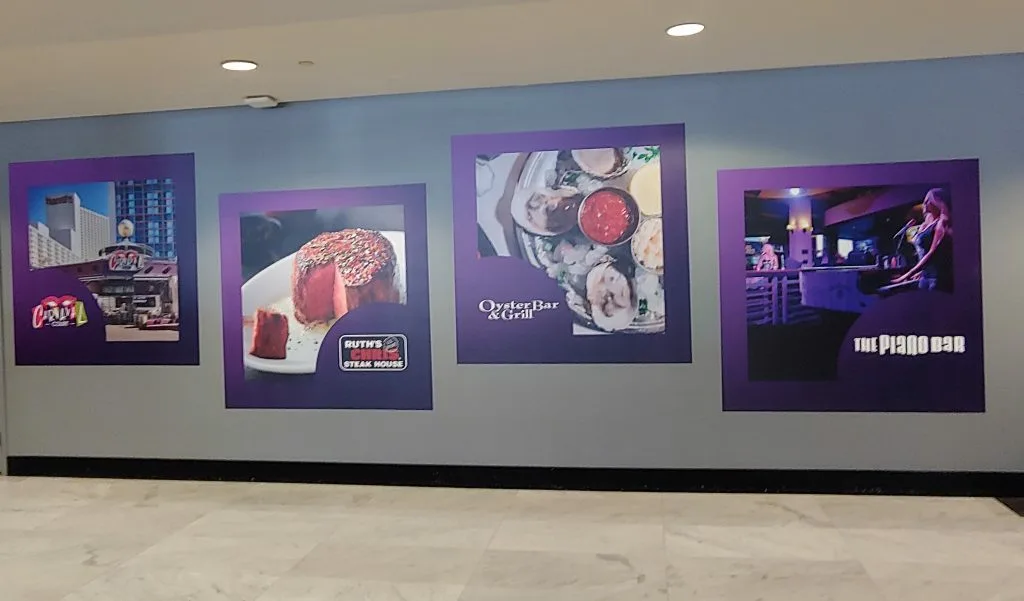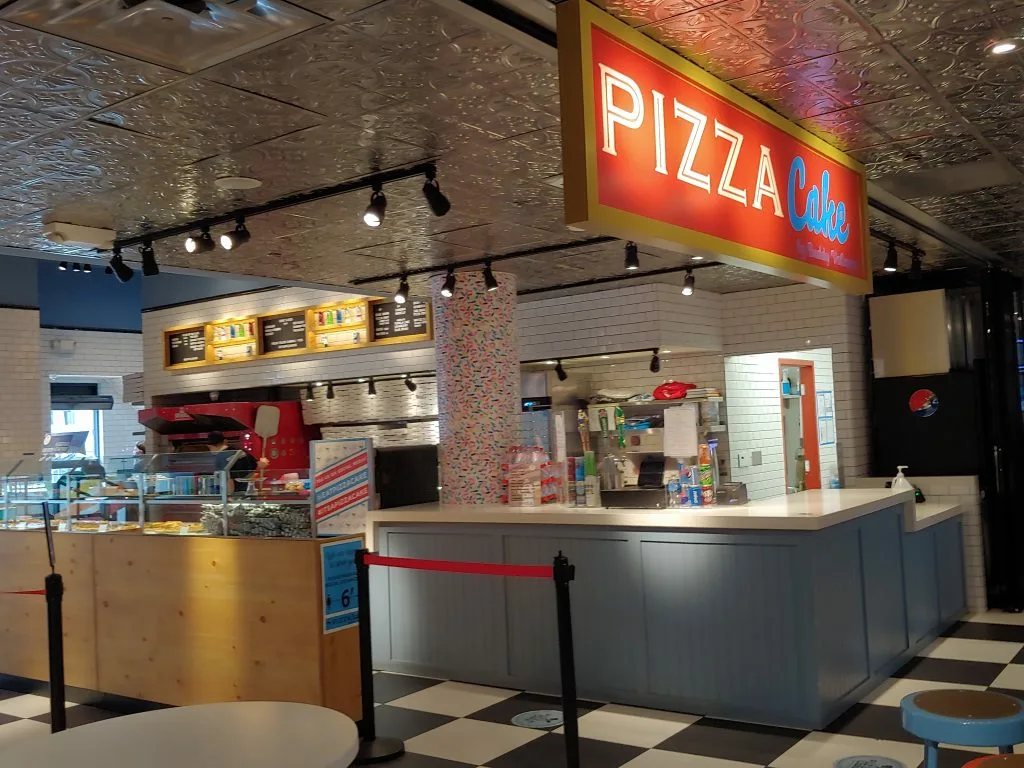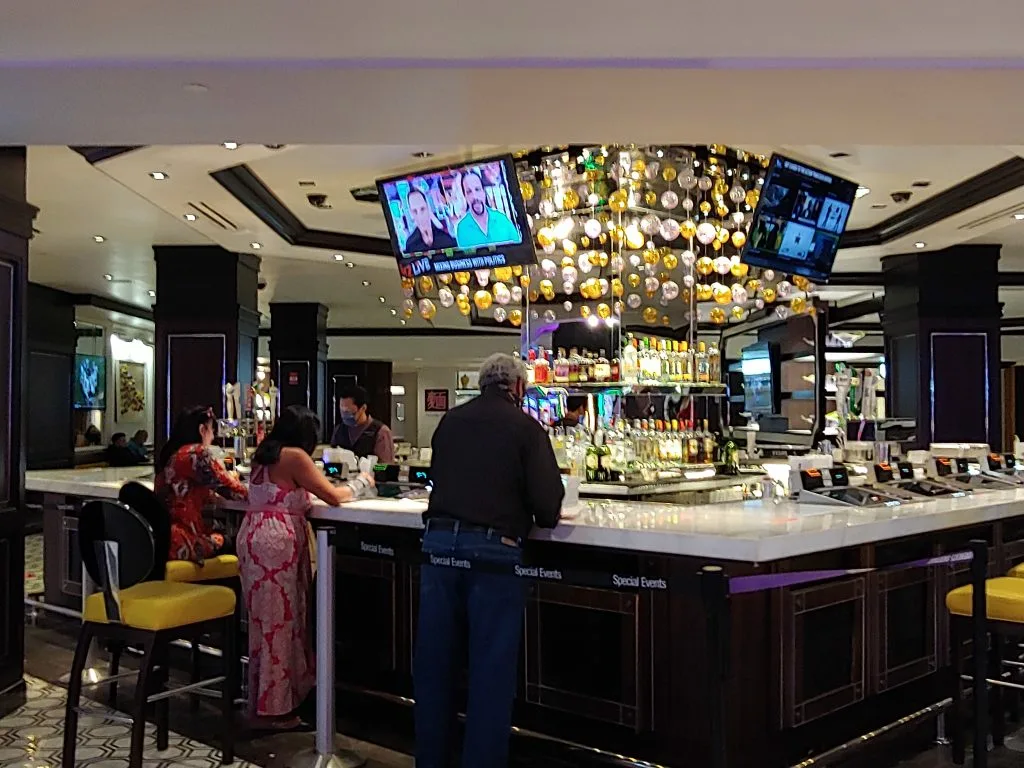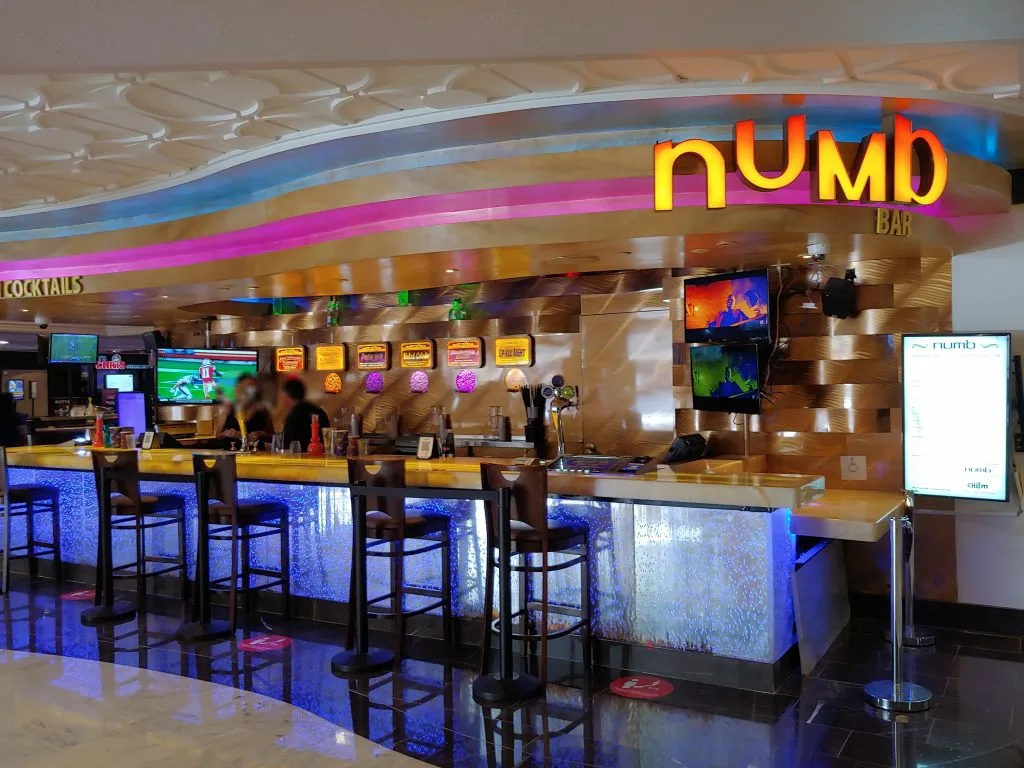 Hotel accommodations
Arrival time: 4pm | Departure time: 11am | Additional charge: $39.95 for each night
In the heart of Harrah's, you'll find over 2,500 spacious rooms that cater to every traveler, including those with furry companions. Whether you're here for work or leisure, each room is equipped with a dedicated workspace, ensuring productivity and comfort. Rest easy knowing that all rooms come with essential features to make your stay hassle-free, such as an in-room safe for your valuables, blackout curtains for a peaceful sleep, an iron/ironing board to keep your clothes wrinkle-free, and a hairdryer for your convenience. But the amenities at Harrah's don't stop at the rooms alone. Indulge in a range of property amenities designed to enhance your experience. Stay active and energized at the fitness center, where you can work up a sweat and maintain your fitness routine. Cool off and relax in the refreshing pool, perfect for a dip under the warm sunshine. And for the ultimate relaxation, treat yourself to a rejuvenating spa session, where skilled professionals will pamper you from head to toe. At Harrah's, your comfort and satisfaction are top priorities, reflected in the meticulously designed rooms and the array of amenities available to guests. Whether you're seeking tranquility, productivity, or pure indulgence, this haven has it all.
We have two stunning hotel towers to accommodate our guests: the Mountain Tower and the Valley Tower. Within the Mountain Tower, you will find cozy 300-square-foot rooms, each furnished with two comfortable double beds. On the other hand, the Valley Tower boasts rooms starting at 340 square feet, where you can choose between a spacious single king bed or two queen beds. For those seeking a more elevated experience, our upgraded rooms provide breathtaking views of the iconic Strip. Furthermore, both towers offer luxurious suites, providing guests with ample extra space to unwind and relax.
Book accommodations at Harrah's Las Vegas
Harrah's Casino FAQ
Are there any live shows at Harrah's?
Harrah's boasts a pair of showrooms where a wide range of captivating performances take place on a nightly basis, featuring the likes of Donny Osmond and TAPEFACE.
Does Harrah's in Las Vegas deal any 3/2 blackjack?
Harrah's high limit salon exclusively offers 3/2 blackjack while all other blackjack tables on the casino floor have a 6/5 payout.
What are the craps odds at Harrah's Las Vegas?
Live craps offers odds multiplied by 3-4-5, while crapless craps provides odds multiplied by 1-2-3-4-5. In the case of Roll to Win Craps, players can enjoy double odds.
Is there a poker room at Harrah's?
The poker room at Harrah's Las Vegas shut down in March 2020 and has remained closed ever since.
Is there a sportsbook at Harrah's?
Harrah's features a Caesars Sportsbook.
Are there any keno lounges on the Las Vegas Strip?
Harrah's and Horseshoe stand out on the Las Vegas Strip as the sole establishments offering keno lounges.
Last updated: May 27, 2023