The Las Vegas Table Game Survey of summer 2023 provides the following details on I Luv Suits, a newly introduced poker game that is gaining popularity, overtaking the previously favored High Card Flush. In both games, the focus lies solely on flushes, disregarding all other hand combinations. The objective is to create a seven-card flush, aiming for the highest possible ranking.
Bet-NV.com receives backing from memberships, sponsors, and advertisements, and is committed to responsible gambling. Should you or someone you know require help for a gambling addiction, reach out to 1-800-GAMBLER.
You can show your support for Bet-NV.com by subscribing to our monthly or quarterly membership, which includes our comprehensive Las Vegas Blackjack and Table Game Survey. This subscription service provides you with the most up-to-date information from our casino visits, and it is regularly updated multiple times per month. With memberships starting at just $3 per month, you can gain access to valuable insights and data that will enhance your Las Vegas gaming experience. Join our community today and take advantage of this exclusive offer.
Bet-NV.com memberships can now be accessed on Gumroad as well as Patreon, offering users the same exceptional content on both platforms.

In case you or someone you are aware of is facing difficulties with gambling, kindly reach out to 1-800-GAMBLER for assistance.
Our terms of use stipulate that publishers of other websites may use our data within reasonable bounds, but they must include a backlink to Bet-NV.com.
Discover the exhilarating Las Vegas casinos featuring the thrilling games of High Card Flush and the captivating experience of I Luv Suits.
During our summer visit in 2023, we had the opportunity to explore the vibrant Las Vegas casino scene. Surprisingly, we discovered that only 11 of the casinos in the city offer the exhilarating game of High Card Flush. However, there were thirteen casinos where we found the popular game I Luv Suits being dealt. To our delight, the Paris casino stood out as the only establishment offering both versions of these thrilling card games. While conducting our survey, we made sure to note the minimum bet listed at each casino. These figures provided us with a general expectation of the wagering amounts during quieter hours. It's important to bear in mind that these limits might increase by either $5 or $10 during busier periods when the casinos are bustling with eager gamblers.
Minimum wagers for High Card Flush in Las Vegas.
$5 minimum
Golden Nugget
M Resort
Orleans
Rio
$10 minimum
Aliante
Paris
Planet Hollywood
The Strat
$15 minimum bet
Caesars Palace
Cosmopolitan
$25 minimum
Las Vegas, the city known for its love of suits, has a minimum betting requirement that is sure to catch your attention.
$5 minimum
Cromwell
Flamingo
Linq
Harrah's
Red Rock
Santa Fe Station
$10 minimum
Green Valley Ranch
Horseshoe
New York-New York
Paris
Suncoast
Discover the rules of High Card Flush and my fondness for Suits.
In the thrilling game of High Card Flush/I Adore Suits, the excitement begins with the player placing an initial ante wager. Additionally, an enticing bonus bet is available for those feeling particularly lucky. As the game commences, a total of seven cards are discreetly distributed to both the players and the dealer, remaining face-down throughout the process. Each participant finds themselves pitted against the skillful dealer, adding an element of anticipation and strategy to every hand.
In this game, the objective is to receive as many cards of the same suit as one possibly can. Initially, the hands are assessed based on the greatest number of a particular suit present. The more cards of a single suit one possesses, the more advantageous their hand becomes. Subsequently, the hand is ranked based on the value of its highest card, descending down to the lowest. For instance, a flush composed of a four-card sequence with an ace, five, four, and three would triumph over a flush consisting of a four-card sequence with a king, queen, jack, and ten. These two hands would surpass any flushes with two or three cards, but would be defeated by any hand that possesses five or more cards of a singular suit.
As a player, I am faced with a crucial decision after obtaining this valuable information: should I fold or play? Folding would mean giving up all my bets and exiting the current hand. On the other hand, I have the option to raise. The specific amount I can raise is determined by the highest flush in my hand. If I have a two, three, or four-card flush, I can raise an equivalent amount to the ante. However, if I possess a five-card flush, the raise is doubled compared to the ante. For a six or seven-card flush, the raise is triple the ante.
After the players have made their moves, it's time to reveal the dealer's cards. However, there's a catch - the dealer needs to have a flush of at least nine-high with three cards in order to qualify. Should the dealer fail to meet this requirement, the antes are paid out and the raises are considered a push. Conversely, if the dealer does qualify, and the player manages to beat them, the player will receive their ante and raise back with an even money payout. On the other hand, if the dealer outperforms the player, these bets will be lost. In the event of a tie between the player and the dealer, it will result in a push.
Effective tactics for High Card Flush and my affection for Suits' gameplay.
According to a straightforward approach, it is advisable to increase the bet for a flush hand consisting of a ten, eight, six or higher. The raise should be made for the maximum allowable amount.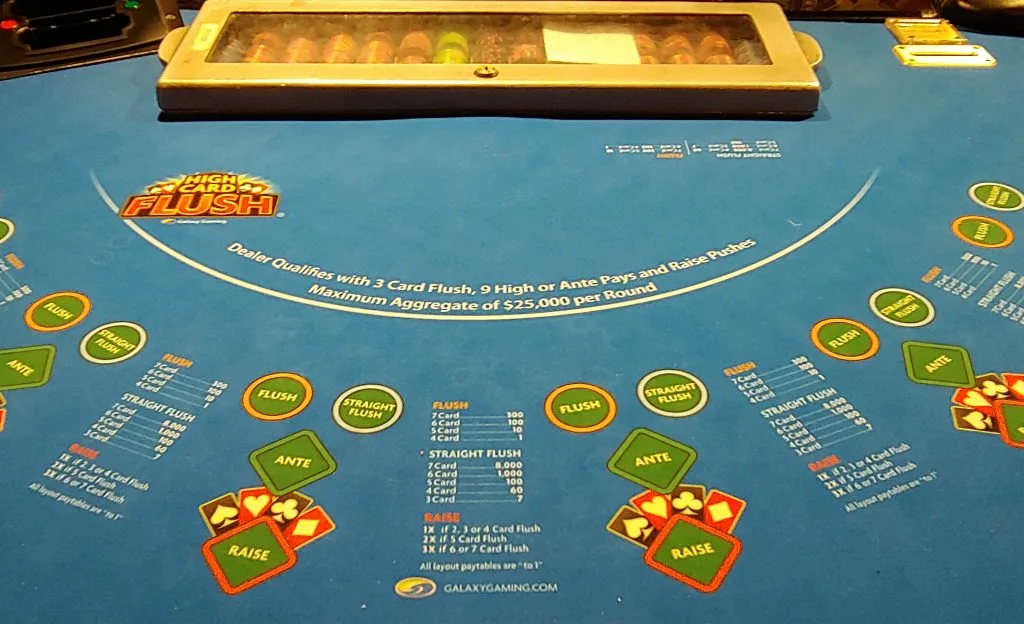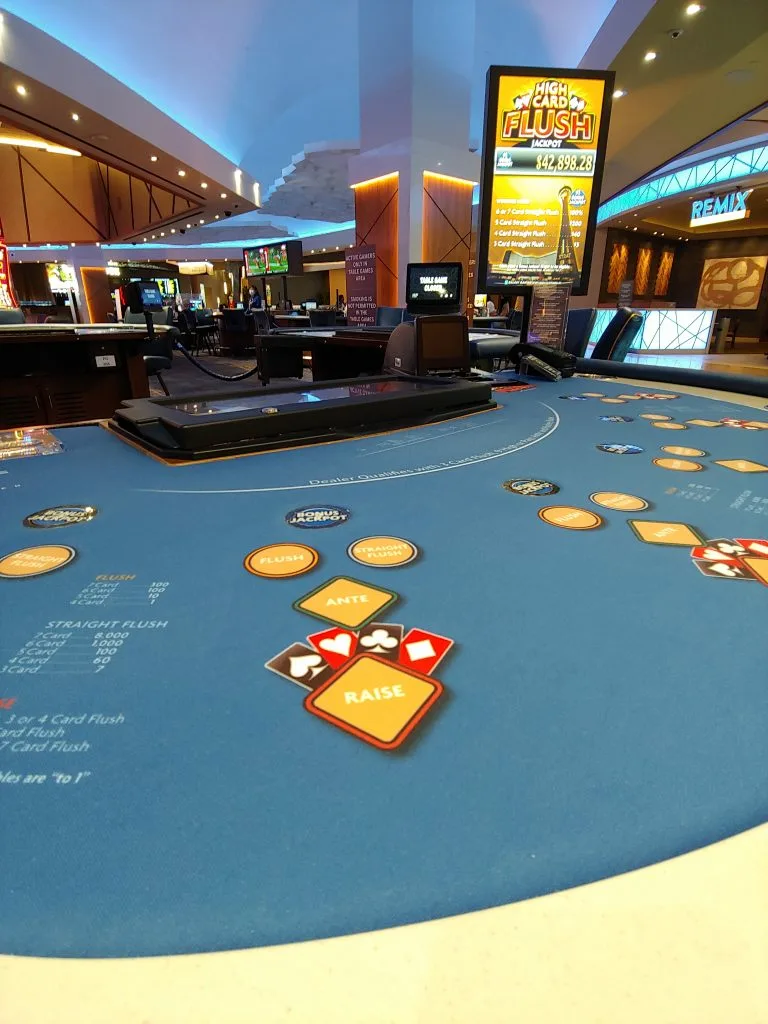 Frequently Asked Questions About Las Vegas High Card Flush and My Love for Suits
What is the minimum bet for High Card Flush in Las Vegas?
Some casinos offer the game High Card Flush for a minimum of $5, while most tables on the Las Vegas Strip begin at $10. However, there are also a few tables at specific locations, like the I Luv Suits tables, that start at $5.
How many Las Vegas casinos deal High Card Flush?
Las Vegas boasts a dozen casinos where High Card Flush is dealt.
How many Las Vegas casinos deal I Luv Suits?
Fourteen casinos in Las Vegas offer the popular card game, I Luv Suits.
The information provided was last updated by William Stevens on August 27, 2023.