Crapless craps, a modified version of the classic game, made its debut at Bob Stupak's Vegas World during the 1990s, and this iconic establishment is now recognized as The Strat.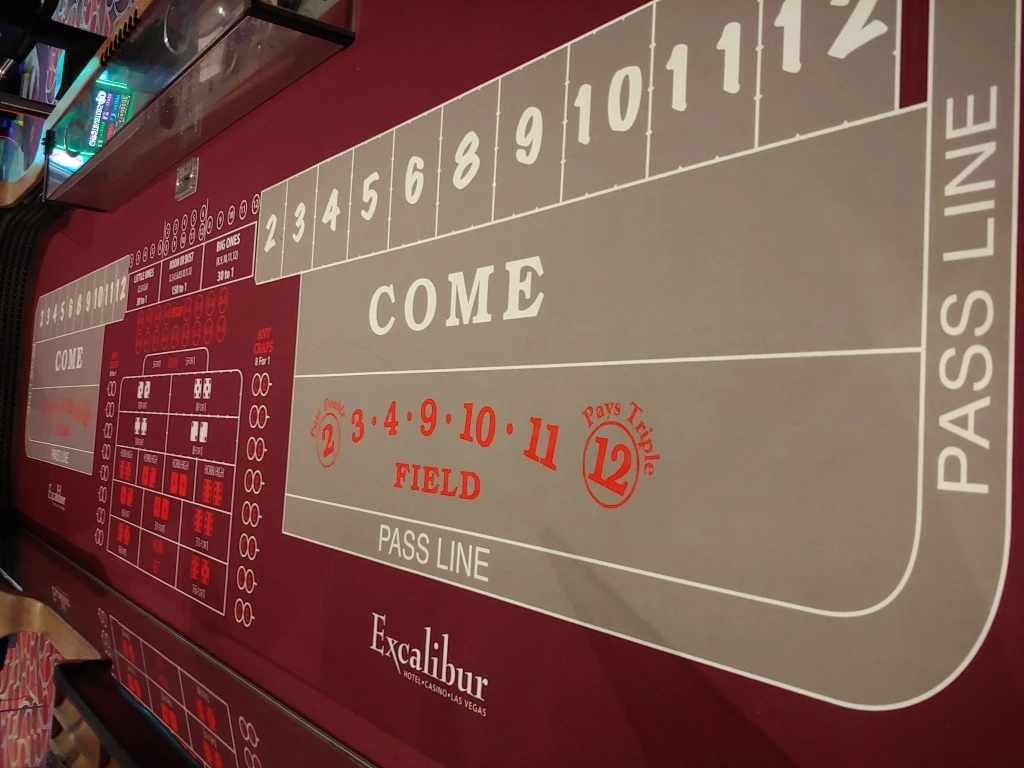 Las Vegas has witnessed a resurgence of the infamous crapless craps game. In a surprising move, MGM Resorts decided to revamp several of their conventional tables to accommodate this unconventional variation in 2020. As a result, a staggering 21 casinos along the illustrious Strip, as well as the renowned Westgate establishment, now offer the enthralling experience of crapless craps. This notable development has not gone unnoticed in our comprehensive Las Vegas Table Game Survey. However, it is important to note that this particular variation comes with a higher house edge compared to the standard game, making it a slightly riskier endeavor for avid gamblers. Interestingly, none of the esteemed downtown Las Vegas casinos have embraced this unconventional twist on the classic game.
During the summer of 2023, we gathered the following data. The mornings and afternoons generally offer the lowest minimum bets, which we anticipate to be the most affordable options. However, it is important to note that during peak hours, such as bustling periods, one should expect higher minimums.
Bet-NV.com relies on the backing of its members, sponsors, and ad placements. In case you or someone you're familiar with faces gambling-related issues, don't hesitate to reach out to 1-800-GAMBLER.
As a helpful assistant, let me tell you about our exclusive Las Vegas Blackjack and Table Game Survey. This incredible resource is offered through our subscription service, which provides you with access to valuable information. By becoming a member, you not only gain access to this survey but also support Bet-NV.com in delivering quality content. Rest assured, the survey is regularly updated throughout the month, ensuring you receive the latest data from our casino visits. With membership options starting as low as $3 per month, you can enjoy all the benefits and insights our survey has to offer.
Bet-NV.com subscriptions can now be accessed via Gumroad and Patreon, offering the same valuable information on both platforms.
If you or someone you're familiar with struggles with gambling, reach out to 1-800-GAMBLER for support.
The utilization of our data by publishers of other websites is allowed within fair boundaries, but they must adhere to our terms of use which mandates including a backlink to Bet-NV.com.
Associated: Investigation on craps games in Las Vegas
Top-rated Las Vegas casino for playing crapless craps
If you're looking for the best crapless craps odds on the far north end of the Las Vegas Strip, then The Strat is the place to go. They offer a generous 10 times odds on their crapless craps tables. In comparison, all the other casinos in Las Vegas only provide odds of 3-4-5 or 1-2-3-4-5 times. So if you want to maximize your potential winnings and have a more favorable chance of success, The Strat should be your destination for crapless craps.
The smallest wager allowed for playing Crapless Craps in Las Vegas.
Players should take note of the properties that offer a triple payout on a field 12.
10x maximum odds
5x maximum odds
3-4-5x maximum odds
Westgate – $10
Excalibur* – $15
Luxor* – $15
Mirage* – $15
New York-New York* – $15
Park MGM* – $15
Resorts World* – $15
Aria* – $25
Bellagio* – $25
Cosmopolitan* – $25
Mandalay Bay* – $25
MGM Grand* – $25
1-2-3-4-5x maximum odds
Flamingo- $15
Harrah's – $15
Horseshoe – $15
Palazzo* – $15
Paris – $15
Planet Hollywood – $15
Venetian* – $15
2-2-3-4-5x maximum odds
Unique Las Vegas side bets for a modified version of the craps game
We discovered these unique crapless craps side wagers at the specified casinos in the Las Vegas region.
Every diminutive, petite and compact
Explosive Success or Disastrous Failure
Aria
Bellagio
Caesars Palace
Excalibur
Flamingo
Harrah's
Horseshoe
Mandalay Bay
MGM Grand
Mirage
New York-New York
Palazzo
Paris
Park MGM
Planet Hollywood
Venetian
Westgate
A comprehensive guide on the rules and strategies of playing crapless craps
In the realm of casino games, there exists a delightful variation known as crapless craps. The initiation of this game mirrors that of a conventional craps game. With a resounding roll of the dice, a point is established during the come out phase. However, the betting system takes a unique turn in this variant. Gone are the days of don't bets gracing the table; in crapless craps, the focus is solely on the pass line. Consequently, the shooter finds themselves compelled to place their wager on said pass line, embracing the thrill of this unorthodox approach.
In the world of craps, there exists a fascinating variant known as crapless craps. One intriguing aspect of this game is that the pass line bet is immune to losses on the come out roll. In fact, it emerges victorious whenever a 7 is rolled. However, if any other number appears, it assumes the role of the point. Surprisingly, this encompasses not only the traditional points of 4, 5, 6, 8, 9, and 10, but also includes the numbers 2, 3, 11, and 12. Curiously, any number apart from 7 has the potential to transform into a place bet. Moreover, it is worth noting that the crapless craps table offers a range of other standard bets, such as the field, hardways, and hop bets.
In Las Vegas, the odds for crapless craps tables differ depending on the casino you choose. The Strat, in particular, stands out as the top choice when it comes to offering generous odds, providing players with a 10 times odds option. On the other hand, MGM Resorts properties opt for a slightly different approach, with their odds set at 3-4-5. This means that if you place bets on numbers 2, 3, 11, or 12, the odds will be covered by a three times multiplier. However, if you prefer Harrah's, keep in mind that their odds are not as favorable compared to The Strat or MGM Resorts. Harrah's lowers the odds to double on numbers 3 and 11, while reducing it even further to single odds for numbers 2 and 12.
Wagers can be placed on any number, and the payouts are determined according to the following schedule:
2 and 12: 11:2

3 and 11: 11:4

4 and 10: 9:5

5 and 9: 3:2

6 and 8: 7:6
In Las Vegas casinos, the odds and bet table clearly indicate whether they pay double or triple on 12. Hardway bets, on the other hand, have a payout of 7:1 for 4 and 10, and 9:1 for 6 and 8. Hop bets, which are based on both easy and hard ways, offer a higher payout of 15:1 and 30:1 respectively. Additionally, the field bets can be quite rewarding as they win on 2, 3, 4, 9, 10, 11, and 12. It's worth noting that all Las Vegas casinos pay double when the outcome is 2.
At a crapless craps table, although craps itself doesn't exist as a game, there is a wager available for it on the felt. If the shooter manages to roll a 2, 3, or 12, this particular bet pays out at odds of 9:1.
Frequently Asked Questions about crapless craps in Las Vegas
What is the difference between craps and crapless craps?
In the world of crapless craps, you won't find any "don't bets." It's a game where a 7 takes the victory, making all other numbers turn into a point. What's interesting is that the pass line and come bet have an advantage on the initial roll - they simply cannot lose. Additionally, there's the opportunity to place bets on numbers like 2, 3, 11, and 12. This game offers a unique twist on traditional craps, providing players with alternative betting options and strategies to explore.
Can I play crapless craps in Las Vegas?
Certainly! Indeed. You can find it in a total of 22 casinos located in the vibrant city of Las Vegas. With the exception of a single venue, all of these casinos are conveniently situated on the famous Las Vegas Strip.
What is the minimum bet for crapless craps in Las Vegas?
In Las Vegas, the minimum bet for crapless craps games kicks off at just $10.
Which Las Vegas casino has the best crapless craps odds?
Experience the thrill of 10 times odds at crapless craps, exclusively at The Strat.
The most recent information was provided by William Stevens and was last updated on August 27, 2023.