Over a decade ago, when my team and I began our documentation of table games in Las Vegas, it was a common sight to witness live big wheel games being dealt at numerous Strip casinos and a handful of downtown establishments. This particular game, also known as the wheel of fortune, money wheel, or big 6, held a significant presence in the gambling scene. However, as time has passed, the popularity of this game has dwindled, and today, we find that only two casinos still offer it to their patrons. It is fascinating to observe how the landscape of table games in Las Vegas has transformed over the years, with certain games falling out of favor while others rise to prominence.
Back in 2016, a new roulette variant called triple zero roulette made its debut at the renowned Venetian casino. This unique version of the game remained exclusive to the Venetian and its sister property, Palazzo, for over a year. Surprisingly, during that time, no other casino on the Las Vegas Strip offered this particular roulette variation. However, as 2018 approached, a notable shift began to occur – triple zero roulette slowly began to make its way into other casinos along the bustling Las Vegas Strip. By the end of that year, one could find three tables of this unconventional version of roulette scattered among various establishments apart from the Venetian and Palazzo.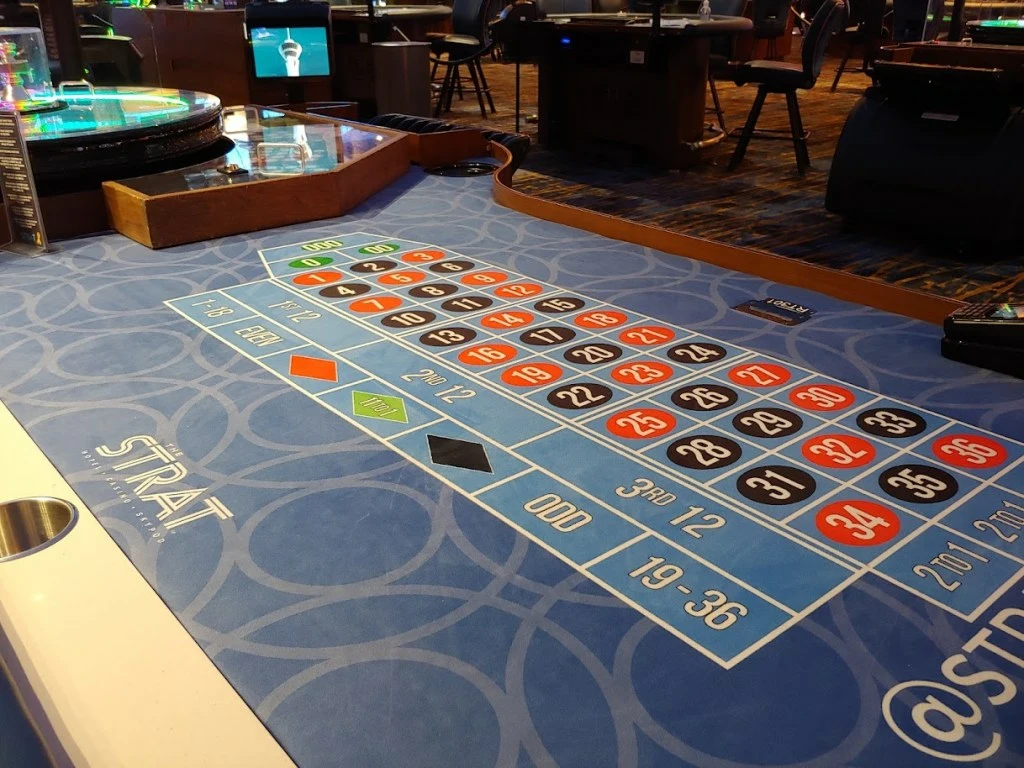 I recall my visit to Las Vegas in January of 2019, where I had the opportunity to witness the presence of a staggering 25 triple zero roulette tables. The majority of these tables, specifically 19 of them, were situated along the famous Strip, with an additional four located downtown and two nestled in casinos near the Strip. It was intriguing to note that the count of Las Vegas' triple zero roulette tables had experienced a significant increase throughout the entirety of 2019, nearly doubling in number. Since then, the growth rate has stabilized at approximately 10% per year, steadily expanding the options for roulette enthusiasts in the city.
During our comprehensive study of the Las Vegas table game market in 2018, we meticulously observed and documented a total of 19 big wheel games being offered. Strikingly, four of the prominent casinos had chosen to install multiple variations of this exciting game. However, as the years progressed, this once thriving presence of big wheel tables has experienced a steady decline. The most recent survey we conducted in the autumn season revealed a stark contrast, with only two big wheel tables remaining operational. Astonishingly, these last remaining bastions of big wheel excitement were exclusively found at the renowned Golden Nugget and the distinguished Wynn casinos.
Latest News - April 18, 2023: Exciting discovery! Caesars Palace unveils a fresh addition to its array of attractions - an impressive high-stakes roulette wheel, offering betting limits ranging from $10 to $100.
Check out this visual representation showcasing the transformations that have occurred within the past five years.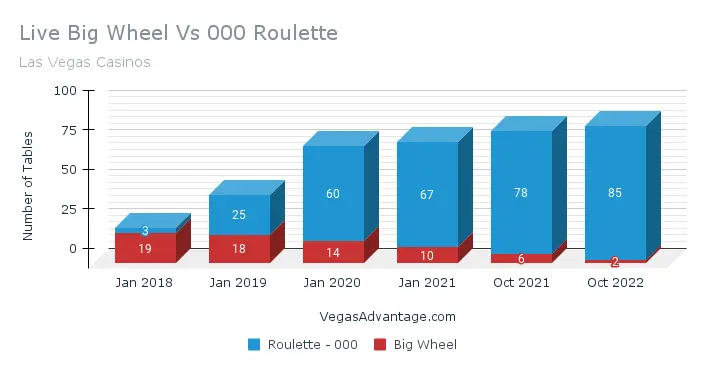 The casino's house edge differs when it comes to the big wheel game.
Determining the house edge for big wheels in different casinos can be quite challenging due to their varying rules and setups. The Wizard of Odds, a renowned gambling expert, has observed that in Las Vegas, the house edge for big wheels can range anywhere from 11% all the way up to 24%. It is important to remember that each casino may have its own unique wheel design and payout structure, which can greatly impact the overall advantage the house has over the players. Therefore, it is crucial for gamblers to carefully assess the specific big wheel game they are playing before placing their bets, as the odds can significantly differ from one establishment to another.
In the virtual realm of video big wheel, the house edge is typically slashed in half compared to the live game, even in the stadium version. It's fascinating to observe how some attract screens proudly showcase this noteworthy advantage, with the virtual dealer's voice echoing through the virtual halls.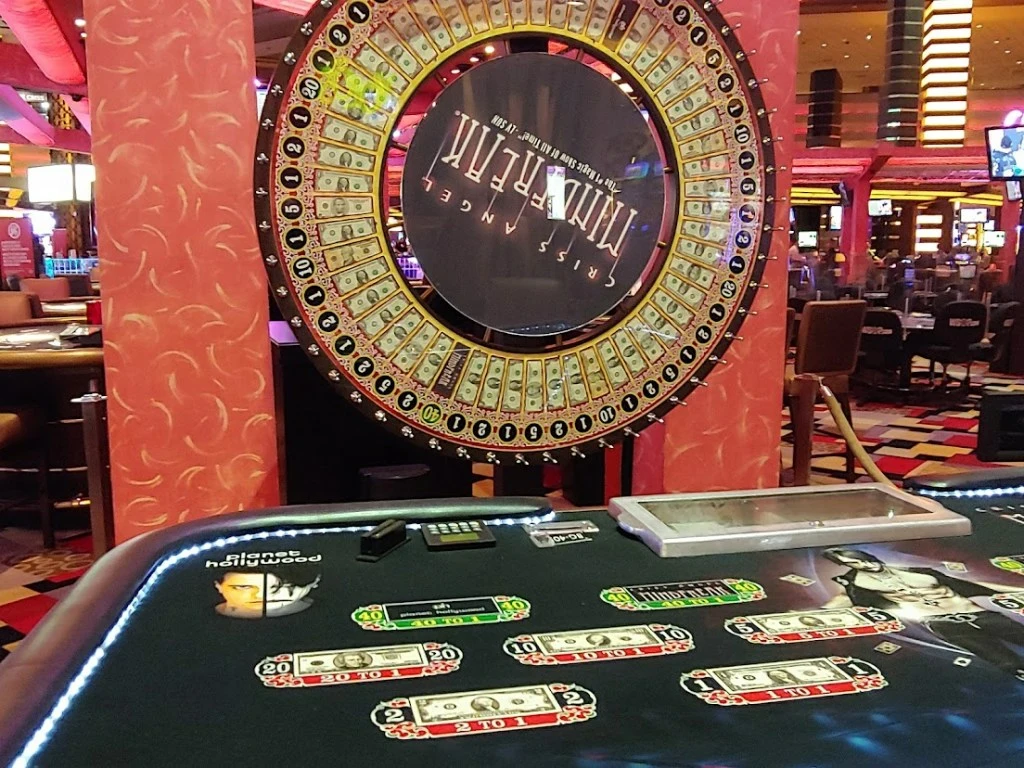 The house edge of triple zero roulette
Las Vegas table games are quite diverse when it comes to the house edge. For instance, the house edge for all triple zero roulette bets stands at 7.69%, which is higher than the standard bets for other common table games in Sin City. On the other hand, this figure is actually lower than what you would find in most live big wheel games. So, if you're looking for a game with a relatively lower house edge, triple zero roulette might be worth considering, especially when compared to other options available in Las Vegas.
My perspective on the demise of the big wheel due to the introduction of triple zero roulette.
In the good old days on the Las Vegas Strip, you could easily spot the big wheel tables near the entrances or in the lively party pits. They had a unique charm and were often manned by an attractive young lady in a daring bikini or other alluring attire. However, those exciting pits with the big wheel game have become a relic of the past. If you were looking to play big wheel in Las Vegas five years ago, you would have found it in abundance, but now it's a different story altogether.
On the casino floor, there was a game called big wheel with a much lower minimum bet compared to other games. You could play this game for just a few dollars. Unlike other tables, big wheel tables didn't have seats. They were designed for players who were just passing by, allowing them to quickly place a few bets before moving on to a different game.
Triple zero roulette tables are designed to generate more profit for casinos compared to big wheel tables. The house edge of triple zero roulette is approximately half the size of that in big wheel. Moreover, the minimum bet required for triple zero roulette is at least twice as much as that for big wheel. These tables are equipped with seats and strategically created to encourage players to stay for extended durations. As a result, casinos benefit financially from the prolonged engagement of players at triple zero roulette tables, making it a more lucrative option than its big wheel counterpart.
Triple zero roulette provided casinos with an opportunity to popularize a clear-cut carnival game. Both feature a spinning wheel, require no expertise, and possess a substantial advantage in favor of the house.
Electronic devices are available at numerous Las Vegas casinos for playing big wheel.
In Las Vegas, the beloved live big wheel game may be a rare sight nowadays, but fear not, for there are numerous electronic renditions available. Among them are the popular big 6 versions, which can be found in casinos like Golden Nugget and Wynn. Interestingly, these two establishments also offer an electronic heads-up variation of the game. If you're looking for even more options, you'll be pleased to know that over 30 other casinos feature multiplayer video versions of the game on stadium devices. So, whether you prefer the classic live experience or the modern electronic twist, there's a big wheel game waiting for you in the vibrant city of Las Vegas.
Find out all the specifics in our comprehensive Las Vegas Electronic Table Game Guide, where you'll typically find a $1 minimum bet for electronic big wheel and big 6.