Baccarat emerged as the leading table game in the 2023 Las Vegas Table Games Survey, surpassing roulette in terms of installations.
In October 2022, we diligently gathered the ensuing details. The figures we present denote the smallest wagers we anticipate encountering, typically during the early hours of the day and afternoon. It is prudent to anticipate steeper minimums during peak periods.
Bet-NV.com receives backing from memberships, sponsors, and advertisements. For assistance with a gambling addiction, contact 1-800-GAMBLER.
Supporting Bet-NV.com means gaining access to our comprehensive Las Vegas Blackjack and Table Game Survey, an invaluable resource for avid casino enthusiasts. With a monthly or quarterly membership, you can be part of this exclusive community and stay up-to-date with the latest data gathered from frequent visits to various casinos. For as little as $3 per month, you can unlock a wealth of information that is constantly updated throughout the month. Join today and enhance your gaming experience with Bet-NV.com.
Now you can access Bet-NV.com subscriptions conveniently from either Gumroad or Patreon, offering you the same exceptional content on both platforms.

In case you or someone you're acquainted with is struggling with gambling, reach out to 1-800-GAMBLER immediately.
Other websites' publishers are allowed to utilize our data to a reasonable extent, as long as they include a backlink to Bet-NV.com in accordance with our terms of use.
Top-rated baccarat gambling establishments in Las Vegas
This data was obtained in March of the year 2022.
You can find Baccarat being dealt in almost every casino located on the Las Vegas Strip. Additionally, certain downtown casinos and larger local establishments also offer this popular card game. Typically, low limit Baccarat games are more commonly found in the local market. On the other hand, both downtown and Las Vegas Strip casinos often set high minimum bets for this particular game.
What is the minimum amount one can bet for baccarat in Las Vegas?
During peak hours, the minimum bet for live baccarat in Las Vegas can go as high as $25, but fear not, dear gamblers, for there is a glimmer of hope. In some rare pockets of the city, there exists a haven where the minimum bet drops down to a mere $10, offering a sliver of respite for those seeking to stretch their gambling budget. However, one must tread cautiously, as these oasis-like establishments are few and far between, hidden amidst the towering casinos of the iconic Las Vegas Strip. So, if you find yourself blessed with the knowledge of these elusive havens, seize the opportunity, for it may just be your ticket to a more frugal yet thrilling gambling experience.
$10 minimum
El Cortez
Santa Fe Station
South Point
$15 minimum
Boulder Station
Palace Station
Paris
Planet Hollywood
$25 minimum
Circa
Flamingo
Gold Coast
Green Valley Ranch
Harrah's
Horseshoe
M Resort
Orleans
Palms
Rampart
Red Rock
Resorts World
Rio
Suncoast (limited availability)
The Strat
Tropicana
$50 minimum
Caesars Palace
Golden Nugget
Luxor
Palazzo
Sahara
Treasure Island
$100 minimum
Aria
Bellagio
Cosmopolitan
Cromwell (limited availability)
Encore
Mandalay Bay
MGM Grand
Mirage
Mohegan Sun
New York-New York
Park MGM
The D
Venetian
Westgate (limited availability)
Wynn
Stadium baccarat
When it comes to casinos on the Las Vegas Strip, stadium baccarat is the game of choice. These cutting-edge contraptions boast an array of seats equipped with video screens, providing an immersive gaming experience. In the heart of it all, a skilled dealer orchestrates the card dealing process for all players involved. What sets stadium baccarat apart is its ability to accommodate multiple baccarat hands simultaneously, creating a thrilling and fast-paced atmosphere on these gaming devices.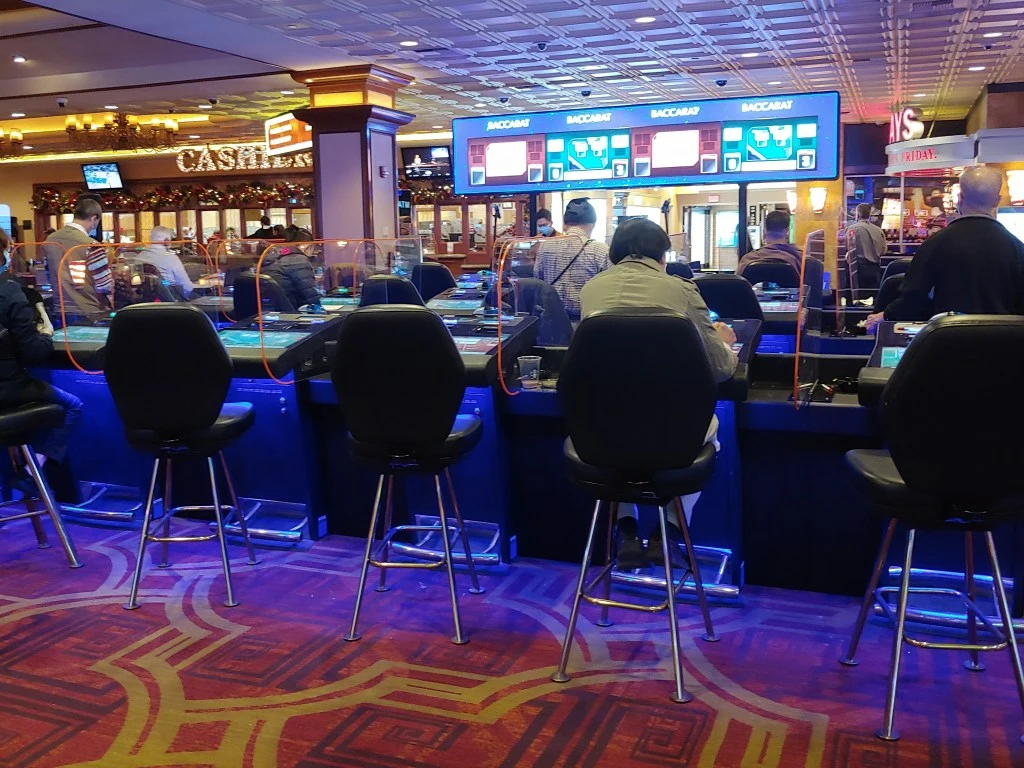 Stadium baccarat, a thrilling game of chance, captivates players with its exhilarating wins and losses, all meticulously calculated by the sophisticated baccarat stadium machine. As avid participants gather around, eagerly anticipating their turn, the minimum bet for this electrifying game typically ranges between $5 and $10. Not limited to a select few establishments, stadium baccarat can also be enjoyed at renowned venues such as Gold Coast and various Station Casinos properties. One notable hotspot, Palace Station, stands out by offering not just one, but four exhilarating baccarat games simultaneously within its esteemed Dynasty Stadium.
At The Orleans and Boulder Station, you can place bets on the stadium using a video version, requiring a minimum of $3. Another option available at The Orleans and South Point is the Casino Wizard machines, where you can play baccarat with a minimum bet of $1. If you prefer playing at Golden Nugget, the minimum bet for baccarat on their machines is $5. So, whether you're looking for lower or higher minimum bets, there are various options to choose from depending on the casino and machine you prefer.
Discover additional information regarding video baccarat in our comprehensive guide to Las Vegas Electronic Table Games.
Discover the art of playing baccarat and master its strategies.
At the beginning of the game, one of the actions taken by players is to place a bet on either the banker, player, or tie. It is also possible to place a bet on both the tie and either the player or banker. As the game progresses, both the player and the banker are dealt two cards each for their respective hands.
In the captivating game of baccarat, the value of an ace amounts to a mere point, while those dashing face cards hold no weight, worth zero points. However, the humble number cards hold their ground, valuing themselves at their face value. It is an unbreakable rule that a baccarat hand, however fantastic, cannot surpass the grandeur of nine. Should fate intervene and the count soar beyond this majestic limit, it gracefully resets itself back to zero, as if to remind us of the enchanting equilibrium of the game. Thus, in a dazzling display of calculation, a pair of nines united will cleverly conjure a total sum of eight, like a magician unveiling a mesmerizing trick on the baccarat table.
In the thrilling game of Baccarat, victory beckons if the player or banker is dealt an 8 or 9, for it is deemed a natural triumph. The culmination of the hand is reached, and the game swiftly concludes. However, should the player find themselves possessing a mere 5 or fewer points, fate allows them to draw another card in hopes of improving their hand. Yet, if the player's score rests upon the precipice of 6 or 7 points, the rules decree that they must stand, opting not to take any additional cards.
In the event that an individual possesses a hand value of 6 or 7, the banker shall proceed to take another card unless the hand value is precisely 7. However, if the player's hand value is a mere five or below, the banker will only draw a card when their own hand value is 0, 1, or 2, and they shall stand if their hand value is 7. Additionally, the banker is obligated to adhere to a specific set of rules when faced with alternative scenarios, which may be contingent upon the outcome of the previous cards drawn.
Sketch on three in the event that the participant sketched eight.

Utilize the numeral 4 when the player has picked numbers ranging between 2 and 7.

When the player draws a number between 4 and 7, they should draw on the fifth square.

If the player drew either 6 or 7, they would be required to draw on 6.
In baccarat, a bet on the player will grant you a payout equal to your wager, with no added commission. This type of bet carries a house edge of 1.24%, meaning that the casino has a slight advantage over the player. On the other hand, if you choose to bet on the banker, you will also receive a payout equal to your bet, but with a 5% commission deducted. However, this bet comes with a lower house edge of 1.06%, making it a slightly more favorable option. Some baccarat variations offer a banker push hand, which eliminates the need for the commission altogether. This can be a great advantage for players looking to maximize their winnings. Finally, there is the tie bet, which pays out at a ratio of 8:1. However, this type of bet comes with a significantly higher house edge of 14.36%, making it a riskier choice.

Frequently Asked Questions about Baccarat in Las Vegas
What is the most popular table game in Las Vegas?
Following blackjack, baccarat boasts the highest number of tables among all casino games in Las Vegas.
What is the minimum bet for Las Vegas baccarat?
The price range for this typically begins at $10 and can be found at various Las Vegas Strip casinos for prices ranging from $25 to $100.
The most recent update occurred on August 27, 2023, and was provided by William Stevens.