After the temporary shutdown due to the COVID-19 pandemic, the poker room at the Golden Nugget in Las Vegas welcomed back players on June 6, 2020. I was thrilled to learn that this downtown casino is the exclusive venue with a dedicated poker room. With a grand total of 13 tables, it offers ample space for enthusiasts to indulge in their favorite card game. What impressed me the most is that the poker room operates round the clock, catering to players at any hour of the day. They have set a maximum limit of eight players per table, ensuring a comfortable and enjoyable gaming experience for everyone. It's worth noting that the Golden Nugget poker room exclusively offers Texas Hold'em, the most popular poker variant. If you're looking for a comprehensive review of this exciting poker room, we've got you covered with all the necessary details.
Cash games at the poker room of Golden Nugget
At Golden Nugget, the primary game in full swing is the 1/2 no-limit Texas hold'em, where players can join in without any limitations on the amount they can buy-in with. This type of game is uncapped, meaning there is no maximum buy-in amount imposed. Alongside this popular option, another frequently played game is the 3/6 fixed limit Texas hold'em, which offers a different structure and betting limit to challenge players' strategies.
Exciting poker competitions at Golden Nugget
At Golden Nugget, the present suspension of poker tournaments is quite noticeable. Prior to the temporary closure, the schedule boasted a generous lineup of four tournaments each day. These thrilling competitions exclusively featured the popular variant of no limit Texas hold'em. As for the entry fee, participants had the option to choose between a reasonable $50 or $70, depending on the specific event.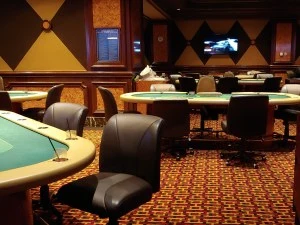 Exciting offers and deals for poker players at Golden Nugget!
Golden Nugget offers a variety of exciting poker promotions. Among them are hourly high hands and a special bonus for achieving four of a kind, straight flush, or royal flush. The payouts for four of a kind and straight flush range from $50 to $599 and continue to increase until someone wins. As for royal flushes, the payout begins at $200 and varies based on the suit. The progressive jackpot for royal flushes has no limit, which adds even more thrill to the game. Additionally, from 8am to 2pm every day, the payouts for four of a kind and straight flushes are doubled, creating even more opportunities for big wins.
From 12am to 8am, players can participate in high hands with a starting price of $100 per hour and rollovers. To qualify, players must have a hand of aces full or better. During the hours of 8am to 2pm, high hands will be multiplied by two.
When you join our poker room, you'll have the chance to win big with our thrilling $10,000 progressive bad beat jackpot. This incredible prize is awarded when a hand of at least four of a kind deuces or better is beaten. And the best part? The jackpot is funded by a mere $1 drop, making it accessible to all players. But here's the catch: in order to make a straight or royal flush, both of your hole cards must be used. And if you're hoping to secure a four of a kind hand, you'll need to use a pocket pair to qualify. That's not all though - as a token of our appreciation, players earn an additional $2 per hour when they're clocked in with a 24K Select card. So not only will you have the opportunity to play an exciting game of poker, but you'll also be rewarded for your time at the table. Join us today and let the games begin!
Environment
The poker room, nestled in a prime corner of the property close to the bustling casino cage, beckons players with its inviting atmosphere. Boasting plush seating and well-appointed tables, it provides a haven for enthusiasts seeking high-stakes thrills or leisurely games. Adorning the walls are scattered televisions, ensuring that players never miss a moment of the action. Within this vibrant space, a dedicated section is set aside for the adrenaline-infused tournaments that draw in a diverse crowd of competitors. It is here, under the watchful eye of the seasoned staff at Golden Nugget, that the poker room has solidified its reputation as the last prominent oasis in the heart of downtown Las Vegas.
The poker rake at Golden Nugget is worth exploring.
At Golden Nugget, the rake is capped at $4, amounting to a 10% commission. Additionally, the jackpot drop can reach a maximum of $2.
Frequently Asked Questions about the poker room at Golden Nugget
Is the Golden Nugget poker room operational throughout the entire day and night?
Indeed. It remains accessible every hour, all day long.
What types of poker games can be found at Golden Nugget?
The primary game offered is 1/2 no limit Texas Hold'em, and you can also find a game of fixed limit Hold'em running at 2/4 stakes.
Are there any restrictions on the maximum buy-in amount allowed at Golden Nugget's no limit Hold'em tables?
No, participants are allowed to purchase chips for any sum that meets or exceeds the minimum requirement.
What is the seating capacity at the poker tables in Golden Nugget?
Each table accommodates a total of eight seats.
I am wondering if Golden Nugget hosts any poker tournaments.
The suspension of daily tournaments remains in effect.
What is the cost to enter the Golden Nugget tournament?
Once these games make a comeback, players can enter by paying either $50 or $70, depending on the specific tournament.
What is the pay rate per hour in the poker room at the Golden Nugget?
Gamers receive a payment of $2 per hour once logged into a cash game using a 24K Select card.
The most recent update was done on September 1, 2023 by William Stevens.