During my recent visit to Las Vegas, I couldn't help but notice that Crazy 4 Poker, a once-popular table game, seems to be losing its charm among the gambling enthusiasts. Traditionally, the minimum bet for this game stands at a reasonable $5 or $10, making it accessible to a wide range of players. However, I discovered that a handful of prominent casinos along the Las Vegas Strip have raised the minimum bet to a staggering $15 or even $25, which certainly puts a dent in the pockets of avid gamblers. It's worth mentioning that these minimum bets are subject to increase during peak hours or bustling periods of the day, leaving players with limited options. These findings are based on a comprehensive survey that my team and I conducted during the summer of 2023, highlighting the shifting dynamics of the gambling scene in this vibrant city.
Bet-NV.com receives backing from its member base, sponsorship, and ad revenue. In case you or someone you're acquainted with struggles with gambling addiction, please reach out to 1-800-GAMBLER for assistance.
Supporting Bet-NV.com by signing up for a monthly or quarterly membership is a great way to gain access to our Las Vegas Blackjack and Table Game Survey. As part of our subscription service, this survey is regularly updated with new data from casino visits, ensuring that you have the most up-to-date information available. With memberships starting as low as $3 per month, you can take advantage of this valuable resource and make informed decisions while enjoying your time in Las Vegas. Don't miss out on the opportunity to enhance your casino experience with our comprehensive survey.
Bet-NV.com is now offering subscriptions through Gumroad and Patreon, ensuring access to the same exceptional content on both platforms.
In case of a gambling issue, contact 1-800-GAMBLER to seek assistance for yourself or someone you are familiar with.
Our terms of use require publishers of other websites to include a backlink to Bet-NV.com when using our data, within reasonable limits.
Las Vegas establishments offering Crazy 4 Poker at their casinos.
Crazy 4 Poker can be found in a total of 18 casinos in Las Vegas, encompassing a variety of establishments including those on the Strip, downtown, and catering to the local crowd.
Discover the minimum betting requirements for Crazy 4 Poker in Las Vegas
$5 minimum
Cromwell
Golden Nugget
Red Rock
Rio
Santa Fe Station
Sunset Station
$10 minimum
Flamingo
Green Valley Ranch
New York-New York
Paris
Planet Hollywood
$15 minimum
Bellagio
Caesars Palace
Encore
Resorts World
Venetian
Mastering the art of playing Crazy 4 Poker
When diving into a game of Crazy 4 Poker, the first step is for the player to place two identical bets. One is allocated to the ante, while the other is reserved for the Super Bonus. It is crucial that these wagers meet or exceed the minimum betting requirement. In addition, players must account for potential raises and adhere to the basic strategy to ensure success, which calls for a bankroll of at least five times the minimum bet. For those feeling particularly adventurous, there is also the option to place an optional queens up side bet.
Once the bets are placed, both the player and dealer are given five cards. It is up to the player to choose between folding or continuing the game. Opting to fold means giving up all bets placed on that hand.
When playing a game, it's crucial to consider making a raise. The specific amount of the raise is determined by the cards in your hand. In the case of having a pair of aces or a better combination, you have the option to raise the bet to the same amount as the ante, double the ante, or even triple it. However, if you have a weaker hand, it's important to keep the raise equal to the ante.
If I decide to place a play bet, the dealer will only consider my best four cards for my hand, discarding the fifth one. After that, it's the dealer's turn to reveal the house hand and search for their own best four-card combination. It's important to note that the dealer needs to have a hand with at least a king-high in order to qualify. If the dealer fails to meet this requirement, the ante pushes and no one wins. However, if the dealer does qualify, then my raise bet wins.
When the dealer qualifies, we proceed to compare the hand with that of the player. If the player manages to outperform the dealer, both the ante and raise bets result in a win. However, in the unfortunate event that the dealer emerges victorious, these bets end up in a loss. Should the outcome be a tie, it is considered a push, with no money changing hands.
When playing the Super Bonus bet, if I have a hand of two pair or lower and I lose to the dealer, then my bet is considered lost. However, if I manage to win against the dealer with a hand of two pair or lower, my bet will only result in a push. Now, things get really exciting if I have a straight or better because, in that case, my bet is a sure winner, no matter if I beat the dealer or not.
Exceptional payout for the super bonus feature in the popular game Crazy 4 Poker.
The following pay table illustrates the payout for the super bonus wager, where the amount won is determined by multiplying the bet amount.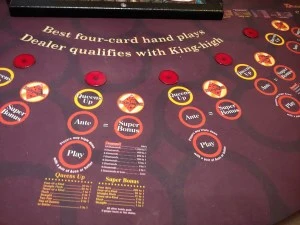 Four cards with the same value, specifically four aces, have a point value of 200.

Other quads: 30

Straight flush: 15

Trips: 2

Flush: 1.5

Straight: 1
Discover the rankings for Crazy 4 Poker hands.
A set of four

Straight flush

A trio with the same characteristics.

Flush

Straight

Two pair

Pair

Ranked by the card with the highest value
Frequently Asked Questions about Crazy 4 Poker in Las Vegas
Can I play Crazy 4 Poker in Las Vegas?
Indeed. It is offered at 17 gaming establishments in Las Vegas.
What is the minimum bet for Crazy 4 Poker in Las Vegas?
The majority of casinos in Las Vegas that offer Crazy 4 Poker feature a minimum bet of either $5 or $10.
The most recent update was made on August 27, 2023, courtesy of William Stevens.