Located at 129 E Fremont St in Las Vegas, Nevada, you can contact the Golden Nugget Casino at 702-385-7111.
Golden Nugget, with its inauguration on August 30, 1946, stands as the premier casino in downtown Las Vegas. Over the years, it has evolved into the most varied and all-encompassing destination within the Fremont Street Experience vicinity.
Golden Nugget, located in downtown Las Vegas, offers an extensive selection of table games, making it the premier destination for avid players. With over 1000 slot machines, the casino provides endless entertainment and excitement. Moreover, the hotel boasts a staggering 2400 luxurious rooms, ensuring a comfortable and memorable stay for all guests. One remarkable feature of Golden Nugget is its exclusive poker room, making it the only casino in downtown Las Vegas to offer such a facility. Additionally, the casino's independent sportsbook not only allows traditional betting but also provides a convenient mobile betting app, catering to the preferences of modern gamblers. To satisfy culinary cravings, Golden Nugget boasts an impressive array of 11 restaurants, each offering a unique dining experience.
Some of the hotel facilities consist of an exhilarating shark swimming pool, a luxurious spa, various shops, a state-of-the-art fitness center, and convenient valet parking.
The casinos located in the heart of Las Vegas' downtown area.
The operation of Bet-NV.com is sustained by the aid of memberships, sponsors, and advertisements. In case you or someone you are acquainted with is facing issues with gambling, please reach out to 1-800-GAMBLER.
---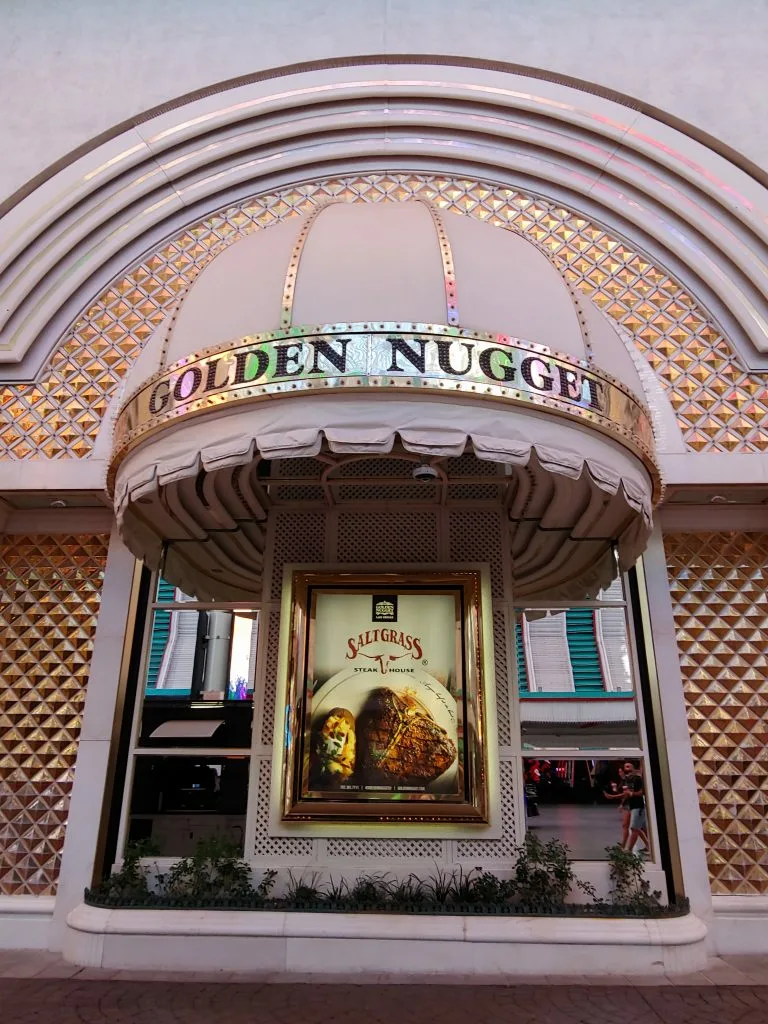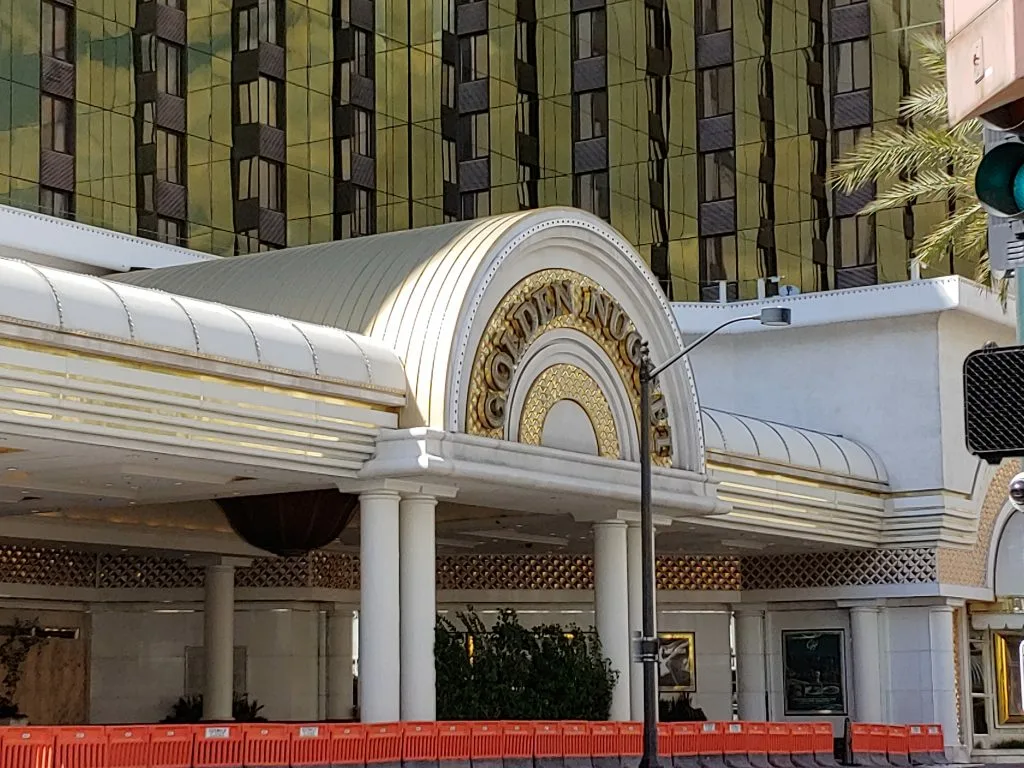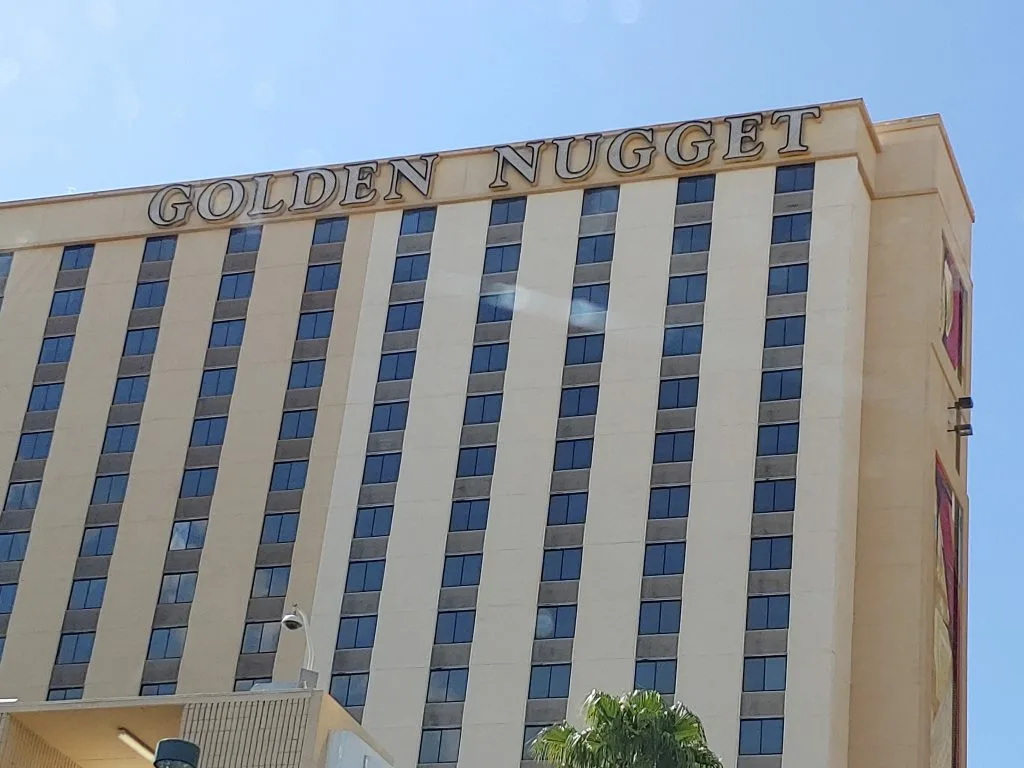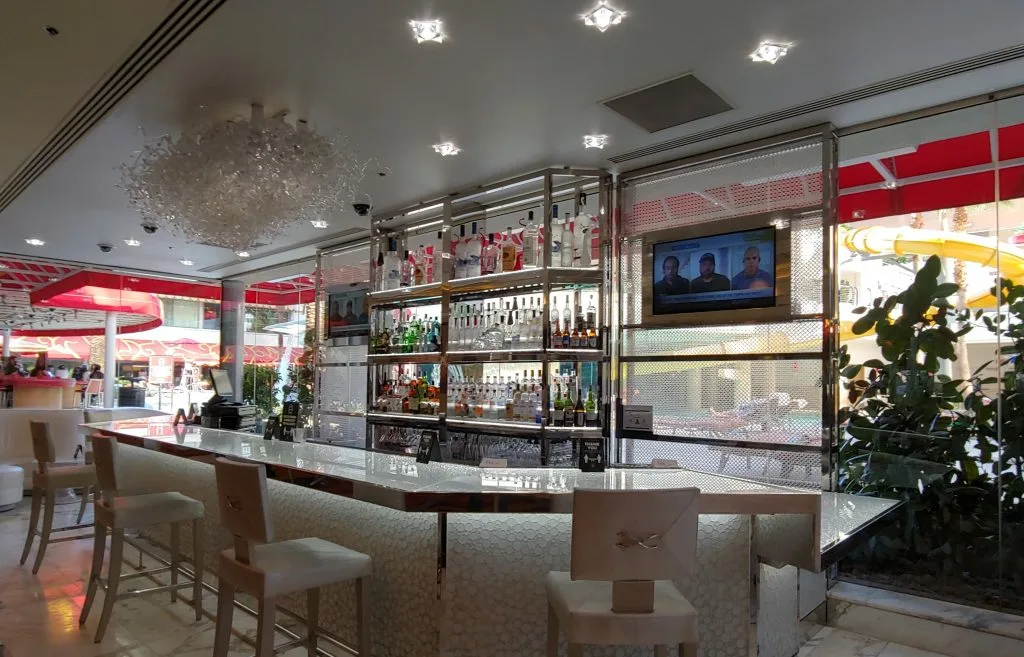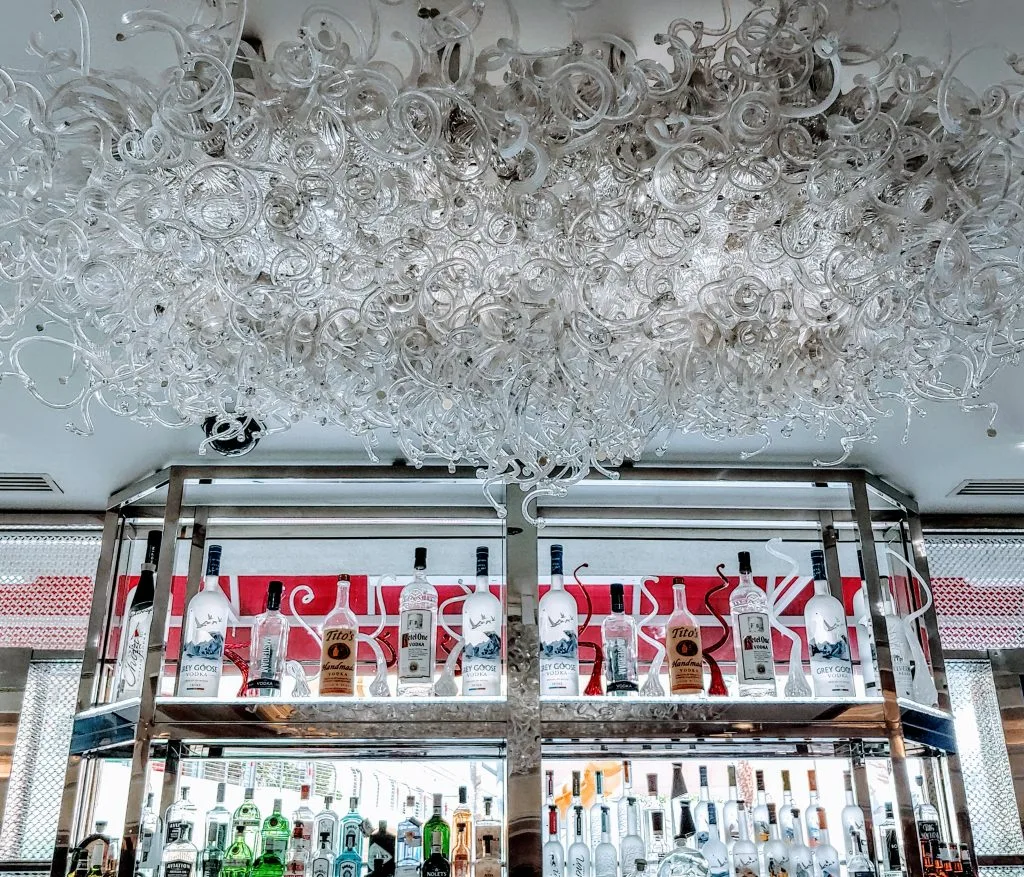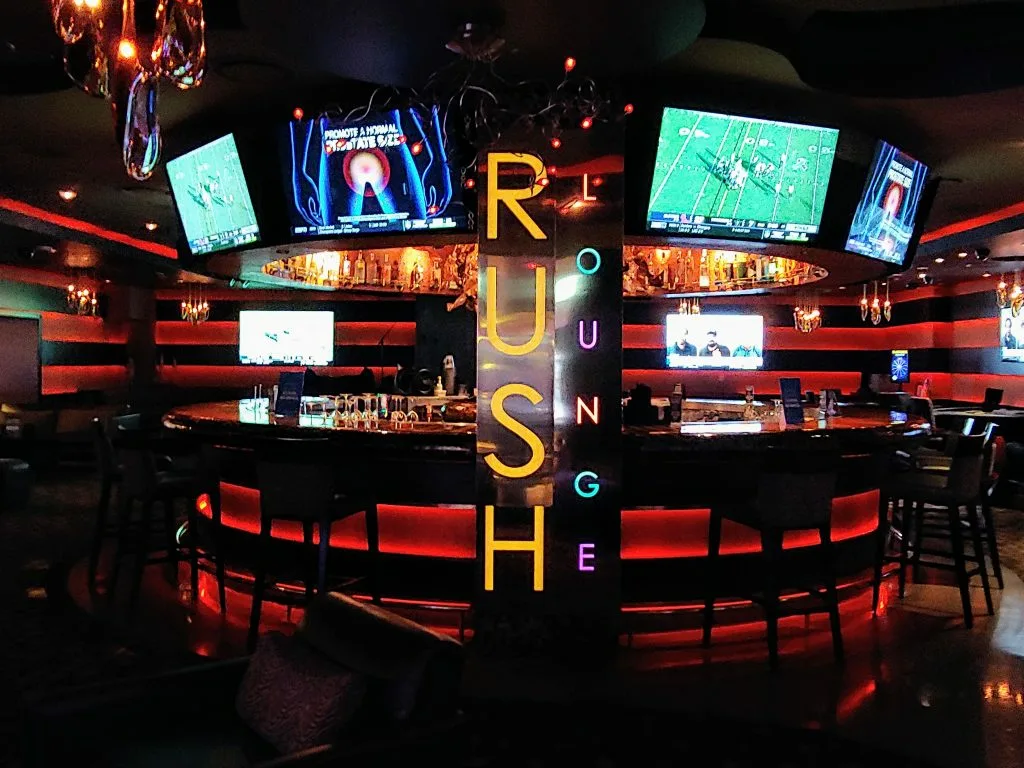 Golden Nugget Casino
In downtown Las Vegas, Golden Nugget boasts the grandest array of slot machines. With a whopping 1000 machines to choose from, this casino takes the lead in terms of sheer variety. What sets it apart is the proportionate number of slots in comparison to video poker, surpassing all other casinos in the Fremont Street Experience area. If you're a slot enthusiast seeking an unmatched selection, Golden Nugget is the place to be.
In downtown Las Vegas, if you're into video poker, you might want to avoid the Golden Nugget. They have the worst selection in town. However, if you're looking for a single line game that's worth your while, there is a hidden gem. It's called 7/5 Bonus Poker with a progressive jackpot, and it's only available on the $1 machines. The catch is that you have to bet at least $2 or $5 to play, and there's no progressive royal flush jackpot. If you're feeling adventurous and have a larger bankroll, there are some high limit video poker games with slightly better pay tables. The only downside is that they require betting on multiple hands. But hey, sometimes you gotta take risks to win big!
The poker room at Golden Nugget
At Golden Nugget, you'll find the exclusive poker room in downtown Las Vegas. With 13 tables available, there are always two exciting cash games to choose from. If you're a fan of no limit Texas hold'em, you'll be thrilled to know that they offer an uncapped 1/2 game. On the other hand, if you prefer a more structured approach, the fixed limit 3/6 game is the perfect match for you. Whether you're a seasoned player or just starting out, the poker room at Golden Nugget provides a vibrant and diverse playing experience in the heart of downtown Las Vegas.
Unfortunately, Golden Nugget does not offer daily tournaments, but fear not! The Grand Poker Series is a spectacular annual or biannual event that you won't want to miss. Check out our comprehensive review of the Golden Nugget poker room for further information.
Golden Nugget sportsbooks
I had the opportunity to explore the Golden Nugget sportsbook, a truly unique and independent establishment. Located in close proximity to the renowned Rush Tower, this sportsbook offers a delightful array of seating options accompanied by exceptional drink service. To accommodate the convenience of its patrons, the ticket counter graciously opens its doors at 9 am during weekdays and at an early 7 am on weekends. For those seeking a more modern approach to sports betting, the Golden Nugget sportsbook provides kiosks and a user-friendly betting app. Should you desire a more comprehensive understanding of this remarkable sportsbook, we invite you to delve into our thorough and informative Golden Nugget sportsbook review.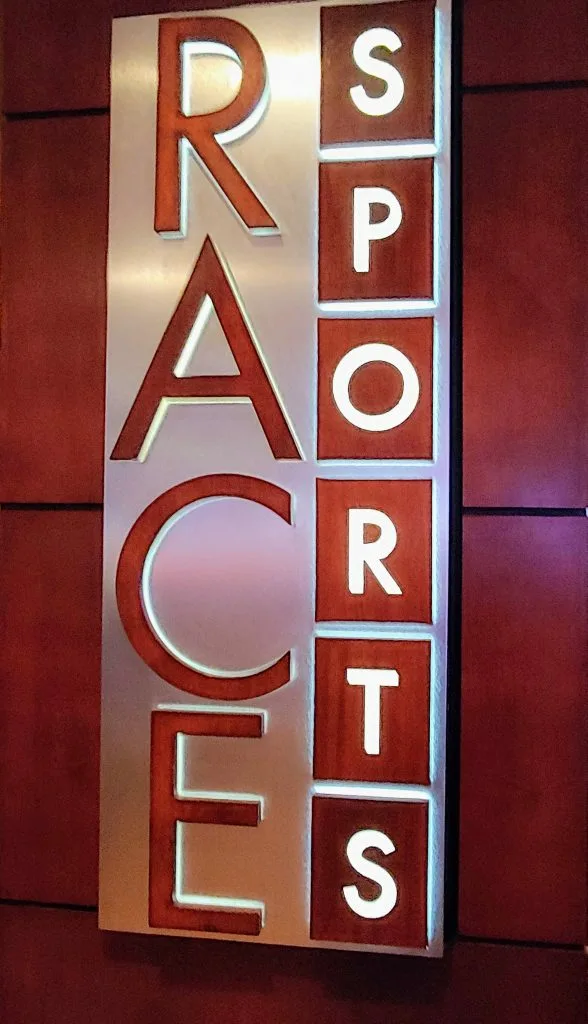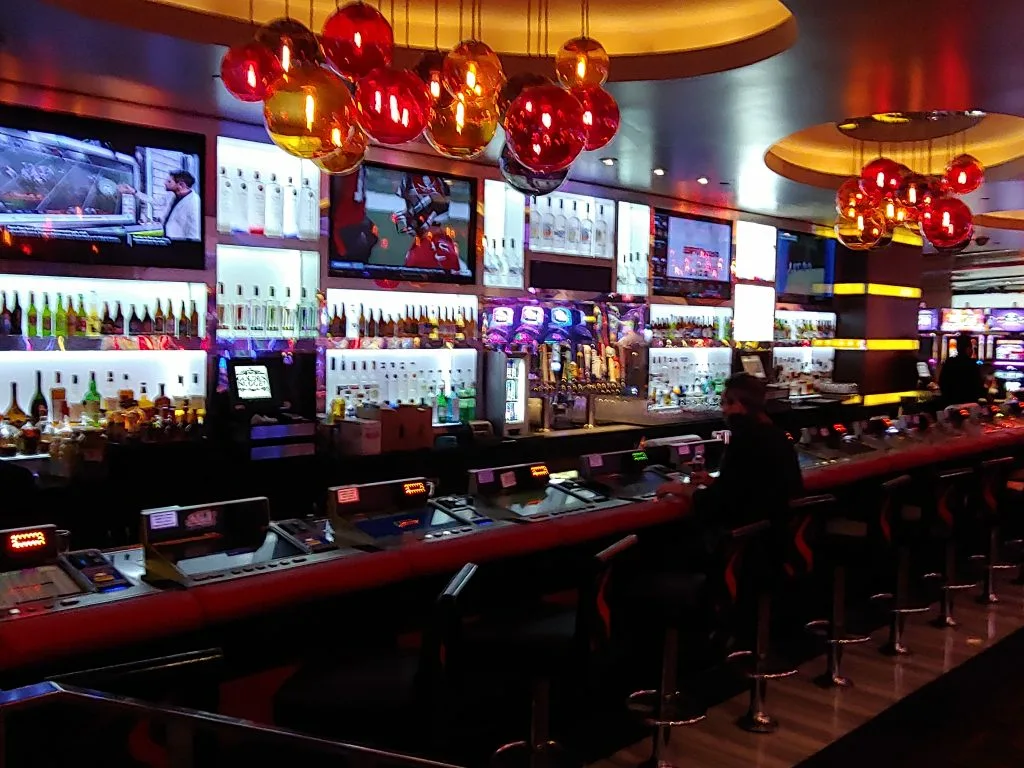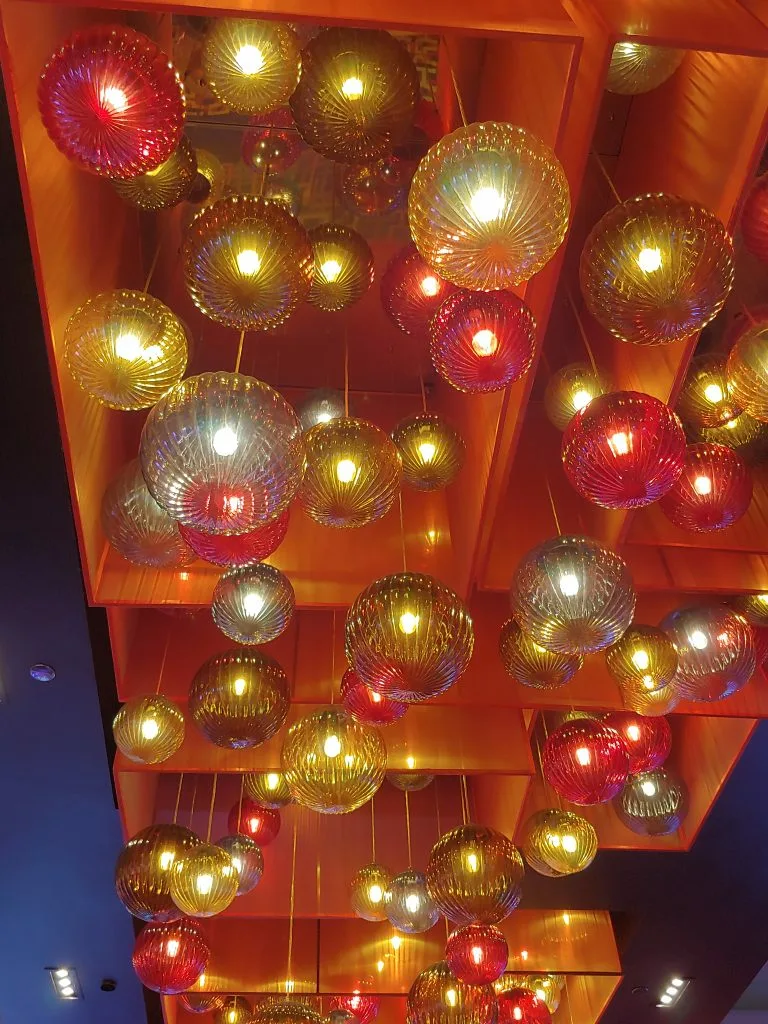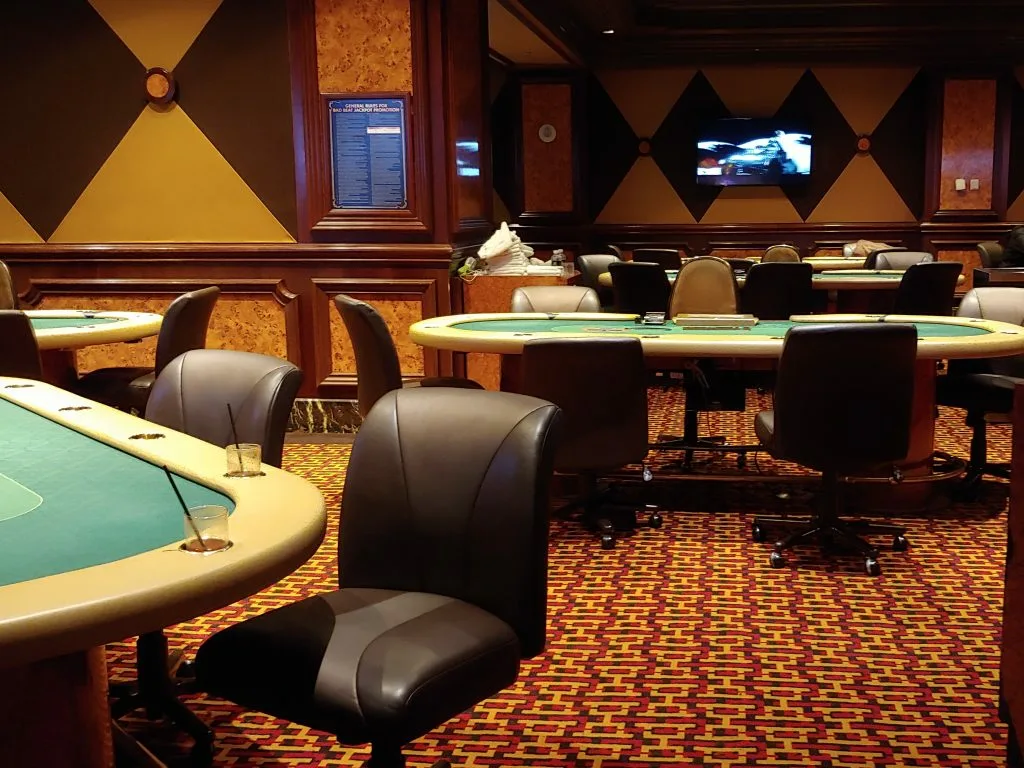 Table games
In the Fremont Street Experience area, Golden Nugget stands out with its impressive array of approximately 50 table games, surpassing all other downtown Las Vegas casinos in terms of variety. It's a testament to their commitment to providing the best gaming options to their patrons. The nostalgic charm of Golden Nugget shines through with many of these table games starting at an affordable $5, harking back to the classic traditions of the casino industry. Interestingly, Golden Nugget boasts more $5 table games than all the other downtown Las Vegas casinos combined, further cementing their reputation as the go-to destination for table game enthusiasts seeking an authentic and enjoyable experience.
On the casino floor, you can find an exciting array of table games at the Golden Nugget. They offer an impressive selection including Crazy 4 Poker, High Card Flush, Let it Ride, Mississippi Stud, Three Card Poker, Ultimate Texas Hold'em, and triple zero roulette. As for the blackjack games, they have a unique twist. In addition to the regular bets, a mandatory $2 side bet is required to participate. And if you're looking for something a little different, they also have a $2 big wheel game available.
In downtown Las Vegas, you'll find the exclusive Fortune Pai Gow Poker table at the Golden Nugget, making it the sole establishment offering this thrilling game. You'll also have the opportunity to try your luck at craps and double zero roulette, adding even more excitement to your casino experience. If you're feeling particularly adventurous, the high limit blackjack and baccarat tables will surely catch your eye, but be prepared to place a minimum bet of $50. At Golden Nugget, the possibilities are endless, guaranteeing a memorable time for all gambling enthusiasts.
Bet-NV.com members can stay up to date with the newest information regarding the top video poker options, minimum bets for table games, and the availability of electronic table games.
For as little as $3 per month, you too can unlock a wealth of information about table games at various casino properties. Casino Club, Total Access Club, and Bet-NV.com Super Fan members enjoy exclusive privileges in accessing detailed table game surveys. Joining any of these clubs grants you the opportunity to delve into the comprehensive world of Bet-NV.com table game surveys and much more. Don't miss out on this incredible chance to enhance your casino experience and make informed decisions. Sign up today and gain unlimited knowledge about the exciting world of table games!
You can now access Bet-NV.com subscriptions via Gumroad and Patreon, offering you equally valuable information on both platforms.
In case you or someone you're acquainted with is grappling with a gambling issue, please reach out to 1-800-GAMBLER for assistance.
Blackjack rules at Golden Nugget
At Golden Nugget, you'll discover a variety of blackjack games to choose from - a total of five, to be precise. The one that truly stands out as the cream of the crop is the double deck game found in the high limit area. Not only does it offer a generous payout ratio of 3/2, but it also allows players to double down both before and after splitting their cards. If you're looking for another great option, the six-deck salon game is certainly worth considering. Similar to the double deck game, it also pays out at a rate of 3/2. On top of that, it offers the added perk of allowing players to re-split aces up to four separate hands.
The Golden Nugget casino floor showcases a trio of blackjack games, all offering a 6/5 payout. Remarkably, all three of them rank among the least favorable blackjack options in Las Vegas.
In the vibrant party pit, where excitement fills the air, you'll discover the captivating game of Lucky Cat Blackjack. This thrilling variant of the beloved card game demands a $2 Bonus Spin side bet, adding an extra layer of suspense to each hand. As you take your seat at the table, it's important to note that the estimated house advantage, at the minimum bet, stands at 8.95%. However, if you prefer the traditional tables, fear not, for there are other blackjack options available. These tables also require a mandatory $2 side bet, with the standard 6/5 payout ratio. Although less prevalent, you may stumble upon a rare gem where the side bet is only $1, providing a slightly different gambling experience.
Craps rules at Golden Nugget
In Golden Nugget craps, players can enjoy maximum odds of 3-4-5 times. Additionally, the field bet offers a payout of double the amount for a roll of 12.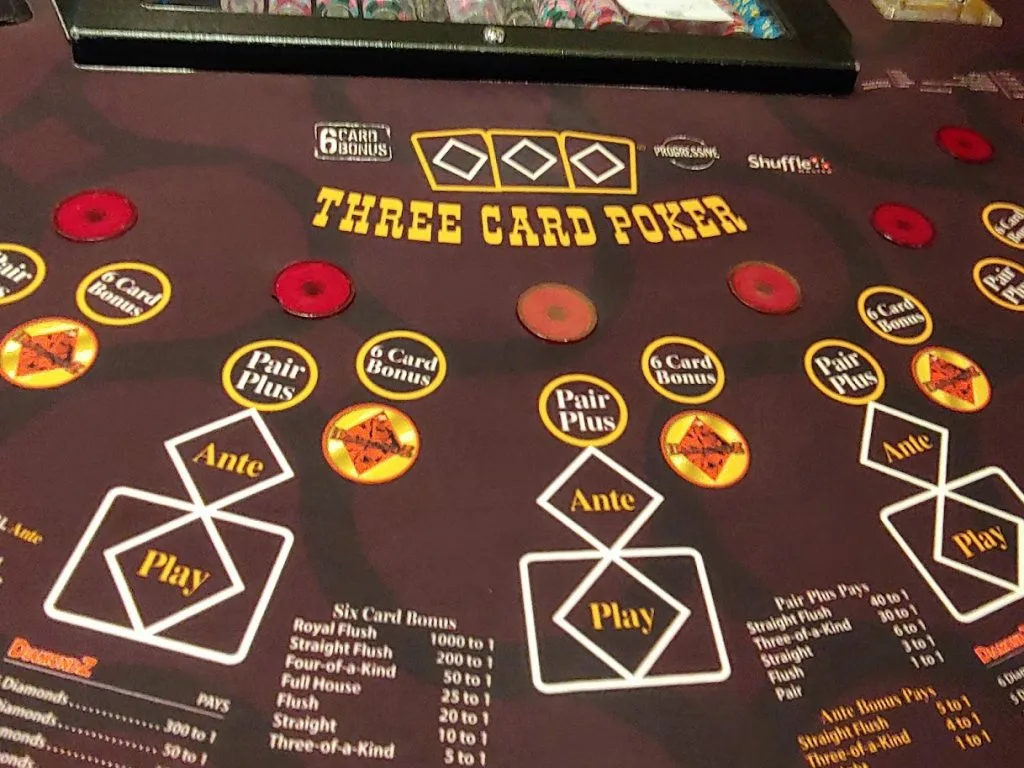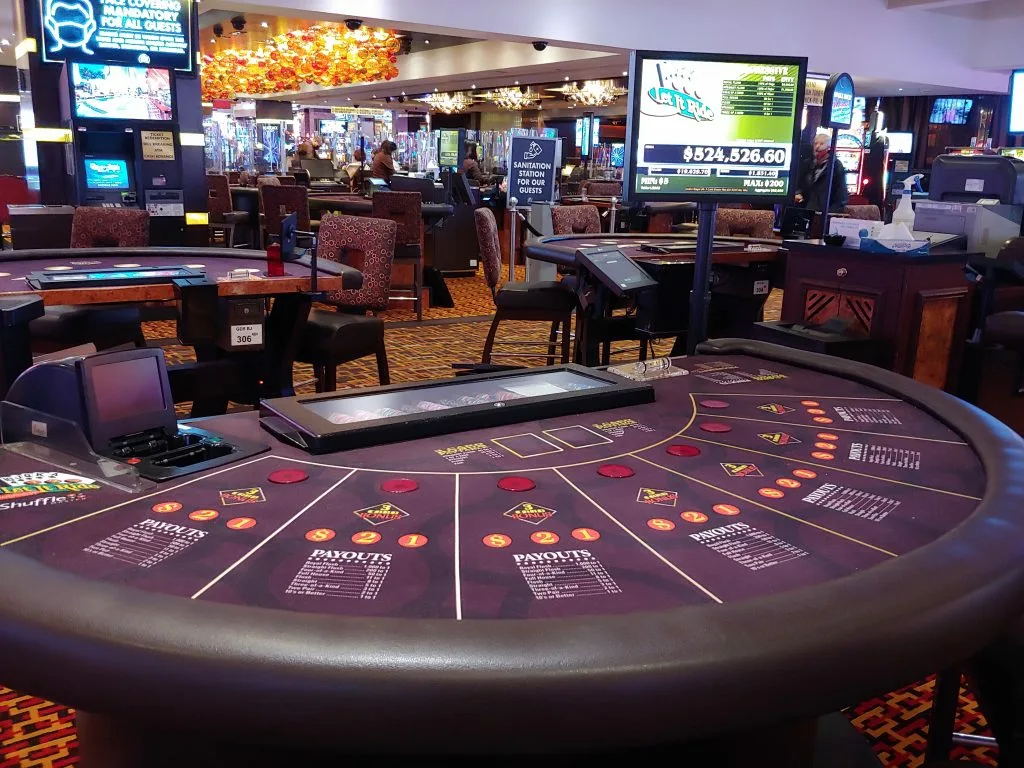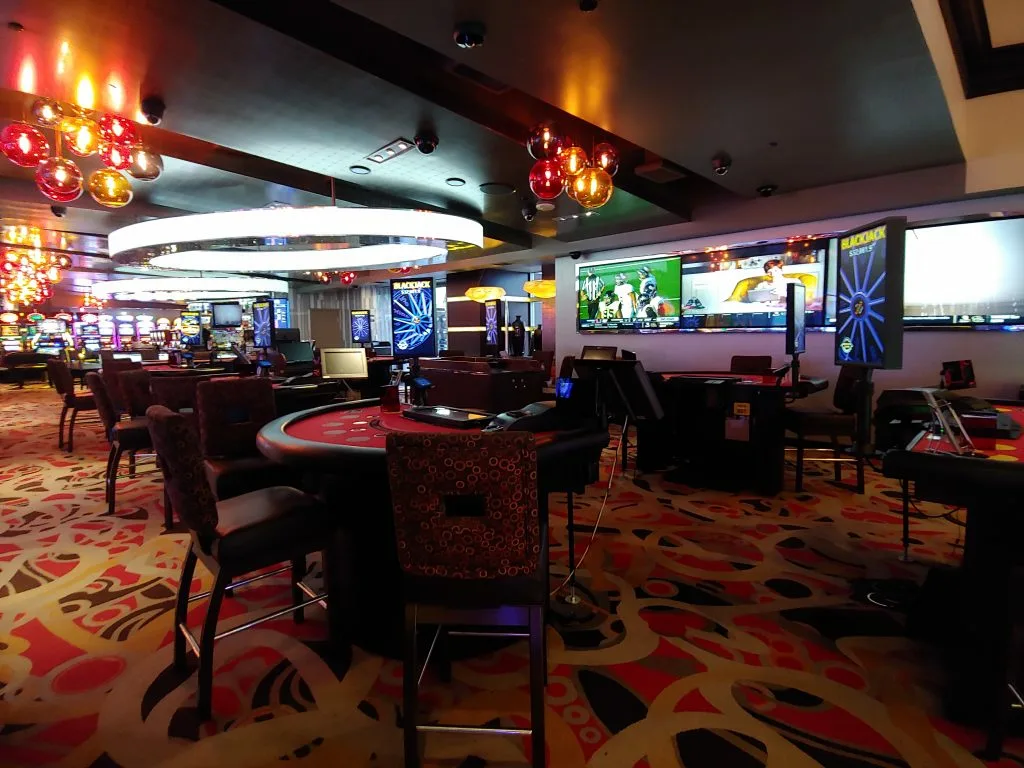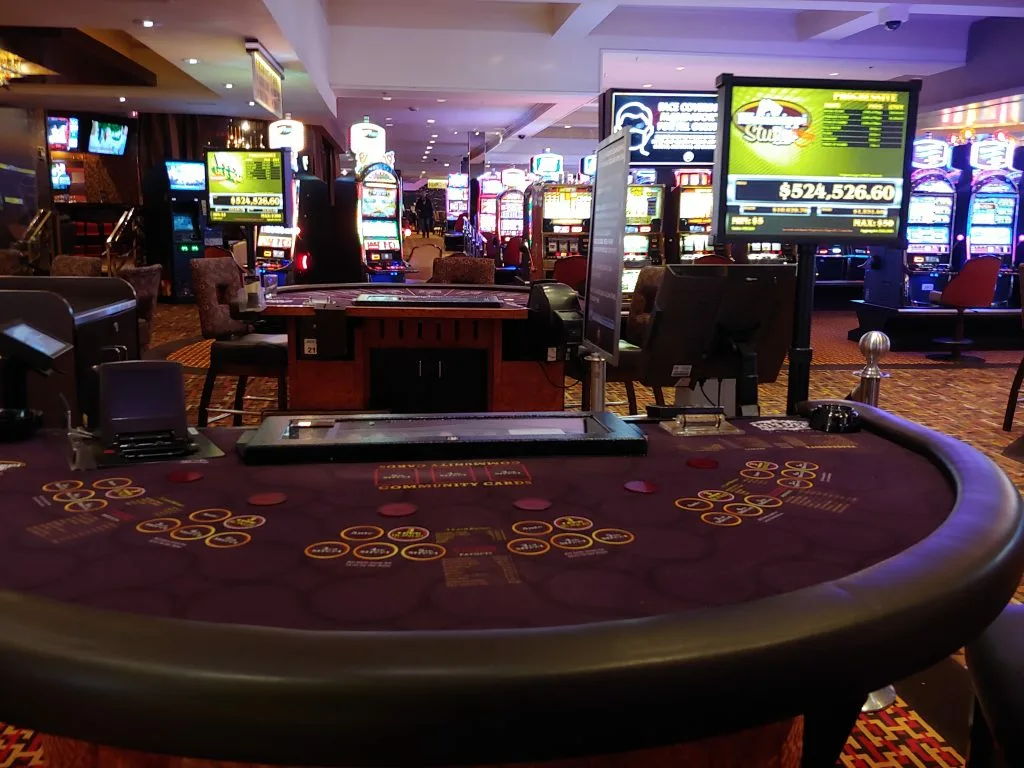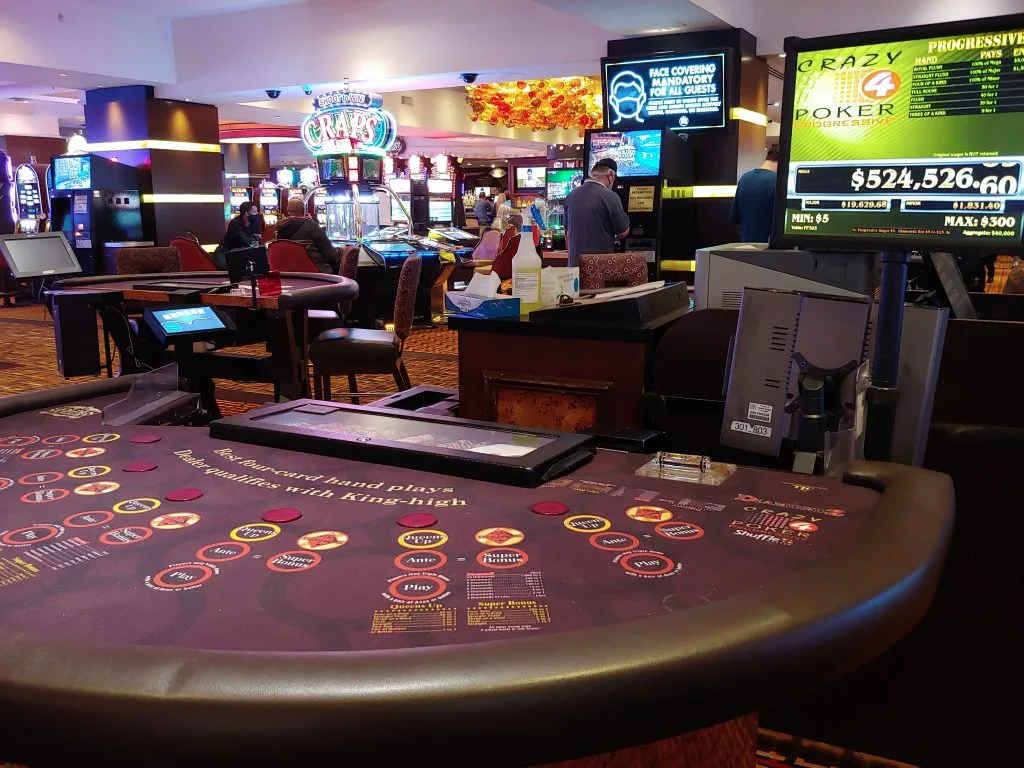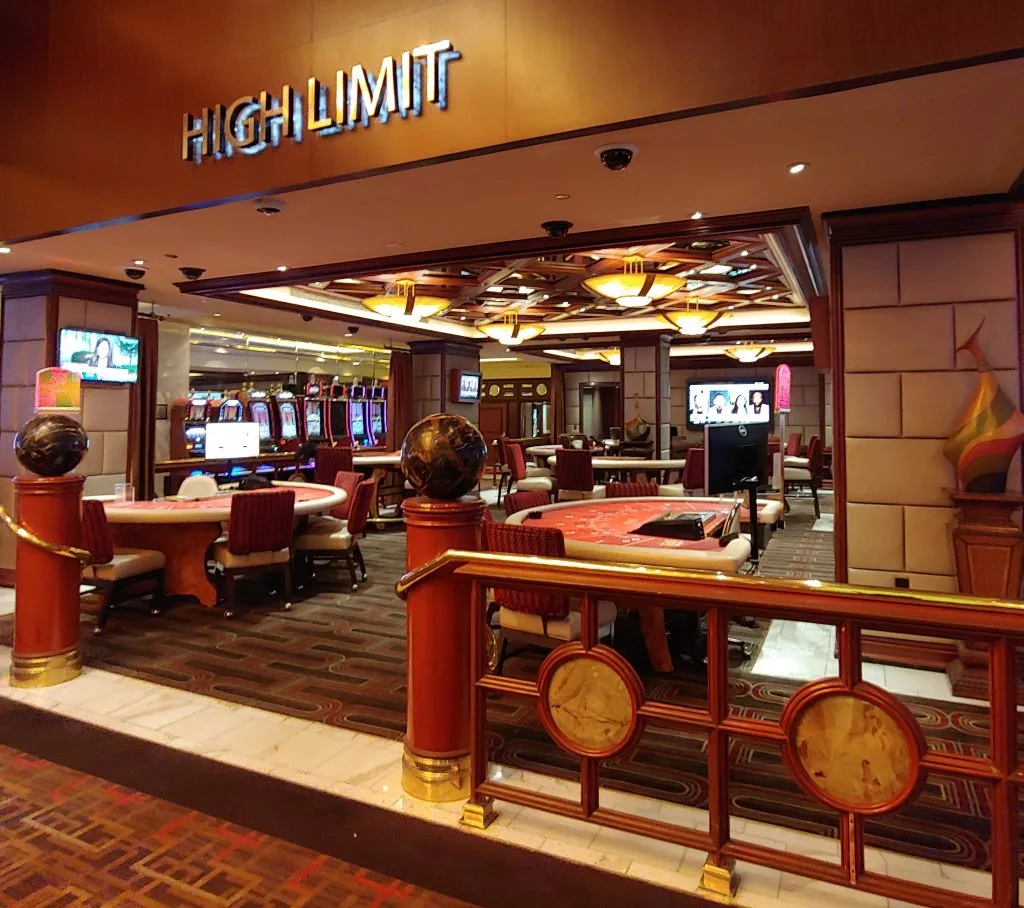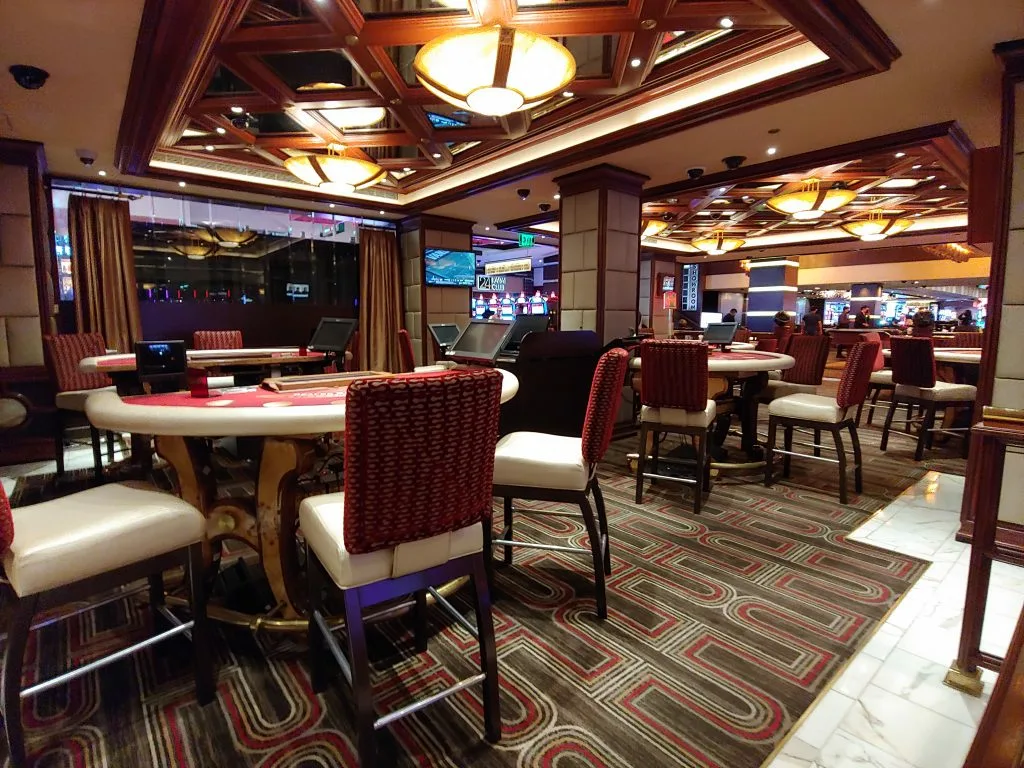 Exciting amusement at Golden Nugget
At Golden Nugget Casino, a showroom awaits guests eager to indulge in a night of entertainment. On Thursdays and Saturdays, the resident headliner, none other than the talented Gordie Brown, takes the stage at 7:30pm. It's an extraordinary experience that beckons patrons aged 16 and older to immerse themselves in the vibrant atmosphere. As the seasons change, other captivating acts come and go, ensuring a dynamic and ever-evolving lineup of entertainment.
Upcoming shows
Lita Ford Friday, September 1st at 8 o'clock in the evening
The Cowsills Friday, September 8th at 8 o'clock in the evening.
The Grass Roots Friday, September 15th at 8:00 PM
Joey Molland as part of the band Badfinger Mark your calendars for Friday, September 29th at 8 o'clock in the evening.
Foghat Friday, October 6th at 8:00 in the evening.
Grand Funk Railroad Friday the 13th of October, starting at 8pm.
The Guess Who Friday, October 20th at 8 o'clock in the evening
The popular rock band Tommy James and the Shonells Mark your calendars for Friday, October 27th at 8pm!
Ambrosia Friday, November 3rd, at 8 o'clock in the evening
Aldo Nova Mark your calendars for an exciting event happening on Friday, November 10th at 8pm.
Dokken teamed up with the incredibly talented guitarist, George Lynch. Friday, November 17th at 8 o'clock in the evening
Mark Chesnutt Thursday, December 7th at 10 o'clock in the evening.
Mark Wills Friday night on December 8th starting at 10 o'clock in the evening.
Confederate Railroad Saturday, December 9 at 10pm - a time and date to mark on your calendar for an enjoyable evening.
Ray Wylie Hubbard Sunday, December 10th at 10pm
Little Texas Monday, December 11th at 10:00 PM
Rodney Atkins Tuesday, December 12th, at 10 o'clock in the evening.
David Lee Murphy Google, mark your calendar for Wednesday, December 13th at 10 o'clock in the evening.
Bellamy Brothers Thursday, December 14th, at ten o'clock in the evening
Eddie Montgomery Friday, December 14th at 10:00 PM
Blue Oyster Cult Friday, December 29 at 8:00 in the evening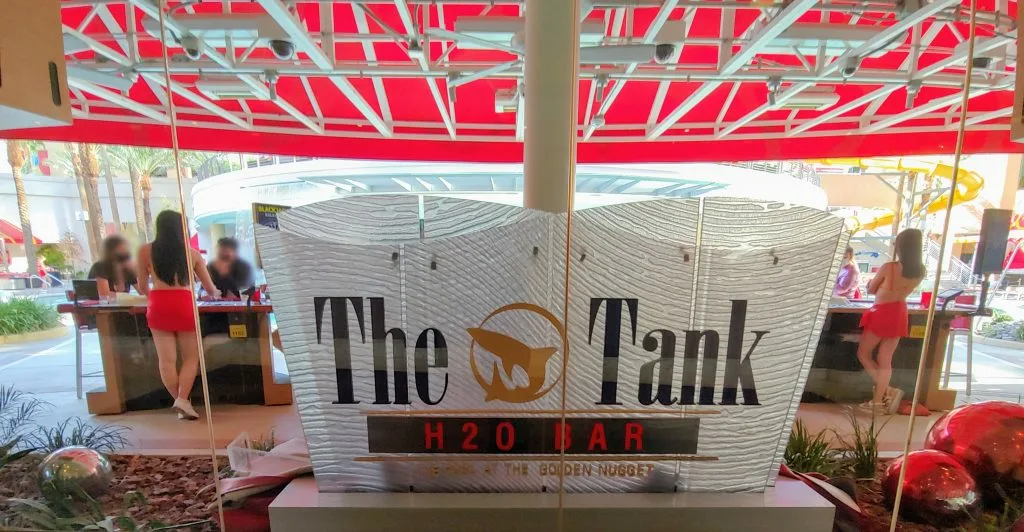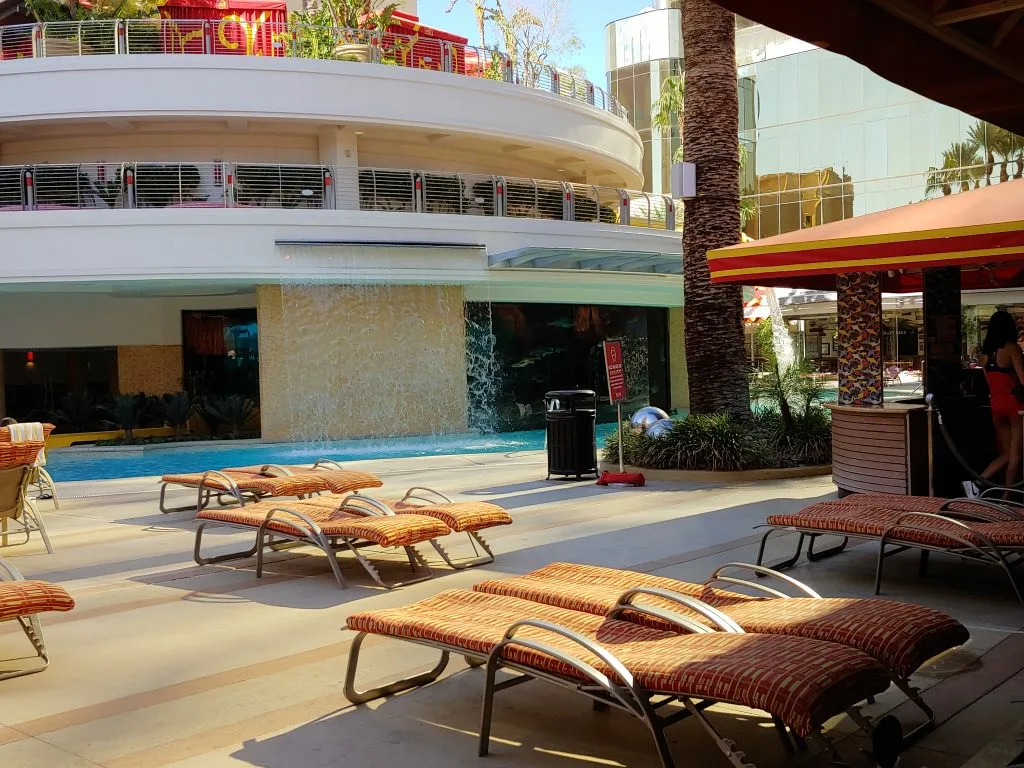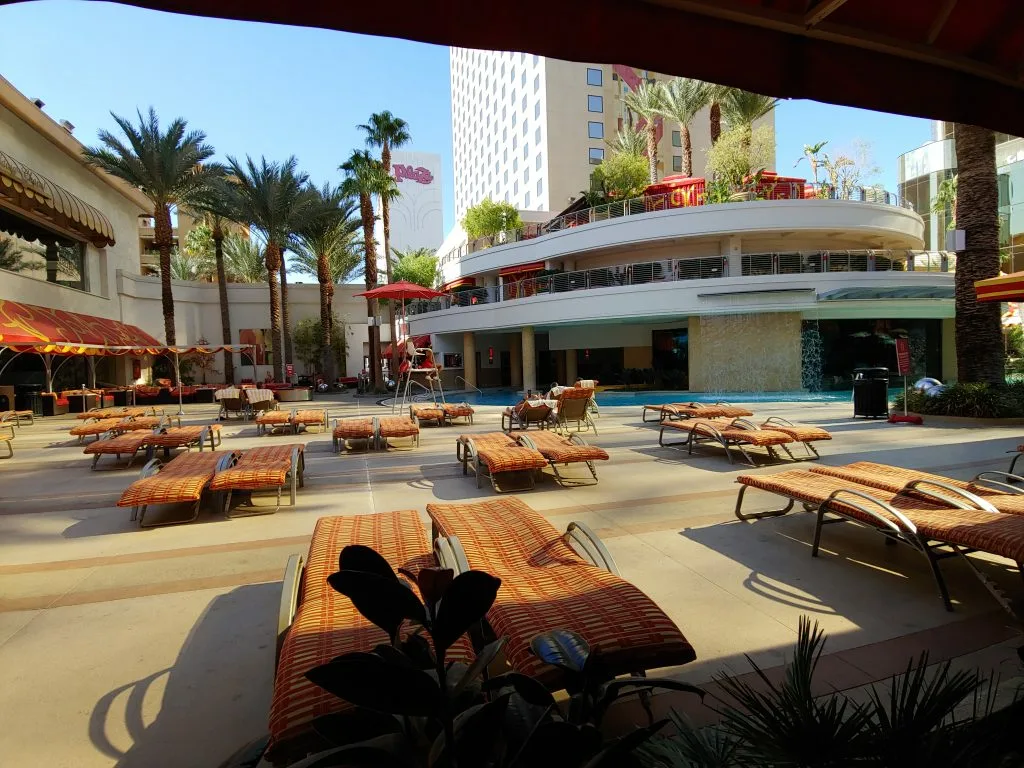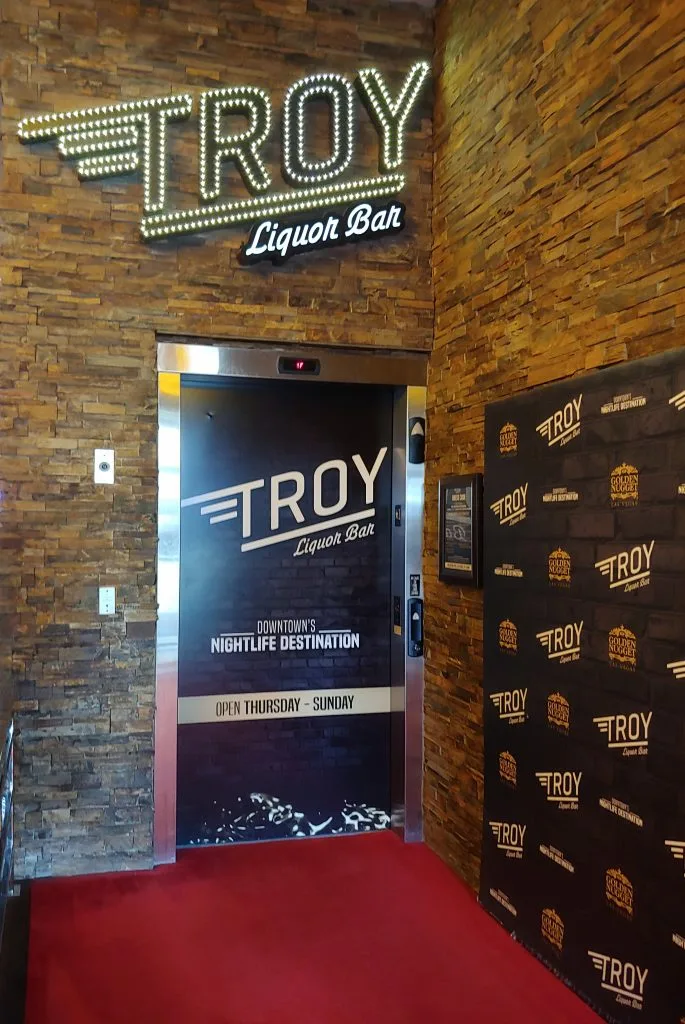 Experience exquisite dining and savor refreshing beverages at the renowned Golden Nugget.
I am pleased to share some interesting facts about the Golden Nugget in downtown Las Vegas. One remarkable feature is that it boasts a total of 11 restaurants, making it the leading casino in the area in terms of dining options. Surpassing all other downtown casinos, the Golden Nugget truly stands out. It's fascinating to note that many of these fantastic dining establishments are part of Landry's, a renowned restaurant operator. What's even more intriguing is that Landry's shares the same parent company as the Golden Nugget. This connection between the two entities ensures a diverse and exceptional culinary experience for visitors and guests alike.
Chart House provides an extensive variety of pristine seafood, poultry, and beef options. It commences operations at 10am on Fridays through Sundays, while on other days, it opens at 4pm.
CJ's is a delightful eatery that offers breakfast, lunch, and dinner every single day. Red Asian, on the other hand, is a magnificent dining establishment that opens its doors for dinner from Thursday to Monday. Now, let's talk about Grotto. This wonderful Italian restaurant, with its relaxed ambiance, provides an unforgettable dinner experience exclusively from Thursday to Saturday.
At the Golden Nugget, you'll find Cadillac Mexican Kitchen serving up delicious meals for lunch and dinner every day. If you're in the mood for something different, head over to The Grille, conveniently located right next to the sportsbook. This 24-hour dining option offers a wide range of options to satisfy your cravings, from breakfast classics to juicy burgers, flavorful chicken dishes, mouthwatering pizza, and refreshing salads. Whether you're looking for a quick bite or a leisurely meal, you'll find something to please your palate at these fantastic dining spots.
Chick-Fil-A offers chicken sandwiches and breakfast options every day, with the exception of Sundays, when it remains closed. Additionally, there is a beignet cart and a Starbucks available for customers.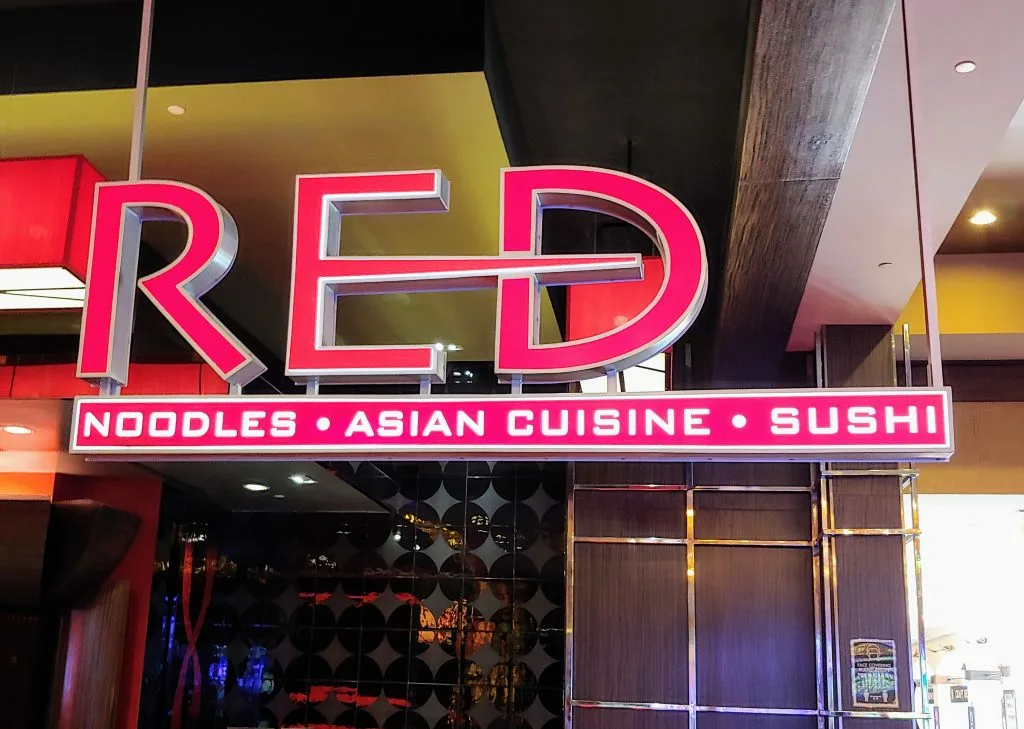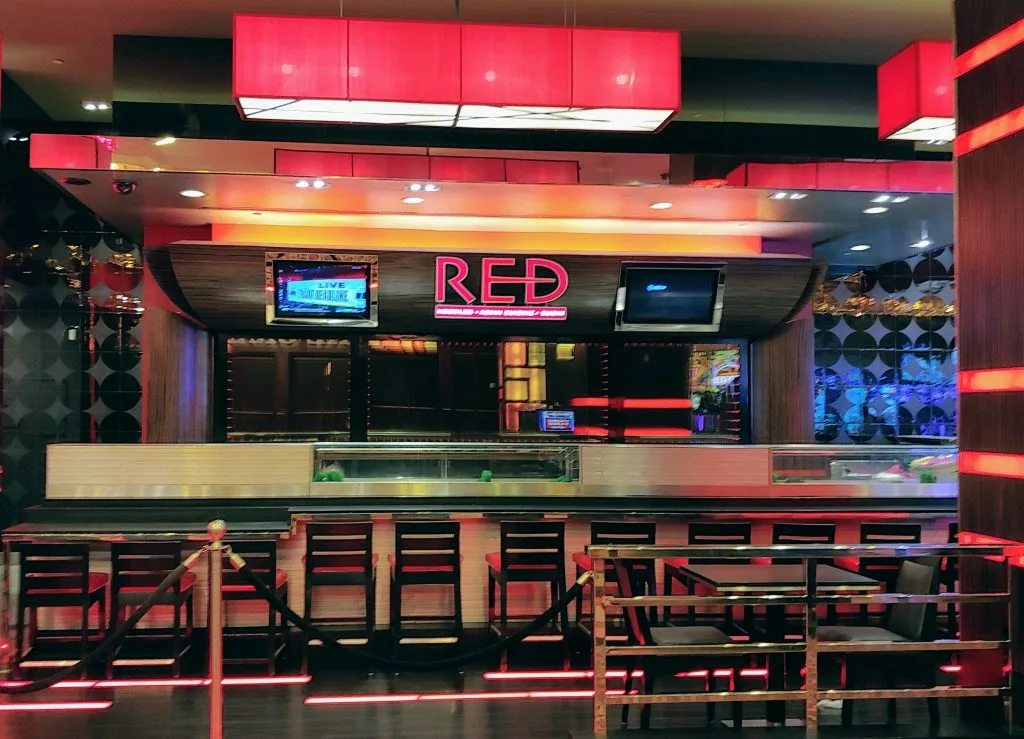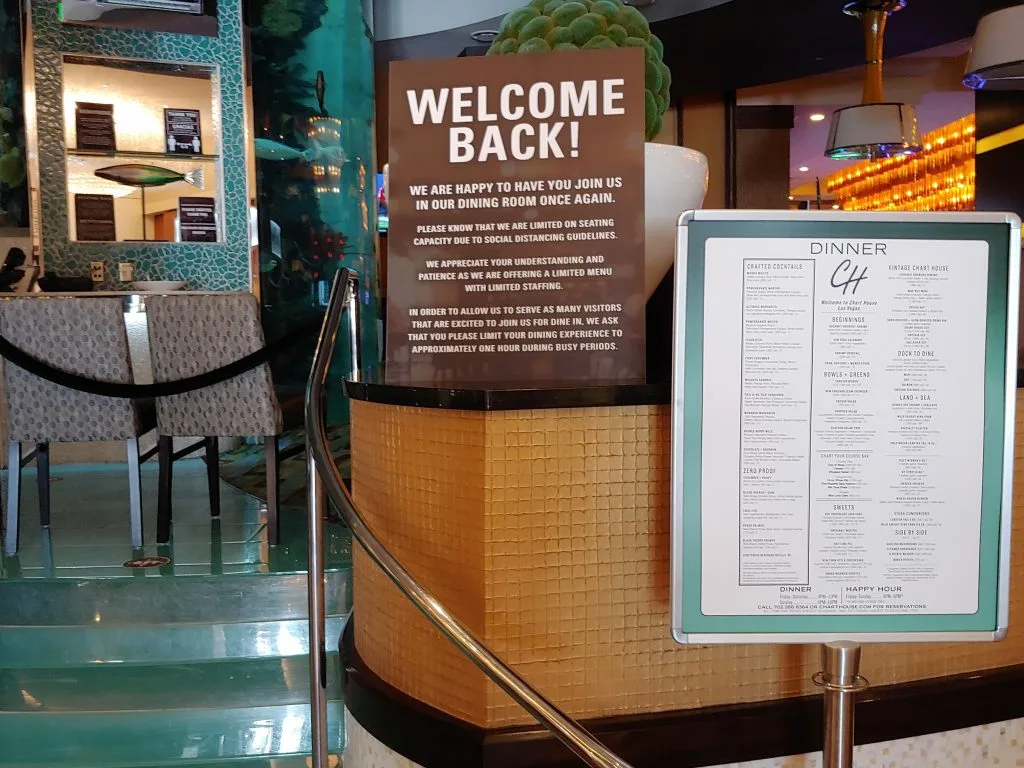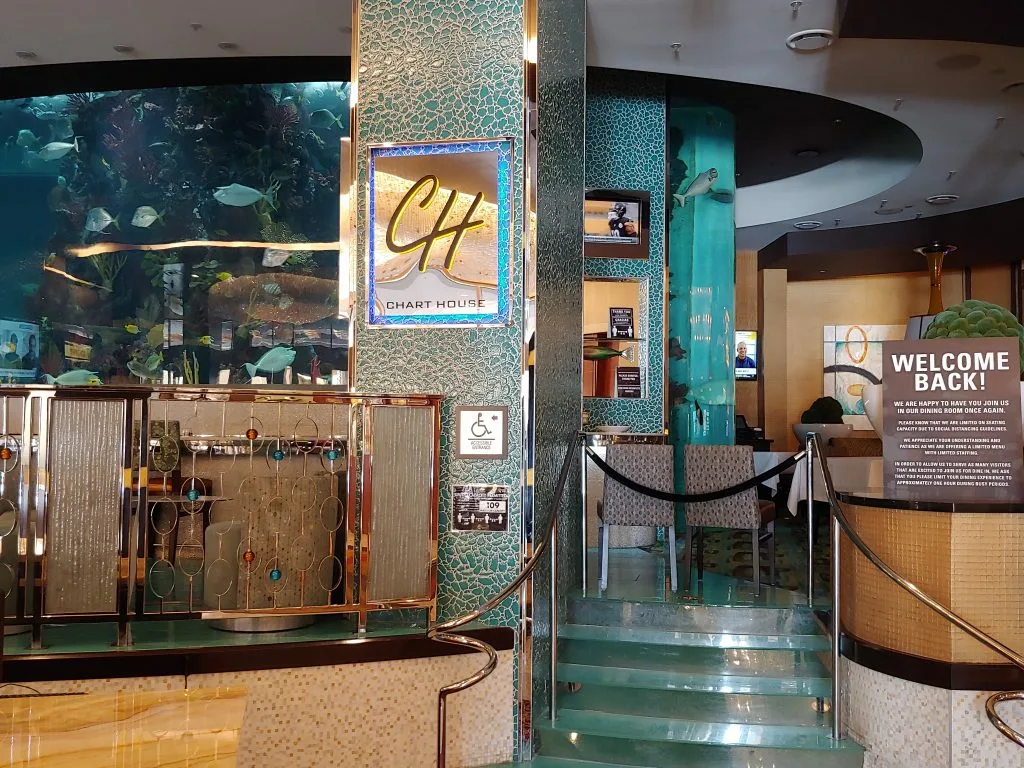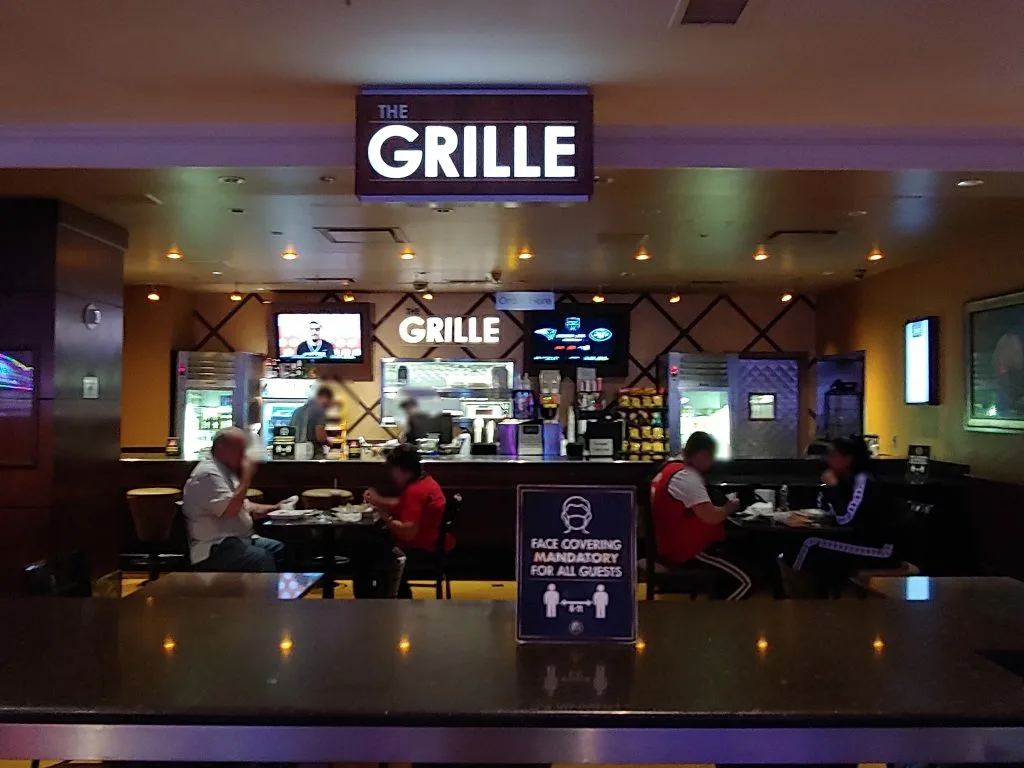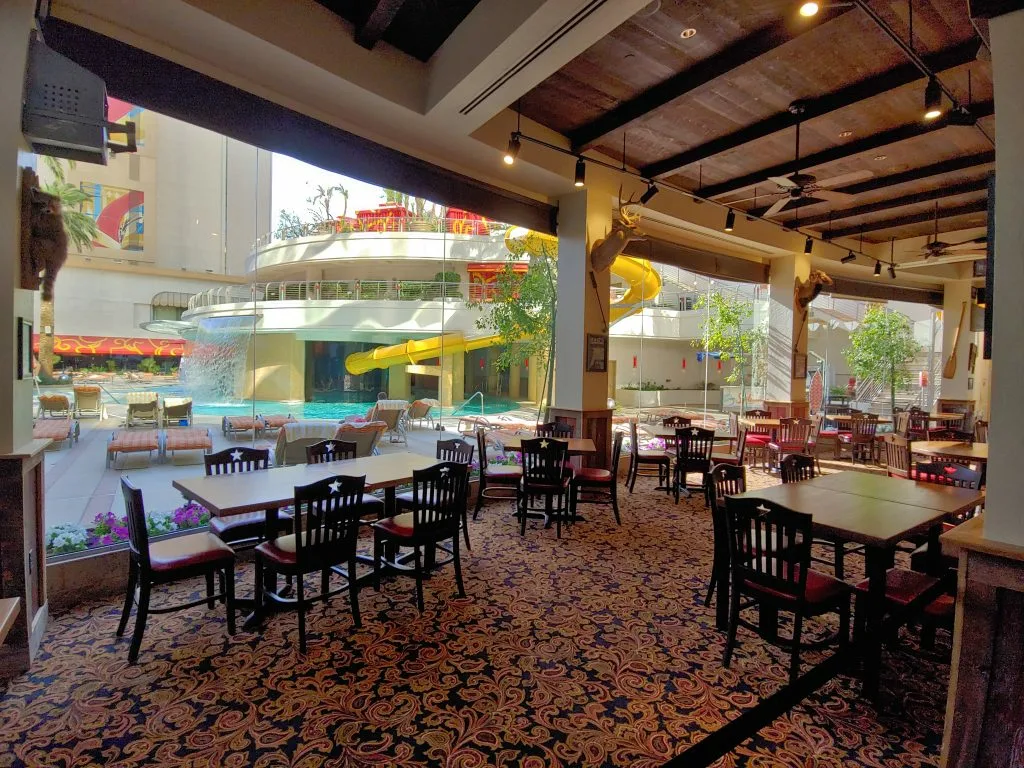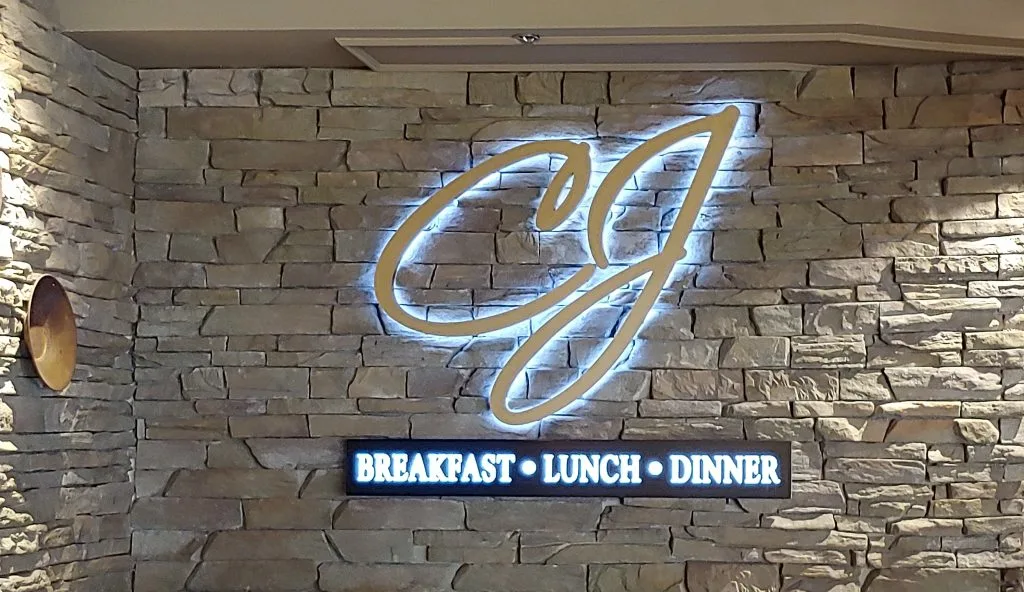 Hotel accommodations
The Golden Nugget boasts three impressive hotel towers in its grand establishment. We have the esteemed Carson Tower, the exquisite Gold Tower, and the remarkable Rush Tower. Each tower offers a variety of opulent accommodations to suit the discerning tastes of our esteemed guests. For those seeking a regal experience, the Carson Tower presents the option of a Deluxe King room or a Deluxe room with two double beds. These lavish rooms, spanning an impressive 364 square feet, provide ample space to unwind and indulge in the lap of luxury.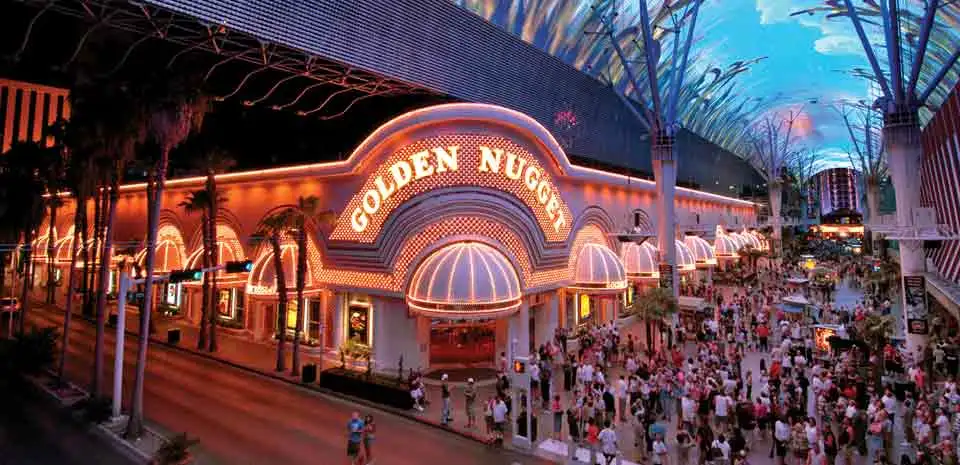 The Gold Tower boasts three distinct types of rooms, namely the Premier King and Premier Doubles, which cover an area of 378 square feet each, while the Gold Tower Pool Room spans 400 square feet.
The Rush Tower at Golden Nugget provides spacious Premier rooms measuring 400 square feet. Guests can choose between a California King bed or two double beds for their comfortable stay.
At Golden Nugget, you'll find a variety of suite options to choose from. There are five distinct types of suites available, each offering its own unique features and amenities. In terms of size, the Rush Tower Corner Suite spans an impressive 611 square feet, providing ample space for relaxation and comfort. If you're looking for a slightly larger option, the Rush Tower East End Suite might be the perfect choice, with a spacious layout spanning 770 square feet. Additionally, the Gold Tower suites offer a range of options, including the Parlor, Scarlet, and Vegas Baby suites, all of which also boast a generous size of 770 square feet. With such a selection of suites available, you're sure to find the perfect accommodation to suit your needs and preferences at Golden Nugget.
At Golden Nugget, the Spa Suite is a sight to behold, boasting ample space that sets it apart from any other room on the market. Spanning an impressive 1200 square feet, it provides guests with a luxurious experience like no other. As you step inside, your eyes will be drawn to the floor-to-ceiling panoramic windows, offering breathtaking views of the surrounding beauty. The room is meticulously designed, featuring two comfortable leather sectionals where you can relax and unwind after a long day of exploration. In addition, there is a stylish dining room table that can accommodate up to four people, perfect for enjoying a delightful meal or engaging in lively conversation. To further enhance your stay, the Spa Suite also includes loft bedrooms, providing an elevated level of privacy and tranquility. Rest assured, from the moment you enter this remarkable space, you'll be enveloped in a world of comfort and opulence.
Book accommodations at the Golden Nugget
Answers to frequently asked questions about the Golden Nugget Casino.
Does Golden Nugget have a 24-hour dining option?
The sportsbook adjacent to The Grille is available round the clock. It serves a variety of options for breakfast, including burgers, hot dogs, sandwiches, and salads.
Are there any poker rooms in downtown Las Vegas?
Golden Nugget stands out as the sole poker room in downtown Las Vegas.
What table games are at Golden Nugget in Las Vegas?
At Golden Nugget, you'll find an impressive array of popular casino games being skillfully dealt by our experienced staff. From the classic card games like Baccarat, blackjack, and poker variations such as Crazy 4 Poker and Ultimate Texas Hold'em, to the exciting table games like craps and roulette with both double and triple zero options, we have something for everyone. For those looking for a unique twist, we also offer pai gow poker, Let it Ride, and High Card Flush. No matter your preference, Golden Nugget guarantees an exhilarating and unforgettable gaming experience.
What are the craps odds at Golden Nugget?
The craps table provides odds of 3-4-5 times, while the payout for a 12 in the field is doubled.
Does Golden Nugget blackjack require a side bet?
At the Golden Nugget casino, every blackjack table on the gaming floor mandates a side bet of either $1 or $2 for the Bonus Spin, which is activated when a player receives a blackjack.
Does any Golden Nugget blackjack pay 3/2?
The exclusive high limit salon at Golden Nugget in Las Vegas is the sole location with 3/2 blackjack.
As of August 15th, 2023, Kristina Mehaffey provided the most recent update.