I have always been fascinated by the immense presence of Caesars in the sportsbook industry across America. As one of the leading operators, Caesars has established its flagship sportsbook, Caesars Palace, right on the vibrant Las Vegas Strip. What's even more impressive is the array of other sportsbooks in Las Vegas that bear the esteemed Caesars brand, such as Horseshoe (previously known as Bally's), Cromwell, Flamingo, Harrah's, Linq, Paris, Planet Hollywood, and Rio. It's truly remarkable to witness how Caesars has expanded its reach and influence within the realm of sports betting.
Downtown Grand, despite not being under the ownership of Caesars, has opted to utilize the renowned Caesars brand for their sportsbook instead of the well-known William Hill. It is worth noting that Horseshoe, on the other hand, does not offer a sportsbook. However, patrons can still place their bets conveniently through the use of kiosks.
In more than a dozen states, the Caesars Sportsbook app is readily accessible for use. However, there is a distinguishing feature in Nevada that sets it apart from the others. To open an account, players must personally visit a retail sportsbook, making Nevada the sole state with such a requirement.
In several states like Arizona, Colorado, Illinois, Indiana, Iowa, Kansas, Louisiana, Michigan, New Jersey, New York, Pennsylvania, Tennessee, Virginia, West Virginia, and Wyoming, individuals have the option to conveniently open an account on their mobile device or computer. No longer is it necessary to make a trip to a physical sportsbook location. Interestingly, a few of these states don't even offer live sportsbooks for their residents.
In the year 2020, the sports betting operations of William Hill in the United States were acquired by Caesars Entertainment, as they had announced. The closure of that transaction occurred the subsequent year, resulting in the retirement of the Caesars Sportsbook brand.
The rejuvenated leadership at our organization made a strategic decision to revive the esteemed Caesars Sportsbook moniker across our properties. Subsequently, our esteemed brand began prioritizing the amplification of our online sportsbooks throughout the United States. Nevertheless, the William Hill brand continues to be employed in casinos that lease out their sportsbook operations, as these establishments are not under the ownership of Caesars Entertainment.
New player bonus
As a new player at Caesars Sportsbook, you can take advantage of an exciting offer available in multiple states. Upon signing up, you will receive a free bet offer that acts as a loss rebate, allowing you to potentially recuperate up to $1,250. In the unfortunate event that your first bet results in a loss, fear not, because you will be granted a free bet of equal value to the wager you lost. Furthermore, to sweeten the deal, you will also be rewarded with 1,000 Caesars Rewards tier credits and an additional 1,000 rewards credits. These rewards credits are equivalent to $10 in complimentary incentives. In terms of the tier credits, they hold great value as they propel you 20% closer to achieving the prestigious Platinum tier within the esteemed Caesars Rewards program. It's important to note that this enticing offer is exclusively available in a range of states, including Arizona, Colorado, Illinois, Indiana, Iowa, Kansas, Louisiana, Michigan, New Jersey, New York, Ohio, Pennsylvania, Tennessee, Virginia, West Virginia, and Wyoming. However, it's essential to keep in mind that accounts in Nevada are not eligible for this particular bonus.
The extensive range of betting options offered by Caesars Sportsbook
Caesars Sportsbook boasts an extensive array of options on its sports betting menu. A wide selection of sporting events awaits eager bettors, spanning football, basketball, hockey, baseball, tennis, golf, auto racing, mixed martial arts, rugby, and soccer. Among the offerings are highly anticipated occasions such as the Super Bowl, March Madness, and the World Series.
Caesars Sportsbook offers a wide range of betting options to choose from, including straight bets, parlays, teasers, props, in-play, and futures. Their betting menu includes various types of bets such as point spreads, totals, moneylines, puck lines, and run lines.
Caesars betting limits
At the Caesars sportsbook, they're famous for accepting hefty wagers at their windows. Securing approval is a breeze compared to the mobile betting app, particularly for casino enthusiasts who hold Diamond status or higher in the Caesars Rewards program. This renowned establishment is well-regarded for accommodating larger bets, surpassing other operators who may lack the same level of expertise in the American market.
The mobile app offered by Caesars Sportsbook
The Liberty platform operates the in-house version of the Caesars Sportsbook app, which was obtained as part of the William Hill transaction. Smoothly functioning, the Caesars Sportsbook app is devoid of any bugs, ensuring a seamless user experience. Creating a betting slip is a breeze, with the option to convert them into straight bets, parlays, teasers, or any other permissible form of bet based on the selected sports.
In most states outside Nevada, players can conveniently place wagers on the Caesars Sportsbook website using any computer. If you prefer the convenience of a mobile app, fear not! The Caesars Sportsbook app is readily available for download on both iOS and Android platforms. So whether you're an iPhone aficionado or an Android enthusiast, you can enjoy the thrill of sports betting anytime, anywhere. With the Caesars Sportsbook app and website at your fingertips, you'll never miss out on the action again.
In states where the Caesars Sportsbook is legally permitted, users have the flexibility to create their accounts either through the sports betting app or the online sportsbook. However, if you happen to be in Nevada, there is an additional step involved. Before you can place a wager, you must personally visit a retail sportsbook to verify your identity. Unfortunately, Nevada's mobile betting laws are not as up-to-date as those in states that have more recently legalized sports betting. This means that Nevada still adheres to more traditional methods, requiring physical presence for identity confirmation. On the other hand, in states where the Caesars Sportsbook is legally accessible, you have the convenience of creating your account entirely through your mobile device or computer. These states have embraced the advancements of technology, allowing users to enjoy a seamless and hassle-free online betting experience.
Atmosphere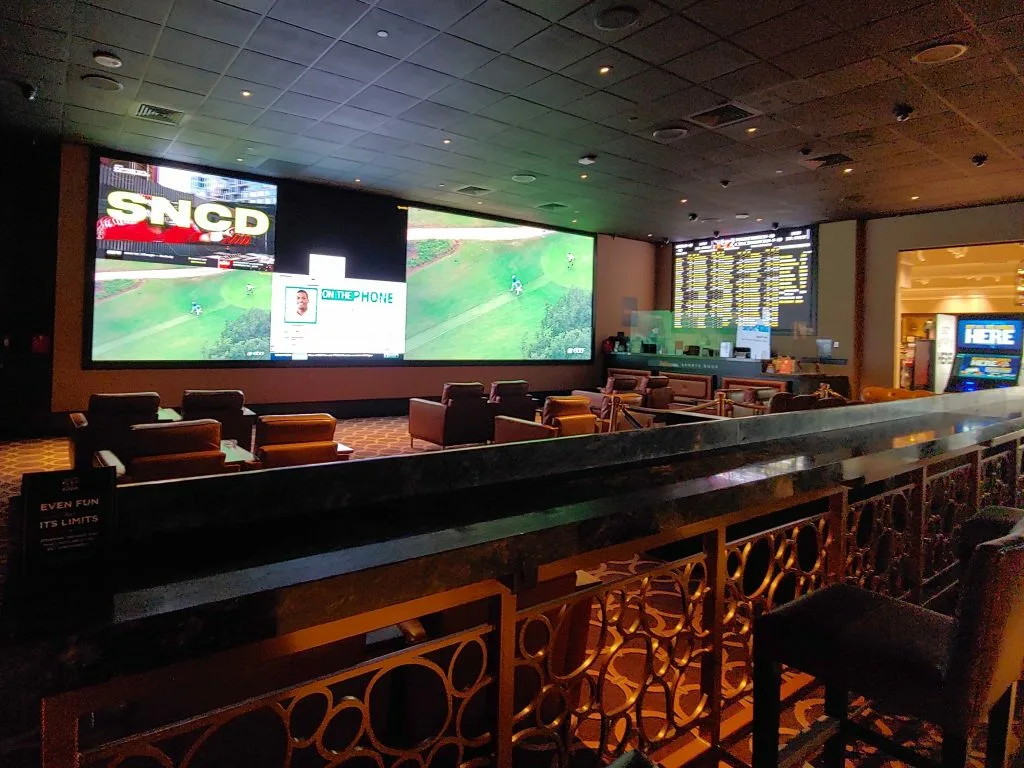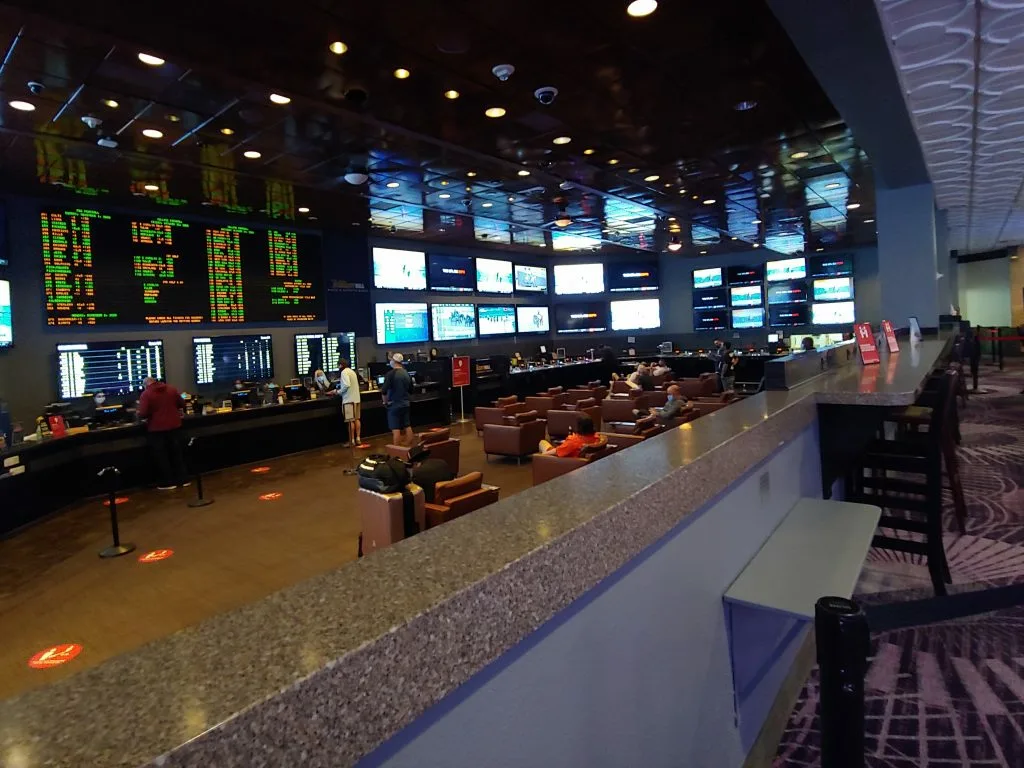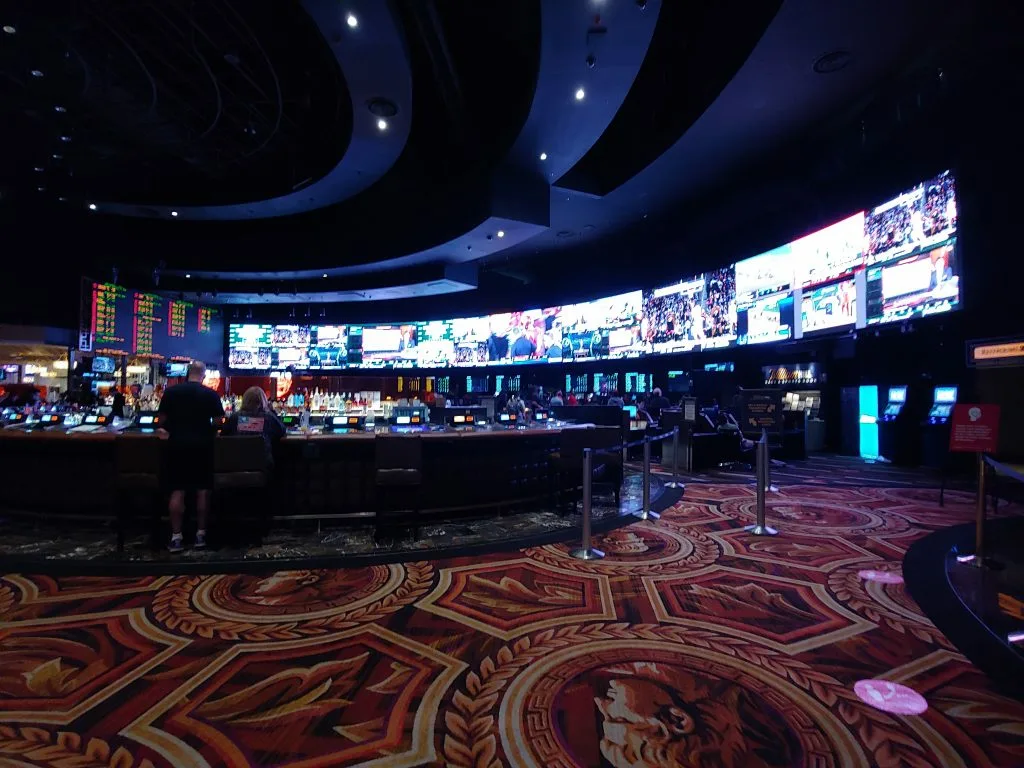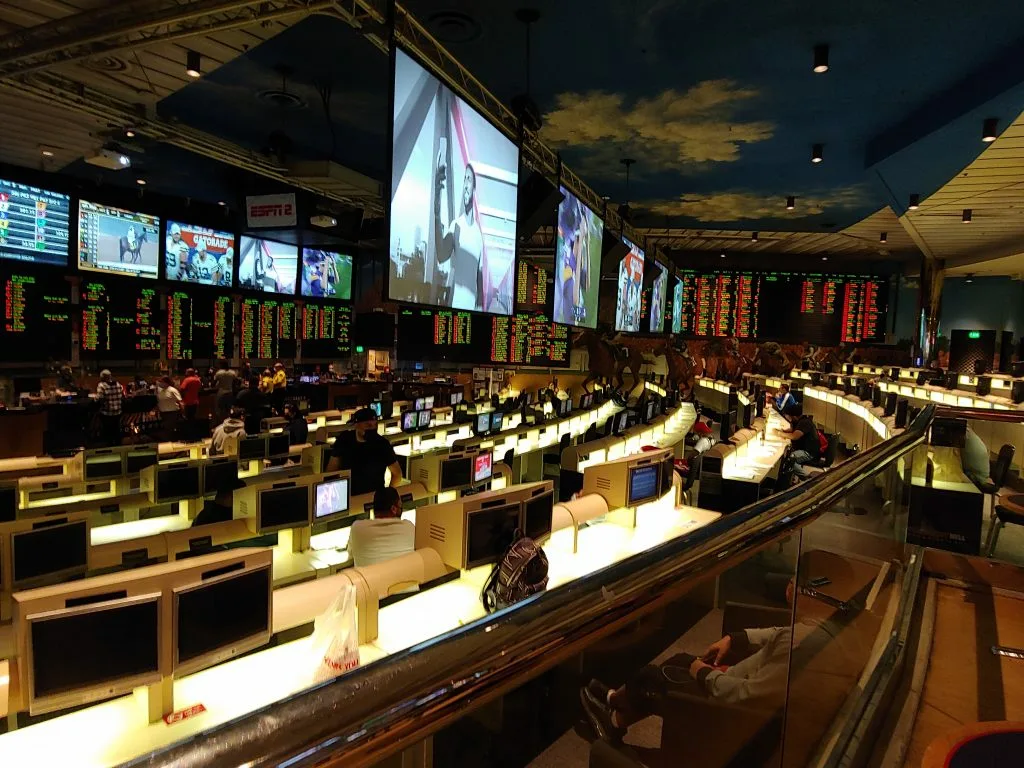 The biggest Caesars Sportsbook can be found at Caesars Palace, while the majority of their locations tend to be on the smaller side. Typically, the atmosphere is relaxed and easygoing, unless there's a major event happening. However, certain Caesars Sportsbook spots may have specific requirements, such as a payment or minimum spend, particularly during busy times like NFL Sundays.
Understanding the odds for parlays and teasers in sports betting
At the Caesars Sportsbook, you'll find an array of options for parlays and teasers across a wide range of sports. Whether you're into college or professional football and basketball, there's something for everyone. The convenience of the sports betting app and the brick-and-mortar retail sportsbooks means you can access parlay and teaser cards wherever you prefer to place your bets. When it comes to parlays, you have the flexibility to bet off the board, allowing you to include moneylines, totals, and point spreads in your wagers. So, whether you're a seasoned bettor or just getting started, the Caesars Sportsbook has you covered with its extensive parlay options.
| | | | |
| --- | --- | --- | --- |
| Football Teaser Odds | 6 points | 6.5 points | 7 points |
| 2 teams | 20/23 | 20/25 | 10/14 |
| 3 teams | 8/5 | 29/20 | 26/20 |
| 4 teams | 52/20 | 44/20 | 2/1 |
| 5 teams | 4/1 | 7/2 | 3/1 |
| 6 teams | 6/1 | 5/1 | 9/2 |
| 7 teams | 8/1 | 7/1 | 6/1 |
| 8 teams | 10/1 | 9/1 | 8/1 |
| 9 teams | 15/1 | 12/1 | 10/1 |
| 10 teams | 20/1 | 15/1 | 12/1 |
| | | | |
| --- | --- | --- | --- |
| Basketball Teaser Odds | 4 points | 5 points | 6 points |
| 2 teams | 10/11 | 10/12 | 10/14 |
| 3 teams | 9/5 | 3/2 | 6/5 |
| 4 teams | 5/2 | 11/5 | 9/5 |
| 5 teams | 4/1 | 7/2 | 3/1 |
| 6 teams | 6/1 | 5/1 | 9/2 |
| 7 teams | 8/1 | 7/1 | 6/1 |
| 8 teams | 10/1 | 9/1 | 8/1 |
| | | |
| --- | --- | --- |
| Football Special Teaser | 10 points | 14 points |
| 3 teams | 5/6 | |
| 4 teams | | 1/2 |
| | |
| --- | --- |
| Parlays that are excluded from the betting board. | Payout |
| 2 teams | 13/5 |
| 3 teams | 6/1 |
| 4 teams | 11/1 |
| 5 teams | 22/1 |
| 6 teams | 45/1 |
| 7 teams | 90/1 |
| 8 teams | 180/1 |
| 9 teams | 360/1 |
| 10 teams | 720/1 |
Caesars online casino
At the time of action, players must be located in a state where the Caesars online casino is licensed, and they must also be at least 21 years old. The licensed states include Michigan, New Jersey, Pennsylvania, and West Virginia. In these states, players can qualify for a deposit bonus that is cleared based on the game they choose to play. It's worth noting that Caesars also offers an online casino option, alongside their legal sportsbooks.
The most recent update was made on July 31, 2023 by Kristina Mehaffey.