I woke up this morning to the news that Main Street Station had reopened its doors at 6am. It's incredible to think that there are now a total of 12 downtown Las Vegas casinos that are open for business. This is a significant milestone, as it marks the first time since 2015, when the Las Vegas Club closed, that the number of operational casinos in the area has exceeded 11. It's a positive sign for the city's economy and a welcome sight for both locals and visitors alike.
Since its closure in March 2020, the property has undergone a number of transformations. The most notable alteration is evident in the table game pit, where a significant portion of the games are now absent.
At Main Street Station, you'll find a limited selection of live table games, now reduced to just eight. The remaining half of the pit area, previously dedicated to table games, has been transformed to accommodate the popular $1 6:5 video blackjack and the affordable $0.50 double zero roulette. It's worth mentioning that Main Street Station exclusively offers this particular variation of roulette, so players seeking a different style will need to explore alternative venues.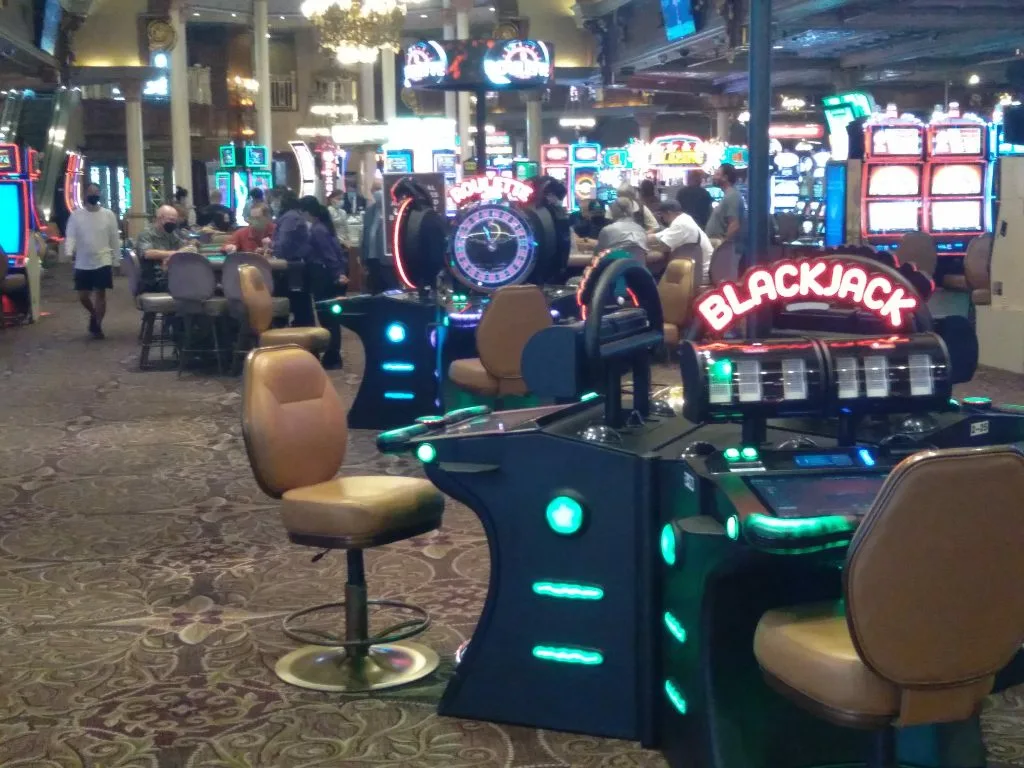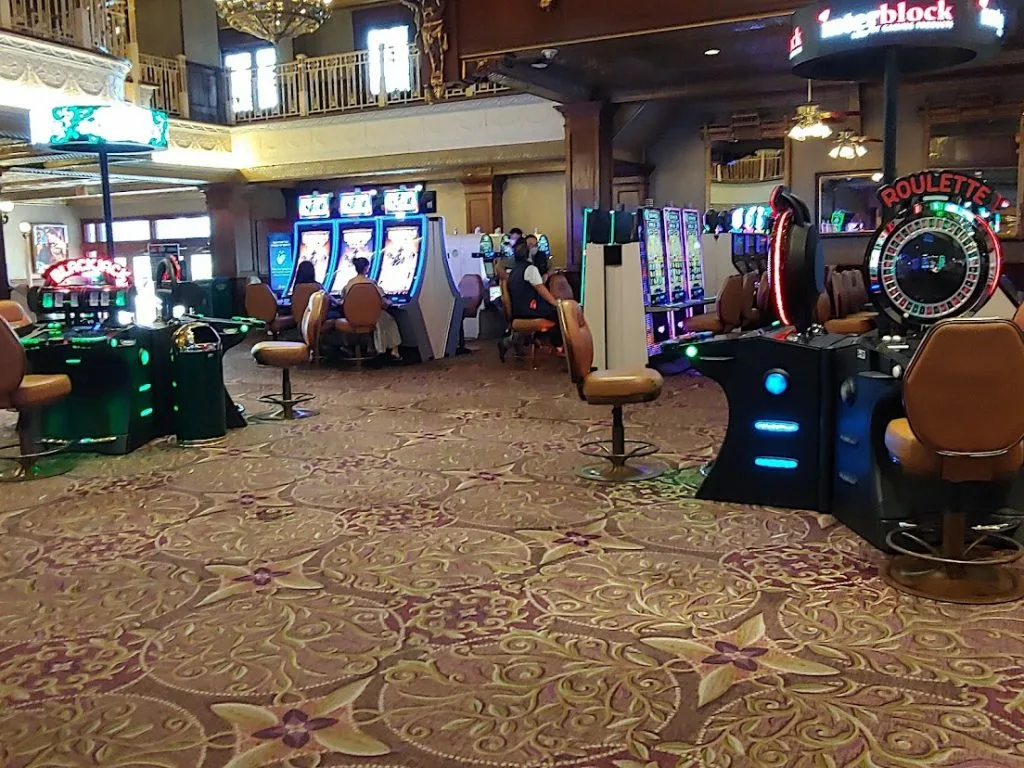 At the casino, there are several remaining pit games to choose from. These include craps, 6:5 six-deck blackjack, 3:2 double deck blackjack, Three Card Poker, Let it Ride, and Fortune Pai Gow Poker. When it comes to craps, there's still a great 20 times odds, and the field pays triple on 12. As for blackjack, the rule of no doubling down after splitting is still in effect. Moving on to Fortune Pai Gow Poker, it's worth noting that it's a no commission version. Additionally, if the dealer has a queen-high, the player automatically pushes. However, it's important to mention that players are not allowed to bank in this game.
Table game limits at Main Street Station
Blackjack 3:2 double deck: $10 to $500 (Available at 2 tables)
Blackjack with a 6:5 payout ratio played using six decks, with betting limits ranging from $10 to $500.
Craps: $10 to $1,000 (2 tables)
Experience the thrill of Fortune Pai Gow Poker with betting options ranging from $15 to $500 for a chance to win big!
Experience the thrill of Let it Ride with a betting range of $10 to $50.
Experience the thrill of Three Card Poker with betting limits ranging from $10 to $100.
In December 2019, our team conducted a comprehensive survey of Main Street Station—a bustling hub of excitement. Our findings revealed an impressive assortment of 19 thrilling live table games, captivating the hearts and minds of avid gamblers. However, as we delved deeper into the labyrinth of gaming options, we stumbled upon a peculiar absence. Eleven table games seemed to have vanished into thin air, leaving us perplexed and intrigued. Among the missing were the exhilarating sensations of double deck blackjack, a game that had enchanted players with its strategic allure. Additionally, the absence of double zero roulette, known for its heart-pounding suspense, left a void in the realm of chance. Another notable absentee was craps, a dice-based game that had once ignited the casino floor with its lively energy. Lastly, the conspicuous absence of Super Fun 21, a beloved variant of blackjack, further intensified our quest for answers. Now armed with this stunning revelation, we embarked on a new inquiry, determined to unravel the enigma shrouding Main Street Station's missing table games.
Main Street Station no longer offers coin games.
When Fremont reopened after the pandemic closure, they followed suit with Main Street Station by eliminating all coin games from their floor. It's interesting to note that Pay the Aces No Faces video poker game, which was once available at Main Street Station, can no longer be found in any Las Vegas casino. However, California seems to hold onto a few Treasure Chest Poker machines, along with a variety of other coin games, still offering a nostalgic experience for those who appreciate the old-fashioned charm.
The digital version of the Score with Four game is now available.
I remember the days before the pandemic hit when video poker players had the chance to win a scratch card worth a few dollars from a helpful slot attendant if they managed to land a natural four of a kind. Those were the good old times, when the excitement of holding those physical scratch cards in your hand added an extra thrill to the game. However, times have changed, and now everything is electronic. Gone are the days of receiving tangible rewards for your wins; instead, players now receive their prizes digitally. While it may lack the tactile satisfaction of scratching off a physical card, the convenience and efficiency of the digital system cannot be denied. So, as we adapt to the new normal, we bid farewell to the traditional way of rewarding video poker players and welcome the era of electronic prizes.
When a player manages to form a set of four cards with the same rank, their game board expands to a total of 12 compartments, each holding a potential prize. This information is conveniently shown on the touch pad of the player's club. As soon as the player uncovers three matching prizes, the bonus round comes to a close and they receive the corresponding amount. In order to be eligible for this feature, players are required to utilize a BConnected card and place a bet of five coins.
Some machines don't make the cut anymore due to recent gaming regulations. It appears that these excluded machines feature a game with a return rate of 99% or higher. Machines lacking this enticing promotion are clearly labeled with a disclosure, whereas those that do have it proudly display a banner above them.
Latest information suggests that the bonus for getting four of a kind is still available on the bar machines.
I'm a bit perplexed by the rules here. The phrase "valid on DEALT HAND" has me scratching my head. I'm not entirely sure what it signifies. Perhaps it implies that in order to trigger a bonus round, a player must be dealt a hand with four of a kind. However, I have a hunch that it actually means that if you're playing a game with multiple hands, only the bottom hand is eligible for the bonus, similar to how gaming taverns operate with their card of the day.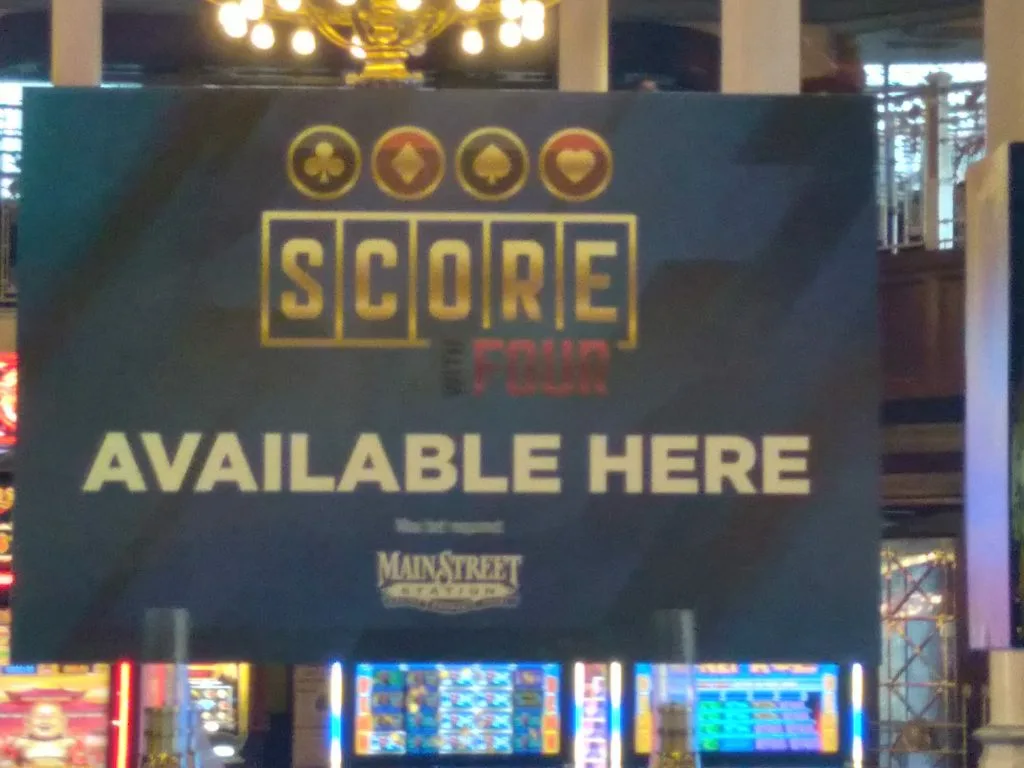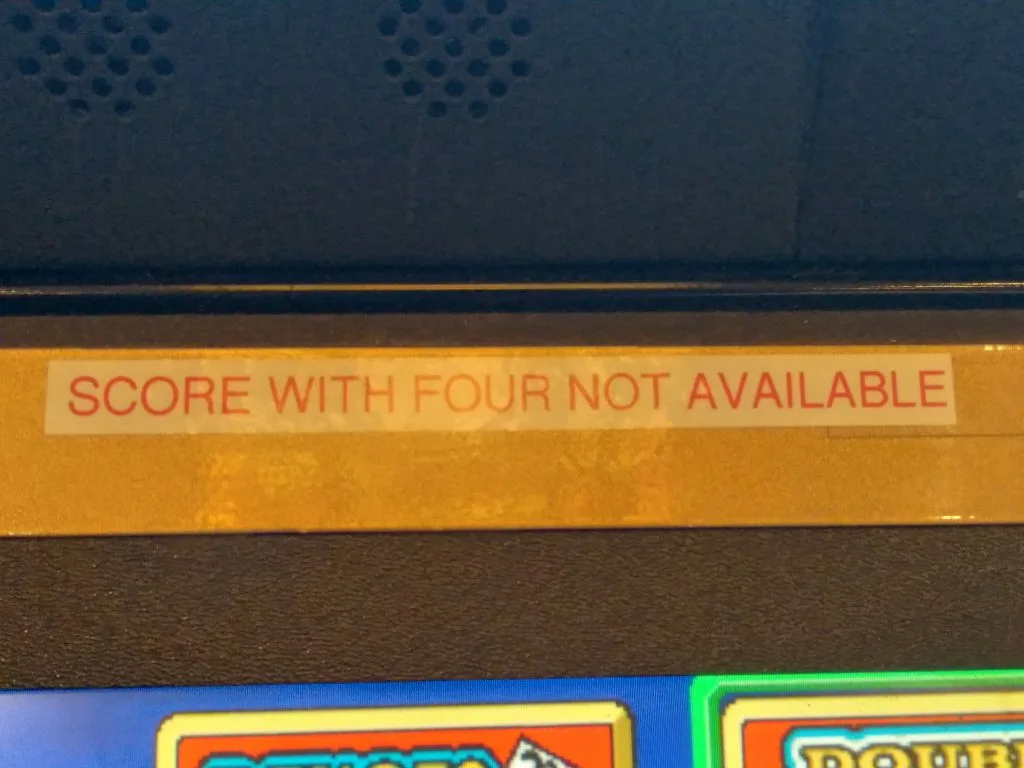 Video poker seems to have maintained its previous level of quality.
Update: It hasn't been confirmed yet, but according to players, a majority of the games that were previously mentioned in this article were taken out of the casino approximately one week after Main Street Station reopened. Unfortunately, we haven't had the opportunity to personally verify this information. Due to this, it's highly probable that a significant portion of this section contains inaccurate details. We haven't been able to revisit the casino to gather further specifics.
I couldn't find any difference in the quality of video poker compared to before the closure. Even after the closure, the bar still offers 9/6 Jacks or Better and 9/7 Double Bonus Poker.
In between the valet entrance and the bar, you'll find the 10/7 Double Bonus Poker machines, which can be played with denominations as high as $1. However, it's worth noting that the rest of the floor offers a more traditional selection, with games such as 16/10 Deuces Wild, 9/6 Jacks, 8/5 Bonus, 9/7 Double Bonus, and 9/6 Double Double Bonus, including options for multi-hand play. So, if you're looking for a variety of games, there's plenty to choose from outside of the 10/7 Double Bonus Poker machines.
Updates to dining options at Main Street Station
The Main Street Station restaurants operate on a restricted schedule. From Thursday to Monday, the Triple 7 Restaurant and Microbrewery welcomes guests from 5 pm to midnight. However, it remains closed on both Mondays and Tuesdays. On the other hand, the Garden Court Buffet serves brunch daily, starting from 8 am until 2 pm, offering a delightful meal for $18.99. If you're looking to enjoy dinner at the buffet, it is only available on Fridays and Saturdays, spanning from 4 pm to 9 pm, at a cost of $25.99.