On Tuesday, March 7, 2023, Kristina and I explored the entire Fremont Street Experience area, strolling through each of its 12 casinos located downtown.
Our journey began at Plaza, where we were greeted by a colossal construction project at the front entrance. Notably, the image displayed showcases the near-completion of the captivating carousel bar.
During our recent visit to Plaza, I noticed that things were pretty much the same as before. Most of the table games had a minimum bet of $10, with the exception of single zero roulette, which required a minimum of $15. It struck me as odd because I couldn't remember single zero roulette being available on Tuesday afternoons during our previous visits.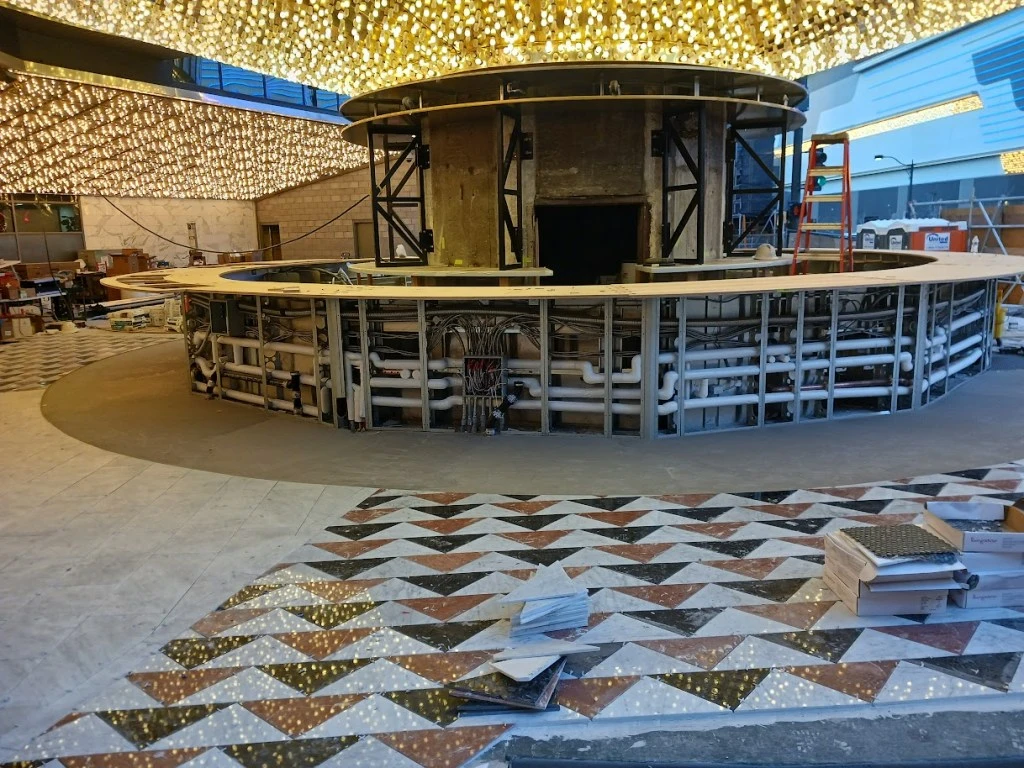 During our previous visits, Golden Gate Casino reduced its betting limits. In the past, we could play blackjack, craps, and roulette with only $10, but this time we had to have at least $15 for several of our surveys.
Circa came as a remarkable shock. Prior to yesterday, I had never witnessed a $10 blackjack or roulette game taking place there. Surprisingly, there were numerous available tables for both. However, craps stood at a higher price of $15 and was unoccupied.
As we strolled along Main Street Station, we noticed that the tables were closed during the weekdays, which made the place unremarkable. Apart from that, there were no noticeable changes. The surroundings appeared quite deserted.
California hasn't changed a bit. The poker pit games were mostly priced at $15, but there were also a few tables with $10 stakes. Surprisingly, the popular game of pai gow poker demanded a higher bet of $25. On the other hand, craps had a minimum bet of $15, yet strangely, there were no players at the table.
Downtown Las Vegas had a mostly open pit at Binion's, where the games mostly required a minimum bet of $10. However, craps was a bit pricier at $15 and surprisingly had no players. It was quite unusual to not see a single person at a $15 table in this bustling city. Strangely enough, all the $15 tables were empty. On the other hand, approximately half of the $10 tables were occupied and had some action going on.
Walking into the Golden Nugget, I immediately felt the familiar buzz and excitement that has become synonymous with this iconic establishment. As I made my way through the bustling casino floor, it was impossible not to notice the abundance of $5 table games that were on offer. From Let it Ride to Crazy 4 Poker and High Card Flush, there was no shortage of options for poker enthusiasts like myself. What struck me the most was the sheer popularity of Golden Nugget, even when other casinos seemed to be experiencing a lull. It became evident that these $5 tables played a significant role in attracting a steady stream of players. The atmosphere was electrifying, with cheers and laughter filling the air as fortunes were won and lost. Moving towards the craps area, I noticed that the minimum bet for this thrilling game was set at $10. Despite the slightly higher stakes, the two busy tables were a testament to the enduring appeal of craps among gamblers. The energy was contagious, and I couldn't help but be drawn into the excitement. As I ventured deeper into the casino, I discovered that Golden Nugget was home to the last Fortune Pai Gow Poker table in downtown Las Vegas. With a minimum bet of $15, this particular game seemed to attract a more discerning crowd who appreciated the strategic elements of Pai Gow Poker. The players around the table were focused, their expressions revealing a mix of concentration and anticipation. In conclusion, my visit to the Golden Nugget was a reminder of why it has maintained its status as a beloved destination for gamblers. The variety of $5 table games, the bustling craps tables, and the exclusive Fortune Pai Gow Poker table all contributed to an unforgettable experience. Whether you're a seasoned player or just starting out, Golden Nugget offers something for everyone.
Walking into Fremont, I immediately noticed that everything appeared exactly as it had before. The open games, for the most part, still had a minimum bet of $15, although there was one exception. The 6/5 blackjack table, which also required a mandatory side bet, had a slightly lower minimum of $11. Interestingly, Fremont still held the distinction of being the only casino in the entire Las Vegas market to offer a Texas Hold'em Bonus game. However, this particular game seemed to only be open during the busiest hours, and the minimum bet was set at $10. As I made my way through the casino, I couldn't help but notice the bustling activity in the new food court. It was filled with people enjoying their meals and engaging in lively conversations. What I particularly liked about this new addition was the convenient access it provided to Ogden, as I could simply walk out the back of the food court and find myself on the street. While exploring further, I realized that there was a significant amount of construction work taking place within Fremont. This was evident by the absence of many electronic table games, which seemed to have been temporarily removed due to the ongoing renovations.
When I visited Downtown Grand, I noticed that they didn't have any live craps games going on. I'm not quite sure if they offer $5 craps these days, as the last two times I went, it was at a minimum of $10. Surprisingly, on this particular visit, the craps game was closed in the late afternoon. However, they did have a $3 hybrid craps game that seemed to have taken its place. On a positive note, Downtown Grand still had their $5 roulette, Ultimate Texas Hold'em, and 3/2 blackjack tables open and available for play.
During our recent visit, I noticed that the property of El Cortez has quite a collection of $10 tables, which is a rarity these days. However, what struck me even more was the absence of several coin games that were present during our previous trip. It seems like there are a few dozen missing, leaving the casino with a noticeably reduced selection. In fact, I estimate that there might be fewer than 100 coin games left on the premises.
Our time at The D came to a close as the afternoon drew to an end. Before making our way to Plaza, we spent some uneventful moments playing video poker at Vue Bar.
Sand Dollar Lounge has quickly earned the title of our go-to spot for playing video poker.
Sand Dollar Lounge is a smoke-free establishment that also boasts a selection of video poker games with a 99% or higher payout rate. The exceptional staff at this venue has made it one of our preferred destinations.
Sand Dollar, which has been operating for nearly a year, initially struck me as an odd establishment, and I didn't frequent it often. However, over time, it started to grow on me. Perhaps it's the effect of aging or the slower pace of the pandemic years, but I find myself increasingly bothered by the overwhelming smoke in video poker bars. That's why I appreciate places like Sand Dollar, where I can enjoy excellent games without having to worry about smoke being an issue.
Plaza is set to unveil a groundbreaking addition to downtown Las Vegas: a non-smoking casino floor, conveniently located near its main entrance, which is slated to open later this year.