Fremont Street Experience, known for its claim of offering superior gambling compared to the Strip, does have certain advantages in this regard. However, after extensive research, we have discovered that three of its blackjack games are, unfortunately, the least favorable in all of Las Vegas. Our comprehensive analysis includes data from more than 200 casinos nationwide, and these particular games consistently rank at the very bottom of the list.
No updates have been reported regarding the information collected from Fremont Street Experience casinos in October 2021.
In our ongoing series discussing the declining quality of gambling at member casinos, we recently released an article highlighting the finest blackjack options available in downtown Las Vegas. This piece focuses on providing readers with valuable insights into where they can find the best value within the vibrant Fremont Street Experience. By shedding light on this topic, we aim to assist gamblers in making informed decisions and maximizing their enjoyment while playing blackjack in the heart of Sin City.
The identical dreadful rule is shared by the three most unfavorable blackjack games in Las Vegas.
When you find yourself in a blackjack game in Las Vegas where the dealer insists on a side bet, it's a strong indication that you're in one of the least favorable games. This side bet usually revolves around the Bonus Spin, which entails spinning a digital wheel that tends to offer lower-value prizes. The catch is that players are only allowed to spin the wheel when they are dealt a blackjack. What makes matters worse is that this additional $1 bet is separate from the mandatory minimum bet for blackjack, which typically ranges from $5 to $10.
I delved into the intricacies of the wheel's coding long ago, attempting to unravel the mystery of its return percentage. After thorough research and analysis, I arrived at a conclusion: the house edge stands at a formidable 23%. Surprisingly, no one has come forward to dispute my findings, leaving me confident in my assessment. If my calculations are indeed accurate, then, in theory, the player would suffer a loss of $0.23 with every hand on the side bet.
In downtown Las Vegas, you can typically find blackjack games with standard rules where the house edge on a $40 wager is a crucial factor. Most of these games follow the 3:2 payout ratio, which means that if you hit a blackjack, you'll receive $60. However, there are a few exceptions to this standard. Out of the three games mentioned, two of them deviate from the norm and only offer a 6:5 payout on a blackjack, reducing your potential winnings to $48. While the remaining game sticks to the traditional 3:2 ratio, the difference in payouts is only marginally better, leaving you with a profit of $60. It's essential to be aware of these variations in order to make informed decisions while playing blackjack in downtown Las Vegas or any other casino in town.
Golden Nugget offers the most unfavorable blackjack game in Las Vegas.
For several years now, Golden Nugget has managed to maintain its reputation as the worst place to play blackjack in all of Las Vegas. Its name has become synonymous with disappointment and frustration, drawing in unsuspecting gamblers who are unaware of the terrible experience that awaits them. But this year, the casino took it upon itself to outdo its previous failures and concocted a brand new game that has secured its position as the absolute worst in this dubious ranking. With this ingenious move, Golden Nugget has solidified its status as a pioneer of disappointment, leaving no room for any other contender to claim the title.
At the front of the casino, you'll stumble upon this year's most disastrous creation in the world of blackjack. It's a disastrous combination of Lucky Cat Blackjack, a disappointing 6:5 payout, and a mandatory Bonus Spin side bet. In order to join the game, you must place a minimum bet of $5 on the blackjack table, and an additional $1 side bet. This particular blackjack variation is exclusively offered in the lively party pit area.
Based on the information I gathered from the Wizard of Odds, I calculated that the $5 blackjack bet has a house edge of 3.33%. By the way, Fremont Street Experience, take note on how to properly attribute sources. To this figure, I then included the 1.39% for the 6:5 payout mentioned in the pay table used exclusively by Golden Nugget on their original Lucky Cat tables.
In my analysis, the minimum bet on blackjack results in a potential loss of $0.17 for the player, while the side bet could lead to a loss of $0.23. When considering a $6 wager, the computed house edge stands at 6.67% ($0.40/$6). It is worth noting that this percentage is significantly higher than the 5.26% found in double zero roulette. Furthermore, blackjack offers a faster pace than double zero roulette, making it a less favorable option overall.
I wouldn't recommend increasing your bets on the blackjack hand in order to reduce the house edge, even though it may cause a slight decrease. According to my calculations, if you place a $100 bet along with a $1 side bet, the house edge will still be 3.56%. In comparison, a typical shoe blackjack game with a 3:2 payout ratio usually has a house edge of approximately 0.65%.
Golden Nugget and Fremont offer yet another disappointing blackjack game.
Las Vegas has seen its fair share of blackjack games, some of which were not exactly the best options for players. One such game that stood out as the worst last year was the 6:5 Bonus Spin Blackjack. However, this year, a new contender has emerged to take its place, called the 6:5 Lucky Cat Blackjack, as described earlier. This introduction has caused the previously titled worst game to drop down to the second position on the list. Vegas is always evolving, and with the arrival of this new blackjack variant, players now have another game to consider in their quest for the ideal blackjack experience.
This variant of blackjack introduced the concept of a mandatory side bet. Apart from that, the rules remain unchanged. Players place a $1 side bet in addition to their regular blackjack wager.
In the realm of Las Vegas blackjack, where fortunes are won and lost, there exists a game that stands as the second worst in terms of minimum bets. Typically, this game requires a minimum bet of $10, accompanied by a $1 side bet. When it comes to the actual blackjack portion of the game, the house holds a 2% edge, equivalent to $0.20 on a $10 wager. As for the side bet, its house edge is estimated to be around $0.23. Combining these factors, the total house edge for the $11 minimum bet reaches 3.91%, representing a sum of $0.43 out of the $11 wagered.
At the Golden Nugget, you can snag this game for a mere $5 with the added bonus of a side bet. And here's the kicker - the estimated house edge on a $6 wager is a mere $0.33, giving the house a modest 5.5% hold.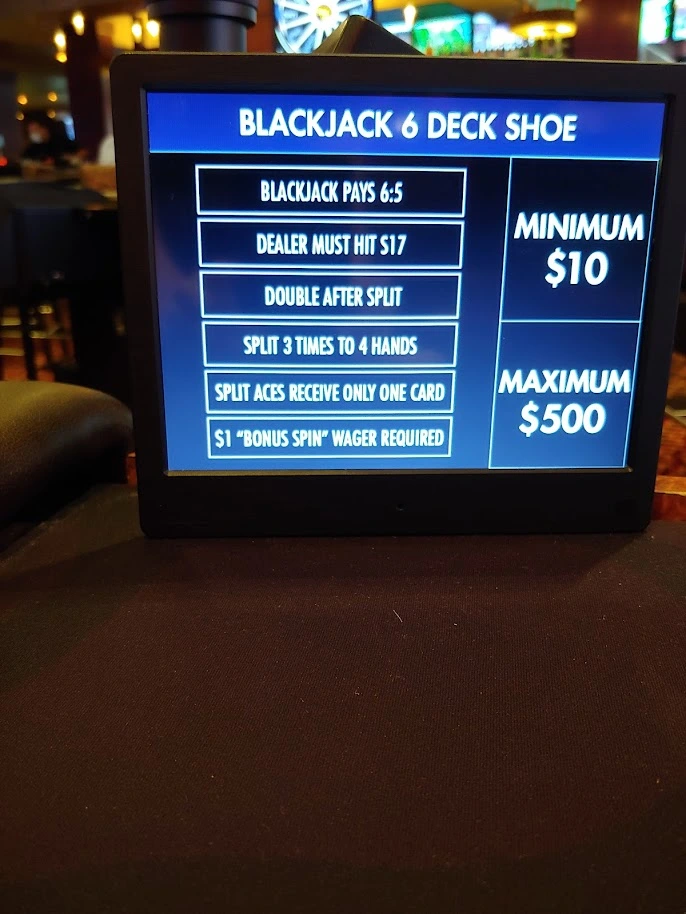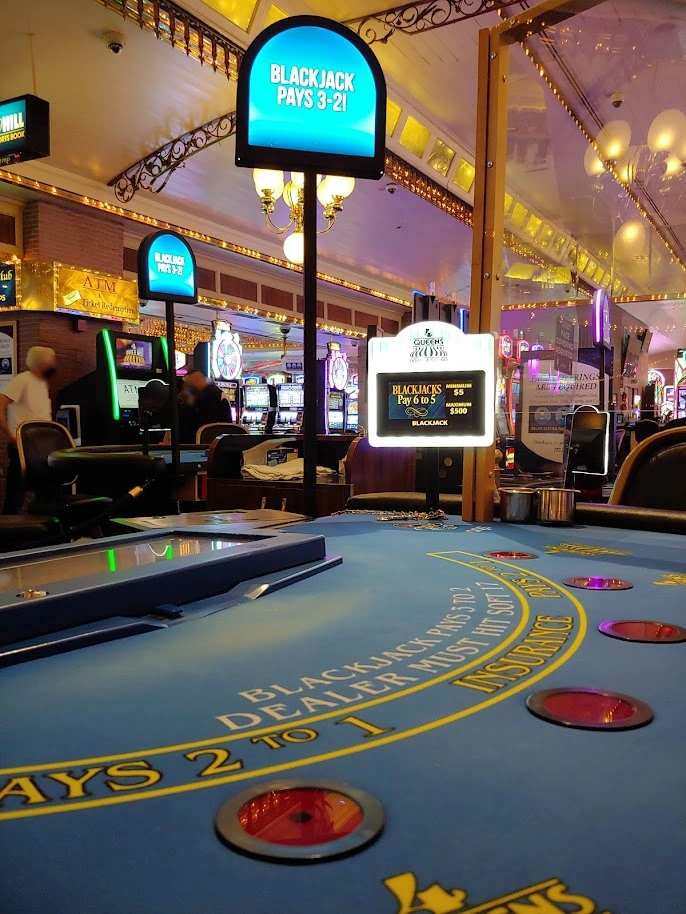 Binion's and Four Queens offer one of the least favorable blackjack games in Las Vegas.
At a handful of tables, Binion's and Four Queens proudly display signs declaring "Blackjack pays 3:2." But it's essential to note that these tables are not genuine blackjack games due to the obligatory side bet.
At the tables I'm talking about, the minimum bet you can place is $10, and on top of that, there's a $1 side bet. Now, when it comes to the actual blackjack bet of $10, you're looking at a house edge of approximately $0.07. As for the side bet of $1, the estimated house edge is around $0.23. So, when you combine the two, the overall house edge at these tables sits at a rough 2.73%. To put that into perspective, it's pretty much the same house edge you'd find on a $1 bet at the 6:5 Downtown Grand table, where the expected loss per hand is about 90% lower.
The latest edition of the Bet-NV.com newsletter has been published.
With an extensive collection of data on Las Vegas table games, we possess the insights to identify the most unfavorable blackjack games in the city.
By December 1, we'll have a comprehensive newsletter ready for publication, featuring all the minimum bets and rules for every table game available in Las Vegas. This exclusive guide will cover not only the renowned Strip and vibrant downtown Las Vegas, but also the entirety of the locals market. For a nominal fee of just $9, you'll gain access to invaluable information that will enhance your Las Vegas gaming experience.
For additional details about our newsletter, please click here.