In Las Vegas, one can find the finest video poker games on the planet. Games of exceptional quality are available to players of all skill levels. You can discover pay tables that yield over 100% returns when playing with five coins and employing flawless strategy, even at denominations as high as $1. Furthermore, at higher stakes, there are games offering a generous payout rate of 99.5%.
Top-rated 5-cent video poker games in Las Vegas
In the heart of Henderson, the prestigious Emerald Island has claimed the coveted title of having the finest nickel video poker machines in all of Las Vegas. Among its impressive collection, two machines stand out: the $0.05 10/7 Double bonus video poker machines. These incredible games boast an exceptional return rate of 100.17% when played with five coins and flawless strategy, excluding the progressive royal flush. Additionally, the Emerald Island offers a range of enticing options, including the exhilarating 10-coin versions of $0.01, $0.02, and $0.05 10/6 Ten Play Double Double Bonus, providing a remarkable 99.96% payout. To add to the excitement, players can wager up to $1.50 per line, making each spin a thrilling opportunity to win big.
Rainbow Club offers an exciting assortment of Ten Play games, while Henderson proves to be an excellent destination for discovering budget-friendly options.
Top-rated Las Vegas video poker for only $0.25
In Las Vegas, the Plaza is renowned for hosting the most exceptional video poker game available for merely $0.25. This game features not one, but two 20/7/5 Joker Poker machines, which offer an incredible return rate of 100.65% when played flawlessly with five coins. Additionally, if you explore the casino floor, you'll discover older Game King machines that present 9/6 Bonus Poker Deluxe (99.64%) and 9/6 Jacks or Better (99.54%) in the quarter denomination.
The image displayed here showcases Plaza's previous offer of Joker Poker at $0.50, but currently, the available amount is $0.25.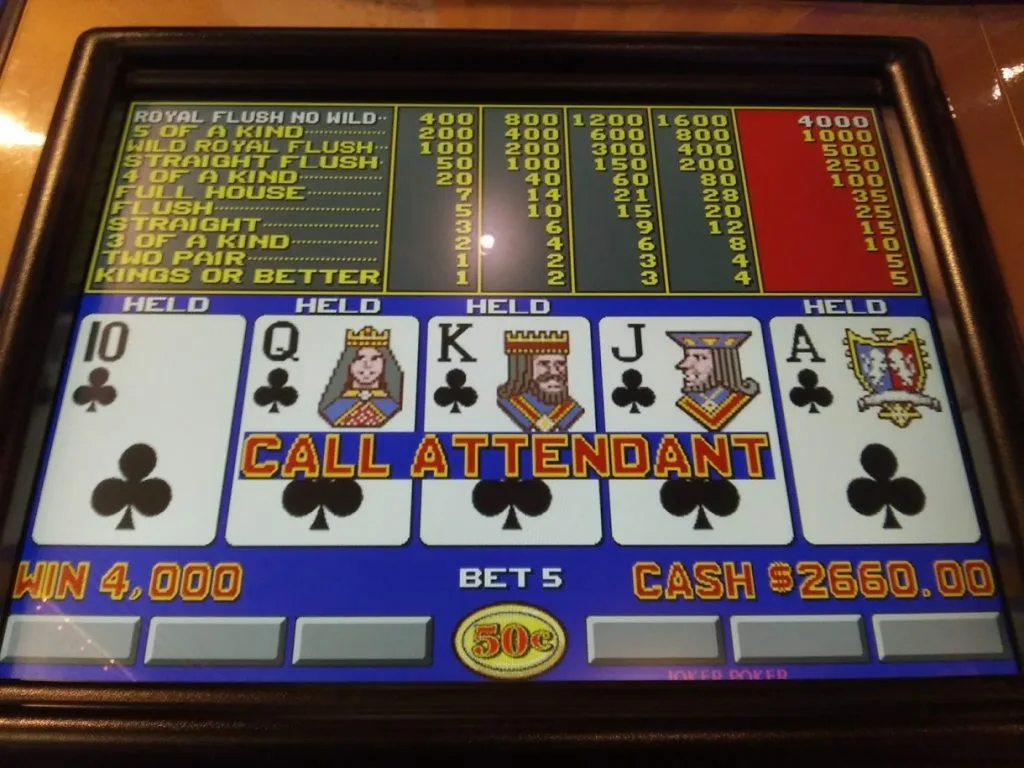 Top-rated 50-cent video poker in Las Vegas
I've discovered that in Las Vegas, Station Casinos is renowned for offering the finest $0.50 video poker games. Specifically, they have two popular options: 10/7 Double Bonus Poker and 10/6 Double Double Bonus Poker. The payout percentages for these games are exceptional as well, with a return of 100.17% for the former and 100.06% for the latter. It's worth noting that these enjoyable games are not limited to just one betting denomination; they can also be played with quarters and dollars. To add to the convenience, you can find these fantastic video poker options at various Station Casino locations, including Green Valley Ranch, Red Rock Resort, Santa Fe Station, Sunset Station, and Boulder Station.
Top-rated $1 video poker games in Las Vegas
In Las Vegas, there's a fierce competition for the title of the top $1 video poker. Two contenders are battling it out for the crown. One is Station Casinos, offering an enticing choice between 10/7 Double Bonus and 10/6 Double Double Bonus, as I mentioned earlier. The other worthy opponent is Four Queens, which proudly boasts its own 10/7 Double Bonus. These establishments have truly raised the stakes when it comes to video poker, providing players with thrilling options to test their luck and skill.
Top-rated $2 video poker in Las Vegas.
At South Point, you'll find the finest selection of $2 video poker games in all of Las Vegas. They have the highly sought-after 16/10 Deuces Wild, commonly known as Not So Ugly Ducks, which is the top-paying option for Deuces Wild that remains in Las Vegas following the disappearance of the more generous pay tables. You can enjoy this game from almost any bar seat or on the bustling casino floor. Additionally, South Point offers other excellent $2 video poker variations, such as 9/6 Bonus Poker Deluxe and 9/6 Jacks or Better. These fantastic options are also conveniently available at the bars as well as throughout the casino floor.
The top video poker option in Las Vegas for only five dollars.
Last year, Plaza made an exciting addition to its impressive selection of video poker games by introducing the $5 denomination. Among the various options available, the standout choice for avid players is undoubtedly the 9/6 Bonus Poker Deluxe. Additionally, they also offer the popular 9/6 Jacks or Better game. To enhance your gaming experience, these exceptional games are exclusively found on the newer machines situated at the vibrant Omaha Bar and the cozy Sand Dollar Lounge. It's worth noting that the machines featuring these remarkable games have a maximum denomination limit of $2.
Top-notch Las Vegas video poker with the highest limits available
In Las Vegas, Caesars Palace and Rio are renowned for hosting the most exceptional video poker games that start at $10 and go up. These establishments feature the highly sought-after 9/6 Jacks or Better, which offers favorable odds for players. Moreover, both Caesars Palace and Rio provide the thrilling 9/7 Triple Double Bonus, boasting an impressive payout percentage of 99.58%. This game is available in three different denominations: $25, $50, and $100. To optimize your chances of winning big, it is recommended to wager five coins per hand. At the $100 denomination, this means a staggering $500 bet per hand.
At the MGM Grand, you can find $10 9/6 Jacks or Better. Meanwhile, the Cosmopolitan offers this game in their high limit bars, allowing bets up to $50.
As a helpful assistant, I can provide you with valuable insights on the Las Vegas video poker scene. When it comes to high limit games, VPFree2 has been a trusted reference for many players. This fantastic resource offers comprehensive information on various casinos, including Caesars Palace and Rio. To access detailed pages dedicated to these establishments, simply click on the provided link. With VPFree2 by your side, you can make informed decisions and enhance your gaming experience in the vibrant city of Las Vegas.