I had the chance to explore The Wildfire on Fremont, a vibrant establishment that came to life on a sunny Friday afternoon, specifically on February 10, 2023, at the stroke of noon. This casino, proudly operated by Station Casinos, is a significant component of the renowned Red Rock Resorts, a company listed on the stock exchange. Eager to experience the buzzing atmosphere, my companions and I eagerly made our way to this renowned venue at around 3pm, intending to spend a delightful few hours in its midst.
Located just south of Charleston Blvd at 2700 East Fremont, the brand-new Wildfire casino emerges as a welcome addition to the Las Vegas landscape, filling a void where no other casinos previously stood. Situated approximately halfway between the iconic Fremont Street Experience and the renowned Boulder Station, this exciting establishment offers a convenient and accessible gaming destination for locals and visitors alike. Positioned about three miles to the east of The Strat, the Wildfire casino ensures that patrons can revel in the thrill of gambling without venturing too far from the city's vibrant heart.
At Fremont's Wildfire, you'll find approximately 200 machines, all vying for your attention. But let me tell you, the bar steals the show. It's hands down one of the most impressive features at any of the Station Casinos properties in the neighborhood. They've got televisions galore, ensuring you won't miss a single angle of the game. Now, here's the kicker - the seating around the bar? It's not just any seating. It's seating that comes with video poker and keno built right in. Talk about getting the best of both worlds! And if that wasn't enough, they've also got a few machines with slot titles, blackjack, and roulette. But what really caught my eye were the Game Kings, which make up the majority of the machines. However, don't overlook the Aristocrat machines that showcase the ever-popular Buffalo slot game. Trust me, you won't be disappointed at Wildfire on Fremont.
I believe that out of the 200 machines available in the establishment, approximately 140 of them are dedicated to slot games. Moreover, there are a total of five machines that offer electronic table games, providing a different kind of gaming experience. The remaining machines at the venue are dedicated to video poker, ensuring that there is a range of options for players to choose from. Additionally, aside from the wide array of gaming machines, there are other amenities available within the premises. These include a compact sportsbook where enthusiasts can place bets, an IHOP restaurant offering delicious meals, and Tacos El Pastor, a small eatery serving tasty traditional Mexican cuisine.
Exciting deals and offers available during the highly anticipated opening event of Fremont's Wildfire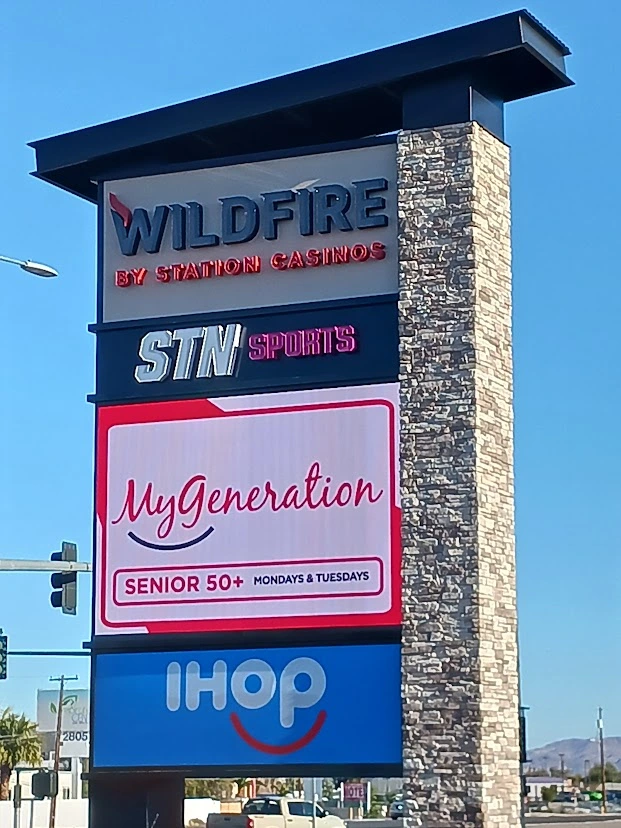 To commemorate the launch of Wildfire on Fremont, we have not just one, but two fantastic promotions lined up for you. The initial offering is an exhilarating prop freeroll with a whopping $10,000 in prizes up for grabs. This thrilling competition coincides with the Pro Football Championship, fondly known as the Super Bowl.
For the grand opening of the casino, an exciting promotion awaits! During the first 10 days, you have the chance to earn 10 times the Boarding Pass Points on both slots and video poker. Remember, this promotion ends on February 19, 2023, so mark your calendars! Now, let's break down the details. When you play slots, you'll receive a remarkable 1% return on your points. On the other hand, if video poker is more your style, you'll still earn a respectable 0.5% return. To take advantage of this fantastic offer, simply swipe your Boarding Pass card at one of our convenient kiosks. Don't miss out on this incredible opportunity to multiply your points and maximize your rewards!
If you're a regular player at Boulder Station, it might be worth your while to venture over to Wildfire on Fremont and see if you can boost your winnings. It's not just Wildfire on Fremont either, the casinos up north along Boulder Highway could have some worthwhile offerings as well. Those who frequently enjoy playing at nearby taverns should definitely make a point to visit Wildfire on Fremont. The gaming experience and promotional offers there are likely to be superior.
Top-rated games to enjoy at Wildfire on Fremont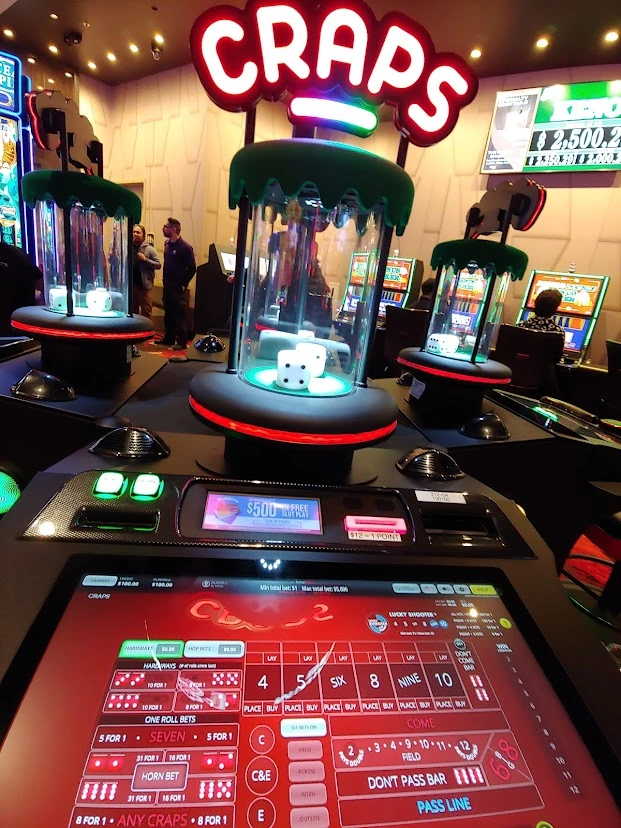 One of the most enjoyable pastimes for me is playing bubble craps in a heads-up format. At Wildfire on Fremont, I've discovered a great spot with four of these machines, each offering a minimum bet of just $1. What's even better is that they have double odds, which significantly increases the potential payout. Additionally, the field pays double when you roll a 2 or a 12, adding an extra layer of excitement to the game. If you take advantage of the double odds opportunity on the pass line and come bets, you can expect an impressive 99.22% return on your investment. However, it's important to note that each slot point on these machines requires a $12 wager, making the gameplay six times slower compared to standard video poker. Unfortunately, this game is excluded from the enticing 10 times points promotion.
I really enjoy playing this game for several reasons, and one of the main advantages of this craps machine is that it typically takes slightly over three rolls, on average, to settle the pass line or come bets. This is beneficial because it reduces the amount of money you need to put in compared to playing video poker. It's just one of the many factors that make me appreciate this game immensely.
The IHOP houses video craps and roulette, while the sole alternative electronic table game available is quarter 00 roulette, accommodating four players who all play on the same wheel.
Among the selection of video poker games, the one that stands out as the most favorable in terms of payout percentage is 8/5 Bonus Poker, boasting a 99.17% return rate. Falling closely behind are 9/7 Double Bonus at 99.11%, 9/6 Double Double Bonus Poker at 98.98%, and 15/9 Deuces Wild at 98.91%. If you're looking to try your luck with these games, you'll find them conveniently located at the $1 denomination machines situated mostly near the IHOP entrance on the casino floor.
A handy trick to boost your points is to take advantage of the point multiplier days by playing 8/5 Bonus Poker. This strategy essentially replicates playing the highest-paying version of the game, which rewards 35 coins for all quad hands. The only distinction is that instead of relying on quad hands to earn those points, you can simply collect Boarding Pass Points with lower variance.
Different types of video poker games and bars that offer them.
As I surveyed the bustling casino, I encountered a slight setback in my quest to examine the pay tables of various video poker variants. Unfortunately, the majority of these enticing games were occupied by avid players. Nevertheless, amidst the lively atmosphere, I managed to locate a few intriguing options such as Wheel Poker, Ultimate X Bonus Streak, Split Card, Super Triple Play, and Super Times Pay. It was evident that the popularity of video poker had captured the attention of many visitors, as most of the seats were filled with eager participants.
In my quest for the ultimate bar game, I stumbled upon the gem known as 6/5 Bonus Poker (96.87%) at the quarter and half-dollar denominations. Its allure only grows stronger when you reach the $1 mark, where it transforms into a generous 7/5 (98.01%) payout. To my delight, the bar also offers $2 and $5 denominations with identical pay tables as the $1 game. However, it is worth noting that only the quarter and dollar denominations feature a thrilling royal flush progressive, while the others unfortunately do not share this enticing feature.
The quality of service at Fremont is outstanding when it comes to dealing with wildfires.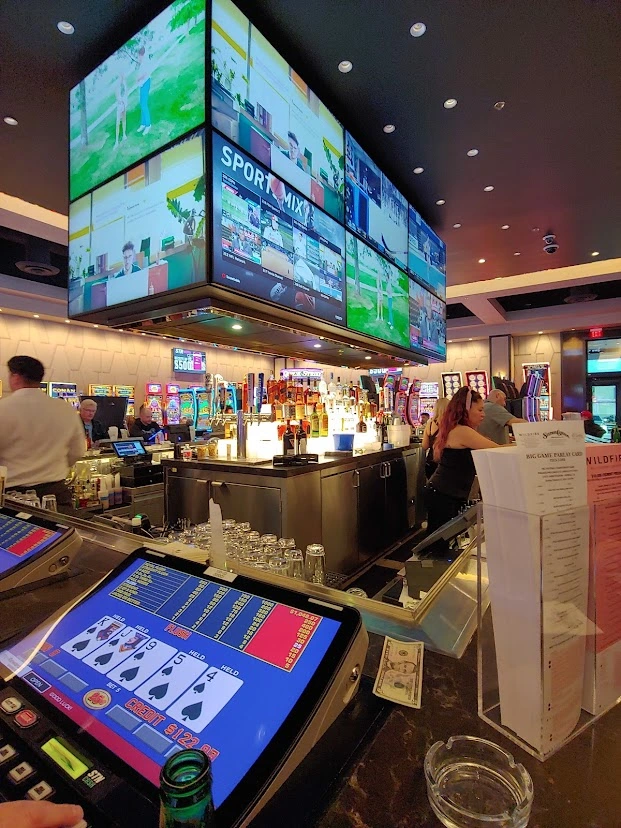 The most impressive feature of the establishment is undoubtedly the bar. I must say that the bartenders provided exceptional service. They went above and beyond to ensure that each and every guest had their glass filled to the brim. As for our dining experience, we decided to try out IHOP. It had been quite some time since I last visited one of their restaurants, so I was looking forward to it. To my delight, the food turned out to be quite satisfying. However, I couldn't help but notice that our server seemed new to the job and still in the process of learning the ropes, which is completely understandable considering it was their first day on the job. Nevertheless, she consistently maintained a polite demeanor and made sure to check on us multiple times throughout our meal.
I haven't had the chance to sample Tacos El Pastor yet since my friend Kristina isn't particularly fond of that cuisine. Nevertheless, the next time I find myself in the vicinity, I fully intend to give it a try. I've heard rave reviews about it, so I'm genuinely excited to see what all the fuss is about.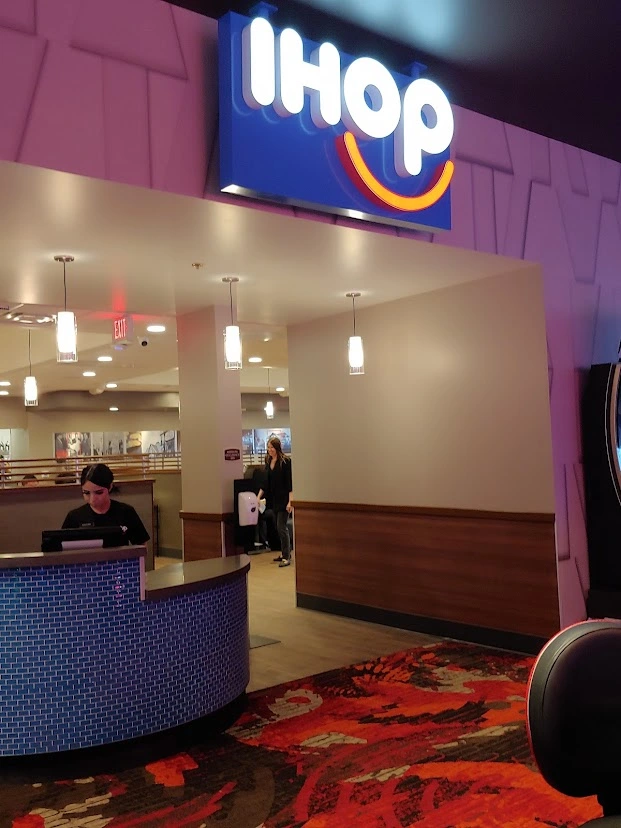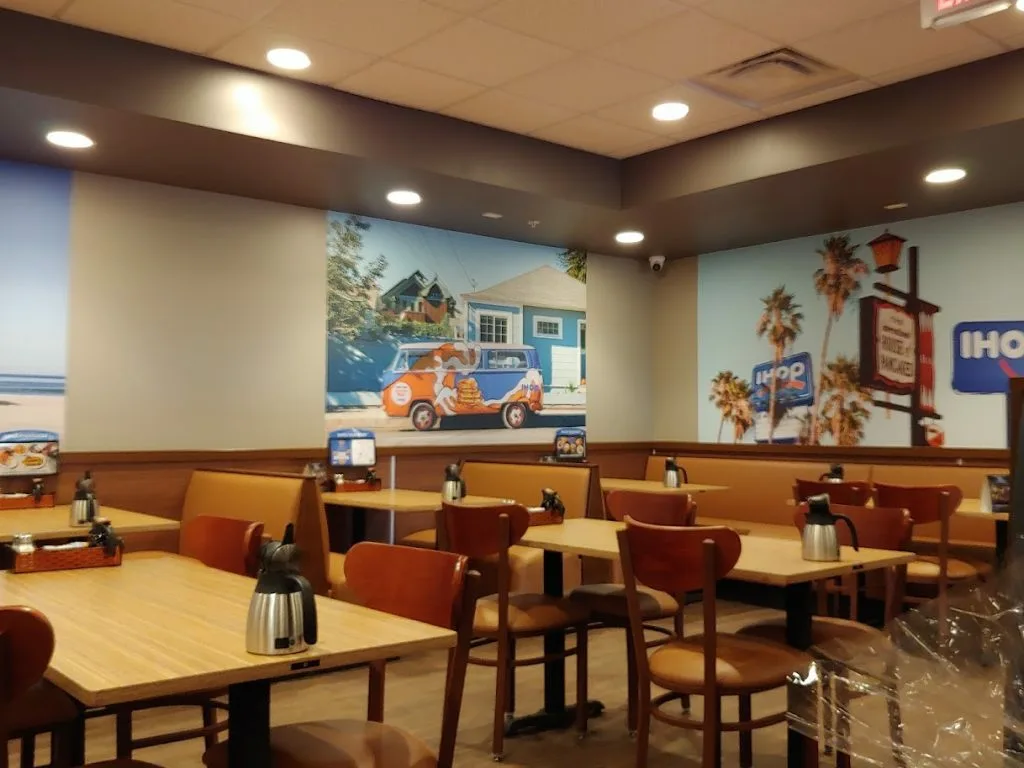 The next day, we received an email containing complimentary slot play.
Both Kristina and I were pleasantly surprised when, on the day following our visit, we each received a generous $5 in complimentary slot play. What made it even better was the fact that this offer was available not just once, but a total of four times spread out over the next six weeks. In my opinion, this is a brilliant strategy to entice guests to come back for more, especially considering that it's a safe assumption that many of the patrons had never experienced the excitement of a Wildfire before. This thoughtful gesture truly encourages re-engagement and ensures that guests feel valued and appreciated. It's worth mentioning that while Wildfire and the other major properties under the Station brand share the convenient Boarding Pass card, the promotional mailers for these respective establishments are, in fact, separate.
I'm eagerly looking forward to visiting Durango Station.
When considering the opening of Wildfire on Fremont, I couldn't help but think about how Station Casinos possesses the most extensive collection of market information for local residents. The company is well aware of the preferences and desires of players residing in and around the vicinity. I have a strong inclination that this valuable data will prove to be immensely beneficial when they launch the significantly larger Durango Station. This upcoming establishment will be situated on the southwest side of the vibrant Las Vegas Valley and is scheduled to open its doors in late 2023.