On March 17, 2020, at the stroke of midnight, Fiesta Henderson, Fiesta Rancho, and Texas Station ceased operations. This was in direct response to an official mandate issued by Nevada Governor Steve Sisolak, which required the closure of all non-essential establishments within the state. Little did we know, it marked the end of an era for these three esteemed properties under the Station Casinos brand. From that fateful day onwards, their doors remained firmly shut, devoid of the bustling energy and vibrant atmosphere they once exuded.
I have just received news that Station Casinos has made a significant announcement today. Surprisingly, they have decided to demolish all three of their properties. The company has also made plans to put the land up for sale, except for one intriguing exception. It seems that the ice rink at Fiesta Rancho, unlike the other properties, has managed to remain open throughout this entire period. It's fascinating to see how this particular establishment has been able to withstand the challenges faced by the others.
Every individual property held a specific position within the market targeted towards Las Vegas residents.
Every Station Casino that is scheduled for demolition held a significant position in the Las Vegas residents' market. Here are the distinct features and offerings these properties provided to players, as per my findings.
Fiesta Henderson
I think it's safe to say that out of the three properties that are scheduled for demolition, Fiesta Henderson is probably the most pleasant one. What comes to mind is that the land it sits on, located near the interchange of I 215 and US 95, is most likely the most valuable and suitable for a different kind of development, not necessarily related to casinos.
I had the pleasure of visiting Fiesta Henderson, a vibrant casino where all the table games had a minimum bet of $5. They offered a diverse selection of games, including 6:5 single deck blackjack, 3:2 double and six-deck blackjack, craps with 10 times odds, double zero roulette, Face Up Pai Gow Poker, No Commission Pai Gow Poker, Three Card Poker, and Ultimate Texas Hold'em. This ensured that there was something for every type of gambler, from the seasoned player to the casual beginner. The range of options allowed me to explore different strategies and experience the thrill of each game. Whether I was testing my luck at roulette or strategizing my way through a hand of blackjack, I felt the excitement that only a lively casino can provide. The friendly atmosphere and professional dealers added to the overall enjoyment of the gaming experience. Fiesta Henderson truly delivered on their promise of a fantastic gaming floor with a variety of table games at affordable minimum bets. It was a memorable and exhilarating visit that left me eager to return for more thrilling moments at the tables.
The variety of video poker games offered at Fiesta Henderson appeared to be more limited compared to other Station Casinos. The available options included 100% payout games in nickel and dime denominations, reaching a maximum of quarter bets.
There used to be three Station Casinos where you could find full pay Joker Poker - Texas Station, Santa Fe Station, and the one I'm talking about. Unfortunately, Santa Fe Station no longer offers this game. Interestingly, a few months before the casino closed down, Fiesta Henderson and all its sister properties also removed full pay Deuces Wild and Joker Poker from their selection.
Fiesta Rancho
Fiesta Rancho stood out as the Station Casinos' most affordable option for table games, boasting the lowest limits. Additionally, it appeared to be the most compact among the company's extensive range of full-service properties.
Before cell phones took clear nighttime pictures, I stumbled upon an old snapshot from about five years ago. In this captivating image, the spotlight shines on the most remarkable attraction at Fiesta Rancho: its drive-thru sportsbook. The drive-thru concept, unique and innovative, was an ingenious way to cater to the fast-paced lifestyles of sports enthusiasts. With the convenience of remaining inside their vehicles, patrons could place bets and soak in the electrifying atmosphere without missing a beat. It was a testament to the ever-evolving landscape of entertainment, where technology seamlessly merged with traditional leisure activities.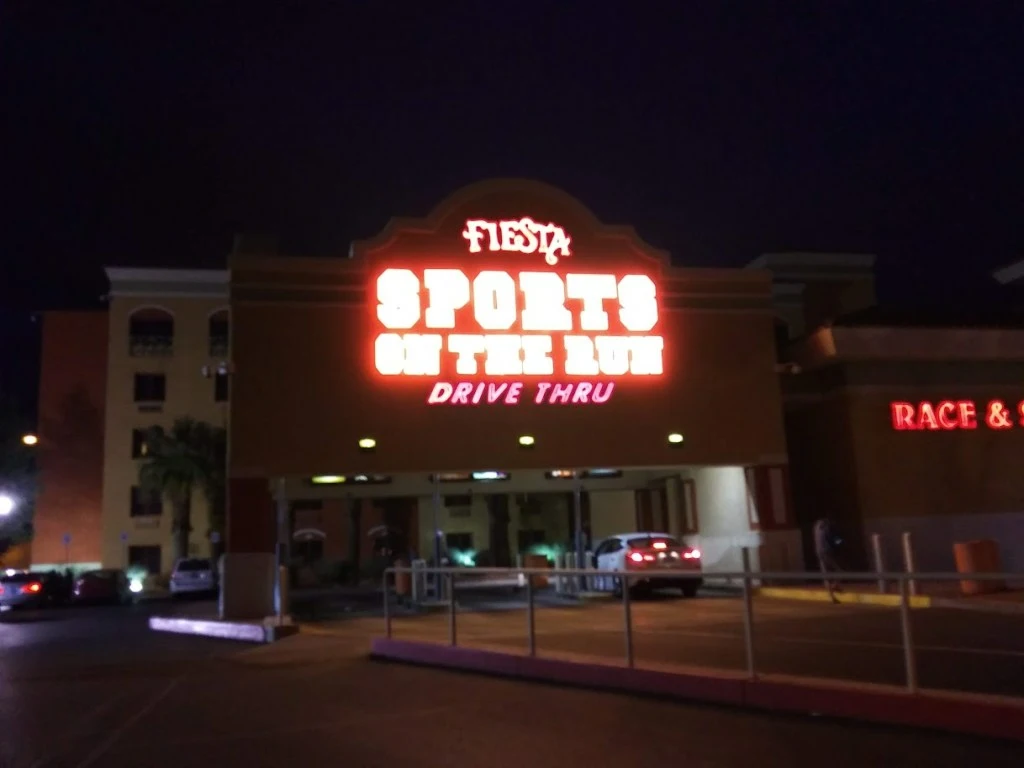 The $3 blackjack game at Fiesta Rancho, the final Station Casinos property to offer it, vanished in 2019, shortly after Fiesta Henderson's did.
Fiesta Rancho offered $3 double zero roulette and 10 times craps before its closure. Additionally, players could enjoy $5 double deck blackjack, six-deck blackjack, and Fortune Pai Gow Poker at the casino.
When I visited the Station Casinos property, I was quite disappointed with their video poker selection. It was definitely not up to par. They only offered 10/7 Double Bonus, 15/8 Loose Deuces, and 10/6 Double Double Bonus, which was quite limited in terms of variety. To make matters worse, they used to have nickel, dime, and quarter denominations, but in the past three months, they made some changes. They added $0.50 and $1 denominations while removing the lower ones. This information was provided by VPFree2, a reputable source in the gambling community.
I cannot remember a time when Fiesta Rancho had a abundant selection of 99% or higher games beyond 8/5 Bonus Poker. The range of video poker versions offered at their casinos was subpar compared to other establishments.
Texas Station
Texas Station used to be a paradise for low-stakes gamblers, offering a haven for those seeking nickel full-pay video poker. Among its attractions were three variations of the game, all of which paid out 100%: 10/7 Double Bonus, 15/8 Loose Deuces, and 10/6 Double Double Bonus. However, in the months leading up to its closure, Texas Station made the unfortunate decision to remove the beloved full-pay Deuces Wild and Joker Poker, as these games were discontinued across all Station Casinos.
I stumbled upon various video poker variants at Texas Station, each with low betting limits. Among them, a particular favorite of mine was the Split Card game with a denomination of $0.03. To my surprise, it was the only time I encountered a game with such a low denomination. Interestingly, Texas Station offered a range of video poker options, including one and two-cent versions, which boasted decent pay tables.
Texas Station housed an impressive pit where patrons could engage in various exciting table games. For instance, they could enjoy the thrill of $5 double deck blackjack, six-deck blackjack, Face Up Pai Gow Poker, Ultimate Texas Hold'em, and even double zero roulette. Additionally, Craps at Texas Station was available for a mere $3, providing affordable entertainment to its eager participants. The craps table also offered an enticing opportunity with 10 times odds, allowing players to potentially amplify their winnings. Interestingly, Texas Station held the distinction of being the final property among all Station Casinos to offer triple on a field 12, adding an extra layer of excitement for those seeking lucrative outcomes.
Occasionally, when my children had their hockey practice at Fiesta Rancho, I used to drop by Texas Station. While they were busy honing their skills, I would head over to the oyster bar for a bite to eat. Although it didn't quite match the quality of the one at Palace Station, I must admit that Texas Station had its own charm. What made it even better were the tempting specials they had on offer, which I later discovered had been transferred to the oyster bar at Santa Fe Station.
Eastside Cannery stands as the sole remaining closed casino in Las Vegas.
I live near Boulder Highway, where you can find the Eastside Cannery casino. It's owned by Boyd Gaming, a well-known company in the industry. Interestingly, there are rumors circulating that Boyd Gaming might be planning to close down Jokers Wild, located just a few miles south of Eastside Cannery. If this happens, it's speculated that a brand new locals casino will take its place. This could potentially have negative consequences for Eastside Cannery, as it sits adjacent to Sam's Town, another property owned by Boyd Gaming. The competition might become fierce if a new and exciting casino opens up right next door.