In 2014, we embarked on the task of gathering data pertaining to non-blackjack table games in Las Vegas. Our findings revealed the existence of three distinct variations of roulette being offered in the market during that period. The majority of roulette tables in Las Vegas adhered to the double zero format. However, we also discovered a select few establishments that featured single zero roulette tables with higher betting limits, as well as European Roulette tables along the famous Strip.
European Roulette and Single zero are quite similar in many ways. Both types of roulette wheels feature only one zero pocket, which sets them apart from other variations. However, European Roulette offers a few additional betting options, giving players more ways to strategize and win. One interesting rule that European Roulette incorporates is called "la partage," which comes into play when the ball lands on zero. In this situation, even money bets, such as red or black, only lose half of the original wager. This rule is not exclusive to European Roulette but can also be found at double zero tables in Atlantic City.
In 2014, I remember coming across several casinos that had different minimum bets for double zero roulette. At Club Fortune, El Cortez, Jerry's Nugget, Jokers Wild, and South Point, I found a great deal with a minimum bet of just $1. However, if you were at the Gold Coast, you had to shell out a bit more, as the minimum bet for double zero roulette was $3. And if you were feeling extra lucky and wanted to try your hand at Casino Royale, you would need to wager a minimum of $4. It was interesting to see the variation in minimum bets across these different establishments.
In Las Vegas, there was a diverse range of casinos along the famous Strip that catered to roulette enthusiasts. For a reasonable price of just $5, thrill-seekers could indulge in the excitement of 00 roulette at some renowned establishments such as Bally's, Caesars Palace, Excalibur, Riviera, SLS Las Vegas, and Stratosphere. Moreover, those who preferred the nostalgic charm of downtown Las Vegas were also in luck, as every casino in that area had a minimum bet of $5 or even lower for the exhilarating game.
In the span of the following years, the minimum bets for roulette remained fairly stagnant. Casino Royale, for instance, reduced their minimum bet to a mere $3. The majority of properties along the famous Strip maintained their minimum bets at $5 and $10. Meanwhile, the downtown casinos continued to offer minimum bets of $5 or even lower. As time elapsed, the landscape of roulette minimums saw little alteration.
Bet-NV.com Newsletter
For just $3 per month, you have the opportunity to become a member of Bet-NV.com and provide valuable support for our publication. By joining our community, you gain exclusive benefits such as early access to our latest articles and survey data. With your help, we are able to cover every table game, both live and electronic, in Las Vegas. Our comprehensive Las Vegas Table Game Survey encompasses over 70 casinos, ensuring that we provide the most up-to-date and extensive information to our readers. Join us today and be a part of our mission to deliver the best content on Las Vegas table games.
In the year 2016, Las Vegas welcomed the introduction of triple zero roulette to its casinos.
Back in 2016, Venetian and Palazzo made a groundbreaking move by unveiling triple zero roulette, a game that sent shockwaves through the gambling world. This daring innovation skyrocketed the house edge from a mere 5.26% in double zero roulette to a staggering 7.69% in triple zero roulette. Surprisingly, despite the higher stakes, some players willingly flocked to the triple zero wheels, disregarding the more favorable odds offered by their double zero counterparts. It seems that for these gamblers, the allure of the unknown and the thrill of taking on greater risks outweighed the potential for a larger payout.
During our expedition in December 2016, we stumbled upon a pair of triple zero roulette tables at the prestigious Venetian, and to our delight, we discovered a lone table at the opulent Palazzo. However, upon revisiting these establishments in January 2019, we were enthralled to find that Venetian had expanded its collection to include a remarkable total of four triple zero tables, while Palazzo had also upped its game with two tables of its own. The minimum bet for these thrilling triple zero tables stood at a reasonable $10, providing an accessible entry point for eager participants. In contrast, the double zero games demanded a more substantial minimum bet of $20, making them the first $20 table games we had ever encountered in the vibrant city of Las Vegas.
During our survey in 2019, we stumbled upon the fact that triple zero roulette had made its way into several other casinos as well. It was not just limited to the casino we initially discovered it in. Surprisingly, well-known establishments like Four Queens, Binion's, Caesars Palace, Circus Circus, Cosmopolitan, Excalibur, Golden Nugget, Harrah's, Linq, Luxor, Mandalay Bay, Park MGM, Planet Hollywood, and Wynn had all decided to introduce this game to their players. However, out of all these casinos, Westgate stood out as the only one not located on the Strip or in the downtown market that offered triple zero roulette. It certainly added an interesting twist to the options available for roulette enthusiasts in the area.
In our 2019 survey, we discovered that these casinos had a total of 25 roulette tables that featured the triple zero variation. Fast forward to our 2020 survey, and the number skyrocketed to 60 tables. The following year, in 2021, we were astounded to find a staggering 67 triple zero roulette tables across these establishments. And just when we thought it couldn't get any higher, our latest survey in 2022 unveiled a remarkable increase to a whopping 83 tables. It's evident that the popularity of this particular roulette variant has been on a steady rise, capturing the attention of both avid players and casino operators alike.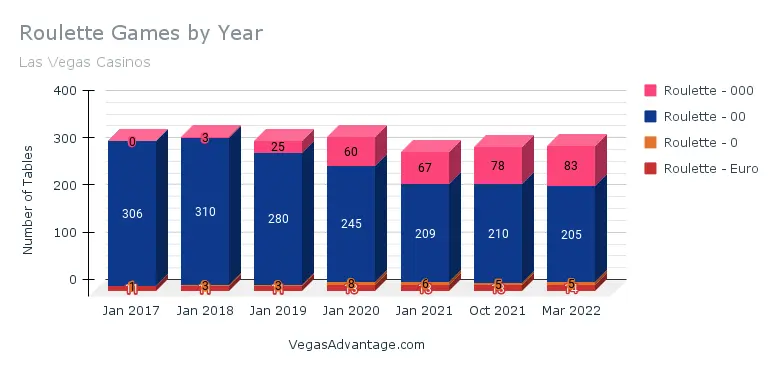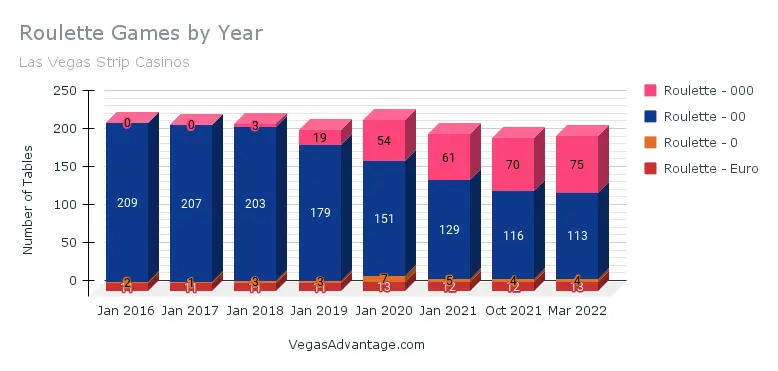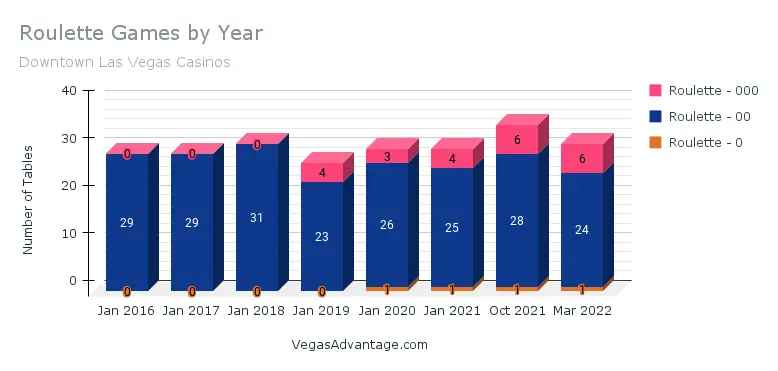 During our trip in May 2021, we discovered that triple zero roulette had been introduced in several other casino markets, including Ohio and Maryland.
Varieties of roulette offered in the Las Vegas gambling industry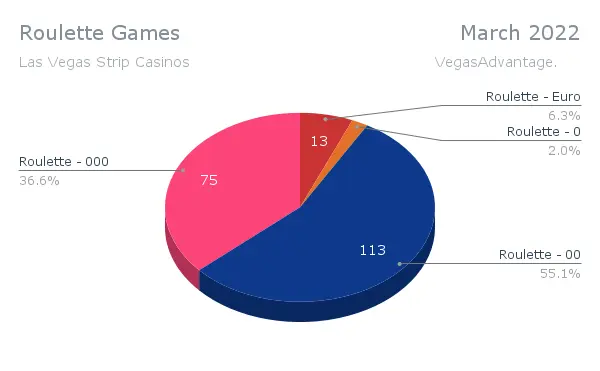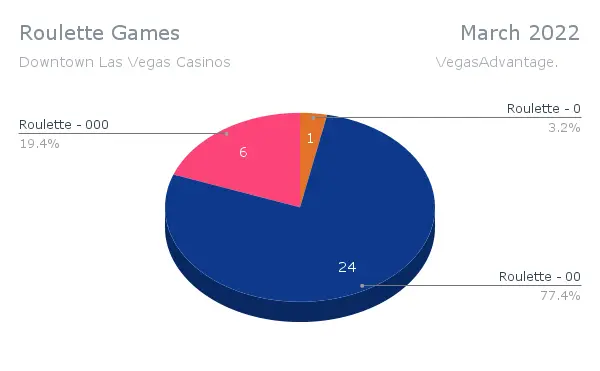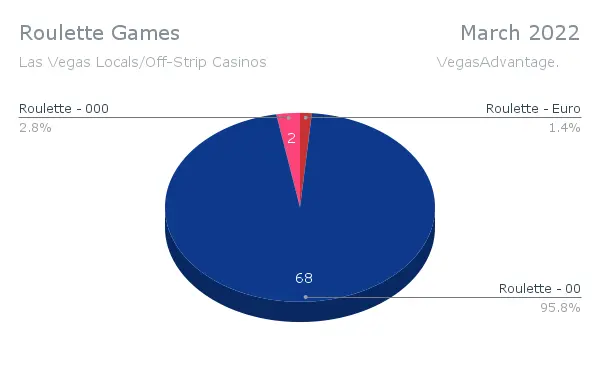 Las Vegas offers single zero roulette with low betting limits.
In 2017, Cromwell implemented an innovative strategy to entice casino enthusiasts. They introduced single zero roulette, a game that was previously scarce and mostly found at higher betting limits. This bold move created quite a buzz among gamblers, as they were now able to enjoy the thrill of single zero roulette at more affordable stakes. For three years, from 2017 to 2020, Cromwell maintained this enticing offer, allowing players to indulge in the game with a minimum bet of $25. This strategic decision by Cromwell undoubtedly attracted a wave of action and elevated the overall gaming experience for roulette enthusiasts.
In 2021, the Cromwell floor saw the transformation of a game that had been left untouched since the reopening of Las Vegas casinos in June 2020. We have reason to doubt whether it was ever in use during that period before it ultimately took on the form of a double zero roulette table.
Plaza introduced single zero roulette in 2019, making it the sole table of its kind in downtown Las Vegas.
Originally starting at $10, the minimum bet has now risen to $15 and can reach up to $25 on particularly bustling evenings. Plaza's double zero roulette typically requires a $10 wager.
The outbreak of the pandemic led to a surge in inflation specifically within the realm of roulette games in Las Vegas.
In the days prior to the enforced closure caused by the pandemic, the majority of Las Vegas Strip casinos had made a significant change to their roulette tables, setting the minimum bet at $10. However, it is worth noting that there were a few establishments that deviated from this norm. For instance, Casino Royale opted to offer a more affordable $5 double zero roulette option, attracting a different clientele. Moreover, certain properties under the MGM umbrella decided to differentiate themselves by providing a $5 triple zero roulette experience. These exceptions allowed for a diverse range of betting options, catering to various gamblers' preferences on the famed Las Vegas Strip.
On the Strip today, you won't find a cheaper roulette game than the one offered at The Strat. They have a unique $5 game, but what sets it apart is the fact that it is a triple zero game. If you're familiar with other casinos on the Strip, you'll know that their triple zero games usually start at $10 or $15. Now, let's talk about the double zero games. Typically, you'll need to shell out $15 or $25 to play, but there's still hope if you're on a budget. A few independent Strip casinos still have $10 games available. So, whether you're a fan of triple zero or double zero roulette, there are options for every budget on the Strip.
Before the pandemic, you could find roulette games in downtown Las Vegas for $5 or less, excluding Golden Nugget and The D. El Cortez had the lowest minimum bet at $1. However, things have changed. Today, both El Cortez and Downtown Grand now have $5 double zero tables. On the other hand, Golden Nugget offers $5 triple zero roulette. Unfortunately, the minimum bet for all other roulette tables in downtown Las Vegas has increased to at least $10.
I've noticed that even the locals market has experienced some inflation lately. The main reason for this is that several smaller casinos, which used to offer table games, either never reopened or switched to slots-only in June 2020. As a result, the availability of roulette games with minimum bets under $5 has significantly decreased. Nevertheless, there are still a few options for those looking for lower minimum bets. Club Fortune offers a $1 double zero roulette, while Pass and Railroad Pass have a $2 minimum bet. If you're willing to spend a bit more, Gold Coast offers a roulette game with a $3 minimum bet. It's worth mentioning that the minimum bet for outside bets at Club Fortune increases to $2.
Google's video and stadium roulette
Las Vegas has witnessed a surge in the popularity of video and stadium roulette games, creating a vibrant gaming scene. The options are diverse, ranging from fully digital video games to ones that incorporate a live wheel without the presence of a dealer. Alternatively, players can also opt for stadium gaming, where a live dealer enhances the immersive experience. The best part is that these thrilling games can be enjoyed for as little as $0.50, catering to both budget-conscious players and high rollers alike.
In the Las Vegas Table Game Survey, we have included all the electronic versions of roulette available in the market. While most of them follow the standard double zero format, there are a few video roulette machines that offer a unique triple zero feature. It's interesting to note that these triple zero machines are relatively rare compared to the more common double zero ones. So, if you're a fan of roulette and looking for a thrilling twist, keep an eye out for these triple zero roulette machines during your visit to Las Vegas.
I stumbled upon a couple of roulette machines that give out smaller payouts for straight bets and split bets. Surprisingly, these machines can be just as unfavorable as playing on a roulette wheel with double zeros, despite the fact that they only have a single zero. We actually wrote about this particular issue in an article posted on our website, US Casino Advantage. It is always crucial to carefully examine the payout rates when playing the electronic version of the game.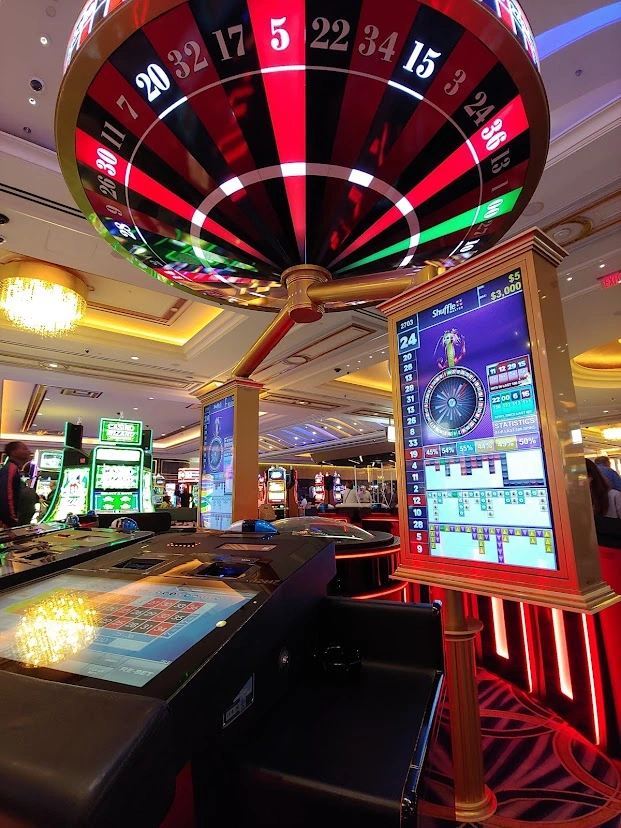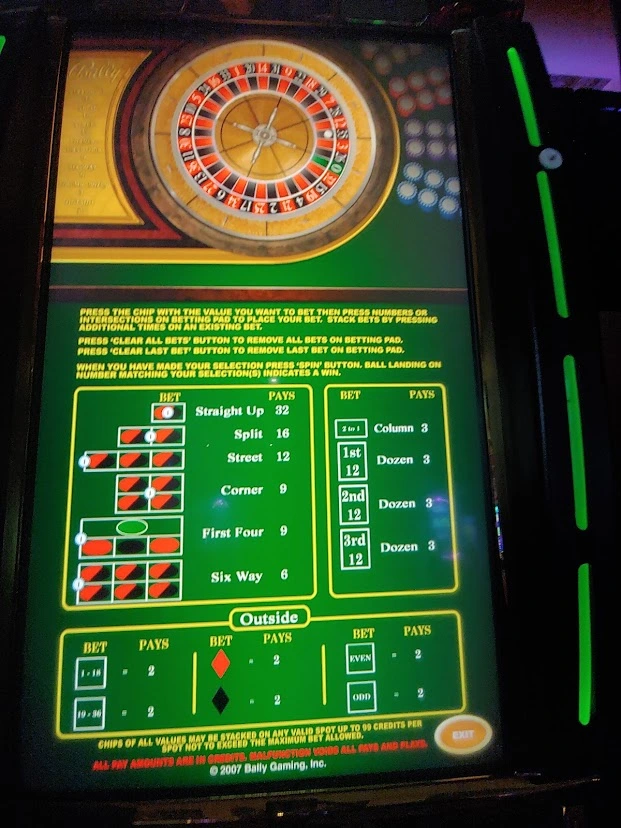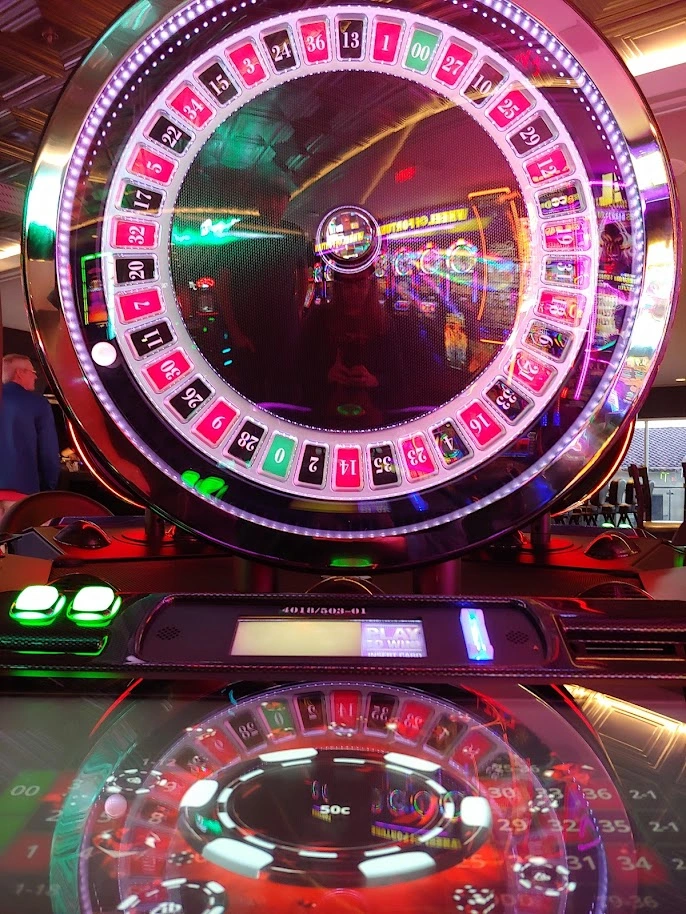 Additional information: The Evolution of Las Vegas Craps from 2014 to present day