In 2014, our coverage of Las Vegas craps games commenced. Our meticulous collection of data encompassed a myriad of vital details. Among them were the minimum wagers for each game, the tantalizing maximum odds offered, the abundance of tables available, and the intriguing question of whether the field bestowed a generous double or even triple payout on the elusive roll of 12.
Over the course of several years, we gradually expanded our visits beyond just the iconic Las Vegas Strip and downtown casinos. We made it a point to include the lesser-known locals casinos as well. By the time 2018 rolled around, we had successfully managed to cover every single casino in Las Vegas that offered live table games.
Over the years, there have been several transformations in the game of Craps, making it a cherished and widely played table game in Las Vegas.
Survey of Blackjack and Table Games in Las Vegas
Becoming a member for as little as $3 per month helps support the Bet-NV.com community, allowing us to deliver valuable content like this. With over a decade of tracking Las Vegas game data, we have accumulated a wealth of information to share. By joining, you gain exclusive perks such as early access to new articles and survey data. The insights and knowledge we provide are made possible by our dedicated efforts and the support of our members. Invest in your Bet-NV.com and join us today!
The minimum wager amount has experienced an increase of over 100%.
During the year 2014, the Las Vegas Strip continued to provide a $3 craps game at Casino Royale. Similarly, downtown Las Vegas at Fremont also maintained a $3 game.
Back in the day, you could easily stumble upon a $5 craps game without breaking a sweat. It was a common sight in the local market, attracting both seasoned players and curious newcomers. Places like Jokers Wild, Lucky Club, and Club Fortune still offered the excitement of a $1 craps game, catering to a range of budgets. If you wanted to up the ante a bit, you could head over to Jerry's Nugget where the minimum bet for craps was set at $2.
In the early 2010's, the majority of downtown Las Vegas casinos were offering craps games with a minimum bet of $5 or less. This fantastic deal was available at popular establishments such as Bally's, Caesars Palace, Circus Circus, Excalibur, Linq, O'Sheas, Paris, Riviera, SLS Las Vegas (now known as Sahara), and Stratosphere. It was an exciting time for craps enthusiasts as they could enjoy their favorite game without breaking the bank. This trend continued for several years, making Las Vegas Strip casinos a haven for affordable craps gaming.
These days, it's a rare sight to come across a $5 craps game on the vibrant Las Vegas Strip. Even on the quietest of days, stumbling upon a $10 table is considered fortunate. Several of the casinos along the famous Strip have raised the minimum bets for craps to $25 or even $50.
Downtown Grand in downtown Las Vegas remains the sole place offering a $5 craps game, while the rest of the establishments have increased their minimum bets to $10 or $15. During nighttime, a few venues even go as high as $25.
Nowadays, the majority of neighborhood casinos insist on a minimum bet of $10 or $15 for participating in craps. The $5 tables, which are primarily found in the surrounding outskirts, offer the lowest wagering options.
Craps odds fluctuated
The current craps odds in the Las Vegas market as of March 2022.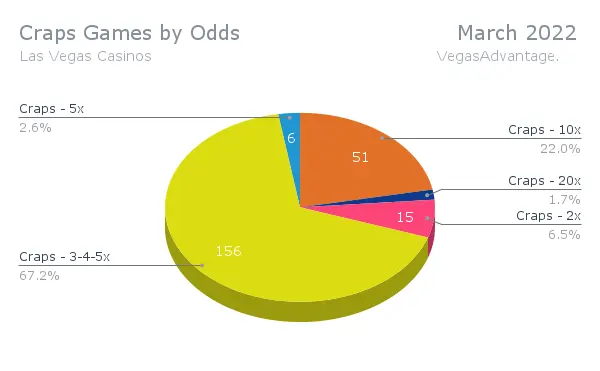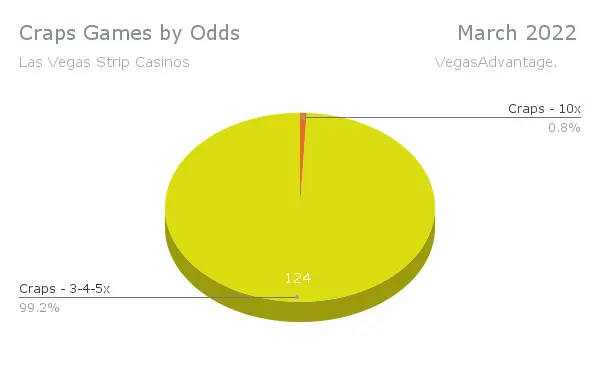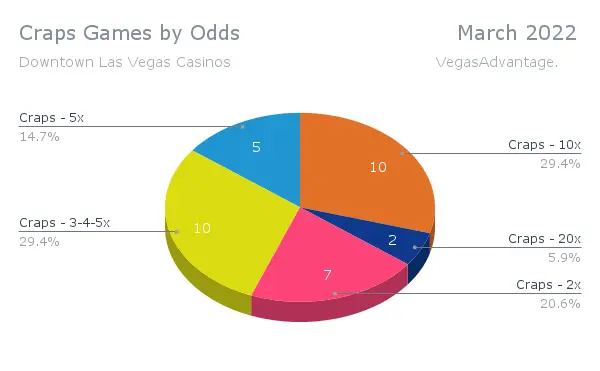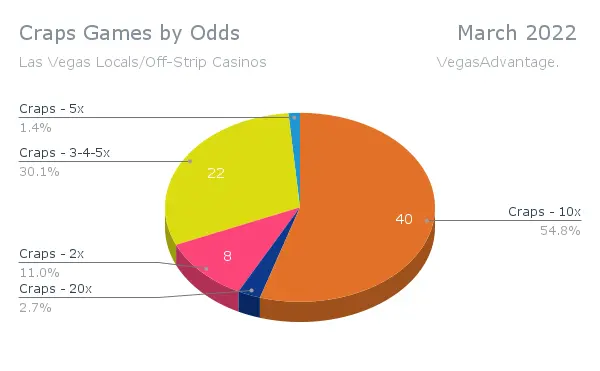 In the vast expanse of the Las Vegas Strip, spanning from the iconic Sahara to the luxurious Mandalay Bay, a remarkable trend has emerged within the realm of live craps tables. It is a trend that not only showcases the ever-evolving nature of this vibrant city, but also presents an enticing opportunity for avid players seeking favorable odds. Today, at every renowned casino along this glittering stretch, a new standard has been set: 3-4-5 times odds. This numerical combination signifies a generous offering that can significantly amplify one's potential winnings. However, it is worth noting that amidst this prevailing pattern, a notable exception can be found at The Strat, where the stakes are raised even higher, allowing players to indulge in an exhilarating experience with up to 10 times odds. The evolution of odds in this realm is a testament to the dynamic landscape of Las Vegas, as it embraces change while continuing to cater to the discerning tastes and preferences of its diverse clientele. It is a departure from the days of yore, when greater variation was observed among these tables, adding an element of unpredictability to the gambling experience.
During 2014, Casino Royale provided craps odds that were twenty times higher than usual, while Circus Circus offered double the odds. The remaining establishments along the strip remained unchanged, reflecting the present scenario.
In the year 2015, there was a reduction in the odds from 3-4-5 times to double odds at Wynn and Encore, while SLS Las Vegas increased their odds to 10 times.
In 2017, Circus Circus made a notable improvement by implementing 3-4-5 times odds, enhancing the gaming experience for its patrons. However, during the same year, Casino Royale took a different approach by reducing their odds from 20 times to 3-4-5 times. These changes in the craps odds were intended to attract more players and provide them with a fair chance of winning. Interestingly, in 2017, the Cromwell casino decided to stand out from the crowd by introducing an impressive 100 times craps odds, which remained in place for several years until 2021. Unfortunately, table games at Casino Royale were temporarily suspended when the casino reopened in 2020, leaving players unable to enjoy their favorite games.
The odds for playing craps in the downtown area of Las Vegas
In downtown Las Vegas, the craps tables have maintained consistent odds over the years. However, there have been some changes since 2014. Back then, both the Plaza and Las Vegas Club had 3-4-5 times odds for players. Fast forward to today, and we see that Circa, which was constructed on the former Las Vegas Club plot, still offers the same 3-4-5 times odds as its predecessors. So, if you're looking for a thrilling game of craps with favorable odds, downtown Las Vegas is still the place to be.
In downtown Las Vegas, there are currently no crapless craps tables available for players. Back in 2016, Plaza Casino made a significant change to their craps tables by increasing the odds from 3-4-5 times to a whopping 10 times. This alteration transformed the traditional craps table into a crapless craps table with double odds. Surprisingly, this modified version remained in operation for approximately two years, providing a unique gaming experience for avid craps enthusiasts. However, after the designated period, Plaza Casino decided to revert back to the traditional craps format, bidding farewell to the crapless craps table. To this day, the original odds system continues to be maintained, offering players the classic and well-established craps gameplay.
In the year 2017, Downtown Grand reduced its craps odds from 10 times to 5 times, but in 2019, it reverted back to offering 10 times odds, and those odds have remained consistent ever since.
In the heart of Las Vegas, the odds for craps in downtown casinos are usually ten times the initial bet. However, there are a few exceptions to this rule. For instance, at the California and Fremont casinos, they offer double odds, giving players more opportunity to win big. Additionally, at Circa and Golden Nugget, the odds are set at 3-4-5 times, providing a slightly different betting experience. If you find yourself at Binion's or Four Queens, you'll enjoy a five times odds advantage, increasing your chances of striking it lucky. Lastly, for the ultimate craps excitement, head over to Main Street Station, where you'll find an incredible twenty times odds, giving you an even greater shot at hitting the jackpot. So, if you're looking for a thrilling craps experience in downtown Las Vegas, these diverse odds options will surely keep you entertained and engaged.
Probability of winning at casinos in the vicinity
In 2014, we began our coverage of the leading local casinos, although our collection of data does not extend back further than 2018. Back then, the majority of these establishments provided odds of 10 times if they catered primarily to the local clientele, while those nearer to the famous Las Vegas Strip offered odds of 3-4-5. Prior to 2017, Ellis Island featured a 3-4-5 craps game, but they made significant improvements and began offering 10 times odds that year. Similarly, Silverton also upgraded their odds from 3-4-5 to 10 times in the same timeframe.
At Sam's Town, you'll find craps odds that are tied with Main Street Station for the highest in Las Vegas at a whopping 20 times. If you're looking for a variety of odds, Boyd Gaming's locals casinos will give you a mix of mostly 3-4-5 times and 10 times. But if you want to go all in on the odds, look no further than Station Casinos, where you can enjoy a thrilling 10 times odds on all their tables.
The craps scene in Las Vegas was transformed by the pandemic.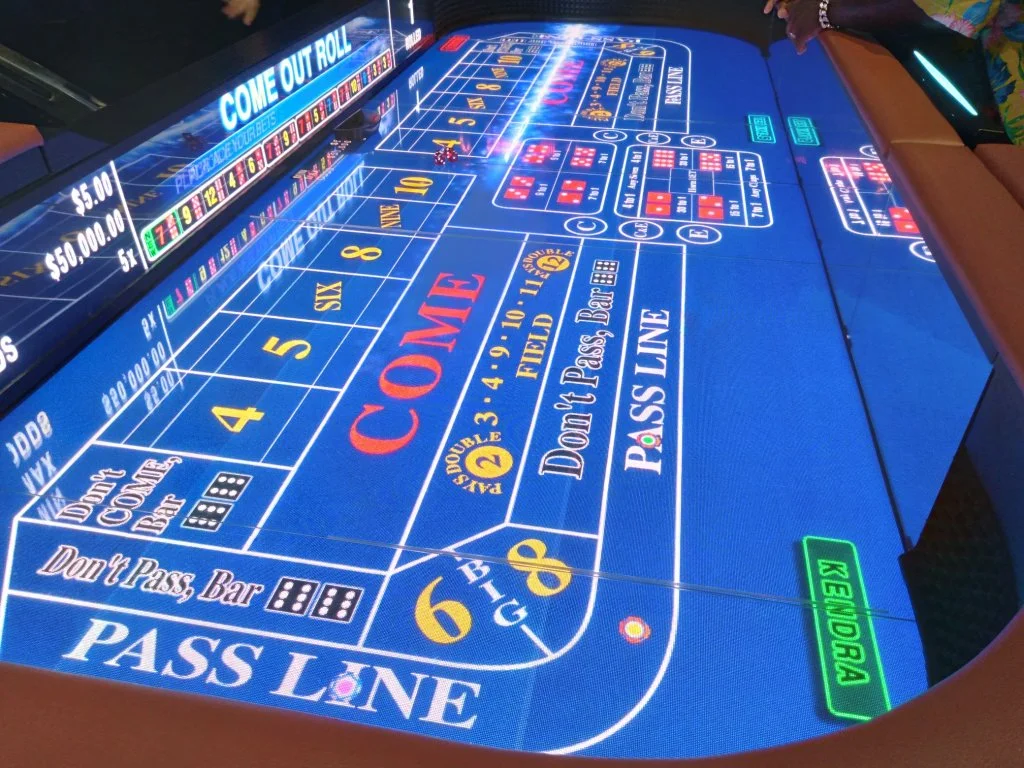 On June 4, 2020, after the pandemic had forcibly shut down Las Vegas casinos on March 17, a glimmer of hope emerged as they finally reopened their doors. However, as they welcomed back eager gamblers, the casinos had to comply with capacity restrictions imposed to ensure safety. Little did they know that this measure would inadvertently set in motion a chain of events that would lead to an unresolved issue with minimum bets. Like an untamed flame, the effect of these restrictions on casino capacities sparked an unexpected rise in minimum bets, creating an inflationary spiral that continues to perplex and challenge the industry. Despite the passage of time, this conundrum remains unsolved, leaving both players and establishments to grapple with the enduring consequences.
There were efforts made in order to provide assistance in this matter. One of the innovative solutions introduced was the introduction of a new product called Roll to Win Craps. This particular game is a combination of traditional craps and modern technology, incorporating video screens for betting purposes while still retaining the authentic experience of throwing real dice by the players themselves. The game is facilitated by a single dealer, ensuring smooth operation and efficient gameplay. Furthermore, it is worth noting that the minimum bets for Roll to Win Craps are generally set at a lower value of $5 or $10 compared to live tables, making it an appealing choice for individuals seeking an affordable yet exciting gambling experience.
In late 2021, Las Vegas was buzzing with rumors about dice setters who supposedly had the ability to tilt the sleek table ever so slightly to ensure more precise rolls, all the while diverting the attention of vigilant dealers. These skilled gamblers, armed with their technique, dominated the scene. However, as time passed, the number of these formidable machines dwindled from eight to a mere three. The decline in their presence left many wondering what could have caused this sudden disappearance.
The popularity of video and stadium craps has surged in Las Vegas following the outbreak of the pandemic, with betting limits ranging from $1 to $5.
In the bustling and vibrant city of Las Vegas, the iconic Las Vegas Strip is renowned for its thrilling craps games. Today, these games have established a new norm, with minimum bets of either $15 or $25. However, if you venture downtown, you'll find that the casinos there usually have lower starting bets of $10 or $15, catering to a diverse range of players. As for the locals, they have their own market with predominantly $10 tables, although there are still a handful of options available at $5 and $15. With such a variety of choices, Las Vegas truly offers something for everyone seeking the exhilaration of a craps game.
Craps field bet triples when the dice roll a 12.
When we began gathering data in 2014, it was common for the majority of Las Vegas casinos, excluding those managed by Caesars Entertainment, to offer a triple payout on a field 12 bet. However, as time went by, changes were made. In 2016, Station Casinos decided to switch from a triple payout to a double payout for this particular bet. It's worth noting that Texas Station, one of the establishments under the Station Casinos umbrella, closed its doors in March 2020.
Until 2017, all the downtown casinos in Las Vegas had a lucrative deal where they paid triple on 12 when playing the field. However, things took a turn when Binion's and Four Queens decided to switch to double. The wave of change soon engulfed other casinos like Golden Gate, Golden Nugget, and The D, leaving the players with fewer winnings. The year 2020 brought a glimmer of hope with the opening of Circa in October, which once again began paying double on 12, reigniting the excitement among gamblers.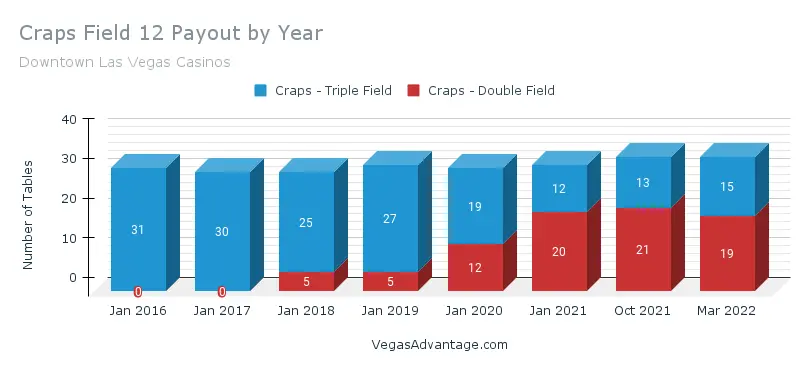 Las Vegas crapless craps - an exhilarating dice game in the gambling capital.
In the early stages of our Las Vegas Table Game Survey, our initial discovery was limited to the exclusive presence of crapless craps solely at Las Vegas Club. However, following the unfortunate closure of Las Vegas Club, this unique variant of craps found a new home at the Plaza. It is worth noting that both the Plaza and Las Vegas Club were under the ownership of the same company, showcasing a shared connection between these two renowned establishments.
The game known as crapless craps made a comeback at the Stratosphere circa 2016, while Plaza eliminated crapless craps in 2018, making it exclusive to The Strat, formerly known as the Stratosphere.
In the beginning of 2020, my friends and I stumbled upon an interesting variant of craps called crapless craps at Harrah's and Luxor casinos. As the casinos reopened in June 2020 after the lockdown, we were pleasantly surprised to find that many new installations of crapless craps had popped up. Nowadays, there are a total of 19 casinos in Las Vegas that offer crapless craps, with the exception of Westgate, which is the only one located off the Strip. Unfortunately, none of the downtown Las Vegas casinos have adopted crapless craps. However, it's worth noting that any Las Vegas casino that offers crapless craps also deals with the traditional version of the game, providing players with a variety of options to choose from.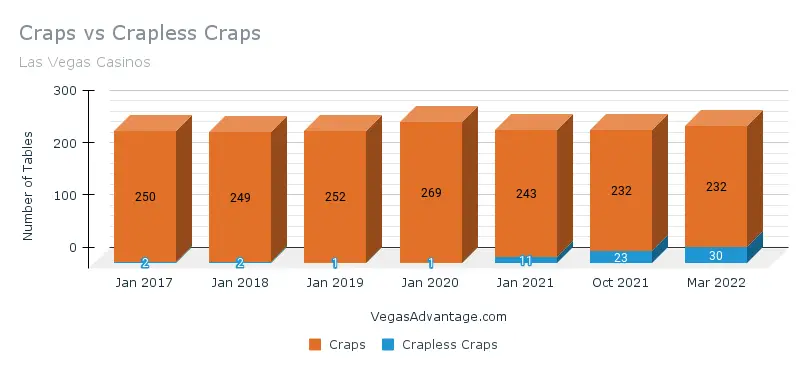 In my experience, crapless craps started gaining popularity not only on the Las Vegas Strip but also in other markets. It's fascinating to note that this unique variant of the game can now be enjoyed at various casinos in Maryland and Ohio. One prime example is the renowned MGM National Harbor, where players can indulge in the excitement of crapless craps. Additionally, all the casinos in Ohio have jumped on the bandwagon, offering this exhilarating twist on the traditional game.
Discover the Evolution of Las Vegas Roulette from 2014 onwards.