In August 2018, during a visit to Circus Circus, I was introduced to Face Up Pai Gow Poker for the very first time. What struck me about this variant was that it eliminated the 5% commission from the game, which added an exciting twist to the traditional format. Unlike regular Pai Gow Poker, where players set their hand before the dealer, in this version, the dealer sets the house hand first. It creates an intriguing dynamic as players then strategically arrange their hand to beat the exposed house hand. However, if the banker happens to have an ace-high pai gow, the hand concludes in a push, resulting in a tie.
Playing Face Up Pai Gow Poker may initially appear advantageous for players, as it boasts a lower house edge of 1.8% compared to the 2.7% of a traditional 5% commission pai gow game. However, it is important to consider the pace of the game. Face Up Pai Gow Poker tends to play at a faster rate than its standard counterpart, such as Emperor's Exposed or traditional Pai Gow Poker. Consequently, this increased speed can result in a higher expected hourly loss for players engaging in Face Up Pai Gow Poker.
In the January 2020 survey, we didn't analyze the variances among the 5% commission tables of pai gow poker games. However, as Face Up Pai Gow Poker gained popularity, we began to delve into the distinctions between these games. At that particular time, the face up version comprised 53.8% of all pai gow games. By January 2021, this figure had risen to 64.9%. Subsequently, in October 2021, it experienced a further increase, reaching 77.6%. As of March 2022, the proportion of face up pai gow games had surged to 82.9%.
Since January 2020, I've come across a variety of pai gow poker games in Las Vegas. To give you a comprehensive overview, I've divided the information into four charts. The first chart encompasses the entire market, providing a broad perspective. The remaining three charts specifically focus on different areas: the Strip, downtown Las Vegas, and the locals markets.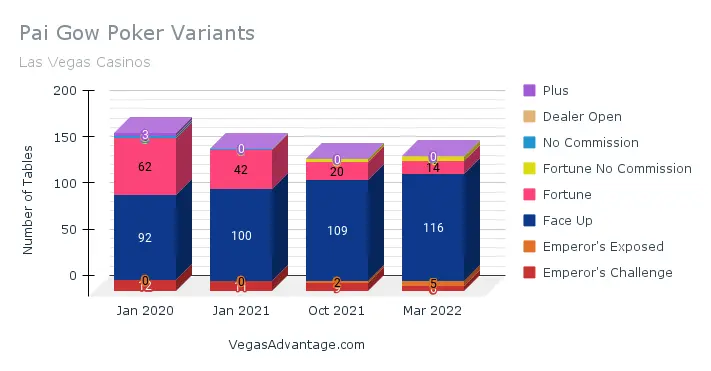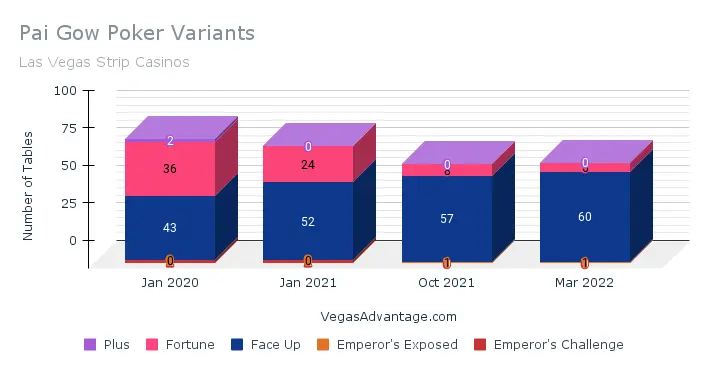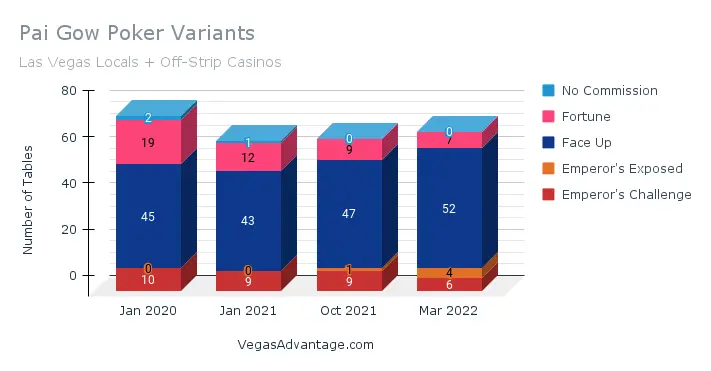 Explore the comprehensive survey on table games in Las Vegas
Supporting our independent Las Vegas gaming coverage can be done by purchasing the Bet-NV.com Newsletter, where we share our extensive statistics on pai gow poker from all 71 Las Vegas casinos that offer table games. The detailed information we provide is a testament to our comprehensive coverage. By buying our newsletter, you not only gain access to valuable insights but also contribute to the continuation of our unbiased reporting. Show your support for our work and stay informed about the latest happenings in the world of Las Vegas gambling by getting your copy today.
In the Las Vegas pai gow market, face up games currently constitute more than 80% of the total.
In our March 2022 survey, we discovered a variety of Las Vegas pai gow poker games, as illustrated by the charts below. The comprehensive overview showcases the complete market, while the remaining three charts focus on specific areas: the Strip, downtown Las Vegas, and the locals markets.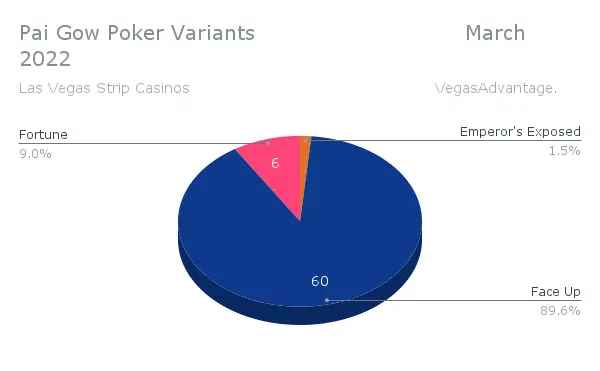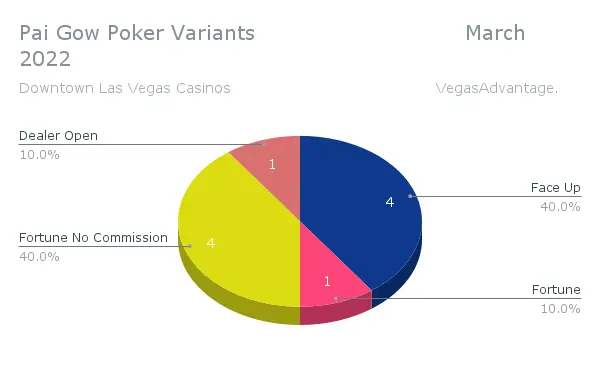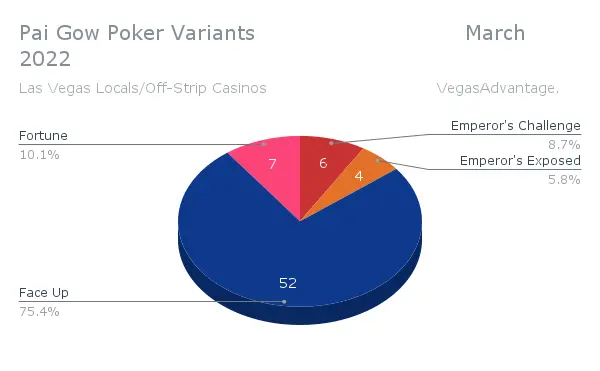 The outbreak of the pandemic had a significant impact on a larger number of Face Up Pai Gow games.
During the initial phase of reopening, casinos implemented certain measures to comply with pandemic-related restrictions, which inadvertently had a positive effect on the popularity of Face Up Pai Gow Poker. To prevent the spread of the virus, casinos adopted a strategy where all cards were dealt face up to players, ensuring that they were unable to physically handle the cards. This precautionary measure not only ensured the safety of the players but also added a new dimension to the game, making it more appealing and intriguing. As a result, Face Up Pai Gow Poker experienced a surge in demand as players embraced this modified version of the game, relishing the challenge of strategizing and making decisions solely based on the visible cards. The unique circumstances created by the pandemic inadvertently gave birth to a new and captivating approach to playing Pai Gow Poker, revolutionizing the way the game is enjoyed by players in casinos across the country.
In recent times, I've observed a notable decline in the number of pai gow poker tables across the Las Vegas market. This trend commenced following the reopening post-pandemic. Previously, there were approximately 170 pai gow poker tables consistently recorded. However, as of January 2021, that figure dwindled to 154. Further, by October 2021, the count had decreased to 143, only to slightly rebound to 146 in March 2022. Additionally, it's worth mentioning that the minimum bets for pai gow poker have significantly increased, roughly doubling what they were five years ago.
Pai gow tiles
Pai gow tiles, a variation of poker played with tiles instead of cards, lacks the same level of popularity. The tracking of this particular table game began in 2014, when it was exclusively offered at Harrah's, Rio, and Treasure Island casinos. As the years passed, the game expanded its reach, with Aria and Palace Station introducing it by the end of 2016. By 2018, the presence of pai gow tiles had further grown to include renowned establishments such as Bellagio and MGM Grand.
During our 2022 survey, we noticed that the pit at Encore was absent, as it had been temporarily replaced by a poker tournament. However, it's worth noting that Wynn had introduced the pit the previous year, and it had made quite an impact. In fact, it had debuted in the Encore Asian game pit in 2020 and had continued to be a prominent feature throughout 2021.
Sic bo
In my many years of gathering information on table games in Las Vegas, I came across a rather elusive game known as sic bo. This particular game, which can be found in the Asian table game pits, has proven to be quite rare. In fact, I have only come across two live installations throughout my entire collection. The first was at Circus Circus, where it was dealt for a reasonable $3 during the years 2014 and 2015. However, it seems that the game later made its way to the Venetian, where it was offered for $5 for a couple of years. Interestingly, when the stadium gaming made its grand entrance at the Venetian, sic bo was also included in the mix for a span of about a year.
In Las Vegas today, gamers seeking the thrill of video sic bo have two enticing options. The first and most notable is the vibrant gaming floor at the renowned Venetian. Here, players can immerse themselves in a unique experience that blends the excitement of a slot machine with the added allure of multipliers and unexpected jackpots that keep the adrenaline pumping. However, for those seeking a more authentic and realistic encounter with the game, the splendid Resorts World beckons. Within its opulent walls lies a game that mirrors the captivating heads up craps games that have recently surfaced throughout the dazzling city of Las Vegas. With its striking resemblance and immersive gameplay, this version of sic bo at Resorts World offers players an unparalleled and genuine experience. Both venues provide their own distinct ambiance and gameplay, catering to the diverse preferences of avid gamers. Whether you're drawn to the modern allure of Venetian's video sic bo, with its enticing multipliers and random jackpots, or enticed by the traditional charm of Resorts World's faithful rendition, complete with the familiar heads up craps setup, Las Vegas offers a variety of options to satisfy your gaming desires.
Asia Poker
I vividly recall my initial encounter with Asia Poker during our inaugural Las Vegas Table Game survey back in 2014. The game was being dealt at the renowned Paris casino, and players were required to place a minimum bet of $25. Fast forward to 2017, and to our surprise, we stumbled upon Asia Poker at Gold Coast, where the minimum bet had significantly dropped to a mere $10. It was an exciting discovery that piqued the interest of many avid gamblers. However, as fate would have it, in the year 2020, Asia Poker vanished from Gold Coast, leaving players searching for an alternative venue to enjoy the game. The year 2021 brought another disappointing twist when Paris casino also decided to remove Asia Poker from their selection. Consequently, as it stands today, Asia Poker is no longer dealt within the vibrant gambling scene of Las Vegas. Nevertheless, there is a glimmer of hope for fans of the game, as it can still be found and experienced at two casinos in the bustling city of Atlantic City.