In the vibrant realm of casino table games, craps and roulette reign supreme, capturing the hearts of countless enthusiasts. Within the illustrious Las Vegas market, a plethora of tables dedicated to these exhilarating games may be found, enticing players with their diverse offerings. It is not uncommon to encounter tables where the minimum bets commence at an affordable $5, allowing individuals of varying budgets to partake in the excitement. Moreover, one might stumble upon a select few tables boasting even lower minimum bets, providing an opportunity for even greater accessibility and enjoyment.
Bet-NV.com Membership
Bet-NV.com offers exclusive access to its members' section, providing up-to-date information on table games.
Supporting Bet-NV.com by signing up for a monthly or quarterly subscription is one way you can access our Las Vegas Blackjack and Table Game Survey. This subscription service, available to you, provides updated data from casino visits several times per month. With memberships starting as low as $3 per month, you can stay informed about the latest information in the world of Las Vegas table games.
You can now access Bet-NV.com subscriptions on both Gumroad and Patreon, providing you with the same valuable information on both platforms.

In case you or someone you are acquainted with is experiencing issues with gambling, reach out to 1-800-GAMBLER for assistance.
$5 Las Vegas craps
There are typically six craps games in Las Vegas that require a minimum bet of $5.
Presented below is the compilation of ongoing craps games in Las Vegas, offering an affordable $5 wager.
Experience the Downtown Grand's exciting gambling offerings with 10 times the odds and a triple payout on 12 in the field.
Ellis Island: Enjoy a favorable 10x odds and witness the field paying double for a roll of 12.
Jerry's Nugget offers a unique gambling experience with double the odds and a triple payout on the field for rolling a 12.
Experience the thrill of Pass Casino where you can enjoy the exciting 3-4-5x odds and triple payouts on 12 in the field bets.
Railway Passage: Triple payout on a roll of 12, along with 3-4-5 times odds.
Rio: The odds are multiplied by 3-4-5, and if the field bet is 12, it pays double ($10 during peak times).
Only at Circus Circus, located on the iconic Las Vegas Strip, can you experience the exhilarating Roll to Win Craps. This modern take on the classic game combines the convenience of digital technology with the authenticity of real dice and a live dealer. Using a state-of-the-art touchscreen interface, players can place their bets and immerse themselves in the fast-paced action. What sets Circus Circus apart from the rest is that they are the sole casino in Las Vegas to offer not one, but two Roll to Win Craps tables, allowing even more players to join in on the excitement. Plus, with a minimum bet of just $5, this game is accessible to all levels of players, making it a must-try experience for anyone visiting Sin City.
In the locals market, Boulder Station, Palace Station, Red Rock Resort, and Sunset Station are offering $5 Roll to Win Craps, where the field bet pays twice the amount for a roll of 12.
One Bet-NV.com survey excludes seasonal tables, but a player recently alerted us to a unique $5 craps table at the Golden Nugget pool.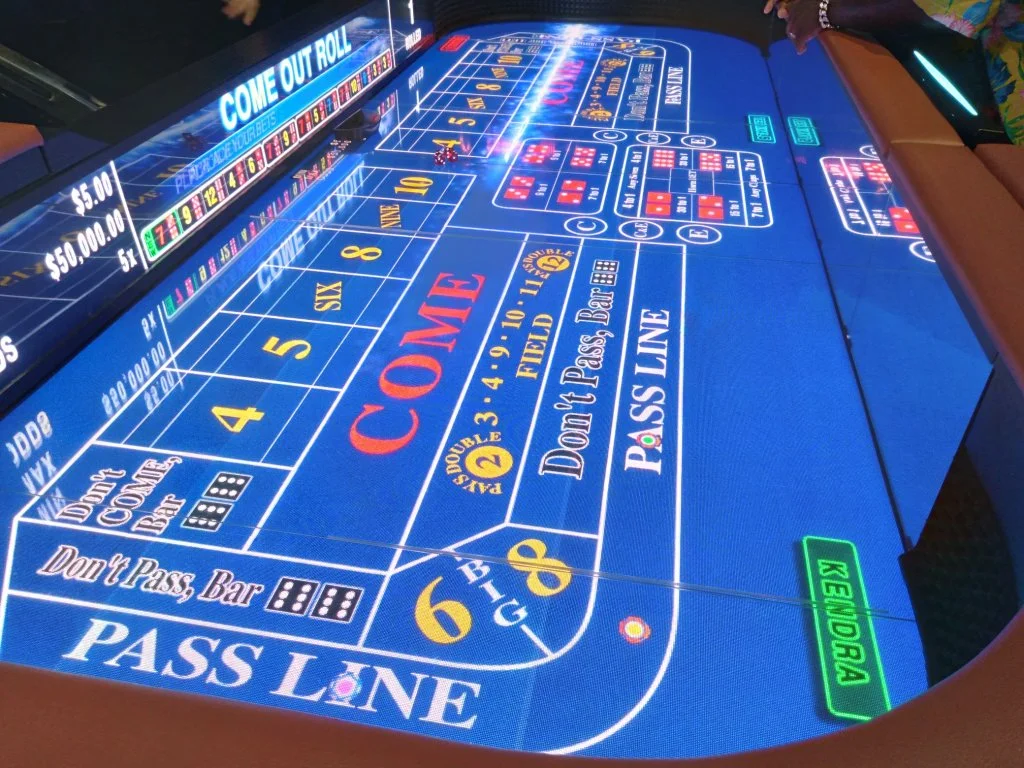 At hybrid craps tables, like those found at Horseshoe, Planet Hollywood, The Strat, and Treasure Island, players get the best of both worlds. With a live dealer overseeing the action, the atmosphere is filled with excitement. Instead of virtual dice, players have the thrill of rolling real dice, adding an authentic touch to the game. To make their bets, players can conveniently use the screens provided, ensuring a seamless and efficient experience. One exciting feature of these hybrid craps tables is that the field pays double on a roll of 12. This unique twist adds an extra level of anticipation and potential winnings to the game. So, for just $5, players can enjoy the dynamic and immersive experience that hybrid craps tables bring to the table, literally.
Roulette in Las Vegas, $5 or less.
During the busiest times, the minimum bets at Las Vegas roulette tables that start at $5 or less might increase.
At both the Rio and Golden Nugget casinos, avid roulette players can indulge in the thrill of the game for just $5. It's important to mention, however, that these tables come with triple zero, which affects the odds. On the bright side, there's also the option of playing double zero roulette, which can be found at those same establishments. Just bear in mind that the minimum bet is higher at those tables. So, whether you prefer the triple zero or double zero variety, there's a roulette experience for every budget at both the Rio and Golden Nugget.
Play Las Vegas roulette for just $2 and $3.
Gold Coast: $3
Jerry's Nugget: $2
Railroad Pass: $2
$5 Las Vegas roulette
Arizona Charlie's Decatur
Downtown Grand
El Cortez
Golden Nugget: 000
Orleans
Oyo
Pass
Rio: 000
Santa Fe Station
South Point
Suncoast
The roulette table at Cannery has a minimum bet of $6 and follows the double zero format.
Electronic table games
In Las Vegas, you'll find that the majority of the prominent casinos provide video roulette and various versions of electronic craps. These can be experienced either through a stadium-like configuration or by playing on traditional electronic table games. Interestingly, a lot of these machines bear a striking resemblance to the electronic table games you would typically find at online casinos.
In most areas of the Las Vegas Strip, you'll find these machines with digital wheels and dice or even real ones encased in glass. It's worth noting that the minimum bets on these devices are generally set at $5 or lower, unless you're in the most exclusive and luxurious establishments. So, whether you prefer the thrill of virtual spinning or the tactile sensation of rolling dice, there's a wide range of options available for every budget on the bustling streets of Las Vegas.
Video roulette in Las Vegas commonly features a double zero, although there are also multiplayer video triple zero roulette games available. Additionally, certain variations of video roulette in the city have a single zero.
I highly recommend being vigilant when it comes to the payouts on heads-up roulette machines. It is imperative to be aware of the potential for short payouts on straight and split bets, as detailed in a previous blog post on the US Casino Advantage website. These particular machines have the capability to significantly increase the house edge, potentially even doubling or tripling it.
In most instances, the electronic table games typically offer a two-times payout on craps odds, while some may even provide triple odds. As a bonus, in the majority of situations, the field bet pays double when the dice roll ends on a 12.
Explore: Top spots to enjoy $5 blackjack games in Las Vegas