When it comes to casinos, nothing compares to the thrill of being in the heart of Las Vegas. The atmosphere on both the Strip and downtown is unmatched by any other gambling destination. Unfortunately, not everyone can make the trip to Sin City. The cost of flights and accommodations can be prohibitive for many. Additionally, the betting limits at the tables may be too steep for some gamblers.
Internet casinos can provide an opportunity for entertainment when not visiting Las Vegas, with a variety of similar games on offer.
Bet-NV.com relies on financial support from memberships, sponsors, and advertisements. In case you or someone you know is struggling with gambling, please reach out to 1-800-GAMBLER for assistance.
Blackjack reigns supreme as the top choice amongst players in the online realm.
Online casinos have a wide array of options for players, much like the bustling Las Vegas strip. The game that reigns supreme in popularity is blackjack, drawing in countless enthusiasts. The virtual realm offers an impressive selection of blackjack variants, with the potential for over 10 different options to be dealt. Additionally, the allure of live dealer games adds an extra level of excitement to the online blackjack experience.
I've found that the vast majority of online blackjack games offer a 3/2 payout. However, there are a few exceptions, particularly in games with extremely low minimum bets, such as $0.10 or $0.25. Surprisingly, even most of those games still adhere to the 3/2 payout structure. If you find yourself on the Las Vegas Strip, be prepared to wager as much as $100 in order to find a blackjack game that pays out at 3/2.
Each internet-based gambling establishment provides low-stakes blackjack, with $1 tables commonly available and sometimes even offering minimum bets as low as ten cents.
Online blackjack offers a variety of exciting features that make it a popular choice among players. One of these features is the option to find games that stand on soft 17, a rule typically reserved for high limit salons in Las Vegas. This adds an extra level of challenge and strategy to the game, as players must adapt their gameplay accordingly. Additionally, online blackjack provides a wide range of variants to choose from. Players can enjoy unique versions such as Spanish 21, Zappit 21, and Free Bet Blackjack, each offering its own set of rules and gameplay mechanics. This abundance of options ensures that players can always find a variant that suits their preferences and keeps the experience fresh and exciting.
If you're someone who enjoys the authenticity of physical cards, then live dealer blackjack is the perfect choice for you. These tables offer the experience of playing with an actual dealer and real cards. There are different variations of live dealer blackjack tables available. Some operate like a multiplayer electronic table game, while others resemble a stadium where all players are dealt the same initial hand. Another interesting feature of certain live dealer blackjack tables is the option to play behind, allowing you to place bets on another player's hand.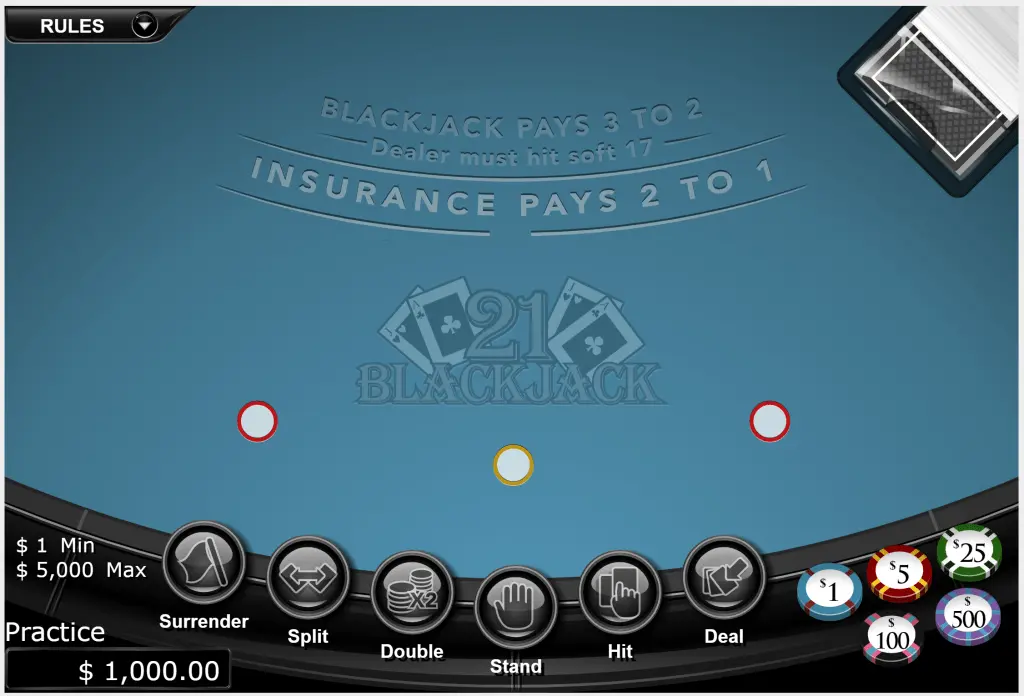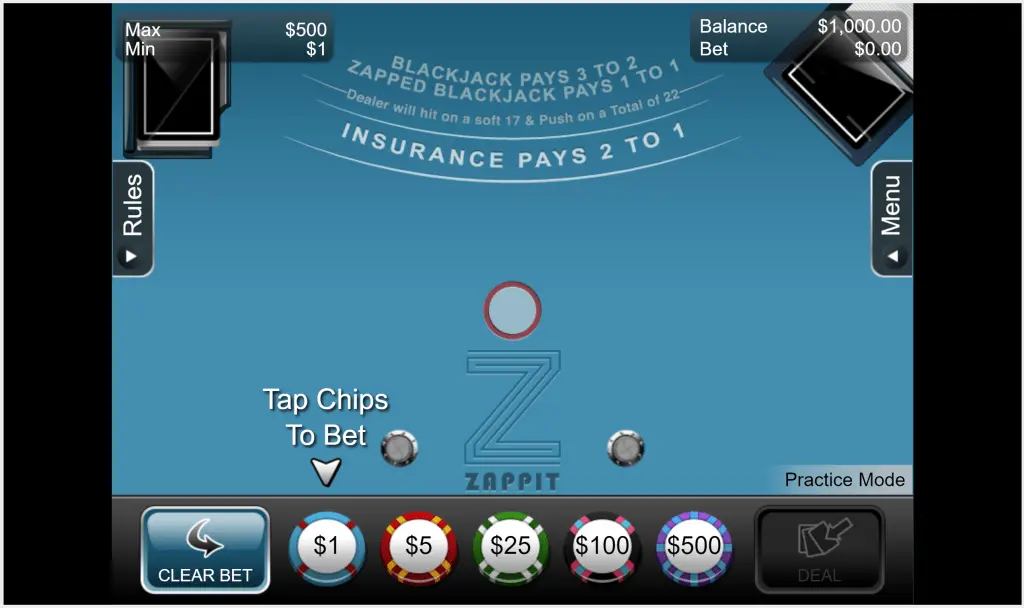 Online baccarat 
Online baccarat, a trendy and well-liked game, offers the same array of bets as its live counterpart. Interestingly, one intriguing aspect is that at certain online casinos, the tie bet can yield slightly more favorable returns compared to those seen in the glitzy casinos of Las Vegas.
In online baccarat games, just as in live casinos, it is not uncommon to find variations where the banker does not take a 5% commission. Instead, a different rule may apply, such as a banker hand that pays only half of the winnings. However, despite these differences, the overall advantage of the house remains relatively consistent.
Online, one can find two distinct variations of Baccarat. The first is the traditional video version, typically requiring a minimum bet of $1. On the other hand, live dealer games generally impose a higher minimum of $5. Moreover, in live dealer tables, it is not uncommon to encounter high-limit options. These tables emulate the atmosphere of a stadium game, allowing players to choose between betting on the banker or the player. Additionally, there is the possibility of placing a tie bet, as well as exploring various side bets that may be available.
In the world of online gambling, you'll come across a thrilling game called Super 6. Unlike traditional baccarat games, this one has a unique twist. It's a live dealer game where the banker hand can emerge victorious on a 6, but there's a catch. Instead of paying the full amount, it only rewards you with 50% of a standard win. However, if the banker hand triumphs on any other number, you'll receive your winnings in full, without any commission deducted. This exciting variation adds an element of surprise and strategic thinking to your gameplay, making it all the more exhilarating.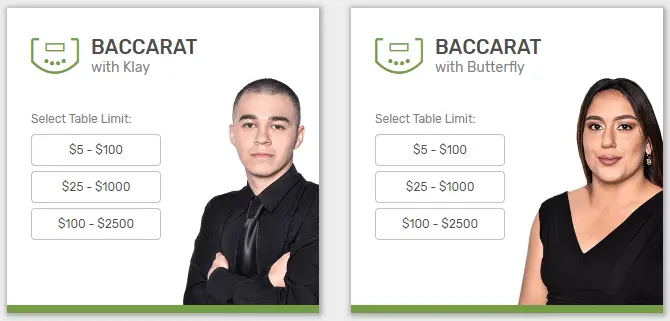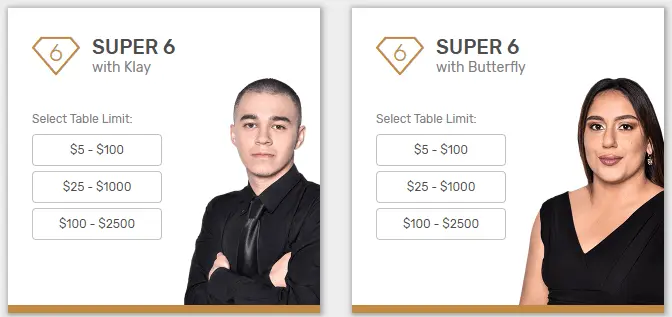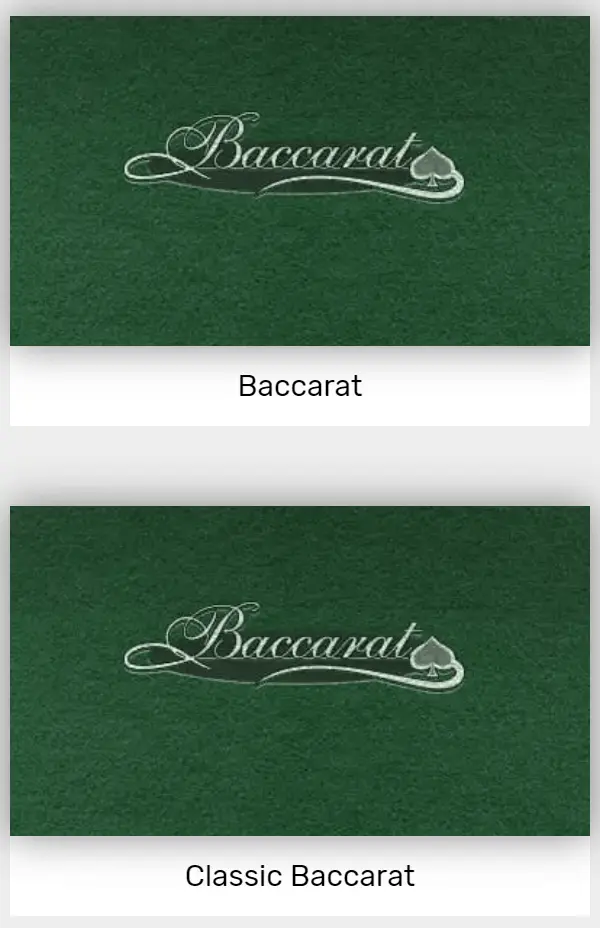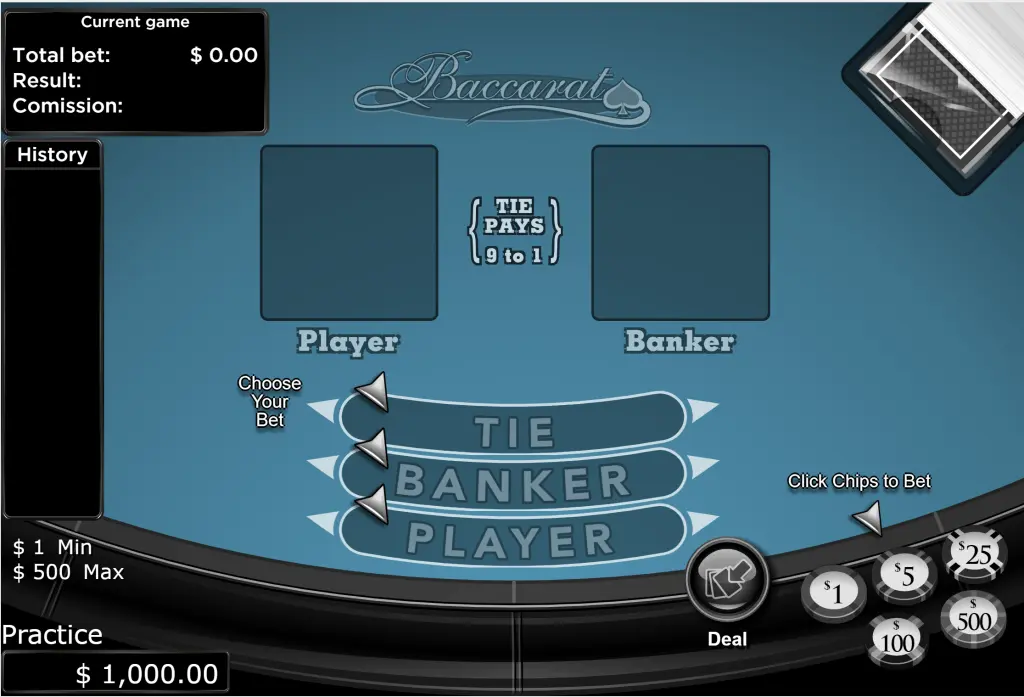 Online roulette 
In Las Vegas and online casinos, one can find a range of popular games, including the ever-popular Roulette. Interestingly, the odds tend to be more favorable for low-limit players in online casinos. This is primarily due to the fact that most online platforms offer single zero roulette, commonly referred to as European Roulette. It's worth noting, however, that the Las Vegas version of European Roulette differs slightly from its online counterpart. In the city of lights, European Roulette incorporates a rule called la partage, where even money bets only lose half their value when the ball lands in the zero pocket. Unfortunately, this feature is often absent in most European Roulette games found online.
I always advise against playing American Roulette online due to its disadvantageous double zero. European Roulette, on the other hand, offers a much better chance with its significantly lower house advantage. The minimum bets for both games are usually the same, but occasionally, you may come across a lower minimum bet in double zero roulette. However, this is usually because the bets are in dimes or quarters, whereas single zero roulette typically requires a minimum bet of a dollar.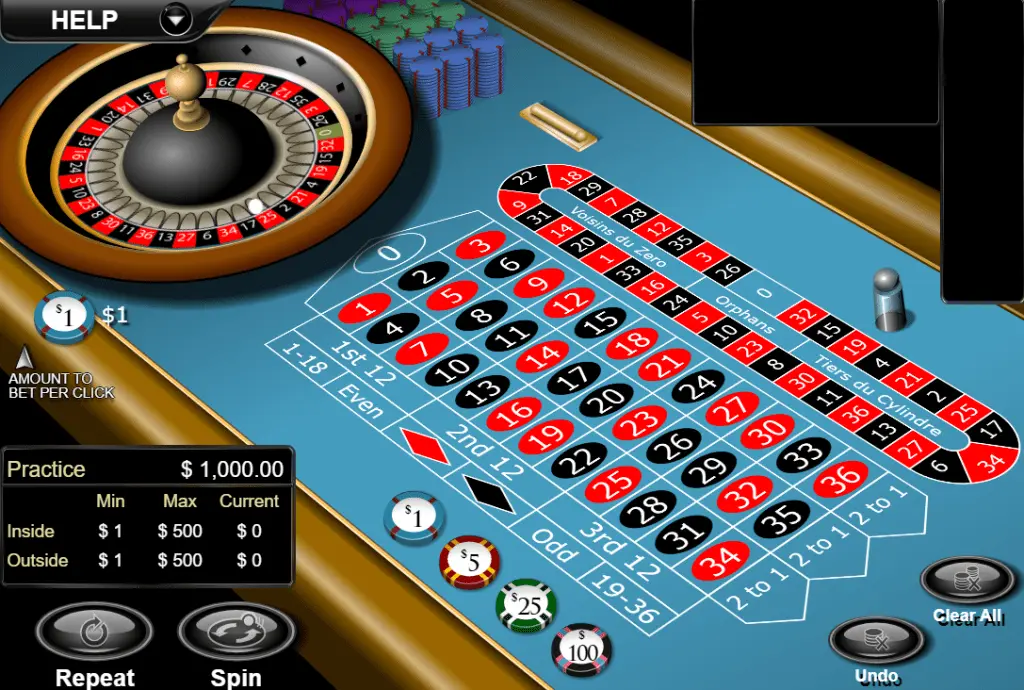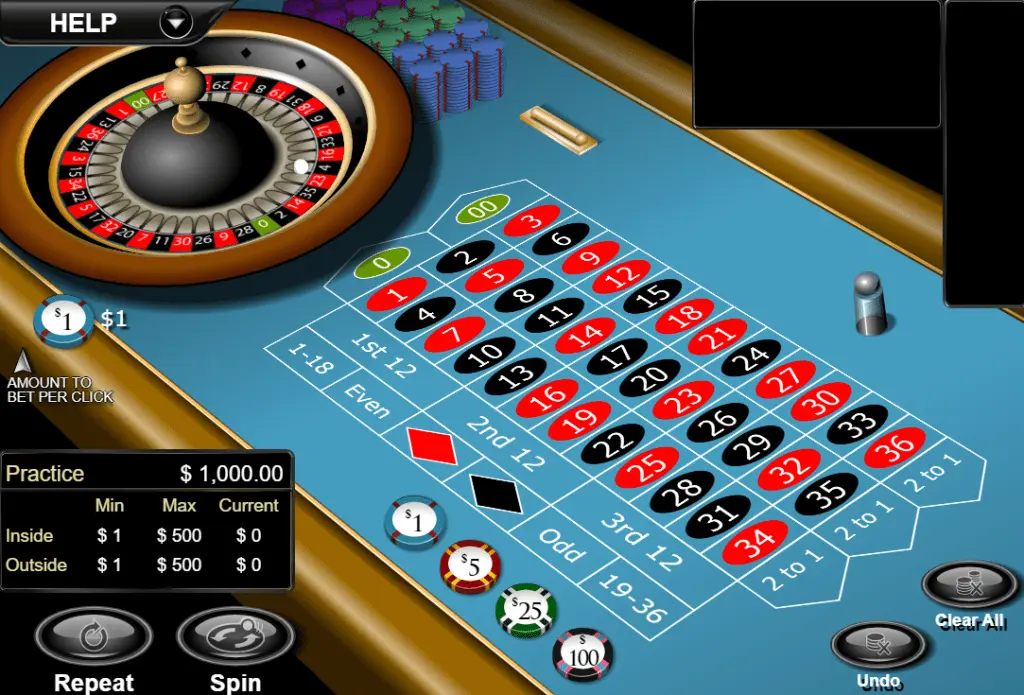 At most online casinos, you'll come across live dealer roulette. However, it's worth noting that in certain instances, this game is exclusively offered in the American double zero format. Don't worry though, as you can also find the live dealer single zero version known as European Roulette.
Playing live dealer roulette feels just like being in a bustling casino, whether you're at a crowded stadium or sitting at an electronic table. The authentic experience comes alive with a personable live dealer, a spinning wheel, and the unmistakable sound of the pill bouncing around the pockets. It's an immersive adventure that offers the thrill of the casino right at your fingertips. And if you're worried about breaking the bank, fear not, as the minimum bet is usually set at a modest $5. So whether you're a seasoned player or a novice looking for some excitement, live dealer roulette is a fantastic choice for a memorable gambling experience.
Craps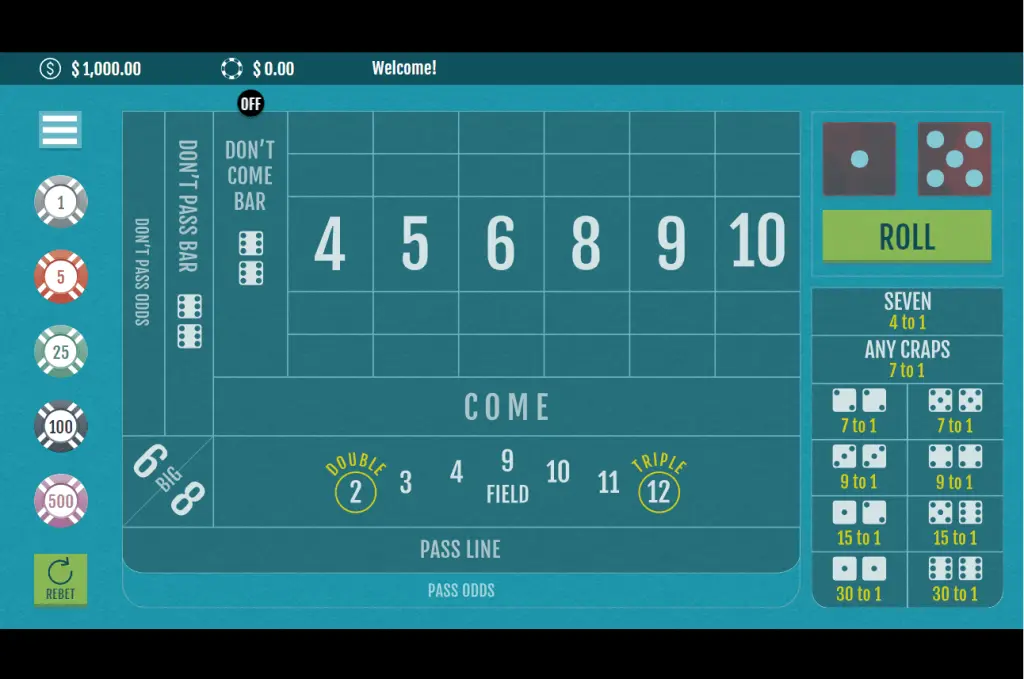 In the realm of online gambling, the game of craps is a popular choice amongst players. The allure lies in the fact that most online casinos offer this thrilling and fast-paced game. When it comes to betting on craps, one notable distinction between the virtual world and the brick-and-mortar experience of Las Vegas is the payout structure. In Las Vegas, when you buy numbers on the craps table, the payout is rounded up to the nearest penny. However, in the online realm, buying numbers pays out the exact amount, to the very cent. This subtle difference can have a significant impact on the player's overall strategy and odds of winning. Moreover, it's worth noting that in the digital landscape, the maximum odds offered are typically double or even triple, whereas in some cases, you may even stumble upon online casinos that offer up to five times the odds. This generous multiplier adds an extra layer of excitement and potential winnings for the discerning craps enthusiast. Lastly, it's important to mention that in the online realm, there are no free buys on the 4 or 10, nor is there any rounding up of the juice to favor the player. This means that players must carefully evaluate their bets and make strategic decisions that align with their overall game plan. With these differences in mind, players can navigate the world of virtual craps with a deeper understanding of the unique dynamics at play.
Three Card Poker
One of the most well-liked card games in Las Vegas is Three Card Poker. It is also a frequently played game at online casinos. On the internet, this game often goes by the name "Tri Card Poker." However, regardless of the name, the gameplay remains identical.
When it comes to playing Three Card Poker, there's a notable contrast between the online version and the one in Las Vegas - the minimum bet. In the virtual realm, you have the option to play for as low as $1, or even a mere $0.10. As for the live dealer format, you'll occasionally find Three Card Poker in that setting too.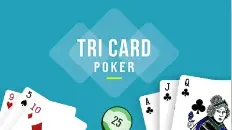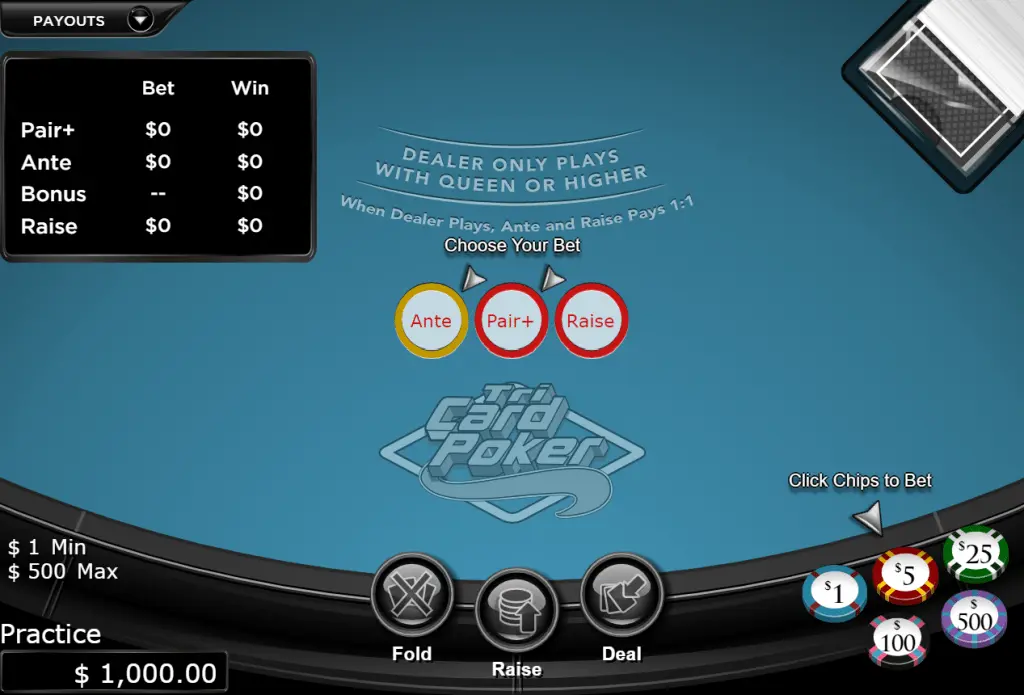 Let It Ride
Let It Ride, also known as "Let 'em Ride," holds a special place among the classic poker pit games. Though its popularity may have waned a bit in Las Vegas, you can still find it being dealt in the city that never sleeps. However, the online casino scene has fully embraced Let It Ride, with nearly all platforms offering this exciting game. Similar to Three Card Poker, the minimum bet for Let It Ride typically ranges from as low as 10 or 25 cents to a maximum of $1, ensuring that players of all budgets can join in on the action.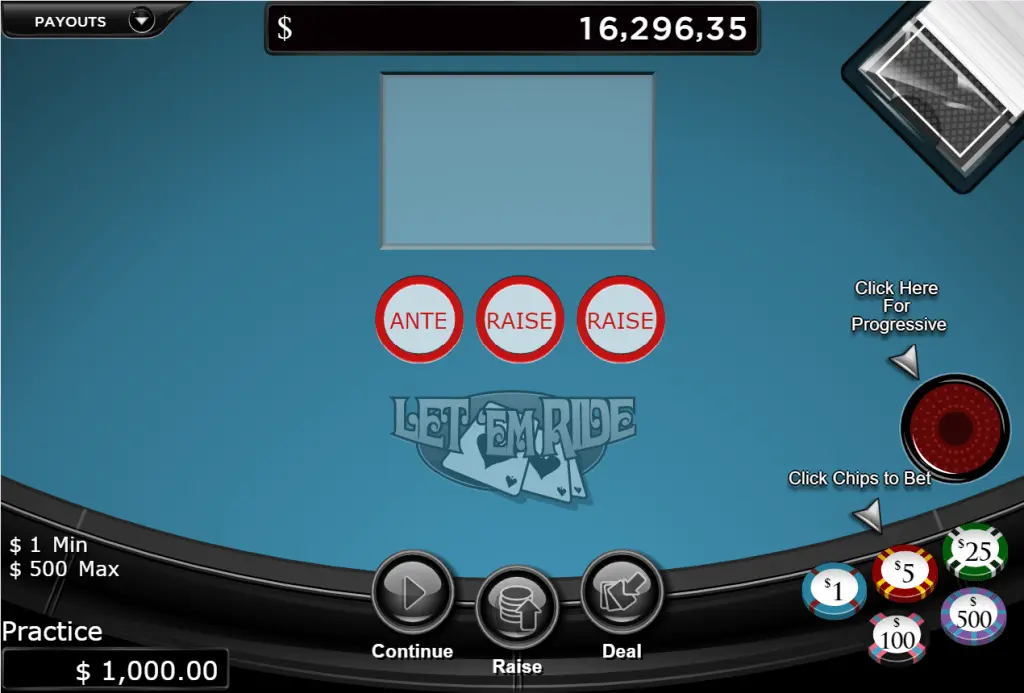 Pai gow poker
At online casinos, players can enjoy the classic version of pai gow poker, which comes with a slight catch. In this variation, players are required to pay a 5% commission on any winning hands they have. It's a small price to pay for the excitement and potential rewards of the game. However, it's important to note that players cannot serve as the banker in online casinos. This distinction ensures a fair and balanced playing field for all participants. So, while players may not have the opportunity to take on the role of the banker, they can still immerse themselves in the thrilling world of pai gow poker and test their luck and skill against other players.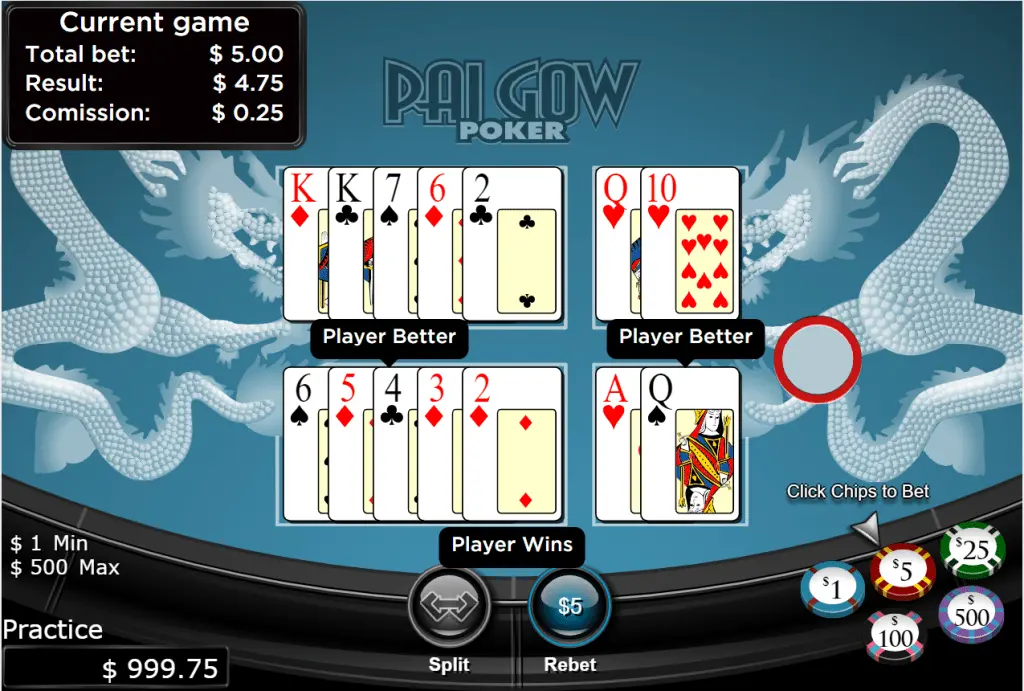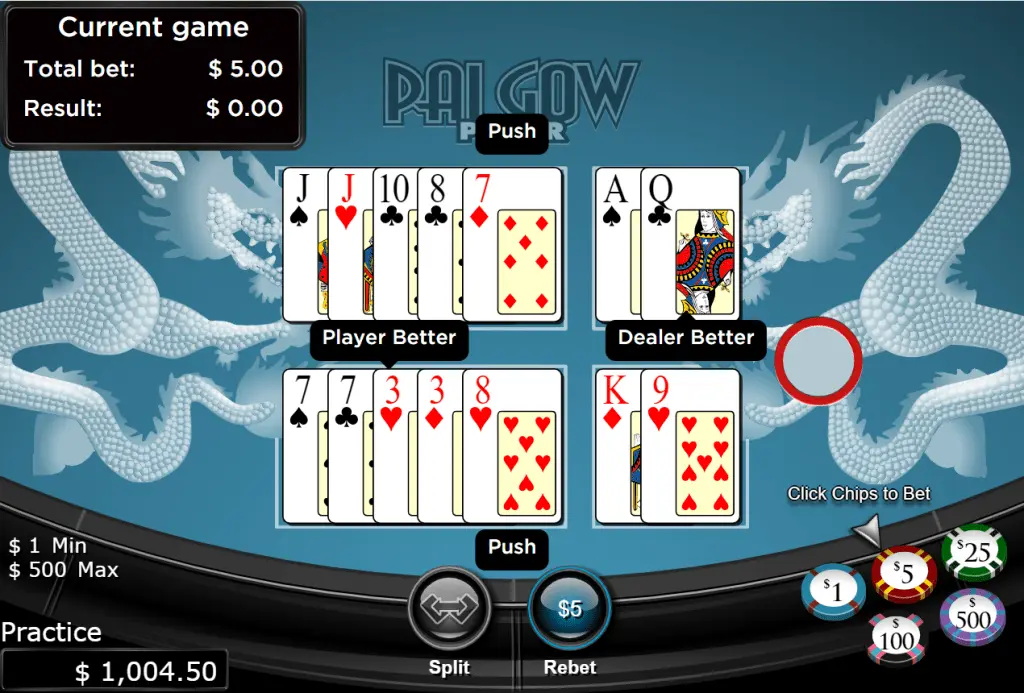 Video poker is also available at online casinos.
Online casinos typically offer a wide selection of video poker games, with pay tables that often surpass the ones found in Las Vegas, particularly on the famous Strip. Among the available options, you can almost always find full-pay Jacks or Better, but occasionally, you might stumble upon even more enticing variations such as 9/6 Bonus Poker Deluxe or 16/10 Deuces Wild.
There are various forms of online video poker available to players. Single line poker is a staple in all internet casinos, but there are also other popular options such as Triple Play, Five Play, and Ten Play. For those seeking a more exhilarating experience, Ultimate X is a variant worth exploring. In this game, the cards are typically dealt in multi-hand formats, adding an extra layer of excitement to the gameplay.

Online slots have gained immense popularity as the top choice for gaming enthusiasts.
Las Vegas is known for its vibrant gambling scene, and it's no surprise that slot machines are the go-to choice for many visitors. However, the world of online gambling holds just as much allure. Online casinos offer a wide variety of slot games that mirror the ones you'll find in Las Vegas. In fact, some of them share the exact same titles. The similarity doesn't stop there, as many of these online slots play just like their land-based counterparts, with one significant difference - the online versions boast higher payback percentages. So, if you're seeking the thrill of Las Vegas slot machines from the comfort of your own home, the internet is where you'll find a rewarding experience that's on par with the real deal.