This week, Rob Solomon confirmed on Twitter that the Mandalay Bay poker room will be reopening on Thursday, July 22. The announcement was also made on Bravo Poker.
During the first phase of reopening, the poker room at Mandalay Bay will only be open from 3pm to 11pm on Thursday through Monday. Cash games will be the focus, as tournaments will not be offered. To accommodate this schedule, the poker room will be closed on Tuesdays and Wednesdays.
Limited information is currently accessible. According to the Bravo Poker webpage, the cash games on offer will consist of no limit Texas Hold'em with varying stakes of 1/2, 1/3, and 2/5, allowing players to include optional or mandatory straddles in their bets, as well as fixed limit Texas Hold'em at a stake of 3/6. The buy-in requirements range from $100 to $300 for the 1/2 stake, $100 to $1,000 for the 1/3 stake, and $200 to $2,000 for the 2/5 stake.
I noticed that the Bravo Poker page only features one promotion, which happens to be a high hand. This particular promotion offers a reward of $250 for achieving a royal flush, $100 for a straight flush, and $50 for four of a kind. It's worth mentioning that cash game tables have the option to not participate in these promotions. If they do choose to partake, a certain portion of the pot is deducted to contribute to the promotion's funding.
In 2020, the promotional fund from Mandalay Bay, which had been distributed previously, was awarded to loyal players. The promotional pools at Excalibur and Mirage were also part of this freeroll. However, it's worth noting that both of these poker rooms are currently closed.
During my visit to Mandalay Bay in June, I couldn't help but notice a surprising change in the poker room. In the aftermath of the pandemic closure, the once thriving poker tables had been completely removed, making way for a BetMGM lounge. This transformation, which took place in 2020, seemed to redefine the purpose of the space. However, to my astonishment, upon my recent visit, I discovered that the poker tables had made a triumphant return to their original location. It was as if the room had been given a second chance to embrace its poker heritage. The sight of players engaging in intense card games, surrounded by the familiar setup, brought back a sense of nostalgia and excitement. It was a testament to the resilience of the poker community and a reminder that even in the face of adversity, the spirit of the game endures.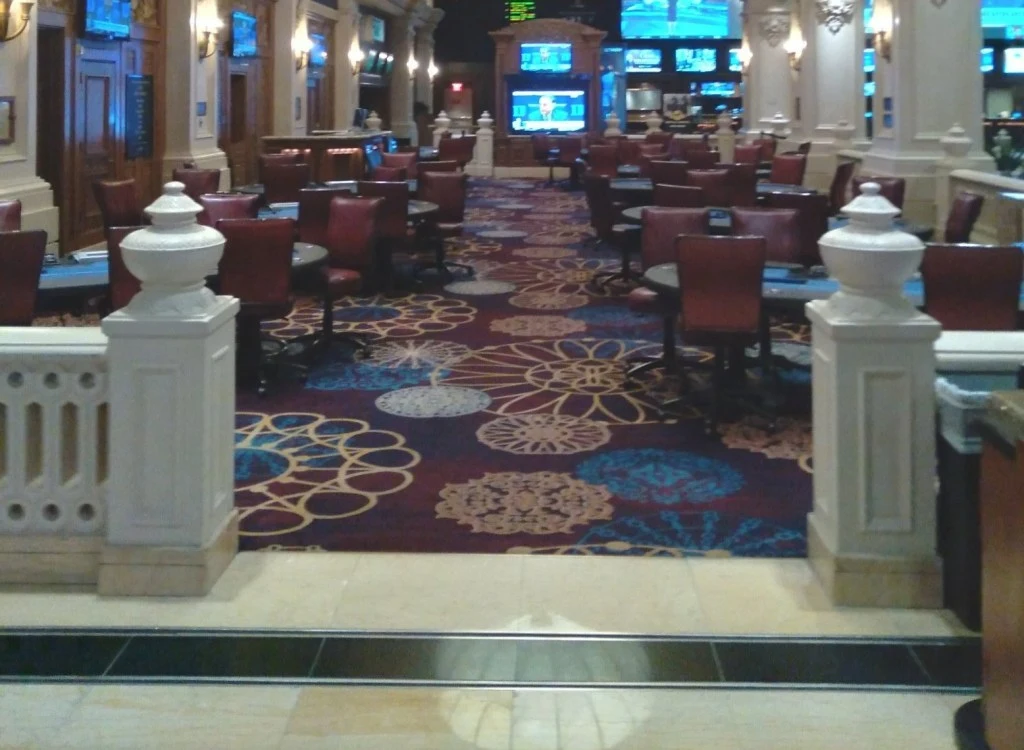 Las Vegas once again welcomes visitors with its 21 operating poker rooms.
Between the June 24 opening of Resorts World and the closure of the Planet Hollywood poker room on July 11, the number of open Las Vegas poker rooms stood at 21. However, with the reopening of the Mandalay Bay poker room, that number will once again be restored to 21. Prior to this, the Mandalay Bay poker room had been temporarily closed, but now it is ready to welcome poker enthusiasts back to its tables. This news comes as a relief to poker players in Las Vegas, who now have even more options to choose from when it comes to their favorite game. With the vibrant atmosphere and thrilling gameplay, the Mandalay Bay poker room is sure to attract both seasoned players and newcomers alike.
In March 2020, a total of 31 poker rooms could be found in Las Vegas. However, fast forward to the present day, and it appears that 10 of these establishments have chosen not to reopen their doors. If you were to visit Binion's, Cannery, Club Fortune, Excalibur, Green Valley Ranch, Harrah's, Mirage, Palace Station, Rio, or Sam's Town, you would unfortunately find them closed. On a different note, Planet Hollywood did initially reopen, but regrettably, it has since made the decision to close permanently.