Super Fun 21, a carnival blackjack game, emerged as an early contender in augmenting the house edge beyond what was conventionally seen on 3/2 tables. The house advantage inherent in Super Fun 21 surpasses that of a 3/2 game with an equivalent number of decks by a factor of two or even three. With its advent, this lively variant charted a new course, introducing an amplified level of excitement while tipping the scales in favor of the house. The contrasting odds between Super Fun 21 and the standard 3/2 game, utilizing an identical deck count, quickly became apparent, solidifying its reputation as a formidable opponent in the realm of casino entertainment.
Back in the day, Super Fun 21 could be found exclusively on single-deck blackjack tables due to the enticing 3/2 payout. However, as time went on, the game expanded its reach and started being dealt with two or six decks as well.
Las Vegas was once dominated by 6/5 blackjack tables, rendering Super Fun 21 obsolete in the process. However, a handful of Boyd Gaming casinos managed to keep it alive for a little longer. Alas, those days have now come to an end.
During our visit to Sam's Town on Boulder Highway on August 14, 2023, we stumbled upon the treasure we were seeking - Super Fun 21, the legendary blackjack variant that had become increasingly rare in Las Vegas. However, to our dismay, we discovered that this cherished table game had been removed from the casino floor, marking its official demise in the city once known for its gambling allure. With heavy hearts, we bid farewell to Super Fun 21, consigning it to the depths of our Las Vegas Blackjack Variant Graveyard, where the memories of its thrilling gameplay will forever reside.
Super Fun 21 rules
Super Fun 21 is a game that features a set of unique and unconventional rules. One interesting aspect is that it allows players to double down both before and after splitting, regardless of the number of cards they have. Additionally, players have the opportunity to split pairs, including aces, up to a maximum of four hands. What's even more intriguing is that split aces can be hit or doubled down on. Another rule that sets Super Fun 21 apart is the option to surrender at any point in the game after the dealer checks for blackjack. This means that players can choose to hit and surrender, even after they have already doubled down. Another exciting feature is the six-card Charlie, which automatically results in a win. Moreover, if players manage to obtain a hand of 21 consisting of five or more cards, they instantly win at a 2/1 payout. Lastly, it's worth mentioning that being dealt blackjack guarantees a win for players.
Ah, these rules are quite appealing, but there's a little snag. You see, in blackjack, the payout is usually just even money, unless, of course, you have a suited blackjack in diamonds, in which case it pays out at a generous 2 to 1. Now, here's where things get interesting. The house edge, that pesky advantage the casino has, stands at a modest 1.16% when playing with a single deck and employing perfect strategy, as confirmed by the knowledgeable Wizard of Odds. However, I must warn you, as the number of decks used increases, so does that house edge. It's a trade-off, my friend, one that we blackjack enthusiasts always keep in mind.
Plaza presents an entertaining game similar to the excitement of Super Fun 21.
I'm the proud owner of a game called "Most Liberal 21." This fantastic game shares many similarities with Super Fun 21. During the daytime, the minimum bet for Most Liberal 21 typically stands at $5, whereas it increases to $10 once night falls. The house edge for this game is approximately 1.3%, which coincides with that of a six-deck Super Fun 21 table, despite some minor variations in the rules.
Super Fun 21 internet version offers a distinct gaming experience.
I've come across an intriguing online casino game called Super Fun 21 Extreme, which offers a unique twist. It shares similarities with Spanish 21, incorporating some flexible player rules. However, what sets it apart is that if the player avoids going over 21 or landing a blackjack, the dealer will actually push on a 22. This is quite distinctive from the Super 21 game that was traditionally played in Las Vegas casinos.
Las Vegas is still home to a total of nine different variations of blackjack.
Las Vegas has a total of nine different blackjack variants available for players since Super Fun 21 is no longer offered. Out of all these options, Free Bet Blackjack stands out as the most favored by the gambling community. With approximately 100 installations throughout the city, it's clear that this particular variant has captured the attention and interest of many players. When it comes to the payout structure, the majority of Free Bet Blackjack tables in Las Vegas pay 6/5. However, there are still around 20 tables in the market that offer a more favorable payout of 3/2. Players who prefer the higher payout may want to seek out these specific tables to enhance their chances of winning big. It's important to note that the popularity of Free Bet Blackjack can be attributed to its unique nature and favorable rules. Unlike traditional blackjack games, Free Bet Blackjack allows players to split and double down on certain hands without having to risk their own money. This added element of excitement and potential winnings has certainly contributed to its widespread appeal among players in Las Vegas and beyond.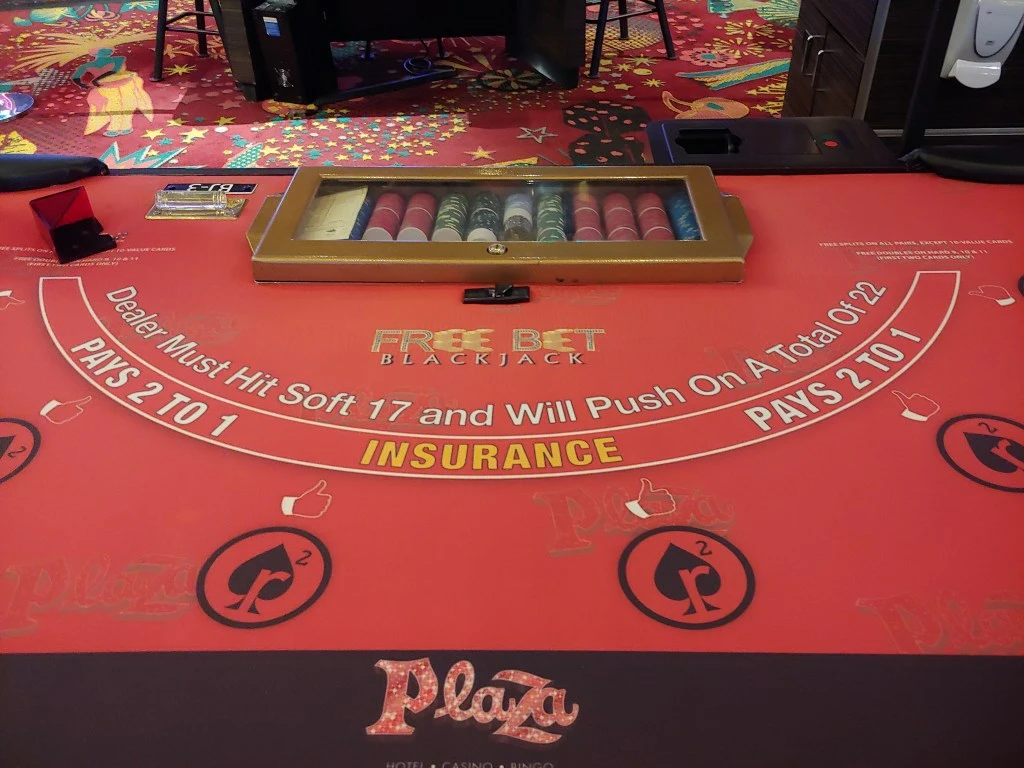 I must say, Bonus Spin takes the silver medal in this race. You can find it being dealt at four casinos right on Fremont Street in Las Vegas. Now, what sets this particular blackjack game apart from the rest is that it's the only one in town that demands a side bet. The amount of this side bet can vary between $1 and $2, depending on which casino you find yourself in. If you're looking for something similar but with a twist, then Free Bonus Blackjack might just be the game for you. You can give it a go at a handful of casinos scattered throughout Las Vegas.
In terms of house advantage, Double Up Blackjack reigns supreme as the most favorable Las Vegas variant, particularly when the game offers a payout of 3/2. This superior version of the game can be found at Binion's and Four Queens, where players can revel in the advantageous odds. However, it is important to note that on the Strip, Double Up Blackjack adopts a different payout structure, where players receive a payout of 6/5.
Circus Circus offers the intriguing game of Double Exposure Blackjack, wherein both of the dealer's hole cards are revealed. However, be wary of the unfavorable rules: blackjack only pays even money, and in the event of a tie, the dealer emerges victorious unless it's a tie on blackjack. In addition to Circus Circus, Plaza presents its own rendition of this exciting game called Most Liberal 21, which is essentially Super Fun 21. Interestingly, in the past, you could also find Most Liberal 21 being dealt at the renowned Las Vegas Club.
Four Queens offers Lucky Cat Blackjack with a 3/2 payout, while Golden Nugget features it along with a mandatory $2 side bet requirement.
Spanish 21, a formerly well-liked variation of blackjack in Las Vegas, can now exclusively be enjoyed at the Venetian and Palazzo casinos. These tables are typically available for play only during the busiest times of the day.