Over the past few years, Las Vegas has witnessed a significant surge in table game limits. With inflation on the rise and a scarcity of labor, the era of $1 table games has come to an end. Nowadays, the most affordable option starts at $2, and it happens to be the beloved game of roulette.
During both slow and busy hours, you can find the minimum bets listed below. It is worth noting that smaller local casinos typically don't increase their limits regardless of how crowded they become. On the other hand, larger casinos may raise their $5 games to $10 or $15 during the busiest times of the day.
Most affordable roulette in Las Vegas.
In the bustling Las Vegas market, three casinos beckon players with the delightful allure of $2 roulette. The game of chance, with its adrenaline-inducing twists and turns, can be found at Pass Casino in Henderson, Railroad Pass near Boulder City, and Jerry's Nugget in North Las Vegas. It's worth noting that all three establishments offer the double zero variant of the game, adding an extra layer of excitement for the adventurous gamblers seeking their fortune.
If you're after some affordable roulette action near the Las Vegas Strip, look no further than the Gold Coast casino. Nestled deep in the locals market, this establishment offers a minimum bet of $3 for their double zero roulette tables. It's a perfect spot for those seeking a budget-friendly gambling experience without straying too far from the glitz and glamour of the Strip. So, why not try your luck at the Gold Coast and see if Lady Luck smiles upon you?
We have compiled a list of Las Vegas casinos that frequently offer $5 roulette games, giving you plenty of options to choose from.
Arizona Charlie's Decatur
Cannery ($6)
Downtown Grand
El Cortez
Golden Nugget (000)
Orleans
Oyo
Santa Fe Station
South Point
Suncoast
$2 Big Wheel
Golden Nugget, located in Las Vegas, offers the last remaining $2 table game called Big Wheel. Positioned near the entrance on the sportsbook side of the casino, this game stands alone in its affordability and entertainment value. In the past, Golden Nugget boasted two of these tables, but alas, the one near the Casino Center entrance vanished from sight a year or two ago.
$3 Heads Up Hold'em 
Jerry's Nugget offers a variant of poker called $3 Heads Up Hold'em, which shares similarities with Ultimate Texas Hold'em. However, a notable distinction is that players are limited to raising their bets three times the ante before the flop.
In this article, I'll delve into the realm of Las Vegas casinos and shed light on the availability of affordable games like Heads Up Hold'em and Ultimate Texas Hold'em. It's crucial to grasp the fact that the wagering requirements for these games differ - for Heads Up Hold'em, you'll need five times the ante to place the maximum bet, whereas for Ultimate Texas Hold'em, you'll require six times the ante. So, let's explore the diverse options that Las Vegas casinos offer to cater to different gambling preferences, ensuring an enjoyable experience for everyone.
Most affordable craps games in the city of Las Vegas.
The dwindling era of $5 craps in Las Vegas is nearing its end, as one must venture further into the local market to consistently discover such games. The days of stumbling upon Las Vegas craps with a price tag under $5 are now a thing of the past. However, a handful of these elusive $5 craps games still remain, and here they are.
Cannery
Ellis Island
Jerry's Nugget
Oyo
Pass Casino
Railroad Pass
In downtown Grand, you might still find a game of craps for just $5. However, there has been a recent change in the gaming area, where one of the traditional live tables has been replaced with a more affordable option, a $3 hybrid table. As a result, the availability of the $5 live table has become inconsistent. I have noticed that it has either been raised to $10 or occasionally closed altogether.
Most affordable blackjack game in Sin City
In Las Vegas, you can find two blackjack games for just $1. The payout for a blackjack is the same for both games, offering even money. One of these games is located east of the Las Vegas Strip at Oyo. The other option is at Downtown Grand. However, it's important to note that at Downtown Grand, the table pays 6/5 on $5 bets. So, if you're looking for the best value, Oyo might be the better choice.
In my search for affordable blackjack games in Las Vegas, I stumbled upon a couple of hidden gems. If you're looking to play blackjack without breaking the bank, Poker Palace is your go-to destination. They offer two options that won't burn a hole in your pocket. Firstly, there's a delightful $2 double deck game where you get an even money payout. And if that's not enticing enough, they also have a thrilling $3 3/2 game that allows you to double down on two or three cards both before and after splitting. Now, let me present to you our comprehensive compilation of $5 Las Vegas blackjack games, perfect for those seeking a thrilling yet affordable gambling experience.
In Las Vegas, there is an abundance of inexpensive poker pit games, available for just $5. Surprisingly, some of these games are even located on the famous Las Vegas Strip itself. For a comprehensive exploration of each game, we invite you to delve into the dedicated section of our Las Vegas Table Game Survey. Below, you will find a list of these captivating games that won't break the bank.
During the majority of the day, you can find a wide selection of table games with a minimum bet of $5. However, it's important to note that on weekend nights and other peak periods, the minimum bet may be raised. Nevertheless, if you happen to visit the Las Vegas Strip during the quieter hours of the week, such as at Flamingo or Harrah's, you might stumble upon a few poker pit games with a minimum bet of $5.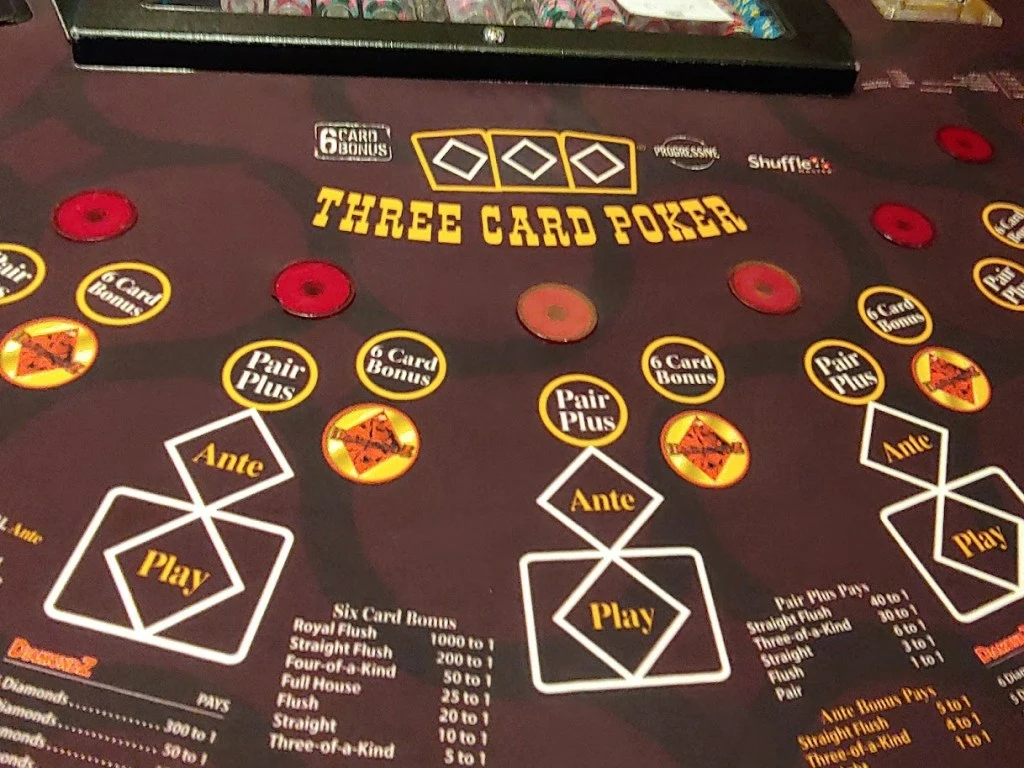 $5 3 Card Poker
Downtown Grand
El Cortez
Gold Coast
Golden Nugget
M Resort
Orleans
Palace Station
Red Rock
Rio
Sam's Town
Santa Fe Station
Silverton
South Point
Sunset Station
$5 Crazy 4 Poker
Golden Nugget
Red Rock
Rio
Sunset Station
The $5 High Card Flush game and my love for suits.
Golden Nugget
M Resort
Orleans
Red Rock
Rio
Santa Fe Station
$5 Let it Ride
$5 Mississippi Stud
$5 Ultimate Texas Hold'em and Heads Up Hold'em with an unbeatable offer.
Arizona Charlie's Decatur
Downtown Grand
El Cortez
Gold Coast
Golden Nugget
M Resort
Orleans
Rio
Sam's Town
Santa Fe Station
Silverton
South Point
Sunset Station
Tropicana
The popularity of electronic table games is rapidly growing in the realm of lower betting limits.
Since 2020, a significant number of Las Vegas Strip casinos, along with various establishments in the downtown and locals markets, have made a push to enhance their offerings of electronic table games. This expansion has encompassed the popular stadium gaming concept as well. The exciting part is that these electronic table games come with a wide range of betting limits to cater to different preferences and budgets. Starting from as low as $0.25 for roulette and $1 for other games, the limits vary depending on the specific location you choose to visit. If you're interested in exploring the latest developments in Las Vegas electronic table games, be sure to check out our comprehensive survey. It provides valuable insights into the various options available at different casinos in the city.
In Las Vegas, particularly in tourist-populated areas, electronic table games are increasingly becoming the sole option for those seeking affordable table game entertainment. However, it is worth noting that not all players are fond of this technological adaptation. Nonetheless, for novice players looking to familiarize themselves with the games prior to venturing into the realm of live tables, electronic table games offer a fantastic opportunity for learning and practice.