Since 2010, my colleagues and I have been thoroughly investigating the blackjack games in the vibrant city of Las Vegas. Initially, our focus was solely on the renowned Las Vegas Strip and the bustling downtown area. However, as time passed, our curiosity led us to explore the lesser-known local casinos as well. Finally, in 2017, we made it our mission to comprehensively cover every single Las Vegas casino that offered table games. The peak of our endeavor came in 2019, when we documented a staggering 81 casinos. Remarkably, even today, the Las Vegas market boasts an impressive count of 72 casinos where at least one live table game is dealt.
Bet-NV.com Newsletter
Every year, my team and I embark on a journey to explore every single Las Vegas casino that offers table games. This allows us to gather valuable insights and firsthand experiences, which we then share through our exclusive publication, the Bet-NV.com Newsletter. Inside this newsletter, you will discover a comprehensive guide that provides detailed information on the locations of all table games, along with their specific rules and minimum betting requirements. If you're seeking to enhance your knowledge about the vibrant world of Las Vegas casinos, look no further than our invaluable resource. For further details and to access this treasure trove of information, please visit the following link.
Blackjack on the Las Vegas Strip during the 2010's.
During the past ten years, the landscape of blackjack on the Las Vegas Strip has undergone significant changes. Back then, the majority of traditional blackjack tables, around 75%, offered a 3:2 payout ratio. It was common to come across affordable $5 blackjack tables with a 3:2 payout at various Strip casinos such as Excalibur, New York-New York, Riviera, Sahara, and Stratosphere. Additionally, Circus Circus even had a 3:2 blackjack game available for just $3.
As the years went by, the landscape of low-stakes gambling also underwent a transformation. The majority of these modest games shifted towards a 6:5 payout ratio, while others raised their minimum bets to $10 or $15. When the 2010s came to a close, the minimum wager for 3:2 blackjack had soared to a minimum of $15 in nearly all gambling establishments. Nowadays, this figure can easily reach $25, $50, or even $100.
Throughout that particular period, there was a conversion of lower limit 3:2 blackjack tables into 6:5 games. The process initially commenced with the establishment of party pits, where individuals of the female gender, attired in either bikinis or lingerie, were responsible for dealing substandard blackjack games. Gradually, casinos came to the realization that they no longer required this particular form of enticement for their 6:5 blackjack tables.
Since 2014, the Las Vegas Strip has witnessed a decline in the presence of 3:2 blackjack tables.
In the year 2015, it became apparent that all the major casinos on the Las Vegas Strip were offering 6:5 blackjack games to some extent. Interestingly, this trend began with the Venetian in 2014, and slowly but surely, other establishments followed suit. However, it was not until the year 2015 that the last remaining holdouts, Aria and Bellagio, decided to make the switch as well. During this time, they made the decision to convert all blackjack games under $25 to the 6:5 format. The impact of this decision can be seen in the chart below, which clearly illustrates a decline in the number of blackjack tables available on the Las Vegas Strip.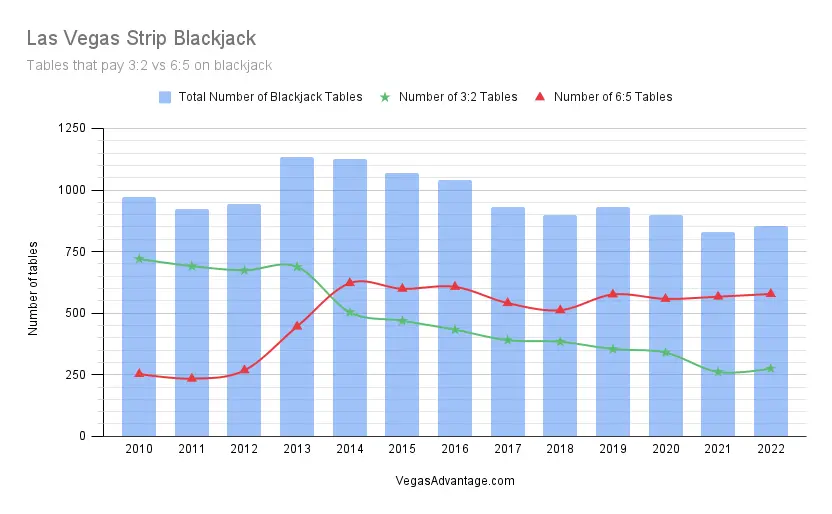 In the midst of the boom of wild festivities, I witnessed a surge in the number of party pits that sprouted across the vibrant Las Vegas Strip. It was an exhilarating time, as the count of blackjack tables reached its zenith at an astounding 1134. However, as time passed, and the year transitioned into September 2022, my latest survey yielded a slightly lower figure of 855 blackjack tables scattered along the iconic Strip. Nevertheless, it's worth noting that this wasn't the lowest point in recent times. In the year 2021, a period prior to the grand opening of Resorts World, my investigations unveiled a mere 829 blackjack tables gracing the illustrious Strip.
In my observation, it's quite evident that the blackjack landscape on the Strip is undergoing a significant transformation. Many of the once-thriving blackjack tables are now vanishing, leaving only a select few behind. However, it is disheartening to note that even among the surviving tables, a troubling trend has emerged. The traditional 3:2 blackjack payout is becoming increasingly rare, with an alarming number of casinos adopting the less favorable 6:5 payout ratio. This change is particularly noticeable in establishments like Circus Circus, Linq, and O'Sheas, where the old-fashioned 3:2 blackjack has completely disappeared. Some other casinos, perhaps realizing the value high rollers place on the traditional payout, still offer 3:2 blackjack but restrict it to their exclusive high limit salon. On the rest of the casino floor, they opt for the inferior 6:5 payout. It's a stark reminder that even in the ever-evolving world of gambling, not all changes are for the better.
From 2014 until 2021, the number of blackjack tables on the Strip that offered a 3:2 payout decreased steadily. In our most recent examination, we discovered a mere 275 tables with this favorable payout ratio—a significant drop from the 720 tables we identified back in 2010. However, there is a glimmer of hope amidst this downward trend. Over the course of the past year, the count of such tables has actually increased by 14, hinting at a potential reversal in this worrisome decline.
The blackjack tables on the Las Vegas Strip, where dealers hit on soft 17, have undergone minimal modifications.
Back in 2010, when my team and I embarked on our journey to survey the blackjack tables in Las Vegas, we were met with a staggering 141 games on the Strip that adhered to the rule of standing on all 17's. Fast forward 12 years, and that number has dwindled down to 113, showcasing a significant decrease in such tables. Despite this decline, it is worth noting that all of these tables still uphold the standard payout ratio of 3:2, ensuring that players can still aim for a lucrative win when playing the game.
In Las Vegas, only the high rollers can now experience the thrill of playing blackjack games that require the dealer to stand on a soft 17. It's a game that has become quite rare in recent years, with the Bellagio and MGM Grand being the last two casinos to remove these tables from their main gambling areas. Today, these exclusive tables can only be found in the opulent high limit salons, catering to the most discerning and affluent players. It's a testament to the evolving nature of the casino industry, where games come and go, and only the most popular ones survive the test of time.
The Las Vegas Strip has witnessed significant transformations in its blackjack variations since the year 2010.
Back in 2010, if you were roaming the Las Vegas Strip looking for some blackjack action, you would have come across a decent number of tables. However, things have changed dramatically since then. Nowadays, the Strip is buzzing with nearly double the amount of blackjack variant tables compared to a decade ago. It's like a whole new world of possibilities for blackjack enthusiasts. In the past, Blackjack Switch dominated the scene, capturing the attention of players with its unique twist. But as time went on, other exciting variants started to make their mark. If you were feeling adventurous, you could try your luck at Double Attack Blackjack or Spanish 21, both offering their own set of thrills. And if that wasn't enough, there were even more options to choose from. Variants like Double Exposure, Down Under, Free Bet Blackjack, Player's Choice 21, and Super Fun 21 emerged, adding an extra layer of excitement to the already vibrant blackjack scene. The choices were endless, and the possibilities seemed limitless.
On the Las Vegas Strip, the blackjack scene has gone through significant changes. Nowadays, the only blackjack games you'll find are the ones that offer unique twists and variations. Specifically, there are four main variants that dominate the tables: Free Bet, Blackjack Switch, Spanish 21, and Double Exposure. These games offer a refreshing break from the traditional format and attract a diverse crowd of players. Out of the total available tables, six of them are dedicated to Blackjack Switch, Spanish 21, and Double Exposure, while the remaining 59 tables are exclusively reserved for Free Bet Blackjack and its clones. This variety ensures that every gambler can find a game that suits their preferences and adds an element of excitement to the Las Vegas blackjack experience.
Playing blackjack in Downtown Las Vegas has been a popular activity for over a decade, starting from 2010.
The situation with blackjack in downtown Las Vegas surpasses that of the Strip by a wide margin. Back in 2010, an impressive 73% of blackjack tables in downtown Las Vegas adhered to the favorable 3:2 payout ratio. It is worth noting that a majority of the 6:5 tables available at that time featured single decks, a setup that many players prefer due to its advantageous odds. However, as time has passed, the landscape has changed. Presently, approximately 66% of blackjack tables in downtown Las Vegas continue to offer the desirable 3:2 payout. However, there has been a shift in the number of decks used, with nearly all tables now employing six decks instead of the previously prevalent single deck configuration.
In downtown Las Vegas, the golden year for 3:2 blackjack was undoubtedly 2011. It was during this time that the notorious 6:5 single deck tables were swiftly replaced by the much-favored six-deck 3:2 ones. A remarkable transformation indeed! The shift was so significant that a staggering 89% of downtown Las Vegas blackjack tables proudly boasted a 3:2 payout. It was a paradise for blackjack enthusiasts, where the odds were in their favor and the thrill of the game was at its peak.
During our recent survey in downtown Las Vegas, we discovered that the majority of the 59 6:5 blackjack tables were located at Binion's, Four Queens, and Golden Nugget. At Binion's and Four Queens, you need to place a $1 Bonus Spin side bet in order to be dealt a hand on the tables that have "Blackjack Pays 3:2" signs. As for Golden Nugget, their 6:5 games require either a $1 or $2 side bet, depending on the specific table. Interestingly, even the 6:5 tables at Fremont now require a side bet, a stark contrast to six years ago when no Las Vegas blackjack tables had such a requirement.
In the heart of Las Vegas, the renowned Golden Nugget used to be the go-to destination for those seeking the best low limit blackjack rules. You could easily find yourself enjoying a game with a favorable 3:2 blackjack payout right on their vibrant casino floor. However, times have changed, and alas, the days of such favorable odds have come to an end. Now, if you're looking to indulge in the excitement of 3:2 blackjack at the Golden Nugget, you'll need to venture into the realm of high limit tables. On the other hand, if you happen to find yourself at Binion's or Four Queens, you won't find any standard 3:2 blackjack games at all. It's a stark reality for those who prefer the traditional blackjack experience.
The blackjack games offered at these casinos on Fremont Street Experience are generally not enjoyable. These properties have a number of tables with the lowest quality blackjack games found in Las Vegas.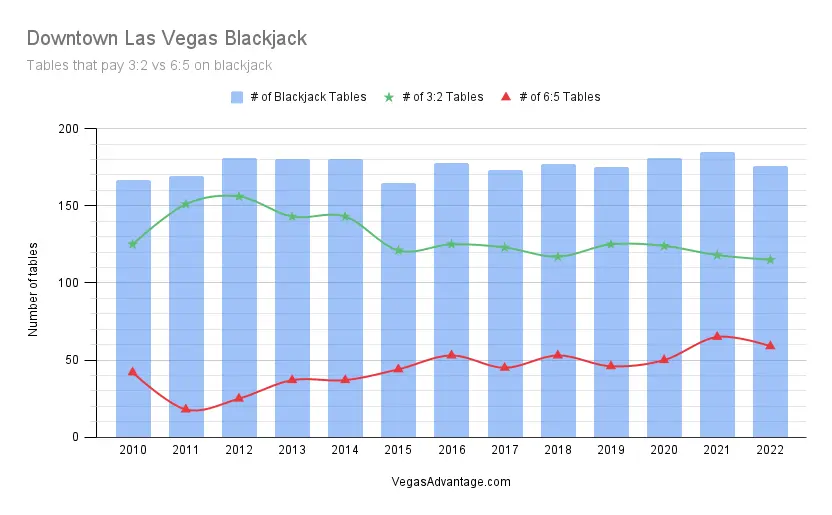 Top-rated gambling establishments for enjoying blackjack in the heart of Las Vegas' downtown area.
At El Cortez, Golden Gate, Plaza, and The D, every blackjack hand yields a payout of 3:2. On the contrary, at Downtown Grand, there is one specific table that deviates from this norm. However, this table sets a minimum bet of just $1.
When Circa's high limit salon opened its doors in 2020, we stumbled upon an unexpected gem—a downtown Las Vegas blackjack table that defied convention by standing on soft 17. To our amazement, not one, not two, but four of these remarkable games were meticulously placed within the salon's luxurious confines. As we marveled at this rare find, it dawned on us that these tables were truly one-of-a-kind, the sole representatives of their kind in downtown Las Vegas.
In downtown Las Vegas, you can find All Free Bet Blackjack tables that offer a 3:2 payout. Additionally, there are other exciting variations to try, such as Double Up, Most Liberal 21, and Blackjack Switch.
The majority of blackjack tables in Las Vegas still offer a 3:2 payout ratio.
The majority of blackjack games in downtown areas and played by local residents have a payout ratio of 3:2. This ensures that the market share of the 3:2 percentage stays just above 50%.