Kristina and I are big fans of comedy shows. It's always a great time for us to relax and have a good laugh. In the past, we used to frequent the Improv at Harrah's and the Riviera Comedy Club. Unfortunately, both of those places have disappeared over time. It's a shame because we have so many fond memories of those venues. However, there's a silver lining to this story. The LA Comedy Club at the Strat managed to salvage some of the fixtures from the Riviera. When it first opened, we were eager to check it out, and it did not disappoint. The atmosphere was vibrant, the comedians were hilarious, and it quickly became our new go-to spot for comedy nights. Funny enough, it opened its doors just about a year after the Riviera closed down. It's amazing how things work out sometimes. We feel incredibly fortunate to have found a new place that brings us the same joy and laughter as our old favorites.
In the days prior to the outbreak, the comedy scene in Las Vegas was rather limited, with only a handful of comedy clubs in operation. One of the most well-known establishments, the Laugh Factory, had established itself as a permanent fixture on the bustling Strip. To add to the mix, late in the 2010s, the renowned Jimmy Kimmel decided to open his very own comedy club in the lively Linq Promenade. Consequently, both local residents and tourists alike were treated to a variety of comedic performances from some of the biggest names in the industry, not only at the Mirage but also at a few other notable venues around town.
The D once had a late-night comedy show until its showroom shut down in 2019, making way for the popular Bar Canada. Meanwhile, Oyo hosted several entertaining comedy shows at its own showroom.
Comedy performances were the initial form of entertainment to make a comeback in Las Vegas following the reopening post-pandemic.
After the pandemic, the first form of entertainment to make a comeback were comedy shows. It was no easy task with the 25% and 50% capacity restrictions in place, but despite the challenges, the relatively low expenses made it a gamble worth taking. However, larger productions had to hold off on their return until capacity restrictions were lifted entirely, as the costs associated with operating such shows were simply too high.
The initial comedy establishments to resume operations were LA Comedy Club and Delirious at Downtown Grand. Delirious remains the identical comedy club previously located at The D until 2019.
In 2021, the Arts District welcomed the grand opening of Wiseguys, an exciting addition to the local entertainment scene. Following a temporary closure of The D's showroom, Adam London's Laughternoon found a new home at The Orleans, delighting audiences once again. Fast forward to 2023, the Westgate Comedy Cabaret burst onto the scene, offering a fresh and hilarious experience for comedy enthusiasts. Meanwhile, Byron Kennedy took charge and revitalized the comedy club at Oyo, injecting new energy into the venue. Of course, these are just a few examples among many others, contributing to the vibrant comedy landscape across the city.
I've been noticing a trend lately - a lot of bars are starting to feature live comedy acts. One place that immediately comes to mind is Square Bar, located near Westgate. Every Saturday at midnight, they host a free comedy show called "The Stool" which is curated by none other than Steven Roberts. This show is a platform for professional comedians to test out their fresh material and entertain the audience with their hilarious routines.
In the southwest part of the valley lies the Las Vegas Ice Center, where the bar called Brooksy's is conveniently connected. It is here that Don Barnhart, a talented comedian, puts on his show every last Saturday night. Nestled near Ft Apache and Flamingo, this entertainment hotspot attracts locals and tourists alike. With its lively atmosphere and hilarious performances, Don Barnhart's comedy show promises a night filled with laughter and good times. So, if you're in the area and looking for some top-notch entertainment, head over to Brooksy's on the last Saturday night and prepare to be entertained by Don Barnhart's comedic brilliance.
LA Comedy Club continues to hold a special place in our hearts as our top choice.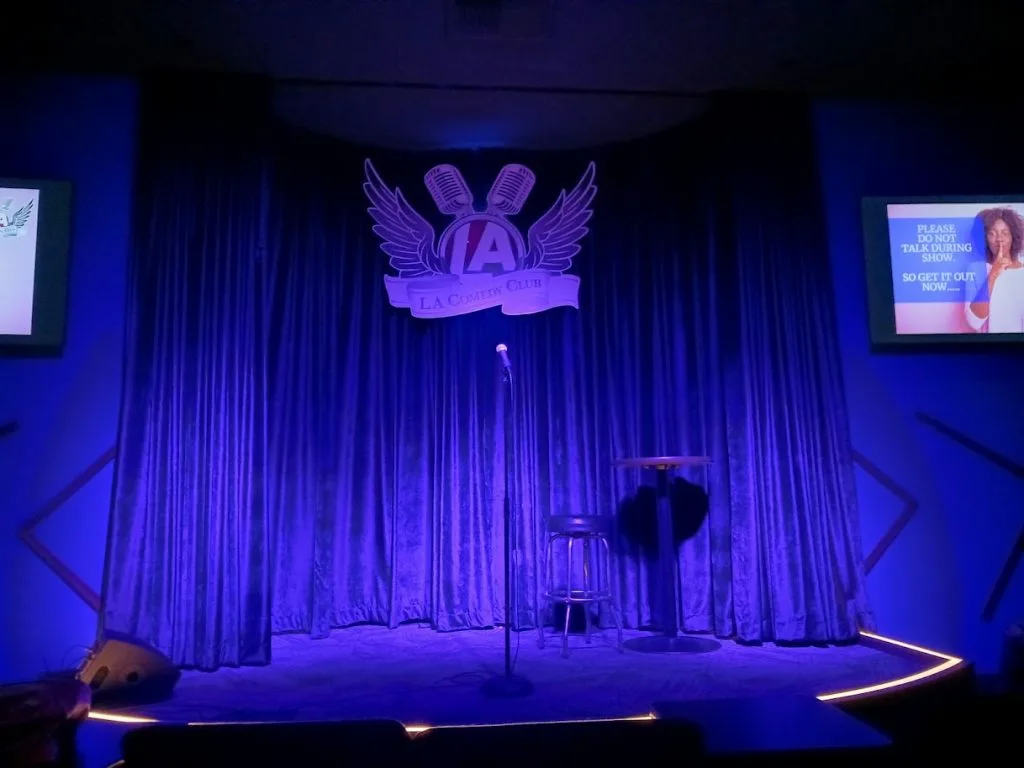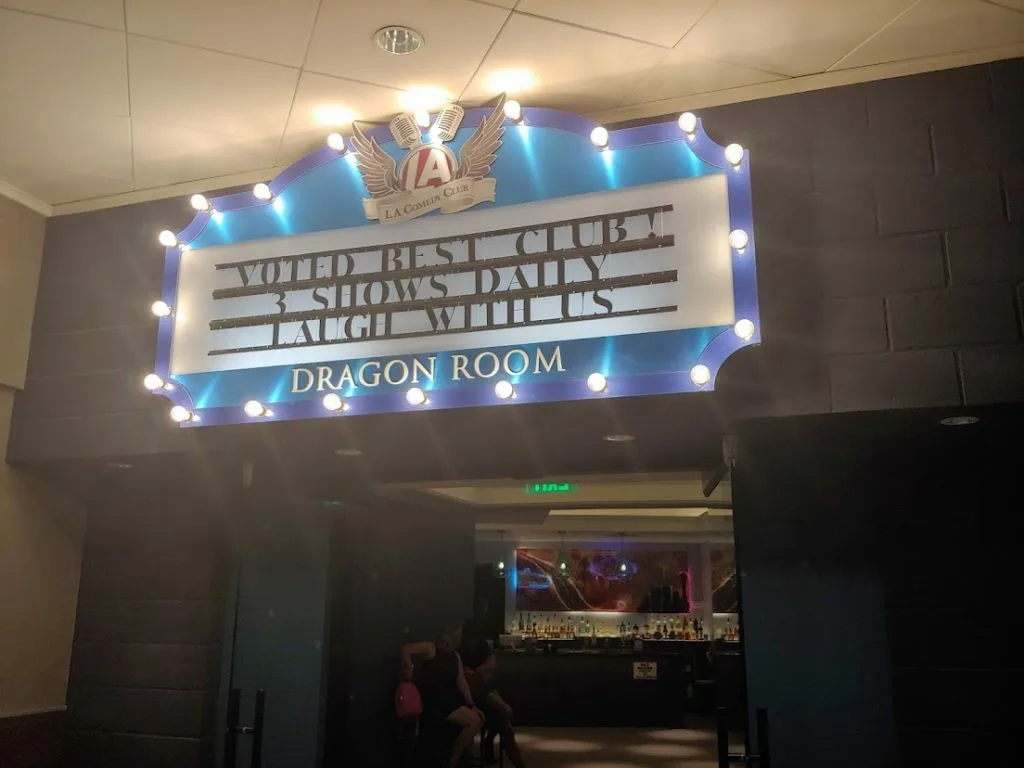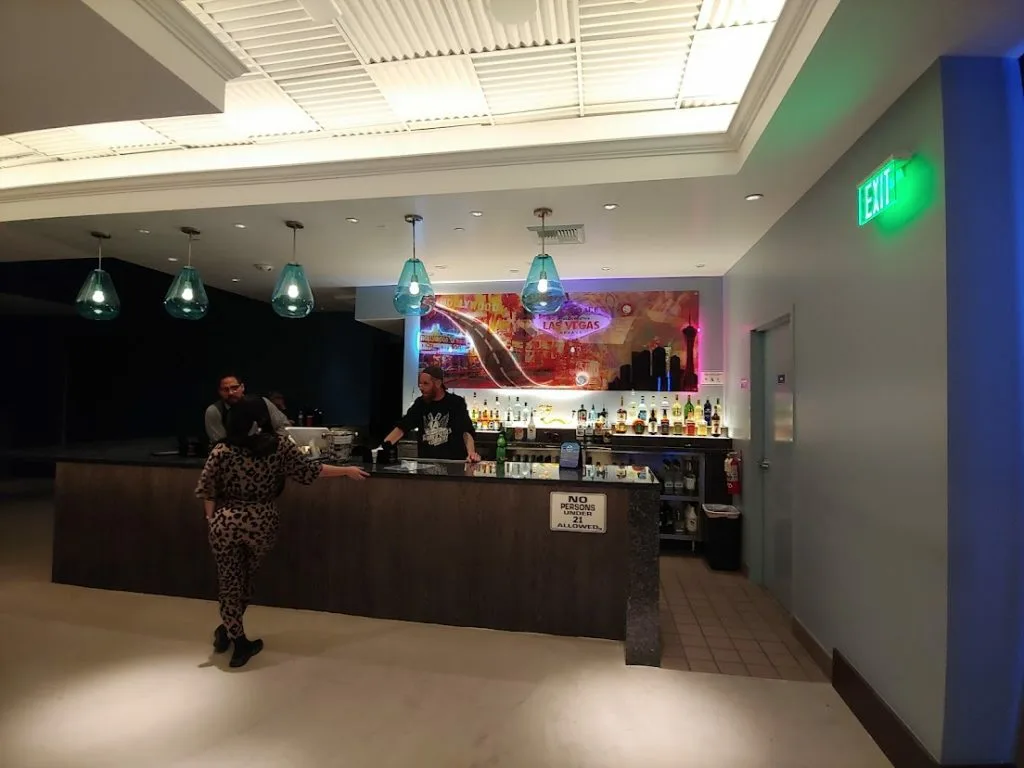 Upon its establishment in 2016, The Strat's LA Comedy Club boasted a capacity of approximately 130 attendees, which initially proved to be an excessive number of seats.
As the whispers spread about LA Comedy Club, the demand for laughter surpassed the capacity of its humble abode known as the Dragon Room. Nestled on the third floor, adjacent to the entrance of the tower, this mecca of humor required a solution to accommodate its growing fan base. After some contemplation, the decision was made to expand its dimensions and find a new dwelling on the lower level. Today, the club finds its residence alongside the vibrant McCall's Heartland Grill, conveniently situated just a stone's throw away from the bustling casino floor.
Every night at the comedy club, you can catch a variety of hilarious shows. Starting at 6pm, there's a comedy-magic show that will leave you in stitches. At 8pm, a touring comedian takes the stage, delivering side-splitting jokes that will keep you entertained throughout the evening. As the clock strikes 10pm, the resident headliner, Butch Bradley, steps up to deliver a performance that is guaranteed to have you rolling with laughter from Thursday to Monday nights. On Tuesdays and Wednesdays, the spotlight is on Bret Ernst, who brings his own unique style to the 10pm show. Whether you're in the mood for mind-bending magic or stand-up comedy, this comedy club has got you covered from start to finish. Don't miss out on the nightly laughter extravaganza!
In my opinion, the LA Comedy Club offers one of the most fantastic bar promotions in the entire city. Their all-you-can-drink deal, priced at just $25, is an absolute steal. This offer covers a wide range of beverages, including well liquor and domestic beer. The best part is that it remains valid from the moment the doors open until the final act takes the stage. If you're someone who enjoys indulging in more than a couple of drinks, then this deal is definitely the way to go.
If you're looking for the best bargain, the most enticing offer might be available as you make your exit. Consider this: you can indulge in a refreshing beverage priced at just $5. The quality doesn't necessarily have to be top-notch, but if it's on offer, you can enjoy it for a mere $5 after the show concludes.
Vegas.com presents exclusive offers for LA Comedy Club tickets, comparable to prices offered by local vendors. Take advantage of this amazing deal by clicking here, provided through our sponsor.
If you're looking for a budget-friendly way to enjoy live entertainment in Las Vegas, you're in luck. Bet-NV.com offers amazing discounts on a variety of comedy shows that are guaranteed to keep you laughing. It's the perfect opportunity to take a break from the gambling scene and indulge in some lighthearted humor. With these fantastic offers, you can't go wrong. Treat yourself to a night of laughter and let the comedians bring some much-needed joy to your Vegas experience.