As an independent media company owned solely by John and Kristina Mehaffey, Bet-NV.com depends on fan memberships and media partnerships in order to cover its costs. To support our work, there are several ways that you can contribute.
Bet-NV.com Newsletter
As a subscription service, Bet-NV.com offers our exclusive Las Vegas Blackjack and Table Game Survey. By becoming a member, you can show your support while gaining access to our comprehensive data on a monthly or quarterly basis. We make sure to update our survey multiple times each month, incorporating the latest information from our casino visits. To cater to different preferences, our memberships start at an affordable price of just $3 per month. Join now and take advantage of our valuable insights and analysis for your gaming experiences in Las Vegas.
You can now access Bet-NV.com subscriptions via Gumroad and Patreon, offering you the same valuable information on both platforms.
In case you or someone you are acquainted with is facing issues with gambling, reach out to 1-800-GAMBLER helpline.
It should be noted that there are certain websites in existence that assert to possess the most recent information regarding Las Vegas table games, frequently attributing our name to it. However, it is imperative to acknowledge that these websites were once affiliated with us but have since altered the year on the data without actually updating the content. In contrast, Bet-NV.com remains the sole website diligently monitoring and documenting this data in the year 2023. It is worth mentioning that we boast an extensive track record of 13 years in effectively carrying out this task.
Becoming a Bet-NV.com Member is a great way to show your support for us. We truly appreciate your continued support and if you have found our work beneficial and valuable, we encourage you to consider subscribing to our newsletter. By doing so, not only will you be helping us, but you will also gain access to exclusive benefits that will enhance your gaming experience. The time saved from searching for your favorite games and avoiding those with unfavorable rules is truly priceless, making the membership fee well worth it. So, join us today and let us take your Vegas experience to the next level!
Discover the latest pricing information for the Las Vegas Blackjack and Table Game Survey.
Now accessible on both Gumroad and Patreon, the Bet-NV.com Newsletter subscription offers its valuable insights through two different platforms. Although the content remains unchanged, the methods of accessing the pages differ. On Gumroad, the files are conveniently organized in folders and can be easily downloaded through their dedicated app. On the other hand, Patreon presents the files as attachments to posts, ensuring a seamless browsing experience.
I use Gumroad to offer quarterly subscriptions that start at $9 for a duration of 3 months. Additionally, I provide monthly memberships on both platforms, beginning at $4 for a single month. Currently, there are two basic plans and two extra tiers to choose from.
Casino Club membership fee is $9 every quarter, which is equivalent to $4 per month.
As a subscriber to the casino club, I have the convenient privilege of accessing the Bet-NV.com table game survey provided by the casino property. The accessible files encompass not only the renowned Strip properties and the bustling Downtown properties but also include the beloved off-Strip and locals casinos that are highly popular among the gambling enthusiasts. This extensive list comprises esteemed establishments such as Aliante, Gold Coast, Green Valley Ranch, M Resort, Orleans, Oyo, Palace Station, Palms, Rampart, Red Rock, Rio, Santa Fe Station, Silverton, South Point, Suncoast, and Westgate. The survey pages are diligently updated throughout the year, ensuring that the information remains current and accurate after every property visit. Moreover, as a valued subscriber, I receive exclusive Bet-NV.com spotlight updates, focusing on four magnificent Strip casinos each month.
Google will provide updates for Spotlight that will incorporate the following:
Blackjack and table games have minimum betting requirements, available in both live and electronic formats.
Blackjack regulations encompass features such as surrender, re-splitting aces, and the dealer's decision on hitting a soft 17.
Guidelines for playing craps, including the highest possible odds and the payout for a field bet with a roll of 12.
Google's go-to choice for enjoyable video poker experiences.
Take part in the Survey & Early Access program and enjoy the exclusive benefits for just $9 every 3 months (or $4 per month).
Early Access subscribers and participants in the survey program are granted the privilege of accessing a minimum of three exclusive feature blog posts every month. These posts are tailored specifically for subscribers, ensuring that they receive unique content not available to the general public. Moreover, subscribers are given the opportunity to participate in the table game survey for each game. The survey pages are regularly updated throughout the year following visits to various properties. As a member, you can even contribute your own ideas or pose questions that may be featured in future articles. By subscribing and engaging with the survey program, you become an active participant in shaping the content and direction of the blog.
Upcoming articles might cover subjects such as:
New table games
Discover the exciting world of value table games.
Top picks along Las Vegas Boulevard
Rule changes
Our preferred video poker
Membership to the Total Access Club costs $15 every 3 months, equivalent to $5 per month.
Subscribers can enjoy the advantages of having both subscription services at their disposal! This entails receiving exclusive previews of fresh content as well as access to the comprehensive table game survey categorized by property and game.
Vegas Boost Super Admirer: $70 in a span of 90 days (or $25 per month)
I am delighted to introduce our exclusive tier dedicated to our most ardent supporters. By becoming subscribers, you not only unlock the remarkable benefits of our Total Access Club but also receive an extraordinary token of our appreciation: the Bet-NV.com gift! Upon registration, subscribers have the privilege of selecting their favored Bet-NV.com souvenir, which includes options such as a stylish shot glass, a trendy can cooler, a convenient bottle cooler, or even a captivating deck of cards. Moreover, our esteemed members who remain dedicated to this tier will be pleasantly surprised with a Bet-NV.com gift every three months. Furthermore, as a testament to our commitment to exceptional customer service, Super Fans are encouraged to reach out to us via email with any inquiries they may have regarding the enchanting realm of Las Vegas.
Discover the exclusive Las Vegas Blackjack and Table Game Membership information.
In April 2023, we began transforming the Fall 2022 edition into a subscription service, serving as the foundation for our membership options. This upgraded version offers an array of exhilarating live and electronic table games, mirroring the electrifying atmosphere found on bustling casino floors. It is important to note that bar machines were deliberately omitted from this selection due to their tendency to provide insufficient payouts for blackjack and roulette bets with lower odds.
Every month, we make it a point to update our casino spotlight pages with the latest information from the casinos we've recently explored. These pages are a treasure trove of details about the live and electronic table games you can find in various Las Vegas locations, including the iconic Strip, bustling downtown, as well as the popular local and Off-Strip casinos. In these pages, you'll discover helpful tips like where to locate electronic blackjack games that offer a favorable 3:2 payout for just $1 or $3 bets. It's worth noting that the majority of video blackjack games nowadays unfortunately only pay out at a less favorable 6:5 ratio.
In my role as an assistant, I am here to provide you with valuable information about various aspects of casino games. Today, let's focus on blackjack, a popular card game found in many casinos. Whether you're a seasoned player or just starting out, our blackjack pages cover everything you need to know. First and foremost, we provide details about all the casinos that offer blackjack, along with information about the lowest minimum bet available. This way, you can easily find a casino that suits your budget and preferences. When it comes to the rules of the game, we have you covered. We provide comprehensive information about crucial elements such as the payout ratio. Specifically, we inform you whether the game pays 6:5 or 3:2. This is important because it directly affects your potential winnings. Additionally, we delve into the dealer's actions during the game. We explain whether the dealer hits or stands on soft 17, which can significantly impact your strategy and chances of winning. Furthermore, we provide insight into whether the casino allows players to surrender and re-split aces. These options can be advantageous in certain situations, so it's essential to know if they are available. In addition to blackjack, we also offer information about other table games dealt by Las Vegas casinos. Our table game pages provide details about where specific games can be found and when we last visited. This way, you can have up-to-date information and choose the most suitable casino for your gaming preferences. As your helpful assistant, I am committed to providing you with accurate and comprehensive information about casino games, ensuring that you have the knowledge necessary to make informed decisions. Let's enhance your gaming experience together!
I've got you covered with all the necessary information for your casino adventures. Our comprehensive guides feature the minimum bets that you can find at each casino, ensuring that you're well-prepared. It's worth noting that the limits might go up during the busiest hours, so keep that in mind. Additionally, we've got you covered when it comes to games with variable rules. Whether it's the number of zeros on a roulette wheel, the odds in craps, the field payout on 12, or the specific variant of pai gow poker being dealt, our guides have all the details you need.
Exclusive areas for members with Bet-NV.com perks.
PDFs on Gumroad are categorized into different sections for enhanced accessibility. Information related to blackjack and table games can be found either under specific casinos or according to the game type. Both Total Access Club and Bet-NV.com Super Fan members have the privilege of accessing both categories. Similarly, Patreon members can also avail themselves of the same valuable information. However, the PDF files are attached to posts that are dated for reference.
At the property, we discovered an array of video poker and electronic table games on the casino pages. It is worth noting that although certain properties lack specific casino profile pages, the minimums for last-seen blackjack and table games are mentioned on the related pages. The properties that fall under this category are Alamo, Arizona Charlie's Decatur, Boulder Station, Cannery, Ellis Island, Jerry's Nugget, Mohegan Sun, Pass, Poker Palace, Railroad Pass, Sam's Town, Silver Sevens, Skyline, and Sunset Station.
Members of the Casino Club, Total Access Club, and Bet-NV.com Super Fan,
In our exploration, we came across the finest video poker options available on casino websites, along with the minimum bet requirements for both live and electronic table games.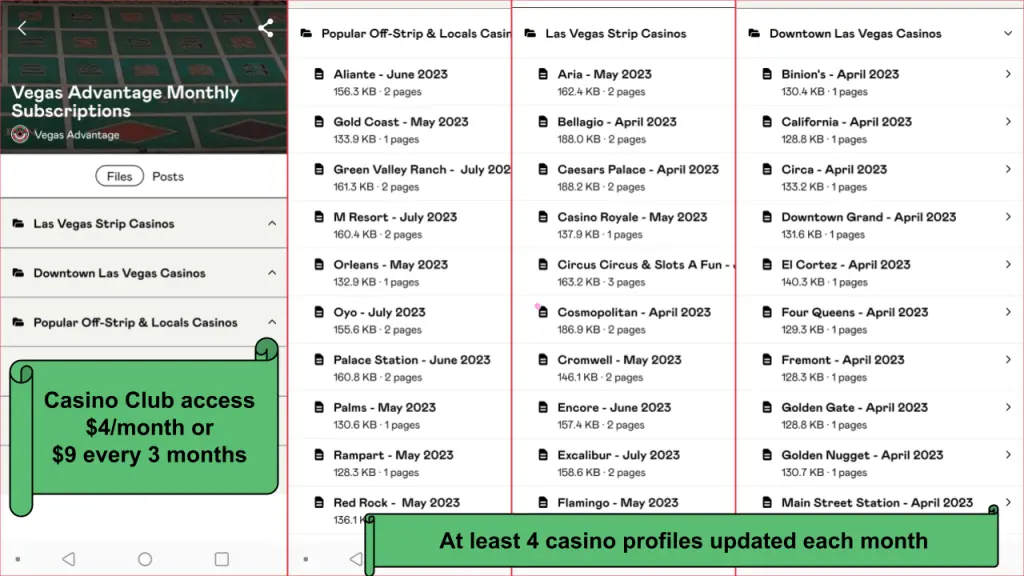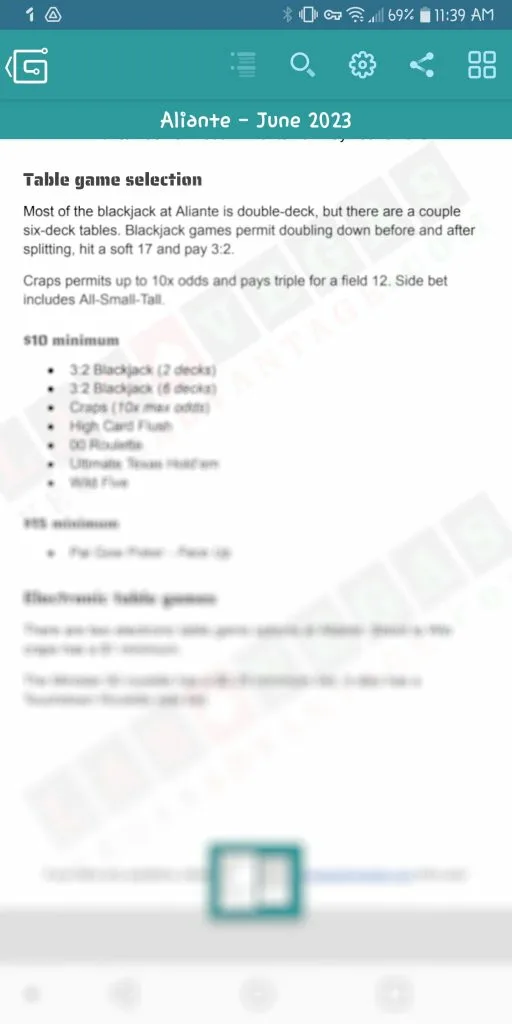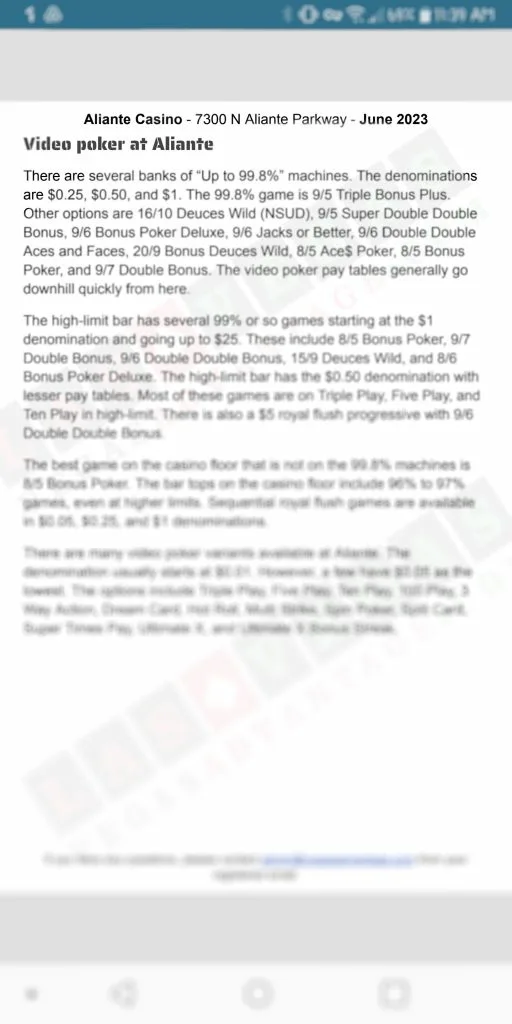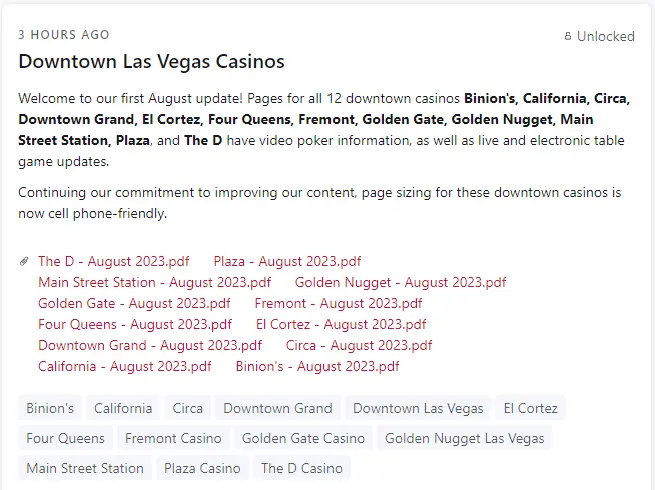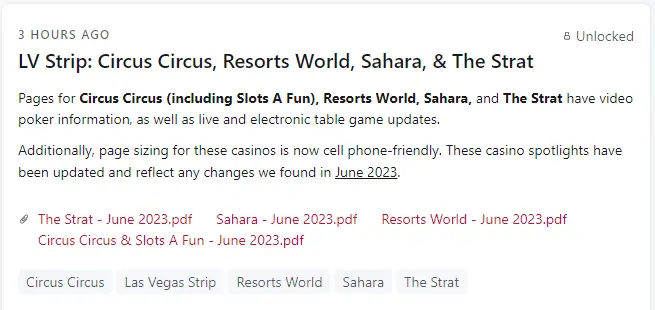 Casinos on the Las Vegas Strip

Exclusive to electronic gaming, experience the thrill of Casino Royale.
Circus Circus & Fun Slot Machines (exclusive electronic games)
Horseshoe (formerly Bally's)
Linq & O'Sheas

Casinos in the heart of Las Vegas' downtown area
Trendy Casinos Preferred by Vegas Residents and Visitors Seeking a Unique Experience

Aliante
Gold Coast
Green Valley Ranch
M Resort
Orleans
Oyo
Palace Station
Palms
Rampart
Red Rock
Rio
Santa Fe Station
Silverton
South Point
Westgate
Members of the Survey & Early Access, Total Access Club, as well as the Bet-NV.com Super Fan, have exclusive benefits.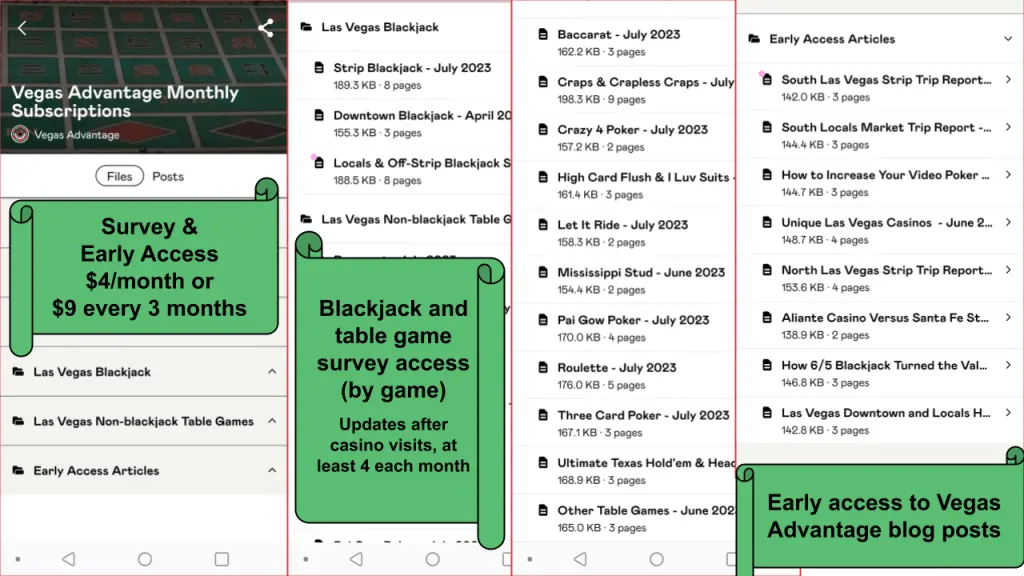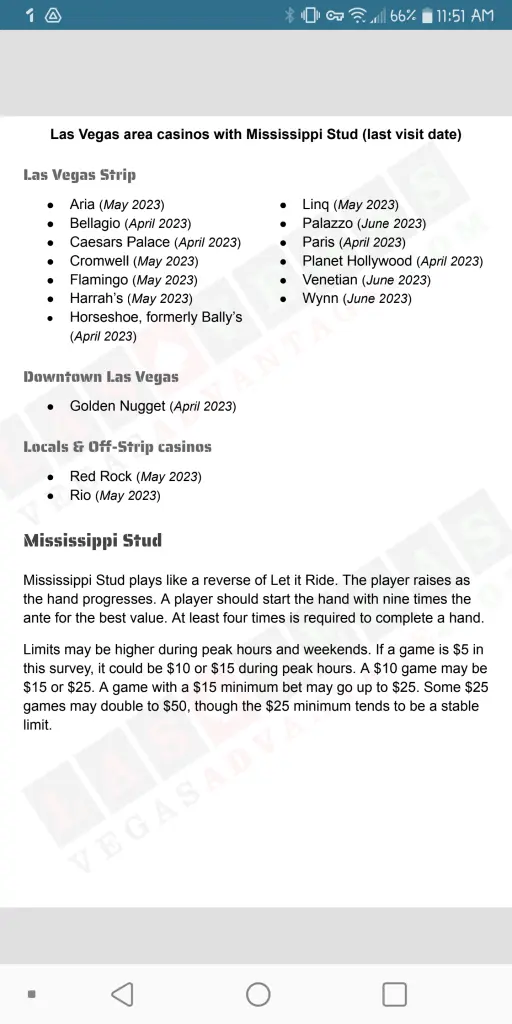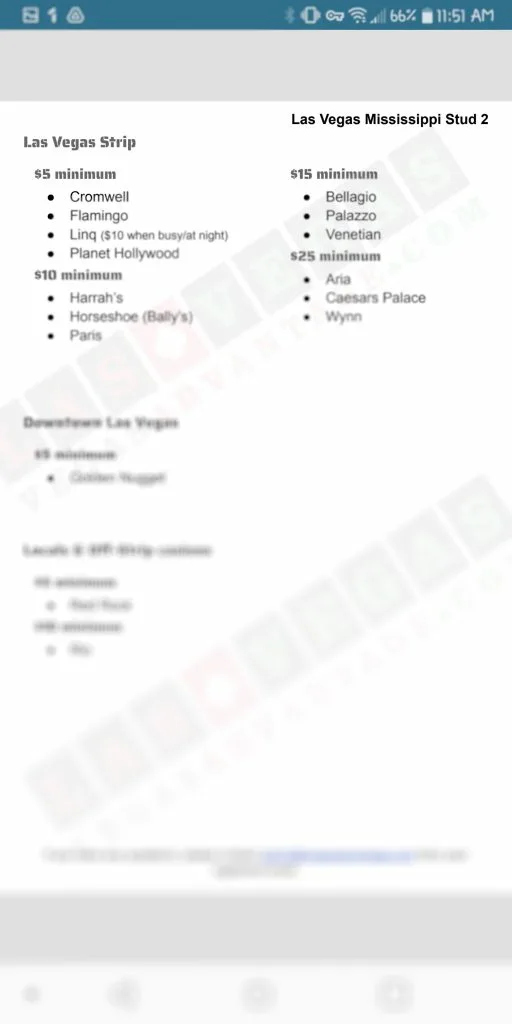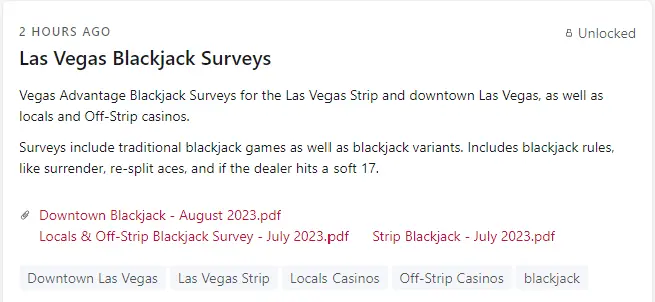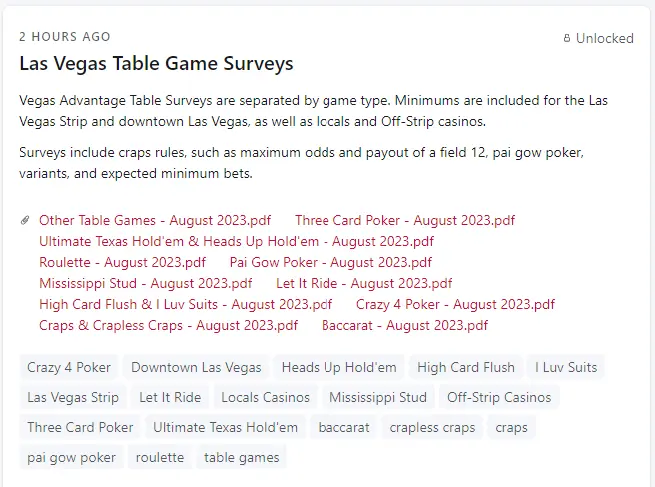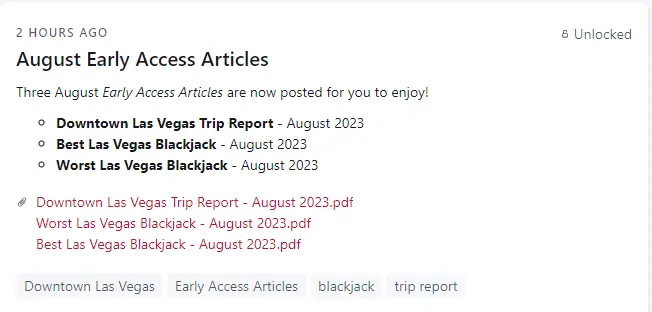 Las Vegas Blackjack

Strip
Downtown
Locals & Off-Strip

Table games in Las Vegas that do not involve blackjack.

Baccarat
Craps & Crapless Craps
Crazy 4 Poker
Experience the thrill of High Card Flush and indulge in your love for suits with our captivating game.
Let It Ride
Mississippi Stud
Pai Gow Poker – Dealer Open, Emperor's Challenge, Face Up, and Fortune
Roulette
Three Card Poker
The ultimate experience of Texas Hold'em and the thrilling game of Heads Up Hold'em.
Other table games ( anything we find not listed above)

Early Access Articles
Discover additional methods to show your support for Bet-NV.com.
Kristina Mehaffey provided the latest update on August 4, 2023.